| | |
| --- | --- |
| It's a 'Dirty' Job | |

But somebody's got to take on the new five-film, seven-disc 'Dirty Harry' boxed set.
by Clark Collis in Entertainment Weekly

Dirty Harry
Ultimate Collector's Edition
R, 530 mins., 1971-88
(Warner Home Video)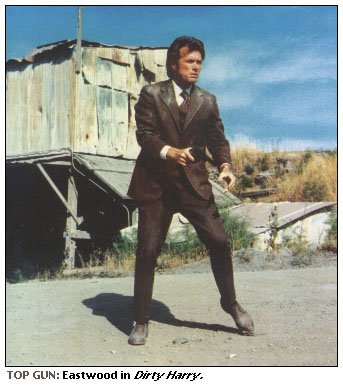 know what you're thinking. "Did he see all five films in this Dirty Harry boxed set or only four?" Truthfully, in all the excitement, I kind of lost track. After all, the Ultimate Collector's Edition features multitudinous scenes of mayhem as Clint Eastwood's .44 Magnum-wielding San Francisco homicide inspector Harry Callahan tracks down serial killers, terrorist groups, and rogue policemen. It also boasts commentaries, documentaries, postcards, and a wallet containing a replica of a Callahan ID card. So you've got to ask yourself one question: "Do I feel lucky?" Well, do ya, punk?
It's easy to make fun of this franchise's iconic quotes -- a clutch of memorable lines that also includes the President Reagan-co-opted "Go ahead, make my day." But this seven-disc set proves that the films, at least early on, were far more than the sum of Callahan's bons mots. The first one, Dirty Harry (1971) -- which, like all the movies, is also sold separately on DVD -- finds Eastwood battling both Andy Robinson's cherub-faced killer and a justice system more interested in the rights of perps than victims. Tautly directed by Don Siegel, it's a terrific, politically polarizing thriller. Even today -- particularly today -- the scene in which Eastwood grinds his foot into Robinson's bullet-shredded leg to extract information is startling. The tough, funny Magnum Force (1973) reverses the vigilante equation as Callahan faces down a baddie-assassinating gang of motorcycle cops. From that point, the series' quality becomes less reliable. The Enforcer (1976) often looks like a TV movie, but the Eastwood-directed Sudden Impact (1983) is grittier fare and features a fine, blank-faced turn by Sondra Locke as a vengeance-seeking rape victim. Finally, The Dead Pool (1988) is preposterous in the way that only movies starring Liam Neeson, Jim Carrey, Guns N' Roses, and a exploding toy car can be.
With Pool, Harry was beginning to look long in the gun barrel and tooth, thanks partly to the many cop franchises he inspired, like Lethal Weapon and Die Hard. ("The Long Shadow of Dirty Harry," one of the set's several new docs, considers that influence and features such talking heads as Weapon scribe Shane Black, Enforcer co-star Tyne Daly, and Eastwood himself.) The actor-director appears in the excellent 2000 doc Clint Eastwood: Out of the Shadows. He does not, however, contribute to any of the new commentaries; those are handled by, among others, his biographer Richard Schickel and Force coscreenwriter John Milius. Memorable anecdotes are in short supply, which likely reflects the famously trouble-free nature of Eastwood projects. But with some 24 hours' worth of bonus material, there's enough good stuff to make at least half of your day. B



| | |
| --- | --- |
| Crank Up the Volume and Hit the Road | |

With Roger Trott's new '70s novel 'Getting in Tune.'
ock musician and former music critic Roger L. Trott's new novel, Getting in Tune, is a wild romp through the world of '70s rock 'n' roll and pop culture. Propelled forward by the whispered wisdom of the Who's Pete Townshend, Getting in Tune follows the driven but erratic Daniel Travers as the 20-year-old guitarist drags his unwilling band onto the road in pursuit of fame and Townshend's vision of the elusive Universal Chord.
As Kathi Kamen Goldmark, author of And My Shoes Keep Walking Back to You and founder of the Rock Bottom Remainders, describes it, "Good gigs and bad gigs, girlfriends and groupies, poseurs and punks: Getting in Tune will ring deliciously true if you've been in a band-and deliver a rare glimpse behind the curtain if you've ever longed to be. Crank up the volume and enjoy Roger Trott's wild rock & roll ride."
It's the fall of 1976, and Daniel Travers's life is a mess. His band, the Killjoys, is essentially going nowhere; the pills he's popping are making him crazy; and the voices banging around his head have him convinced that he's a bleedin' quadropheniac. On top of everything, what he calls the Real Me, his true self, has disappeared-and he's lost without it.
Then the phone rings, a new agent offering a weeklong gig at the exotic Mai Tai Hotel, in Puente Harbor, Washington. Told by the agent that Jimi Hendrix and Heart started out at the Mai Tai, Daniel sees the weeklong gig as his best chance to get the Killjoys on the road to success. And for Daniel, it's about seeking-as his unlikely guru, Pete Townshend, whispers to him-the redemptive promise of the Universal Chord, the perfect set of notes that will restore harmony to his life.
A novel full of the low grit of small-club rock 'n' roll, Getting in Tune captures the fire of the rock 'n' roll dream as well as the tantalizing notion that music can transcend chaos, that it can bring perfection to our messy lives.
Getting in Tune, Trott's first novel, is based on his experiences playing gigs with West Coast rock bands, from San Francisco to Washington's Olympic Peninsula. For more information on the author, who resides in Northern California, see his personal Web site at RogerTrott.com or his MySpace.com page.

comments powered by