| | |
| --- | --- |
| Isaac Hayes 1942-2008 | |

From Stax Records to 'Shaft' to 'South Park', silky-smooth singer/actor Isaac
Hayes changed the face of pop music - and pop culture as a whole.
by Gary Susman in Entertainment Weekly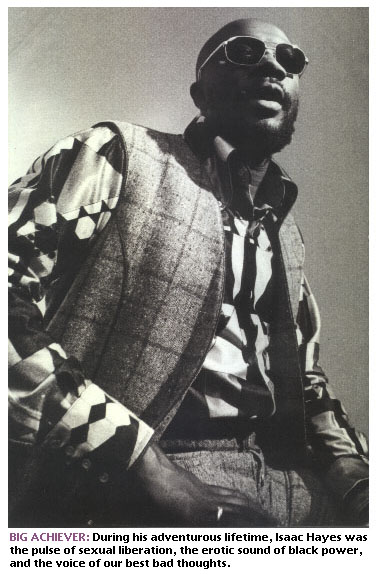 e was great voicing the part of Chef on South Park, and a charismatic presence in many other TV shows and movies, but Isaac Hayes should forever be remembered as one of the architects of '60s and '70s soul, and a prime influence on pop music for decades afterward. The "Theme From Shaft" (1971) alone should secure his reputation, but his echo can be heard in just about anything in the last quarter century's worth of hip-hop and R&B (he was sampled by everyone from Biggie to Destiny's Child). Talking in 1995 about his search for a new record company, Hayes said younger label reps would ask him what he'd done lately. "And I thought to myself, Just turn on the radio and listen to some of your hip-hop stuff -- that's what I've done lately!"
Born in 1942 in Covington, Tenn., south of Memphis, he spent his childhood picking cotton, shining shoes, and cleaning bricks at 2 cents apiece. having taught himself to play keyboards, Hayes got his breakthrough as a session musician and songwriter at soul mainstay Stax Records, the legendary Memphis label that was home to Otis Redding and Booker T. & the M.G.'s. With co-writer David Porter, he composed some 200 songs during the label's mid-'60s heyday, including such Sam & Dave classics as "Hold On! I'm A Comin'," "I Thank You," and "Soul Man" (the latter a hit again, over a decade later, for the Blues Brothers).
His solo career took off in 1969 with the landmark Hot Buttered Soul album, an offbeat collection of epic-length tunes, including emotional covers of such unlikely easy-listening hits as "Walk On By" (a Burt Bacharach/Hal David song that had been big for Dionne Warwick in 1964) and "By the Time I Get To Phoenix," which established his layered, orchestral approach to R&B and his persona as a tough but tender master of the bedroom baritone. It also set the template for '70s soul. Warwick, who calls Hayes' cover of "Walk On By" the "definitive version," and who collaborated with him on their 1977 double album A Man and a Woman, said in a statement: "I've lost one of my best buddies, and it is not easy to reckon with. He was family. He will be a part of my musical life each time I sing the song 'Déjà Vu,' as this was a birthday gift to me from him."
Hot Buttered Soul's massive critical and commercial success led to the gig scoring Shaft, the definitive blaxploitation film. His Grammy- and Oscar-winning theme song (Hayes was the first African-American composer to win the Best Original Song award, and the first African-American Oscar winner ever outside the acting categories) influenced virtually every blaxploitation or crime-film soundtrack for the next few years.
More records followed (notably, 1971's Black Moses), but Hayes' interest soon turned to acting. He starred in the movies Three Tough Guys and Truck Turner (both 1974), for which he also composed the soundtracks. Other highlights included his recurring role as Gandolph Fitch on '70s TV staple The Rockford Files, his role as the Duke in Escape From New York (1981), and his self-parodying turn in the blaxploitation spoof I'm Gonna Git You Sucka (1988).
"He was absolutely an icon beyond just music," Escape From New York director John Carpenter says. "We were looking around for unique actors for the roles in that movie -- who can we cast that you wouldn't expect that would be interesting for the audience. I'd seen Ike in Truck Turner, and I thought, 'Boy, he has charisma! Man, was he good!' So we decided to try him out... I found him to be prepared, professional, and absolutely a joy to work with. Absolutely fabulous."
Most recently, Hayes played himself in the comedy Soul Men, due in November, a film whose lead, Bernie Mac, died the day before Hayes. "To have Isaac Hayes participate in this film was a tremendous joy for a good part of my life and it continues to influence me as a storyteller because he had such great music writing talent and arrangement talent," Soul Men director Malcolm D. Lee says. "He didn't disappoint with this role."
Of course, Hayes' best-known acting role was as a sage adviser to the children of South Park, one with a penchant for crooning seductive love ballads. Hayes turned his character into a mainstay of the show for almost 10 years, until he quit abruptly in 2006. He cited the show's lampooning of religion (including Scientology, which he practiced) as the reason for his departure, though his exit also came around the time of reports that he'd suffered a stroke. (Creators Trey Parker and Matt Stone dealt with the move in typically childlike fashion: They built an episode around Chef's disgrace and gruesome demise.) Hayes finally reemerged months later, slowed but not halted, and continued to tour and record.
He never stopped making music. In addition to his own releases, he served as a mentor to younger artists, doing producing, arranging, and session work for musicians from Alicia Keys to Wu-Tang Clan. "I picked his brain often as a songwriting god and guide," said sometime collaborator and tourmate Chuck D of Public Enemy in a statement. "He surprised me often, appearing to present me with awards, rather than the other way around. I won't forget when he and David Porter pulled me to the side during a Stax Memphis reunion and both said that I was an official 'Soul Man'... for me nothing else could be better. R.I.P. Godfather. R.I.P. Black Moses."

Soul Man. Action Hero. And Chef.
Isaac Hayes' unpredictable career as an entertainer took him all over the
pop culture map. Here are six moments to remember. - Chris Willman
| | | |
| --- | --- | --- |
| Soul Man (1967) As a Stax Records songwriter-for-hire, Hayes and his partner David Porter co-write a series of smashes for Sam & Dave, including this classic -- which some 40 years later would be echoed in the title of Hayes' final movie, Soul Men. | Black Moses (1971) Already at the vanguard of African-American "album artists," Hayes stretches the form further with a groundbreaking double LP. Humility does not become him, as the jacket famously unfolds into a cross shape. | "Theme From Shaft" wins an Oscar (1972) While Hayes lost out on his bid to play the movie's title role, he did get something Richard Roundtree didn't: an Academy Award, for what may still be the hippest Best Original Song winner to date. |
| Escape From New York (1981) This sci-fi actioner cements a healthy career as supporting player in mainstream films -- even after Hayes' music faltered in the disco era, and Barry White had arguably co-opted his baritone loverman shtick. | South Park (1997-2006) Hayes enjoys a major career resurgence as the popular Chef character. In a second-season episode, Chef cooks up the song "Chocolate Salty Balls (P.S. I Love You)." It becomes Hayes' only No. 1 hit in the U.K. | Rock and Roll Hall of Fame Induction (2002) Alicia Keys inducts Hayes into the rock hall at the 17th annual honors. He uses his speech to give some advice to the hip-hop community, mindful of his status as one of rap's most sampled artists. |


| | |
| --- | --- |
| Newman for President | |

After years of composing for films, the L.A. singer-songwriter is
back with a political album of brutal wit and bruised patriotism
by Will Hermes in Rolling Stone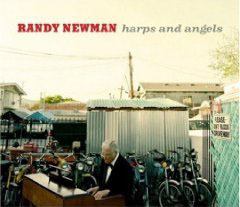 andy Newman has earned a nice living in recent years as a film composer, but connoisseurs covet his Seventies work, when he emerged as one of the most cutting and empathetic of American singer-songwriters. So his return to political-minded material on Harps and Angels is reason to wrap yourself in flag and cheer.
Newman works with piano, an orchestra and a Dixieland-style combo, using American musical tradition to amplify irony and yank heartstrings. The best moments echo classics like "Sail Away" and "Louisiana 1927," songs that mixed pathos and bruised patriotism with brutal wit. The set's keystone is "A Few Words in Defense of Our Country," released on iTunes last year. A state-of-the-union ballad that cops musical DNA from "America the Beautiful," its lyrics raised eyebrows last year when they ran as an op-ed piece in The New York Times -- albeit minus the final verse about "tight-ass" Italian Supreme Court justices. Its press-secretary punch lines about how the Bush administration ain't so bad compared with Stalin are Colbert Report-hilarious. But its eulogy for American empire and a people "adrift in the land of the brave and the home of the free" is profoundly sad.
Elsewhere, the jaunty "Laugh and Be Happy" winks at two-faced immigration policy, while "Korean Parents" is a gleefully stereotyping indictment of U.S. child-rearing set to chop-suey orchestration. The funniest number, "A Piece of the Pie," affectionately skewers pop polemicists John Mellencamp and Jackson Browne. But Newman's "Feel Like Home," once covered by Chantal Kreviazuk on the Dawson's Creek soundtrack, is an irony-free love song -- perhaps for a dear nation that, after all, we'd be willing to go into therapy with. * * * *

comments powered by