| | |
| --- | --- |
| An Early Frost | |

The acclaimed stage play about a disgraced US president and his
celebrity interviewer makes a successful transition to the screen.
by Lisa Schwarzbaum in Entertainment Weekly

Frost/Nixon
STARRING Michael Sheen, Frank Langella
DIRECTED BY Ron Howard
R, 122 MINS.


rost/Nixon is a fact-based drama, starring Michael Sheen and Frank Langella, about a mid-1970s confrontation between a wily British TV host and a disgraced American president that previously enjoyed an award-laden Broadway run. Frost/Nixon, directed with practiced fluidity by Ron Howard, surges with energy and visual verve that improve the play and enhance the themes of dramatist Peter Morgan's script -- about the codependency of media and politics, and about the vanities of ambitious men shaping public images.
Nixonland
From Tricky Dicky to Joe the Plumber? Little that happened in the entertaining 2008 election was actually new, as you will learn from Rick Perlstein's brilliant and amusing analysis of Richard Nixon's pivotal role in contemporary American politics.
The movie trusts Sheen and Langella to re-create the roles they first originated to such acclaim in London in 2006, then moved to Broadway in 2007. Certainly the two stars know their characters inside and out: There's David Frost, the striving TV-age smoothie who savored his jet-set lifestyle but craved journalistic legitimacy; and there's Richard M. Nixon, the infinitely complicated politician forced to resign in the wake of Watergate, who craved -- well, obviously, he craved something, since he agreed (for a handsome fee) to sit with Frost through 12 days of taped interrogation. With the transcript as his guide, Morgan explores psychological terrain: how Frost found the chutzpah to land the interviewers; how Nixon played cat and mouse with his interlocutor when asked to admit wrongdoing and apologize; how both men of humble beginnings felt stung by the scorn of those born with more privilege; and how both were superb manipulators. But Sheen (who played the very model of a modern British go-getter as Tony Blair in The Queen, also written by Morgan) and Langella (operating at the peak of his powers) are disciplined enough to crop their performances to close-up size. (The sizing echoes the look of the actual interviews.) And Howard is smart to enhance the one-on-ones with journalistic context, weaving archival Watergate-era footage into his fictionalized re-creation. A-



| | |
| --- | --- |
| Get a Move On | |

The versatile and influential British pop rockers finally get the deluxe CD treatment.
by David Fricke in Rolling Stone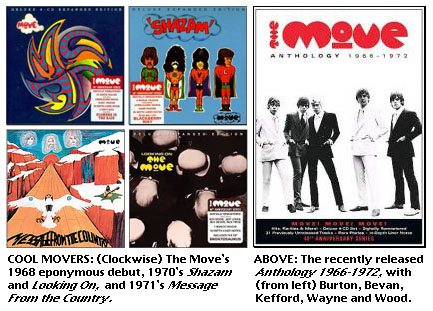 rom 1966 to 1972, the Move were the greatest British band most Americans never heard. Formed in Birmingham in late 1965, the original five -- singer Carl Wayne, guitarist-singer Roy Wood, guitarist Trevor Burton, bassist Ace Kefford and drummer Bev Bevan -- were an explosive combination of white-R&B vocal firepower, beyond-the-Who stage theatrics and progressive-pop ambition. In Wood, the Move also had their own one-man Lennon-McCartney, a devilishly ingenious songwriter who mined his witty way with hooks and boy-girl stories with profound sadness (the singalong surrender of "Blackberry Way") and an eerie fascination with lunacy (the rubber-room delight "Cherry Blossom Clinic"). Yet no other English group of the era was so wildly successful at home -- their first four U.K. singles were all Top Five hits -- while bombing so hard in the U.S.
The Move were as unstable as they were brilliant, changing and losing members with each of their four albums and touring America once, playing in three cities in 1969. Finally, Wood, Bevan and singer-guitarist Jeff Lynne, who joined in early 1970, dropped the name and became the Electric Light Orchestra. You know the rest of that story. But there is so much to the wild tale of the Move that it doesn't fit on the recent generous-bonus-track reissues of those albums: 1968's Move, 1970's Shazam and Looking On (all Salvo/Fly), and 1971's Message From the Country (EMI).
Anthology 1966-1972 (Slavo/Fly), a new four-CD fanatic's dream, goes deep right at the start, with previously unissued rave-ups from the Move's first recording date and a '66 radio session, then traces the band's rapid evolution through eccentric power pop ("I Can Hear the Grass Grow," the originally shelved B side "Vote for Me"), paisley cheer ("Flowers in the Rain") and the heavy grandeur ("Brontosaurus," "Feel Too Good") that, with lots of strings and reeds, would become ELO. Rare mixes and outtakes abound, but the live action -- an entire disc of 1968 uproar from London's Marquee Club and two tracks from a '69 show at the Fillmore West -- is the greater revelation. The '68 covers of Love's "Stephanie Knows Who" and Spooky Tooth's "Sunshine Help Me" (with Wood's spiraling wah-wah guitar) are florid mayhem. And there is a full-circle thrill in hearing Todd Rundgren's 1968 Move homage, Nazz's "Open My Eyes," hijacked by the Move a year later with suitelike fury. "We're not psychedelic," Wayne, who died in 2004, once said. "We're showmen." This is what he meant.

comments powered by