| | |
| --- | --- |
| The Ultimate Dead | |

A proposed new Grateful Dead live boxed set with over 60 discs will
capture every note recorded from their classic first European tour.
by 1888 Media

The Grateful Dead
Europe '72: The Complete Recordings
ROCK (Rhino)


he Grateful Dead slipped the shores of America and crossed the pond for its first-ever major European tour in April 1972. The legendary 22-show run spawned Europe '72, a live triple album that remains one of the band's best-selling and most beloved releases. A tour this momentous deserves a boxed set of historic proportions and Dead.net has stamped your passport to relive every note from the European tour with Europe '72: The Complete Recordings -- an individually numbered, limited edition collection that includes more than 60 discs with over 70 hours of music featuring every show from what is arguably the Grateful Dead's greatest tour.
Europe '72: The Complete Recordings is housed in a replica steamer trunk reminiscent of the ones prevalently used at the time. Along with the music, a vast majority of which is previously unreleased, the travel chest contains tour memorabilia, a coffee-table book with never-before-seen photos, and a comprehensive essay by noted Dead author Blair Jackson. Each performance will also be accompanied by an essay specific to the show written by top Dead scholars including David Gans, Gary Lambert, Nicholas Meriwether, and Steve Silberman.
Jeffrey Norman, the primary mixer of the Dead's archival multi-track material for the past 15 years, is mixing each show from the original 16-track recordings, with the high-tech Plangent Processes transfer and restoration tools used to bring the master tapes back to life. Two-time Grammy-winning engineer David Glasser is mastering the music to HDCD specs. While many of the recordings heard on Europe '72 were sweetened in the studio after the tour, those tracks will be included in this collection without overdubs, where possible.
Due to ship in September 2011, the boxed set is available exclusively from Dead.net, which began taking orders on January 19. The price of the collection is $450, which works out to the remarkably low price of about $20 for each show, or roughly the cost of a transatlantic flight from New York City to London in 1972 (price of time machine not included).
Europe '72: The Complete Recordings will truly be a labor of love and might "need a miracle" to happen. Due to the manufacturing costs of this ambitious project, if 3,000 orders are not received by April 1, the collection will unfortunately be cancelled. This isn't a gun-to-your-head sales pitch but is simply the reality behind making an ambitious release of this magnitude happen.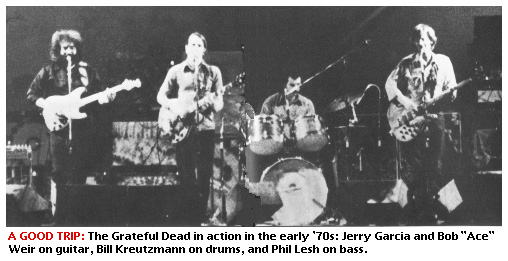 As a thank you to all the Dead Heads who help make this collection happen, the first 3,000 fans to order will have their copy personalized with a name requested by the purchaser. Once the 3,000 order goal is reached by April 1, Dead.net will continue to take orders through the summer but will limit production of the collection to a maximum of 7,200 pieces, all of which will be individually numbered. Orders will no longer be taken at some date (to be determined) later in the summer. Once the order window ends, this collection will never be available for sale again and will be manufactured specifically to total orders, up to 7,200 maximum. Additionally, to reward those loyal fans who have to wait until September to get their bounty, Dead.net will periodically provide exclusive content (music, photos, and more) in the coming months to all those who have placed an order.
While its sheer size is formidable, what makes Europe '72: The Complete Recordings such a landmark set is that it captures a defining moment in Grateful Dead history filled with its share of firsts and lasts.
The tour offers a snapshot of a band at the top of its game, still ascending in the wake of three straight hit albums -- Workingman's Dead, American Beauty, and the live Grateful Dead ("Skull & Roses"). It had been a year since the lineup had gone to its single-drummer configuration, six months since Keith Godchaux had been broken in as the group's exceptional pianist, and this marked the first tour to feature Donna Godchaux as a member of the touring band.
There was a ton of new, unreleased material that came into the repertoire in the fall of '71 and during the spring of '72, including "Tennessee Jed," "Jack Straw," "Mexicali Blues," "Comes A Time," "Ramble On Rose," "One More Saturday Night," "Black-Throated Wind," "Looks Like Rain" and Pigpen's "Chinatown Shuffle," "The Stranger (Two Souls In Communion)" and "Mr. Charlie." (Sadly, this was Pigpen's final tour.) All those future classics were interspersed with songs from the aforementioned "hit" albums -- such as "Uncle John's Band," "Casey Jones," "Sugar Magnolia," "Bertha," and "Not Fade Away" -- and then were topped off by loads of big jamming numbers -- the Europe '72 tour produced spectacular versions of "Dark Star," "The Other One," "Playing in the Band," "Truckin'," "China Cat Sunflower," "I Know You Rider," "Good Lovin'," "Lovelight," and even the early Pig chestnut "Caution."

GRATEFUL DEAD EUROPE 1972 TOUR DATES
All shows included in their entirety
April 7 - Wembley Empire Pool, Wembley
April 8 - Wembley Empire Pool, Wembley
April 1 - Newcastle City Hall, Newcastle
April 14 - Tivolis Koncertsal, Copenhagen
April 16 - Aarhus University, Aarhus
April 17 - Tivolis Koncertsal, Copenhagen
April 21 - Beat Club, Bremen
April 24 - Rheinhalle, Dusseldorf
April 26 - Jahrhundert Halle, Frankfurt
April 29 - Musikhalle, Hamburg
May 3 - Olympia Theatre, Paris
May 4 - Olympia Theatre, Paris
May 7 - Bickershaw Festival, Wigan
May 10 - Concertgebouw, Amsterdam
May 11 - Rotterdam Civic Hall, Rotterdam
May 13 - Lille Fairgrounds, Lille
May 16 - Theatre Hall, Luxembourg
May 18 - Kongressaal - Deutsches Museum, Munich
May 23 - Strand Lyceum, London
May 24 - Strand Lyceum, London
May 25 - Strand Lyceum, London
May 26 - Strand Lyceum, London





| | |
| --- | --- |
| Gerry Rafferty, 1947-2011 | |

The hard-living, publicity-shy 'Baker Street' singer passes away at age 63.


cottish singer-songwriter Gerry Rafferty, who had a massive international hit in the summer of 1978 with the charming, saxophone-propelled single "Baker Street" and the founder of the early '70s pop group Stealers Wheel, died on Jan. 4, 2011, at his home in Dorset, southern England, after a long illness. The musician, who had a well documented history of problems with alcohol, was 63. Born Apr. 16, 1947 in Paisley, Scotland, Rafferty began his career as a member of the local group Fifth Column and then in 1968 formed a duo with Billy Connolly called the Humblebums.
| | |
| --- | --- |
| Released in March 1978, Gerry Rafferty's first solo album City to City reached #1 on the Billboard Hot 22 and remained on the U.S. charts for a whopping 49 weeks, going gold on May 26, 1978, and then platinum less than one month later on June 20. It featured Rafferty's #2 smash "Baker Street," along with the #12 hit "Right Down the Line" and the #28 "Home and Dry." | |
After its demise, Transatlantic Records offered him a solo contract, and he released Can I Have My Money Back?, a likeable blend of gentle folk and pop music but still a commercial failure. In 1972, Rafferty and his friend Joe Egan formed Stealers Wheel with guitarist Paul Pilnick and drummer Rod Coombes. Although Stealers Wheel became one of the most critically respected pop groups of the era, hitting big in the U.S. in the spring of 1973 with the #6 "Stuck in the Middle with You" (#2 U.K.) from their eponymously titled debut album, the band was ridden with internal turmoil and only had one more American hit, the #29 "Star," from their Mike Leibe and Jerry Stoller-produced follow-up, Fergusie Park. Although another critical success the album sold poorly, and the band feuded with Leiber and Stoller before recording their third LP, the Mentor Williams-produced Right or Wrong. Managerial problems forced that album's release to be held up, and by the time it was finally released in 1975, the public had forgotten Stealers Wheel. Rafferty and Egan, who had their own falling out as well, then disbanded Stealers Wheel. Three years later, Rafferty had a spectacular, if brief, solo career when his 1978 album City to City went gold in the U.S. three months after its release, eventually reaching No. 1 and staying on the charts for 49 weeks. The album was highlighted by "Baker Street" and that song's prominent sax solo by Raphael Ravenscroft, who reportedly only stepped up to record one of the most memorable passages in pop music after a guitarist -- who was originally intended to record the solo -- didn't show up at the session. City to City's follow-up, 1979's Night Owl, was also a commerical success, containing two hits, "Days Gone Down (Still Got the Light in Your Eyes)" (#17, U.S.) and "Get It Right Next Time" (#21, U.S.). After that, Rafferty's output was of sparse and varying quality (his 1980 set Snakes and Ladders only reached #61 in the U.S.), and he rarely performed live and then only in England and Europe. In 1987, he produced the Proclaimers' U.K. hit "Letter from America" and in 1992, Stealers Wheel's "Stuck in the Middle with You" was featured in the Quentin Tarantino-directed film Reservoir Dogs, where it provided the incongruous backing music to a gruesome ear-slicing scene. Rafferty married his wife Carla, who he met at a dancehall in 1985 when she was 15, in 1990, and the couple had a daughter. He released his last album, Another World, in 2000, and became known more for his alcohol-fuelled incidents and apparent disappearances than his music. In 2009, Rafferty made headlines after he was reported missing by his family, however his lawyers issued a statement that he had been living in Tuscany, Italy, for the past six months and was "extremely well and writing new songs." On Nov. 6, Rafferty collapsed after suffering liver failure and was briefly placed on a life-support machine in a hospital in Bournemouth, southern England, with his closest relatives called to his side. However the memorable "Baker Street" was said to still be earning Rafferty thousands of pounds a year in royalties right up until his death, with the City to City album racking up a total of 5.5 million in sales in America. Rafferty is survived by his daughter, Martha, who was at his side when he died peacefully. - AFP/Rolling Stone/Billboard

comments powered by