| | |
| --- | --- |
| All Heart | |

The Wilson sisters return with a vengeance this fall with
a rocking new studio album and hardcover memoir.
Heart
Fanatic
ROCK (LEGACY)

by Miles High Productions

ith Heart's Fanatic, a new studio album, and Kicking and Dreaming, an insiders' memoir, arriving this fall, 2012 is shaping up as a banner year for the iconic American band who -- beginning with hits like "Crazy on You," "Magic Man," and "Barracuda" in the mid-1970s running through 2010's Red Velvet Car -- have created an enduring catalog of bona fide stadium rock classics and power ballads while establishing a lasting template for women in rock.
Fanatic, Heart's 14th studio album, arrives Tuesday, October 2. The group's second full-length studio album for Legacy, Fanatic premieres 10 new essential performances from sisters Ann Wilson and Nancy Wilson on songs including "Fanatic," "Dear Old America," "Walkin' Good" (featuring Sarah McLachlan), "Skin and Bones," "Million Miles," "Pennsylvania," "Mashallah," "Rock Deep (Vancouver)," "59 Crunch," and "Corduroy Road."
| | |
| --- | --- |
| Released on Oct. 2, Heart's Fanatic is Vancouver-based Ann and Nancy Wilson's 14th studio album. Its ten tracks include "Walkin' Good," a duet with fellow Vancouver resident Sarah McLachlan. | |
The first album of new music from Ann and Nancy Wilson since 2010's Red Velvet Car had its Top 10 debut in 2010, Fanatic was recorded in hotel rooms and studios up and down the West Coast, with Grammy-winning producer Ben Mink back at the helm with the Wilson sisters drawing from their own lives and personal experiences as inspiration for their music. "Dear Old America" comes from memories of a military household and is written from the point of view of their father, a Marine Corps officer, returning from war ("When I get home, I'm going to own this town/Shine this medal/Wear that crown."); "Rock Deep (Vancouver)" harkens back to the city where Dreamboat Annie was written; and "Walkin' Good" (a duet with Vancouver resident Sarah McLachlan) captures the joy of finding new life in a new love.

The title song is a celebration of the Wilson's life spirit: Ann and Nancy are fanatics about love, art, truth, and the belief that they can do anything together they set their minds to. Fans looking for a first taste of Fanatic can check out the title track on YouTube.
| | |
| --- | --- |
| | Released on Sept. 18 and co-authored with critically acclaimed and bestselling music biographer Charles R. Cross, Ann and Nancy Wilson's Kicking and Dreaming: A Story of Heart, Soul, and Rock and Roll recounts the journey that has taken them from the frozen roads of Vancouver to the pinnacle of success - and sometimes excess. |
"What a crazy year we are having," said Ann Wilson. "Our box set, Strange Euphoria, and our book, Kicking and Dreaming, each tell the story of our lives so far, personally and musically. Our new album, Fanatic, tells our story as it is now and brings it all up-to-the-minute. What a thrill to have worked with both Charles Cross and Ben Mink respectively on these, and of course to touch the musical magic Nancy and I have always shared together. Anybody want to RAWK??"

Released in 2010, Fanatic's predecessor, Red Velvet Car (the first new studio album in six years from the groundbreaking Seattle-based band) entered the Billboard 200 best-selling album charts at #10, becoming the seventh Top 10 album of Heart's career. Heart's critically-acclaimed first album for Legacy Recordings marked the return of Heart to the Sony Music Entertainment family, reaching #1 in sales on Amazon.com on Sunday, September 5.

On June 5, Epic Records/Legacy Recordings released Strange Euphoria, the first definitive career-spanning, multi-label boxed set retrospective chronicling the seminal American rock band Heart, personally curated by Ann Wilson and Nancy Wilson.

A carefully-considered anthology of biggest hits and best-loved songs set alongside deep catalog treasures, rarities, demos and live performances, Strange Euphoria includes three compact discs and one DVD in a deluxe box.

Ann Wilson and her younger sister, Nancy Wilson, first showed the world that women can rock when their band Heart stormed the charts in the '70s with hits like "Crazy on You," "Magic Man," "Barracuda," "Straight On," "Even It Up," "Kick It Out" and many more. Not only did the Wilson sisters lead the band, they wrote the songs and played the instruments, making them the first women in rock to do so. Heart continued topping the charts through the '80s and into the '90s with huge hits like "These Dreams," "Alone," "Never," and a string of other hits that showcased the sisters' enormous talents as both musicians and singers. Along the way, Heart sold more than 35 million records, had 21 top 40 hits, sold out arenas worldwide, and profoundly influenced the sound and direction of American rock music while inspiring women (and guys too!) around the world to rock out in bands of their own.

Heart were 2008 recipients of VH1 Rock Honors, received a Lifetime Achievement Award from the Northwest Grammy Foundation, and received ASCAP's award for Excellence in Songwriting in 2009.

What's made Heart endure across four decades and 14 studio albums, from Dreamboat Annie (1976) through 2012's Strange Euphoria and Fanatic is simply the quality of the music and the Wilsons' deep connection to the emotions, psyches and experiences of their fans.

Heart will be touring throughout the summer and fall (June 29-November 17). Alejandro Escovedo and Shawn Colvin will be supporting in October and November respectively. On September 25, Ann and Nancy Wilson were awarded their own star on the Hollywood Walk of Fame, the ceremony can be viewed at the official HWOF site or on YouTube.com.

Click here to visit Heart's official site.
HEART FALL 2012 TOUR DATES:

Oct. 3, 2012 New York City, NY
Oct. 5, 2012 Poughkeepsie, NY
Oct. 6, 2012 Mashantucket, CT
Oct. 7, 2012 Gilford, NH
Oct. 9, 2012 Boston, MA
Oct. 10, 2012 Huntington, NY
Oct. 12, 2012 Upper Darby, PA
Oct. 13, 2012 Bethlehem, PA
Oct. 14, 2012 Cary, NC
Nov. 2, 2012 St. Augustine, FL
Nov. 3, 2012 Melbourne, FL
Nov. 4, 2012 Hollywood, FL
Nov. 7, 2012 Atlanta, GA
Nov. 9, 2012 Ft. Myers, FL
Nov. 10, 2012 Petersberg, FL
Nov. 11, 2012 Panama City, FL
Nov. 13, 2012 Washington DC
Nov. 14, 2012 Richmond, VA


| | |
| --- | --- |
| Do The Hustle | |

In 'The Sting' and 'The Color of Money', two classics now
on Blu-ray, Paul Newman played grifters to perfection.
by Clark Collis in Entertainment Weekly

The Sting
Universal 100th Anniversary Edition
Paul Newman, Robert Redford, Robert Shaw, Ray Walston, Charles Durning
Rated: PG, 130 mins., 1973
(Universal Studios)
The Color of Money
25th Anniversary Edition
Paul Newman, Tom Cruise, Mary Elizabeth Mastrantonio
Rated: R, 119 mins., 1986
(Buena Vista Studios)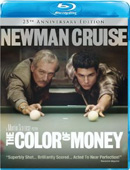 aul Newman was famous for his real-life charity work, but he sure did enjoy stealing money from people on screen, as two of his films just released on Blu-ray amply demonstrate.
In 1973, Newman reunited with his Butch Cassidy and the Sundance Kid costar Robert Redford and director George Roy Hill for The Sting (1973, PG, 2 hrs., 10 mins.),

a Depression-era caper in which the actors played con men who attempt to relieve Robert Shaw's murderous gangster of half a million bucks via a horse-racing scam. Newman's seen-it-all, whorehouse dwelling Henry Gondorff is off screen for a lot of the film, and in an excellent, if previously available, making-of doc on the extras, supporting actor Ray Walston recalls that the role was written very much as the lesser of the two leads. (Kudos to Newman for agreeing to play second fiddle at that stage of his career.) Even so, Newman's performance is indelible. His verbal jousting with Redford, his poker showdown with Shaw while pretending to be drunk -- it's all terrific stuff. Or, as the film's old-timey characters would say, "Everything is jake."
Martin Scorsese's The Color of Money (1986, R, 1 hr., 59 mins.) on the other hand, is all Newman. Yes, this belated sequel to 1961's classic poolroom drama The Hustler costars Tom Cruise, and the Top Gun icon is no slouch as a lushly pompadoured nine-ball wunderkind whom Newman's retired pool shark Fast Eddie Felson takes under his wing. But the real treat here is watching, now in super-crisp HD, Newman's minimalist acting betray his character's inner turmoil as Felson is drawn back to the game he was effectively banished from decades before. A solid film, but the disc's complete absence of extras feels like a con. The Sting A- The Color of Money B

comments powered by