| | |
| --- | --- |
| Ring Them Bells | |

Over 75 artists come together to pay tribute to Bob Dylan, while benefiting
the Nobel Peace Prize-winning organization Amnesty International.
Various artists
Chimes of Freedom: The Songs of Bob Dylan
ROCK (Amnesty International)

By Melissa Maerz in Entertainment Weekly

ob Dylan never wrote any songs about body glitter or throwing up in the closet. So one may wonder why Ke$ha appears on Amnesty International's new benefit Chimes of Freedom, a 76-track collection of Dylan covers that also features Adele ("Make You Feel My Love"), Maroon 5 ("I Shall Be Released"), and yes, Miley Cyrus ("You're Gonna Make Me Lonesome When You Go"), among others. But on her stripped-down "Don't Think Twice, It's All Right," Ke$ha gets the song's heartbreak right; you can actually hear her sobbing between verses. If there's ever a reason to believe the girl's capable of deeper feelings than "vaguely hungover," this is it.
| | |
| --- | --- |
| The 4-disc 2012 release Chimes of Freedom features 76 musicians saluting two iconic forces that have impacted the past 50 years -- the life-saving human rights organization Amnesty International and the incomparable artistry of Bob Dylan -- with new or previously unreleased recordings. Many tracks were engineered gratis by Bob Clearmountain. | |
To quote from the 1964 Dylan song that gives this comp its name, Bob has always been a champion of "the countless confused, accused, misused, strung-out ones, an' worse." So it makes sense that the best covers here come from the misfits (Ke$ha), the punks (check out Rise Against's raging "Ballad of Hollis Brown"), the outsiders (Mexican pop star Ximena Sariñiana's excellent "I Want You"), and the radicals ("With God on Our Side" finds Somali-born Toronto rapper K'naan challenging American hawkishness as only a Canadian can).

The savviest musicians here flip Dylan's messages for their own aims, just as Dylan reappropriated protest songs by civil rights heroes. Celtic-rock stalwarts Flogging Molly take on "The Times They Are A-Changin'" -- which itself was inspired by Irish drinking songs -- and reclaim it for Dublin. Sinéad O'Connor recasts 1981's born-again "Property of Jesus" as a fiery church-reform anthem. And Carly Simon smartly plays "Just Like a Woman" as a feminist ballad. When she sings "You break just like a little girl," it sounds like she's telling Dylan to man up.

There's just one problem. That leaves 60-something more songs, and an unholy amount of strummy-strummy-strum (though you can buy digital tracks individually, and an edited two-disc version is available for $14.95 at Starbucks). Diana Krall, Billy Bragg, Pete Townshend, and other major talents opt for straight, folky readings of songs that beg for reggaeton arrangement or a brostep remix -- anything to update the same classics we've heard a bajillion times before. True, Ziggy Marley and Michael Franti bring some freshness, but even they can't resist those bland open-mic-at-the-fair-trade-coffee-shop guitars. Where's the prankster spirit that got Dylan booed at Newport? Apologies to Brett Dennen and Dierks Bentley, whose respective rootsy spins on "You Ain't Going Nowhere" and "Señor" are lovely, but after listening to your trillionth fingerpicking solo, it's easy to think, "Dylan went electric for this?"

By contrast, Kronos Quartet and Philip Glass sound almost revolutionary on their gorgeous, avant-classical "Don't Think Twice, It's Alright," the only song that appears twice here. It takes major innovation (and some musical-saw interludes) to create a wholly original take on an artist who reinvents his own songs every time he plays live. And maybe that's why covering Dylan seems so hard: At a time when every subway busker thinks he's the Bard, the only man who's really the "new Bob Dylan" is Dylan himself. B-

BEST TRACKS
"BALLAD OF HOLLIS BROWN" by Rise Against
"BOB DYLAN'S 115th DREAM" by Taj Mahal
"CHANGING OF THE GUARDS" by the Gaslight Anthem
"DON'T THINK TWICE, IT'S ALRIGHT" by Kronos Quartet
"I WANT YOU" by Ximena Sariñiana
"IT AIN'T ME BABE" by Band of Skulls


"JUST LIKE A WOMAN" by Carly Simon
"MAKE YOU FEEL MY LOVE (LIVE)" by Adele
"PROPERTY OF JESUS" by Sinéad O'Connor
"THE TIMES THEY ARE A-CHANGIN'" by Flogging Molly
"WITH GOD ON OUR SIDE" by K'naan
"YOU AIN'T GOING NOWHERE" by Brett Dennen
"YOU'RE A BIG GIRL NOW" by My Morning Jacket



| | |
| --- | --- |
| Classic '70s Woody comes to Blu-ray | |

As Woody Allen's latest film 'Midnight in Paris' gains Oscar
traction, two of the reclusive director's best movies, 'Annie
Hall' and 'Manhattan', arrive on Blu-ray.
by Chris Nashawaty in Entertainment Weekly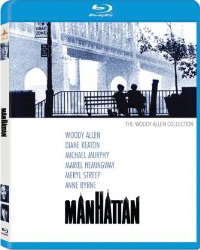 oody Allen has had quite a run lately. First, the neurotic New Yorker had the biggest box office hit of his career with last summer's Midnight in Paris. On January 24, the film was nominated for four Oscars -- Best Picture, Directing, Original Screenplay, and Art Direction. Plus, two of his most beloved films are making their Blu-ray debuts: Annie Hall (1977, PG, 1 hr., 33 mins.) and Manhattan (1979, R, 1 hr., 36 mins.)

After he cranked out a string of gag-packed comedies like Sleeper and Bananas, Annie Hall was Allen's first stab at something deeper. The laughs still come at a rat-a-tat clip (see: his cocaine sneezing fit and anti-Semite Grammy Hall's "dynamite ham"), but the former stand-up comic finally had more on his mind than slapstick. His onscreen romance with offscreen partner Diane Keaton is touching and true -- never more so than when the couple finally realize that their relationship is doomed ("I think what we've got on our hands is a dead shark").
After a gloomy detour with 1978's Interiors, Allen reteamed with Keaton for Manhattan. And if you've never seen the film's opening four minutes -- a glorious black-and-white tribute to Gotham set to Gershwin's "Rhapsody in Blue," do yourself a favor. The rest of the film, in which Allen is torn between Keaton's high-strung intellectual and an age-inappropriate high school student played by Mariel Hemingway, is just as unforgettable. Not that Allen agrees. Last spring, he told Entertainment Weekly that he thought Manhattan was overrated. The man's entitled to his opinion, but he's wrong.
My only beef with the new discs is their lack of extras beyond the films' trailers. To paraphrase Annie Hall, the bonus features are terrible... and such small portions. Still, both films earn an A

comments powered by