| | |
| --- | --- |
| 'Fun, Fun, Fun' Meets Father Time | |

Brian Wilson returns to the Beach Boys for
a breezy nostalgia trip - until clouds roll in
The Beach Boys
That's Why God Made the Radio
ROCK (Capitol/Brother)

By Will Hermes in Rolling Stone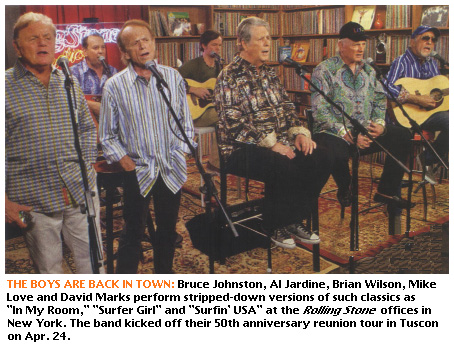 rian Wilson and the Beach Boys haven't made a record together in 16 years, but their music feels more present than ever. Last year's release of The Smile Sessions, which documented Wilson's unfinished late-Sixties masterpiece, was a major event, as was Wilson's 2004 version of Smile. The group's harmonies echo through Fleet Foxes' chorales and Animal Collective's stoner jams, their soda-pop song forms are borrowed by indie-rock faux-naifs, and their ambitious arrangements hover over work by Jon Brion, Mark Ronson and pretty much any orchestral-pop producer you can name.
That's Why God Made the Radio sounds a little surreal in this context, like a transmission from an alternate, irony-free universe: 12 songs of Turtle-Waxed melodies and startlingly boyish vocals. But there's a shadow hanging over the proceedings -- time, with its sidekicks age and death, issues the Beach Boys seemed designed specifically to dodge.
| | |
| --- | --- |
| Released on June 5 via Brother/Capitol, the Beach Boys' new 12-track album That's Why God Made the Radio is the follow-up to 1996's Stars and Stripes Vol. 1 and part of their 2012 50th anniversary celebration. | |
In this way, the album plays like another episode in the longtime struggle between Mike Love's fun-in-the-sun agenda and Wilson's grander, darker themes. It's part class reunion, part Requiem for a Beach Boy.

The album opens with a wordless incantation by Wilson, Love and Al Jardine, with longtime collaborators Bruce Johnston and Jeffrey Foskett (veteran colleague David Marks is also onboard). It's like the start of a church service -- and it leads into the title track, a harmony-robed slow dance about the days before Pandora streamed in our Priuses. "Isn't It Time?" is a similarly Love-struck jam that suggests dancing "just like yesterday" over "I Get Around" hand claps. The record's flashbacking first half is cut with humor and self-awareness. "We're back together/Easy money/Ain't life funny," they sing with a wink on "Spring Vacation," adding, for anyone who would knock their hustle, "Hey, what's it to ya?/Hallelujah."

Wilson seems to take charge on the album's darker second half. "Strange World" confesses to being a little baffled by life. The LP's wordless intro is echoed on "Pacific Coast Highway," with a title recalling late brother Dennis Wilson's "Pacific Ocean Blue" and a vision of the highway's end. "Sunlight is fading and there's not much left to say," sings the 69-year-old Wilson over wistful piano chords, adding, "My life/I'm better off alone." The record ends with "Summer's Gone," an accepting embrace of strings and woodwinds that concedes, "We live, then die/And dream about our yesterdays."

Part of a 50th-anniversary reunion that includes a world tour, That's Why God Made the Radio is, to some degree, a sugary, brand-claiming nostalgiafest. But thanks to Wilson's return, it's also an ambitious statement -- perhaps a final one -- on a legacy that's as much defined by confusion and creative cul-de-sacs as by Pet Sounds. The album is an uneven but deeply touching work by a clearly flowed Great Band -- one that, at its best, always aimed for the heavens, even if it didn't always reach them. * * *



| | |
| --- | --- |
| Alice In Movieland | |

Shock rocker Alice Cooper walks us through
his surprisingly diverse onscreen career.
by Chris Nashawaty in Entertainment Weekly


lice Cooper has been in some terrible movies -- and he knows it. "I went into Blockbuster and they had a rack of the '10 Greatest Turkeys of All Time,'" says the singer, 64. "I was in three of them."
Cooper, who became famous 40 years ago with the hit "School's Out" and followed it up with "Elected" and "No More Mr. Nice Guy," is known for being one of hard rock's most theatrical performers. His stage shows have featured a guillotine, an electric chair, and a boa constrictor.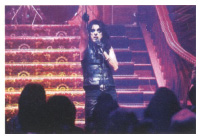 Now the self-confessed horror-film nut is appearing as himself this summer in Dark Shadows, a movie reboot of the eccentric 1966-1971 supernatural soap opera, performing at a party thrown by Johnny Depp's vampire hero Barnabas Collins (who in the film describes the rock star as the "ugliest woman I've ever seen"). Cooper says he found director Tim Burton to be a kindred spirit. "We had dinner one night in London and we both knew every point of reference," he recalls. "If he would say 'Suspiria,' I would say, 'Dario Argento.' I see the humor in horror as much as Tim or Johnny does, so we really do fit together." Last summer Depp grabbed a guitar and joined the rocker on stage at London's 100 Club. "I said, 'If this whole acting thing doesn't pan out for you, you can always be one of our guitar players,'" remembers Cooper. "He said, 'You have no idea how many times I would rather do that.'"
Off stage, the man born Vincent Damon Furnier is a golf nut and droll anecdotalist who says he'd love to be cast as a priest or "nerdy accountant." In the meantime, he's happy to reminisce about playing a brainwasher, a murderer, and... the man who raised Freddy Krueger.
Sextette (1978)
The provocative Cooper was (mis)cast as a singing waiter in this misbegotten comedy, which also stars Keith Moon, Ringo Starr, Timothy Dalton, and the famously lewd Hollywood legend Mae West as a much-married sex symbol. Although West was in her mid-80s at the time, Cooper says she lived up to her image. "After this scene I did with her she says, 'Why don't you come back to my trailer?' The next day Ringo Starr says, 'Yeah, she came on to me.' And Keith says, 'Yeah, she came on to me.' And Timothy Dalton says, 'Oh yeah, she tried to get me in her trailer.' So we all had this shared experience of Mae West being Mae West, which was great."
Sgt. Pepper's Lonely Hearts Club Band (1978)
Cooper, who was struggling with alcohol abuse, temporarily checked himself out of a "psycho ward" to play a brainwashing media mogul in this infamous adaptation of the classic Beatles album. Produced by talent agent-turned-movie mogul Robert Stigwood, the film's bizarre cast also included the Bee Gees, Peter Frampton, Steve Martin, and George Burns. "Because the Bee Gees were so big in disco at that point [Stigwood] figured, 'The Bee Gees are bigger than the Beatles, let's have the Bee Gees do the Beatles' best album.' Well, that's either going to be genius or idiotic." Critical opinion trended strongly toward the latter: Newsweek critic David Ansen described the film as possessing a "dangerous resemblance" to wallpaper.
The Muppet Show (1978)
Cooper may have appeared in two of 1978's stinkiest movies, but he struck gold that year with his starring role in an episode of The Muppet Show, in which he performed "Welcome to My Nightmare" and tried to persuade Kermit to sell his soul in exchange for rock stardom. "It was when Jim Henson was running it, and Frank Oz -- the real guys," he says. "The dialogue was hysterical."
Monster Dog (1984)
By the early '80s he was looking for a low-risk project on which to test his newfound sobriety. Then the horror-film junkie was offered a lead in Monster Dog, a werewolf movie directed by Italian schlock-meister Claudio Fragasso (Troll 2). "My manager said, 'They're going to release it only in the Philippines,'" says Cooper. "They released it everywhere, of course. And they overdubbed all our voices in English, which made it more bizarre." Again, Cooper has no regrets: "It's exactly the kind of movie I rent. I try to find the worst C-horror movies there are."
Prince of Darkness (1987)
Cooper plays a demonically possessed "street schizo" who kills a college student with half a bicycle in John Carpenter's much-better-than-it-sounds horror movie. "I'm a friend of John's, and I went down to watch him film a scene," Cooper says. "I used to do a thing [on stage] where I put a mike stand through a guy's chest and it comes out the other end and spurts blood. It's a great effect. John says, 'Could you put a bicycle through this guy's chest?' The next thing I know I'm in the movie."
Freddy's Dead: The Final Nightmare (1991)
Cooper cameos as Freddy Krueger's guardian, who, in a shot cut from the finished film, gets a razor in the eyeball by young Fred for his efforts. "I wish that role was bigger," he says. "But those movies are: 'Get to the chase! Put the straight razor through Alice's eyeball and let's get to the next scene!'"
Wayne's World (1992)
Playing himself, the singer performs "Free My Frankenstein" and then proceeds to educate Wayne and Garth on the history of Milwaukee. "I was supposed to just do the song," he says. "Then Michael [Myers] comes in and gives me about eight pages of dialogue. I went, 'When are we gonna shoot this?' and he goes, 'In about an hour.'"

comments powered by