| | |
| --- | --- |
| Going Back to 'Graceland' | |

Paul Simon remembers the controversy surrounding
'Graceland' as a 25th anniversary edition hits stores.
By Anthony Breznican in Entertainment Weekly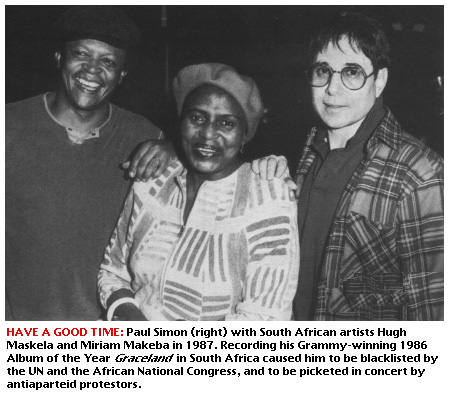 n the mid-'80s, Paul Simon faced stinging criticism for defying a cultural embargo against South Africa to record his Grammy-winning Graceland album with musicians from the apartheid-ruled nation. Now, decades later, the singer-songwriter confronts the painful episode again in director Joe Berlinger's documentary Under African Skies (which became available with the special Graceland edition on June 5), in which he debates some of his harshest critics and reunites with the South African performers who helped craft the landmark album.
| | |
| --- | --- |
| Paul Simon's 1986 album Graceland peaked at #3 in the U.S., topped the chart in seven countries, charted three singles, sold five million copies and won two Grammys. In addition to the original 11-track album, the 25th Anniversary Edition includes a second CD of six bonus tracks, a DVD of the 1987 concert film The African Concert, a DVD of the documentary Under African Skies, a 76-page book of essays, interviews, photographs, notes, and lyrics. | |
The issue appeared to be settled when, after apartheid's collapse, Simon raised hands in celebration with Nelson Mandela in 1992. So why pick at the scar now? "I think it's interesting," Simon tells Entertainment Weekly. "I don't really think of it as a scar. It was a controversy that I was in. Some people were critical, and we had our answer to the criticism." That answer: Simon felt he was giving an international platform to performers such as Hugh Maskela, Miriam Makeba, and the a cappella group Ladysmith Black Mambazo, who put a human face on South Africa's oppression.

In the documentary, the Oscar-nominated codirector of the Paradise Lost trilogy, gives critics their say but ultimately backs up Simon's view. "Apartheid was trying to destroy black culture, to reduce them to subhuman status, and [Simon] was trying to elevate them and send a message out about that culture," Berlinger tells EW. "Why would that be banned? It's inconsistent, that political rigidity."

The United Nations and the African National Congress saw it differently, and denounced Simon's decision not to seek their approval. (Simon calls it "a likelihood" they would have said no, and claims artists shouldn't be beholden to politics.) Hard feelings persist for some South Africans. In the film, Simon argues the issue with Dali Tambo, cofounder of Artists Against Apartheid and son of the late ANC president Oliver Tambo, who says Simon helped a handful of musicians at the cost of the larger struggle. Neither man changes his mind, but by the end of the conversation they are embracing. "That was a brave move on his part, to make himself available and speak what was on his mind and sit face-to-face with me," Simon says. "It was good for both of us to hear it and think about it. Now we're, well... I guess if I saw Dali again, I would think he was my friend."

Skies also tells the story of Graceland's African musicians, who used their artistry as one escape from a life of fear. "They were living in a situation where people were being killed," Simon says. "I was fighting a big artistic battle, and so were they. But they were also fighting for their survival."



| | |
| --- | --- |
| After Addiction, a Star is Reborn | |

The new documentary 'Paul Williams Still Alive' tracks the '70s pop
culture phenomenon's rise, drug-fueled fall, and ultimate recovery.
by Clark Collis in Entertainment Weekly


n the 1970s Paul Williams was everywhere. As a songwriter he penned lyrics about lovers and dreamers for the Muppets tune "Rainbow Connection" and won an Oscar with Barbra Streisand for the Star Is Born number "Evergreen." As an actor he appeared in Brian De Palma's Phantom of the Paradise and on a slew of prime-time TV shows. And as a louche wit he practically made The Tonight Show his second home. The star's omnipresence is cataloged in director Stephen Kessler's new documentary Paul Williams Still Alive, which premiered in New York on June 8 and rolled out across the country throughout the month. The film also details Williams' flameout in the '80s, when he spent 18 months writing songs for the infamous box office bomb Ishtar -- although, as the star himself admits, his real problem was substance abuse. "Ishtar wasn't a disaster," says Williams, 71, today. "The dealer not being home? That was a disaster."

Growing up in the '70s, Kessler idolized Williams. "Paul was the closest you came to someone on TV saying really edgy things," recalls the filmmaker, who directed the 1997 comedy sequel Vegas Vacation. "I didn't know [if] he was drunk, or stoned, or both." By 2005 Williams' public profile had sunk so low Kessler assumed he was dead -- until he checked out a Williams fan website and saw a photo of his idol alive and well. However, when Kessler approached Williams about being the subject of the documentary, the songwriter was less than Kardashian-keen. "There's nothing more pathetic than some little old man going, 'Please, sir, may I have a little more fame?'" says the star.
Williams, who got sober in 1989, eventually agreed to participate because of the platform it would give him to discuss recovery. The result is a film that examines both Williams' career and the at-times fraught relationship between subject and documentarian. "It's sort of Smokey and the Bandit meets Celebrity Rehab," says Williams. He knows of what he speaks: Now a UCLA-certified drug rehabilitation counselor, he has an acting résumé that includes appearances in all three Smokey and the Bandit movies.
For a forgotten man, Williams sure is a busy one. In 2009 he was elected president of the songwriters' association ASCAP and tight-lippedly confirms reports that he has discussed possible collaborations with Hellboy auteur Guillermo del Toro ("Can't talk about them") and has a project in the works with music duo Daft Punk ("There's a press blackout"). Decades after his fame peaked, Williams expresses contentment at his present position in the pop culture firmament. "I don't want to chase being famous," he says. "But the dreamer's still alive."

comments powered by