| | |
| --- | --- |
| 'Dallas' Rides High | |

After more than a few false starts, 'Dallas' is back,
and it's just as irresistible as the original.
By Karen Valey in Entertainment Weekly

here was no good reason to think it would work. People had long tried and failed to exhume the '80s nighttime soap Dallas, which wrapped 14 seasons of chronicling the messy passions of the Ewing clan back in 1991. Even beloved stars Larry Hagman and Patrick Duffy, Southfork's feuding brothers J.R. and Robby, raspberried when they produced and starred in 1998's downright embarrassing TV movie War of the Ewings. And yet somehow -- despite the sneering caution of insiders who claimed TV remakes rarely work and the squawk of purists who didn't want to see hallowed ground trampled on by cheap imitators -- the Ewing family has roared back to life, good as ever.
The new Dallas (Wednesdays, 9 p.m. on TNT) gracefully intertwines the old guard of Hagman, Duffy and Linda Gray with a fraught (and hot) younger generation played by Josh Henderson, Jesse Metcalfe, Jordana Brewster, and Julie Gonzalo. Buoyed by an aggressive marketing campaign that targeted loyalists as well as newcomers -- like the print ads featuring the entire cast in towels in a winking homage to Bobby's infamous shower scene -- the premiere pulled in an impressive 7.8 million viewers. With the help of universally positive (if surprised) reviews, it's since emerged as cable's No. 1 new drama and has already been picked up for a second season. "It's almost dreamlike," says Duffy of not just Dallas' triumphant return but also the pleasure of once again working alongside his two best friends, Hagman and Gray. "And God, if I wake up and find out I'm playing some gnarly grandpa in a sitcom somewhere, I'm going to be so pissed off."
The magic of the new incarnation rests largely in executive producer Cynthia Cidre's shrewd decision not to remake Dallas but rather drop back in on the ranch 20 years later. The trick, though, when writing the pilot was picking which former cast members to have in play. "There was never any question that I wanted to bring back J.R., and it was definitely with Larry," says Cidre. (Picture for a second the blasphemous image of anyone other than Hagman daring to tip J.R. Ewing's Stetson.) "Patrick looked fantastic, so he had to come back and be the new patriarch. And Linda looked fantastic, so she had to come back too as a remade woman." What may come as a bit of a heartbreaker to romantics still pining for a Bobby and Pam reunion: Cidre never considered reaching out to Victoria Principal. "What angle was there left play?" she asks. "The last time we saw her she was burned to a crisp. Bobby is now mature and he's happy with a new woman, where I can play different stories." (Welcome Brenda Strong, who brings a great rugged sexiness to the role of Bobby's wife.)
Word that the original trio had committed to the project lent the show credibility. "Initially I didn't even want to audition," says Metcalfe, who plays Bobby's son Christopher. "I wasn't sure if remaking such an iconic '80s show was a good idea. But Cynthia wrote this brilliant plot that bridged the 20-year gap. And the energy between the old and new cast was so special." So it was a terrible blow when Hagman, two days before he was due on the set to start filming the first season, was diagnosed with cancer. One of his first phone calls was to Duffy, who was already in Dallas. Remembers Duffy: "I told him, 'You bastard. I just got a good job and you're going to bail on me. The nerve of you dying at the apex of my career. Unacceptable.'"
But Hagman worked throughout his entire chemo and radiation treatment. There's a scene in the third episode where J.R. visits an unconscious, cancer-stricken Bobby in the hospital. He pleads for his brother to wake up because he can't imagine a life without him. Duffy wore earplugs during filming. "He was afraid if I heard Larry saying those things to him he would start bawling right there," says Cidre. So if the worst day on Dallas brought with it word of Hagman's illness, then the best came this spring when the star's doctor called to pronounce Hagman cancer-free. Says TNT president Michael Wright, "Larry looked me in the eye and said, 'Whaddya think, 10 seasons?'"
Time will tell if this incarnation makes it to that number, but since its premiere, Dallas appears to be both satisfying original viewers and cultivating the next generation of fans it will need to survive. "As soon as that first episode aired, I started getting positive feedback on Facebook and Twitter," says Henderson, who plays J.R.'s short fuse of a son, John Ross. "And from young and old fans, it's a lot of 'I love to hate you, like your father!'"
Cidre reveals that the remaining three episodes of the first season will bring a murder, two near-death experiences, and two marriage proposals. "J.R. returns to Southfork and nearly becomes undone by it," she adds. "And Rebecca [played by Gonzalo] and her brother's relationship takes a shocking turn." Meanwhile, Cidre and her team of writers have already mapped out season 2, which will start filming in September. "The first season was about the battle for Southfork," she says. "the new season will be the battle for Ewing Energies." She also wants to reassure Sue Ellen fans who are worried that Gray's now-sober character will dive once more into the drink. "I don't think we need to see her back in the sanatorium drinking Aqua Velva," she says. No matter what, says Hagman, trust that the new Dallas will remain delicious: "This makes the old one look like milk toast in the morning with no cinnamon sugar.""



| | |
| --- | --- |
| Martin Scorsese's Breakthrough | |

1973's 'Mean Streets' (now on Blu-ray) marked
the birth of a master -- and his muse
by Chris Nashawaty in Entertainment Weekly

Mean Streets
Robert De Niro, Harvey Keitel, David Proval, Amy Robinson, Richard Romanus
Rated: R, 112 mins., 1973
(Warner Home Video)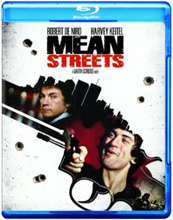 artin Scorsese has made more indisputable classics than any other American filmmaker. And to see where it all began, you have to go back to Mean Streets (1973, R, 1 hr. 52 mins.). Following the age-old maxim "write what you know," the then-30-year-old director aimed his jittery street-level camera at the neon-lit dive bars and smoke-filled pool halls of his childhood stomping ground, New York's Little Italy -- a parochial, postage-stamp-size neighborhood run by wannabe mobsters like Harvey Keitel's Charlie and Robert De Niro's lunatic loose cannon Johnny Boy. Mean Streets, which is finally making its Blu-ray debut (and looks crisper and more vivid than ever), wasn't Scorsese's first time behind the camera -- he'd already directed Who's That Knocking at My Door? and Boxcar Bertha -- but it announced the arrival of an auteur with something serious to say. In a confession-booth whisper, Keitel's Charlie delivers the film's message during the opening-scene voice-over: "You don't make up for your sins in a church. You do it in the streets, you do it at home. The rest is bulls--- and you know it." Charlie, a sharp-dressed small-time fixer, is the voice of reason amid the chaotic swirl of his petty-criminal pals. His uncle, played with old-world charm by Cesare Danova, is a high-ranking mafioso who calmly metes out justice from the back booth of a coffee shop. But Charlie's loyalty to his screw-up boyhood pal Johnny Boy strains his relationship with the Mob higher-ups.
Like Scorsese, De Niro had already been toiling on the outer fringes of the movie business before Mean Streets. But the pair's first collaboration rates right beside Taxi Driver and Raging Bull. With his leather jacket, porkpie hat, and nihilistic smirk, Johnny Boy is all psychotic id -- a ball and chain around Charlie's ankle. And De Niro gives him a tragic grace, even as his long ledger of debts foreshadows doom. As his fate draws nearer, Scorsese adrenalizes the film with mad bursts of violence, dizzying camera flourishes, and the sinister sound of the Stones blaring from the jukebox. Some folks might regard Mean Streets as a sort of low-budget dress rehearsal for GoodFellas, but it's much more than that. It's the moment when a master found his muse.
Sadly, the extras don't live up to the occasion. Both a "Back on the Block" featurette about the film's locations and a commentary from the director are leftovers from previous DVD editions. Still, the Blu-ray upgrade deserves an A

comments powered by