| | |
| --- | --- |
| When Rush Rocked Out In Space | |

The new Rock Hall of Famers were never better
or more Rush-like than on this '76 epic
Rush
2112 - Deluxe Edition
ROCK (Mercury/UMe)

By Rob Sheffield in Rolling Stone
ush have always been one of rock's all-time great argument starters. Anywhere North American males gather, it's possible to ignite a fierce debate just by name-dropping these Canadian prog sages. You can quibble over Geddy Lee's voice or Alex Lifeson's guitar chops. You can dissect how drummer-librettist Neil Peart's philosophy has changed over the years. You can question the way they malign wolves in the "Dionysus: Bringer of Love" section of "Cygnus X-I: Book II" from Hemispheres.
| | |
| --- | --- |
| Released on December 18, 2012 via Mercury/UMe, Rush's 2112 deluxe editions contain a CD/DVD or CD/Blu-Ray material including the remastered 2112 CD with 3 live bonus tracks and a DVD or Blu-ray disc with a 5.1 surround sound audio mix and an interactive digital comic book, a new album cover by original album designer Hugh Syme, liner notes and unpublished photos. A Super Deluxe Edition contains the CD/Blu-Ray and is meticulously assembled in a hardbound bookcase packed with a 40-page comic book representing every song on 2112. | |
But most of all, you can always start an argument over 2112, the 1976 rock opera that made them stars. Rush made more-popular records, but 2112 -- newly issued in expanded form -- is their most extreme, grandiose and Rush-like record, and thus their greatest record -- the definitive 20 minutes and 34 seconds of the Rush worldview (plus five extra songs on Side Two, which nobody has even played twice).

It might have made sense to reissue 2112 a year ago, so everyone could drunkenly download it on New Year's Eve. But that would have been obvious and predictable, which isn't Rush's style. That's why on their 2012 tour, with their popularity at an all-time peak, they chose to highlight their Eighties synth-pop phase, which Rush fans regard the way Zeppelin fans regard Jimmy Page's Death Wish II soundtrack. Rush like to keep people mystified.

The deluxe version of 2112 features remastered music (although, philosophically speaking, not mastered at all). It adds three live tracks and a digital comic-book version of the story, which goes like this: In the futuristic society of Megadon, where music is outlawed, a kid finds an old guitar. He figures out how to play it, which makes him a criminal to the evil priests from the Temples of Syrinx. Can his innocent strums revive the ancient spirit of music? Can he escape the tyranny of the elders? Will they let him rock? (Spoiler alert: Noooo!)

Although Peart was still in his long-since-abandoned Ayn Rand phase, 2112 has really nothing to do with the New York speed-freak author. Instead, it has an authentically grubby dork compassion. 2112 doesn't try to emulate the lame upscale respectability of other rock operas. The abrasively distinctive sonics, from Peart's busy tempo shifts to Lee's squawk of doom, keep it from ever fading into the background. Nobody will ever turn it into a Broadway show.

It's built to be played loud on headphones, late at night, all alone, staring at the wall and wondering when your life is going to stop feeling like imprisonment in the towers of Megadon. What are Rush but a three-headed "It Gets Better" statement for generations of messed-up adolescents, dreaming of a better world but unwilling to give up on this one?

So what will people argue about now that Rush have been voted into the Rock and Roll Hall of Fame? Don't worry -- Rush fans can just move on to debating why their heroes are deprived of knighthoods or the Nobel Prize in economics. Rush fans love to argue. And Rush obviously like it that way. * * * *



| | |
| --- | --- |
| A Cruel '70s Summer | |

Fundraiser Publishes Blistering "Tell-All" Seventies Fictional Memoir
Michael Stringer
Training Wheels
Martin Sisters Publishing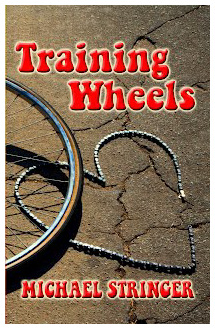 nonprofit fundraiser turned novelist, Michael Stringer, has authored a blistering fictional memoir entitled Training Wheels, a coming-of-age story that depicts a family's internal strife and struggle with radically shifting priorities and a sexually charged household atmosphere.
Told during three tumultuous weeks in the summer of 1974, the story features the sinfully candid, first person narrative of Kevin Copeland, a 15-year-old athlete, rock music lover, and youngest of four children. Kevin is a painfully inquisitive, girl-crazy young man who falls madly in love with the wrong girl at the worst time. Shelly is the wrong girl because she's the bold and seductive daughter of his father's mistress, and it's the worst time because Kevin's younger sister has hit rock bottom with drugs and counterculture friends, and his parents' marriage is rapidly coming unglued.
Kevin's certainly not alone in making irrational choices. After the radical '60s, many Americans turned introspective, searching for ways to redefine their beliefs about love and happiness, becoming desperately lost along the road. Kevin gets caught up in the free-love movement, too, risking everything to pursue the voluptuous girl of his dreams. Kevin's journey into first love becomes a perilous adventure that forces both families to face the bitter truths and harsh realities of their misguided decisions, of which there are many. All the mayhem reaches a fever pitch when Kevin and his disgruntled father lock horns in a ruthless showdown.
Stringer has shrewdly framed this story by blending the themes and styles of The Wonder Years, the popular TV show from the '90s, with The Ice Storm, the movie released in 1997 about the self-indulgent '70s.
"Training Wheels is a poignant and gripping family tale set in Los Angeles during an era symbolized by Watergate, happy faces, pet rocks, mood rings, and streaking," said Melissa Newman, author of House of Cleaving and Sister Blackberry. "It's no wonder that some people went a little... adrift."
During the early part of his career, Stringer wrote for newspapers and magazines until he finally decided to take on the challenge of pursuing a long-time goal, writing a novel.
Print and e-versions of Training Wheels, can be found at amazon.com and barnesandnoble.com as well as other online and bricks and mortar book stores wherever books are sold. Information about the book and the author can also be found at the publisher's website: martinsisterspublishing.com.

comments powered by