| | |
| --- | --- |
| Light My iPad | |

The Doors launch an interactive iPad app, exclusively on The App Store.
The Doors
The Doors App
ROCK (Rhino/Warner Music Group)

By 1888 Media

he Doors are once again poised to break on through with a first-of-its-kind iPad app, The Doors App, available exclusively on the App Store. Released on May 6, 2013, by Warner Music Group's Rhino Entertainment, the app brings the band's story to life with an unprecedented immersive experience that delves deeply into every aspect of The Doors' iconic career with interactive content, unpublished band images and artwork, rare videos, music, and much more.
The Doors App was conceived and produced by Elektra Records founder and Warner Music legend Jac Holzman, who signed the Doors to the label in 1966, and Robin Hurley; along with the participation of drummer John Densmore, guitarist Robby Krieger and keyboardist Ray Manzarek, and the estate of the late singer Jim Morrison. Holzman, a pioneer in the music industry and a pivotal force throughout the band's career, comes full circle with this app. Holzman and Warner Music now bring The Doors into the digital age with a visionary project that redefines how a band's work can be chronicled in the virtual realm.
"The genesis of this project began with a desire to digitize the boxed set, to use new technology to improve upon a much-loved fan experience. It made total sense to choose The Doors. They have always been 'ahead of the curve' artists and their story is one of the great sagas in rock," says Holzman. "Together with the band, we tell a compelling tale using materials from The Doors' own archives and the Warner Music vault plus the hundreds of other sources we chased down -- a wealth of treasures including previously unseen photos, fresh interviews, and behind the scenes insights and reflections. Delivered in a single download, this is a riveting approach to showcasing a band's entire career. I believe Warner Music has set the bar higher for future music apps... and that is a very good thing to do!"
An intimate portrait of the band enjoying a drink at the Hard Rock Café -- taken by legendary photographer Henry Diltz during a shoot for the Morrison Hotel album -- greets visitors on the home page and guides them on a journey through the living history of one of rock's most fascinating and incendiary groups.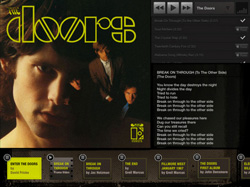 The Doors App is divided into several sections, with the The Story button leading to the true centerpiece, proving endlessly intriguing for both veteran fans and new initiates with hundreds of photos, videos, and interviews. All six albums recorded by the original Doors foursome, as well as the two albums recorded later by the Doors as a trio, are spotlighted here through essays from counterculture icons including Patti Smith and Hunter S. Thompson, Doors historians such as David Fricke, Greil Marcus, and archivist David Dutkowski, as well as pieces from the band and personal reminiscences shared by Holzman. The Story section also highlights extensive technical notes detailing all the equipment used to create every studio album.
Among the other centerpieces of The Story section is a graphic novelization of the notorious Miami Incident, where Morrison was falsely accused of exposing himself during a 1969 concert. The infamous episode comes to life here through drawings by award-winning comic book artist Dean Haspiel, words by Adam Holzman (son of Jac), and rare audio of Morrison recorded during the show. This section also includes the once-confidential FBI report, the arrest report, a portion of Jim's tongue-in-cheek testimony, Morrison's mug shot, and his posthumous pardon issued in 2010.
Also featured are a comprehensive Timeline, a Cast Of Characters listing key people in the Doors' universe, an interactive Doors Map of LA that focuses on prime locations in the band's history, a Gallery filled with rare and iconic images, all song lyrics, in-app links to social media and the iTunes store, and a customizable My Favorites area. All told, the app features over 500 images including band photos, album art, singles, international releases and memorabilia (posters, ticket stubs, advertisements, press releases, contracts, and related correspondence). The app also includes 44 short form videos and 60 audio segments. Holzman had referred to The Doors App as a "1500 piece jigsaw puzzle in three dimensions, which arrives on your iPad, elegantly pre-assembled."
The Doors App is available for $4.99 from the App Store on iPad or at http://www.appstore.com.
Purchase The Doors App here
The Doors App official trailer
To coincide with the launch of The Doors App, each of The Doors' studio albums have been Mastered For iTunes by their longtime producer Bruce Botnick and are now available exclusively on iTunes. Three new digital boxed sets (The Complete Studio Albums, Behind Closed Doors -- The Rarities, and Strange Nights Of Stone Vol. II -- The Bright Midnight Archives Concerts) as well as two Mastered For iTunes compilation albums (The Very Best Of and The Future Starts Here: The Essential Doors Hits) are also available now on iTunes.



| | |
| --- | --- |
| C'Mon Get Kinky! | |

The 'Partridge Family' mom turns her wholesome image on its head in a new memoir.
By Melissa Maerz in Entertainment Weekly
Shirley Jones
Shirley Jones: A Memoir
Gallery Books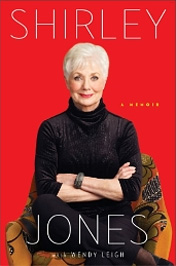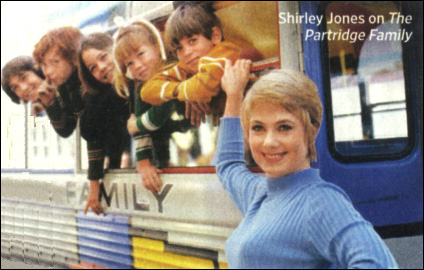 f you still think of Shirley Jones as the wide-eyed blonde who performed family-friendly songs on The Partridge Family and sang in the wholesome musicals Oklahoma! and The Music Man, the 79-year-old actress has news for you: "I have never myself been that innocent." Some revelations from her saucy new memoir Shirley Jones: A Memoir.
1. She and her first husband liked to experiment. Jones says that her first husband, the late Broadway star Jack Cassidy, taught her "to be free about sex." Together, they experimented with amyl nitrate and even had a threesome. On their wedding night, Cassidy tried on Jones' sheer black lace negligee and heels.
2. That same husband also experimented with Cole Porter. Though he said he wasn't gay, Cassidy confessed to Jones that he'd slept with Cole Porter in exchange for a job. He'd flirted with the composer before exposing himself and asking, "Do you want some of this?" Years later, Jones read that the affair went on for years, with Cassidy always waving around his prize possession while Porter, whose legs were paralyzed, was forced to crawl toward him.

3. David Cassidy was a big, big star. David, who was Jones' stepson and Partridge Family costar, is apparently blessed with "a giant endowment." His brothers called him Donk, short for Donkey, and his similarly gifted father would compare sizes with David, which, Jones admits, "probably didn't help their rocky relationship."
4. Fire can be sexy. After a manic episode led Jack Cassidy to believe that he was Jesus Christ, his mental health quickly deteriorated. One night, he took Jones into the bedroom, where she hoped he would romance her by the fireplace. Instead, he just romanced himself, exclaiming, "Isn't it beautiful!"
5. She takes care of her skin. Even as she approaches 80, Jones says that she practices self-love, which is "great for the skin." Her favorite fantasy involves a "faceless macho guy." "I say his dialogue and mine, out loud," she writes. "If people heard the explicit word I say, they would be shocked."

comments powered by