| | |
| --- | --- |
| The Doctor Is Out-There | |

Dig into the wild life and deep catalog of New Orleans icon Dr. John, who just released
his 30th studio album, the Louis Armstrong tribute 'Ske-Dat-De-Dat: The Spirit of Satch'.
By Kyle Anderson and Leah Greenblatt in Entertainment Weekly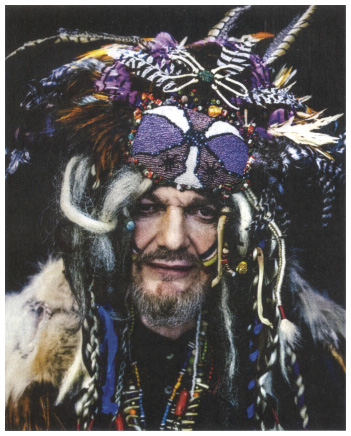 he man born Malcolm John "Mac" Rebennack Jr. in 1940 in New Orleans began his show-business career as the baby on the Ivory soap packaging. But it was a different art form that spoke to him; by his teen years, he had become fully immersed in the local music scene. After spending the early '60s as a session player (with a sideline stint in federal prison on drug-related charges), he rechristened himself Dr. John the Night Tripper and melded his roots influences with psychedelic rock. Though he never seemed to pursue mainstream success, it came to him in the most unusual ways, whether via collaborations with industry superstars -- fans include everyone from the Rolling Stones to the Black Keys -- or memorable placements in movies and on TV (yes, Blossom). Over the years, the good Doctor has performed at both a Super Bowl and a presidential inauguration and has been inducted into the Rock and Roll Hall of Fame. But his most lasting legacy may be as a Rosetta stone for the homebred music of New Orleans, the city that holds his heart and soul.
DR. JOHN BY THE NUMBERS
16 - Age at which he began working as a session musician at Mississippi's Ace Records.
1 FINGER - Shot off in 1960 when Dr. John tried to break up a fight. It was later sewn back on but forced his switch from guitar to piano.
2 YEARS - Time spent in federal prison in Texas for heroin possession (1963-65). He's been sober since 1989.
2 - Number of times Dr. John met Louis Armstrong - once in person in 1967, and once in a dream he had about making his new album Ske-Dat-De-Dat: The Spirit of Satch.
1975 - Year the Dr. John-inspired Muppet, Dr. Teeth, first appeared on The Muppet Show.
17 - Number of days it took to record 2012's Grammy-winning Locked Down.
6 - Number of Grammys won
- BEST JAZZ VOCAL PERFORMANCE - "Makin' Woopee" (1989)
- BEST TRADITIONAL BLUES ALBUM - Goin Back to New Orleans (1992)
- BEST ROCK INSTRUMENTAL PERFORMANCE - "SRV Shuffle" (1996)
- BEST POP COLLABORATION WITH VOCALS - "Is You Is, Or Is You Ain't (My Baby)" (2000)
- BEST CONTEMPORARY BLUES ALBUM - City That Care Forgot (2008)
- BEST BLUES ALBUM - Locked Down (2012)
80,000 - Estimated number of attendees at the 13th annual Bonnaroo festival in Manchester, Tenn., in 2014. The festival took its name from Dr. John's 1974 album, Desitively Bonnaroo.


DR. JOHN'S FAMOUS COLLABORATORS
Sonny & Cher - His debut, Gris-Gris, might never have existed without the generosity of the famed duo, who allowed the young sideman to borrow their unused hours in an L.A. studio for his own recordings.
Frank Zappa - Dr. John's early encounter with the weird-rock maestro and his Mothers of Invention wasn't exactly a meeting of the minds -- he walked out of a session for 1966's Freak Out! and never came back.
Eric Clapton and Mick Jagger - What's a quick guitar lick and background-vocal cameo among friends? Both stars get credit on 1971's The Sun Moon & Herbs, though it was hardly the only time they jammed together.
Allen Toussaint - Toussaint, along with Professor Longhair, played a vital role in Dr. John's artistic revolution -- and helped him find his signature sound with 1973's In the Right Place.
Van Morrison - The pair are perhaps better remembered for their scene in The Last Waltz than for their work together on Morrison's minor-key 1977 release, A Period of Transition.
Dan Auerbach - The Black Keys frontman brought his own production flavor to 2012's Locked Down; the much-acclaimed result garnered them both Grammys.


DR. JOHN'S BEST ONSCREEN PERFORMANCES
Dr. Johns' New Orleans Swamp (1974) - Oh, just a completely bonkers hour-long televised concert you can find on YouTube, featuring Professor Longhair, the Meters, and about 18 gallons of seat, confetti, and feathers.
National Lampoon's European Vacation (1985) - Every '80s movie got the makeover-montage music it deserved -- the synth-riddled "New Looks" is as awesomely dated as the Griswolds' couture.
Blossom (1990-95) - Legend has it that Mayim Bialik's adorkable dance moves were first set to Bobby Brown's "My Prerogative" before producers (wisely) swapped in Dr. John's "My Opinionation."
VH1 Duets With Eric Clapton (1996) - The two old friends don't go big on stage patter, they just double down on hits including "Layla" and "Right Place Wrong Time" at New York's Roseland Ballroom. (It's on YouTube.)
Piano Blues (2003) - In the Clint Eastwood-helmed segment of Martin Scorsese Presents the Blues, Dr. John talks about his influences and performs while wearing some pretty amazing yellow velvet slippers. (Also on YouTube.)
Treme (2010-13) - You can't have a show about music and New Orleans without the man who's pretty much a living embodiment of both. He appeared as himself in five episodes over the series' four seasons.
DR. JOHN'S TOP TEN ALBUMS
| | | | | |
| --- | --- | --- | --- | --- |
| Gris-Gris (1968) A humid, humming debut that slathers his jazz and blues sensibilities with psychedelic ooze. | Babylon (1969) More downbeat than its predecessor, Babylon adds social commentary to swampy hedonism. | Dr. John's Gumbo (1972) Leaving behind nearly all acid-rock flourishes, Gumbo is tightly wound funk and soul. | In the Right Place (1973) Backed by the Meters, Dr. John scored his first big hit with "Right Place Wrong Time." | City Lights (1978) The early stuff is mostly covers, but Lights established Dr. John as a skilled songwriter. |
| In a Sentimental Mood (1989) The '80s were rough; this dive into the American songbook began his comeback. | Goin' Back to New Orleans (1992) A literal, spiritual, and definitive return to the funk and blues bayou. | Anutha Zone (1998) A spacey team-up with admirers from Primal Scream, Spiritualized, and Portishead. | N'Awlinz: Dis Dat or D'udda (2004) Another batch of all-stars, including Randy Newman and Mavis Staples. | Locked Down (2012) Producer Dan Auerbach helped Dr. John find his way back to early hoodoo heaters. |


| | |
| --- | --- |
| Robin Williams 1951-2014 | |

TV Guide remembers and celebrates the Oscar-winning actor and comedy icon.
by Matt Roush in TV Guide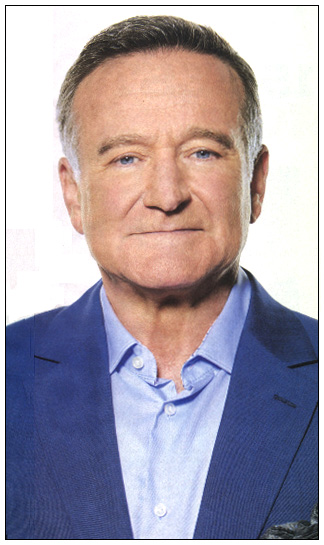 e could make you laugh until it hurt. And the crying shame of Robin Williams's death by suicide at age 63 is that our most revered modern clown, who lifted our spirits with his quicksilver wit for more than three decades, was unable to escape his own shadows of addiction and depression.
As the shock of the news settled into sadness, and tweets rained like tears, generations of fans remembered their favorite Robin Williams moments from television and the movies. There are so many, varying in tone from antic hilarity to searing or sentimental drama, but it seems fitting that his initial burst of superstardom was as the irrepressible Mork from Ork.
Mork & Mindy, an instant hit that was spun off from Happy Days in 1978 and costarred Pam Dawber, showcased Williams's almost supernatural gifts of giddy improvisation, physical comedy, and cartoon voices. As if Sid Caesar had morphed into Jonathan Winters -- Williams's idol, who played Mork's son, Mearth, in the final season -- here was something new and special.
As Williams told TV critics last summer while promoting his short-lived and underrated CBS sitcom The Crazy Ones, "Literally they would put in the script, 'Mork does his thing here,' which was just like 'Riff, riff, little white boy, here we go!'" And away he went, tuned in to a higher comic frequency than most mere mortals.
Producer George Schlatter, who cast a then-unknown Williams in a Laugh-In revival a year before Mork's breakthrough, predicted to us in 1978: "When Robin Williams becomes a star, which may be at any moment, they'll have to devise new words to describe what he does and how he does it." Shazbot, maybe?
After Mork's four-season run, Williams found success in the movies, winning an Oscar for Good Will Hunting and creating indelible roles in such hits as Good Morning Vietnam, Mrs. Doubtfire, Dead Poets Society, and Aladdin, in which he voiced the genie, a perfect fit for this verbal virtuoso.
But he never strayed far from TV, where he was most free to be himself, with unbridled appearances on late-night talk shows -- when Johnny Carson's Tonight Show ended, Williams was one of the last guests, appearing on the penultimate night -- and in a memorable series of stand-up specials on HBO, where he also cohosted Comic Relief fundraisers with Billy Crystal and Whoopi Goldberg. The 1986 An Evening at the Met is among his greatest triumphs. He dominated New York's Metropolitan Opera stage, drenched in the perspiration of inspiration, with rollicking routines including a bit on his painful battles with alcohol and drugs.
It's the natural rush of comedy that truly distinguished Williams's life and career. Even in the bloopers at the end of every Crazy Ones episode, you could marvel at the joy he brought to the set with his spontaneous outbursts.
"When you're getting laughs, there's an incredible amount of energy created. You soar into some strange and wondrous nether zone of total freedom," he told us in 1978. "When it works, it's a great release for both the performer and the audience. It's a mutual high. And it's priceless." So was Robin Williams, a man tragically possessed by darkness but unmistakably touched by genius.
ROBIN WILLIAMS'S 15 BEST TV MOMENTS
by Michael Schneider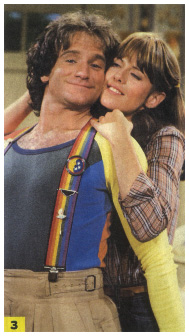 1. Laugh-In (1977) NBC's attempt to revive the classic late-'60s/early-'70s comedy-variety show fell flat, but then-unknown Robin Williams impressed with his frantic energy and off-the-wall humor.
2. Happy Days (1978) In Season 5's "My Favorite Orkan," Williams played Mork, an alien whose plan to take Richie Cunningham back to Ork, his home planet, is foiled by Fonzie. Audiences (and producer Garry Marshall) fell in love with the character -- and Williams -- setting the stage for the spinoff Mork & Mindy.
3. Mork & Mindy (1978) Starring Williams as an alien and Pam Dawber as the single woman who takes him in, the sitcom was an immediate hit. Audiences took to Williams's sweetly innocent portrayal of Mork as he navigated and questioned the strange and unusual customs found on Earth. The star's ad-libs became a major part of the show, as did catchphrases like "nanu nanu" and "shazbot."
4. Saturday Night Live (1984) Williams hosted three times, the first in 1984, when he gave a monologue poking fun at the Winter Olympics and riffing on being a new father. His takes on celebrity parenting and breastfeeding were classic.
5. Comic Relief (1986) For several years, Williams, Billy Crystal, and Whoopi Goldberg hosted specials benefitting this charity, which raised more than $70 million to combat homelessness and help other causes. Audiences loved the unpredictability of the live events. In 1992, George Foreman challenged Williams and Crystal to a pie-eating contest, during which Williams rubbed the dessert on his nipples and Crystal slapped a pie on Foreman's behind.
6. Carol, Carl, Whoopi and Robin (1987) Inspired by her variety series, Carol Burnett hosted this special -- featuring Carl Reiner, Goldberg, and Williams -- which landed Williams his first Emmy award. In one hilarious sketch, he played a man making terribly inappropriate remarks to Burnett's grieving widow.
7. The Tonight Show Starring Johnny Carson (1992) For his penultimate episode, Carson chose Williams and Bette Midler as his final guests. While Midler serenaded the host with a goodbye tune, making him cry, Williams came on to make him laugh, walking on stage with a rocking chair for Carson to enjoy in his retirement. Of course, Carson had to wipe away tears of laughter after an epic Williams run, in which the comic explained how to impersonate then-President George H. W. Bush: "You take John Wayne, and then you tighten up his ass."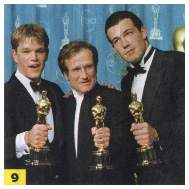 8. Homicide: Life on the Street (1994) In the Season 2 episode "Bop Gun," Williams played a tourist who witnessed his wife's murder, a performance that earned him an Emmy nomination. "This was a big deal," David Simon, who cowrote the episode, remembers on his blog. "His performance...was brilliant and thorough, and when broadcast, the ratings assured that the NBC drama would run another five years."
9. The 70th Academy Awards (1998) After three earlier nominations, Williams's work in Good Will Hunting finally won him an Oscar, officially validating his dramatic work in film. "This might be the one time I'm speechless," he proclaimed on the stage, before getting a hug from Oscar host (and pal) Crystal.
10. The 72nd Academy Awards (2000) When Matt Stone and Trey Parker scored an Oscar nomination for "Blame Canada" -- their tongue-in-cheek tune from South Park: Bigger, Longer Uncut -- they asked Williams to perform it on the awards show. Williams wasn't much of a singer, but that didn't matter: It was the good will that came with his being Robin Williams that allowed him to get away with some of the song's potentially offensive lyrics. With scores of dancers behind him, WIlliams nailed it, ending in the middle of a chorus line of leggy dancers dressed like Canadian Mounties.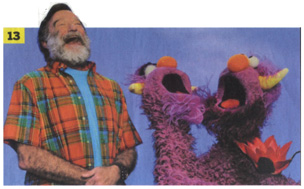 11. Law & Order: SVU (2008) Williams's unpredictability and chaotic comic personal translated well to villainous dramatic roles. In the Season 9 SVU episode "Authority," he played an audio engineer who concocts a plan to terrorize the public by making threatening phone calls.

12. Robin Williams: Weapons of Self Destruction (2009) HBO aired five of his stand-up specials, starting with Off the Wall in 1978. In Weapons, he tackled such topics as global warming and was frank about his struggles with alcoholism.
13. Sesame Street (2012) Williams appeared on Sesame Street six times. In 2012, he and the Two-Headed Monster demonstrated the world "Conflict" by getting into their own humorous argument in the Monster's gibberish language.
14. Louie (2012) In the Season 3 episode "Barney/Never," Louie C.K. and Williams are the only people to show up for the funeral of a despised comedy-club manager. The poignant story was made even more so when the two comedians agreed to attend the funeral of whoever dies first.
15. The Crazy Ones (2013) Creator David E. Kelley had Williams in mind for the character of Simon Roberts, a manic ad exec working with his daughter, played by Sarah Michelle Gellar. Williams embraced his return to TV. "This work is actually relaxing," he told TV Guide. "We're trying things out and seeing what sticks. That's all we can do. You enjoy yourself and hope it hits."

comments powered by