| | |
| --- | --- |
| 'Movin' on Up' - A National Anthem | |

As Shout! Factory releases a new deee-luxe 'The Jeffersons' box set,
the series' famous theme song has become a pop culture icon.
by Mark Spitz in TV Guide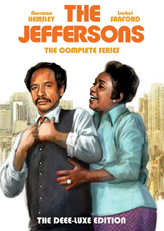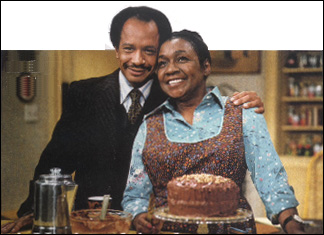 he Jeffersons are movin' on up -- again. Writer-producer Norman Lear's spinoff of his sitcom All in the Family was a smash for CBS from 1975-85 and again in reruns on Nick at Nite. Now it's available as a full-series box set from Shout! Factory.
"There had been some expressions in the African-American press along the lines of, 'Too bad the father in [Lear's] Good Times has to hold down two or three jobs. Why aren't there any upwardly mobile characters?'" Lear says. In response, he transported George Jefferson, Archie Bunker's neighbor, and his wife, Louise, from working-class Queens to the Upper East Side of Manhattan to enjoy the fruits of George's dry-cleaning businesses.
The show's theme song, "Movin' on Up," cowritten by Songwriters Hall of Famer Jeff Barry and Ja'net Dubois (who sang lead and also played Willona on Good TImes), became as popular as the show. As a mere tune, the stomping, gospel-tinged sing-along is irresistible. But in Lear's opinion, it evolved into a slogan, and today it's something of an anti-oppression anthem.
The theme song proved inclusive from its inception. Barry, who is white, grew up "street," as he explains, and related to the Jeffersons' experience, ending up in his own high-rise after co-writing a slew of classic pop hits, including "Chapel of Love." Like the greatest compositions, "Movin' on Up" is multifaceted, applicable to both Burger King commercials (it aired in one in 1999) and protest marches. Traces of '70s feminist movement can be found in the mix as well, thanks to DuBois's impassioned vocals.
When Barry watched the filming of the pilot, he realized a strength of the show was the bond between the couple. "It's not just about George," he says. "Weezy is very strong." Lear now sees parallels between the song's sentiment and the LGBT community's fight for marriage equality.
"I always liked the song, but I never knew the words," says Marla Gibbs, who played Florence, the Jeffersons' wisecracking housekeeper. "It moves. It makes you tap your feet and clap your hands." Then there's the down-home bridge: "Fish don't fry in the kitchen/Beans don't burn on the grill," which reaches beyond the Manhattan skyline and calls to mind the humid Deep South. "It was exactly what the show required," Lear says.
"Movin' on Up" has been covered by the likes of Sammy Davis Jr., animated cat Garfield (voiced by Bill Murray in Garfield: A Tale of Two Kitties), and Beyoncé, and it's referenced or sampled in may rap songs, most famously Will Smith's 1997 "Gettin' Jiggy Wit It." "I'm amazed by how many people know it," says Barry.
"It expressed what so many people were so grateful for," says Lear. Part of the American dream was being realized."



| | |
| --- | --- |
| The Only 'Gambler' You Need To See | |

As the new Mark Wahlberg-starred 'The Gambler' hits
theaters, a look back at the 1974 film which inspired it.
By Chris Nashawaty in Entertainment Weekly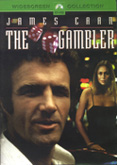 irector Karel Reisz's The Gambler is a movie that's distinctly of its time. From the grim, downbeat ending to the open-to-the-navel polyester shirt machismo, this underseen 1974 film is a classic reminder of a decade when Hollywood wasn't afraid of the dark.
Based on a semiautobiographical script by James Toback, The Gambler not only has a masochistic sense of dead-and-dread, it remains one of the few films to really capture the dizzying psychological highs and lows of betting addiction. Just coming off The Godfather, James Caan stars as Axel Freed, a hip, hotheaded college professor with a habit of losing money hand over fist. Roulette, college basketball -- if there's any chance for a payoff (or oblivion), he wants action on it. One of the things I love most about the film is how it uses the kinds of disheveled, blue-collar character actors you don't see much anymore (Burt Young, Vic Tayback, Paul Sorvino). Their faces alone give the film a gruff authenticity that makes a movie like Rounders look like The Little Rascals.
In the most thrilling scene (though it's hard to pick just one), Axel takes his girlfriend (Lauren Hutton) to Vegas, where he catches a ridiculous hot streak at the blackjack table. He's got thousands riding on each hand and he's dealt an 18 against the dealer's 20. Instead of admitting defeat, he doubles down just for the rush. It's sick and stupid and, just like stumbling onto a car crash, you can't look away for a second.

comments powered by