| | |
| --- | --- |
| 'Rocky Horror' Cast Reunion | |

Five members of 'The Rocky Horror Picture
Show' cast remember the 1975 cult classic.
By Keith Staskiewicz in Entertainment Weekly

t's been four decades since the release of The Rocky Horror Picture Show, and yet we're somehow still shivering with antici...pation. That's becuase five of the cult classic's stars -- Tim Curry, Susan Sarandon, Barry Bostwick, Patricia Quinn, and Meat Loaf -- have reunited for the film's 40th anniversary, a celebration of one of the strangest, sexiest, most addictive movies ever. (Fox Home Entertainment has released a special Blu-ray edition to mark the occasion; it's also streaming on HBO Now and HBO Go.) What's even more amazing is that Rocky Horror has been playing continuously for all of those intervening years, screening at midnight showings around the world to serried ranks of fishnet-clad superfans armed with hot dogs, newspapers, and call-and-response interactions for a service at the Church of Dr. Frank-N-Furter. None of these actors could have guesed that their odd, wonderful, no-budget production would have such a long tail, but they're certainly enjoying it. "I'm definitely going to need to get all of your numbers," says Sarandon.
STAGE TO SCREEN
Richard O'Brien's madcap exaltation of B-movie camp and sexual fluidity began as a stage phenomenon, mounted first in London, then in L.A. and New York, and featured many of the actors who eventually starred in the film.
TIM CURRY Dr. Frank-N-Furter They asked me to audition for it, and I sang "Tuttie Frutti," which was appropriate, really. I started playing [Frank-N-Furter] as a German, then I saw the costume. It was quite diva. I heard a woman on the bus one day saying, in this posh voice, "Are you looking at a new house when retiring or your place in the country?" and I thought, That's it! Almost like the Queen. Well, it was a smash from the moment it opened. It was a tiny theater. There was only 60 seats. And then they brought it over to Los Angeles.
PATRICIA QUINN Magenta It was really quite a big hit in London. I remember Mick Jagger came to see us, as did a lot of others.
MEAT LOAF Eddie When they called for Rocky Horror, I had no idea what it was. All I knew was they wanted me to come to L.A. In the play, I played Eddie as well as Dr. Scott. We went to meet Elvis, who had seen the show, and he said to me, "I hear everyone that has done [Eddie] has only done an impersonation of me and you didn't do that." And I went, "No, there's only one you."
CURRY The show was a big hit at the Roxy theater [in NYC]. Various film companies started circling, and Fox eventually made a proper offer. It made sense to make a movie.
SUSAN SARANDON Janet Barry and I were the only ones that hadn't been involved with the stage show. I had become friends with Tim because I had girlfriends who were in the L.A. stage production. At one pint, I just ran in to give him a kiss and say hi and then they went, "Why don't you read for this?" I didn't even know they were casting the movie. So I read and they were like, "Oh my God!" But I said, "Yeah, but I can't sing." I was really embarrassed. So, I thought at some point if I did this that they'd have to give me alcohol, drugs, or something to get me through it, which of course they didn't."
BARRY BOSTWICK Brad I think we were the outsiders, you know, the ones that flew across the pond, the characters coming into the castle. The moment we got off the plane, we were either rehearsing or pre-recording. So we didn't have a lot of time to get to know them, and they didn't have a lot of time to get to know us. It was a hurry-up, low-budget movie and everybody was trying to do their absolute best with no money and just no time, and I think that we were, in some ways, seen as Brad and Janet.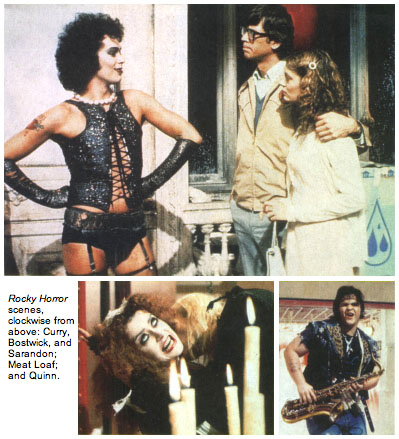 A ROCKY PRODUCTION

In the wise words of Dr. Frank-N-Furter, "It's not easy having a good time." Filming at Bray Studios and the crumbling Oakley Court in the U.K. was not exactly a rosy experience, with the cast and crew fighting tight schedules, cold conditions, and lowered immune systems.

CURRY It was the middle of winter, and when we did the swimming pool scene, Susan got pneumonia. We never heard the last of it.

SARANDON It was cold. It was a difficult shoot, just in terms of the amount of time that there was and the circumstances. Everybody was workng under the gun. I mean, in a way, I was the only one that had done a film. Everyone was exhausted and working long hours and then going all the way back an hour to London and then starting all over again. There was no ceiling. It was raining right into the building. I finally had to ask for something, and they got a space heater and put kind of screns around it. And then one day it went up in flames, luckily with nobody in it, and that was the end of that.

BOSTWICK It just caught fire. You tried not to feel the cold even though the rain was coming through the roof. It was like a comedy of errors. [The stunt guy] who rode the motorcycle [around the lab] got hurt because it sort of fell off the ramp as he was going up. Probably the hardest thing to shoot was getting out of the pool in five-inch high heels and having to dance the floor show on a slippery, wet stage. That ain't easy.


ROCKY HORROR
CAST UPDATE

SUSAN SARANDON, 69, stars alongside J.K. Simmons in The Meddler, which premiered at the Toronto International Film Festival in September.

BARRY BOSTWICK, 70, can most recently be seen in the omnibus scarer Tales of Halloween, which hit theaters Oct. 16.

TIM CURRY, 69, has most recently concentrated on voice work.

MEAT LOAF, 68, is currently working on his new album, Braver Than We Are, which is slated for release in fall 2016.

PATRICIA QUINN, 71, appeared in Rob Zombie's The Lords of Salem and was a guest at a special screening of Rocky Horror Picture Show at Royal Albert Hall on Oct. 27.


SARANDON I had pneumonia for a while and the doctor told me, "You really shouldn't work, but if they can put you in a hot tub in between the scenes or something that would be helpful." I was like, "They don't even have hot rooms, let alone a hot tub."

LIP SERVICE

It's hard to think of a more famous pair of lips in cinema history than the ones that open the film singing "Science Fiction/Double Feature."

QUINN I was the lips, and when I came in to do it there wasn't one penny left. So there I was blacked-out, and they had no special effects to do that, so they just put a piece of cloth over the camera. When I sang, my head moved and my mouth kept going out of frame so they took a light clamp and clamped my head in!

CURRY The original idea was the film would be in black and white until I appeared in the elevator.

SARANDON It was a shame that there wasn't the money to do that because it would've been like The Wizard of Oz, and I thought it was such a good idea, but they couldn't afford it.

THE LEGACY

The Rocky Horror Picture Show wasn't a hit when it was released, but shrewd countermarketing combined with ready-made cult sensibilities turned it into a midnight-movie classic at theaters like the Waverly in Greenwich Village.

CURRY I was hoping it was going to be a very commercial Warhol movie.

SARANDON I don't think anybody knew what to make of it, and that was the end of it. I never even knew it had opened. It definitely didn't open in New York. And then it slowly started gaining traction as a midnight movie.

CURRY It was odd because in fact I was living in the building behind the Waverly. I did go, and I was thrown out because they thought I was in imposter, not actually me. "Get out of here" is exactly what they said.

QUINN Every generation introduces their children to it. I've been flying around doing conventions and introducing the move for years, and I'm still amazed at these huge crowds to whom the movie still means so much.

SARANDON Molly Ringwald took me to a screening party early on. That was the first time I saw it; I believe it was 8th Street, the whole ritual. I've been back to see it. I brought Natalie Portman and Thora Birch and my daughter when we were doing Anywhere but Here in L.A. It's clearly a rite of passage. Lots of times journalists ask me in such a way as though I would be defensive about it, but I'm very proud of being part of it.

BOSTWICK There's something incredibly simple about Rocky Horror Picture Show in terms of its color and props and scenes, and I think that's what people respond to: that they can be any character in it if they have the balls to stand up and put those costumes on.



| | |
| --- | --- |
| With a Little Help From His Friends | |

Beach Boys genius Brian Wilson invites several
young collaborators on his latest nostalgic trip.
Brian Wilson
No Pier Pressure
POP (Capitol)

By Kyle Anderson in Entertainment Weekly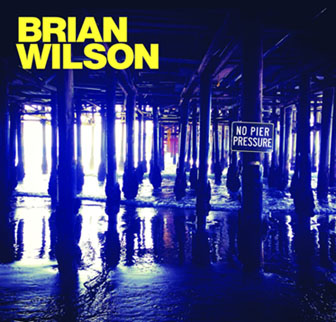 he title of Brian Wilson's 11th solo studio album, No Pier Pressure, is the kind of eye-roll-worthy pun your dad would drop at a barbecue. Wilson gets a pass, though -- partly because he's a musical icon (both on his own and with the Beach Boys) who helped reinvent the idea of how pop music could be constructed, and partly because he's 72 years old. There's a fundamental corniness running through Pressure, from its glossy soft-rock sheen to its borderline-anodyne lyrics about seaside love.
BEST TRACKS
"On the Island" - A coconut-scented lullaby aided by She & Him
"Guess You Had to Be There" - Kacey Musgraves brings bubbly Nashville sass

But Wilson sells it pretty well, aided by his legendary knack for effervescent melodies and the presence of dynamic young guests, including Nate Ruess, She & Him, and Kacey Musgraves. Beach Boy pal Al Jardine, David Marks, and Blondie Chaplin show up too, on songs that focus largely on the harmonizing that made them famous. (Those songs are perfectly lovely, though something like "Sail Away" could have easily been shelved in 1963.)

It's the dalliances outside Wilson's comfort zone that elevate Pressure, especially the twangy Musgraves-assisted story-song "Guess You Had to Be There" and the twisty roller jam "Runaway Dancer." At this point, Wilson will never top Pet Sounds or "I Get Around." Still, even if his latest doesn't add much to his already ironclad legacy, it's undoubtedly a better album than your dad could make.

By Will Hermes in Rolling Stone
It's been a late-game rally for Brian Wilson, the eternal teenager who, by his own measure, just wasn't made for this world. After three more-or-less lost decades in the wake of Pet Sounds, few expected 2004's Brian Wilson Presents Smile -- and even fewer 2012's intermittently great Beach Boys reunion LP That's Why God Made the Radio, with Wilson's wistful joy back at the helm. His latest solo LP began as songs for the Beach Boys' follow-up, but when the group ran aground once more, Wilson called in a quirky mixtape's worth of young collaborators, and it became something else: the sound of a famously cloistered artist finally leaving his room.
The highlights aren't mere vocal cameos but writing collaborations. "Guess You Had to Be There," a wry comment on Sixties nostalgia (and a melodically delicious celebration of it), was penned with country It girl Kacey Musgraves; fun.'s Nate Ruess tightropes between cliché and pop timelessness on "Saturday Night." There are few too many retreads (the "Sloop John B"-ish "Sail Away"), but it adds up to Wilson's most forward-looking solo LP, Smile notwithstanding. "Don't be sad," he sings on the elegiac closer, "The Last Song." "There was a time and place for what we had." What a time it was. But there's no time like now. * * *

comments powered by