| | |
| --- | --- |
| Joan Jett Binge-A-Thon | |

Even after nearly 40 years of hits and howls, punk pioneer and upcoming Rock & Roll Hall
of Fame inductee Joan Jett is still the hardest-rocking cherry bomb in the business.
By Kyle Anderson in Entertainment Weekly

ew lyrics have defined an artist better than "I don't give a damn about my reputation," the opening line snarled by Joan Jett on her 1981 solo debut. Since she first announced herself as the leather-jacketed shredder in teen-punk combo the Runaways, Jett has always done what she wanted when she wanted to do it, whether it was putting her own spin on '60s garage-rock classics, starring alongside Michael J. Fox in the gritty '80s drama Light of Day, or fronting a reconstructed version of Nirvana just last year. At 15, she formed the Runaways with friend and drummer Sandy West, and quickly became an international sensation thanks to her killer songwriting (she co-wrote their deathless anthem "Cherry Bomb") and singular style -- skills Jett doubled down on when the group broke up and she struck out on her own with new backing band the Blackhearts. Over the past four decades she's been a fashion icon, a political firebrand, and a guitar hero whose best songs are perpetually reborn in pop culture. She may not give a damn, but her rep as one of rock's most steadfast badasses is firmly set.
JOAN JETT BY THE NUMBERS
$130 - Price of a Joan Jett Barbie doll on Amazon. (The Debbie Harry Barbie is $38.)
23 - Number of record labels that rejected Jett's demo, leading her to launch her own imprint, Blackheart Records.
3 - Number of Billboard Hot 100 Top Tens.
155 MPH - Top speed of Jett's first car, a Jaguar XJ-H.E. It's now in the Rock and Roll Hall of Fame.
6 - Days it took to record the I Love Rock 'n Roll album.
1 - Number of "Weird Al" spoofs: "I Love Rocky Road."
48 - Versions of Jonathan Richman's Boston-specific song "Roadrunner" she reworked to match the geography of each city she performed in.


JETT'S SET: ALL-STAR COLLABORATIONS
Her musical connections, from punk royalty to Mr. "Born In the U.S.A."
The Gits - Following the death of singer Mia Zapata, Jett fronted the band on a tour to raise funds to investigate her murder.
Nirvana - She filled in for the late Kurt Cobain on "Smells Like Teen Spirit" during Nirvana's Rock and Roll Hall of Fame induction set in 2014.
The Germs - The legendary Los Angeles punk band invited their friend Jett to produce their only album, 1979's (GI).
The Who - She cut her debut album at the Who's Ramport Studios, and will be opening their 50th-anniversary tour this year.
Bruce Springsteen - The Boss wrote "Light of Day," the centerpiece tune that Jett performs in the 1987 film of the same name.
Bikini Kill - It's poetic that Jett, one of the great pre-riot-grrrl rockers, produced a number of Bikini Kill tracks, including "Rebel Girl."
Ramones - Jett and the Blackhearts performed "Judy Is a Punk" for the documentary Too Tough to Die: A Tribute to Johnny Ramone.
Peaches - The two have several collaborations, but the best is "You Love It" from 2006's Impeach My Bush, featuring Jett on guitar.
Indigo Girls - Cofounder Amy Ray drafted Jett (along with a number of other leading ladies) to play on her 2001 solo debut, Stag.
Sex Pistols - Jett actually recorded "I Love Rock 'n Roll" twice. The first time, it was with Pistols Paul Cook and Steve Jones.


SCENE-STEALER
Jett has also carved out a memorable side career as an actress. Here are the highlights.
[MOVIE] Light of Day (1987) - In her big-screen debut, Jett carried writer-director Paul Schrader's blue-collar family drama, starring as a down-and-out single mom hustling to support herself by fronting a garage band alongside her brother (Michael J. Fox). Though the film itself met with mixed reviews, critics lauded Jett's strong, sensitive performance.
[TV] Highlander: The Series (1992) - Jett brought rock edge -- and her version of "Cherry Bomb" -- the high-camp show based on the movies.
[TV] Law & Order: Criminal Intent (2008) - The NYPD hunts down the creep who murdered Jett, playing the host of a music-centric interview show called Rock 'n Talk.
[TV] Big Driver (2014) - In Lifetime's adaptation of a Stephen King novella, her character unforgettably popped out her glass eyeball.
[BROADWAY] "The Rocky Horror Show" (2000) - A shaved-headed Jett helped lead the hapless Brad and Janet through the "Time Warp" as Columbia in the cult classic's well-received revival.


AS HEARD ON TV (AND IN THE MOVIES)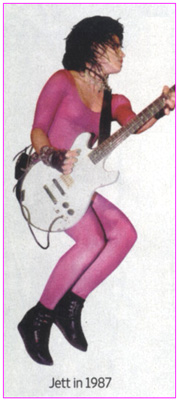 Three classic tracks' onscreen résumés.
"Cherry Bomb"
Guardians of the Galaxy (2014)
True Blood (2012)
Dazed and Confused (1993)
Highlander: The Series (1992)
Dawn: Portrait of a Teenage Runaway (1976)
"Bad Reputation"
Once Upon a Time (2013)
Kick-Ass (2010)
Easy A (2010)
Baby Mama (2008)
Shrek (2001)
Freaks and Geeks (1999-2000)
10 Things I Hate About You (1999)
"I Hate Myself For Loving You"
Ghosts of Girlfriends Past (2009)
Dawson's Creek (2002)
Striptease (1996)


SPORTING LIFE: JOCKS-ROCKED
When she's not with the Blackhearts, you can find Jett following baseball and motivating fighters.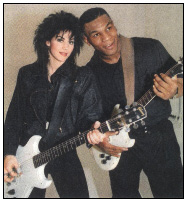 Mike Tyson's Phone-a-Friend - On July 19, 1985, Jett rang up then-ascendant boxer "Iron" Mike Tyson before his bout with Larry Sims. The superstitious pugilist won that night, and from that point on, Jett provided wake-up calls before Tyson's fights by his request. When In Fashion magazine asked her to be on their cover in 1987, she agreed - but only if the heavyweight champ could join her.
"Rowdy" Ronda Rousey - What does the baddest smack-talking woman on the planet use as her entrance music when she walks to the UFC cage? "Bad Reputation," of course.
The New York Liberty - A courtside fixture at the WNBA franchise's home games -- she sits in Woody Allen's Knicks seat -- she also recorded their fight song "Unfinished Business."
Cal Ripken Jr. - A dedicated Orioles fan, Jett became good friends with Ripken and performed the national anthem the day he tied Lou Gehrig's Iron Man record.
Sunday Night Football - Since 2006, NBC's weekly NFL broadcast has opened with a female star -- Pink, Faith Hill, and most recently Carrie Underwood -- reworking Jett's "I Hate Myself for Loving You."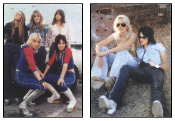 THE RUNAWAYS: THE MOVIE
How the band went from stage to celluloid.
Jett coached actress Kristen Stewart (far right, with Dakota Fanning as Cherie Currie) for the 2010 indie. And Stewart went Method: "In rehearsal, I would be spitting everywhere," she said. "When Joan's on stage, she spits."



CHERRY BOMBS
Six essential albums from Jett's epic career
| | | |
| --- | --- | --- |
| The Runaways (1976) More piss and vinegar than sugar and spice, the quintet's strutting debut is an irresistible tidal wave of teenage rebellion. | Bad Reputation (1981) While her solo bow featured awesome Lesley Gore and Gary Glitter covers, the title track became her first post-Runaways hit. | I Love Rock 'n Roll (1981) Her take on the titular song, by the U.K. band Arrows, became her only No. 1, but her originality shines on "Love Is Pain." |
| Good Music (1986) A glammy swerve toward arena rock and hair-metal moves suits her, especially on the pretty, punchy "This Means War." | Sinner (2006) Jett revamped her sound once again with widescreen production, gloriously chunky riffs, and a killer take on Sweet's "A.C.D.C." | Unvarnished (2013) The latest Blackhearts release finds Jett building big anthems with artists she's inspired, including Dave Grohl and Laura Jane Grace. |


| | |
| --- | --- |
| Can't Stop The Roxy | |

Roxy Music founder Bryan Ferry on his new solo album 'Avonmore,'
his enduring love for dance music, and 'More Than This'.
By Kyle Anderson in Entertainment Weekly
The first Roxy Music album came out in 1972, and your 2012 release was a jazz album. Now you've made a pop record in 2014 -- what's the big deal?
It's what I do. I feel there's still songs I want to write, and people I want to work with, and sounds I want to make. I don't feel I've completed my task.
Superproducer Nile Rodgers, who co-wrote Daft Punk's "Get Lucky," plays on Avonmore. How did you two meet?
What a character! I first met Nile when I was working in New York in 1983 on an album called Boys and Girls. He's a fantastic musician and a great intellect. He's very curious. You'll often find him talking about his stamp collection or something. He's a master of the unexpected.
You've been connected to dance music for most of your career. What do you think about the current wave?
James Brown doesn't age. Neither does Sister Sledge. There's some really good dance music about, though some of it I find a bit boring. It's a bit too monotonous for me, and it takes too much time to develop. I end up just waiting around going, "Hmm. Is the bass gonna come in?" But it can be very exciting.
You've always had tremendous style. How much of your '70s wardrobe do you still have?
I have an archive at my studio with old photographs and films, and there's a few things that were designed by [legendary clothier] Antony Price, who is my great friend. He'd kill me if I threw them away, so I've still got some of the old suits.
One of your most iconic songs is Roxy Music's "More Than This," which got a second life when BIll Murray sang it in Lost in Translation. Why do you think that song still resonates?
It's had a life of its own. It's great when a song does that; I'm always very grateful. For some reason, there's something in that combination of the melody and the lyric that works for people.

comments powered by