| | |
| --- | --- |
| 'Wonder Years' Binge-A-Thon | |

With the complete series on DVD, a look back at Kevin
Arnold's poignant (and sometimes angsty) adolescence.
By Hillary Busis in Entertainment Weekly
| | |
| --- | --- |
| s Tennessee Williams mused, "In memory, everything seems to happen to music." Which may explain why ABC's Emmy-winning The Wonder Years -- a nostalgic look at Kevin Arnold's (Fred Savage) coming of age in the tumultuous late '60s and early '70s -- leans so heavily on hits from that era. And while the series, which ran from 1988 to '93, has been available on Netflix, it also explains why it took so long to be released in its entirety on DVD. (Songs by Bob Dylan and Simon & Garfunkel don't come cheap!) The wait is over now, and a new generation can watch Kevin navigate the tricky waters of junior high and high school -- with a little help from his friends. | |
KEY PLAYERS
Kevin Arnold
Fred Savage
Our Everykid hero is a so-so student, neither popular nor a social outcast. He is, however, cuter than the average Joe -- and he's got a very inner monologue delivered by his older self (Daniel Stern, in voice-over).



Jack Arnold
Dan Lauria
The Arnold Family's world-weary patriarch is a man of few words -- but there's a big heart beneath that gruff exterior.






Norma Arnold
Alley Mills
The sun to Jack's grumpy man-in-the-moon is a proto-Betty Draper of Mad Men who eventually finds fulfillment outside of the kitchen.





Karen Arnold
Olivia d'Abo
Kevin's older sister, a strong-willed flower child who fully embraces the era's counterculture, often butts heads with her conservative parents.





Wayne Arnold
Jason Hervey
Kevin's immature older brother, the bane of his existence, loves to call his younger sibling a butthead.




Paul Pfieffer
Josh Saviano
Gawky, brainy, and relentlessly loyal -- even when his closest pal is being a bit of a pill -- Paul is Kevin's best friend.



Winnie Cooper
Danica McKellar
What Kevin's dream girl lacks in personality, she more than makes up for with excellent tresses. (Cue the slo-mo hair toss.)



NOTABLE ALUMNI
Juliette Lewis
Josh Corbett
Giovanni Ribisi
Soleil Moon Frye
Alicia Silverstone
Mark-Paul Gosselaar


SEASON'S BEST
SEASON 1
"Pilot" Episode 1
Few series debut fully formed -- but The Wonder Years is one of them. Its pilot, in which Kevin's journey to adulthood is accelerated when he (a) starts junior high, (b) learns that Winnie's brother has been killed in the Vietnam War, and (c) kisses her for the first time, is a bittersweet masterpiece.



SEASON 2
"Steady as She Goes"/"Just Between Me and You and Kirk and Paul and Carla and Becky" Episodes 4 and 5
A two-parter in which Kevin -- and young viewers -- learns that dating someone just to make someone else jealous is a really, really bad idea. ("Friends? I'll give you friends!")



SEASON 3
"Goodbye" Episode 20
This double Emmy winner (for directing and writing) is the heart-wrenching conclusion to a season-long arc about Kevin's struggles with his eighth-grade algebra teacher, tough but fair Mr. Collins (Steven Gilborn).





SEASON 4
"Heartbreak" Episode 11
Is Kevin and Winnie's relationship strong enough to survive a year spent at different schools? Hint: Check out the episode's title. The bookend use of the Beach Boys' "God Only Knows" -- first as a dreamy love song, then as a plaintive plea -- is a particularly devastating touch.



SEASON 5
"The Wedding" Episode 22
Karen and Michael's (David Schwimmer) groovy nuptials are both delightfully daffy (see, for example, how her hippie friend Wind introduces herself to old-fashioned Mrs. Arnold) and surprisingly moving.





SEASON 6
"Homecoming" Episode 1
Sure, the series finale is poignant, but even it doesn't pack quite the same punch as this season's premiere, in which Wayne's buddy Wart (Scott Menville) returns from his tour in Vietnam. (And unlike the series closer, the episode ends with Kevin and Winnie still together.


WONDER THROUGH THE YEARS
The real life events that made history on the show, too
1955-75
Vietnam War
The conflict is always in the background -- especially in the pilot, when Winnie's recently drafted brother dies.
(Season 1, Episode 1)





APRIL 4, 1968
MLK Assassination
Kevin's teacher mounts a play about the civil rights movement, inspired in part by the reverend's death.
(Season 2, Episode 2)




JUNE 6, 1968
RFK Assassination
"Like about half the schools in the country that year," Kevin says, his has been renamed for JFK's brother.
(Season 2, Episode 1)





JULY 21, 1969
Moon Landing
Kevin takes us through his summer: "I went fishing with my dad. I saw a man walk on the moon."
(Season 2, Episode 17)




AUG. 15-17, 1969
Woodstock
Kevin's hippie eighth-grade social studies teacher describes her concertgoing experience to his class.
(Season 3, Episode 2)



APRIL 11-17, 1970
Apollo 13
The Arnolds aren't religious, but Norma goes to church and lights a candle for the imperiled Apollo astronauts.
(Season 3, Episode 18)



JUNE 30, 1971
Carnal Knowledge
Kevin & Co. start the episode trying to sneak into the R-rated movie, featuring a sultry Ann-Margaret.
(Season 5, Episode 19)



NOV. 7, 1972
Presidential Election
Winnie throws herself into campaigning for McGovern, the Democrat running against Nixon.
(Season 6, Episode 5)




LATE '60s-'70s
Women's Lib
Kevin and his father realize that the women in their lives have been affected by the rise of feminism.
(Season 6, Episode 19)



P.S.
Contrary to urban legend, the guy who played Paul did not grow up to be Marilyn Manson.





THE MUSIC
| | |
| --- | --- |
| | What would you do if The Wonder Years theme seemed out of tune? If you're like some Netflix viewers -- surprised to find that the streaming version opens with a different cover of "With a Little Help From My Friends" -- you might tune out. Acquiring the series' original music was a priority for Time Life. Objective No. 1: clearing Joe Cocker's take on the Beatles. "That was one of the biggest challenges," says Time Life senior VP Jeff Peisch. "If we couldn't clear that, it wasn't worth going forward." After months of negotiations, the deal was done -- and hundreds more followed over the course of about a year. Peisch's team secured 96 percent of the original music (285 songs). So what about the others including hits by the Doors and Neil Young? Peisch says the rights holders had one complaint: "You're not paying us enough." |



| | |
| --- | --- |
| Proud 'Mary' | |

In March 1977, the crew at WJM-TV signed off for good.
by Danny Spiegel in TV Guide

When: March 19, 1977
Where: The Mary Tyler Moore Show
What: The WJM-TV team signs off in the series finale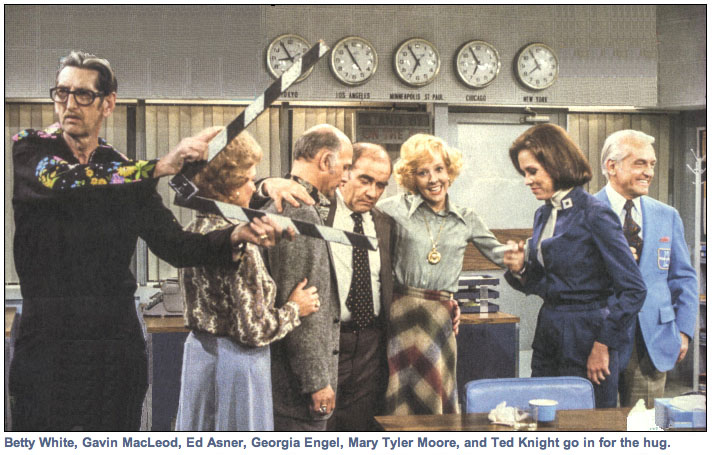 ove was all around for The Mary Tyler Moore Show the night its highly anticipated last episode aired. This finale had everything, including guest stars (Valerie Harper and Cloris Leachman, returning from their respective spinoffs, Rhoda and Phyllis), an emotional send-off (the now-classic group hug and a bittersweet rendition of "It's a Long Way to Tipperary"), and a triumphant curtain call. When WJM-TV's new owner wanted to make big changes, instead of firing nincompoop anchor Ted Baxter (Ted Knight), he canned the rest of the staff: Mary (Mary Tyler Moore), Lou (Ed Asner), Murray (Gavin MacLeod), and even Happy Homemaker Sue Ann Nivens (Betty White). Everyone -- the fictional characters and the real-life cast, which also included Georgia Engel as Georgette -- knew the end was coming, but that didn't make things any easier.
Alan Burns (cocreater): Mary was the last one who signed on to the idea of shutting the series down, because she loved the process, the show itself, the cast, and the staff. It was harder for her than anyone.
Harper: It was Cloris Leachman who called [cocreater] James L. Brooks and Allan Burns and said, "We'd really like to be on the last Mary. We know you're doing it at the office, but the apartment girls would like to be written in." So they did.
Asner: During the rehearsal, we went into the group hug, and Jim Brooks said, "Now, is there a funny way that we can get out of this and maybe not necessarily break up the hug?" Fortunately, Georgia said, "Well, there's a Kleenex on the desk; we can go for the Kleenex." So we all moved over like a centipede to get the Kleenex.
Jay Sandrich (director): We were doing the lines in rehearsal with not a lot of feeling, just to know what they were. But when Ed read the line "I treasure you people" so beautifully, it just got us all. And I remember telling Mary she should hold off tears as long as she could.
Burns: [On the night of the shoot,] Mary was really disciplined, and she made herself get through this. And we were holding our breath the whole time.
MacLeod: All our family members were there. And Mary's mom and dad were always there, every Friday night. I think Dick Cavett could have been there, he used to come a lot.
Sandrich: When the [characters] walked out of the door and Mary turned the light off, the man backstage who turned the studio light off was so in tears, he forgot! [Laughs] And when the scene was over, tears were running down everybody's face.
MacLeod: The audience was weeping. They didn't want this group of people not to be together anymore.
Burns: I can't remember whose idea it was to include a televised curtain call at the end, but it seemed only appropriate that we should recognize what all these people meant to each other and to the audience. It broke the fourth wall, but what the hell, where were we gonna go from there?

comments powered by