| | |
| --- | --- |
| A Billy Joel State of Mind | |

The legendary artist, who's on the road this summer, reflects on
his nearly 50-year career -- and breaking records today.
By Kevin O'Donnell in Entertainment Weekly

ne of pop's best songwriters hasn't released a new album since 1993, but he's still breaking records, performing nonstop -- and connecting with a younger generation of fans. From his hometown of Oyster Bay, Long Island, Billy Joel, 66, looks back on a nearly 50-year career, revels in being labeled "dad rock," and opens up about whether he'll ever release new music again. "I may keep performing, I may stop," says the Grammy winner. I've learned to never say, 'I'm quitting.'"
You just performed for one of the biggest crowds ever headlining Bonnaroo. Was it fun playing in a festival setting?
It was different. I mean, I'm not really a festival act. I went to Woodstock. I didn't play there, but I went up on a motorcycle, which was a good move because the highway was just a parking lot. I wanted to see Hendrix and the Who. But after a day and a half with no real toilet facilities...what am I, a bear? I have to go in the woods? There was a lot of mud and people were smoking a lot of pot and taking a lot of acid.
Did you indulge?
I didn't do anything back then. I drank a beer or something. The first day, I saw Santana. Or was it Joe Cocker? I was dirty and itchy and covered with poison ivy and I thought, "Just get me out of here! I've got to use a bathroom."
How did that compare to Bonnaroo?
I didn't play Woodstock, so it's one thing to be there and it's another to perform. But Bonnaroo was great. It was mostly new bands. There weren't a lot of classic-rock acts. I suppose I'm classic rock. Except Robert Plant, who performed. He was standing by the side of the stage while we were playing. I couldn't get to talk to him. It was weird. I got this feeling, "The kids aren't here to see me." The average age was 23 years old.
You were a headliner -- you're 100 percent a draw!
I don't know. At the beginning there was almost a feeling of disconnect. Do they know me? "Who's Billy Joel? Didn't he do, like, 'Piano Man?' Isn't he the 'Uptown Girl' guy?"
But then you came to New York a few weeks later and headlined Madison Square Garden. How'd that feel?
It felt good. Richie Sambora came out -- I didn't think he was going to come. It was just loose. There was this expectation that something important was going to happen because we tied the record for number of performances [with Elton John]. People like to talk about it -- they like to cook up a rivalry between me and him.
He did slag you in the press a few years ago, saying you were responsible for the tour getting canceled.
He does that with everybody. He runs off at the mouth and regrets it later. We made up a long time ago. We sat down and I was like, "Don't throw your friends under the bus."
What was the meeting like?
He was concerned. I think he's a little scared of me sometimes, like, "What's he going to do? We'd have these friendly go-rounds where he'd say, "Why don't you put out more albums?" And I'd say, "Why don't you put out less?" I'd tie his shoes on stage while he's playing the piano -- just to try and f--- him up.
In July you broke his record for most solo performances at Madison Square Garden and celebrated by covering his song "Goodbye Yellow Brick Road." Were you being playfully deadly?
That was really an homage. He's, like, the guy before me! He was the piano player before I was the Piano Man. I felt humbled by it -- to play 65 times and beat his record. I thought, "I'd like to tip my hat to the man."
In August you'll play the final show at Nassau Coliseum, your hometown venue, before they tear it down to rebuild it. Do you recall the first time playing there?
It was the first big arena I ever played, right after The Stranger came out in 1977. Very, very exciting. Everyone I knew in the world was there. Ex-girlfriends, you know...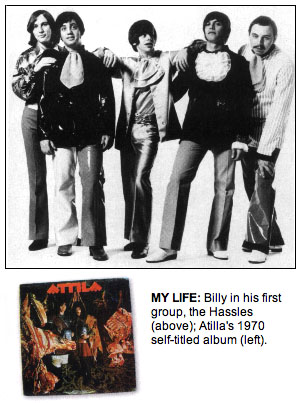 In the '70s, critics weren't always kind to your music, and you'd often rip up bad reviews on stage. With your continued success today, do you feel vindicated?
I was kind of dumb when I was younger because there'd be, like 10 reviews and eight of them would be great. I would pay attention to the two that weren't so great. I'd go off half-cocked and I had a chip on my shoulder. I think that's a Long Island thing. And I suppose after a couple of years of tearing up reviews on stage...what's the saying? Don't get into a pissing war with people who order ink by the barrel?
You haven't released an album of pop songs since 1993's River of Dreams. Do you want to make more pop music?
I'm writing new music all the time. I'm just not writing pop stuff. It's not my goal right now. I'm writing for the sake of writing music. Whether it gets heard or not isn't an issue for me. It keeps my own juices going and my mind active.
Do you write your music down?
There's no tapes of what I've been writing for the last 20 years. I should have put it on tape because I'm sure my memory will start to go. I'm 66 now. Probably got a good couple of years left. [Laughs]
I imagine you owe your label a new album.
I think I owe a couple. I mean, they keep putting out these complications: live, greatest hits, love songs. I heard the love-songs one...blech! I threw up in my mouth when they did that. People think I'm doing it, but I'm not! [Laughs]
You're about to become a father again with your wife, Alexis. Will your child inspire new music?
I'm going to write a song for the kid, or something. Alexa, my daughter, who is now almost 30, was always enchanted with music even before there were words.
How do you explain younger fans' discovery of your music?
I don't know! I haven't figured it out. I assume they're their own generation and they've got their own music. There's a lot of stuff I don't know about, like electronic dance music.
Which they call EDM.
Yeah! That's a whole other thing. But obviously they've heard my music somewhere. Whether their parents played it and it's, like, dad rock, which I love. I love that expression! That's what I am. [Laughs]
Performing classics like "Piano Man" and "New York State of Mind" night after night -- do you get tired of that?
Honestly, I'm a little sick of ["Piano Man"]. But the audience sings it now and it's their turn to shine. They're singing about Davy in the Navy... There's been a skepticism about the characters [in my songs]. John the bartender who wanted to be a movie star, Paul the real estate guy who was writing the Great American Novel, the waitress practicing politics -- that ended up being my wife! I didn't make this s--- up! They're all based on real characters. And the song still resonates.
It's part of the Great American Songbook.
I guess so. That surprised me about Bonnaroo. Are people going to like "Piano Man"? It's an old, long song about a guy at a depressing piano bar. But they were all singing along!
What do you still get a kick out of playing?
"The Entertainer." I was wrong about that song, because I sing, "I won't be here in another year if I don't stay on the charts." And here I am, still on the charts. What the f--- did I know. I thought I was so wise.



| | |
| --- | --- |
| High Times with Alice Cooper | |

Dennis Dunaway
Snakes! Guillotines! Electric Chairs! My
Adventures in the Alice Cooper Group
MEMOIR
by Andy Greene in Rolling Stone

ennis Dunaway -- bassist for the Alice Cooper band from 1968 until Cooper became a solo act in 1975 -- has collected his wildest tales for a new memoir, Snakes! Guillotines! Electric Chairs! My Adventures in the Alice Cooper Group, written with Rolling Stone contributor Chris Hodenfield. Here are five things we learned.
1) Early on, the band's management team paid the bills by selling Dylan bootlegs.
Cooper's managers allegedly got the tapes through a source at Columbia Records and sold them to record stores as the band toured. "They had carloads of them," writes Dunaway.
2) Cooper's famous boa constrictor fell into his lap -- almost literally.
The snake, featured with Alice on the cover of Rolling Stone in 1972, became a signature after a fan threw it onstage one night.
3) Salvador Dali was a fan.
The artist spent time with the group in order to create a 360-degree hologram of Cooper. "With the tips of his mustache curled and his giraffe-hide vest... he was every bit as surrealistic as his paintings," writes Dunaway.
4) The bandmates thought Kiss ripped them off.
"Just as we had borrowed elements from our hero bands," writes Dunaway, "now it was happening to us -- the makeup, the glitter, the theatrics."
5) Dunaway still isn't sure why the original group broke up in 1975.
"Friends... suggested that reducing the size of the band also reduced the number of profit splits," he writes. "One day I was a rock star. The next day I was uninvited. Boom. Deal out. Gone."

comments powered by