| | |
| --- | --- |
| Norman Lear's Favorite TV Moments | |

Four groundbreaking '70s episodes, chosen by the legendary producer himself.
By Dan Snierson in Entertainment Weekly



f you've ever laughed at a TV show from the '70s, there's a good chance you have Norman Lear to thank. (He once had nine series on the air.) Here, the 93-year-old Emmy-winning creator/producer/legend -- who was honored at the TV Land Icon Awards on April 17 -- recalls the seminal episodes from his provocative, socially conscious sitcoms.


ALL IN THE FAMILY
"SAMMY'S VISIT" (1972)"
_________________________
Sammy Davis Jr., as himself, drops by to retrieve a briefcase he left in Archie's cab. Archie (Carroll O'Connor), of course, shows his bigoted colors, and as a photo is taken, Sammy surprises Archie -- who didn't want to drink from his glass - with a kiss.
"There were some great racial lines in the buildup: Archie talking about, 'If God had meant us to be together, he'd have put us together,' and Sammy says, 'Well, you must have told 'em where we were because somebody came and got us.' There was no kiss at all in the script. It was Sammy's idea. He surprised everyone at the rehearsal. The writers and I were blown away... The audience's reaction to it was huge. They loved it. There was something so lovely in the reaction. As much as it was fun, the audience was making a statement: 'We can handle this.'"


MAUDE
"MAUDE'S DILEMMA" (1972)"
_________________________
Maude (Bea Arthur), 47 and a grandmother, is shocked to learn that she's pregnant, and after some soul-searching with husband Walter (Bill Macy), decides to have an abortion.
"We got one of the longest laughs when Maude tells her friend [Rue McClanahan] she's pregnant. But I can't think of that episode without the last line of the show: 'Just tell me, Walter, that I'm doing the right thing, not having the baby.' And he says -- and s---, I tear up every time I think about it -- 'In the privacy of our own lives, you're doing the right thing.' I love the way that finished.... The truly interesting thing is nothing really happened when the show aired. But in reruns, the religious right [protested and] laid in front of [CBS founder] Mr. Paley's car in New York and my car in Los Angeles."


THE JEFFERSONS
"A FRIEND IN NEED" (1975)"
_________________________
Louise (Isabel Sanford) asks excitable husband George (Sherman Hemsley) why they can't be more like interracial couple Tom (Franklin Cover) and Helen (Roxie Roker). His answer? Tom and Helen are too scared to fight. "If you two really ever started at one another," George tells Helen, "inside of five minutes, he'd be calling you--" Helen: "Don't say it!" George: "N-----."
"That was a great scene, a great moment. They performed so well. The problem the network had with that was it so f---ing funny. Why was it funny? Sherman Hemsley. [CBS' concerns with the scene] were louder and fiercer on paper than they were after they saw it.... It was a word that nobody was saying, and nobody would dare say. And Sherman didn't dare -- he just did it."


GOOD TIMES
"THE EVANS GET INVOLVED" (1977)"
_________________________
The comedy about a black family in the projects explored issues beyond poverty and race. Lear is proud of the child-abuse story involving 10-year-old neighbor Penny (Janet Jackson, in her first Hollywood gig), and the season 1 plot in which the family urges patriarch James (John Amos) to seek treatment for hypertension.
"Penny was an abused child, and [her mother] put a hot iron on her. The network got tons of calls for information about child abuse.... [One time, a writer] came in with a news clipping that said hypertension in black males was way up. It was a great idea for an episode. When it went on, the network got thousands of calls from black families seeking information about hypertension... That's when I learned a big lesson: My God, these things really matter."



| | |
| --- | --- |
| The Essential Merle Haggard | |

Remembering the country legend, 1937-2016
By Madison Vain in Entertainment Weekly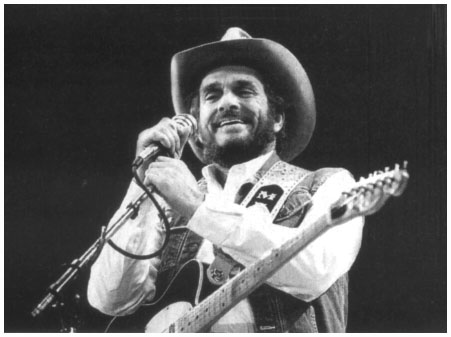 he badass country outlaw, who died April 6 at 79, left behind one of the best bodies of work in American music. Here, we celebrate just a few of his most memorable tunes.


"SING A SAD SONG"
1963
_________________________
The Hag introduced himself to the world with this string-laden ballad, his first to go top 20.


"SING ME BACK HOME"
1967
_________________________
This regretful tune was inspired by an inmate he befriended while serving time in prison, and has been covered by everyone from Bob Dylan to the Grateful Dead.


"MAMA TRIED"
1968
_________________________
Who says crooks can't have hearts? This No. 1 hit is a plain-spoken song about the pain he caused his mom with his law-breaking ways.


"OKIE FROM MUSKOGEE"
1969
_________________________
Haggard skewers weed-smoking, anti-Vietnam War hippies on his best-known song. Or was he joking? Dylan once called it a great satire.


"IF WE MAKE IT THROUGH DECEMBER"
1973
_________________________
He laments the loneliness of the holidays on one of the most depressing Christmas songs ever -- but it's a country-radio staple four decades later.


"PANCHO AND LEFTY"
1983
_________________________
His duet with pal Willie Nelson is the stuff of legend: They cut the track after a wild night of debauchery.


"KERN RIVER"
1985
_________________________
Haggard takes a grim subject (the drowning of his girlfriend) and turns it into a beautiful, heartbreaking ode.


"NO TIME TO CRY"
1996
_________________________
This Iris DeMent cover shows he was also a profound interpreter.


"(THINK ABOUT A) LULLABY"
2000
_________________________
With little more than his robust tenor and some strummy guitar, he delivers a gorgeous paean to his fifth wife, Theresa.


"MISSING OL' JOHNNY CASH"
2015
_________________________
Haggard and Nelson's duet honors another legend, the Man in Black.

comments powered by