| | |
| --- | --- |
| Here's the Story of a Lovely Lady | |

Remembering the 'Brady Bunch' star -- and America's honorary mom.
By Lynette Rice in Entertainment Weekly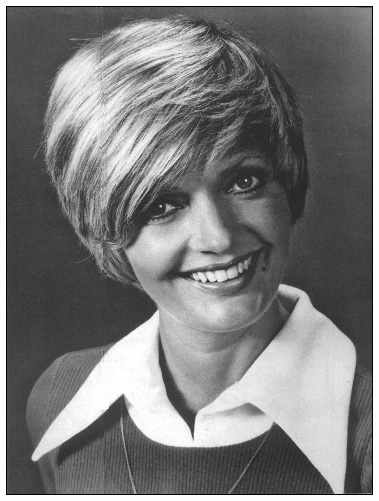 n the Nov. 21 episode of Dancing With the Stars, Florence Henderson was seated in the front row by the judges' dais so she could see and be seen inside the teeming ballroom. As a former competitor from season 11, a cheery Henderson spent the night posing for photos and chatting with strangers about who should win. It would be her last public outing. Three days later, the actress and Wesson oil pitchwoman who was best known for playing mom Carol Brady on the 1969-1974 sitcom The Brady Bunch died of heart failure in Los Angeles. Though her work spanned film, TV, and stage, Henderson admitted that her five seasons of The Brady Bunch were often considered "the sum total of my career." "In reality, the show was but a small part of my list of credits," Henderson wrote in her 2011 memoir, Life Is Not a Stage: From Broadway Baby to a Lovely Lady and Beyond. "But because of its lasting power, it is never going to go away."

Born the youngest of 10 children in rural Indiana during the Great Depression, Henderson overcame an impoverished upbringing with an alcoholic father and absentee mother by learning to sing at a young age and moving to New York to attend the American Academy of Dramatic Arts. "A family that paid for her music instruction helped to get her to New York, so she had such incredible gratitude for all the good things that happened to her," says Joel Brokaw, who co-wrote Henderson's memoir. "That was part of her infectious energy." Broadway beckoned at 18; besides nabbing the lead in a touring production of Oklahoma!, she starred in other musicals such as The Sound of Music and South Pacific. But Henderson didn't want to limit her career to treading the boards, so she started to expand her résumé by working as a "Today girl" on NBC's Today from 1959 to 1960 and becoming the first female guest host of The Tonight Show in 1962.
"She loved every aspect of the business," recalls Brokaw. "That's why she did game shows, talk shows. She wanted to learn." She also liked the freedom that came with one-off appearances on variety programs like The Dean Martin Show, which is why she initially balked at the idea of shooting a sitcom about a blended family.
"I had four children to take care of, and I was trying to improve my relationship with [Broadway casting director and first husband] Ira," Henderson wrote in her memoir. "My marriage was in such a fragile state." But the prospect of working with Sherwood Schwartz (Gilligan's Island) was too good to pass up -- even though becoming a cultural icon would eventually have its drawbacks.
"[Viewers] had opinions about everything and were only too glad to share," wrote Henderson, who ended up divorcing her first husband in 1985. (Her second husband, Dr. John Kappas, died in 2002.) "People wrote how much they loved my hair or detested it. That the hair attracted an almost cultlike interest amuses me to no end. It was quite a dubious honor to be known in some circles as 'the mother of the mullet.'"
After Brady Bunch ended, Henderson stayed in prime-time with guest appearances on shows like Ally McBeal and 30 Rock before strapping on her Danskins in 2010 for DWTS. Six years later, the show invited her back to cheer on her TV daughter Maureen McCormick, who competed this season. "Her main advice was to just go have fun," McCormick, who played Marcia Brady, says. "And Florence did that."
Henderson, a grandmother of five, kept working up until her death. She appeared in several projects in 2016 and filmed Grandmothers Murder Club, costarring Pam Grier, set for release in 2017. "I'm still working on my goal to keep working at least until I'm 90," Henderson said in the final chapter of her memoir. "My formula is simple: Stay open to the unexpected."



| | |
| --- | --- |
| Why Rock Memoirs Rule | |

Why soul-baring musicians are fast eclipsing Hollywood
stars as the safe bets for best-selling autobiographies.
by Isabella Biedenharn in Entertainment Weekly


hen Bruce Springsteen released his long-awaited autobiography Born to Run on Sept. 27, 2016, it debuted at No. 1 on the New York Times nonfiction best-seller list, and it has hung out there ever since. It joins a spate of other books by musicians -- Keith Richards' Life, Bob Dylan's Chronicles: Vol. 1, Patti Smith's Just Kids, Grace Jones' I'll Never Write My Memoirs, and Carly Simon's Boys in the Trees that have triumphed with both fans and critics in an age when too many celebrity tell-alls (see: Arnold Schwarzenegger and Ellen DeGeneres) have tanked.
So why do memoirs by rock stars flourish? For one thing, there's the honesty factor. "The concept of the celebrity book is so abused that readers are skeptical," says Riverhead Books president and publisher Geoffrey Kloske, pointing out that such ventures are often little more than branding vehicles. So people notice when a well-known author offers up fresh and revealing insights, as Springsteen has by writing candidly about his battle with depression.
Hachette Book Group CEO Michael Pietsch -- who's edited a remarkable roster of recording-industry legends, including Chuck Berry and Keith Richards -- thinks rock memoirs feel more genuine because truth-telling is already part of their art: "Musicians' careers are about expressing themselves -- looking within and bringing forth [what they see]. I think there's something very different about an actor's memoir, because an actor is becoming a different person each time [he or she performs] and working with a different crew."
Another reason these books hit more consistently, says David Rosenthal, president and publisher of Blue Rider Press (and Dylan's editor), is that rockers are already writers. "They have proven that for years," he says. "They're comfortable with storytelling, so they tend to do a good job of it [in other mediums]." Sometimes they do an exceptional job: Smith nabbed a National Book Award for her memoir, and Dylan was just awarded the Nobel Prize for Literature. Rosenthal adds that performers who have had long careers also tend to boast extremely loyal fans with disposable incomes. "Keith Richards' book appealed to a prime hardcover-book-buying audience that [developed] after being exposed to his work for more than 30 years," he says.
Rosenthal also points to emotional as a major selling point. "People feel very close to musicians because they've had their music playing their heads and their houses, sometimes for decades," he says.
Pietsch agrees that the bond between artist and listener shouldn't be underestimated. "I can't think of any other art form that gets inside you in the same way," he says. "If there's a song you love, it's part of the way that you experience and understand your life." For him, and clearly for many readers, great musicians are "the Shelleys and Keatses and even Shakespeares of our time. We buy their books so we can understand them -- and ourselves."

comments powered by