| | |
| --- | --- |
| Glen Campbell - In Memoriam 1936-2017 | |

The Grammy-winning singer-songwriter died on Aug. 8 after a years-long battle with Alzheimer's.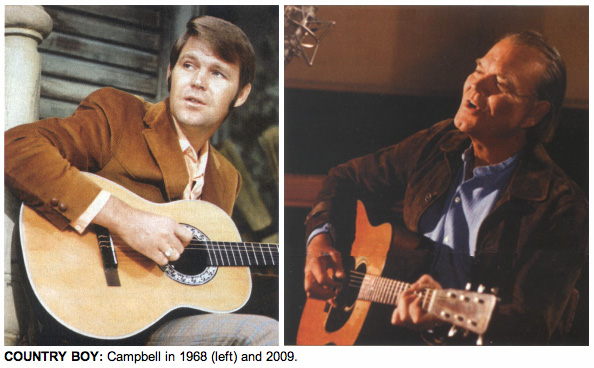 ecoming a living legend isn't as easy as Glen Campbell made it look. First, you have to have a solid foundation of talent on which to build -- like being one of the hottest guitar players in the world. Then you have to record songs that will stand the test of time -- standards such as Jimmy Webb's "By the Time I Get to Phoenix" and "Wichita Lineman." And of course, to be a "living" legend, you need to survive the harsh reality of a celebrity lifestyle. Check, check and check.
In 1968, Tommy Smothers caught Campbell's guest-star appearance on The Joey Bishop Show. He and his brother Dick were so impressed by Campbell's presence and talent that they asked him to host their summer replacement series, The Summer Smothers Brothers Show. Campbell's musical proficiency and natural wit sent the ratings through the roof. CBS executives were so delighted by his unexpected popularity that they offered the fledgling star his own series. The Glen Campbell Goodtime Hour took to the airwaves in January 1969 and immediately soared to No. 1. And the variety show's talented host became a household name around the world.
Four decades later, Campbell continued to perform live shows both in the U.S. and internationally. Not only did his appearances draw sold-out crowds, but he became a hot draw on television as well. He's been profiled on A&E's Biography, VH1's Behind the Music and CMT's Inside Fame. "It's awesome when you think about the power of TV and movies," Campbell once said. "If I hadn't had hit records, I wouldn't have gotten into TV and movies, but the Goodtime Hour made my career explode all over the world."

In 1961, Jimmy Webb was a 14-year-old gospel musician performing with his parents in his native Oklahoma when he bought his first record. It was "Turn Around, Look at Me," by a young artist named Glen Campbell. Webb reportedly said that he didn't care much for the song, but he liked the way Campbell delivered it. Before the decade had ended, Webb had become one of the hottest songwriters in the business, penning "Up, Up and Away" for the Fifth Dimension and "MacArthur Park " (an unlikely Top 10 single for Richard Harris), and he had penned three songs -- "By the Time I Get to Phoenix," "Wichita Lineman" and "Galveston" -- that Glen Campbell turned into enormous hits. Just as the budding tunesmith was drawn to Campbell's voice, his songs appealed to Campbell, who said that Webb's writing "touches something in me that makes me love it. I think it's the chord progression, married with an incredible melody."
Arkansas-born Campbell shared Webb's heartland roots, as well as his early musical promise. He mastered the guitar by age 10 and spent years as a sought-after session player before establishing himself as a singer. He had already enjoyed chart success with John Hartford's folksy "Gentle on My Mind" when he recorded "By the Time I Get to Phoenix," a quietly brutal portrayal of a lover's abandonment. Campbell's polished vocal style made the song appealing to a wide audience without compromising any of its power. The success of the record established Campbell as the premier country/pop crossover artist. A long string of subsequent hits, including "Rhinestone Cowboy" and "Southern Nights," ultimately gave him a place in the Country Music Hall of Fame. His partnership with Webb became an integral part of that journey. Their collaboration continued for more than 40 years, with numerous recording projects and occasional joint performances. "It's almost a metaphysical thing," Webb once said. "If there hadn't been a Glen Campbell, I would have had to invent one, because my songs don't come alive in quite the same way in anyone else's hands."
Living in Malibu in recent years with his wife, Kim, and their three children, Campbell reaped the rewards of over 50 years of hard work, and became able to choose his tour dates and appearances. Even on the road, his family was at hand. His eldest daughter, Debby, joined his stage show in 1987 and toured with him until his retirement from live performing.


TEN ESSENTIAL GLEN CAMPBELL SONGS
1. "GENTLE ON MY MIND" - 1967
Hundreds of artists have coveted John Hartford's wistful country standard, but Campbell's impassioned take -- which brought him into the mainstream and opened the gates for a string of chart-topping hits -- remains both exquisite and definitive. It also became the theme song to his popular TV variety show.
2. "BY THE TIME I GET TO PHOENIX" - 1967
Campbell's first hit from the pen of Jimmy Webb was a widescreen breakup epic, covered by artists from Frank Sinatra to Nick Cave.
3. "WICHITA LINEMAN" - 1968
Songwriting legend Jimmy Webb penned this classic specifically for Campbell, who recorded it with the Wrecking Crew, a renowned group of session musicians he belonged to before making it big. A sweeping, string-painted image of high-plains isolation, it's widely considered to be the finest single of his 50-plus-year career. He didn't just sing it perfectly, he also revised bits of Webb's demo.
4. "GALVESTON" - 1969
Webb's tale of a soldier missing his home was a Top Five hit during the Vietnam War. Campbell was more of a Nixon guy, but when he sings "I am so afraid of dying," the song's anti-war soul breaks through.
5. "RHINESTONE COWBOY" - 1975
"[It's] maybe the best song I've ever sung," Campbell once said of his signature tune, a depiction of a road-hardened journeyman singer proudly carrying on to the next show. It was also the biggest hit of his career.
6. "SOUTHERN NIGHTS" - 1977
His final No. 1 on both the country and pop charts, "Southern Nights gave Campbell one more taste of massive stardom before he receded from the spotlight in the '80s. His cover of the disco-funk jam by New Orleans R&B great Allen Toussaint turned it into a charmingly sentimental reverie, and earlier in 2017 it also showed up on the Guardians of the Galaxy Vol. 2 soundtrack.
7. "SHE'S GONE, GONE, GONE" - 1989
Campbell jacks up the tempo on a tune made famous by Lefty Frizzell's 1965 hit version. It's one of his most explicitly country performances, full of tear-jerking honky-tonk spirit.
8. "GHOST ON THE CANVAS" - 2011
Written by Replacements bard Paul Westerberg, this late-period tune's lyrics hit home hard in the wake of the singer's Alzheimer's diagnosis.
9. "A BETTER PLACE" - 2011
With this tender farewell, which Campbell co-wrote, he addresses his life's final stage with as much unflinching authority as David Bowie or Leonard Cohen.
10. "I'M NOT GONNA MISS YOU" - 2014
Released a few years after his Alzheimer's diagnosis, this number is one of Campbell's final recordings and a devastating reflection on mortality: "I'm still here, but yet I'm gone," he croons in the opening line. The track won the Grammy for Best Country Song in 2015.



| | |
| --- | --- |
| A Lost Treasure From the Vault | |

Neil Young releases a darkly powerful 'lost album' recorded in one session in 1976.
By David Browne in Rolling Stone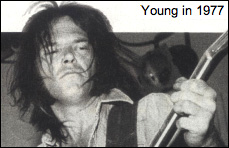 eil Young's Hitchhiker marks a pivotal moment in his ongoing series of archival releases: Instead of a live classic-songs set, this is a buried treasure mother lode -- 10 newly unearthed studio recordings, cut in one acoustic session, on August 11, 1976. Young wasn't exactly swept up in the country's bicentennial spirit at the time; now grouped together rather than spread out over later records, the violence-drenched "Powderfinger," "Captain Kennedy" and "Pocahontas" feel like pointed rejoinders to the white-washed history offering up during America's 200th birthday.


He's in peak lonesome-guy mode on the never-released failed relationship chronicle "Give Me Strength." Another previously unheard song, "Hawaii," is a spooky mysterious-stranger ballad. The take of the Nixon-sympathizing "Campaigner" here includes a newly relevant verse deleted from the version that appeared on Decade: "The speaker speaks, but the truth still leaks." The major find is the scruffy title song, an unblinking depiction of fame, "neon lights and the endless nights," paranoia and cocaine. Young eventually released it on 2010's Le Noise, bathed in electric guitar and with a verse about being thankful for his kids. There was no one to comfort him in '76: It's a journey through the past, but far darker. * * * * 1/2

comments powered by