| | |
| --- | --- |
| Who Art You? | |

Pete Townshend and British pop artist Sir Peter Blake
delve into the design of the Who's latest album.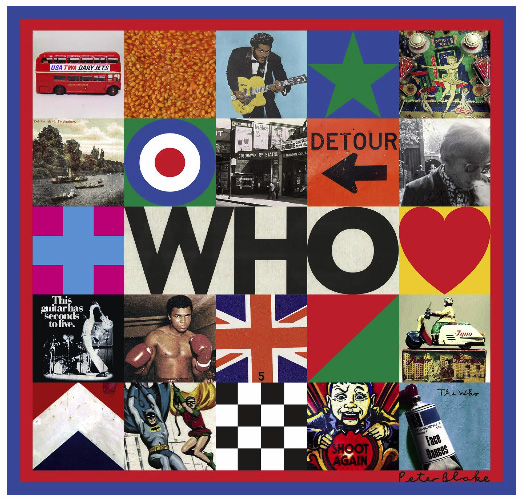 By Alex Suskind in Entertainment Weekly


efore he became an instrument-smashing, windmilling rock star, Pete Townshend was a student at Ealing Art College in London, studying kinetic sculpture. Around the same time, he developed an interest in the work of Sir Peter Blake, a British pop artist who, most famously, designed the cover of the Beatles' Sgt. Pepper's Lonely Hearts Club Band, along with albums for Oasis, Pal Weller, and Eric Clapton.
"I was a huge fan," Townshend says of then up-and-comer Blake. "I found him in a book at first and then subsequently met him at an Institute of Contemporary Art exhibition [in 1964]. I'd always had a crush on [his art]. I was thrilled to meet him. He's very gentle."

Fast-forward five decades and Townshend was sitting in Blake's studio in England to ostensibly talk to the artist about designing the cover for the Who's new album, WHO, their first since 2006's Endless Wire. "This time, it was clear that both of us had aged quite a bit," says the 74-year-old guitarist, chuckling. However, they got a bit off topic. "We didn't discuss anything about the way the artwork should look, just the title, which he liked." Adds Blake, of friends visiting his workplace: "It's happened a couple of times. People have come to the studio, we sit in the little kitchen, and they start to pour their heart out. [Pete and I] must have spoken for three hours."
Despite the freewheeling conversation, it was more than enough to spark an idea for the cover of WHO. Working in tandem with graphic designer and frequent collaborator Simon Halfon, Blake came up with a concept based around his series the Sources of Pop Art, which uses imagery once employed by fellow Pop artists Andy Warhol and Roy Lichtenstein. "We knew that we wanted to make these Pop references," says the 87-year-old Blake of getting to design his second Who album (the first being 1981's Face Dances). "We decided to go very pointedly for something that was Pop art and was referring back to some of the symbolism I've used over the years."
The approach felt fittingly cyclical. When the Who first started, Blake's influence could be seen splashed across the band's iconography, which was then helmed by Townshend. "He borrowed a lot of imagery that I used, like the [Royal Air Force] target, the Union Jack flag, and a black-and-white diagonal stripe," says Blake. "We'd done it before, so it seemed like a good idea at this point to repeat the process."
For the new album, Blake split the cover into panels, mixing pop culture figures along with nods to famous moments in the Who's history. There's a close-up on a pinball machine, signifying the band's 1969 hit "Pinball Wizard"; there are beans, a direct callback to the group's cover of The Who Sell Out, which had lead singer Roger Daltrey sitting in a vat of Heinz baked beans; and there's Eel Pie Island, a small stretch of land in London where Townshend briefly lived and where the Who played a few gigs early on.
The design differs from the approach Blake took on Face Dances (Blake's alternate cassette-tape cover is featured in the lower-right panel on WHO). That project, which includes lead single "You Better You Bet," showcased four portraits of each band member (Townshend, Roger Daltrey, Kenney Jones, and John Entwhistle) by 16 prominent British artists like David Hockney and Patrick Caulfield. "It was an exciting one to do," says Blake, though he ruefully notes that he wasn't given a budget to pay the artists' fees. "I offered everyone a 50-pound note for expenses, and then Pete offered to put a big party on" (only Francis Bacon turned Blake down).
Townshend ended up loving the cover of Face Dances, and was just as effusive when he saw the final version of WHO. "We had it ready to go long before we had the album finished, which is not always the case," he says. "And I loved it. I just loved it."
As for Blake, he was happy to get to work with the band again more than 50 years after he first met Townshend and Daltrey at his exhibit. The collaboration "was almost preordained," he says.



| | |
| --- | --- |
| The Doc Is In | |

Two icons of American song -- Linda Ronstadt and Johnny
Cash -- get their due in captivating new documentaries.
By Sarah Rodman in Entertainment Weekly


usic documentaries have always been plentiful, but 2019 brought a bumper crop of great stories about important people, places, and trends in music history. From David Crosby -- the former Byrd and the C in CSNY -- to the revered Bluebird nightclub in Nashville, the tales were varied and rich. Two of the sharpest entries in the rock-doc canon deftly chronicle the estimable contributions of masterful interpreter Linda Ronstadt and country legend Johnny Cash. Both artists transcended their perceived genres to make a permanent imprint on American music and culture.
That Linda Ronstadt: The Sound of My Voice hits CNN on New Year's Day is a boon for fans unable to see the James Keach-produced, Rob Epstein- and Jeffrey Friedman-directed film during its brief theatrical run.
As Ronstadt pal and peer Bonnie Raitt puts it in the film, such was Ronstadt's fame and reach that the powerhouse vocalist from Arizona was the Beyoncé of her day. She hopscotched from rock to pop to country to the Great American Songbook to the canciones of her Mexican forebears and more just because she could. Ronstadt won 10 Grammy awards, scored 11 platinum albums, and was the first female artist to top the pop, country and R&B charts simultaneously.
While talking heads like Don Henley, Jackson Browne, and other key figures from Ronstadt's past appear, the 73-year-old singer herself is seen primarily in archival footage, her voice -- like the title implies -- used for narration. "That was a deliberate choice," says Keach (Glen Campbell...I'll Be Me). "We wanted her to tell her own story."
Since Ronstadt, who has Parkinson's disease, stopped performing in 2009, the short clip at film's end of her singing with her family is especially poignant. Keach calls the intimate sequence "one of the great moments of my career. Nobody could believe that she actually allowed us to film it."
Keach is hopeful that the doc will burnish Ronstadt's legacy, which is widely respected but criminally undersung, unlike anything she ever sang herself. He's particularly glad that they included several full performances. "In so many music docs, you play a few verses," he says. "Instead, we wanted people to feel exactly what it felt like to hear an entire song sung by this woman."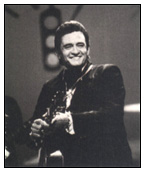 Director Thom Zimny was dedicated to showing new angles on the Man in Black in The Gift: The Journey of Johnny Cash, currently streaming on YouTube.
"What I love to do in making these films is really step into what I imagined the artist's world to be," says Zimny, who also cohelmed the recent Bruce Springsteen film Western Stars. "I explored all kinds of archival footage, home movies, stills that really demonstrate to me a very human side of the man's face, and kept away from iconic stills."
He also stumbled onto a gold mine: 60 hours of Johnny Cash telling his life story. The tapes were from the interviews conducted by Patrick Carr, who coauthored the singer's 2003 autobiography.
"The audio itself had not been used," says Zimny, still somewhat incredulous at his good fortune. "I literally finished that interview where Carr referenced having tapes, and 24 hours later I had them digitized."
That treasure trove pays off handsomely. Zimny used it for Cash's extensive voice-over, bolstered by family members (daughter Roseanne and son John Carter), peers, and fellow musicians, including Bruce Springsteen and Marty Stuart, also only heard, not seen. "I only wanted voices that you believe either knew Johnny Cash or were moved by him to a place that their life changed."