"Band On The Run"
Paul McCartney & Wings
Apple 1873
Jun. 1974
Billboard: #1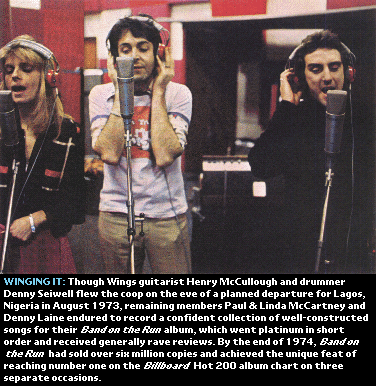 aul McCartney followed his second post-Beatles chart-topper, "My Love," with the theme song for the James Bond movie, Live and Let Die. Nominated for an Oscar for Best Song, "Live and Let Die" spent three weeks at number two in August, 1973. Oddly, it was prevented from reaching the top by three different number one singles: Maureen McGovern's "The Morning After," Diana Ross' "Touch Me in the Morning" and Stories' "Brother Louie."
Next came "Helen Wheels," named after Paul's Land Rover. Peaking at on Billboard's Hot 100 at number 10 in January, 1974, it was not meant to be included on the next Wings album.
| | |
| --- | --- |
| In addition to its chart-topping title track, the Band on the Run album spawned two other Top 10 singles, "Helen Wheels" (#10) and "Jet" (#7). Released on Dec. 22, 1973, the album took up residence on the Billboard Hot 200 album charts for a whopping 116 weeks, and was the #1 album in America for four of those weeks. In 1999, EMI/Capitol released a remastered 25th Anniversary Edition of the album (above) with a 21-track bonus CD of sound bites, interviews and snatches of rehearsals. | |
But Capitol Records in America insisted the LP would sell more copies if the single were on it, and Paul consented to let American copies of Band on the Run contain "Helen Wheels."

Wings were scheduled to fly to Lagos, Nigeria, to record Band on the Run. But Henry McCullough and Denny Seiwell did not go to Africa. "They failed to turn up," Paul told Vic Garbarini in Musician, an interview that was later released as a commercial disc. "...I was left in the lurch at the last minute. It was literally an hour before we were getting into the plane to go on this trip to Africa... so we ended up just the three of us in Lagos and I played a lot of stuff myself. I played the drums myself, the bass myself, a lot of guitar with Denny (Laine), did a lot of the vocals myself. I took a lot of control on that album. So it was almost a solo album. Almost."

The sudden departure of two Wings was just the first in a series of events that plagued the recording of Band on the Run. "We also had some strange things happen once we got there," McCartney told Robert Hilburn in a 1974 Los Angeles Times interview. "In Lagos, these guys were really sensitive about the idea of people ripping off their music. They couldn't understand why we had come to Lagos. We told them there was no dirty motive behind it. It's just that we thought it would be sunny. We thought it would be a sort of holiday while we recorded. That's all we wanted. But it turned out to be cloudy. It was the rainy season when we got there, so we blew it... to add to it all, we got held up at knife point over there and got robbed."

Despite the adverse conditions, critics called Band on the Run McCartney's best solo album: "The best thing any of the Beatles have done since Abbey Road," said one. Two of the LP's songs had lyrics inspired by other people. Dustin Hoffman told Paul that the last words reportedly spoken by Pablo Picasso were, "Drink to me, drink to my health, you know I can't drink anymore." Challenged to write a song using these words, Paul did so while Hoffman watched. The result was "Picasso's Last Words (Drink to Me)." George Harrison was the source of the other inspired lyric. During a meeting of Apple's board of directors, a frustrated George uttered, "If we ever get out of here..."

Those words were the seed for the album's title track. But "Band on the Run" was not the first single chosen from the LP. "Jet," named for a McCartney dog (as was "Martha My Dear"), peaked at number seven in March, 1974. "Band on the Run" entered the Hot 100 on April 29, 1974, and became McCartney's third post-Beatles number one single seven weeks later.

Band on the Run also sparked comment for its star-studded cover. Sharing the glare of the prison yard spotlight with the three members of Wings are escapees James Coburn, Christopher Lee, boxer John Conteh, Member of Parliament Clement Freud, comedian Kenny Lynch and television host Michael Parkinson.

- Fred Bronson, The Billboard Book of Number One Hits, Billboard, 1988.


comments powered by