| | |
| --- | --- |
| Q&A with Elton John | |

Sir Elton explains how 'The Union', the new collaboration
with his old touring partner Leon Russell, came about.
by Tanner Stransky in Entertainment Weekly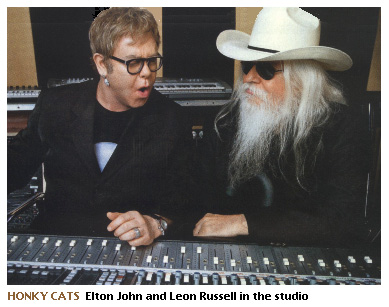 How did you come to team up with Leon Russell for this album?
I was listening to [his music], and I got very emotional and started to cry. His music takes me back to a wonderful time in my life when things were just beginning to happen for me. It takes me back to the late '60s and early '70s, when there was so much different music. There were 10 or 12 albums that you had to have every week. Now, it's trying to find 10 or 12 albums a year. Leon was the first person I'd heard play the piano with classical, gospel, and soul influences all at once, and it just blew me away. The main purpose of this album is to make a great record, have fun, and make people aware of Leon again.
The album has a pretty retro sound.
The secret is that it's done live. We've been using computers to make the last three or four albums. This was like, the red light is on -- one, two, three, off you go! I haven't done a record like that in so long. I can't remember when.
You've said that you feel like you don't have to make pop records anymore. Does that feel liberating?
It does in a way. Not that I don't like pop records. But I can do the side things for pop, like when I worked with the Scissor Sisters or if Lady Gaga wanted to do something. It's just nice to not have to go into a studio and think about writing a hit single. You're not going to get on the radio at 60 years of age. That's fine by me.
Speaking of Lady Gaga, any plans to work together after your performance with her at the Grammys?
I'd love to in the future. She and I come from exactly the same place. She's kind of like the bastard daughter of Elton John. I love her, and I love her ability to write.
Will you show up on her upcoming album, Born This Way?
There's a chance I might do one track with her, but she's so busy and I'm so busy, we can never get together! But her record -- it's f---ing amazing. "Born This Way," which is the title song, will completely get rid of Gloria Gaynor's "I Will Survive." This is the new "I Will Survive." That was the gay anthem. This is the new gay anthem. Actually, it's not a gay anthem -- it can apply to anybody.
Any chance an all-Elton episode of Glee is in the works?
I love Glee, but no, no. Of course I'd be into that. It's always great when someone covers your songs, no matter how good or bad the version is. I am supposed to be doing something with [Glee star] Matthew Morrison for his album. We had a little meeting together, so hopefully that's going to happen when I get to L.A.
Anything on your iPod right now that you want to share?
I don't have one! I don't have a computer or a phone, either.


Elton John and Leon Russell - The Union (Decca) - There's an appealing logic in pairing piano men Elton John and Leon Russell for a duets album after decades of mutual admiration. Russell's raspy wail makes an apt foil for Sir Elton's still-luxuriant croon, and the duo settles cozily into producer T Bone Burnett's arrangements. Both artists have done more durable work in the past, but who can begrudge two old pals having so much fun? B - Simon Vozik-Levinson


| | |
| --- | --- |
| For The Love Of Harry | |

A must-see new doc tells the tale of Harry Nilsson, a pop
music legend who died a broke (and broken) man.
by Stephen King in Entertainment Weekly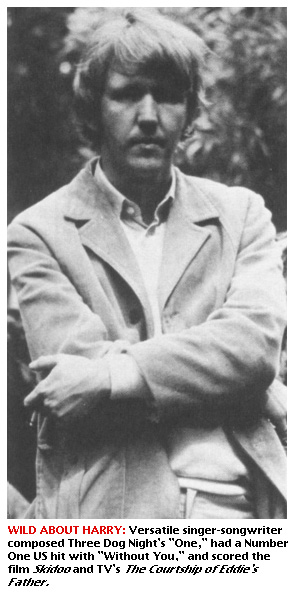 ccording to Tommy Smothers of the Smothers Brothers, his name causes one of two reactions in rock fans: instant recognition or a blank stare. John Lennon called him "my favorite group," perhaps because the artist in question was a genius when it came to double-, triple-, and quadruple-tracking his own voice (one critic wondered in print why he didn't give more credit to his wonderful backup singers). He was the Howard Hughes of rock royalty, refusing to tour or even perform live; his ex-wife Diane called him "the most insecure person I've ever known." A-list producer Richard Perry said he had a death wish. Songwriter Paul Williams called him "a big bunny with really sharp teeth."
They're all talkin' about Harry Nilsson, the subject of John Scheinfeld's (The U.S. vs. John Lennon) sadly lyrical new film, Who Is Harry Nilsson (And Why Is Everybody Talkin' About Him?). If you see one rock doc this year (this one was released on DVD on Oct. 26), make it Harry Nilsson. Screened as a "work in progress" in 2006 at "selected locations" -- translation: hardly at all -- it's been held hostage until now by music-rights issues. Given Nilsson's unpleasant decline and premature death, this could have been the stuff of a VH1 Behind the Music episode, but Scheinfeld has produced something better. Lots better. Close to genius, in fact.
| | |
| --- | --- |
| Released on DVD on Oct. 26, Who Is Harry Nilsson (And Why Is Everybody Talkin' About Him?) is a wildly entertaining story of one of the most talented and versatile singer-songwriters in pop music history and features over 50 Nilsson recordings, rare or never-before-seen film clips, home movies and personal photos. | |
Nilsson was born in 1941; his father walked out three years later, leaving young Harry in the care of an alcoholic mother. They lived in a section of Brooklyn where signs posted in the alleyways read STARVE A RAT -- COVER YOUR GARBAGE. In his midteens, the kid who would one day win a Grammy for his version of Fred Neil's "Everybody's Talkin'" (made famous in Midnight Cowboy) purportedly held up a liquor store to pay the rent.

Here's a story we all know. Our hero scuffles. He moves to the West Coast to seek his fortune. He works low-paying jobs -- assistant theater manager, bank employee. He has a little songwriting success (the Monkees covered his song "Cuddly Toy" in 1967), then achieves breakthrough solo success with hits like "Everybody's Talkin'" and "Coconut." He makes famous friends like Ringo Starr, Terry Gilliam, and Robin Williams. Then alcoholism creeps up behind him. First it kisses him on the neck, then it grabs him in a choke hold. A heavy smoker, he blows his voice mostly because he screams his lungs out with John Lennon while making a totally forgettable album called Pussy Cats. (At the end of the session, according to one of the films many raconteurs, "there was blood on the microphone.") Financial ruin follows, as night follows day. In the end our hero dies of heart failure at the ridiculously young age of 52. At the funeral, George Harrison leads the mourners in one of the artist's more scrofulous refrains: "You're breaking my heart/You're tearing it apart/So f--- you."

We know the tale, but it's rarely been told with so much heart, or about a singer with such an angelic voice. There's probably not enough music -- we're given only snippets of classics like "Coconut" ("You put the lime in the coconut, drink 'em both togedda"), "Jump Into the Fire," "Me and My Arrow," and the heartbreakingly beautiful sob-rock anthem "Without You." But this isn't really a movie about music, although the way Scheinfeld establishes Nilsson's voice as a beautiful instrument is important (my old bandmate Al Kooper calls A Little Touch of Schmilsson in the Night "one of the greatest make-out albums ever made"). This is a brutal but loving story about the cannibal picnic we Americans call fame. What hits with the most force are the stills, which depict Nilsson's transformation from a slim towheaded choirboy to a choleric overweight man who was reduced to hawking timeless songs as commercial jingles to anyone who'd buy them. The Nilsson who had his breakthrough success in 1969 became a doughy used-to-be 20 years later, remembered mostly by people who listen to oldies stations.

It's as sad as the heartbreaks Nilsson sang about with the most conviction. Who Is Harry Nilsson is some piece of work, an exploration of the dark side of success that's hard to watch, and even harder to forget.