| | |
| --- | --- |
| The Hit Man | |

In his new autobiography, record-biz legend Clive Davis
reveals all about the music icons he's discovered and
nurtured -- and offers a glimpse into his personal life.
Clive Davis
The Soundtrack of My Life
Simon & Schuster

by Clark Collis in Entertainment Weekly

ebruary is traditionally a hectic month for music-company executive Clive Davis, who throws a famous annual Grammy party. But this year the 80-year-old has been busier than usual. On Feb. 19, Simon & Schuster published his memoir, The Soundtrack of My Life, which tracks his career from head of Columbia Records to the '60s and early '70s to his overlordship of Arista and J Records to his stint as chief creative officer of Sony Music Entertainment today. Near the end of the 586-page book, the twice-married Davis opens up about his sexuality, describing how experimentation in "the era of Studio 54" led to his current monogamous relationship with a man. "I just know that for many years I was attracted to women, and then I discovered that I was attracted to men as well," says Davis. "It was something that everyone close to me knew about." Davis' near appendixing of this revelation is in line with the downplayed nature of other celebrity self-outings, such as Anderson Cooper's. He does not want the news to distract from the heart of the book: his tales of working with a lineup of talent that includes Whitney Houston, Bob Dylan, Alicia Keyes, Kell Clarkson, and Janis Joplin. To mark the publication of Soundtrack of My Life, Davis sat down with us in his Manhattan office to reminisce about making music with megastars.


JANIS JOPLIN Davis first saw the blues-rock singer fronting the band Big Brother and the Holding Company at the Monterey Pop Festival in June 1967. "She was totally electrifying," says Davis, who would soon become president of Columbia Records. He persuaded the band to join Columbia -- but Big Brother's manager, Albert Grossman, shocked him with a very special request from Janis before they signed on the dotted line: "Albert took me aside and said, 'This is so meaningful to Janis that she would like it to be more personal and intimate. She would like to f--- you.' I took that as a big compliment." And? "I smiled and declined." Davis later helped oversee Joplin's solo album, Pearl, which was released after her death from a heroin overdose in October 1970. "I was totally unprepared for the news," he says. "She had played 'Me and Bobby McGee' on the phone for me two, three days before."


BOB DYLAN Davis, originally employed as legal counsel at Columbia, had the unpleasant task of explaining to an indignant Bob Dylan why the company would not release the song "Talkin' John Birch Society Blues" (the lyrics suggest members of the titular conservative organization are Nazis) in 1963. Six years later, he redeemed himself by recommending the singer-songwriter put out the track "Lay Lady Lay" as a single despite its erotic content. "I said, 'I just love the cut,'" recalls Davis. "He said, 'Well, I'm surprised that the lyric would allow me to be in the ball game.'" Released in July 1969, "Lay Lady Lay" turned into one of Dylan's biggest hits. The following year, Davis did Simon & Garfunkel a similar service by persuading them to release the title track of Bridge Over Troubled Water as a single.


BARRY MANILOW In 1973, Davis became embroiled in a fraud scandal at Columbia. Although prosecutors would drop all but one minor charge against him, he was fired (which was a shame, as he had recently signed a bright prospect from New Jersey named Bruce Springsteen). In 1974, Davis founded a new company, Arista, whose early roster included Barry Manilow, then a little-known singer -songwriter. Davis saw promise in his new charge, although more as a performer than a writer. Manilow disagreed with that view, but Davis told him, "Well, if you were Irving Berlin, we would know it by now!" Today he concedes, "That was rather harsh. I think it's endeared us to each other that we survived that period. And look at him! He's selling out on Broadway!"



THE GRATEFUL DEAD Davis tried to sign the original jam icons to Columbia in 1969 and again in 1972, when the rockers told him they wanted to sell their records via a fleet of ice cream trucks. "Their plan had some serious flaws," he says. The Dead never became Columbia artists, but they later signed with Arista. They demonstrated their fondness for Davis during shows by changing the lyrics of "Jack Straw" from "We used to play for silver/Now we play for life" to "We used to play for acid/Now we play for Clive." "I did get a kick out of that," says the exec.



CARLOS SANTANA After being signed to Columbia by Davis in the '60s, the guitar legend and his band enjoyed a run of success, including 1969's Santana and the following year's "Oye Como Va." But by the time the exec re-signed Santana to Arista in the late '90s, the guitarist's commercial appeal had faded -- so much so that the deal was known as "Davis' Folly." "He had not sold meaningfully for a number of years," says the exec. Davis had the last laugh when Santana's 1999 album Supernatural, became the performer's biggest seller and won nine Grammy awards.



WHITNEY HOUSTON Davis made history by signing the 19-year-old Whitney Houston to Arista after seeing her perform with her mother, Cissy, at the Manhattan club Sweetwater's. The singer's first two albums, 1985's Whitney Houston and 1987's Whitney, were worldwide multiplatinum smashes, and she became the first artist ever to have seven consecutive No. 1 singles. "I was saying [to her], 'Are you pinching yourself?'" recalls Davis. Tragically, this fairy-tale story would not have a happy ending, as Houston over time spiraled into drug addiction. In The Soundtrack of My Life, Davis admits that the chapter on Houston was the most difficult for him to write, and he is clearly upset when talking about her death, which occurred just hours before his 2012 Grammy party at the very hotel where the event was taking place. "It's a very painful realization that logic doesn't work when you're dealing with a lethal struggle involving drugs," he says. "I beseeched her to have the same faith that she had in me professionally on a personal level. But that becomes wishful thinking."



| | |
| --- | --- |
| Life Is a 'Cabaret', Old Chum | |

In 1972, Bob Fosse revived the movie musical with 'Cabaret',
now out in a 'perfectly marvelous' Blu-ray edition
by Chris Nashawaty in Entertainment Weekly

Cabaret
Liza Minnelli, Michael York, Helmut Griem, Marisa Berenson, Fritz Wepper
Rated: PG, 124 mins., 1972
(Warner Home Video)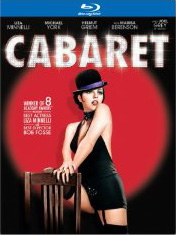 ack in the late '60s, bloated Hollywood musicals went belly-up. The cause of death? A fatal overdose of sequins and schmaltz. The genre had a nice long run, but as the country's mood grew darker, razzle-dazzle duds like Star! and Doctor Dolittle felt tone-deaf and square. Then along came Bob Fosse -- the maestro of the modern musical -- with the kinky, slinky Cabaret (1972, 2 hrs., 4 mins., PG). Now out on a newly restored 40th anniversary Blu-ray, Fosse's Weimar-era masterpiece still feels fresh because it had the nerve to embrace taboo themes (homosexuality, promiscuity, abortion) instead of providing a refuge from them, as the G-rated musicals of the Eisenhower years did. John Kander and Fred Ebb's subversive songwriting and Fosse's sexy stockings-and-garters choreography have something to do with it.
But the main reason Cabaret hits all the right notes four decades later is Liza Minnelli's Sally Bowles, a dizzy Jazz Age pixie in 1931 Berlin who prowls the stage of the Kit Kat Club while the rising specter of Nazism looms like a cloud in the background. Just 25 at the time it was released, Minnelli deservedly won an Oscar (as did Joel Grey as the club's ghoulish emcee), and her powerhouse, saucer-eyed renditions of "Money, Money" and "Maybe This Time" are the best evidence there is of the future drag-queen patron saint's phenomenal talent.
In the excellent new featurette on the discs extras, Minnelli, as sassy and straight-talking as ever at 66, makes the case that Cabaret was the first "adult musical" (even though she says that she shot down Fosse's request that she appear topless). Chicago director Rob Marshall agrees, adding that there'd be no Roxie Hart -- and very few movie musicals today at all -- without Fosse's game-changing gin-and-sin sensation. A

comments powered by