| | |
| --- | --- |
| Favorite Seventies Artists In The News | |



Bringing you the Web's best '70s music & culture news since 1997!


What is being touted as the "largest lock of John Lennon's hair" ever sold has been put up for action online by the Dallas-based Heritage Auctions. According to the sales description, the lock of hair was trimmed from the late Beatles legend in Sept. 1966 during the filming of the Richard Lester-directed movie How I Won the War, which featured Lennon. Bidding has reached as high as $12,000 for the lock, and previous locks of Lennon's hair have fetched $48,000 in 2007 and $25,600 in 2015. - Rolling Stone, 2/9/16...... In other Beatles-related news, a new report conducted by the Liverpool John Moores University and the University of Liverpool, and commissioned by Liverpool City Council, has found that the tourist income generated by the Fab Four to their home city adds almost £82 million to the city's economy, and supports as many as 2,335 jobs. The report found that the "Beatles economy" in Liverpool grows 15 per cent each year with "further significant growth potential" in the future. A University of Liverpool professor stressed the importance of "maintaining standards in efforts to promote this legacy," while another prof added that "we need to convey the core point that Liverpool was not just the birthplace of The Beatles, it was their cradle; what they learned as Liverpudlians they took into the world... The self-confidence and openness to cultural influences remains a vibrant and distinctive aspect of the life of the city. The still fresh music of The Beatles reminds us who we are and who we could become." The Beatles formed in Liverpool in 1960 and became instrumental in the local Mersey Beat scene during their early career. In Dec. 2015, the city unveiled a new Beatles statue to mark the band's final performance in the city, on Dec. 5, 1965. - New Musical Express, 2/8/16......

A Grammy tribute to late Eagles co-founder Glenn Frey will feature past and present surviving members of the band -- Don Henley, Bernie Leadon, Joe Walsh and Timothy Schmit as well as "Take It Easy" co-writer Jackson Browne -- during the 2016 Grammys, which is set for Feb. 15 at the Staples Center in Los Angeles. It seems a sure bet the Eagles and Browne's setlist will include "Take It Easy," which was written primarily by Browne with contributions from Frey. Frey died at age 67 of complications from rheumatoid arthritis, acute ulcerative colitis and pneumonia after several months of illness. His last performance with the Eagles took place in Louisiana on July 29, 2015. The Grammy Awards will be broadcast live on CBS on Feb. 15. - Billboard, 2/10/16...... Elton John has told a British music website that he's planning on collaborating with the contemporary band The Killers and their frontman Brandon Flowers for the next Flowers LP. "I'm hoping to go to Vegas and write with Brandon for the new Killers record| So that'll be interesting," said John, who also expressed his love of working with other artists in the studio. "It's just great to be able to see how other people sing, what they write, how they do it, and it gives you an idea of, 'Oh they do it that way'," Sir Elton remarked. - New Musical Express, 2/9/16...... Late Motörhead frontman Lemmy Kilmister will be honored with a life-size, bronze statue to be erected outside his favorite bar in Los Angeles, the Rainbow Bar & Grill on the Sunset Strip. Fans commissioned the statue, which was made by L.A. artist Travis Moore, through a crowdfunding campaign, with over $15,000 raised for the project so far. Kilmister was a regular at the bar before he passed away on Dec. 28 at age 70, and the bar recently hosted a memorial in his honor. - New Musical Express, 2/8/16...... Iggy Pop, who will be releasing a new studio album, Post Pop Depression, on Mar. 18, has revealed that it could be his last. "I feel like I'm closing up after this. That's what I feel. It's my gut instinct," Pop said in an interview on Feb. 6. Pop added that he still might perform occasionally -- such as "singing 'Happy Birthday' at your mother's (or) something like that" -- but "to really make a real album you really have to put everything into it and the energy's more limited now." Pop, 68, recently announced that he will headline London's Royal Albert Hall with his new band in May, and then play selected dates around the globe. Pop released the first track from Post Pop Depression, "Gardenia," in late January. - NME, 2/6/16...... The Grateful Dead-spawned superground Dead & Company has announced it keep on truckin' with a summer tour of 17 American dates beginning on June 10 in Charlotte, N.C. Other stops on the tour, with original GD members Bob Weir, Mickey Hart and Bill Kreutzman along with John Mayer, Oteil Burbridge and Jeff Chimenti, include Cincinnati; Noblesville, In.; Camden, N.J.; Saratoga Springs, N.Y.; Bristow, Va.; Flushing, N.Y.; Hartford, Conn.; Boulder, Col.; Detroit; East Troy, Mich.; and Pittsburgh before the tour wraps with a two-night stand in Boston on July 15 and 16. The band is also set to appear on The Tonight Show Starring Jimmy Fallon on Feb. 18. - Billboard, 2/8/16......

It appears former Chicago principle Peter Cetera won't be participating in Chicago's upcoming induction into the Rock and Roll Hall of Fame in April. Cetera, the group's original singer and bassist who left the group in 1985, posted a copy of a note he sent to Rock Hall Foundation chief Joel Peresman and induction ceremony producer Alex Coletti on his website on Feb. 8 that reverses previous statements that he was willing to play with the band during the April 8 ceremony at the Barclays Center in Brooklyn. "Unfortunately this scenario doesn't work for me," Cetera wrote. "I know we all did our best to make it happen, but I guess it's just not meant to be. Personally I'm frustrated and tired of dealing with this and it's time to move on. I have a life with two beautiful daughters and a solo career and its time to get back and give them the full attention they deserve. Thanks for all your help and consideration! Have a great show and please send any individual award I receive to the contact you have for me," he added. In December, Chicago singer/keyboardist Robert Lamm announced that Cetera, along with founding Chicago drummer Danny Seraphine, would be attending and performing at the ceremony, only to be corrected by Cetera. Lamm subsequently apologized for making the announcement without Cetera's confirmation, and in January, Cetera posted a letter on his website saying he was willing to perform "25 or 6 to 4" that night, also suggesting that all of Chicago's living members, past and present, be invited to play the song. Earlier in February, Lamm told Billboard that "I don't even know if our band is going to play... I don't know if it's going be a house band or Paul Shaffer playing. I have no idea. It'll all be worked out, I'm sure, but as to what I know now, it's very little." Lamm said Cetera's refusal to take part in the ceremony could have been due to his "wanting to to play [the song] in a different key if he was going to play with us, which is definitely not going to happen, and then he wanted to play with his band but not with us and sing his songs or sing whatever songs the Hall wants him to sing... It's all very strange." As of now, Lamm and remaining co-founders Lee Loughnane, James Pankow and Walter Parazaider are confirmed to participate in the induction. - Billboard, 2/8/16...... Don McLean has pleaded not guilty to a domestic violence charge after the "American Pie" singer was arrested on Jan. 18 when his wife filed a handwritten request for protection. McLean's attorney announced on Feb. 8 that the singer entered the plea in writing and will not appear in court in Maine when his case is heard on Feb. 22. The attorney says nothing substantial will come of the misdemeanor count on that date because of the handwritten plea. McLean and his wife later announced through the attorney that they had "agreed to move forward," and the protection order was dismissed. McLean and his wife life in Camden, Maine. - AP, 2/8/16...... A home in Mayfair, London where Jimi Hendrix once lived that has been converted to a museum was opened to the public for the first time on Feb. 10. Hendrix lived at the flat at 23 Brook Street, which was owned by Hendrix's then girlfriend Kathy Etchingham, for a year between 1968-69. Among the items on display at the museum are a copy of Bob Dylan's Highway 61 Revisited that is stained with Hendrix's blood. Fans will also be able to view the top floor of the home with organisers having spent two years renovating it to its original form. - New Musical Express, 2/9/16......
Carlos Santana has taken to Facebook to criticize his hometown of San Francisco for not featuring "local" Bay Area bands to be featured in the Super Bowl 50 halftime show on Feb. 7. "I do feel compelled to point out to you that the Halftime Show should have included some of the local iconic bands that the World would have loved to see perform," reads a Feb. 9 post by Santana, who was featured in a Super Bowl highlight reel playing guitar. "Bands like Metallica, Steve Miller, Journey and yours truly. We would have rocked the Half Time Show and done the SF Bay Area proud," he added. After reading Santana's post, Journey updated their own Facebook page with the message, "Thank You Carlos, and yes we would have all Rocked it!" - Billboard, 2/9/16...... David Bowie's widow Inman has broken her silence for the first time since her late husband's passing on Jan. 10 with a simple message on Twitter. "'Love & Gratitude' - Iman," she posted on Feb. 6. Inman had posted a number of Twitter messages in the days leading up to Bowie's death, including: "The struggle is real, but so is god" and "Sometimes you will never know the true value of a moment until it becomes a memory." Meanwhile, Bowie's Duncan Jones has revealed on Twitter that he's going to become a dad. "1 month since dad died today. Made this card for him at Christmas. Due in June. Circle of life. Love you, granddad," Jones posted on Feb. 10, alongside a cartoon drawing of an unborn foetus. Jones then went on to ask for parental advice in a series of tweets, saying: "So how knackering is it having a baby? Moon shoot knackering or morning after a house party knackering?" - NME, 2/10/16...... In related news, Mick Jagger's son James Jagger has told Britain's The Independent paper that he actually prefers The Kinks to his dad's famous rock band. "When people ask me if I prefer the Rolling Stones or the Beatles, then I will always say the Rolling Stones. But if someone asks if I prefer the Rolling Stones or The Kinks, I'd choose The Kinks," said James. The 30-year-old son of Mick and model Jerry Hall, who has begun a career in acting, is due to star in the new HBO drama series Vinyl, which premieres on the channel on Feb. 14. - NME, 2/8/16...... Paris Jackson, the 17-year-old daughter of Michael Jackson, has suggested she has troubles with alcohol and is attending Alcoholics Anonymous meetings during a series of furious rants on Instagram. "This is f---ing ridiculous. I am expected to literally sit on my ass all day replying to comments people leave me (positive and negative)?" Paris posted. "I have AA meetings to go to. Family obligations. Personal obligations. Its so f---ing selfish that I am literally attacked on every f---ing thing I post just because people that I don't even know aren't getting what they want," she added. Paris' rant comes more than two years after she was hospitalized following an apparent suicide attempt in June, 2013. - WENN.com 2/5/16......
San Francisco-based musician Dan Hicks, who began his music career in the 1960s and was the founder of Dan Hicks and the Hot Licks, died on Feb. 6 after a two-year battle with cancer. He was 74. Hicks, a veteran Bay Area singer/songwriter/band leader, formed the Hot Licks after leaving the band The Charlatans, a pioneer of the '60s psychedelic "San Francisco sound" along with the likes of the Jefferson Airplane and the Grateful Dead. The Hot Licks produced several successful albums but broke up in 1973, at the height of its popularity. Perhaps best known for the songs "I Scare Myself" and "Canned Music," Hicks' songs were frequently infused with humor, as evidenced by the title of one of his tunes, "How Can I Miss You When You Won't Go Away?" Hicks' latest album, Live at Davies, was released in 2013. Hicks was diagnosed with throat and liver cancer in 2014, and in March 2015 he announced on his website that he had been stricken with liver cancer and, while "confident" in his recovery, would be postponing all live performances. "My darling darling husband left this earth early this morning. He was true blue, one of a kind, and did it all his own way always," his wife CT Hicks posted on Dan's Facebook page on Feb. 6. - AP/Billboard, 2/6/16...... Singer Joe Dowell, who was briefly popular in the early 1960s with a No. 1 hit titled "Wooden Heart," died on Feb. 4 at a hospital in his longtime hometown of Bloomington, Ill. He was 76. "Wooden Heart" already had been a hit for Elvis Presley in Europe when Dowell's version was released in the US. With its bouncy tempo and echoed vocal track, the song topped the Billboard chart in early Sept. 1961. Dowell's other songs included "The Bridge of Love" and "Little Red Rented Rowboat." In subsequent years he recorded commercial voiceovers and gospel songs.

Singer/songwriter/producer/musician/arranger Maurice White, the co-creator of the hugely popular '70s and '80s group Earth, Wind & Fire, died of natural causes on the morning of Feb. 4, according to a post on EWF's Twitter feed. He was 74. "Our brother Maurice White passed peacefully in his sleep this morning. The light is he, shining on you and me. pic.twitter.com/ppWTHKUyG6," the band posted. White, who was diagnosed with Parkinson's Disease in the early '90s, had stopped touring with the band around 1994. Born in Memphis on Dec. 19, 1941, White moved to Chicago in the early '60s and was hired as a session drummer for Chess Records. Following a post-Chess stint as a member of the Ramsey Lewis Trio, White became a member of the Capitol-signed band Salty Peppers with friends Wade Flemons and Don Whitehead. Relocating to Los Angeles, he established the nine-member first incarnation of Earth, Wind & Fire in 1971 with himself, Flemons, Whitehead and White's bass-playing brother Verdine White, among others. Under contract to Warner Bros., the band released two albums. By 1973, a remodeled Earth, Wind & Fire -- including the White siblings, vocalists Philip Bailey and Jessica Cleaves, drummer Ralph Johnson and keyboardist Larry Dunn -- was signed to Columbia Records. From that period through the early '80s, the band was a permanent fixture on both the R&B and pop charts. Earth, Wind & Fire, whose moniker was chosen from the elements in White's astrological sign, Sagitatarius, became known for its game-changing fusion of R&B/soul, pop, jazz, funk, disco, rock, Latin and African rhythms, and are hailed as one of the most successful bands of the 20th Century.
Scoring its first top five R&B single in 1974 with "Mighty Mighty," the band scored its first R&B/pop crossover hit a year later with "Shining Star," No. 1 on both charts. Embracing the themes of empowerment, unity, spirituality and love, White guided the band through a host of R&B and pop hits that have since become classics, among them: "That's the Way of the World," "Sing a Song," "Serpentine Fire," "September" and "After the Love Has Gone." EWF were honored with six Grammy Awards, and became one of music's most influential, iconic and longest-running bands. Beyond the music, their concerts became must-see spectacles during which the brilliantly garbed band members mesmerized audiences with disappearing acts and other magic tricks. In addition to EWF, White collaborated with other artists during his career, including projects by Minnie Riperton, Barbra Streisand, Barry Manilow, James Ingram, Neil Diamond and Brian Culbertson. White even logged his own top 10 R&B single with a cover of "Stand By Me," taken from his 1985 self-titled solo album. Even after being diagnosed with Parkinson's, White stayed busy behind the scenes, and collaborated with Maurice Hines on the 2006 Broadway play "Hot Feet," and in 2007 executive producing an EWF tribute album, Celebrating the Music of Earth, Wind & Fire. Earth, Wind & Fire was inducted into the Rock and Roll Hall of Fame in 2000, and are set to be honored with a Grammy Lifetime Achievement Award at the Feb. 15 ceremony. Among those paying tribute to the late multi-talented musician on Twitter include Questlove, Nile Rodgers, Bryan Adams, Quincy Jones, Jimmy Jam, Chris Rock, Arsenio Hall, Bootsy Collins, Earvin Magic Johnson and Craig Robinson, who posted "Keep Your Head To The Sky," recalling one of EWF's biggest hits. - Billboard/NME, 2/4/16.
Bruce Springsteen invited an 89-year-old grandmother on stage to dance during a performance of "Dancing in the Dark" during the the Boss's show at the Air Canada Centre in Toronto on Feb. 2. As Springsteen and his E Street Band performed the Born In the USA track during its encore performance, the rocker noticed the woman, named Evelyn, in the crowd enjoying the show, and asked her up to the stage. The show was part of his The River Tour, which will see the musician touring North America until March, finishing up with two shows in Los Angeles between March 15-17. His The River trek leads the Billboard Hot Tour Roundup from Jan. 26-Feb. 1, with $12.2 million in ticket sales. The first five dates of his North American arena trek are included in the roundup, and all five arenas since the Jan. 16 opener in Pittsburgh have logged a combined sold ticket count of 90,579, with Chicago's Jan. 19 show taking in $2.7 million at the box office and selling 19,120 tickets. - New Musical Express/Billboard, 2/3/16......
A line of cannabis products commemorating what would have been the 71st birthday of reggae legend Bob Marley's 71st birthday on Feb. 6 are slated to be launched on that day in conjunction with Marley's estate and New York based Privateer Holdings. "Marley Natural" Product Manager Tahira Rehmatullah says his team has "visited hundreds of farms around the world, learning all about growing processes and different strains, trying to find the best quality cannabis there is," and that "our goal is to work with all local farmers in every jurisdiction where we are offering cannabis." Some states in the US have a decriminalization policy in effect, where marijuana is sold through state controlled "dispensaries," however current regulations require that marijuana can only be distributed in areas where it is grown. Marley's son Stephen Marley, who will be performing at a launch party for Marley Natural, says "if my father was here physically, he would be up front advocating for this plant, so we are very proud to put our Marley Natural brand out there." - NME, 2/5/16...... He was famously known as "The Man in Black," and now country music legend Johnny Cash now has a species of black tarantula spiders named in his honor. After biologists discovered 14 new types of U.S. tarantuals, a black arachnid has been dubbed Aphonopelma johnnycashi because it makes its home near Folsom Prison, California, where Cash staged a famous concert for inmates on Jan. 13, 1968. The breakthrough performance became a popular live album, and it contained one of his signature songs, "Folsom Prison Blues". Cash died in 2003, aged 71. "It's a perfect name," explains Florida Museum of Natural History's Chris Hamilton, who led the team of biologists. "It fits the spider -- it's found around Folsom and the males are predominantly all black, so it fits his image. I have a Johnny Cash tattoo so I was very happy that it worked out that way." - Billboard, 2/5/16...... As the 2016 U.S. presidential campaign moves into high gear, many of the candidates are making some incredible promises, but perhaps none more unbelievable than a pledge to reunite legendary British prog-rockers Pink Floyd. Ohio Gov. John Kasich, who is running for the Republican nomination, appeared on CNN on Feb. 1 to discuss the Iowa caucus and told host Anderson Cooper that he is a huge Pink Floyd fan, and pledged to reunite the squabbling surviving members of the group if he becomes president. "Roger Waters is a remarkable artist," Kasich said. "I saw The Wall in Pittsburgh; it was absolutely incredible." Kasich then make his big statement: "And if I'm president, I am going to once and for all try to reunite Pink Floyd to come together and play a couple of songs." Pink Floyd, which last played together in 2005 at Bob Geldof's Live 8 charity benifit, has stated that its latest album, 2013's The Endless River, was unequivocally its last. - Billboard, 2/2/16......
A new musical based on the songs of Jimmy Buffett will make its world premiere at the La Jolla Playhouse in California on May 16, 2017, producers announced on Feb. 4. The show will combine the singer/songwriters laid-back blend of rock and country tunes with an original story by writers Greg Garcia and Mike O'Malley. It's described as "the story of a part-time singer, part-time bartender, and fulltime good ol' boy named Tully who suddenly finds himself in uncharted territory -- falling in love with a beautiful, career-minded tourist." Buffet and producer Frank Marshall -- the producer of such films as Back to the Future and Raiders of the Lost Ark -- teamed up to create Parrothead Productions, which helped produce such Broadway shows as "Big Fish" and "Doctor Zhivago." - Billboard, 2/4/16...... Elton John surprised train commuters at a London rail station on Feb. 4 with an impromptu performance of his classic 1971 track "Tiny Dancer." The Rocket Man gave the performance at St Pancras station in central London as he promotes his new album Wonderful Crazy Night, which dropped Feb. 5 via Island Records. "A colleague and I were just walking through the station and there was a bit of a crowd, then everyone started clapping and cheering. Elton sat down and started playing 'Tiny Dancer'," said onlooker Ruth Swailes. "He didn't sing, played for about five minutes, then got up and walked away, all very low key," she added. Following his performance, Sir Elton signed the piano with the message: "Enjoy this piano. It's a gift. Love, Elton John." John later confirmed that he donated the piano to the station with a post on Instagram: "Surprise!! I popped into St Pancras International to christen the Yamaha piano which I donated to the station. Now everyone can have a play." A day earlier, John is reported to have told BBC Radio 2 that he's going to start pulling back on his music career over the next several years to focus more on his family. John will also be joining late night TV host James Corden during Corden's special post-Super Bowl broadcast on Feb. 7 on CBS for and installment of Corden's popular "Carpool Karaoke" series. - Billboard, 2/5/16...... In other Super Bowl news, a commercial featuring Aerosmith frontman Steven Tyler is set to be aired during the game. Tyler will appear in an ad for Skittles candy, with his face made entirely out of Skittles, singing the Top 10 Aerosmith "Dream On." - Billboard, 2/2/16...... The Rolling Stones performed their 1967 track "She's a Rainbow" live for the first time in 18 years on Feb. 4 as they kicked off South American leg of their 2016 world tour at Chile's Estadio Nacional stadium. The track, which originally appeared on their 1976 album Their Satanic Majesties Request, was played for the first time since 1998 and, reportedly, only the 11th time in their entire history. The tour is set to wrap on Mar. 17 in Mexico City, and the band is reportedly gearing up to work on its first album since 2005's A Bigger Bang. New Musical Express, 2/4/16......
Punk legends the Ramones will mark the 40th anniversary of their 1976 eponymous debut album in 2016 with a marketing blitzkrieg that will include a new documentary, a South by Southwest Music Festival panel, a traveling exhibit of memorabilia, and a collector's reissue. The campaign, which focuses on the four original members -- Joey, Johnny, Dee Dee and Tommy Ramone, all of whom died between 2001 and 2014. On Mar. 17, a South by Southwest panel featuring Sire Records exec Seymour Stein will be held, with several bands performing the group's music. The following month, an exhibit of Ramones memorabilia is set to open at the Queens Museum in New York on Apr. 10 and will include Johnny's recently unearthed leather jacket and guitar. An expanded version of the exhibit moves to Los Angeles' Grammy Museum in October. In addition, a world tour of at least 18 cities is planned for 2017. On the music side, Rhino Records will release a three-CD/one-LP deluxe collector's edition of the band's self-titled first album, and include demos and a live concert. - Billboard, 2/3/16...... Ozzy Osbourne's wife Sharon Osbourne confirmed that her husband is now "ready to rock" on the Feb. 4 edition of the morning gabfest The Talk after Ozzy and Black Sabbath were forced to cancel a series of dates in Canada earlier in February after the singer was diagnosed with bronchitis. "He's doing so much better," Sharon said. "He had sinusitis, which went to bronchitis, and he said that he felt like he had the Pacific Ocean in his ear, and he couldn't hear properly, and it's been a nightmare. He had to cancel four shows. They're all gonna be rescheduled; we're working on it now," she added. Black Sabbath is set to perform in Seattle on Feb. 6 in a show that's part of the band's farewell "The End Tour" that will run until September 2016. - NME,2/5/16...... UK classic rockers Status Quo have announced their 2016 "The Last Night of The Electrics" tour will be their last with a statement on their official website on Feb. 4. "We've talked about it for some time and have decided that it's time for us to hang up the electrics. It's getting harder and harder for us to play those shows" Status Quo singer/guitarist Francis Rossi posted. "It's 30 years since we last said we were stopping but this is a final decision. It doesn't mean we won't do other things, perhaps the odd special, but we're agreed that the moment has come. There's more to come from us in the years ahead, but we won't tour the electric set ever again." Although never huge in the US, Status Quo has charted over 60 songs in the UK, with 22 of those reaching the UK Top 10 Singles Chart. In 1991, Status Quo received a Brit Award for Outstanding Contribution to Music. The band also spent a consistent 500 weeks in the albums chart, joining the likes of Queen and the Beatles. Meanwhile, the band is also scheduled to appear at a number of festivals across Europe this summer between May-July including Wirral Rocks on May 21 and Somerset Rocks in Taunton on Aug. 26. - NME, 2/4/16......
The Hollywood Vampires, the new "super group" comprised of Alice Cooper, Joe Perry, Duff Mackagan and Johnny Depp, is set to pay tribute to late rock stars Lemmy Kilmister and David Bowie during the 58th annual Grammy Awards on Feb. 15. Lady Gag a has also been confirmed to sing a medley of David Bowie songs on the night. The 2016 Grammys will take place at the Staples Center in Los Angeles. - NME, 2/4/16...... The Jefferson Starship said on Feb. 3 that it intends to continue touring after the death of its co-founder, guitarist/singer Paul Kantner, on Jan. 28 at age 74. According to a report on Jambands.com, the band have decided to carry on with their tour, which started in January and is due to finish Apr. 14 in Stockholm, Sweden. The band's current lineup includes David Freiberg of fellow San Francisco psychedelic rockers Quicksilver Messenger Service, along with Donny Baldwin, Slick Aguilar, Chris Smith, Cathy Richardson and Jude Gold. - Billboard, 2/3/16...... Comedian Bob Elliott, half of the hilarious radio and TV comedy team Bob and Ray, died at his home in Cundy's Harbor, Maine, on Feb. 3 at the age of 92. After a stint on a local Boston radio station and then on NBC radio, the low-key Mr. Elliott and his more-boisterous comedy partner Ray Goulding hosted The Bob and Ray Show on TV from 1951-53. The duo were known for their low-key humor and took turns serving as the straight man while often mocking their medium. Bob and Ray later recorded comedy albums and appeared often on The Tonight Show and The Ed Sullivan Show. On Broadway starting in 1970, they starred in "The Two and Only," where they did comedy sketches, and were seen on the big screen in Cold Turkey (1971), directed by Norman Lear, and, playing brothers, in Arthur Hiller's Author! Author! (1982). After Goulding died in 1990, Mr. Elliott appeared as a castmember on Garrison Keillor's American Radio Company of the Air and showed up in the Bill Murray comedy Quick Change (1990). He also played the father of his real-life son, actor Chris Elliott, on the 1990-92 Fox series Get a Life. Survivors also include his grandchildren (and Chris' daughters) Abby Elliott, also a former Saturday Night Live cast member, and actress Bridey Elliott (Fort Tilden). - Billboard, 2/3/16.
After previously canceling two shows in late January, Def Leppard announced on Feb. 1 that it's postponing the remainder of its winter U.S. tour dates "due to illness," although no band member was specified. The cancellation was for shows in San Antonia, Tex.; Little Rock, Ark.; and Brooklyn's Barclays Center that ran from Feb. 2-17. The band said it will announce new dates for those shows soon, and tickets will be honored for their rescheduled shows. Opening for Def Leppard on the tour are Styx and Tesla. - Billboard, 2/1/16...... A three-hour live telecast on Fox of the musical "Grease" on Jan. 31 was a big hit for the network, with 12.2 million viewers tuning in to see Julianne Hough, Aaron Tveit, Carly Rae Jepsen. Vanessa Hudgen, Carlos Pena Vega and Keke Palmer play the students of Rydell High in the 1950s-set musical. Grease: Live still fell short of NBC's The Sound of Music Livein 2013, which attracted 18.3 million live viewers. Just hours before Grease: Live aired, the soundtrack for the live television event was made available for purchase on iTunes. - Billboard, 2/1/16......
Jeff Lynne's Electric Light Orchestra will be headlining the final night of the 2016 Glastonbury Music Festival, which is set for June 22-26 at Eavis' Worthy Farm in Somerset, England. In 2015, the band released its first album of new music in 15 years, Alone in the Universe, which peaked at No. 4 on the UK's Official Albums Chart and No. 23 on the US's Billboard Hot 200 album chart. It will be the first ever Glastonbury appearance for ELO leader Jeff Lynne and his band, which will tour arenas throughout the U.K. and Europe in the leadup to their Glastonbury performance. - New Musical Express, 2/1/16...... In a remarkable coincidence, it has been revealed that Signe Anderson, the original singer of the Jefferson Airplane, died on Jan. 28, the same day as Jefferson Airplane co-founder, guitarist and vocalist Paul Kantner. An official cause of Anderson's death has not yet been revealed, although the 74-year-old reportedly had suffered health issues in recent years. The Seattle-born and Portland, Ore.-raised Anderson joined the JA in 1965, and sang on the band's 1966 debut album, Jefferson Airplane Takes Off. Soon after, she married Merry Prankster Jerry Anderson, and exited the JA after giving birth. She was replaced by Grace Slick. "One sweet Lady has passed on. I imagine that she and Paul woke up in heaven and said "Hey what are you doing...," JA co-founder Marty Balin posted on his Facebook page on Jan. 30. Balin has also reacted to the death of Paul Kanter, telling Billboard that Kantner "didn't do anything to take care of his health with all his drinking and everything, smoking cigarettes all the time, pushing himself too much." "He asked me to join him for this last go-round. He'd been touring around the world and I talked to him and said, 'You better be careful. Take care of yourself. You've got a grueling schedule.' He just said, 'Don't worry about me. I can do anything. I'm strong as a bull.' He WAS a hard-headed German," said Balin, who added that he left the group because of all the cocaine use and "It all got too famous and I couldn't deal with (Kantner). I couldn't talk to him. I didn't have the energy to fight him, so I just went and did my own thing." - Billboard, 1/29/16...... Black Sabbath has postponed two Canadian dates in Edmonton and Calgary due to frontman Ozzy Osbourne suffering from "extreme sinusitis." The two shows, part of Sabbath's 2015/2016 farewell tour, were set for Jan. 30 and Feb. 1, respectively, and rescheduled dates have yet to be announced but will be shortly, according to a post on Ozzy's Twitter account. However the band currently has concerts booked through September. - Billboard, 1/30/16...... Yoko Ono will be the recipient of The Inspiration Award at this year's New Musical Express (NME) Awards on Feb. 17 at the O2 Academy in Brixton, London. "Thank you, NME for this great honour. I accept this as your encouragement for me to keep making my 'Sound of Music'," Ono said in a statement on Feb. 1. The gala will take place the day before Yoko's 83rd birthday on Feb. 18. The magazine and website noted that Yoko had been an inspiration "to generations of musicians, artists and activists (and) has fans in David Bowie, Ornette Coleman, Nile Rogers and Eric Clapton," among others. - NME, 2/1/16......
Rod Stewart has announced he'll kick off a 7-city tour of the UK this fall at Liverpool's Echo Arena on Nov. 12. Stewart's "From Gasoline Alley to Another Country Hits Tour" will also visit London's O2 (11/22), Sheffield (11/29), Birmingham (12/2), Leeds, (12/6) and Manchester (12/8) before wrapping at Glasgow's SSE Hydro on Dec. 13. Stewart is touring behind his 2015 album, Another Country. - New Musical Express, 2/1/16...... Iggy Pop, who once collaborated with David Bowie on Pop's 1977 albums The Idiot and Lust for Life, has spoken of the pair's friendship in a new intervew with Rolling Stone magazine. Pop said he first met Bowie after hearing that he liked his band the Stooges, which was "something not a lot of people would admit at the time." "My impression was that he was very poised and very friendly, but not as friendly in that setting as when I got to know him in smaller groups," Pop recalled. "I could see that he had some ideas for me... I learned a lot from him. I first heard the Ramones, Kraftwerk and Tom Waits from him," Pop added. Bowie and Pop also toured together in 1976 on Bowie's "Station To Station" tour, and lived together in Berlin in 1977, with Bowie helping Pop write The Idiot and Lust For Life, his first two solo albums following the end of the Stooges. Pop, meanwhile, is preparing to release his new studio album, Post Pop Depression, on Mar. 18. - New Musical Express, 1/28/16...... In other Bowie-related news, it has been revealed that the late rocker wanted his ashes scattered in Bali "in accordance with the Buddhist rituals" in a 20-page will filed under his legal name of David Robert Jones on Jan. 29 in Manhattan. The document said that the singer was worth about $100 million, but didn't break down the finances, and that he left his SoHo home to his wife Inman, along with half of the rest of his worth. His son Duncan Jones from a previous marriage received 25 percent and his daughter Alexandria also received 25 percent as well as his Ulster County mountain home. Bowie left $2 million to his longtime personal assistant Corinne Schwab and left her shares he owned in a company called Oppossum Inc. He left $1 million to Marion Skene, Alexandria's nanny. Bowie prepared the will in 2004. He said if cremation in the Indonesian island was "not practical" then he wanted his remains cremated and his ashes scattered there still. According to the death certificate, filed with the will, his body was cremated Jan. 12 in New Jersey. Meanwhile, it has come to light that Bowie once auditioned for a role in the hugely popular movie The Lord of the Rings. Actor Dominic Monaghan, who played hobbit Merry in the first LOR film, said as he was waiting for his audition in the Peter Jackson-directed movie David Bowie came in in and signed a little list and went in. "I'm assuming he read for Gandalf. I can't think of anything else he would've read for," Monaghan said. In more Bowie news, the artwork for Bowie's final album Blackstar has been released publicly for fans to use for free on the website BowieBlackstar.net. "...In the spirit of openness and in remembrance of David we are releasing the artwork elements of his last album ['Blackstar'] to download here free under a Creative Commons NonCommercial-ShareAlike licence," a statement from Bowie's London-based design agency, Barnbrook, says. "That means you can make t-shirts for yourself, use them for tattoos, put them up in your house to remember David by and adapt them too, but we would ask that you do not in any way create or sell commercial products with them or based on them. Any questions or commercial licence usage please contact us." - AP/NME/The Hollywood Reporter, 1/30/16...... Director and Empire creator Lee Daniels has signed on to direct a new documentary about the famed Apollo Theater in Harlem. "I am honored to be entrusted with the story of this incredible American iconic institution and work with this team. I used to go to The Apollo Theater as a kid and never in a million years would I have imagined I would be back to be doing this -- it is very special for me," Daniels said in a statement. Daniels, creator of the hit Fox series Empire whose film credits include The Butler, is joining Apollo Theater president-CEO Jonelle Procope in appealing to the public to cull through any memorabilia, including audience footage and photographs, they might have for use in the new documentary. "We have established a website for anyone who wants to submit. We will, of course, respect everybody's ownership of their property," the duo said. - Billboard, 1/28/16......
Singer Chaka Khan, who is releasing a new single, "I Love Myself," on Feb. 19 is inviting fans to submit a one-minute video clip of themselves lip-synching to the song's chorus by Feb. 19. The winning clips will then be featured in the song's accompanying music video. "It is important that in these troubled times we honor our own self-respect," says the "Tell Me Something Good" singer in announcing the "I Love Myself" video contest. "Beauty knows no boundaries and is accepting of us all whether black, white, gay, straight, physically or mentally challenged." A percentage of the new single's net proceeds will benefit two charitable organizations that assist victims of domestic violence and discrimination, and be distributed through The Chaka Khan Foundation. More details can be found at Khan's "I Love Myself" website. - Billboard, 1/28/16...... The upcoming tribute to former Commodores member and '80s solo star Lionel Richie during Grammy week festivities will feature contributions from Rihanna, Dave Grohl, Ellie Goulding, Yolanda Adams, Leon Bridges and Florence Welch. Richie is being honored as the 2016 MusiCares Person of the Year during thec elebratory gala, which will be held Los Angeles on Feb. 13. Previously announced participants include Lenny Kravitz, Lady Antebellum and John Legend. - Billboard, 1/28/16...... Aretha Franklin has donated hotel rooms to residents of Flint, Mich., who have been affected by the city's ongoing water crisis. Franklin, a resident of Detroit, likened the situtation to Hurricane Katrina on Jan. 27, calling it "just horrible" to see families holding up jars of "green and brown" water on television day after day. "Flint is so close to Detroit I think it's just regarded as being a part of Detroit. My contribution is to donate 50 rooms nightly at either the [Detroit] Holiday Inn Express or the Comfort Inn with coupling it with a per diem, which is food and beverage at the Coney Island just next door where they really have good food, because I go in there a lot...My assistant is helping me to set that up," Franklin said, adding that she also plans on asking her good friends Stevie Wonder, Berry Gordy and Smokey Robinson to chip in on the effort. - Jezebel.com, 1/28/16...... The NBA's 2016 All-Star game halftime show at Toronto's Air Canada Centre on Feb. 14 will be headlined by 16-time Grammy winner Sting, it was announced on Jan. 28. The former Police frontman will be performing a medley of his classic hits for the show, which will broadcast in more than 200 countries and territories as well as heard in 40 languages. The show will be broadcast in the US on cable TV's TNT channel beginning at 8:00 p.m. ET and on Sportsnet ONE and TSN in Canada. - Billboard, 1/28/16...... Neil Young once sang about "the story of Johnny Rotten" and how it was "better to burn out than fade away." Now John Lydon (ne Johnny Rotten) seems to be taking Young's advice to heart. The former Sex Pistols member, who turned 60 on Feb. 31, says in a new interview with GQ magazine that he is still smoking and drinking. "If I can't enjoy being alive, then I don't want to be alive. Drinking and cigarettes and having fun and staying up for endless days -- these are all great attractions to me," he said. Lydon also claimed that the last time he exercised was "years and years ago... when my band PiL was first touring America." Lydon's post-punk group PiL released their tenth studio record, What The World Needs Now, in September 2015. - Billboard, 2/1/16......
Actors Ryan O'Neal and Ali MacGraw, the stars of the smash 1970 tearjerker Love Story, returned to the setting of the movie, Harvard University in Cambridge, Mass., on Feb. 1, a little more than 45 years after their soppy duet in the movie turned them into major movie stars. MacGraw and O'Neal's return was aimed at promoting their national tour of "Love Letters," a play about a couple who maintain contact over 50 years through notes, cards and letters. Now in their 70s, the pair arrived on campus in an antique MG convertible similar to the one in their 1970 movie about a rich-and-preppy Harvard student who marries a working-class Radcliffe girl over his parents' objections. Later, the two reflected on their mutual past before an audience of current Harvard students, in a conversation moderated by arts journalist Alicia Anstead. O'Neal, 74, noted that cancer, as in the movie, has played a big part in his real life, including his battle with leukemia. MacGraw, 76, said being back on campus recalled wonderful memories that few of her subsequent experiences in film ever captured. And both admitted they had a crush on each other during filming. "Love Letters" begins a one-week engagement at Boston's Citi Shubert Theatre on Feb. 2. - USA Today, 2/1/16.

Guitarist/vocalist Paul Kantner, a founding member of the pioneering Bay Area psychedelic band the Jefferson Airplane as well as the 1970s JA spinoff band Jefferson Starship, died on Jan. 28 of multiple organ failure, following a heart attack earlier in the week. He was 74. Kantner and Marty Balin formed Jefferson Airplane in 1965 after meeting at the San Francisco club The Drinking Gourd. The band, which first played folk-rock material, were rounded out by guitarist/vocalist Jorma Kaukonen, drummer Skip Spence, vocalist Signe Anderson, and bassist Bob Harvey, though Harvey was soon replaced by Jack Casady. The Airplane played their first major show on Aug. 13 of that year at the new Matrix Club, which later became an outlet for new Bay Area bands, and they became one of the first bookings for promoter Bill Graham -- who managed them for a short period -- at his legendary Fillmore Auditorium. Before the end of the year, they were signed by RCA Records, and their debut album, Jefferson Airplane Takes Off, was released in Sept. 1966 and went gold. Just before that LP came out, Anderson left the group to have a baby and was replaced by former model and former Great Society vocalist Grace Slick. With Slick's stronger and more expressive vocals, the band defined what became known as the "San Francisco sound," and not only epitomized the burgeoning Haight-Ashbury counterculture but also provided its soundtrack with Top 10 hits like "Somebody to Love" and "White Rabbit," a song which developed Lewis Carroll's "Alice Through the Looking Glass" with its acid connotations (and was banned in some areas of the U.S. as a drug song). Jefferson Airplane Takes Off climbed to No. 3 on the Billboard Hot 200 album chart, sold half a million copies, and became the first of five of their seven albums to go gold. After releasing Surrealistic Pillow in 1967, which featured the two aforementioned singles plus two more killer cuts called "Plastic Fantastic Lover" and "Today," the band released After Bathing at Baxter's the same year, which featured a nine-minute psychedelic jam-collage called "Spayre Change." In 1968 came their magnum opus, Crown of Creation, which included Slick's "Lather" and the David Crosby-penned "Triad," a song about a ménage à trois that had been rejected by Crosby's group The Byrds.
After a string of arduous U.S. tours and free festivals -- including the horrendous nerve-shattering event at Altamont in 1969 -- schisms in the band began to appear, precipitated primarily by Slick's pregnancy with Kantner's child. In 1970, Kantner and Slick recorded Blows Against the Empire, an LP that also featured Crosby, Jerry Garcia, Graham Nash and other friends, and became the first musical work nominated for the science-fiction writers' Hugo Award. Also in 1970, the band released a greatest hits package, The Worst of the Jefferson Airplane, and on Jan. 25, 1971, Slick and Kantner's baby girl, China, was born. In August, the Airplane formed their own label, Grunt, and released a reunited effort, Bark. In 1972, Airplane members Kaukonen and Casady formed Hot Tuna, and also that year Long John Silver became the Jefferson Airplane's last studio LP. In 1974, Slick and Kantner formed the Jefferson Starship with Balin, and had their big breakthrough in Jan. 1975 with their second album, Red Octopus. That LP was the Jefferson Starship's first No. 1 LP, hitting that position several times during the year and selling four million copies on the strength of singles like Balin's No. 3 "Miracles." The followup, 1976's Spitfire, became their first platinum album, but after another platinum LP, Earth, in 1978, both Slick and Balin left the group. In 1979, the band recruited singer Mickey Thomas, best known as the lead vocalist on Elvin Bishop's hit "Fooled Around and Fell in Love," and the new lineup's Freedom at Point Zero peaked at No. 10. Professing his disdain for the group's more commercial direction, Kanter left Jefferson Starship in 1984, and the group became known as simply Starship. That lineup achieved even greater commercial success, with "We Built This City" and "Sara" from the platinum 1985 album Knee Deep in the Hoopla, and both songs hit No. 1 on the pop chart. In 1989, Kanter, Slick, Balin, Casady and Kaukonen revived the early Jefferson Airplane lineup and released the poorly-selling Jefferson Airplane. In 1996, Kantner, Slick and the other members of the original Jefferson Airplane were inducted into the Rock and Roll Hall of Fame. Kantner, who is the first of Jefferson Airplane's founding members to have passed away, is survived by three children: sons Gareth and Alexander and daughter China. After learning of Kantner's death, Grace Slick updated her Facebook cover photo with a picture of a young Kantner, before posting a brief statement: "Rest in peace my friend. Love Grace." - Billboard/Rolling Stone Encyclopedia of Rock & Roll, 1/29/16.
Barry Manilow says he's working on the followup to his 2014 album My Dream Duets, which has been nominated for a Grammy this year. Manilow, a native of Brooklyn, will be mixing his own originals with standards on a new thematic LP about his beloved hometown. This Is My Town: Songs of New York will such famous NYC-themed songs as "On Broadway," "New York, New York," "Downtown," "Lonely Town" and even Don Henley's 1990 single "New York Minute." "It's half standards and half originals. We just got out of the studio with a beautiful 40-piece orchestra. It's gonna be a great-sounding album," says Manilow, who anticipates a release later in 2016. Manilow is also continuing to work with producers on bringing his musical "Harmony" to Broadway after successful runs in Atlanta and Los Angeles. On Jan. 28, he'll kick off the 2016 leg of his One Last Tour trek in Pensacola, Fla., and is considering one more North American leg in the spring before taking the show to the U.K. in June. The 72-year-old pop crooner insists this will be his final full-scale tour, though not a retirement from performing altogether. Meanwhile, Manilow is trying to help spur donations of musical instruments to the International School of Louisiana in New Orleans by giving a Yamaha piano to the institution. Also, anyone who donates a new or gently used instrument to the school between now and Jan. 29 will receive two free tickets to his Jan. 29 show in New Orleans at the Smoothie King Center. - Billboard/AP, 1/25/16......
Parlophone Records UK has announced David Bowie's seminal first six albums from 1969-73 will be getting a vinyl re-release on Feb. 26. Space Oddity, The Man Who Sold the World, Hunky Dory, The Rise and Fall of Ziggy Stardust and the Spiders from Mars, Aladdin Sane and Pin Ups will all be reissued on heavyweight 180g vinyl. Bowie's Bowie at the Beeb box set compilation of recordings from various BBC Radio stations from 1968-1972 will also be released on that day. All the albums have been remastered. Meanwhile, Newsweek is reporting that a treasure trove of new music the legendary artist created will be released in stages beginning in 2017. According to an unnamed source "close to the late artist, there's "a long list of unscheduled musical releases that Bowie planned before he died," which have been "divided into eras," the first of which will hit stores before the end of 2017. Also, a cast album for Bowie's off-Broadway musical "Lazarus" is also in production. The musical, which featured 18 of the artist's biggest hits, closed on Jan. 20 after its two-month run at the New York Theatre Workshop. Meanwhile Labyrinth, director Jim Henson's 1986 fantasy film starring Bowie, is getting a reboot with a script by Nicole Perlman, the co-writer of the hit film Guardians of the Galaxy. Labyrinth told of a teenager, played by Jennifer Connelly in one of her first roles, who has to navigate a fantastical maze in order to save her young brother, kidnapped by a goblin king (Bowie). It is unclear whether the new film, which is being produced by Columbia/TriStar, will be a reimagining of the story or a sequel. Despite the film's popularity in recent years, it was a box-office disappointment at the time of its release and led to Henson's exit from film directing. It was only in the intervening years that the film gained a strong cult following. In other Bowie-related news, his producing partner Tony Visconti will be the opening keynote speaker at this year's 30th annual South by Southwest Music Conference and Festival (SXSW). The 2016 SXSW Music Festival runs March 15-20 and is expected to showcase 2,000 acts ranging from across all the genres. Visconti's keynote address will take place March 16. Finally, Bowie's son Duncan Jones thanked fans on Twitter on Jan. 23 for their support following his father's death earlier in January. "Hi all. Just wanted to thank you for the incredibly kind words & thoughts. I'll be easing my way back into Twitter- pic.twitter.com/n0ytOiESWb," Jones posted. Jones is the director of the films Moon and Source Code. - Billboard/The Hollywood Reporter/New Musical Express, 1/27/16...... Actor Joseph Fiennes has been cast to play Michael Jackson in a new one-off, half hour British TV comedy, chronicling a fabled road trip that the King of Pop took with Elizabeth Taylor and Marlon Brando in the wake of the 9/11 terror attacks in 2001.
The unbelievable story is based on a 2011 Vanity Fair article that alleged the three entertainment icons rented a car and fled New York westward following the attacks. Unable to fly, they were hoping to make it home to California and made it as far as Ohio while gorging on junk food in the car, before catching a plane the rest of the way. Taylor's former assistant has claimed the legendary actress never joined Brando and Jackson on the trip, and Fiennes, who has been the subject of controversy over his controversial casting as an African-American, insists that the project is only intended to be lighthearted. "It's a light comedy look. It's not in any way malicious. It's actually endearing," he told Entertainment Tonight. Fiennes is a white British actor best known for his role in 1998's Shakespeare in Love, as well as more recent roles in Hercules and American Horror Story. - Billboard/Vulture.com, 1/26/16...... In other Michael Jackson news, it appears the crazy Internet conspiracy theory that the King of Pop provided uncredited musical contributions to the 1994 Sega video game Sonic the Hedgehog 3 is true. The gist of the convoluted story is that former Sega exec Roger Hector, who worked on Sonic 3, has confirmed in a recent Huffington Post article that Jackson reached out to Sega in the early '90s to express his admiration for the new Sonic the Hedgehog franchise. Sega, which released several titles of Jackson's Moonwalker video game, invited him to visit their office. Jackson was provided with a demo of the game and invited to compose music for it. "He took it from there and started making music," Hector said. After receiving music from Jackson's team for Sonic 3, Hector recalled, "I was really impressed with how much of a signature Michael Jackson sound there was in this, and yet, it was all new." Sega, however, still denies Jackson had any involvement on Sonic 3. Meanwhile, producer John Branca, who's also the co-executor of Jackson's estate, has hinted that more Michael Jackson movies could be on the way. "I'd like to see a movie about the History album and tour," says Branca. "It was his last tour, and his most underappreciated album. Michael was out of favor in the U.S. at the time. But if you listen to it start to finish, it's one of the greatest albums of all time." Branca also says a movie about Jackson's blockbuster 1982 album Thriller is also "definitely a candidate, and that he's planning Halloween-themed events around the album in 2017, its 35th anniversary. But until then, fans will have to be content with the new Spike Lee-directed Showtime documentary Michael Jackson's Journey From Motown to Off the Wall, which premiered on Jan. 24 at the Sundance Film Festival and hits Showtime on Feb. 5. "This (film) shows the story of Michael resurrecting the Jacksons and making his first solo album -- and we all know what happened after that," Branca says. - Billboard, 1/26/16......

Bruce Springsteen and the E Street Band have rescheduled their postponed Madison Square Garden concert, which was cancelled on Jan. 24 due to a blizzard in New York City, to March 28. Tickets to the original show will be honored on the new night. Springsteen's camp has also announced that his The River Tour is extending its U.S. run with 14 new shows, and the band will play May 19 in Portugal as the headlining act on the first night of "Rock in Rio Lisboa." The new dates will begin with a third and final show at Los Angeles Memorial Sports Arena March 19, and will extend through Denver, Dallas, and Detroit with two final shows at Brooklyn's Barclays Center on April 23 and 25. The River Tour, Springsteen's first in two years, follows the release of his 1980 The River deluxe reissue The Ties That Bind: The River Collection. The band is performing the entire River record in sequence on every date of the tour, complemented with an additional set of songs to stretch the show to over three hours. - Billboard, 1/27/16...... The attorney for singer/songwriter Don McLean, who was arrested on a misdemeanor domestic violence charge on Jan. 18 in Camden, Maine, said on Jan. 24 that he and his wife have agreed to dismiss an order of protection case that followed his arrest. Attorney Walter McKee said the couple have "agreed to move forward" and dismiss the order of protection case, however McClean is still due in court on Feb. 22 in his criminal case. The "American Pie" singer is pleading not guilty, according to McKee. McLean's wife, photographer Patrisha McLean, said in a statement she "did not intend to define Don or our relationship" with her handwritten request for protection. In the request, Patrisha McLean said she feared for her life due to her husband's rage when she called 911. It also documented a pattern of abuse going back decades. She also asked McLean's fans not to focus on the criminal case: "Don has a big heart. He and I had many happy times in the 30 years of our marriage and what has recently transpired is unfortunate for all of us." - AP, 1/25/16......
Brian Wilson has announced he'll be launching an ambitious Pet Sounds 50th Anniversary World Tour on Mar. 26 at Auckland, Australia's Civic Theatre. More than 70 dates are confirmed so far in countries also including Japan, the UK, Spain, Israel and Portugal, with additional shows being added. Wilson, joined by former bandmates Al Jardine and Blondie Chaplin, will also be playing the seminal 1966 album in its entirety in U.S. cities coast-to-coast on the tour beginning on June 14 in Burlington, Vermont, wrapping on Oct. 14 in Lake Tahoe, California. "It's really been a trip to sit here and think about releasing Pet Sounds 50 years ago," the 73-year-old Beach Boys mastermind said in a statement. "I love performing this album with my band and look forward to playing it for fans all across the world," he added. - Billboard, 1/25/16...... Iggy Pop has announced he'll be headlining London's Royal Albert Hall on May 18 with new bandmates, drummer Josh Homme (Arctic Monkeys) and Matt Helders (Queens of the Stone Age). On the same day, Pop will release his new album, Post Pop Depression, which he recorded in secret in 2015. Pop released the first track from the album, "Gardenia," earlier in January. - New Musical Express, 1/27/16...... Sony Pictures Classics has acquired the worldwide rights (excluding France and Germany) to a new documentary on Frank Zappa, Eat That Question -- Frank Zappa In His Own Words. Directed by Thorsten Schutte, the film zooms in on the iconoclastic composer-musician entirely through rare archival footage from his three-decade career and includes clips of rare TV interviews and international performances. "I'm delighted and I'm thrilled that Sony Pictures Classics believes in the film and I feel we're in very good hands," said Schutte, whose film premiered on Jan. 25 at the Sundance Film Festival. "The news of the acquisition is really the cherry on the cake of our world premiere at Sundance," he added. - The Hollywood Reporter, 1/23/16......
Olivia Newton-John, who played Sandy in the big-screen adaptation of the hit stage musical Grease, says there's "something magical" about the story, which will get a live TV treatment on Jan. 31 when the Fox network stages its own staging of the musical, Grease: Live!, with Julianne Hough stepping in as the newest Sandy. "I think Julianne's going to be a wonderful Sandy," Newton-John says. "She's an amazing dancer and has a really lovely energy about her." Fans hoping for a live Grease fix from Newton-John can instead check out the diva singing Grease tunes in her concert residency show in Las Vegas at the Flamingo. The ongoing 90-minute show, Summer Nights, premiered in 2014 and has been extended through 2016. It features a bevy of Newton-John's hits. - Billboard, 1/22/16...... Bette Midler will return to Broadway for the first time since her hit 2013 one-woman play "I'll Eat You Last: A Chat With Sue Mengers" with a new production of "Hello, Dolly!" The show will begin Broadway performances on Mar. 13, 2017 and open on Apr. 20, 2017 at a theater to be announced. A "Hello, Dolly!" revival has been on Broadway's wish list for a long time and was mentioned as a suitable vehicle for Midler following "I'll Eat You Last," which then marked her return to the Broadway stage after a nearly 40-year absence. Based on Thornton Wilder's farce" The Matchmaker," "Hello, Dolly!" first premiered on Broadway with Carol Channing in the title role and won ten Tony Awards. - Billboard, 1/19/16...... "Rewind: The 80s Festival," the world's biggest 80s music festival, will return with three UK festivals during July and August 2016. Tickets for all three festivals will go on sale at 9am on Friday January 29th at the official website rewindfestival.com. Artists participating in this year's festivals - Rewind Scotland, Rewind South and Rewind North -- include Adam Ant, Rick Astley, ABC, Big Country, Leo Sayer, Slim Jim Phantom From Stray Cats, Go West, Thompson Twins, Thomas Dolby, and members of Joy Division and Heaven 17. - Noble PR, 1/27/16...... The ABC network is in early stages of developing a Watergate miniseries set in the 1970s Richard Nixon White House during the notorious Watergate burglary and scandal. Written by Jon Maas (The Last Debate) and produced by Bob Cooper, the series takes place amid the sexual revolution of the 1970s and is told through the eyes of John Dean, then-White House Counsel for President Nixon. - Deadline.com, 1/25/16......

Actor Abe Vigoda, best known for his roles as mobster Tessio in The Godfather and as Detective Sgt. Fish in TV's Barney Miller and a spinoff series Fish in which he starred, died of natural causes on Jan. 26 at his home in New Jersey. He was 94. Mr. Vigoda, a tall character actor with the characteristically slouched shoulders and hangdog face, became something of a pop culture figure due to repeated false reports of his demise, which became the subject of jokes. Reflecting his somewhat odd celebrity was the existence of a punk rock band named Abe Vigoda; his recurring appearances in the late 2000s on Late Night With Conan O'Brien; and the existence of a website named "IsAbeVigodaDead.com," which for years consisted simply of a blank page with the word "No." After a few guest roles on TV series, Mr. Vigoda was cast as the aged, malady-laden and slow-moving cop Phil Fish in ABC police sitcom "Barney Miller," which started its long run in 1974. The character was so popular that the network launched a spinoff, simply titled "Fish," in 1977. For a while, Mr. Vigoda appeared on both series, and also guested on series including Hawaii Five-O, Kojak, The Bionic Woman, The Rockford Files and Eight Is Enough. During the 1980s and '90s, he appeared on shows including The New Mike Hammer, Tales From the Darkside, MacGyver, Murder, She Wrote, Law and Order and Wings. Mr. Vigoda also enjoyed steady film work, including the 1990 Tom Hanks comedy Joe Versus the Volcano, which was a box office failure but developed a cult following. In 1986-87 he starred on Broadway in a revival of "Arsenic and Old Lace," and during the 2010 Super Bowl, Mr. Vigoda appeared with Betty White in a commercial for Snickers candy bars. Mr. Vigoda's wife Beatrice died in 1992. He is survived by a daughter. - Variety, 1/26/16.
As a massive blizzard bears down on much of the Eastern U.S. on Jan. 22, concerts by such artists as Jackson Browne and former Styx member Dennis DeYoung have been postponed due to States of Emergency being declared. North Carolina Gov. Pat McCrory's edict forced Browne to postpone a show in Asheville set for Jan. 22, and DeYoung's concert at the Paramount in Huntington, Long Island, N.Y. has been put off until Feb. 25. New York City, Philadelphia, and Washington D.C., are also among the cities expected to be hammered with snow, sleet and freezing rain. - Billboard, 1/22/16......

Police in Maine arrested Don McLean on a misdemeanor domestic violence charge at his Camden home on Jan. 18, and court records show she then filed a handwritten request for protection that claims her 70-year-old husband's rage was "unfathomably deep and scary." In the request, she said McLean's abuse often left her bruised, and that she feared for her life when she called 911 earlier in the week. "Don terrorized me for four hours, until the 911 call that I think might have saved my life," she wrote. On Jan. 21, McLean issued a statement saying his marriage is experiencing a "very painful breakdown," that he is "not a villain," and that it is an emotional time for his family. "I may never recover from this but I will try and hope to continue to entertain you all as I always have," McLean said. The singer/songwriter was released from the Knox County Jail on a $10,000 bail the same day and is due in court Feb. 22. McLean's attorney, Walter McKee, said his client will plead not guilty when the case returns to court, and that McLean "vigorously denies" his wife's allegations. McLean, who grew up in Port Chester, N.Y., and has resided in the wealthy coastal Maine town of Camden for years, is best known for his chart-topping 1972 song "American Pie," about the deaths of Buddy Holly, Ritchie Valens and the Big Bopper in a plane crash on Feb. 3, 1959 -- "The Day the Music Died." - AP, 1/21/16...... Rock legend and political activist Graham Nash has weighed in on the current U.S. presidential campaign, calling it the "strangest" one he's seen. Nash, a native of Britain who became a U.S. citizen in the late 1970s, says he's "watched the American political climate for almost 50 years... and this is by far the strangest one." "I have never seen a party in such disarray as the Republicans and such extreme levels of hatred and animosity towards other people," Nash said, and singled out New York real estate developer Donald Trump in particular. "We're just feeding his show, his shtick... There are an incredible amount of people in this country that are not so bright and he is appealing to a great many of them and a great many of their fears, the boogie man waiting to take their guns and come and rape their daughters in the middle of the night... He's playing upon all those fears and it's dreadful to see, but nobody I know has the will or the power to shut him up." Nash says he's backing Vermont Sen. Bernie Sanders in the race for the White House, and although he "doesn't believe right now he can be elected," he thinks Sanders' campaign can continue to build momentum. "If Bernie Sanders wins Iowa or New Hampshire, I think you'll see an enormous wave of energy coming his way," he added. Nash, 74, is releasing his new album, This Path Tonight, on Apr. 15, and he previewed the new LP on Jan. 20 at L.A.'s landmark Village studios, where he recorded the recorded the album, for a gathering of friends, family and industry people. Before the presentation, he said in an interview that late Eagles member Glenn Frey had been a friend of his "since the late '60s, early '70s because he was growing up in Laurel Canyon, making music the same that we all were at the time and I hung with him several times in the journey of the Eagles... we actually lived on the same island in the Hawaiian chain for 30 years so I did see him occasionally." Nash also said he met the recently deceased David Bowie a couple of times, and he was "an artist who displayed genious qualities at times." "On both occasions I was very impressed with his intelligence and the energy that poured out of that man was amazing," Nash said. - Billboard, 1/22/16......
Other musicians are remembering Glenn Frey, including Jimmy Buffett, who described the Eagles co-founder as "a friend, professional, inspiration, and sometimes a handful." Buffett, who was asked to induct the Eagles into the Rock and Roll Hall of Fame, says after he first met Frey in August of 1975 when his band was invited to open for the Eagles, "Glenn and I went on to become close friends, songwriting collaborators, and neighbors in Aspen. He and Don [Henley] were instrumental in getting Irving Azoff to become my manager, and eventually open for the Eagles on the Hotel California tour of America, which was the rocket ship we rode to eventually becoming a headliner." Meanwhile, even one of Frey's most well-known antagonists, former Eagles member Don Felder, is offering praise for his ex-bandmate. "Glenn's passing was so unexpected and has left me with a very heavy heart filled with sorrow," said Felder in a statement. "He was so young and still full of amazing genius. He was an extremely talented songwriter, arranger, leader, singer, guitarist, you name it and Glenn could do it and create 'MAGIC' on the spot. His visions and insights into songs and lyrics have become legendary and will echo throughout time on this earth for decades to come." Eagles manager Irving Azoff provided additional details of Frey's Jan. 18 passing on the following day, saying his death was caused partly be medications. In an interview with TheWrap.com, Azoff said that the "complications of Rheumatoid Arthritis, Acute Ulcerative Colitis and Pneumonia" that were announced on the Eagles' website were "side effects from all the meds." "Glenn died from complications of ulcer and colitis after being treated with drugs for his rheumatoid arthritis which he had for over 15 years," said Azoff. "I can't believe he's gone... I can't believe everything we accomplished. It was a staggering body of work and just an amazing run. I don't think there will ever be another American band as successful." Also paying tribute to Frey are his "Take It Easy" co-writer Jackson Browne and Bruce Springsteen. On Jan. 19, Browne played "Take It Easy" during a show at Ruth Eckerd Hall in Clearwater, Florida, his first concert following Frey's death the previous day at the age of 67. Springsteen also performed an acoustic version of the breezy song with just a guitar at the beginning of his encores during a concert at Chicago's United Center on Jan. 19. - Billboard, 1/20/16...... Democratic presidential candidate Bernie Sanders has received permission from Simon & Garfunkel to use one of their songs in what has been described as one of the most effective campaign commercials so far -- a 60-second spot that uses the Grammy-winning duo's folksy 1972 hit "America" as a backdrop for scenes of snowy fields and average American families bundling hay in the cold and feeding their cows. Sanders is shown hugging the elderly, and millennials high-fiving while waiting in line for the Senator. - Billboard, 1/21/16...... Billy Joel has pledged $1 million to help save an school for the arts in his beloved Long Island, N.Y., from closing. On Jan. 22, a spokeswoman for the Piano Man said the singer's foundation would donate the money if the Nassau County Board of Cooperative Educational Services vows to keep the Long Island High School for the Arts open for three years. School officials have said that the school is facing closure because of low enrollment. They say it has a deficit of about $400,000 for the current academic year. Joel, a native of Hicksville, N.Y., attended public schools and credited his music teachers for giving him the tools to succeed. - AP, 1/22/16......
The late David Bowie has earned his first No. 1 Billboard Hot 200 album chart debut with his new album Blackstar, and Bowie's greatest hits album Best of Bowie has re-entered the chart at No. 4, marking the highest charting hits package on the Hot 200 in over a year. A whopping total of ten of Bowie's albums are on the Billboard Hot 200 chart dated Jan. 30, the most concurrently charting titles for an artist since the Beatles racked up 13 on the March 1, 2014 chart. Bowie's haul is the most for a soloist since Whitney Houston landed 10 on the March 10, 2012 chart, following her death. The depth of appreciation for the late artists is also evidenced on Billboard's Hot 100 singles chart, where he has landed his first Top 40 hit single in more than 28 years with the Blackstar track "Lazarus." The song debuted at No. 40 on the Hot 100, his first Top 40 hit since "Never Let Me Down" reached No. 28 in September of 1987. "Lazarus" is Bowie's 14th top 40 entry on the Hot 100 overall. On Billboard's Hot Rock Songs chart, Bowie boasts a record 21 songs, including all seven tracks from Blackstar. "Lazarus" was also the most-streamed Bowie song of the week with 8.1 million streams, and "Space Oddity" was his top-selling track with 44,000 purchases. Bowie's total U.S. music sales have increased more than 5,000% in the wake of his death, and the wave of tributes to the singer include New York mayor Bill deBlasio declaring Jan. 20 "David Bowie Day" in the city where Bowie resided. Acting Commissioner Luis Castro of the Mayor's Office of Media and Entertainment presented the proclamation that evening at the sold-out final performance of the New York Theater Workshop production of "Lazarus," which was conceived and co-created by Bowie. In the U.K., a David Bowie fan has launched a campaign to organize a mass sing-along in honor of the late star at the 2016 Glastonbury Festival. An unnamed individual has launched the Twitter account @BowieGlasto2016 in an attempt to get thousands of people singing the late singer's hits at the Pyramid Stage during the Wednesday evening edition of Glastonbury, which takes place at Worthy Farm over the week of June 22-26. - Billboard, 1/21/16...... One of the more bizarre stories to come out following the death of Bowie is a claim by country singer Dwight Yoakam that Elvis Presley wanted to work with Bowie, who also recorded for his label RCA Records, in 1977. Yoakam told the Orange County Register that he met Bowie in 1997, and Bowie told him that six months before Presley's death in Aug. 1977, Bowie received a call from the King of Rock & Roll. Bowie said that Elvis had been impressed by Bowie's song "Golden Years, which was originally penned with Presley in mind, and Presley was interested in having Bowie produce his next album. "I thought 'Oh my God, it's a tragedy that he was never able to make that'," said Yoakam. "I couldn't even imagine 1977 David Bowie producing Elvis. It would have been fantastic. It has to be one of the greatest tragedies in pop music history that it didn't happen, one of the biggest missed opportunities." Bowie was known for his love of Presley, with the pair also sharing a birthday (January 8). - New Musical Express, 1/21/16...... One of Bowie's former collaborators, Iggy Pop, is teaming up with Josh Homme of the band Queens of the Stone Age for a new album. The new set, called Post Pop Depression, was recorded in secret sessions over the past year. Pop and Homme told the New York Times that the new album picks up where Pop's acclaimed 1977 Bowie-produced solo album Lust for Life left off. "Where those records pointed, it stopped.... But without copying it," Homme said, "that direction actually goes for miles. And when you keep going for miles you can't see these two records any more." - Billboard, 1/21/16......




ABBA members Agnetha Faltskog, Bjorn Ulvaeus, Benny Andersson and Anni-Frid (Frida) Lyngstad made a rare group appearance for the Jan. 20 opening of an ABBA-inspired restaurant, Stockholm's Mamma Mia! The Party. The legendary Europop foursome arrived and left separately and declined to be photographed together on the red carpet, according to reports. Though the Swedes did stand beside one another on the stage -- a momentous occasion which was captured on camera. "We are here to party," Ulvaeus told reporters. ABBA, who split in 1982 and haven't performed together since 1986, purportedly once turned down a $1 billion offer for a comeback tour. - Billboard, 1/21/16...... Elton John has confirmed that he's working with Lady Gaga on music for Gaga's next album. "I've heard two songs, which are killer. They're just great songs," Sir Elton said during an interview on Jan. 19 on the U.K.'s Beats 1 program. The show's host, Zane Lowe, also Tweeted that John said he'd be "writing with Gaga tomorrow." Meanwhile, Elton has released a new video for "Blue Wonderful" from his new studio album, Wonderful Crazy Night. The video shows a pair of dancers moving in surreal, dream-like motions, floating through the air to create the feeling of magic in an otherwise unmusical, suburban setting. John previously released a video for the first single, "Look Up." Wonderful Crazy Night, John's 33rd studio album, is due Feb. 5 via Island Records. - Billboard, 1/20/16...... Stevie Wonder, Pearl Jam and Red Hot Chili Peppers will be among the artists headlining the 2016 New Orleans Jazz & Heritage Festival, which is set for April 22-24 and April 28-May 1. The hundreds of artists set to appear also include Neal Young + Promise of the Real, Paul Simon, Steely Dan, Van Morrison, Elvis Costello & The Imposters, Bonnie Raitt, Arlo Guthrie, Boz Scaggs, Herbie Hancock, Nick Jonas and My Morning Jacket. - Billboard, 1/19/16...... Former Police frontman Sting and former Genesis frontman Peter Gabriel have announed they'll be co-headlining a 19-date tour of North America beginning on June 21 at the Nationwide Arena in Columbus, Oh. "I have no idea what they're going to do together, but I do know that whatever they do together will feel totally natural and great," said Live Nation touring division exec Arthur Fogel. - Billboard, 1/19/16...... The linuep for a planned two-night Fleetwood Mac tribute concert in Los Angeles in February has been announced. Artists and celebrities include Mark Ronson, Alison Mosshart (The Kills), Joanna Newsom, Perry and Etty Farrell, Cold War Kids, Sarah Silverman, Will Forte and Danny Masterson, among others. The tribute is set for L.A.'s Fonda Theatre on Feb. 9 and 10. The show will benefit Sweet Relief Musicians Fund and The Sweet Stuff Foundation. There is no word yet if anyone from Fleetwood Mac will make an appearance. - Billboard, 1/20/16...... A Kris Kristofferson tribute concert set for March 16 at Nashville's Bridgestone Arena will feature performances by Willie Nelson, Rosanne Cash, Eric Church and Lady Antebellum. The Grammy-winning singer-songwriter will also perform at "The Life and Songs of Kris Kristofferson," and the show will be taped for a future telecast. - AP, 1/20/16......
Black Sabbath frontman Ozzy Osbourne has announced that his band has opted not to record a final album to go along with the band's upcoming The End tour, but they will have a final piece of product to offer fans. Osbourne and Sabbath bassist Geezer Butler say the group has prepared an eight-track CD that will be sold only at shows featuring four unreleased tracks from sessions for 2013's Grammy Award-winning 13, which was also Sabbath's first No. 1 album on the Billboard 200. The set includes "Season of the Dead," "Cry All Night," "Take Me Home" and "Isolated Man," along with live versions of the 13 tracks "God Is Dead?," "Age of Reason" and "End of the Beginning" and the Vol. 4 deep cut "Under The Sun." The End tour kicks off Jan. 20 in Omaha, Neb., with dates currently booked into September. The lineup will include Osbourne, Butler and guitarist Tony Iommi from the original band, with drummer Tommy Clufetos sitting in for co-founder Bill Ward, who remains on the outs with the group and its management. - Billboard, 1/19/16...... Aerosmith frontman Steven Tyler will be among the artists appearing on the upcoming season of the PBS performance series Front and Center. Tyler, who is expected to release a country-influenced solo debut album in 2016, will appear on the Feb. 29 edition of the show. - Billboard, 1/20/16...... The official cause of death of late Motörhead frontman Lemmy Kilmister has been revealed, with the surprise death now being attributed to prostate cancer. His death certificate also lists congestive heart failure and cardiac arrhythmia as contributing factors. Kilmister's death was originally attributed to an "extremely aggressive cancer" when the singer passed away on Dec. 28 at age 70. - TMZ.com, 1/19/16...... The Ann Wilson Thing!, Heart frontwoman Ann Wilson's solo project, has announced its digital live EP, Live at The Belly Up, is available now at BellyUpLive.com. It will be released through all digital outlets on Jan. 29. Recorded at Solana Beach, CA's legendary Belly Up nightclub, the EP features seven riveting performances that refresh works by artists from Bob Dylan to Aretha Franklin and everywhere in between. The EP will available via all digital outlets beginning Jan. 29. In Sept. 2015, Wilson's "passion project" The Ann Wilson Thing released it's first EP, #1, and embarked on her first solo tour ever, with stops in intimate venues across the country throughout September and October. - Miles High Productions, 1/20/16......
Drummer Dale Griffin, a former member of the British glam-rock outfit Mott the Hoople, passed away in his sleep on Jan. 17 after having been diagnosed with Alzheimer's disease a decade ago. He was 67. Griffin was a founding member of the group that released eight albums over their five-and-a-half years as a band. Mott the Hoople are best known for their hit "All The Young Dudes," which was penned by David Bowie. The band were on the verge of splitting in 1972 when Bowie wrote "All The Young Dudes" for them, after originally offering them "Sufragette City." "All The Young Dudes" became a hit and spurred the band on to create more hits with "Honaloochie Boogie," "All The Way From Memphis" and "Golden Age of Rock 'n' Roll" all following. Mott The Hoople split in 1974 after completing a European tour. Griffin continued playing alongside bassist Pete Overend Watts and Morgan Fisher under the name Mott in 1976. The original band reunited in 2009 for their 40th anniversary but Griffin was unable to perform with the group due to ill-health, having been diagnosed with Alzheimer's disease at the age of 58. Griffin later worked as a producer for BBC live music sessions by bands including Nirvana, the Smashing Pumpkins and Pulp. - New Musical Express, 1/19/16...... Mic Gillette, a talented trumpet and trombone player and founding member of the Oakland, Calif., soul-R&B powerhouse Tower of Power, died unexpectedly on Jan. 16. He was 64. Gillette was a key component of Tower of Power's legendary horn section, which is routinely ranked among the best of its kind over the last 50 years. He also touched many in his East Bay neighborhood with his tireless involvement with and support for middle and high school music programs. The acclaimed brass player, who performed on both trumpet and trombone, was prominently featured on the band's best-known recordings, including such hits as "You're Still a Young Man," "So Very Hard to Go" and "What Is Hip?" He remained with Tower of Power until the mid-1980s, when he decided to trade in the touring life to spend more time with his family. He rejoined the seminal Oakland act from 2009 to 2011. "Mic was without a doubt the greatest brass player I've ever known," Tower of Power band leader Emilio Castillo said on the band's website. "Our sincere condolences go out to his wife, Julia, and his daughter, Megan, and their entire family." - 1/19/16.
The rock music world suffered its second major shock in a week when the Eagles confirmed on their official website on Jan. 18 that founding member Glenn Frey, who had been battling intestinal issues in the past year, had died in New York from a combination of illnesses including rheumatoid arthritis, acute ulcerative colitis and pneumonia. He was 67. "Glenn fought a courageous battle for the past several weeks but, sadly, succumbed to complications from Rheumatoid Arthritis, Acute Ulcerative Colitis and Pneumonia," read the statement. "Words can neither describe our sorrow, nor our love and respect for all that he has given to us, his family, the music community & millions of fans worldwide," it continued.
Born on Nov. 6, 1948, in Detroit, Frey was raised in nearby Royal Oak, Mich., and was exposed to both the Motown sounds and harder-edged rock of his hometown, including Bob Seger and his band. After playing in a succession of local bands in Detroit, Frey first connected with Seger when Frey's band, the Mushrooms, convinced Seger to write a song for them. Seger also invited Frey to sing backing vocals on Seger's first hit, 1968's "Ramblin' Gamblin' Man," which was also Frey's first recorded appearance. After relocatiing to Los Angeles with his then-girlfriend Joan Silwin, Frey was introduced to songwriter John David Souther by Silwin's sister, Alexandra. Before long, Frey, Souther and another aspiring songwriter, Jackson Browne were living as roommates in East L.A. and quickly became deeply involved in the burgeoning L.A. country-rock scene centered around the Troubadour nightclub. Frey and Souther, calling themselves Longbranch Pennywhistle, secured a recording contract with the short-lived indie label Amos Records in 1969, but soon split up. However 1971 would prove to be a fateful year when future country-rock superstar Linda Ronstadt hired Frey and his friend, drummer Don Henley to play in her backing band, on the advice of her boyfriend, Souther. Frey and Henley decided to form their own band on the night of their first show backing Ronstadt, and later recruited ex-Poco bassist Randy Meisner and former Flying Burrito Brothers guitarist Bernie Leadon to join them. Calling themselves the Eagles, they became one of the first artists signed to David Geffen's new label, Asylum Records.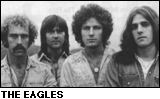 The Eagles became an instant success after releasing their eponymous debut album in 1972, with its lead track, "Take It Easy" (written mostly by Jackson Browne with some lyrics added by Frey), climbing to No. 12 on the Billboard Hot 100 chart in June of that year. The Eagles then became the standard-bearers of the California soft-rock scene with a string of Top 40 mid-'70s hits including "Peaceful Easy Feeling," "Desperado," "Tequila Sunrise," "Best of My Love" (No. 1 March 1975) "Witchy Woman" the funkier "One of These Nights" (No. 1 August 1975) and the harder-edged "Already Gone." The Eagles added an additional guitarist, Don Felder, in 1974, and after Bernie Leadon left in 1975, recruited Joe Walsh, a successful solo artist himself, to beef up the band's sound and help them reach even greater heights in 1976 with the mega-selling Hotel California. Two singles from that LP, the title track and Frey's "New Kid in Town" (possibly his defining song), reached No. 1 on the Hot 200, and along with Fleetwood Mac's 1977 album Rumours, defined the late '70s California rock scene. With drugs, egos and success taking their toll, it would be three years before the Eagles released their next album, The Long Run, and while that album was a commercial success, the band succumbed to infighting and split in 1980. Frey embarked on a successful solo career, releasing his debut solo album No Fun Aloud in 1982, and enjoying a series of '80s hits, the biggest of which were tied to movie and TV soundtracks like Beverly Hills Cop ("The Heat Is On") and Miami Vice ("You Belong to the City").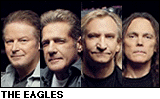 Frey also began a side career in acting, and portrayed a drug-smuggling musician on Miami Vice named Jimmy Cole. In 1991, after solo hits by Frey and Don Henley began to dry up, the Eagles' manager Irving Azoff mastermined a reunion tour with a title, "Hell Freezes Over," that mocked the acrimony which caused the band to spllit up. The Eagles continued to tour periodically -- and lucratively -- over the past two decades, releasing just scattered new material (including a successful studio album called Long Road Out of Eden in 2012) and focusing on solo works. In 2007, Frey released his first solo album since the 1990s, a collection of pop standards called After Hours. Although the Eagles were reviled by some as much as they were revered during their heyday, the enduring quality of their hits or the freshness of their sound cannot be denied, and for many years the group's 1976 collection Their Greatest Hits 1971-75 regularly swapped places with Michael Jackson's Thriller as the top the top-selling album of all time, being certified a whopping 29 times platinum by the RIAA. Similarly, Hotel California is certified 16 times platinum. The band was inducted into the Rock and Roll Hall of Fame in 1998. Frey had been battling intestinal issues that caused the band to postpone its Kennedy Center Honors in 2015. A statement from the band said then the recurring problem would require "major surgery and a lengthy recovery period." Don Henley issued a statement calling Frey "like a brother to me" and while there was some dysfunction, "the bond we forged 45 years ago was never broken, even during the 14 years that the Eagles were dissolved... I'm not sure I believe in fate, but I know that crossing paths with Glenn Lewis Frey in 1970 changed my life forever, and it eventually had an impact on the lives of millions of other people all over the planet. It will be very strange going forward in a world without him in it. But, I will be grateful, every day, that he was in my life. Rest in peace, my brother. You did what you set out to do, and then some." - Billboard, 1/18/16.
A concert by Holy Holy, a band formed by David Bowie's longtime producer Tony Visconti and Bowie's one-time drummer Woody Woodmansey that had been booked at Toronto's Opera House since December, took new meaning on Jan. 12 after the passing of the 69-year-old rock legend on Jan. 10. Holy Holy, named after an obscure 1971 Bowie single and originally brought together to perform Bowie's 1970 album The Man Who Sold the World in its entirety on tour, performed not only that album but also classics from Bowie's Ziggy Stardust era. "We have David's total approval on this tour," Visconti told the audience.

"He saw the videos; he heard the music; and he's so happy you're doing this and I want you to know too, so we're going to celebrate the life of David Bowie." Visconti, who appeared tearful at times, added: "The reason why we're doing this is about 46 years ago Woody and I were the original musicians who played this album, so technically we're not a tribute band; we are the real deal." The band closed out the two-hour concert with "Time" and "Suffragette City," with the crowd throwing red roses onstage. Meanwhile, Bowie's family posted a new message on Bowie's official Facebook page on Jan. 14 thanking fans for their recent "love and support" following the music icon's passing, describing themselves as "overwhelmed and grateful," and announcing plans for a private funeral service. "Thank you. The family of David Bowie is currently making arrangements for a private ceremony celebrating the memory of their beloved husband, father and friend...We are overwhelmed by and grateful for the love and support shown throughout the world," the message read, and also requested that fans "respect their privacy at this most sensitive of times" and noted that while the concerts and tributes planned in honor of Bowie in the coming weeks are welcome, "none are official memorials organised or endorsed by the family." Two Bowie tributes -- in Berlin and New Orleans -- already occurred on Jan. 17, with a memorial service held at Berlin's Hansa Studios, where Bowie recorded most of his "Berlin trilogy" albums (Low, Lodgers, "Heroes"), and a parade in New Orleans led by the band Arcade Fire that brought traffic in the city to a standstill. Additionally, two rock music superstars -- Elton John and Bruce Springsteen -- have honored the Thin White Duke during concerts in the past week. John performed a special "piano requiem" as a tribute to Bowie during his concert at L.A.'s Wiltern Theater on on Jan. 13, weaving his own hit "Rocket Man" and Bowie's "Space Oddity," and Springsteen, performing in Pittsburgh on the opening night of his The River Tour, treated the crowd to a rousing rendition of Bowie's "Rebel Rebel" from Diamond Dogs. According to a report in the U.K. paper The Guardian, the singer has been privately cremated in New York without any friends and family present, as per his wishes. He wanted "to go without any fuss", a source told the paper. The executors of Bowie's will have revealed that his family stands to inherit his fortune, thanks to his "Bowie bonds" scheme devised by California-based banker David Pullman, which gave investors the rights to royalties for his first 25 albums for 10 years, before ownership returned to him and llowed him to buy back the rights to some of his most popular work from a former manager. "He was astute financially and he had the foresight to have things set up then that would look after his family," Pullman said on Jan. 13.
As predicted, Bowie's 26th album Blackstar, which was released on Jan. 8, his 69th birthday, has debuted on the Billboard Hot 200 album chart, giving the music legend his first No. 1 album. Blackstar earned 181,000 equivalent album units in the U.S., during the week ending Jan. 14, according to Nielsen Music, of which 174,000 were in pure (complete) album sales. Bowie also has had nine albums from his catalog either re-enter or debut on the Billboard Hot 200 chart, with The Best of Bowie entering at No. 4 and The Rise and Fall of Ziggy Stardust and the Spiders From Mars at No. 21. Bowie's history on the chart dates back nearly 44 years, when Hunky Dory bowed on the chart dated April 15, 1972. Blackstar is additionally the first posthumous No. 1 Billboard album since Michael Jackson's This Is It soundtrack arrived atop the list dated Nov. 14, 2009. In the U.K., Bowie scored an astonishing 19 Top 100 albums on the Official Charts roundup, with 150,000 copies of Blackstar sold in the first week. Bowie's singles have also reentered the U.K. chart, with "Heroes" at No. 11, "Life On Mars" at No. 16, and eleven other Bowie singles charting on the U.K. Top 100. Bowie producer Tony Visconti has revealed that the artist was planning a follow-up to Blackstar, and reached out to him in the weeks prior to his death to discuss entering the studio. " I was thrilled," Visconti said, "and I thought, and he thought, that he'd have a few months, at least. Obviously, if he's excited about doing his next album, he must've thought he had a few more months. So the end must've been very rapid. I'm not privy to it. I don't know exactly, but he must've taken ill very quickly after that phone call." Visconti added he was first made aware of Bowie's illness a year ago when the performer showed up for a Blackstar session in New York with tell-tale signs of chemo treatment -- he had no eyebrows or hair on his head. In other developments, the SiriusXM satellite radio service brought back the David Bowie Channel on Jan. 12 in honor of the musician. "Since his death, many of our channels have been playing music from his legendary career. Now we'd like to present an entire channel devoted to his artistic genius and extraordinary musical longevity," SiriusXM president Scott Greenstein said in a statement. The station will run until Jan. 18 on SiriusXM's The Loft station, channel 30. Meanwhile, a lightning-bolt shaped constellation has been named after Bowie by Belgian astronomers. The constellation is constructed by seven stars fittingly in the direction of Mars, and shaped like the lightning bolt that cover's Bowie's face on his iconic 1973 Aladdin Sane album cover. Finally, one man in the U.K. has launched a petition to rename the planet Mars after Bowie. So far he has gained nearly 5,000 supporters, and in another petition that's gaining greater traction, more than 25,000 people have signed on to support a campaign to put Bowie on the upcoming £20 British banknote, replacing Scottish economist and philosopher Adam Smith, who has been on the bill since 2010. - Billboard/New Musical Express, 1/17/16......

Cher has donated thousands of bottles of water to residents of Flint, Mich., as the city struggles with a drinking water crisis linked to lead contamination. Cher has reportedly paid for more than 180,000 bottles of water to be shipped to Flint beginning on Jan. 17, calling the situation "a tragedy of staggering proportion and shocking that it's happening in the middle of our country." Flint's 100,000 residents haven't had safe water to drink and bathe in since 2014, when officials began drawing water from the Flint River as a cost-saving measure. However, the city did not treat corrosive water properly, which led to metal leaching from old pipes. - AP, 1/16/16...... Aerosmith drummer Joey Kramer has announced he'll be opening up a new coffee shop in Nort Attleboro, Mass., just 40 miles outside of Boston, in April. Kramer says the 1,500 square-foot facility will serve up organic coffee and have a rock 'n' roll theme, with Kramer's drum kit and other Aerosmith memorabilia on display. Kramer has already put his name on a line of organic coffee, according to his business parter Frank Cimler, and they hope the business will be the first in string of coffeehouses with a "rock star edge." - AP, 1/16/16...... Actor Tim Curry, who played Dr. Frank N Furter in the original 1975 The Rocky Horror Picture Show cult classic, has signed on to appear in Fox's upcoming live, two-hour TV remake of the movie. This time around, Curry will portray the criminologist narrator in a cast that also includes Laverne Cox, Adam Lambert, Victoria Justice and Ryan McCartan. The Fox version is set to air in fall 2016. - Billboard, 1/15/16...... A soundtrack to accompany the new HBO series Vinyl, which premieres on the channel on Feb. 14, will be released by Atlantic and Warner Bros. Records on Feb. 12. Vinyl: Music From the HBO Original Series - Volume 1 will feature music in and inspired by the first episode, and two days prior to the finale of the series, a second physical and digital soundtrack will come out. Set in New York in the early '70s, Vinyl is executive-produced by Martin Scorsese and Mick Jagger and pivots around label head Richie Finestra (Bobby Cannavale), as he tries to save his record company. It also stars Olivia Wilde, Juno Temple, Ray Romano, Andrew Dice Clay and Jagger's son, James, who plays the lead singer of fictional band Nasty Bits. - Billboard, 1/15/16......
A one-night-only Neil Young film event, "An Evening with Neil Young," will take place in theaters across the U.S. on Feb. 29 featuring two Young films and feature a Q&A with Young hosted by director Cameron Crowe. The Young-starred, co-directed and co-written 1982 film Human Highway will be followed by Young's 1979 concert film, Rust Never Sleeps, and capped off with a live Q&A. - Billboard, 1/14/16...... Veteran soul singer Patti LaBelle, 71, has reportedly struck up a romance with the drummer in her band, Eric Seats, who is 30 years her junior. "She tried to keep it quiet," a source told the website Dailymail.com. "But everyone around her has figured things out now. She's completely smitten with him and they spend so much time together." The source claims LaBelle and the 41-year-old Seats first met years ago, when he was hired to be her drummer, and he helped "heal her broken heart" after the end of a previous relationship. Seats, an accomplished musician, has also toured with the likes of Stevie Wonder, Mary J. Blige and Missy Elliot. - WENN.com, 1/13/16...... Pete Huttlinger, best known for being the lead guitarist in John Denver's band, died on Jan. 15 at Vanderbilt University Medical Center in Nashville after suffering a stroke. He was 54. Huttlinger, the youngest son of a former White House correspondent named Joseph Bernard Huttlinger, graduated with honors from the Berklee College of Music in Boston, and moved to Nashville to begin his musical career. Ten years later he connected with Denver after a producer heard him playing on a recording session. Huttlinger toured with Denver over the next four years and played on his various recordings. He would go on to tour with such artists as LeAnn Rimes and John Oates. As a solo artist, Huttlinger recorded more than 15 albums. - Billboard, 1/16/16...... Giorgio Gomelsky, best known as the first manager of the Rolling Stones, died on Jan. 13 after a battle with cancer. He was 82. The Soviet-born and Swiss-raised Mr. Gomelsky originally moved to England to be a filmmaker, but became in London's London's burgeoning blues scene led by Alexis Korner and the as yet little known Rolling Stones. He opened the Crawdaddy Club where the Stones were essentially the house band and began managing their career, but by May of 1963 he had been disloged by Andrew Loog Oldham as their manager. Mr. Gomelsky then shifted his attention to managing The Yardbirds and began booking them at the Crawdaddy, along with other British acts like Brian Auger, Julie Driscoll and Gong. Mr. Gomelsky moved to New York in 1978 and settled into a building on 24th St. in Chelsea that later was converted into an underground club know as the Green Door. - Billboard, 1/14/16......
Acclaimed British actor Alan Rickman, one of the best-loved and most warmly admired British actors of the past 30 years, died in London on Jan. 14 after a battle with cancer. He was 69. Rickman, who rose to fame in Hollywood as the sharp-tongued baddie Hans Gruber in the first Die Hard film, was much-loved on both sides of the Atlantic, later adding to his list of on-screen antagonists when he played the Sheriff of Nottingham in Robin Hood: Price of Thieves, for which he won a BAFTA, and finding a new generation of fans as Professor Snape in the Harry Potter series. Other memorable roles included playing Metatron -- the voice of God -- in Dogma, as a deceased over in Truly Madly Deeply, and as Col. Brandon in Sense and Sensibility. Although Rickman would never win an Oscar, he would add to his BAFTA win for Robin Hood with a Golden Globe, and a Screen Actors Guild Award, both for his lead role in HBO's 1996 TV film Rasputin: Dark Servant of Destiny. Rickman is survived by his wife Rima Horton, who he met as a teenager and married in New York in 2012. - The Hollywood Reporter, 1/14/16...... Actor Dan Haggerty, best known as the lead character in the 1974 TV movie The Life and Times of Grizzly Adams and the subsequent series of the same name that ran in 1977-78, died at Providence St. Joseph Medical Center in Burbank, Calif., on Jan. 15 after a bout with spinal cancer. He was 73. Born Nov. 19, 1942, in Los Angeles, Haggerty was the son of an entertainment industry veteran who as a young man got a job with a ranch in the San Fernando Valley that trained animals for movies. He became an animal handler, wrangling rabbits and frogs for various film productions, and was a stuntman on the side. The combination of skills led to his discovery as an actor, and a colleague on the set later tapped the bearded Haggerty for the role of the burly, amiable woodsman in the 1974 back-to-nature TV movie The Life and Times of Grizzly Adams and later the series of the same name. The family-programming hit premiered in 1977 and ran for 37 episodes and made Haggerty and his bushy beard famous. In 1985, a jury found Haggerty guilty of one count of selling cocaine to undercover officers who were part of an "entertainment industry task force" run by the LAPD at the time. Jurors threw out a second count, apparently because Haggerty had grown so genuinely fond of the two officers. A few months later, he suffered serious injuries in a motorcycle accident on Benedict Canyon Road. While still recovering, he was sentenced by a federal court for failure to pay taxes. He then marketed a Cajun barbecue sauce, tried his hand as a restaurateur and kept acting. He reprised his Grizzly Adams character in several TV movies and appeared on dozens of other shows, including Charlie's Angels, CHiPs and The Love Boat. Later productions romanticized motorbikes, nature and family -- and at least one starred a chimpanzee. Haggerty, who was preceded in death by his wife Samantha, is survived by daughters Megan and Tracy Haggerty, sons Dylan, Cody and Don, all of Los Angeles, and one grandson. - The Los Angeles Times, 1/15/16...... Jim Simpson, a Hall of Fame sportscaster who was best known for his work on AFL games for NBC when he was hired by fledgling ESPN in 1979, died on Jan. 13 after a short illness. He was 88. Mr. Simpson was ESPN's first play-by-play announcer, and called college football, college basketball, college baseball, the USFL, and the NBA. He also called the World Series, Olympics and Wimbledon for NBC, and did play by play for Super Bowl I for NBC Radio. - ESPN.com, 1/13/16.
The shocking news of David Bowie's death on Jan. 10 after an 18-month battle with cancer, just days after releasing a new album Blackstar on his 69th birthday, has been met with disbelief from fans, celebrities and members of the music industry. Bowie's longtime producer and collaborator Tony Visconti said that Bowie "always did what he wanted to do...and he wanted to do it his way and he wanted to do it the best way." "His death was no different from his life - a work of Art. He made Blackstar for us, his parting gift. I knew for a year this was the way it would be. I wasn't, however, prepared for it. He was an extraordinary man, full of love and life. He will always be with us. For now, it is appropriate to cry," Visconti added.

Paul McCartney was one of the estimated 100 million Facebook interactions who remembered the rock luminary on his Facebook page: "Very sad news to wake up to on this raining morning. David was a great star and I treasure the moments we had together. His music played a very strong part in British musical history and I'm proud to think of the huge influence he has had on people all around the world," Sir Paul posted on Jan. 11. John Lennon's widow Yoko Ono remembered Bowie on her website as being something of a father figure to the couple's son, Sean, after the former Beatle was gunned down in Dec.1980: "John and David respected each other. They were well matched in intellect and talent. As John and I had very few friends we felt David was as close as family." Bowie's record label, Columbia, posted "We are deeply saddened by the loss of David Bowie. It was an honor and a privilege to release his music to the world." On Twitter, a massive number of over 4.3 million tweets poured in worldwide, with the title track from Blackstar clocking more than 5 hours as the service's most shared and discussed track. Rolling Stones frontman Mick Jagger posted that Bowie was "always an inspiration to me and a true original," while Bowie's first wife, Angie Bowie, told a TV news crew that "I just feel like an era has ended with his passing. I'm so very sad... The stardust is gone." Traditional press outlets across the world also covered the news, with the U.K.'s Daily Mirror announcing "The stars look very different today... The world mourns a legend," and the Daily Telegraph illustrating its daily edition with Aladdin Sane-era photographs. Thousands of Bowie fans gathered in the star's birthplace of Brixton, London on Jan. 11 to celebrate his life, with people playing and singing such Bowie songs as "Heroes," "Rebel Rebel", "Starman" and "Suffragette City" on harmonica and acoustic guitars.
Meanwhile, Blackstar is on track to be Bowie's first No. 1 album on the Billboard Hot 200 album chart, with industry forecasters saying the LP could sell upwards of 130,000 albums in the week ending Jan. 14, and debut at debut at No. 1 on the same chart in the week dated Jan. 30 (Bowie's highest-charting album so far was his previous one, 2013's The Next Day, which debuted and peaked at No. 2). In the U.K., OfficialCharts.com is predicting Blackstar will also top the charts there to become Bowie's 10th chart-topping LP in his native country. On the streaming services and online retailers, streams of Bowie songs surged 2,700% after the news of his passing broke, and digital editions of Bowie albums are also being scooped up by fans on iTunes and Amazon.com. Blackstar skyrocketed to No. 1 on the iTunes Store's constantly updated chart, with his Best of Bowie collection at No. 2, and on Amazon, Blackstar is only being outsold by Adele's new album, 25. Meanwhile, sources close to Bowie have revealed that the singer "died from liver cancer" after "surviving six heart attacks." Writer Wendy Leigh, who published a biography about Bowie in 2014, claims that the star had suffered a series of heart attacks prior to his passing. "He didn't just battle cancer| he had six heart attacks in recent years. I got this from somebody very close to him," Leigh told BBC News. And the New York Times is reporting that New York's Carnegie Hall will present a memorial concert in tribute to David Bowie and his legacy (the concert was already in the works before he died, but will now be a memorial). Among the confirmed artists to perform thus far are The Roots, Cyndi Lauper, Ann Wilson of Heart, and the Mountain Goats. Tony Visconti -- who produced Bowie's last album Blackstar -- is reportedly assembling the house band. - Billboard/New Musical Express, 1/12/16...... The life of singer Natalie Cole was celebrated during a memorial service at the West Angeles Church of God in Christ in Los Angeles on Jan. 11, with such R&B icons as Stevie Wonder, Lionel Richie, Gladys Knight, Eddie Levert of The O'Jays, Mary Wilson and Freda Payne attending. Also on hand was longtime friend Chaka Khan, who was expected to perform but was under the weather. One of the service's more touching moments, noted one attendee, was Wonder's delivery of the Lord's Prayer. Cole, the daughter of popular music icon Nat "King" Cole, died on New Year's Eve at age 65 of pulmonary arterial hypertension, which led to heart failure. - Billboard, 1/11/16......
Former Pink Floyd guitarist/singer David Gilmour has topped Billboard Hot Tours list of top-grossing tours for the first week of January with $25.7 million in ticket sales revenue from the South American leg of his 2015-2016 world tour. Gilmour is on the road supporting his latest album, Rattle That Lock, which was released in September. Gilmour's South American trek kicked off in December in Brazil, opening with a two-night stint at Sao Paulo's Allianz Parque in front of more than 84,000 fans in attendance for performances on Dec. 11 and 12. Sales for both performances topped the $8 million mark. Gilmour kicked off his world tour in September with a 7-city swing through Europe that continued through Oct. 18. It is set to resume in March with concerts booked in four major North American markets through mid-April. - Billboard, 1/7/16...... Media mogul Rupert Murdoch, 84, and model/actress Jerry Hall, 59, have announced they will be getting married in the "Births, Marriages and Deaths" section of the British paper The Times, which Murdoch's company owns. It will be the first marriage for both Hall, the former girlfriend of Rolling Stones frontman Mick Jagger, and Murdoch. The night before they shared the good news, Murdoch and Hall stepped out together at the Golden Globes. The couple have been dating since September after reportedly being set up by Murdoch's sister and niece. - Justjared.com, 1/11/16...... Brett Smiley a glam-rock cult hero who earlier appeared on Broadway in the original musical "Oliver!" in 1965, died on Jan. 8 at his home in New York City. He was 60. In 1974, Smiley recorded an album titled Breathlessly Brett that was produced by British rock impressario Andrew Loog Oldham, however it was shelved until eventually being released in the U.K. in 2003. Smiley was also the subject of Nina Antonia's book, The Prettiest Star: Whatever Happened to Brett Smiley? In recent years, he fronted a series of small bands in New York. - AP, 1/11/16...... Singer Red Simpson, who helped pioneer the "Bakersfield Sound" and was one of the original musicians on Merle Haggard's country classic "Okie from Muskogee," died on Jan. 8 in a Bakersfield, Calif., hospital after suffering a heart attack. He was 81. In the '60s, Mr. Simpson was a regular performer at Bakersfield's historic Blackboard Club, where he replaced Buck Owens, who had struck out on his own history making career. Mr. Simpson, who charted such singles on the Billboard country charts as "Roll Truck Roll," ""The Highway Patrol," "Diesel Smoke, Dangerous Curves" and "Mini-Skirt Minnie," had his biggest success in 1971 with "I'm a Truck," which reached No. 4 on the country singles chart. His final charted single was 1979's "The Flyin' Saucer Man and the Truck Driver," which barely dented the charts at No. 99. Mr. Simpson also wrote the Haggard classic "You Don't Have Very Far To Go," which has been recorded by artists like Rosanne Cash. Mr. Simpson was on a tour in the Pacific Northwest recently when he fell ill, and died after being rushed to a Bakersfield hospital. - Billboard, 1/9/16...... Veteran TV producer Norman Lear of All in the Family, The Jeffersons and Maude fame has announced he will be reviving his '70s-'80s family sitcom One Day at a Time with a Cuban-American spin for the popular streaming service Netflix. Before landing at the streaming giant, the revival of the show had been in the works for quite some time, and Lear has spoken about developing the project over the past year. Described as "a reimagining" of the classic, the modernized series that "will center around a Cuban-American family," the rebooted One Day at a Time will have its heroine as a recently separated, former military mom navigating a new single life, while raising her radical teenage daughter and socially adept tween son with the help of her old-school Cuban-born mom (played by Rita Moreno and a friends-without-benefits building manager named Schneider. - Variety, 1/11/16......
In related news, actor/comedian Pat Harrington, Jr., who portrayed the farcically macho building superintendent Dwayne Schneider in the original One Day at a Time series, died on Jan. 6 of as yet undisclosed causes. He was 86. Although billed as a supporting actor on One Day at a Time, Mr. Harrington provided such welcome comic relief that the program's popularity and longevity -- it aired on CBS from 1975 to 1984 -- was owed as much to him as to anyone. Years afterward, producer Norman Lear said Mr. Harrington "turned out to be the comic strength of the show." Born in Manhattan on Aug. 13, 1929, Mr. Harrington went to a Catholic military school and graduated from Fordham University, where he also later received a master's degree in political philosophy. After serving in the Air Force, he began working in the NBC mail room, a job he parlayed into a junior advertising salesman position for the network. Before gaining fame as Schneider, Mr. Harrington worked in nightclubs, released comedy albums, and appeared in several made-for-TV movies, including The Affair, The Healers, Let's Switch and Savage. A seasoned comic performer, Mr. Harrington often entertained clients at Toots Shor's, the Manhattan watering hole, where he had his greatest success conjuring a fictional Italian immigrant named Guido Panzini, part of a gag he honed over many years and many drinks. - The Washington Post, 1/8/16...... R&B singer Otis Clay, a Blues Hall of Fame musician who also was a community activist on Chicago's West Side, died of a heart attack on Jan. 8. He was 73. Clay had been preparing an upcoming gospel tour and had been nominated for two Blues Music Awards -- one for his album with Billy Price and one for soul blues music artist. Clay's manager, Miki Mulvehil, said Clay was not only a great musician but a humanitarian, who often performed his 1993 standard, "When the Gates Swing Open" for funerals. - AP, 1/9/16...... Early '60s rock & roll singer Troy Shondell, whose song "Kissin' at the Drive-In" became a popular tune at drive-in movie theaters, died on Jan. 7 at a nursing facility in Picayune, Miss, of complications related to Alzheimer's and Parkinson's disease. He was 76. Shondell hit the Billboard charts in 1961 with "This Time (We're Really Breaking Up)," which spent four months on the Billboard Top 100 singles chart in 1961 and also charted on the UK singles chart. He later became a songwriter and publisher in Nashville, Tenn. - AP, 1/9/16...... Robert Balser, who served as the animation director for the Beatles' 1968 film Yellow Submarine and on the Saturday morning Jackson 5 cartoons of the early 1970s, died on Jan. 11 of complications from respiratory failure at Cedars-Sinai Medical Center in Los Angeles. He was 88. More than 200 artists were under Mr. Balser's supervision on the surreal Yellow Submarine, a vividly colored film set in the paradise of Pepperland. The production that took 11 months to complete on a budget of less than $1 million. Mr. Balser also partnered with graphic design legend Saul Bass on the seven-minute, end-of-film animated title sequence for Michael Anderson's star-studded Around the World in 80 Days (1956), and he helmed the otherworldly "Den" sequence for Heavy Metal in 1981. - Billboard, 1/7/16.
Legendary British singer/songwriter/actor David Bowie, one of the most iconic and influential rock stars of the 1970s and beyond whose stature can perhaps only be matched by Bob Dylan, died on Jan. 10 after a private 18-month battle with cancer, his publicist has announced. He was 69. "David Bowie died peacefully today surrounded by his family after a courageous 18 month battle with cancer. While many of you will share in this loss, we ask that you respect the family's privacy during their time of grief," his rep posted on Twitter. Bowie, who excelled at glam-rock, art-rock, soul, hard rock, dance pop, punk and electronica during his amazing and eclectic 40-plus-year career, died just days after the release of his 25th album Blackstar, which came out on Jan. 8, his birthday. Born David Jones in South London on Jan. 8, 1947, Bowie nearly lost sight in his left eye in a boyhood fight after surgery left him with a paralyzed pupil. After attending Bromley High School, he worked as a commercial artist for a London ad agency, and played saxophone in local semi-pro groups around 1963 before forming his own outfit David Jones and the Lower Third which recorded one obscure album. After The Monkees became famous later in the '60s, he changed his surname to Bowie to avoid confusion with Davy Jones. Contracted to the Pye Records label as a solo artist in 1966, he made two unsuccessful singles before moving to Decca the following year. His pop material for that label was first gathered together on 1967's The World of David Bowie, although a more complete collection, Images 1966-67, later appeared as a double album set on London Records in 1973.
His early semi-hits as a pop singer, including "Love You Till Tuesday," "Rubber Band," and "The Laughing Gnome" (an embarrassing novelty recorded reissued by Decca and became a Top 10 U.K. hit in 1973) showed a theatrical bias and heavy debt to the phrasing of British singer/actor Anthony Newley. In 1969, he released Space Oddity (originally titled Man of Words Man of Music), which although an undisciplined album, nevertheless possessed a freshness and individuality that would later bear fruit. The title track of Space Oddity saw the artist break through into the U.K. Top Five (and when reissued in 1976 in the U.K. it even topped the charts), and after a brief "retirement" to run the Arts Lab in South London, he returned to the studio in 1970 to cut the powerful, doom-ladened LP, The Man Who Sold the World, which many critics count among his finest works. His taste for rock returned, and he began to play occasional dates first as a soloist with an acoustic guitar and later with the as-yet unnamed Spiders From Mars -- Mick Ronson (guitar), Trevor Bolder (bass), and Woody Woodmansey (drums). It was at this point that Bowie was beginning to indulge in his taste for outrageous clothing, posing in ankle-length dresses with his model wife Angie Bowie and their child, Zowie. After 1971's Hunky Dory from this period drew widespread critical plaudits, his 1972-recorded Ziggy Stardust and the Spiders From Mars became his blueprint for stardom. On its release, and a turning-point London charity gig previewing the Spiders' stunningly-theatrical stage presentation, Bowie shot to eminence in a blaze of publicity and acclaim, helped along by a new record deal with a major U.S. label, RCA Records. Ziggy became a million-seller, and from that point on, Bowie consistently charted on the singles and album charts in Britain and the U.S., first breaking through in America when RCA released "Space Oddity" as a single in 1973.

During this period, he also worked with other artists including Lou Reed and Mott the Hoople, and in late 1972 he undertook an extensive U.S. tour with the Spiders, the experience of which he used to write material for his May 1973 LP, Aladdin Sane. Released to perhaps an unsurpassed wave of public interest, the album didn't quite measure up to the standard set by Ziggy, though it did produce a couple of semi-classic singles, "Jean Genie" and "Drive-In Saturday," the former purportedly about his friend Iggy Pop. Two months later he recorded Pin Ups, (released in Oct. 1973), which comprised reworkings of his favorite oldies from the 1964-67 U.K. pop scene, which again was met with only muted critical approval. In July 1973, during the last date of a 60-concert U.K. tour, he stunned the rock world by announcing his "retirement" from the road, and never worked with the Spiders From Mars again. Shortly after his "retirement," Bowie filmed his now-famous NBC-TV Midnight Special episode, a lavish production entitled "The 1980 Floor Show" at the London Marquee Club and then left by boat for the U.S. (having a fear of planes and refusing to fly anywhere), where he began to base his center of operations. During his 1974 U.S. tour, which was chronicled on his million-selling double album David Live, he began to first display signs of a gradual shift away from rock and towards R&B and soul territories, and in 1975 he released Young Americans, which was recorded largely at Sigma Studios in Philadelphia. That album's brilliant title track returned him to the U.K. and U.S. charts, as did its follow-up, "Fame" (co-written with John Lennon). "Fame" became Bowie's first U.S. No. 1 single, and also established him in the U.S. disco market. In the spring of 1976, after another lengthy U.S. tour, Bowie returned to the U.K. for the first time since his 1973 "retirement" for a series of major gigs at London Wembley Empire Pool. Moving to Los Angeles, Bowie became a fixture of American pop culture, and even played the title role in director Nicolas Roeg's film The Man Who Fell to Earth.
He then returned to the U.K. for the first time in three years before settling in Berlin, where he lived in semi-reclusion, studying art, painting, and recording with Brian Eno. His work in this period, known as the "Berlin trilogy," was comprised of Low (1977), "Heroes" (1977), and Lodger (1979). After revitalizing Iggy Pop's career by producing The Idiot and Lust for Life (both 1977), Bowie toured Europe and America as Pop's unannounced pianist. The next year, he embarked on a massive world tour, and a second live album, Stage (1978), was recorded on the U.S. leg of the tour. Settling in New York, he recorded the paranoic Scary Monsters LP (No. 12, 1980), and updated his classic "Space Oddity" single in "Ashes to Ashes." After that album, he turned his attention away from his recording career, and in 1980 played the title role in a stage production of "The Elephant Man." He collaborated with Queen in 1981's "Under Pressure," and in 1982 played a 150-year-old vampire in the movie The Hunger. In 1983, he signed one of the most lucrative contracts in history, and moved from RCA to EMI. That year's Let's Dance LP, his first album in three years, was produced by Chic's Nile Rodgers and returned him to the top of the charts with three Top 20 singles -- "Let's Dance" (No. 1), "China Girl" (No. 10) and "Modern Love" (No. 14). He toured behind that album with his sold-out Serious Moonlight Tour, and his career seemed revitalized. In 1989, he formed Tin Machine with Reeves Gabrels on guitar and Hunt and Tony Sales, who had worked with him on Iggy Pop's Lust for Life album. The followup, Tin Machine II, came in 1991, and lacking the novelty of the debut, was quickly forgotten.
In 1992, Bowie married Somilian supermodel Iman, and the following year he recorded Black Tie White Noise which he called his "wedding present to his wife." Although it received generally positive reviews, it failed to excite the public. In 1995, he recorded Outside with Eno, and toured with Nine Inch Nails as his opening act. The following year, he was inducted into the Rock and Roll Hall of Fame and returned to the studio to record the techno-influenced Earthling, and followed that with two more albums, 1999's hours... and 2002's Heathen. He was relatively quiet between the years of 2004 and 2012, reemerging in 2013 with the album The Next Day. Its arrival was met with a social media firestorm which catapulted it to No. 2 on the Billboard Hot 200 album chart, his highest charting album ever. In recent years he kept a decidedly low profile, maintaining a residence in New York, but rarely being seen. He recently opened the rock musical "Lazarus" in New York, in which he revisited the character he played in the film The Man Who Fell to Earth. A video for his song of the same name, which is included on his new Blackstar album, was released on Jan. 7. "I grew up listening to and watching the pop genius David Bowie. He was a master of re-invention, who kept getting it right. A huge loss," U.K. Prime Minister David Cameron posted on Twitter on Jan. 11 after learning the shocking news of Bowie's passing. David Bowie is survived by his wife Iman, his son, director Duncan Jones, and a daughter, Alexandria. - The Illustrated Encyclopedia of Rock/The Rolling Stone Encyclopedia of Rock & Roll/Billboard, 1/11/16.
A new Michael Jackson documentary focusing on the King of Pop's career-changing 1979 album Off the Wall is set to premiere at the Sundance Film Festival on Jan. 24. Michael Jackson's Journey: From Motown to Off the Wall is co-produced by Spike Lee, John Branca and John McClain and documents the LP that established Jackson as an adult superstar, and along with Donna Summer's Bad Girls album of the same year, is credited with ushering in the modern era of pop music. Featuring archival footage of Jackson, contemporary interviews with his family and musicians including Pharrell, John Legend and Questlove, the doc will also air on the Showtime channel on Feb. 5 at 9:00 p.m. EST, and an Off the Wall CD reissue will also accompany the film. Off the Wall was the first album from a solo artist to chart four songs in the top 10 of the Billboard Hot 100, and also spawned two Billboard No. 1 hits (Jackson's first solo chart-toppers since "Ben" in 1972). - Billboard, 1/7/16......
David Bowie has revealed a full-length video for "Lazarus," the second single from his new album Blackstar. Featuring the singer wearing an unsettling, white blindfold with eyeholes cut out, while writhing in a hospital bed, the creepy video is the second single from Blackstar, which hits stores on Jan. 8, the same day Bowie turns 69. "Lazarus" also features in the recent Bowie stage production of the same name, which opened in New York earlier in January. - New Musical Express, 1/7/16...... The Google Play streaming service is reporting that "Come Together" is the most popular Beatles song currently streaming on services worldwide after the Fab Four made their back catalog available for streaming on all platforms on Dec. 24 as "a holiday gift to their fans." The lead-off Abbey Road track is followed by "I Want to Hold Your Hand," "Here Comes the Sun," "In My Life," "Twist and Shout," "All You Need Is Love," "Something," "Ticket To Ride," "She Loves You" and "Let It Be" in a list that skews toward the band's earlier material. Meanwhile, the Beatles' 10 most popular albums streaming globally on the premiere streaming service Spotify include the 2000 hits compilation 1, followed by Abbey Road, The Beatles (a.k.a. "The White Album"), Let It Be, Sgt. Pepper's Lonely Hearts Club Band, Revolver, Rubber Soul, Magical Mystery Tour, Please Please Me and Help! - Billboard, 1/6/16...... A 30th Anniversary Farm Aid TV special will premiere on the AXS TV channel on Jan. 10, with performances from the Sept. 19, 2015, Farm Aid, as well as archive sets from previous concerts by such acts as the Allman Brothers, B.B. King, Sheryl Crow, Garth Brooks, Buddy Guy and John Mayer. The 30th anniversary Farm Aid included performances by Farm Aid organizers Willie Nelson, Neil Young, John Mellencamp and Dave Matthews, along with Jack Johnson, Kacey Musgraves and Mavis Staples. Since 1985, the annual Farm Aid benefit has raised $48 million to help keep independent family-operated farms on their land. - Billboard, 1/6/16......
Steely Dan frontman Donald Fagen was arrested after an altercation with his wife Libby Titus in the couple's Manhattan home on Jan. 4 after he allegedly shoved her into a marble window frame, causing her to fall. According to a complaint filed by Titus, she suffered bruising and swelling after the incident with her 67-year-old husband, who was charged with assault and harassment after a brief appearance at Manhattan Criminal Court on Jan. 5 and released without bail. Fagen was ordered to stay away from Titus, to whom he has been married for 20 years, and she was given an order of protection against the musician. Titus, who is 69 and a folk singer, told the New York Post's Page Six gossip column that she plans on divorcing Fagen. "I don't feel good. I'm very tired and I'm divorcing my husband," she said. Fagen and Titus met while attending Bard College in the 1960s, but Libby left school before graduating after marrying novelist Barry Titus, with whom she had a son. She later had a daughter with musician Levon Helm of the Band fame. Titus and Fagan reunited in the late 80s before marrying in 1993, and she is credited with helping inspire him again to dedicate himself to live performances. - New Musical Express, 1/6/16...... Fans of late Motörhead frontman Lemmy Kilmister have launched a campaign to newly discovered form of heavy metal -- that's the substance and not the music genre -- after the musician. John Wright, a business support manager from New York, aims to rename Ununoctium 118, which is one of four radioactive "super-heavy" elements that were added to chemistry's periodic table in early January, to "Lemmium." The petition, which already has already gained 15,000 signatures, reads: "Heavy rock lost its most iconic figure over Christmas with the sudden and unexpected death of Ian 'Lemmy' Kilmister. Lemmy was a force of nature and the very essence of heavy metal. We believe it is fitting that the International Union of Pure and Applied Chemistry (IUPAC) recommend that one of the four new discovered heavy metals in the periodic table is named Lemmium. An astrological object (a star) has been named Lemmy to meet the IUPAC naming recommendations." Ununoctium 118 and three other elements were discovered by scientists in America, Japan and Russia. The four new additions were formally verified by the International Union of Pure and Applied Chemistry (IUPAC) on December 30. However some of the band's fans are angry about the petition, with many declaring that Motörhead was not a heavy metal band. "Let's not," one fan posted. "Lemmy himself said in 2010, 'We were not heavy metal. We were a rock'n'roll band. Still are. Everyone always describes us as heavy metal even when I tell them otherwise. Why won't people listen?' Why won't you listen?" Meanwhile, a memorial service honoring Kilmister on Jan. 9 in Hollywood is set to be streamed across the world. The service will go out on the band's official YouTube channel from 5:00 p.m. to 9:00 p.m. PST. It will be held across the entire Sunset Strip in West Hollywood. Kilmister passed away on Dec. 28 following a short battle with cancer, and since his death the band's signature tune, "Ace of Spades," is on track to become Motörhead's first Top 10 song ever in the U.K. "Ace of Spades" peaked at No. 15 on the U.K.'s Official Singles Chart following its release in 1980, and last entered the Top 40 when it reached No. 23 as a reissue in Sept. 1993. - NME/Billboard, 1/6/16...... Bonnie Raitt has released her first ever lyric video, for "Gypsy In Me," which appears on her upcoming album, Dig In Deep. Created by Black Balloon, the clip is an on-the-go look at the restless traveling Raitt expresses within the song. "I'm excited to finally have my first lyric video coming out along with the release of our first single, 'Gypsy In Me,' later this week," Raitt said. "New album, Dig In Deep, comes out Feb. 26th, followed by our two-year world tour. Can't wait to hit the road!," she added. - Billboard, 1/6/16......

After Pres. Barack Obama delivered a tearful speech about guns in the U.S. on Jan. 5, one of his biggest foils, rocker Ted Nugent, shared some colorful new insults about the president on his Facebook page. "I will write a comprehensive piece on the Chicago scam artist in chief on his latest lies about tyranical trampling of the 2nd Amendment but know it ye all goodmen everywhere that his ongoing criminal oath violating INFRINGEMENTS would NOT have stopped nor will ever stop ANY mass shootings or crime that anyone is aware of. He is a psychopathic America hating liar," Nugent groused, also suggesting that his fans should buy NRA memberships for everyone they know. The Nuge also responded to selected Facebookers, including one Brit who who suggested "Come to England, we have no guns, but plenty of knives and stabbings!" Nugent's response? "& no freedom. no thankU." - Billboard, 1/5/16...... Former Nickelodeon star Victoria Justice and current Disney star Ryan McCartan have been tapped to star in the network's upcoming remake of the 1975 cult classic The Rocky Horror Picture Show. Justice and McCartan will portray Janet and Brad, respectively, in roles made famous by Susan Sarandon and Barry Bostwick in the original film. Reeve Carney (Penny Dreadful) has also signed on as Riff-Raff, while singer Staz Nair will portray Rocky Horror and Laverne Cox (Orange Is the New Black) will play Dr. Frank-N-Furter. The two-hour Fox special, which will be directed and choreographed by Kenny Ortega (High School Musical), is due in fall 2016. - The Hollywood Reporter, 1/4/16...... The Playback.fm website has isolated Freddie Mercury's vocal track on the Queen classic "We Are the Champions," and the results are stunning. "We love Queen and Freddie Mercury, so we've edited 4 concert films including a rare recording session of 'We Are the Champions' and synced them all up to the isolated vocals in honor of the late, great, Freddie Mercury," reads the YouTube description for the video. "This video showcases his presence and consistency as the ultimate stage man. RIP Freddie. You are a rock god." - Billboard, 1/4/16...... Former UFO and Scorpions guitarist Michael Schenker will release a new double A-side single, "Rock City" b/w "Good Times," on Jan. 11 to coincide with his forthcoming 9-city U.K. tour. The single is taken from Schenker's Temple of Rock album Spirit On A Mission. The tour, which gets underway in Bilston Robin on Jan. 20, will see Schenker perform tracks from the album, plus UFO, Scorpions and MSG classics. - Noble PR, 1/5/16......
Noted music producer and manager Robert Stigwood, who acted as manager of Cream and the Bee Gees before producing some of the all time great rock musicals including Saturday Night Fever and Grease, passed on Jan. 4 at the age of 81. The Australian-born Mr. Stigwood's first major career success came representing English singer/actor John Leyton in 1961, which helped kick off a new era of independent British music production. In 1966, Mr. Stigwood became the Who's booking agent by reportedly paying the band's managers £500. This deal also empowered him to lure the band away from Brunswick Records to record the now famous single "Substitute" on his own Reaction Records label. That same year, Mr. Stigwood became the manager of a new band called Cream made up of the best musicians from two groups he had under contract -- guitarist Eric Clapton from John Mayall's Bluesbreakers, and bassist Jack Bruce and drummer Ginger Baker from the Graham Bond Organisation. The following year, he began managing the Australian teenage vocal group the Bee Gees. Though the U.K. release of the band's first Australian charting topping hit "Spicks and Specks" was a flop, an intensive promotional campaign helped make "New York Mining Disaster 1941" the sibling trio's first international hit, with many more to come. Mr. Stigwood made the leap into film and TV production by the early '70s, and his first hit was an adaptation of "Jesus Christ Superstar" in 1973, followed by the film version of the Who's Tommy in 1975. Massive success came next with Saturday Night Fever in 1977, which included a two-LP soundtrack written and featuring his client the Bee Gees, and then the beloved rock and roll musical Grease in 1978. Though several commercial failures followed, he did find success later with the Madonna-starring musical Evita, which won the 1997 Golden Globe for Best Motion Picture. The news of Mr. Stigwood's death was announced by Spencer Gibb, son of late Bee Gees member Robin Gibb, via Facebook. Musicians and actors paying tribute to the influential figure on Twitter include the Who, Andrew Lloyd-Webber, Sir Tim Rice and musical theatre star Elaine Page. - Billboard/NME, 1/5/16...... Nicholas Caldwell, a founding member of R&B group The Whispers, died on Jan. 5 at his home in San Francisco. He was 71. Known for its trademark silky smooth harmonies, The Whispers scored its first R&B hit in 1970 with the No. 6-charting "Seems Like I Gotta Do Wrong." Caldwell, along with twin brothers Wallace and Walter Scott, Gordy Harmon and Marcus Hutson, established the group in the early '60s. The popular concert act, which charted such hits as "And the Beat Goes On" and "Rock Steady," most recently played in Los Angeles -- its hometown -- at the Microsoft Theater on Dec. 19, 2015, with Stephanie Mills and The Temptations Review, featuring Dennis Edwards. - Billboard, 1/6/16...... Blues guitarist Long John Hunter, who recorded seven solo albums in a 60-year career and was known internationally for his onstage showmanship, died in his sleep on Jan. 4 at his home in Phoenix, Ariz. He was 84. The Texas-born Mr. Hunter was also a singer-songwriter whose best-known tracks are "El Paso Rock" and "Alligators Around My Door." Artists including James Brown, Buddy Holly, Etta James and Albert Collins reportedly attended shows by Mr. Hunter, who also became a mentor to then-teenager Bobby Fuller of "I Fought the Law" fame. Mr. Hunter, known for holding his guitar by the neck in one hand while continuing to play, released independent CDs in 2003 and 2009 and reportedly continued to play regularly until he was 80. - AP, 1/5/16.
It appears the Grateful Dead spinoff band Dead & Company will extend its tour into 2016, even though the second night of a two-night stand at Los Angeles' The Forum on New Year's Eve was supposed to cap off the band's first and perhaps only tour. "At the risk of rocking any boats -- known and unknown -- we'll see you next year," Dead & Company member John Mayer told the capacity crowd at the end of the last of the evening's three-set shows. Mayer, a Grammy-winning guitarist and singer, has been guesting in the band, which features original GD members Bob Weir, Mickey Hart and Bill Kreutzman (along with Oteil Burbridge on bass and Jeff Chimenti on keyboards). Dead & Co. performed a rollicking cover of the '60s soul classic "In the Midnight Hour" at midnight as the new year rang in, appropriately enough, and encored with a slower-paced "Brokedown Palace." "Thank you or accepting me into this beautiful home," Mayer said as the band prepared to leave the stage. - Billboard, 1/1/16......
Queen of Soul Aretha Franklin brought down the house, and even brought a tear to Pres. Barack Obama's eye, when she paid tribute to Carole King during the 2015 Kennedy Center Honors in Washington D.C. on Dec. 30 by performing a rendition of the King-penned "(You Make Me Feel Like) A Natural Woman." Draped in fur at the piano, the 73-year-old legend was moved at all the dignitaries seated around her, including Pres. Obama and First Lady Michelle Obama and Kennedy Center Honoree King. When Franklin left the piano and stood at center stage halfway through the performance, she brought the president and his wife to their feet, along with King and her fellow honorees George Lucas, Cicely Tyson, Seiji Ozawa and Rita Moreno. King was also paid tribute by artists including James Taylor, who performed "Up on the Roof," and Janelle Monae, who sang the King tunes "Will You Love Me Tomorrow?" and "One Fine Day." - Billboard, 12/30/15...... Original Star Wars creator/director George Lucas has criticized the "retro" tone of the latest episode of the space saga, Star Wars: The Force Awakens, which is the first film made without his involvement. In an interview with US TV host Charlie Rose, Lucas described the 1977 original and prequel trilogy as his "kids" and compared the Disney studio, which bought the rights to the franchise, "to white slavers that take these things." Lucas also revealed that the film studio had not wanted his input in the new installment. "They wanted to do a retro movie. I don't like that," he said. "They weren't that keen to have me involved anyway, but if I get in there, I'm just going to cause trouble, because they're not going to do what I want them to do. And I don't have the control to do that any more, and all I would do is muck everything up. And so I said, 'OK, I will go my way, and I'll let them go their way.'" Star Wars: The Force Awakens has shattered opening box office records around the world, and is on track to top the all-time ticket sales record of $2.78 billion which is currently held by Avatar. - NME, 12/31/15....... Two October shows from Paul McCartney's 2015 Out There tour have placed the Beatles legend in second place on the latest tally of Billboard's Hot Tours list. Sold out performances by Sir Paul at Penn State University's Bryce Jordan Center on Oct. 15 and First Niagara Center in Buffalo, N.Y. on Oct. 22 added $4.7 million in sold ticket revenue to the tour's overall gross of $196 million based on 60 concerts. The Buffalo performance marked the final stop for McCartney's tour, which was attended by more than 1.4 million fans over its two-and-a-half year run. A total of 15,552 tickets were sold for the tour's finale. - Billboard, 12/29/15......
In other tour news, AC/DC's Rock Or Bust tour sold the most tickets worldwide in 2015, with the Aussie rockers selling a staggering 2.31 million tickets over the course of the year and grossing $122 million. AC/DC released their 17th album, Rock Or Bust, in November 2014, and the LP climed to No. 3 on both the UK and US charts, as well as topping the charts in their homeland of Australia. AC/DC has announced plans for two additional huge UK dates, in Manchester and London, in June 2016, however there are doubts about the band performing live beyond those dates. Early in 2015, frontman Brian Johnson spoke about the possibility of retirement, and suggested that Rock Or Bust could be the band's last album. - New Musical Express, 1/1/16...... Cher has reacted to the controversial Dec. 28 decision by an Ohio grand jury in the case of 12-year-old Tamir Rice, who was shot dead by two Cleveland police officers after they mistook his pellet gun for a real pistol. "ANOTHER"NOT SO GRAND" GRAND JURY. TAMIR RICE'S DEATH WAS TRAGEDY OF ERRORS, INCOMPETENCE & TOTAL DISREGARD OF A 12 YR OLD CHILD'S HUMAN RIGHTS," Cher tweeted after learning of the decision. Timothy Loehmann, an officer-in-training, fatally shot Rice on Nov. 22 outside a Cleveland recreation center after seeing him with a pellet gun and receiving spotty information from the 911 dispatcher. - Billboard, 12/28/15...... Grammy-winning singer Natalie Cole, the daughter of legendary crooner Nat "King" Cole who carried on her late father's musical legacy and, through technology, shared a duet with him on his pop standard "Unforgettable," died on the evening of Dec. 31 at Cedar Sinai Hospital in Los Angeles due to compilations from ongoing health issues. She was 65. Cole, who was inspired by her dad at an early age and auditioned to sing with him when she was just 11 years old, was just 15 when her dad died of lung cancer in 1965. She began as an R&B singer but later gravitated toward the smooth pop and jazz standards that made her father famous, with her greatest success being the 1991 album Unforgettable ... With Love, which paid tribute to her father with reworked versions of some of his best-known songs, including "That Sunday That Summer," ''Too Young" and "Mona Lisa." The album sold some 14 million copies and won six Grammys, including album of the year as well record and song of the year for the title track duet. Cole had battled drug problems and hepatitis that forced her to undergo a kidney transplant in May 2009. "Natalie fought a fierce, courageous battle, dying how she lived ... with dignity, strength and honor. Our beloved Mother and sister will be greatly missed and remain UNFORGETTABLE in our hearts forever," read the statement from her son Robert Yancy and sisters Timolin and Casey Cole. - Billboard, 1/1/16......

Heavy metal icon and Motörhead frontman Ian Fraser "Lemmy" Kilmister died on the evening of Dec. 28 after a brief fight against cancer. He was 70. Born Dec. 24, 1945, in Burslem, Stoke-on-Trent, Staffordshire, England, Kilmister took up the guitar at an early age and as a young man saw the Beatles perform at Liverpool's legendary Cavern Club. He moved to London in the early 1960s and performed with several bar bands, and worked as a roadie for Jimi Hendrix in 1968. He switched to bass to join the space-rock group Hawkwind in 1972, and was with the band during its most fertile era. His first work for the band was to record the vocals for "Silver Machine," which went on to become a hit single in the U.K. and the group's defining song. He enjoyed a three-year run with Hawkwind but was ejected in 1975 after being busted on tour for possession of cocaine (which turned out to be amphetamines). Kilmister, who was famously gruff, quick with his fists and did not suffer fools gladly, later said that he'd been kicked out of the LSD-centric band not for using drugs, but the "wrong kinds of drugs." The musician's decades of hard living -- he was rarely seen without a whiskey and/or a cigarette -- began to catch up with him in recent years, and he once half-seriously said he'd switched from whiskey to vodka "for health reasons." In 2013, Lemmy suffered a haematoma, which caused the cancellation of gigs in Italy and Austria, and was fitted with a pacemaker after being diagnosed with an irregular heartbeat. The following year, Motörhead pulled out of a European tour citing Lemmy's health as the reason behind the decision. The band due to tour the UK in January 2016, starting in Newcastle and ending in London, in support of its new album Bad Magic, released in Aug. 2015. "Noble friend Lemmy passed away today after a short battle with an extremely aggressive cancer," Motörhead said in a statement. "He had learnt of the disease on December 26th, and was at home, sitting in front of his favorite video game from The Rainbow which had recently made it's way down the street, with his family. We cannot begin to express our shock and sadness, there aren't words," the statement continued. Ozzy and wife Sharon Osbourne were also close friends of Kilmister's, with Sharon tweeting "My dear friend, Lemmy, passed away today. I've known him for 38 years. He will be so missed but he will never be forgotten," on Dec. 29. - Billboard/New Musical Express, 12/29/15...... Drummer John Bradbury, a member of the UK Two Tone group The Specials, died at the age of 62 on Dec. 29. "Brad's drumming was the powerhouse behind The Specials and it was seen as a key part to the Two Tone sound," his family said in a statement. "He was much respected in the world of drumming and his style of reggae and ska was seen as genuinely ground breaking when The Specials first hit the charts in 1979." After joining The Specials in 1979, Bradbury had a top 10 hit with the band, "Free Nelson Mandela," in 1984. The Coventry-based band then split, but reunited for a 2009 tour to celebrate their 30th anniversary. Bradbury had remained part of the group since then. - New Musical Express, 12/29/15......

Actor and entrepreneur Wayne Rogers, best known for playing Capt. "Trapper John" McIntyre on the classic Korean War-era sitcom M*A*S*H, died of complications from pneumonia on Dec. 31 in Los Angeles. He was 82. Mr. Rogers' army surgeon Trapper John was one of the most beloved characters -- and half of one of the most beloved duos which included Alan Alda as "Hawkeye Pierce" -- in TV history, despite his appearing in only the first three of the show's 11 seasons on CBS. An Alabama native and Princeton University graduate, Mr. Rogers had parts on many short-lived shows early in his career, specializing in westerns like Law of the Plainsman and Stagecoach West, and also had a bit part in the 1967 film Cool Hand Luke with Paul Newman. In the years after M*A*S*H, Mr. Rogers returned to TV regularly, including a recurring role in the early 1990s on Murder, She Wrote. Mr. Rogers then moved beyond acting to see serious success later in life as a money manager and investor. In 1988 and 1990, he appeared as an expert witness before the House Judiciary Committee to speak in favour of maintaining the Glass-Steagall banking laws of the 1930s, and in recent years he was a regular panelist on the Fox News stock investment show Cashin' In. Mr. Rogers is survived by his wife Amy, two children, Bill and Laura, and four grandchildren. - AP, 1/1/16...... Prolific character actor Jason Wingreen, who portrayed Harry the bartender on the All in the Family spinoff Archie Bunker's Place and provided the voice of the bounty hunter Boba Fett in Star Wars: The Empire Strikes Back, died at his home in Los Angeles on Christmas Day. He was 95. A recognizable character actor with almost 200 big and small screen credits, Mr. Wingreen was a Brooklyn native whose resume includes three episodes of The Twilight Zone, most notably portraying the real train conductor in the 1960 episode in "A Stop at Willoughby." He also played a Chicago police caption on The Untouchables, a major on 12 O'Clock High and Judge Arthur Beaumont on Matlock; did six episodes apiece of The Fugitive, The FBI and Ironside, appearing as 18 different characters; and died a memorable death as Dr. Linke on the 1968 Star Trek episode "The Empath." And in Airplane (1980), he played a doctor from the Mayo Clinic who is seen talking on the phone as a beating heart bounces all over his desk. Born Oct. 9, 1920 in Brooklyn, Mr. Wingreen made his movie debut in The Bravados (1958), starring Gregory Peck, and also appeared on the big screen in A Guide for the Married Man (1967), Marlowe (1969), They Only Kill Their Masters (1972), The Terminal Man (1974), Oh, God! You Devil (1984). He retired after appearances on Seinfeld and In the Heat of the Night in the 1990s. - The Hollywood Reporter, 1/1/16.
After the Beatles made their back catalog available for streaming on all platforms on Dec. 24 as "a holiday gift to their fans," the Spotify service says their songs were added to 673,000 of their listeners' playlists in the first two days. And it appears it isn't only more mature music fans who are listening to the Fab Four -- Spotify reports that 65% of those listeners are under the age of 34. The top 10 Beatles tracks among U.S. listeners -- which include "Come Together," "Hey Jude," "Here Comes the Sun," "Let It Be," "Twist and Shout," "Blackbird," "I Want to Hold Your Hand," "In My Life," "She Loves You," and "Help!" -- focus mainly on the hits, however "Blackbird" and "In My Life" were never exactly radio hits in America. Globally, "Love Me Do," "Yesterday" and "All You Need Is Love" appear in the top 10 Beatles streamers, with "Come Together" also topping the list. - Billboard, 12/26/15......
Guitarist Richard Lloyd, a founding member of the critically acclaimed '70s NYC band Television, has revealed he's leaving the Big Apple after residing there for 50 years and relocating to Tennessee. Speaking to The Village Voice, Lloyd said he plans to live on "a 54-acre farm that is no longer used as a farm." A nearby barn will serve as a music studio for the 64-year-old musician, who says he's "very emotional, of course, but... happy about it." "I love New York and I'm already homesick for it; it's always been so satisfying to live here," Lloyd noted. "So many of my friends who were so much a part of New York moved away, though. Now I'll be one of them," he added. Lloyd, who moved to New York's Greenwhich Village with his family in the 1950s, joined Tom Verlaine and Richard Hell to form Television in 1973. Although the band went on to great critical acclaim with its seminal 1977 album Marquee Moon, commercial success eluded it. Television, alongside contemporaries like Talking Heads, Blondie, The Ramones and the New York Dolls, were affiliated with the late '70s New York punk scene that emerged from the downtown club CBGB. Verlaine, who was named the 90th greatest guitarist of all time by Rolling Stone in 2011, cited his need for addtional space to house decade's worth of equipment, along with the high cost of living in New York City, as reasons for the move. - Billboard, 12/24/15...... The Columbia House Record Club, known to many Baby Boomers and Gen Xers as a convenient way to amass a record collection but which fell out of favor with buyers after CDs became popular, will reportedly be revived soon with a focus on vinyl records. John Lippman the CEO of Filmed Entertainment Inc., bought the remains of the legendary mail-order brand for about $1.5 million in a chapter 11 bankruptcy sale in August (creditors of its $62 million in liabilites include Universal, Warner Bros., Lionsgate, Paramount, Sony, Anchor Bay and others) after no other suitors offered to buy it. "For a category that is meaningful and growing rapidly, you don't see a whole lot of choice," Lippman said of his plans to market vinyl records. He said the service may resemble a book-of-the-month club but with more choices, where subscribers will have "some ability to choose the records, genres of music and possibly other types of media they receive." As for pricing, Lippman hinted that he's considering a dialed-down (you're not getting 10 vinyl records for a dollar) version of Columbia House's old promotion schemes. According to the RIAA, vinyl sales were up over 50 percent in the first half of 2015. However that increased demand has put pressure on the limited number of record pressing plants, and in some cases it takes up to four months for record labels to get their vinyl orders back. - Billboard, 12/23/15...... William Guest, a former member of Gladys Knight and the Pips, died of congestive heart failure in Detroit on Dec. 24. He was 74. Guest performed with the Grammy-winning group from 1953 to 1989, singing background vocals on such hits as "I Heard It Through the Grapevine" and "Midnight Train to Georgia." After the group disbanded, Guest and another member, the late Edward Patten, formed a production company. He later served as CEO of Crew Records, and released his autobiography Midnight Train From Georgia: A Pips Journey in 2013 with his sister-in-law, Dhyana Ziegler. - AP, 12/25/15......
Famed basketball jester George "Meadowlark" Lemon, who entertained millions of fans around the world with his antics as a longtime member of the Harlem Globetrotters, passed away in his sleep on Dec. 27 in Scottsdale, Ariz. He was 83. Known as the "Clown Prince of Basketball," Mr. Lemon played 24 seasons and, by his own estimate, more than 16,000 games with the Globetrotters, the touring exhibition basketball team known for its slick ball-handling, practical jokes, red-white-and-blue uniforms and endless winning streaks against overmatched opponents. He also was one of a handful of Globetrotters whose fame transcended sports, especially among children during the team's heyday in the 1960s and 1970s. Mr. Lemon was immortalized in a Harlem Globetrotters cartoon series and appeared on The Ed Sullivan Show, episodes of Scooby Doo, and many national TV commercials. Born in Wilmington, N.C., Mr. Lemon joined the Globetrotters in 1954 after serving two years in the Army. Over the next quarter-century, he and the team played almost everywhere, from high school gyms to Madison Square Garden to an exhibition in Moscow during the Cold War. After a salary dispute, Mr. Lemon left the Globetrotters in 1979 to form his own comedic basketball teams, which performed under the names Meadowlark Lemon's Bucketeers, the Shooting Stars, and Meadowlark Lemon's Harlem All Stars. He returned to the Harlem Globetrotters for a 50-game "comeback" tour in 1993. Mr. Lemon, who was enshrined in the Naismith Memorial Basketball Hall of Fame in 2003, spent the last several years of his life serving as an ordained minister and motivational speaker. - CNN, 12/28/15...... Steven Wright, the frontman of the '60s Australian band The Easybeats, died of undisclosed causes in a New South Wales hospital on Dec. 26. He was 68. Wright formed The Easybeats in 1964, and the group became one of Australia's most beloved and popular acts soon after. The band's best known song, "Friday On My Mind," hit No. 1 in Australia in 1966 and also charted in other countries. It was also covered by David Bowie on his 1973 album, Pin-Ups. After touring with bands including the Rolling Stones in the late '60s, The Easybeats broke up, and Wright formed Vanda and Young, who charted a hit called "Evie" in 1974. Wright, who struggled with drug and alcohol abuse for decades and later suffered from liver and kidney problems, gave his last performance at the Legends of Rock Festival in 2009. - Billboard, 12/27/15.
After rumors began circulating on Dec. 18 that the Beatles would make their entire back catalog available for streaming starting Christmas Eve, on Dec. 23 the band confirmed that their fans' long wait was indeed over and that their catalog -- all 13 UK albums and 4 compilations -- will be available across all platforms on Dec. 24. The Fab Four, one of the most persistent holdouts in the digital age of music listening, had made their music available to Apple iTunes exclusively in 2010, but there's no such exclusivity in their new streaming plan: Spotify, Apple Music, Tidal, Deezer, Google Play, Amazon Prime, Slacker, Microsoft's Groove, and Rhapsody (including its Napster service in the UK) will all have access to the band's library of classic songs. It took the band, which as an entity has been notoriously slow in adopting and adapting to new technology, six years to arrive on the iTunes, selling two million songs during its first week. The Beatles took 25 years, since its 1970 breakup, to issue the comprehensive Anthology documentary, and it didn't get involved with video games until The Beatles: Rock Band was released in 2009. Their music was released on CD in 1987, but the band didn't remaster their work until 22 years later. The Beatles join the streaming revolution just as music consumption on such platforms has begun to officially overtake downloads in revenue generation for major labels. They've sold 178 million albums in the U.S., according to the RIAA. - Billboard, 12/23/15...... In other Beatles-related news, Paul McCartney was a "special elf" brought onstage by Bruce Springsteen & the E Street Band during a yuletide performance on NBC's Saturday Night Live on Dec. 19. As the Boss played the Christmas classic "Santa Claus Is Coming to Town" over the closing credits of the show, Macca joined the band on stage adding to the merriment with some jingle bells. "Tina, have you been good?" Springsteen asked Tina Fey, who shared hosting duties with Amy Poehler. "Amy? Paul?" It was the first time McCartney and Springsteen had shared the same stage since appearing together at a 2012 concert in London that went past curfew, resulting in the pulling of the plug. In a similar moment, NBC cut the performance of "Santa Claus" before the song concluded. Springsteen also performed "The Ties That Bind," from his album The River, on SNL. He will hit the road for his The River tour in January. - Billboard, 12/20/15......


Brothers Ray and Dave Davies of the Kinks performed live together for the first time since 1996 on Dec. 18 when Ray brought Dave onstage during a gig at the Islington Assembly Hall in North London. The pair performed the Kinks classic "You Really Got Me," with Dave later tweeting that he "had a blast with Ray." The siblings had not performed together since the Kinks split acrimoniously in 1996, and while rumours about a 50th-anniversary collaborative tour were rampant in 2014, the shows never materialized. Three months ago, Dave was also quoted as saying there was an "outside shot" of a Kinks reunion, with the Kinks-based musical "Sunny Afternoon" thought to have helped to ease tensions between the feuding brothers over the past couple of years. Ray has also commented on the future of the band, citing the "war between Dave and [original Kinks drummer] Mick Avory." I don't work for the United Nations, I'm just a musician," Ray said. "I had a drink with Mick last week, and I asked, What happened to you guys?' They shared a house in the 1960s. I think some things went on there that created a rivalry." He has also said that "I like playing the hits, I just did a solo tour, but when the Kinks get back together, I need to be inspired to write new material." Ray and Dave have not confirmed whether they plan on any further collaborative appearances following the Dec. 18 performance. - New Musical Express, 12/19/15...... The owner of a Danish replica of Elvis Presley's Graceland Mansion home in Memphis, Tenn., has announced he is changing the name of his property from Graceland Randers after Elvis Presley Enterprises Inc. demanded a name change and 1.5 million kroner ($220,000) in compensation. Henrik Knudsen opened his Elvis museum in 2011 in Randers, Denmark, which is situated 210 kilometers (130 miles) northwest of the capital, Copenhagen. It includes Knudsen's private collection of Elvis artifacts, an American diner-style restaurant and a souvenir shop. Knudsen said on Dec. 22 that he is changing the name of his museum, which is twice the size of the original Graceland, to Memphis Museum beginning Jan. 1, so that he can "focus on our business." Knudsen said more than 130,000 Elvis fans have visited the museum since it opened. - AP, 12/22/15...... A hologram tour showcasing late R&B legend Jackie Wilson will travel the US in 2017, Hologram USA announced on Dec. 22. "Everything you expect from an exciting rock star' stage show was invented by Jackie Wilson: the leaps, spins and back-flips, not to mention his amazing four-octave range," Hologram USA CEO Alki David said in a statement. Wilson, nicknamed "Mr. Excitement," influenced a host of future stars including Michael Jackson, who dedicated his 1984 Grammy for Album of the Year to the dynamic entertainer. Between 1958 and 1970, Wilson charted 16 top 10 R&B hits and six top 10 pop hits. He topped the R&B singles chart six times, starting with 1958's "Lonely Teardrops" (No. 7 on pop). Wilson, inducted into the Grammy Hall of Fame and the Rock and Roll Hall of Fame, slipped into a coma after collapsing onstage in 1975. He died in 1984. Hologram USA and its partner, FilmOn TV, are also creating hologram shows in association with the estates of Whitney Houston, Patsy Cline, Buddy Holly, Billie Holiday and Dean Martin. - Billboard, 12/22/15......

Aerosmith frontman Steven Tyler has released a new video, "Hope Is Everything," to benefit his new charity Janie's Fund, which raises awareness for young female victims of neglect and abuse. Named after the Aerosmith hit "Janie's Got A Gun," which reached No. 4 on the Billboard Hot 100 almost 26 years ago, Janie's Fund will use 100 hundred percent of all donations to support proven programs at Youth Villages, a national nonprofit dedicated to providing effective solutions for over 23,000 children and families each year with emotional and behavioral changes. "An entire community was built around this song's message," Tyler wrote on the Janie's Fund website. "Over the years, I've been overwhelmed by the thousands of fans who have sent me letters, telling me their stories and how Janie's Got A Gun' affected and inspired them." With a $5 donation to Janie's Fund, participants may be entered to win The Ultimate VIP Rock Experience, which includes walking the red carpet and hanging with Tyler backstage at his first solo album release party. - Billboard, 12/22/15...... Chicago's Robert Lamm has issued a statement saying his former bandmate, Peter Cetera, will not be playing with the group when they are inducted into the Rock and Roll Hall of Fame in April after he told Radio.com that Cetera would sing though not necessarily play bass with Chicago during the ceremony. "I've mistakenly said Cetera would be playing," Lamm says. "He has emphatically declined. My email exchanges with Cetera were misinterpreted by me, and I've apologized to him, and likewise apologize to the music press community and fans." Cetera, who left Chicago in 1985 to pursue a solo career, sang lead on Chicago favorites such as "25 or 6 to 4," "Feelin' Stronger Every Day" and "Just You 'n' Me" and shared vocals on "Saturday in the Park" and the two-part "Dialogue." He also wrote hits such as "Wishing You Were Here," "If You Leave Me Now" and "Baby, What a Big Surprise." It is unclear whether Cetera plans on attending the ceremony, and original Chicago drummer Danny Seraphine, who left the group in 1994, also hasn't confirmed whether he'll be joining the band at the ceremony. - Billboard, 12/22/15...... Aretha Franklin made a surprise appearance at the House of Swing concert at the Lincoln Center's Rose Theater on Dec. 17. Franklin, walking onstage to a standing ovation, said to the bandleader, "Wynton (Marsalis), I think maybe I'll change the program just a little bit." Accompanying herself on piano, she then sang the Christmas carol "O Tannenbaum" in English and German. She followed with a soulful, gospel-infused version of "My Cup Runneth Over," an outtake from her 1972 album Young, Gifted and Black, which she recently added to her concert repertoire. The 73-year-old Franklin, joking that "this happens to be my 50th year in the business and I'm feeling it," dedicated her performance to Atlantic Records founder Ahmet Ertegun, who signed her to his label in 1967 and died in 2006. - AP, 12/19/15......
In an interview with the US edition of Britain's The Guardian paper, Kenny Rogers revealed he is a big fan of Republican presidential hopeful Donald Trump. "I really like him," Rogers said of the controversial Trump, who has riled Mexicans, Muslims, and many women with his statements. "I think his problem is that he says what everyone wants to hear, but he doesn't say it well. I love what he says, I have to admit. He can be president and not owe anybody anything; he's one of the few people has the money to do it, and has the guts to do it," Rogers said. In September, the 77-year-old "The Gambler" singer announced he would retire from live performing at the conclusion of his 2016 world tour. - Billboard, 12/22/15...... Black Sabbath guitarist Tony Iommi is featured in a new charity Christmas song titled "Christmas Way by 19 and 7" from professional footballers James Milner and Stiliyan Petrov. Milner, Petrov and Iommi all hail from Birmingham, and Petrov was forced to retire from the Aston Villa team in 2013 in order to fight leukemia. Like Petrov, Iommi has also had to tackle leukemia. The title, "Christmas Way by 19 and 7," is a reference to the two players' shirt numbers. It was officially released on Dec. 18. - New Musical Express, 12/19/15...... Drummer Jason Bonham, the son of late Led Zeppelin drummer John Bonham and who sat in on drums for his dad at Led Zeppelin's one-off reunion concert in late 2007, has said in a new interview that he believes Led Zep will perform together again someday on stage. "In my heart of hearts, I do believe we will play together again," Bonham said. "It remains to be seen if it will be in public or privately, but I do think we will play again." It appears any LZ reunion won't be happening anytime soon though, as guitarist Jimmy Page has announed that he'll be heading out on a solo tour in 2016, and singer Robert Plant has scoffed at future reunion plans, saying a LZ tour would be "an absolute menagerie of vested interests and the very essence of everything that's shitty about big-time stadium rock" and that he doesn't want to be "part of a jukebox." - Billboard, 12/19/15...... The legendary New York punk club CBGB, a breeding ground for the city's '70s punk and new wave scene, will be reopening as a restaurant at a New York area airport. The venue, which originally opened in 1973 by Hilly Kristal and closed on Oct. 17, 2006, with Patti Smith's band playing the venue final concert, will be rechristened the CBGB LAB (Lounge and Bar) at New Jersey's Newark Liberty International Airport. It will be managed by chef Harold Moore and serve "American fare in a fun environment recalling the legendary music venue." In 2013, a movie tracing the history of CBGB was released, and in recent years New York has hosted a CBGB Festival, which Jane's Addiction headlined in 2014. - New Musical Express, 12/22/15...... Academy Award-winning composer Burt Bacharach has signed on to score Po, a feature film about a widowed father raising his 10-year old son with autism. Bacharach, whose daughter Nikki is afflicted with Asperger's Syndrome, says he met Po's director John Asher by chance on a flight in 2014 and agreed to let Asher use his classic, "Close to You," made famous by the Carpenters. Upon seeing the film, he agreed to compose the music. "I was so touched by the film that scoring it was a labor of love," Bacharach said in a statement. A release date for Po has yet to be announced. - Billboard, 12/18/15......
James Taylor says he is "gonna miss" Pres. Barack Obama when the president leaves office in Jan. 2017. "It makes a surprising amount of difference to me who the country has chosen to represent it, and in the case of Barack Obama, it just makes me feel good about being an American," Taylor recently told Billboard. "In my opinion, he is a wonderful president and a great leader. I'm gonna miss him." Taylor, who wrapped the first leg of a U.S. tour in August, was honored with the Presidential Medal of Freedom, the nation's highest civilian honor, by Pres. Obama on Nov. 24. He will be seen performing on TV during CBS' broadcast of the Kennedy Center Honors on Dec. 29, as well as PBS' In Performance at the White House on Jan. 8. Taylor, who this year scored his first No. 1 album on the Billboard Hot 200 with Before This World, has 2016 performances lined up including shows at Carnegie Hall in New York and concerts at Wrigley Field in Chicago and Fenway Park in Boston. - Billboard, 12/18/15...... Veteran pop and country music producer/entrepreneur Thomas Lesslie "Snuff" Garrett, who made his mark on the charts in the 1960s and '70s with such music as the No. 1 singles "This Diamond Ring" by Gary Lewis & The Playboys, "Gypsies, Tramps and Thieves" by Cher, and "The Night the Lights Went Out in Georgia" by Vicki Lawrence, died on Dec. 17 at his ranch in Arizona. He was 76. Garrett, a onetime disc jockey from Dallas, Tex., joined Liberty Records as a staff producer in 1959, first producing Johnny Burnette's "Settin the Woods on Fire." Among other artists he worked with at Liberty and later Kapp and MCA Records were Bobby Vee, Johnny Burnette, Buddy Knox, Walter Brennan, Sonny & Cher, Dean Martin, Sonny Curtis, Tanya Tucker and others. He was also responsible for hiring Phil Spector to do work for Liberty Records and employing Leon Russell as his assistant. Garrett also released a series of instrumental albums that featured the guitar work of Tommy Tedesco of the legendary studio musican band The Wrecking Crew. In 1976, Garrett bought the rights to 800 old Republic and RKO Films titles and quickly built a multi-million dollar annual business in the early days of home video....... Luigi Creatore, a songwriter and record producer who teamed with his cousin Hugo Peretti to create hits for artists such as Elvis Presley, Sam Cooke, Perry Como and others, died on Sunday in Boca Raton, Fla., from complications of pneumonia. He was 93. The son of a renowned Italian immigrant bandmaster, Mr. Creatore began his career by writing advertising jingles and graduated to books, plays and, most notably, songs. His regular partner -- they both wrote music as well as lyrics -- was Mr. Peretti, who died in 1986; they were occasionally joined by George David Weiss, who died in 2010. Known professionally as Hugo & Luigi, the duo had their greatest success in the 1960s at RCA Victor Records, where they were among the first producers to have their names prominently displayed on album jackets, complete with their own logo. Their most noteworthy work at RCA, however, was not with a middle-of-the-road pop artist but with one of the great rhythm-and-blues singers of the era, Sam Cooke, who had success with Creatore-Peretti productions like "Chain Gang," "Twistin' the Night Away" and "Wonderful World." As composers, they wrote two songs that were hits for Elvis Presley in 1961: "Wild in the Country," from the movie of the same name, and "Can't Help Falling in Love," from the movie Blue Hawaii, which they wrote with Weiss. After leaving RCA Victor in 1964, Mr. Creatore and Mr. Peretti worked with, among other artists, Van McCoy, whose "The Hustle" was a No. 1 single in 1975 and one of the first disco hits.
David Bowie has made a second song from his forthcoming album Blackstar available for streaming. "Lazarus," described as a broody downtempo song that veers into alt-jazz territory, is six minutes long and peppered with saxophone and dirty guitars. "Look up here, man, I'm in danger I've got nothing left to lose, I'm so high it, makes my brain whirl. Dropped my cell phone down below. Ain't that just like me?" Bowie sings. "Lazarus" shares its title with Bowie's off-Broadway musical, which runs until Jan. 20 at the New York Theatre Workshop and is reportedly the only track from Blackstar to be featured in the production. The official video for "Lazarus" will drop Jan. 7, the day before Bowie's birthday and the release of Blackstar. - Billboard, 12/18/15......


The Rock and Roll Hall of Fame announced on Dec. 17 that classic rockers Chicago, Cheap Trick, Deep Purple, Steve Miller and Hip-Hop pioneers N.W.A. will be inducted into its class of 2016 during a ceremony on Apr. 18 at the Barclays Center in Brooklyn, New York. Rock and Roll Hall of Fame Foundation President and CEO Joel Peresman said the first four classic rock acts will begin to fill in some of the perceived "holes" in the Hall's ranks, which some critics have charged with being too elitist and dismissive of some of rock's massively popular acts. "This year, there was more free-form discussion where people could truly be advocates and ask more and better questions," Peresman said. "[The committee] could dig a little deeper into the importance and the impact of these bands and discuss them in greater depth and make more of a case that maybe helped get them on the ballot," he added. Despite being eligible before, it was the first time Cheap Trick, Miller and Chicago (which won the public fan vote, tallying nearly 37.7 million nods) had been nominated for induction, while Deep Purple and N.W.A have appeared on the ballot before. The original quartet and septet lineups, respectively, of Cheap Trick and Chicago are being inducted, while the Deep Purple roster will encompass the group's first three lineups, including three teams of singers and bass players. Should former Chicago member Peter Cetera perform with the band at the ceremony, it would be the first time since 1985 he has done so. Other intriguing reunion possibilites include estranged Cheap Trick drummer Bun E. Carlos and Deep Purple guitarist Ritchie Blackmore, who left the band in 1993. Blackmore has said in the past that he "could care less" about being inducted into the rock hall, and that he likely would not attend the ceremony if Deep Purple were inducted. Acts nominated this year but not making the cut include The Cars, Chaka Khan, Chic, Janet Jackson, The J.B.'s, Los Lobos, Nine Inch Nails, The Smiths, The Spinners and Yes. It will be the second time the RRHOF ceremony has been held at the Barclay Arena, and HBO will again film the ceremony for broadcast later in the spring, most likely in May. - Billboard, 12/17/15...... AC/DC announced on Dec. 14 that the 2016 leg of their current Rock or Bust tour will kick off Feb. 2 in Tacoma, Wash. The 20-city U.S. leg will also include stops in such major markets as Las Vegas (2/5), Denver (2/8), Chicago (2/17), St. Louis (2/20), Dallas (2/23), Houston (2/26), Kansas City (2/29), Atlanta (3/8), Washington, D.C. (3/17), Detroit (3/20), Cleveland, Oh. (3/26), and Philadelphia (4/1) before wrapping on Apr. 4 at New York's Madison Square Garden. The Aussie rockers also announced two U.K. dates in 2016 -- in London on June 4 and Manchester on June 9 -- with the London gig representing the first major concert at Queen Elizabeth Olympic Park since it was used to host the 2012 Olympic Games. The band has spent much of 2015 touring, with shows throughout the U.S., Europe, and Australia. - Billboard, 12/14/15......
Jimmy Buffett announced on Dec. 17 that a musical based on many of his classic beach-bum hits -- including ''Margaritaville," "Changes in Latitudes, Changes in Attitudes," "Cheeseburger in Paradise" and "A Pirate Looks at Forty" -- is currently in the works with a world premiere eyed for sometime in 2017. The show will have Buffett's blend of rock and country tunes and an original story by writers Greg Garcia and Mike O'Malley, with direction by Christopher Ashley. "The idea of turning 'Margaritaville' into a musical has been percolating for quite a while, but finding the right people to tell the right kind of story to go with the right songs from my catalogue took some time," Buffett said in a statement. "Now we have found our crew and I am happy to sail with them to Margaritaville. It's going to be a fun voyage," he added. - AP, 12/17/15...... Paul McCartney is among the 16 musicians appearing in a new video for a charity single, "Love Song to Earth," that is being relesed to raise awareness of climate change and benefit the Friends Of The Earth organization and the UN Foundation, as well as influence the United Nations Climate Change conference, which took place in Paris earlier in December. "Love Song to Earth" is described as "a song with the power to fight climate change and maybe change the world," and also features such acts as Jon Bon Jove, Sheryl Crow, Fergie, Sean Paul, Natasha Bedingfield and Leona Lewis. - New Musical Express, 12/18/15...... The producers of Grease: Live, the upcoming TV musical based on the hit 1978 film Grease, have announced their small-screen live event will be staged in front of a studio audience. Director Thomas Kail and set designer David Korins said in Dec. 16 that an audience "in the multiple hundreds" will populate Rydell High and other locations featured in the 1950s-set musical, which airs on Jan. 31 on Fox and will be broadcast live from the Warner Bros. backlot. The show will be a combined version of the original stage musical, first produced in Chicago in 1971, and the perennially popular 1978 film that starred John Travolta and Olivia Newton-John. The producers hope the studio audience -- who will be seen on camera though not in costume, handling props or delivering lines -- will give the Fox event a fresh, and potentially more risky, angle to distinguish it from NBC's live broadcasts of The Sound of Music, Peter Pan and The Wiz. The cast for Grease: Live includes Julianne Hough as Sandy, Aaron Tveit as Danny, Vanessa Hudgens as Rizzo, Carlos Pena Vega as Kenickie, Carly Rae Jepsen as Frenchy and Keke Palmer as Marty. - Billboard, 12/17/15......
Michael Jackson's classic 1982 album Thriller has become the first album ever to be certified 30 times multi-platinum for U.S. sales, marking more than 30 million sales in America, the Recording Industry Association of America (RIAA) announced on Dec. 15. "RIAA has awarded Gold & Platinum records on behalf of the music business for nearly 60 years, but this is the first time an artist has crossed the 30X multi-Platinum plateau," RIAA chairman and CEO Cary Sherman said in a statement. "We are honored to celebrate the unique status of Thriller in Gold & Platinum history. What an exceptional achievement and testament to Thriller's enduring spot in our hearts and musical history." The latest Jackson milestone continues the King of Pop's reign as the most selling artist of all time with over 100 million sales for Thriller worldwide and 1 billion total sales to his credit. Thriller was released Nov. 30, 1982, and spent nearly 2 1/2 years on the Billboard album chart with 37 weeks at No. 1, holding the modern day record. It was also the first album in history to spend its first 80 weeks in the album chart's top 10, which has only been replicated once since. Worldwide, Thriller topped charts in nearly every market, and won a record-setting 8 Grammys with nominations in 12 categories -- another first. - Billboard, 12/16/15...... In other Michael Jackson news, an unproduced screenplay centered on Jackson's pet chimp "Bubbles" has topped the 2015 Black List, a collection of Hollywood's best unproduced screenplays. Written by Isaac Adamson, Bubbles is narrated by the chimp himself, who details his life within The King of Pop's inner circle through the scandals that later rocked Jackson's life and eventually led to Bubbles' release. The script topped the list of 81 screenplays with 44 votes. Three of the last seven Academy Awards for best picture went to scripts featured on previous Black Lists, as well as eight of the last 16 screenwriting Oscars. Top 2015 Oscar contenders The Revanant and Spotlight were previously featured on the list in some form. - Billboard, 12/15/15...... Amazon Studios has announced it will develop a limited bio series about the Grateful Dead that will be based on the 2003 book Home Before Daylight: My Life On the Road With the Grateful Dead by band roadie Steve Parish. GD founding member Bob Weir will executive produce the project along with Parish, and Weir will oversee all aspects of music for the series. The project has yet to find a writer, but meetings will be taking place over the next several weeks in search of one. - The Hollywood Reporter, 12/15/15......
To help celebrate its 40th anniversary, Queen's iconic 1975 song "Bohemian Rhapsody" has been reinterpreted by the English National Ballet, Royal Academy of Music and Trinity Boys Choir. Footage of two ballet dancers, the choir and a string quartet from RAM can be seen in a new video cut with the original video for the song, and clips of the band's performance of the song on Christmas Eve, 1975. "We all realised it was something wonderful and we should give it our heart and soul," Queen's Brian May recently told the BBC in an interview about the song. - New Musical Express, 12/16/15...... A gravesite marker for late blues icon B.B. King was dedicated on Dec. 11 at his grave in Indianola, Miss. King, who died at age 89 on May 14 in Las Vegas due to type 2 diabetes, was returned to his beloved Mississippi for burial on May 30. More than 100 relatives, friends, fans and former employees gathered at the gravesite to dedicate the black granite slab that eventually will become the centerpiece of a memorial garden outside the B.B. King Museum and Delta Interpretive Center. The garden will be part of a $4.5 million expansion of the King museum that tells his life story. - AP, 12/13/15...... Former Roxy Music member and veteran music producer Brian Eno reportedly pledged to pay £250 for the "trademark black Leninist hat" of Labour party leader Jeremy Corbyn at the annual Stop The War fundraiser in London on Dec. 11. Eno has previously voiced his support for Corbyn, and in August he spoke in support of him at a Labour leadership rally. Speaking at the time, Eno said: "I don't think electability really is the most important thing. What's important is that someone changes the conversation and moves us off this small-minded agenda." - New Musical Express, 12/14/15...... Adam Roth, a New York City guitarist and composer who was a staple of the then New York underground scene in the Lower East Side since the late 1970s, died on Dec. 16 following a battle with stage four bile duct cancer. He was 57. Roth, who was also known for his work as a TV composer and frequently collaborated with his friend Denis Leary, played in a number of bands that frequented iconic venues of the scene such as CBGB and Max's Kansas City. Roth later wrote the music for Leary's hit drama series Rescue Me and his comedy show Sex&Drugs&Rock&Roll more recently, for which he also served as John Corbett's guitar "voice" and the show's tech adviser. - Billboard, 12/17/15.
Bruce Springsteen announced on his E Street Radio broadcast on Dec. 9 that he plans to release a solo album that's "more of a solo project" in the upcoming year. "The project I've been working on is more of a solo project," said Springsteen, who recently released a The River deluxe reissue and performed on Saturday Night Live. "It wasn't a project I was going to probably take the band out on. So I said, 'Gee, that's going to push the band playing again until a ways in the future.' It'll be nice to get some playing in so you don't wind up being two or three years between E Street tours. This will give us a chance to get out there and stretch our muscles a little bit." The New Jersey rocker added that he had no plans to tour after putting out the new The River release, but he "missed playing with the guys" and "playing, period." He'll be playing The River in its entirety in his upcoming tour, and noted he'll still find some way to work some other material into the set, probably in the form of encores. "We plan on picking out some of the best of our outtakes for the end of the show, and there will obviously be some fan favorites," he said. "I don't know myself how it will play out. It should be interesting and a lot of fun for the fans." - Billboard, 12/9/15......
In 1979, a group of rock musicians including Bonnie Raitt, Jackson Browne and Graham Nash co-founded Musicians United for Safe Energy (MUSE) to advocate for a "No Nukes" future. Now some 36 years later, Raitt says she and her anti-nuclear power activist friends are ready to push back on the pro-nuclear power arguments heard during the recent climate talks in Paris. "There's no solution for nuclear waste," says Raitt. "There have been incredible cost overruns and delays in nuclear plant construction. And nuclear power plants continue to pose the security threat of terrorism," she adds. After a Harvard University professor and editorial writers for the The New York TImes and Guardian newspapers called for a reconsideration of nuclear power as a carbon-free energy source to combat climate change, Raitt acknowledged that "there are a lot of smart people on the side of pro nukes... But I find a lot more people making the anti-nuke argument." Raitt will kick off a tour behind her upcoming new album, Dig in Deep, a week before the LP's Feb. 26 release in Northridge, Calif., and some of the proceeds -- as well as on tours by Browne, Nash, and David Crosby -- benefit the Guacamole Fund, which supports the ongoing anti-nuclear-power efforts of MUSE and other organizations. - Billboard, 12/11/15...... A 1964 Porsche SC Cabriolet once owned by Janis Joplin sold for $1.76 million at a Sotheby's auciton in New York on Dec. 11, far surpassing the $500,000 it was estimated to bring. With seven bidders competing, the staggering sale price set a record for the highest price ever paid for a Porsche 356 at public auction. Joplin bought the German-made auto at a used car lot in 1968, and enlisted one of her bandmates, Dave Richards of Big Brother and the Holding Company, to customize the vehicle with a "History of the Universe" mural. When completed, psychedelic imagery covered the body from headlights to tailights, The Porsche had been inherited by Joplin's siblings, Michael and Laura, and for the past two decades had been on display at the Rock and Roll Hall of Fame in Cleveland, Oh. - New York Daily News, 12/11/15......

Jimmy Page, who recently confirmed he'll be starting work on a new solo LP in 2016, has told Guitar World magazine that he also plans on touring in the new year with a live band that are "totally different" to Led Zeppelin. The guitarist said earlier in the year that he was getting "match fit" to perform again and that he was "warming up on the touchlines." Page said that on his next tour he "would play material that spanned everything from my recording career right back to my very, very early days with The Yardbirds (and) there would certainly be some new material in there as well." - NME, 12/10/15...... In other Zeppelin-related news, former frontman Robert Plant has just recorded a cover of Elbow's "The Blanket Of Night" for a new compilation album that will benefit the refugee crisis in Europe. Plant has teamed up with the British Red Cross for his contribution, which was produced by Kings of Leon producer Ethan Johns. "We have a worldwide international catastrophe -- talking about it is one thing, doing something about it is another," Plant says. "The position we are in, it's paramount we all do our best one way or another to help." The album, titled The Long Road, is due Mar. 4, 2016. - NME, 12/9/15...... Meanwhile, late Led Zepp drummer John Bonham's son Jason Bonham has revealed he sat in with Phil Collins for a week of secret rehearsals in 2014 when Collins was determining if he was capable of playing shows after dealing with back and neck issues. Although Collins eventually decided against returning to performing then -- instead opting to have his surgery in 2015 so he can hit the road in 2016, Jason Bonham says he's still buzzed about the experience and that Collins is "one of my real heroes." "Other than my dad I would say Phil is probably my No. 2 guy to go to," Bonham says. "I've been a huge fan since Abacab, and then of course his solo stuff." Bonham, who is currently on the road with his Jason Bonham's Led Zeppelin Experience show, added that he "hasn't heard anything" about being recruited by Collins again when the latter tours in 2016. - Billboard, 12/9/15......
Singer/guitarist José Feliciano was on hand to christen a new exibition dedicated to the Puerto Rican-born musician in San Juan on Dec. 8. "Jose Feliciano: Our Musical Ambassador" documents the career of the pioneering crossover singer and guitarist, famous for such hits as his cover of the Doors' "Light My Fire" and the Christmas song, "Feliz Navidad." Photos of Feliciano's childhood in Puerto Rico and later New York City are included in the exhibition, which displays albums, awards and ephemera from early in his career, when his versions of "Light My Fire" and "The Star-Spangled Banner" were on the charts. The exhibition will continue at the National Popular Culture Foundation in San Juan through 2016. - Billboard, 12/8/15...... The Beatles' 1968 spiritual retreat in northern India, which had become overgrown with foilage in recent years, has just been turned into a tourist attraction after being renovated and reopened to the public. The band famously visited the sanctuary set in a forest near Rishikesh, India during March and April of 1968, seeking enlightenment through transcendental meditation and were said to have written some 48 songs during their stay, many of which appeared on their "White Album". However, the visit was ultimately cut short, after guru Maharishi Mahesh Yogi was accused of making sexual advances to actress Mia Farrow, who was also a guest. An Indian forestry official told the BBC that his workers have now "cleaned up the place and lined the pathways with flowers... We are making some gardens and putting some benches for visitors." Future plans, according to the official, include setting up a cafeteria and a souvenir shop while "retaining the place's rustic look." The retreat, which has long been a place of pilgramage for Beatles fans, was formally reopened on Dec. 8, and admission is around £7. - New Musical Express, 12/9/15...... The Kinks guitarist and co-founder Dave Davies will play his only UK show of 2015 at the London Islington Assembly Hall on Dec. 18. Davies, who helped shape the sound of the Kinks with his singing and lead guitar on such classics as "Come On Now" and "I'm Not Like Everybody Else," will perform both solo songs and Kinks classics that showcase his unique writing style and revolutionary guitar sound he created on such classics as "You Really Got Me." Tickets are available at www.alt-tickets.co.uk/dave-davies-tickets. - Noble PR, 12/10/15......

During an appearance on the UK television show Loose Women, actor Burt Reynolds said that his fellow thespian Charlie Sheen, who recently revealed he was HIV positive, "got what he deserved." "His father [Martin Sheen] is a very, very decent man and a dear friend of mine," Reynolds remarked. "I feel bad for him but Charlie -- I don't feel bad for him. He's getting what he deserves. If you're going to misbehave like that, they're going to get you...He misbehaved badly. Very badly. But you know, when you're that age, it's tough. All those things are coming at you and it's difficult." Reynolds, who is promoting his new autobiography But Enough About Me, also shared his opinion about actress Angelina Jolie, the daughter of his Deliverance co-star and close friend Jon Voight. "[Jon is] very kind. I love him so much. He doesn't deserve the kind of treatment that his daughter Angelina Jolie is giving him. They've reconciled but she still has moments. I remember when she was ten years old and I met her and I went over to Jon and said, "you're in big trouble, she is going to be wild! I hope she doesn't hurt you." The 79-year-old Reynolds is reportedly struggling with complications from a quintuple heart bypass he underwent in Feb. 2010, and his condition has raised the concern of his doctors. - Celebitchy.com, 12/10/15..... The current owners of Michael Jackson's Neverland ranch, which Jackson purchased in 1987 for a $19.5 million price tag, are reportedly having a tough time finding a buyer willing to pay their $100 million asking price and are turning to overseas buyers to take the property off their hands. Wealthy clients in China are being urged to snap up the late "Thriller" singer's former home in Santa Barbara County in California, which has already been on the market for six months. The ranch is a 1,091-hectare estate complete with the mansion, guest cottages, farm and lake, and was abandoned by the singer after it was raided by authorities who were investigating charges of child molestation.
Bruce Springsteen announced on Dec. 4 that he'll mount a 22-city North American tour in 2016 with his E Street Band behind his new deluxe The River reissue beginning Jan. 16 in Pittsburgh. The tour then hits Chicago on Jan. 19, followed by two shows at New York's Madison Square Garden on Jan. 24 and Jan. 27. Other stops include Toronto (2/2), Boston (2/4), Philadelphia (2/12), Atlanta (2/18), Louisville (2/21), Cleveland, Oh. (2/23), Milwaukee (3/3), St. Louis (3/6) and Phoenix (3/13), before wrapping with two nights at the Los Angeles Memorial Sports Arena on March 15 and 17. It will be Springsteen's first ever tour behind one of his seminal deluxe reissues of recent years, which also include 1975's Born to Run and 1978's Darkness on the Edge of Town, and according to his website the tour "will include an in-sequence, complete performance of The River album in addition to other Springsteen favorites."

Each night of the The River tour will be mixed for release on Live.BruceSpringsteen.net as high-quality downloads and CDs, and recordings will be available within days of each performance. Springsteen's most recent tour was his highest-grossing ever, with the Wrecking Ball/High Hopes trek of 2012-2014 taking in $422 million and selling 4 million tickets from 157 shows. Springsteen and the E Street Band will also be the musical guests on NBC's Saturday Night Live on Dec. 19. - Billboard, 12/4/15...... Meanwhile, after years of enduring low-quality bootlegs, Springsteen has been quietly releasing decades' worth of classic concerts online in 2015 -- some 39 professionally shows -- in response to the poor quality of the shows he saw popping up on YouTube. Partnering with the bootleg site Nugs.net, the live boots initially focused on his 2014 High Hopes tour, but eventually spanned his entire career. So far, highlights include an acoustic set from 2005 and a classic from the Born to Run tour. A new show appears about every six weeks, and downloads are $9.95 with physical CDs going for $23. "They have some incredible stuff in the archives," says Nugs.net founder Brad Serling, who hopes some of the Boss's rocker peers will also make their concerts available on the site. - Rolling Stone, 12/3/15...... After Rush drummer Neil Peart recently told Drumhead magazine that "it does not pain me to realize that, like all athletes, there comes a time to take yourself out of the game," Rush bassist/vocalist Geddy Lee clarified Peart's alleged retirement plans on Dec. 8, saying that Peart isn't necessarly quitting Rush entirely, just backing away from the touring side. "I think Neil is just explaining his reasons for not wanting to tour, with the toll that its taking on his body," Lee said. "We'll get together eventually and chat about things. But in my view, there is certainly nothing surprising in what he said. Neil just feels that he has to explain with all the thousands of people asking, Why no more tours? He needs to explain his side of it," he added. Peart has been treated for chronic tendonitis in recent years, while guitarist Alex Lifeson has struggled with psoriatic arthritis. Their ailments have sparked rumors that their R40 Live 40th anniversary tour would be the band's final large-scale tour. - Billboard, 12/7/15......
On Dec. 5, copy #0000001 of the Beatles' 1968 double-LP The Beatles (aka The White Album) sold for $790,000 at Julien's auction, a new world record for a vinyl record at an auction. The winning bid easily surpassed early estimates for the album, which placed its value between $40k-60k. The album was owned by Ringo Starr, who with his wife Barbara Bach auctioned off a trove of their personal belongings in December. Starr had been storing the LP in a London vault for 35 years, and it was described by Julien's as being in excellent condition: "The top load sleeve is in near mint minus condition and would be near mint if not for the bumped upper right front gatefold corner, but it is overall very clean and fresh with very minor abrasions." It was the first numbered U.K. copy of the White Album ever pressed, and adding to its value is that it is the mono version of the album, which many fans claim is the preferred way to listen to the Fab Four as the band was usually present for the mono mixing of their albums but not involved in the stereo mixing process. Meanwhile, Ringo's first Ludwig drum kit set as a Beatle from 1963 was sold at the same auction a day earlier for $1.7 million to Indianapolis Colts owner Jim Irsay. Irsay owns prominent guitars from the other three Beatles -- Paul McCartney, George Harrison and John Lennon -- and earlier in 2015, he also purchased a drumhead that will fit the set he just bought. "Finally, after 45 years, the Beatles are together again," Irsay texted to the AP. An avid collector of music memorabilia, Irsay also owns instruments used by Bob Dylan, Jerry Garcia and Eric Clapton. A portion of the proceeds from Starr's auction will benefit the couples Lotus Children Foundation, which focuses on global social welfare issues. - Billboard, 12/5/15...... In other Beatles news, a new statue of the band has been unveiled in their hometown of Liverpool to mark the 50th anniversary of their final show in the city. The bronze sculpture, situated on Liverpool's Pier Head, was made by artist Andy Edwards and presented to the city by famed Merseybeat venue the Cavern Club. The Beatles played their last ever show in Liverpool at the Empire Theatre on Dec. 5, 1965. - New Musical Express, 12/5/15......
Even a life as brief as Janis Joplin's (she died in 1970 at age 27) can't be fully explored in just over 100 minutes, the running time of the new Amy Berg-directed documentary Janis: Little Girl Blue. Instead, Berg aims to tell the most personal story she can by giving the narrative over to the family, friends, and bandmates who knew her best (Clive Davis, Dick Cavett, D.A. Pennebaker, Kris Kristofferson). Berg is also lucky to have access to a trove of letters, voiced here by singer and kindred spirit Chan Marshall, a.k.a. Cat Power. The portrait that emerges is one of a brash, talented girl who grew up an outcast in her small Texas town and developed her gale-force voice and gypsy-queen mien as armor against a world that would have dismissed her otherwise. While her romances, studio sessions and struggles with addiction are portrayed in a style that can best be described as Behind the Music deluxe, the true draw here is really just Janis: Sweet and wild and vividly alive, she takes a little piece of your heart when she goes. Janis: Little Girl Blue is in selected theaters in the U.S. - Entertainment Weekly, 12/11/15...... Rolling Stones guitarist Ronnie Wood, 68, has learned he will be a father for the fifth (and sixth) time next summer, as his wife, 37-year-old Sally Humphries, are expecting twins. "Sally and Ronnie Wood are delighted to announce that they are expecting twins in June 2016," a spokesperson for the band said. "Needless to say, they are thrilled and overjoyed with the wonderful news." Wood and Humphries were married in 2012. Wood has a son, Jesse, with his first wife Krissy Wood, and a son and daughter, Tyrone and Leah, with his second wife Jo Wood. He also adopted Jo's son Jamie. A source close to Wood says he's actually looking forward to being a dad again, and doesn't think his age is a problem because he still feels very young and fit. - Billboard, 12/7/15...... Fleetwood Mac drummer Mick Fleetwood ended his nearly two-decade marriage to Lynn Frankel Fleetwood on Nov. 20, according to court records obtained on Dec. 8. The judge finalized the couple's divorce, but did not contain any details on how they will divide their assets. They were married in July 1995, and have 13-year-old twin daughters. - AP, 12/8/15......

Carole King, filmmaker George Lucas, actresses Rita Moreno and Cicely Tyson, and conductor Seiji Ozawa were feted at the prestigious 2015 Kennedy Center Honors in Washington, D.C., on Dec. 6. Introduced by Sec. of State John Kerry -- who noted, "We fought to the music of the Doors, the Stones and the Dead, but we healed with the music of Carole King" -- King received the final tribute of the night as the cast of the her Broadway musical "Beautiful," as well as such music greats as James Taylor and Aretha Franklin, performed some of King's own songs in her honor. In what was clearly a surprise to King, the show closed when Franklin stepped out to the piano to bring down the house with "(You Make Me Feel Like a) Natural Woman." The event was taped and will be broadcast on CBS on Dec. 29. - Billboard, 12/7/15...... Kief Nilsson, the 30-year-old son of late celebrated '70s singer/songwriter Harry Nilsson, is reportedly recording an album of his some of his dad's more obscure songs, including "Daybreak," "Rainmaker," "Maybe," "Kojak Columbo" and "All I Think About Is You." "It's a work in progress," says Lee Blackman, the attorney for the Nilsson estate. Blackman adds that Kief is recording the album with Cal Campbell, the son of Glen Campbell, at Cal's Agoura Borealis Recording studio in Agoura Hills, Calif., and taht the record has no release date or major label attached to it. - Billboard, 12/4/15...... Jeff Lynne's ELO have added two summer dates to their upcoming UK tour behind their new album, Alone in the Universe. The band, which kicks off the run with a with a gig at Liverpool Echo Arena on Apr. 5 and will play four dates at London's O2 in April, has added dates in Manchester (6/22) and a tour closer in Birmingham (6/24), bringing the total number of cities to 10. - NME, 12/8/15......

Peter Gabriel has announced plans to take part in a new animal research experiment to find out if monkeys would use video technology to communicate with each other. The former Genesis frontman will work with the Monkey World rescue centre and the Massachusetts Institute of Technology on the Interspecies Internet project. "The idea is to extend a big video network that already exists in labs at [MIT] so that different species including our own have a chance to communicate," Gabriel is quoted as saying in London's Sunday Times. "I am absolutely certain the monkeys will use the video cameras in Monkey World to communicate with each other. I am also interested in how they would use the internet to communicate," he added. It is not known what part Gabriel will play in the experiment, as a spokesperson for Monkey World said the plans were still at an early stage and they could not comment further. In 2001, Gabriel made headlines after he taught monkeys how to play the keyboard, and in 1982 he charted his first Billboard Top 40 hit with "Shock the Monkey," which rose to No. 29 on the hit parade. - New Musical Express, 12/8/15...... Veteran actor Robert Loggia, known for his roles in director Brian De Palma 1986 gangster epic Scarface as well as An Officer and a Gentleman, Prizzi's Honor, Independence Day, Problem Child and Big, died on Dec. 4 in Los Angeles after a five-year battle with Alzheimers Disease. He was 85. Mr. Loggia was nominated for a Supporting Actor Academy Award for Jagged Edge in 1986 for his portrayal of a blunt private detective, and appeared in TV's The Rockford Files as three different characters. He also portrayed a violent mobster named Feech La Manna on several episodes of The Sopranos. He was nominated for an Emmy in 1989 for his portrayal of FBI agent Nick Mancuso in the series Mancuso FBI and again in 2000 for his guest star role in Malcolm in the Middle. Other TV credits include T.H.E. Cat, The Untouchables, Columbo, Gunsmoke, Voyage to the Bottom of the Sea, The Big Valley, Rawhide, Little House on the Prairie and Starsky and Hutch, among numerous others. Mr. Loggia, who broke into the entertainment business performing in stage plays in New York, is survived by his widow Audrey, three children, and a stepchild. - Variety, 12/4/15...... Actor Martin E. Brooks, best known for his role as scientist Dr. Rudy Wells on the 1970s series The Six Million Dollar Man and its spinoff, The Bionic Woman, died of natural causes on Dec. 7 after a brief hospitalization in Los Angeles. He was 90. His other credits included The Philco Television Playhouse in the 1950s, Combat! in the 1960s and Knots Landing in the 1990s. He also played Dr. Arthur Bradshaw on the ABC daytime serial General Hospital. - AP, 12/7/15.
Elton John's next album, titled Crazy Wonderful Night, is due Feb. 5 via Island Records. Described as an "up" record with "lots of 12-string guitars" that gives a nod to his mid-Seventies classics, the LP was banged out in L.A. by John and his touring band in just 17 days, with T Bone Burnett producing. "I think he felt there's enough pain and suffering in the world without contributing to it," says Elton's songwriting partner, Bernie Taupin. "I wanted to write things that were really hook-driven. It was an adventure we hadn't investigated since the loud, brash pop rock of our mid-1970s albums." T Bone Burnett says during recording John stuck to his tradition of composing music to Taupin's lyrics in the studio, without ever seeing the lyrics before or coming up with a single note of music. "It's crazy to watch," says Burnett. "It's the same improvisational courage that (Bob) Dylan used for Highway 61 Revisited." John says he took the record to Island after his former label, Capitol, refused to release the album and dropped him from the label. But he says Island is enthused about the project and "I can ask for no more." "I follow the charts and I know everything about this business... I'm not expecting to sell a million records," Elton says. Taupin adds that he and John feel compelled to put new music out, whether it sells or not. "You can be Billy Joel and stop making records, but if you have that drive and passion, you're going to do it whether it sells or not. It's there inside of you, and if you don't get it out you're going to explode." - Rolling Stone, 12/3/15.
The father of Raju Patel, a movie producer and deceased friend of Michael Jackson, is suing the Jackson estate after it refused to provide him with home video footage or music rights for a planned Jackson tribute film called Messages to Michael. Sharad Chandra Patel filed the suit on Dec. 3 in Los Angeles Superior Court to enforce a creditor's claim that was rejected by the Jackson estate. Patel alleges his son, who died of cancer in 2005, had a film company with Jackson called Neverland Entertainment and that a 2002 contract provides that all proceeds from their films will be split 50-50. After Jackson's 2003 child molestation scandal subsided, the singer is said to have wanted to make a film dedicated to the millions of fans who also stood by him during the controversy, and a 2005 contract signed three months before Raju died provided that Raju and Jackson would make Messages to Michael, "a tribute to Michael and his loyal fans." Ever since Jackson died in 2009, Sharad has been trying to get access to Jackson's music and personal effects in order to make the film but has been shut out by estate executors John Branca and John McClain. "Branca and McClain have disregarded the terms of the agreement, as well as Michael's wishes for his fans, because [they] are simply motivated by the biggest payday," the lawsuit reads, then refers to the Sony-produced 2010 Jackson documentary film This Is It, in which they allege the estate collected "a 90 percent share of the film profits." - Billboard, 12/3/15......
Pink Floyd will be coming out with a limited-edition (1,000 copies) EP of their earliest recordings, including songs composed by band cofounders Syd Barrett and Roger Waters. The late '60s songs originally appeared on two seven-inch singles and will feature four compositions by the late Barrett, "Lucy Leave," "Double O Bo," "Remember Me" and "Butterfly," along with Waters' "Walk With Me Sydney" and a Slim Harpo remake, "I'm a King Bee." The band says they also "hope to make them available in some physical form towards the end of 2016." - Rolling Stone/NME, 12/3/15...... Barbra Streisand has signed on to direct the story of one of history's most powerful women, Russian empress Catherine the Great. The planned movie is said to have one of the industry's best unproduced screenplays, by Kristina Lauren Anderson, and is being produced by Gil Netter. Catherine the Great took power after her husband was assassinated and ruled from 1762 to 1796, in the process reinvigorating the Russian empire and growing it in size and power. The film will be Streisand's first time in the director's chair for a dramatic movie since 1996's The Mirror Has Two Faces. - Billboard, 12/3/15...... Lionel Richie has confirmed he'll be collaborating with red hot pop singer Adele for an upcoming project, saying it's "almost in the works." The rumors began after a video mash-up of Richie's hit "Hello" and Adele's current smash of the same name was posted and went viral. Responding to the video, Richie took to Instagram to post a screenshot from his video next to one from Adele's, writing: "HELLO @adele is it me you're looking for... #hello." Richie then told E! News that "we are going to be doing something together" after Adele finishes promoting and touring behind her latest LP, 25. "Her mission is [to] get her record out and go on tour, so until she finishes that cycle, that won't happen just yet. She is committed to that," he said. The album, which was released in November, has broken records in the US and UK for the fastest million-selling record ever. - New Musical Express, 12/2/15......

Former Creedence Clearwater Revival frontman John Fogerty has been added to the lineup of artists participating in the upcoming John Lennon tribute concert commemorating the late Beatles member's 75th birthday. To be aired on the AMC channel on Dec. 19 at 9:00 p.m. EST, Imagine: John Lennon 75th Birthday Concert will also feature Eric Church, Sheryl Crow and Juanes, among many others, and include special video features from Paul McCartney and Ringo Starr. Actor Kevin Bacon will host. - Billboard, 12/2/15...... In an interview with the UK publication GQ, Keith Richards dissed his Rolling Stones bandmate Mick Jagger's solo albums and said he's never listened to them. "They had something to do with ego. He really had nothing to say," said Richards, who just released his first solo effort in over 20 years, Crosseyed Heart. "What did he have, two albums? She's the Boss and Primitive Cool?" asked Richards (Jagger also released Wandering Spirit in 1993 and Goddess in the Doorway in 2001). When the interviewer told Richards he'd never listened to Jagger's solo material, Richards replied: "Nor have I. I'll leave it at that." He added that he would "never make records as a way of being famous or making a statement... I just want to make good records with good musicians, to play with the best and learn." - NME, 12/1/15......Eagles principals Don Henley and Glenn Frey have just settled a federal lawsuit they brought against a New York man they accused of peddling bootleg recordings of their concerts. Henley and Frey sent a cease-and-desist letter to Bill Shelley when they learned the Avon Theater in Connecticut was advertising an October 2014 show called Legends of Rock Live: The Eagles: 1976 Tour with concert footage from Shelley's film vault. Although Shelley's lawyer claims his client canceled the movie showing, he says Henley and Frey sued him anyway. But now both sides have apparently settled the lawsuit, with a permanent injunction barring Shelley from showing any recordings of the group and a financial compensation, the terms of which were not disclosed. - AP, 11/28/15......

Kinks frontman Ray Davies, who released his autobiography Americana: The Kinks, the Riff, the Road: The Story, in 2013, says he's also readying a new solo album also called Americana and that it will be a nod to his boyhood obsession with American music." I had a book out year and a half ago called Americana and there are 100 some songs with that I need to start recording," Davies recently told Billboard. "And I've been fact-checking this musical called 'Sunny Afternoon' that's become a hit in the West End, so that took a year out. The last few years have been dedicated to that. But there is music coming," he added. Davies blamed the infamous touring ban placed on the Kinks in the US for four years in the '60s for causing the band to fall off the radar then: "It was a struggle coming to America because we were embroiled in management disputes, but without touring we would have gone broke. Thankfully we restored our image and we able to tour again, although it was a long climb back, as my book Americana illustrates." As for a possible Kinks reunion (his brother Dave Davies has said he's open to one), Ray responded that it could happen "if we make it relevant to new music." "Not saying we need a new album, but it's got to relate to new music. Because it's impossible just to do the hits. I like playing the hits, I just did a solo tour, but when the Kinks get back together, I need to be inspired to write new material," he explained. - Billboard, 12/1/15...... Punk poetess Patti Smith is among the 12 women who have posed for photos that are included in the 2016 Pirelli Tires calendar. First launched in 1964, the calendar has become a highly coveted annual of who's who among powerhouse models and photographers, and the 2016 calendar also features women's tennis champion Serena Williams and a topless shot of comedian/actress Amy Schumer. In addition to the portraits, all shot in black and white by Annie Leibovitz, the calendar also features paragraphs about each woman's contributions and accomplishments. - Billboard, 11/30/15...... Aerosmith frontman Steven Tyler model/actress daughter Liv Tyler confirmed she plans to wed her partner Dave Gardner in an Instagram post on Nov. 30. "Crazy about my man!!!!!" sweet sweet daddy , friend , fiance "thank you !!!!!! Grateful" pic.twitter.com/rkfzjpLDnJ," posted Tyler, who was previously married to rocker Royston Langdon, the father of her 10-year-old son, Milo. Gardner, the sports agent pal of soccer great David Beckham, reportedly proposed to Tyler in Dec. 2014, while she was pregnant with Sailor Gene, their first child together. - WENN.com, 11/30/15......
All six of the classic comedy albums released by comedian Richard Pryor on the Warner Bros. Records label -- from 1974's That Nigger's Crazy to 1983's Here and Now -- are now available for digital download and on streaming services including Spotify and YouTube to commemorate what would have been his 75th birthday. "I am thrilled to celebrate Richard's upcoming 75th birthday with this great news. A wonderful gift to his fans, old and new alike," said Pryor's widow, Jennifer Lee Pryor. Her late husband would have turned 75 on Dec. 1. Fans can buy a digital bundle of all the albums or a best-of compilation called The Anthology: 1968-1992 that includes stand-up from his non-Warner Bros. releases. The tenth anniversary of Pryor's death is also coming up -- the controversial comedian died of a heart attack on Dec. 10, 2005. - Billboard, 11/30/15...... Quintessential "King of Cool" and the '70s The Dean Martin Show star Dean Martin will take the stage in 2016 thanks to Hologram USA, the company that produces lifelike hologram performances. Martin's national tour will kick off, unsurprisingly, in Las Vegas. Co-produced by FilmOn TV Networks, the performances will be distributed online via FilmOn.com. "(Dean) owned Vegas like no other entertainer, and is the definition of elegance and cool," says Hologram USA CEO Alki David. "It's a distinct pleasure to work with Laura Lizer and the estate to ensure we deliver Dean Martin with the utmost authenticity." The company has also announced plans to create hologram shows of such artists as Billie Holiday, Bing Crosby and Whitney Houston, among others. - Billboard, 12/2/15.
Early copies of the Beatles' "White Album" that were stamped with their own serial numbers on the cover have become highly sought after collectors items, and in 2008 copy with No. 0000005 stamped on it sold at an auction for a little less than $30,000. Now Ringo Starr has announced the first ever copy of the album will be sold in a Julien's auction on Dec. 3-5 that will benefit the Lotus Foundation, which was founded by Starr and his wife, Barbara Bach. The four Beatles were presented with the first four copies, and No. 0000001 was rumoured to have been given to John Lennon who, according to Paul McCartney, "shouted the loudest" for it when the band decided to have the copies numbered. Julien's Auctions, which is based in Beverly Hills, estimates the LP will sell for up to $60,000. - New Musical Express, 11/24/15......
In other Fab Four news, Paul McCartney has written a letter to British Prime Minister David Cameron in support of a "Meat-Free Mondays" campaign in the UK, as Cameron prepares to attend the Paris Climate Change Conference which begins on Nov. 30. McCartney, along with his wife and the rest of his family, are encouraging the implementation of Meat Free Mondays at schools, universities and government buildings, as well as involving restaurants and private businesses. The McCartneys contend that developed countries can reduce their carbon footprint by 2% overnight if everyone cuts out meat consumption one day a week, as well as talking about health benefits. "If you heard that meat production was one of the biggest contributors to greenhouse gases in our atmosphere, what would you do? Would you just ignore that fact, or would you want to do something and want to find a solution?," Sir Paul asks in a video he released that accompanies his letter. Meanwhile, artists including David Bowie, Björk, Robert Plant, David Gilmour, Radiohead, Iggy Pop and Coldplay have written an open letter to negotiators attending the Paris climate summit to secure a "ambitious" deal to "come together and intensify our efforts" against climate change. In a petition which accompanies the letter, the musicians call the summit an "historic opportunity... to give us confidence in a sustainable future, to share our ambition, and recognize our capacity to strengthen your leadership." - NME, 11/27/15...... As Bruce Springsteen prepares for a deluxe reissue of his 1980 double LP The River on Dec. 4, cable TV's HBO channel premiered a documentary included in the set, The Ties That Bind about The River, on Nov. 27. Directed by Thom Zimny, the 60-minute film features interviews with the Boss and acoustic versions of tracks like "The River" and "Two Hearts." The lavish The Ties That Bind: The River Collection boxset also includes the original album and features outtakes and demos from The River sessions recorded between 1979 and 1980. Dubbed The River: Single Album, it includes 10 previously unreleased tracks he recorded in 1979 as a follow up to 1978's Darkness On The Edge Of Town. The Ties That Bind follows a similar box-set treatment for Darkness in 2010. - New Musical Express, 11/24/15......

'70s artists James Taylor and Barbra Streisand were among 17 Americans honored with the Presidential Medal of Freedom, the USA's highest civilian award, at The White House on Nov. 24. "Off the stage, [Streisand has] been a passionate advocate for issues like heart disease and women's equality," Pres. Barack Obama said in his opening statement. "I'm getting all verklempt just thinking about it," the president joked in Yiddish, referencing the SNL skit "Coffee Talk." "You always feel like he's singing only to you," Pres. Obama said about Taylor. "That's why he's become one of the driving forces of the singer-songwriter movement." The president also recognized director Steven Spielberg, composer Stephen Sondheim, violinist Itzhak Perlman and baseball legends Willie Mays and Yogi Berra, among others. "Today we celebrate some extraordinary people: innovators, artists and leaders who contribute to America's strength as a nation," he told reporters before handing out the medals. - WENN.com, 11/24/15...... Speaking of James Taylor, the "Fire and Rain" singer performed "La Marseillaise," the French national anthem, on The Late Show With Stephen Colbert on Nov. 23. Taylor sang as the French flag appeared in the background. - Billboard, 11/24/15...... Carly Simon appeared on CBS's The Late Show on Nov. 24 for a duet with host Stephen Colbert of what she admitted was her favorite song, Inez and Charlie Foxx's hit "Mockingbird," which she and former husband James Taylor famously covered in 1973. The pair deliverd a surprisingly good off-the-cuff rendition as Simon sang lead and Colbert harmonized on the Taylor parts. Later in the show, Simon performed "I Can't Thank You Enough" with her son Ben Taylor, a track from her new album Songs From The Trees (A Musical Memoir), which has just been released along with her accompanying memoir, Boys in the Trees. - Billboard, 11/25/15......

Former Commodores singer/songwriter Lionel Richie has announced details of a UK arena tour that will take place in 2016. Richie will play three dates in total beginning at the Manchester Arena on June 28, then follow with two nights at London's O2 Arena on July 2 and 3. This summer, the "Dancing on the Ceiling" singer boosted his popularity in England by performing before over 100,000 people at the Glastonbury music festival." I can't wait to return to the UK to see my fans," said Richie. "It's always been a really special place for me and this year in particular the UK has been incredible to me." - NME, 11/26/15...... In a new interview on Nov. 24, Jimmy Page reaffirmed that he will be starting work on his first solo album in nearly 30 years in 2016. "Next year I'm just going to be working on the guitar. It's time for me to go out there and do a solo album. My last solo album was 1988. I haven't really milked the situation. It's time to do another one. I'm known for playing many styles of guitar, and I need to revisit all the different styles I can play," he said. Page added that he's "not thinking about singers, I'm thinking of an instrumental thing." "I want to work with my strengths rather than my weaknesses. I want to work with myself, I want to get myself up and running and once I'm ready, I'll think about whether I need someone to sing on the music," he explained. His last proper solo effort, 1988's Outrider, featured several guest singers performing over his songs, including his former bandmate, Robert Plant. He has also released collaborative albums with Whitesnake singer David Coverdale and Plant. - Billboard, 11/24/15...... The Fox TV network has released the first promo for its upcoming live televised musical based on the hit 1978 movie Grease. Set for Jan. 31 from 7:00-10:00 p.m., Grease: Live will star Aaron Tveit as Danny Zuko and Julianne Hough as Sandy, and features a new version of the Barry Gibb's "Grease (Is the Word)" that was featured in the opening title sequence of the 1978 film starring John Travolta and Olivia Newton-John. - The Hollywood Reporter, 11/24/15...... In related news, a musical inspired by the legendary Motown studio in Detroit will be returning to Broadway next summer. "Motown the Musical" will return to New York starting July 2016 for an 18-week stand, before touring earlier in the year in several southern states, as well as Ohio and Wisconsin. It also plays the Shaftesbury Theatre in London's West End in February. In a press conference on Nov. 23, Motown Records founder Berry Gordy said that the musical that tells the story of how the record label rose and fell and then rose again has been "tweaked" on the road and "gotten tighter and tighter." The show first began performances in March 2013 at the Lunt Fontanne Theatre and closed this January after over 700 performances, routinely breaking $1 million a week at the box office. - AP, 11/24/15......

Trumpeter Cynthia Robinson, who helped Sly and the Family Stone craft its own unique sound of funk and soul in the late '60s and early '70s, passed away on Nov. 23 after a battle with cancer. She was 69. Robinson, who was also a co-founder of Sly Stone's band, was one of the first female black trumpeters to gain notoriety in a major recording act, and was the first female trumpet player and the first African-American trumpet player inducted into Rock and Roll Hall of Fame, along with Stone and the other bandmembers, in 1993. Robinson first hooked up with Sly in 1966 in an early incarnation of the band, Sly and the Stoners, and stayed on board as Stone crafted the pop/rock/R&B synthesis that became the Family Stone. After the Family Stone disbanded in 1975, Robinson went on to lend her talents and perform with other great stage acts such as George Clinton and Prince until cancer diagnosis was announced in October on her Facebook page. Robinson also announced that she was establishing the Cynthia Robinson Cancer Care Fund, which is remaining active "in her memory," according to her Facebook page. The Sacramento-born musician is survived by her two daughters, Laura Marie and Sylvyette Phunne. - Billboard, 11/24/15.
The Recording Academy announced on Nov. 19 that it will be inducting 26 recordings into its Grammy Hall of Fame in 2016, including Fleetwood Mac's self-titled 1975 album, Bob Dylan and The Band's The Basement Tapes, the Grateful Dead's 1970 classic American Beauty, and Roberta Flack's First Take. Singles making the cut include Blondie's "Heart of Glass," Joan Jett & The Blackhearts' "I Love Rock N' Roll," The Zombies' "She's Not There," Joe Cocker's "You Are So Beautiful," and Jimmy Buffett's "Margaritaville." "These works have influenced and inspired music fans for generations and we are proud to induct them into our catalogue of distinguished recordings," said NARAS president Neil Portnow in a statement. In order to be eligible for induction, recordings must be at least 25 years old and are chosen for their "historical and cultural significance." - New Musical Express, 11/19/15......
A glowing review by entertainer James Wright about Patti LaBelle's signature brand of sweet potato pies has racked up about 10 million YouTube views since it was posted on Nov. 11, causing retail giant Walmart to announced they were selling LaBelle's pies at the "rate of one per second during the 72 hour period from Thursday through Saturday." Demand is such it also appears many are buying the pies from Walmart and reselling them on eBay and Craigslist for much more than the $3.50 price tag. But the "Lady Marmalade" singer isn't too quick to give credit directly to Wright for helping her pies reach a wide new audience. "I was selling out before the guy did his wonderful video," LaBelle told TMZ.com when approached about Wright's video. The video testimonial has also reportedly inspired at least one online amateur guitarist to write a musical accompianiment. - Billboard, 11/20/15...... In other viral net news, a tweet from Aaron Carter went viral on Nov. 22 after the rising young pop star claimed that Michael Jackson "passed down the torch" to him before the King of Pop passed away in 2009. In his series of seemingly unprompted tweets, Carter also said that he and Jackson were "connected" because they were "the only ones of [their] kind." Carter has since deleted his original tweet, which read "Remember one very important thing...Michael passed down the torch to me...I never had to ask for him to do that," but continues to defend his point vehemently in a series of tweets that are still live. In a longer statement, Carter spoke directly to the people making off-color jokes in response, saying, "Passing down the torch was exactly what he did, and being there for people and loving one another." - Billboard, 11/23/15...... Veteran heavy metal frontman Lemmy Kilmister of the band Motörhead has spoken out about the recent terrorist attacks in Paris, and said he and his band would have played the same Bataclan venue where dozens of innocent music fans were slaughtered "the next day" after the attack as an act of defiance. "Those people are so dumb. What for? Do you think it's gonna be a heroic thing to kill innocent people? Assholes. Cowards," Kilmister told a German rock outlet. "I would have gone on the day after," he continued. "If they [the terrorists] stop you, then they win. And they're not going to beat me. I mean, I do what I'm supposed to do. If the police cancel [the show for us], I can't do [anything] about that. But we didn't cancel it." - NME, 11/23/15......
Jimmy Page joined such musicians as his pal Paul Rodgers of Bad Company, Duff McKagan formerly of Guns N' Roses, and Alice In Chains singer William Duvell for a rendition of the classic Led Zeppelin track "Rock and Roll" during a Led Zepp tribute concert at Seattle's Experience Music Project Museum on Nov. 19. It was part of a benefit show of Zeppelin covers performed by a host of musicians that also included Nirvana bassist Krist Novoselic, Soundgarden's Kim Thayil, Cheap Trick's Rick Nielsen and ex-Screaming Trees drummer Barrett Martin. Page also picked up the Experience Music Project Founders Award at the ceremony which also saw the likes of "Immigrant Song," "Communication Breakdown" and "Dazed And Confused" performed. Earlier in 2015, Page said he planned on pursuing a "new project" outside his classic former band after completing the reissues of Led Zeppelin's final three albums, which he accomplished this year. - NME, 11/20/15...... Frank Zappa's son Dweezil Zappa is set to release Via Zammata, his first new solo album in nearly a decade, on Nov. 27. "This record is a chance to take what I've learned over the past decade of learning my dad's music and playing it live and applying some of those elements to my own music -- but I didn't want to do it in a way that made the music seem like just a derivative of my dad's music," Zappa says. "I wanted to simplify a lot of the music and just make a collection of songs that seemed like they would be fun to listen to. I wanted to make each song have its own sonic fingerprint, a different production or sonic landscape for each song, so it kind of goes into different musical genres -- sometimes all together," he adds. The LP also features a track called "Dragon Master," which Zappa wrote from a set of fantastical lyrics his late dad gave to him. Zappa is planning a short solo tour early in 2016 behind the new set, and he'll also be part of the Experience Hendrix Tour kicking off in late Feb. 2016. "It's going to be a '50 Years of Frank' kind of thing... It's really insane to think about his first record coming out 50 years ago, so I want it to be something special," Dweezil says. - Billboard, 11/20/15...... '70s artists the Grateful Dead and Bob Seger were among the honorees at the 12th Annual Billboard Touring Awards on Nov. 19 at NYC's Roosevelt Hotel. The GD took the Top Boxscore Award for their "Fare Thee Well" shows at Chicago's Soldier Field on July 3-5, while Seger was named the 2015 Legend of Live recipient for his significant impact on the touring industry. The Detroit rocker was clearly touched when he received the award, and used it as an opportunity to thank promoters and others that he said he otherwise never gets the chance to acknowledge. "This is a wonderful chance to say thank you to people," he said. - Billboard, 11/20/15......

As Fleetwood Mac prepares to release a deluxe reissue of its risk-taking 1979 classic double-LP Tusk on Dec. 4, guitarist/vocalist Lindsey Buckingham says "the conventional wisdom was, 'You blew it'" when its sales fell far short of its predecessor, 1977's Rumours. "A lot of people were pissed off at me for that," he recalled with a laugh. But Buckingham said he had a good reason for not doing a "Rumours 2." "We really were poised to make Rumours 2, and that could've been the beginning of kind of painting yourself into a corner in terms of living up to the labels that were being placed on you as a band," he said. "You know, there have been several occasions during the course of Fleetwood Mac over the years where we've had to undermine whatever the business axioms might be to sort of keep aspiring as an artist in the long term, and the Tusk album was one of those times," he added. - Billboard, 11/19/15...... James Taylor appeared on Stephen Colbert late night CBS talk show on Nov. 18, and Colbert joined in with Taylor for a completely serious duet with Taylor's classic "You Can Close Your Eyes." "Something that I never anticipated when I started doing this kind of thing, is that I might be able to do the thing I'm about to do -- sing a song with James Taylor," Colbert said before singing. Clearly thrilled, he took the lead on the song (an audience request) as Taylor added harmonies and accompanied on guitar. - Billboard, 11/19/15...... In related news, Jeff Lynne's ELO performed on Jimmy Fallon's The Tonight Show the same evening, with Lynne performing his new track "When I Was a Boy" as well as the ELO classic "Mr. Blue Sky." "When I Was a Boy" is included on Jeff Lynne's ELO's just released album, Alone in the Universe. - New Musical Express, 11/19/15...... Veteran acting couple Kurt Russell and Goldie Hawn are planning on finally getting married after being a couple for 30 years, according to the U.K. tabloid The Daily Express. The Hollywood stars, who met in 1983, will reportedly exchange vows in a ceremony at their ranch near Aspen, Col. in the New Year. "It's going to be cowboy hats, horses and rock 'n' roll," a friend of the couple said. "All their relatives are thrilled that they have at last decided to tie the knot." Hawn, who recently celebrated her 70th birthday, has previously said, "Kurt and I are deeply in love, so why risk ruining something wonderful by getting hitched?" A representative for the couple has yet to comment on the wedding report. - WENN.com, 11/23/15......
The movie industry website TheTrackingBoard is reporting that the long-delayed biopic about legendary Queen frontman Freddie Mercury will start shooting in the summer of 2016, pending a full rewrite from Oscar-nominated screenwriter Anthony McCarten (Theory of Everything). The project had been thought to have been shelved after Sacha Baron-Cohen left the project in 2013, citing "creative differences." The rumored successor to play Mercury is Ben Whishaw, who also appears in the new James Bond flick, Spectre. The roles of Roger Taylor and Mary Austin have also reportedly been filled with Johnny Flynn and Gemma Arterton, respectively. - Billboard, 11/19/15...... More juicy tidbits from Carly Simon's promotional tour for her new top-selling book Boys in the Trees are leaking out, including a new People interview in which Carly revealed she had sexual encounters at the age of 7. The singer said she got involved with a family friend when she was just a 7-year-old kid. At the time, the boy was a teenager, and she believes her mother found out about the secret because the boy was banned from the house for one summer. "It was heinous," she said. "It changed my view about sex for a long time." Simon also revealed recently that one of the verses in her classic hit "You're So Vain" was about one of her former boyfriends, Warren Beatty. - HuffingtonPost.com, 11/19/15...... Jim Perry, a top TV game-show host in the 1970s and '80s who moderated such programs as Card Sharks and Sale of the Century, died in Oregon on Nov. 20 after a five-year battle with cancer. He was 82. In 1978, the dapper Mr. Perry started as host of Card Sharks, beginning his long-standing relationship with NBC. He hosted a version of the game show and the two pilots that preceded it from April 24, 1978, until Oct. 23, 1981. NBC then named Perry as the host of a revamped edition of Sale of the Century in 1982. That show aired for six years and spun off into a nightly syndicated version, which saw Perry doing double-duty as the host of both shows. Survivors include his wife of 56 years, June, a former model; their children Sean and Erin; and three grandchildren. - The Hollywood Reporter, 11/20/15.
In an interview with DigitalSpy.com, former Pink Floyd principal Roger Waters revealed he plans to release his fourth solo album sometime in 2016, his first new studio effort in 24 years. "I'm in the middle of making it now," said Waters, who added that the LP is a concept album involving a granddad and his grandchild searching for certain answers. "Why are we killing the children? That's what it's about," he said. Waters said some of the songs are brand new, while others are from as far back as 15 years ago, and that he will likely tour behind the album. "I'm toying with the idea of trying to make this thing into an arena show," he said. Meanwhile, on Nov. 20 Waters will release Roger Waters: The Wall, a live album from his time spent touring Pink Floyd's The Wall as a solo artist. Waters says a stage version of The Wall is also in the works. And he continues his charity work on behalf of U.S. military veterans who have been wounded in battle, recently co-headlining the Music Heals concert in Washington, D.C., with acts including Billy Corgan, Tom Morello and Sheryl Crow. - New Musical Express, 11/14/15...... '70s artists Barbra Streisand and James Taylor will be among the honorees of the Presidential Medal of Freedom during a ceremony at the White House in Washington, D.C., on Nov. 24, the administration of Pres. Barack Obama announced on Nov. 16. Other notables to be honored with the medal that evening, among a group of 17, include Gloria Estefan, composer Stephen Sondheim, and conductor Itzhak Perlman. - The Hollywood Reporter, 11/16/15......
After many years of speculation about who is the self-involved paramour sung about by Carly Simon in her No. 1 1972 hit single "You're So Vain," Simon has revealed in a new interview with People magazine that the subject of at least one of the verses is actor Warren Beatty, whom she dated in the early 1970s. "I have confirmed that the second verse is Warren," adding, "Warren thinks the whole thing is about him!" The verse, which begins "You had me several years ago when I was still quite naive," and ends with "I had some dreams, they were clouds in my coffee, Clouds in my coffee," is the second verse of the classic getting-even song, about which Simon has teased the public with clues of its subject over the years. In 2004, she told talk show host Regis Philbin that the man's name contained the letters "A," "E" and "R." That includes Beatty, but also some of Simon's other exes like James Taylor, to whom she was married for 11 years, and "You're So Vain" background vocalist Mick Jagger. Warren Beatty has long maintained that the song is definitely about him. Simon spoke to People ahead of her forthcoming memoir, Boys in the Trees, which is due on Nov 24. When People asked the singer if she will ever divulge who the other verses are about, she said, "I don't think so, at least until they know it's about them." But, as the song goes, they probably already think it's about them. - Billboard, 11/18/15...... Rolling Stones guitarist Keith Richards has joined such music stars as Justin Beiber in posting a moving tribute to niversal's international project manager for Mercury Records Thomas Ayad, who was among the victims of the Paris terrorist attacks on Nov. 13. "My heartfelt condolences go out to the family and friends of Thomas Ayad. Words cannot express the horror of what happened in Paris. I am horrified by the tragic events that took place in Paris last Friday night," Richards tweeted on Nov. 16. Thomas Ayad was at the Bataclan theater during the Eagles of Death Metal concert, where gunmen took hostages and killed 89 people inside the venue as part of a coordinated attack across the city. Meanwhile, Richards has just revealed the video for the latest single from his new solo LP, Crosseyed Heart. Titled "Long Overdue," the single is from the guitarist's first solo effort in over 20 years. - Billboard/NME, 11/18/15...... In other Paris attack news, Cher has weighed in on the tragic events of Nov. 13, expressing her anger that ISIS murdered innocents who were "free" and "loving life" while enjoying life's pleasures. "Ppl Say Isis Attack Was SO WELL PLANNED,But They Had AK47's &Attacked Innocent ppl Who Were FREE,--ING LIFE-- A--Party,Dinner--Music-- Sports--," the she posted on Nov. 17. The diva also called out Pres. Barack Obama, the U.S. congress, and several GOP 2016 presidential candidates. "If we r forced 2fight Isis,I -- NO gop Candidate is POTUS.It Would b like the Dumb leading the Arrogant,leading the Insane Neocons? Deya Vu," she tweeted a day earlier. Cher, 69, also shared her love for Paris, writing that the City of Light is a "Rare Gem" where she spent many of her happiest moments, and offered a message of hope: "EVIL IS NOT SUPREME AND GOOD IS NOT HELPLESS... Good nite Beloved Paris---- You are Strong & You will Survive--you r the city of Light," she wrote. - Billboard, 11/17/15...... In related news, a 34-year-old amateur pianist named David Martello made several TV news reports about the attack after he embarked on a 400-mile trip to perform the iconic John Lennon song about peace and unity, "Imagine," in front of the Le Bataclan theater on a portable piano attached to a bicycle. Martello, who performs under the name Klavierkunst, made the trip after hearing the news on TV in a pub in Germany. Martello also performed at the site of the Charlie Hebdo attacks in Jan. 2015, and his website says he plans on "playing in every capital of the world" with his portable grand piano. Also, the popular rock band Coldplay opened their concert in Los Angeles on Nov. 13 with a cover of Lennon's "Imagine" in tribute to those who lost their lives in the attack. - NME, 11/15/15...... In other Beatles-related news, Ringo Starr is planning an auction of over 1,200 personal items from his and wife Barbara Bach's residences in London, Beverly Hills and Monaco on Dec. 4 and 5. The Julien's Live online auction will feature drums and guitars from throughout the Rock and Roll Hall of Famer's career, from the Beatles to the All-Starr Band as well as memorabilia from the Fab Four era and "custom-made eclectic furnishings, fine art and personal items." One of the most interesting items is Ringo's 1963 Ludwig Oyster Black Pearl three-piece drum kit, which was used for the Beatles' live performances from May 1963 to February 1964, as well as on the recordings of such hits as "I Want to Hold Your Hand," "She Loves You," and "Can't Buy Me Love." The kit is expected to fetch anywhere between $300K-$500K. - Rolling Stone, 11/13/15...... On Perfectamundo, his first-ever solo outing, ZZ Top's Billy Gibbons marries his BFG band's bedrock Texas blues boogie with more recent obsessions, most prominently Afro-Cuban rhythms. It's the sound of a Havana moon shining down on Rio Grande mud. Gibbons' musical anthropology is loving and loose, with nods to hip-hop and funk (the "Legs" callback "You're What's Happenin' Baby"), Stones-y rock & roll (on Piedras Negras") and Sixties soul (a tight slide through Roy Head's 1965 hit "Treat Her Right"). It doesn't all come together seamlessly. But the same rumbling gravitas that fired Eliminator keeps things flowing. - Rolling Stone, 11/19/15......


The pre-history of Van Halen, which began in 1973 in Pasadena, Calif., when a cover band called Mammoth started by two Dutch immigrant brothers hired a wealthy doctor's son to be their singer after they became tired of paying him $35 a show to use his PA system, is usually glossed over in accounts of the band. But in Van Halen Rising: How a Southern California Backyard Party Band Saved Heavy Metal, author Greg Renoff devotes an entire book to it. It's the tale of hardworking kids with nothing in common learning to fuse pop and heavy metal into a new sound that completely changed the music world. It also vividly shows that the personality clashes that would later destroy the band were there from Day One. - Rolling Stone, 11/19/15...... No single person "invented" rock & roll. But it's hard to imagine how it could've happened without Sun Records visionary Sam Phillips. Elvis Presley biographer Peter Guralnick's rigorously researched new book Sam Phillips: The Man Who Invented Rock 'n' Roll tells the story of a Southern white businessman who enabled the careers of epochal artists, black and white -- including Elvis, B.B. King, Johnny Cash, Howlin' Wolf, Ike Turner, Jerry Lee Lewis and Carl Perkins. This definitive work maintains the high standard of Guralnick's other books, and as his lifelong devotion has shown, he's a true believer in rock & roll. You may come away born again too. - Rolling Stone, 11/19/15...... The SiriusXM satellite radio network announced on Nov. 17 that Tom Petty will be getting his how Sirius station beginning on Nov. 20 at 6 p.m. EST. Petty will curating choice cuts of rock, rhythm and blues, as well as play unreleased studio and live recordings and unique cover cuts by his bands the Heartbreakers, Mudcrutch and the Traveling Wilburys. Petty has already been hosting a weekly show with Sirius called Tom Petty's Buried Treasure for nine seasons, which will continue on with new and archival episodes on his new station, dubbed Tom Petty Radio. - Billboard, 11/17/15...... Songwriter Roger Nichols, who penned the sentimental 1975 Paul Anka hit "Times of Your Life," filed a complaint in a California federal court on Nov. 17 alleging that the conservative Super PAC Club for Growth misappropriated his song in a commercial targeting Democratic Wisconsin senatorial candidate Russ Feingold. "The use was particularly egregious because the Club, acting out of its desire to draw attention to its political agenda, utilized the Composition -- a sweet and melancholy song about cherishing the moments of one's life -- to make a derivative work that was a bitter attack advertisement," the complaint reads, adding that Club for Growth "made a distinctive effort to draw an association... by using a singer that was clearly impersonating the style of Paul Anka... to mimic the original recording." The complaint adds: "Nichols does not want his work or reputation to be associated with the Club for Growth, Donald Trump, or any controversial political or social views associated with them or their supporters." In relevant legal precedent, a judge previously ruled that satirical lyrics on top of familiar music for a campaign ad was not covered by fair use in Don Henley's lawsuit against California senatorial candidate Chuck DeVore. Given that Nichols' lawsuit a complaint over an audiovisual commercial rather than a campaign rally (like what Trump recently faced), legal experts say Nichols potentially has an easier road ahead. The commercial was posted on YouTube, aired on broadcast and cable, and was published on Politico.com and other media outlets, according to the complaint. As for the nostalgic song, "Times of Your Life" was originally commissioned by Kodak for use in their Paul Anka-sung commercial, and was most recently used by AMC for the series finale trailer of Mad Men. The song became a No. 30 hit for Anka on the pop hit parade in November 1975. - The Hollywood Reporter, 11/17/15......
Although Rush may have performed their final major tour when their R40 tour wrapped earlier in 2015 due to ailments suffered by guitarist Alex Lifeson and drummer Neil Pert, Lifeson says that speculation about the band's demise have been greatly exaggerated. "I don't think it is the end, and we never really said this is definitively our last tour. I think it's likely to be our last major tour, but we're still in contact, very close contact with each other, all three of us, and I don't think it's certainly the end of the band," he told Billboard on Nov. 16. "There are still lots of things we want to do. It's not to say that we wouldn't do something in the future on a smaller scale, and there's always the fun project of making a record, which we've all loved forever. Right now I think we're just kind of relaxing and taking it in and getting reconnected with our families and friends and more of a domestic life, and then we'll kinda sort of review it, I think, in the new year and see what we want to do," Lifeson added. As Rush is in hiatus, Peart is preparing for the Nov. 20 publication of Clockwork Lives, his second science-fiction novel co-written with Kevin Anderson, while Lifeson has been working on electronic music projects with his son and singer Tyler. - Billboard, 11/16/15...... Bruce Springsteen confirmed on Nov. 17 via Twitter that he and his E Street Band will take the Saturday Night Live stage for its Christmas episode, which will be broadcast on Dec. 19. "Mark your calendar... Bruce hits the @nbcsnl stage on December 19, hosted Tina Fey & Amy Poehler!," reads the post tweeted from his Twitter account. Also appearing on the Dec. 19 episode will be Chance the Rapper and Leon Bridges.- Billboard, 11/17/15...... Jimmy Buffett officially opened his new Margaritaville Beach Resort in Miami, Fla., on Nov. 14, a $150 million attraction that features nearly 350 rooms, eight bars and a spa. Buffett also treated his Parrotheads to a free concert at the city's iconic Bandshell later in the evening. The Bandshell, built in the 1970s, will feature local music several nights a week, but is now run by Margaritaville. The city of Miami contributed more than $20 million to the project and is hoping it will transform the area into a more sophisticated vacation escape with a Caribbean-themed vibe. - AP, 11/16/15...... David Bowie will premiere a 10-minute long single titled "?" (pronounced Blackstar) from his forthcoming album of the same name on the UK's Sky Atlantic network on Nov. 19 at 8.45 p.m. The single will be presented alongside a short video of the single, which is featured in the opening credits of the new Sky Atlantic drama The Last Panthers. "?" is the title track of Bowie's upcoming 25th studio album, which will be released on his 69th birthday (Jan. 8, 2016). - New Musical Express, 11/13/15...... Foreigner announced on Nov. 16 they will commence a 2016 summer tour of Europe and Israel at The Paladium in London on June 7. The show will be followed by dates at Tel Aviv's Caesarea Amphitheatre (6/14 and 15) BelgiumÕs Graspop (6/17), CologneÕs Tanzbrunnen (8/8), and many more during their 12-city trek. Tickets for the band's London concert go on sale Nov. 20 at 9 a.m. GMT on the LiveNation website. - Noble PR, 11/16/15...... Cable TV's CMT channel will honor country music veteran Kenny Rogers as Artist of a Lifetime during the CMT Artists of the Year awards show in Nashville, Tenn., on Dec. 2. Rogers, 77, recently announced his retirement from touring, saying he will do a final world tour in 2016 before retiring from the road so he can spend more time with his family. "When you start out in the business you don't think about awards, you think about survival," Rogers said. "And the longer you survive, you get an award for survival." The CMT awards show will air on CMT on Dec. 2 at 8 p.m. EST. - AP, 11/17/15...... Gary Glitter has lost his appeal against his child sex conviction in the U.K. In February, the "Rock and Roll Part 2" singer was jailed for 16 years after being found guilty of abuse offenses dating back to the '70s and '80s. According to the BBC, Glitter's legal team argued that the media's coverage made a fair trial impossible. However, judges said that there was nothing "unsafe" about the conviction. Glitter was sentenced for attempted rape, four counts of indecent assault and one of having sex with a girl under 13. Sentencing, Judge Alistair McCreath said that there was "no real evidence" that Glitter -- real name Paul Gadd -- had atoned for his crimes. Glitter, who denied all charges, was acquitted of three other counts in February. - NME, 11/17/15......
P.F. Sloan, an esteemed singer/songwriter who penned several hits in the '60s for such artists as The Turtles and Barry McGuire ("Eve of Destruction"), The Grass Roots ("Where Were You When I Needed You"), and Johnny Rivers ("Secret Agent Man"), succumbed to a battle with pancreatic cancer at his Los Angeles home on Nov. 15. He was 70. Sloan honed his talents during L.A.'s pop and rock explosion during the 1960s, and as a 12-year-old once asked Elvis Presley for a guitar lesson. Born Philip Gary Schlein, Sloan landed a deal at the tender age of 13 with Aladdin Records, and a year later released his debut single, "All I Want Is Loving." In 1965, his single "Sins of a Family" peaked at No. 87 on the Billboard Hot 100 singles chart. Sloan had recently published his memoir, What's Exactly The Matter With Me?, and his latest album was 2014's My Beethoven. - Billboard, 11/16/15...... Music promoter/producer/nightclub owner Gene Norman, best known for founding the record label GNP Crescendo and helping to bring some of the most renowned jazz artists of the 20th century to the West Coast, died on Nov. 2 at his home in Los Angeles. He was 93. Mr. Norman founded GNP Crescendo (its initials stand for "Gene Norman Presents"; Crescendo was the name of the nightclub Mr. Norman opened in Los Angeles) in 1954, and artists recorded by the label over the years include Louis Armstrong, Duke Ellington, Dizzy Gillespie, Lionel Hampton, Max Roach, George Shearing and Art Tatum....... Carol Doda, a legendary stripper who helped introduce topless entertainment in the U.S. more than 50 years ago, died on Nov. 9 in San Francisco of complications related to kidney failure. She was 78. Doda went topless in 1964 at Frisco's Condor Club and soon changed every nightspot on busy Broadway. She left the club in 1985 and later owned a lingerie store. Doda, known for her augmented bust, rode onto stage atop a piano on an elevator platform, debuting the same day Pres. Lyndon B. Johnson drew half a million people in a visit to San Francisco. It wasn't long before the big news in town was "The Girl on the Piano." An illuminated sign on the club in Doda's likeness later became a landmark. - AP, 11/12/15.
A live stream concert from Paris that was to feature such artists as Elton John, Duran Duran and others was suspended on the evening of Nov. 13 after Paris was rocked by several deadly terrorist attacks. To be hosted by former U.S. Vice President Al Gore, the broadcast was to feature musical performances from locations around the globe, from Rio de Janeiro to Miami, Sydney and Cape Town, with the aim of raising awareness about global warming a few weeks before world leaders gather for the COP 21 Paris climate summit opening Nov. 30. The three Paris attacks, which included a shooting at the Le Bataclan concert hall where the Eagles of Death Metal were performing, is officially the deadliest concert shooting of all time, with gunmen killing at least 118. Also, the band U2 canceled a planned concert in the Paris area on Nov. 14 in light of the attacks. "We are devastated at the loss of life at the Eagles of Death Metal concert and our thoughts and prayers are with the band and their fans," U2 posted on its official website. - AP, 11/13/15......
Olivia Newton-John has earned her first No. 1 on the Billboard Dance Club Songs Chart for the week ending Nov. 21 with her new single "You Have to Believe." The track, which features contributions from Dave Aude and Newton-John's daughter Chloe, is a reinterpretation of Olivia's 1980 Billboard Hot 100 No. 1 "Magic," from the film Xanadu, in which she starred. Newton-John's last hit came in 1992 with "I Need Love," which peaked at No. 44. - Billboard, 11/12/15...... The cable channel AMC has announced it will sponsor all-star concert celebrating the 75th anniversary of the birth of John Lennon on Dec. 5 at The Theater at Madison Square Garden in New York City. With performances by such artists as Peter Frampton, Steven Tyler, Sheryl Crow, Kris Kristofferson, Willie Nelson, Tom Morello and Eric Church, Imagine: The John Lennon 75th Birthday Concert will be taped and air exclusively on AMC on Dec. 19 at 9:00 p.m. ET/PT. More artists are expected to be announced later. Meanwhile, a 1962 J-160E Gibson acoustic guitar that Lennon played on such early Beatles songs as "P.S. I Love You" and "Love Me Do" sold for $2.41 million on Nov. 8 at a Julien's auction in California. The guitar had for decades been in the possession of John McCaw, a novice musician who bought it in the late 1960s without knowing it had been stolen from the legendary Beatle several years before. Half of the proceeds from the sale of the guitar, which was stolen from Lennon at a December 1963 Christmas concert, will go toward the Spirit Foundation, a charitable organization that he and his widow, Yoko Ono, created, auctioneer Darren Julien said. Also selling at the same auction was the Beatles drum head that Ringo Starr played when the band made their historic appearances on The Ed Sullivan Show in 1964. It sold for $2.1 million, Julien said. - NBC News, 11/8/15...... In more Beatles-related news, viewers of the U.K.'s ITV channel have voted "Hey Jude" as the U.K.'s favorite number one record by the Fab Four. On Nov. 11, the station broadcast The Nation's Favourite Beatles Number One, a rundown of results from a poll to determine which of the band's 17 Number One singles is the most loved. The top five songs on the list were "Hey Jude," "Yesterday," "Let It Be," "Eleanor Rigby," and "All You Need Is Love." - New Musical Express, 11/12/15...... Elvis Presley has topped the U.K. album chart for the second week in a row with his latest posthumous LP If I Can Dream, featuring the Royal Philharmonic Orchestra. The album sold more in its second week than its first, a rare feat in modern chart history, with a combined sales and streaming tally of 88,600, compared with 79,000 in its first week. In more chart action, Rod Stewart's new album Another Country fell from No. 2 to No. 4, while the new incarnation of the Beatles' 1 compilation, 1+, debuted at No. 5. On the singles chart, Michael Jackson's "Thriller" re-entered the U.S. Billboard Hot 100 tally at No. 45, with a Halloween bump. Jackson's 1984 creepy classic also returned to the Hot 100 the previous two years for a week each after Halloween (No. 32 in 2014; No. 42 in 2013). - Billboard, 11/13/15...... Meanwhile, David Bowie has released a creepy clip from his forthcoming album Blackstar, which is due in 2016 on Bowie's birthday, Jan. 8. The title track will be released on Nov. 20, and both the single and the short film, which features a bejeweled skull in an astronaut's helmet and Bowie himself clutching some kind of bible, will premiere at Brooklyn's Nitehawk Cinema before that date. - Billboard, 11/13/15...... In an interview with ABC Radio on Nov. 12, Rolling Stones guitarist Ronnie Wood said the Stones could return to the studio as early as this December. "We'll maybe go in the studio in December and cut a few tracks and see what happens," Wood said. He also noted that the band would be laying "some groundwork" for a possible new album project in the coming weeks. "We'll take it from there, see how it all goes," he added. "One thing at a time." - Billboard, 11/13/15......

Former Mountain and West, Bruce and Laing frontman Leslie West has paid tribute to his late WBL bandmate, Jack Bruce, with a cover of the Willie Dixon classic "Spoonful," which will be included in his forthcoming new studio LP, Soundcheck. "When I found out Jack died I was very sad, so I put that on there as a tribute to him because there'll never be another Jack Bruce," West said. Soundcheck is due out Nov. 20 and also features collaborations with Queen's Brian May, Peter Frampton, Bonnie Bramlett and others. - Billboard, 11/12/15...... A federal court judge has ordered that Journey guitarist Neal Schon be paid $290K by officials in San Francisco to settle a lawsuit brought by him over his lavish 2013 wedding to a former reality television star. Schon married Real Housewives of D.C. star Michaele Salahi in December 2013 at the Palace of Fine Arts with a reception at an adjacent building that once housed the Exploratorium science museum. Schon said he agreed to pay the city $58,000 for the use, but was surprised to learn days before the wedding that he would have to pay $240,000 for the opulent event to go on. He reluctantly paid, likening the price hike to "extortion." The couple sued in federal court in February, claiming that the city unfairly jacked up the fee after learning the couple planned to broadcast the event on pay-per-view. - AP, 11/11/15...... Bruce Springsteen was among the headliners of the ninth annual Stand Up For Heroes fundraiser at The Theater of Madison Square Garden In New York City on Nov. 10. The event was emceed by comedian Jon Stewart, who introduced the Boss saying he always admired the man because "he got out of New Jersey, a place where I also grew up and wanted to desperately leave." "And where do I live now?" he quipped. "New Jersey." Springsteen played a taut, four-song set that included "For You," "Darlington County," and "Dancing in the Dark." Presented by the Bob Woodruff Foundation and the New York Comedy Festival, the event has raised $30 million in 275 programs nationwide since it was founded in 2006. - Billboard, 11/11/15...... Jeff Lynne's ELO have announced a series of dates in the U.K. in spring 2016, beginning in Liverpool on April 5. The band will then play Nottingham, (4/7), Leeds (4/9), Manchester (4/10), Glasgow (4/12), Newcastle (4/14) and Birmingham (4/16/17), before wrapping at London's O2 on April 20 and 22. Jeff Lynne's ELO released its first album under the ELO name in 14 years, Alone in the Universe, on Nov. 13. - New Musical Express, 11/11/15...... Aerosmith guitarist Brad Whitford has told Billboard magazine that he feels "a little bit abandoned" by Aerosmith frontman Steven Tyler, who is currently concentrating on a new country-influenced solo album. Whitford said that Aerosmith had plans to tour in early 2016, but they were put on hold by Tyler who he said "doesn't want to do it." "It's unfortunate. We kind of feel a little bit abandoned by him. I guess he seems to think his solo career is going to go great guns, and he doesn't seem to realise that -- in my opinion -- his fans around the globe want to see him in the context of Aerosmith and don't really care for whatever he thinks he's gonna do," Whitford said. "I don't know if he gets that but, hey, that's what he wants to do. I can't put a gun to his head. It's just pretty disappointing," he added. Tyler's solo LP, which is being recorded in Nashville, is expected to be released in 2016. - New Musical Express, 11/10/15......
Alice Cooper has released a "souped-up version" of the children's symphony classic "Peter and the Wolf." Cooper narrates the newfangled tale of the famed story by Russian composer Sergei Prokofiev and gives voice to all of the characters, including Peter, now cast as a lonely Russian boy in Los Angeles who becomes a media celebrity after capturing a wolf that escapes from the zoo. He also plays Peter's grizzled grandfather, a laid back SoCal gardener who takes Peter in after he is orphaned in Russia. "I kept picturing Cheech and Chong," Cooper says of the grandfather character, which was his favorite to portray in the story. "You know, an old hippie. I kind of channeled Tommy Chong and gave him that voice: 'Hey man, cool.'" Cooper's Peter and the Wolf in Hollywood album arrives on the Universal Music label Deutsche Grammophon, with music performed by The National Youth Orchestra of Germany, and includes all of the familiar music from the original "Peter and the Wolf." - Billboard, 11/10/15...... Veteran Eagles manager Irving Azoff will be honored at the 2016 Pre-Grammy Gala at the Beverly Hilton, organizers announced on Nov. 9. Azoff, chairman and CEO Azoff MSG Entertainment, will be presented with the President's Merit Award in recognition of his significant contributions to the music industry and his numerous philanthropic endeavors. Azoff will join previous recipients which include Herb Alpert and Jerry Moss, Clive Davis, Berry Gordy, Mo Ostin, Ahmet Ertegun and David Geffen, among others. The ceremony will take place at the 2016 Grammy Salute to Industry Icons event, which will again be presented by Davis and The Recording Academy on Feb. 14, 2016, a day before the 58th Grammy Awards. - Billboard, 11/9/15...... Authorities in New Zealand have announced a strict no-drinking policy for AC/DC's upcoming concert in Auckland on Dec. 15. AC/DC s set to perform at the city's Western Springs Stadium on that date, and fans will not be able to purchase alcohol in or around the venue due to a temporary liquor ban which aims to curb crime in the area. Police Sergeant Antony Wilson wrote to Auckland council requesting the ban, expressing fears for alcohol-related crime in relation to the show. Wilson also said that a ban "significantly assisted in curbing alcohol-related harm and offending in public areas." The band has not yet commented on the ban. - New Musical Express, 11/12/15...... Queen and Adam Lambert have been confirmed the first headliner of the U.K.'s 2016 Isle of Wight Festival. The gig will be Queen's first ever U.K. festival show and will be their only U.K. peformance in 2016. They will close the annual festival on Sunday, June 12. "I think Queen at The Isle of Wight Festival is a date that was long overdue," guitarist Brian May said. "How incredible to take on this challenge at this point in our lives. With an injection of new blood in the shape of the incredible Adam Lambert, Queen will be ready to tear it up on this legendary stage in 2016. Freddie [Mercury] would have loved it. Can't wait," he added. - NME, 11/10/15...... Influential British folk singer Roy Harper, who provided lead vocals on Pink Floyd's 1975 track "Have a Cigar," says he's been left "incredibly angry" after sex abuse allegations brought against him by U.K. authorities were dropped in October. Harper was recently acquitted of two indecent assault charges, one of allegedly assaulting a 16-year-old girl in 1980 and one of abusing an 11-year-old in the mid-1970s. Speaking following a three-year battle to clear his name, Harper said: "I have now been acquitted on all the charges that were brought. This case should never have gone as far as this, or taken so long to resolve. The psychological and personal cost to my wife and myself has been enormous and the financial cost hugely unfair. I lost my livelihood and I spent my savings... and more, on my defence." Harper added: "I realise these are difficult issues at this time in this society, and I thank my lawyers for standing by me and working so hard to show the truth. Despite coming out of this without a blemish on my name, I cannot recoup my costs and that's left me incredibly angry." - NME, 11/10/15......
New Orleans music legend Allen Toussaint, a songwriter, producer, and performer helped define the sound of soul and R&B in New Orleans and beyond, died following a performance in Madrid, Spain on Nov. 9. He was 77. Toussaint, who grew up in New Orleans, began his career producing for local talent like Ernie K-Doe, Irma Thomas, Art and Aaron Neville, and Lee Dorsey in the early 1960s. Adopting the second-line piano style of artists like Professor Longhair, he brought the New Orleans aesthetic to a national audience with hits like "Mother-In-Law," "Fortune Teller," "Ride Your Pony," and many more. By the 1970s, Toussaint had gone international, collaborating with everyone from Paul McCartney (he played on the Wings album Venus and Mars) to Solomon Burke to Paul Simon (with whom he had just announced a New Orleans benefit concert in early November). He also launched his solo career during this era with a trio of R&B albums for Warner Bros. Between his solo work and his writing for other artists, his songs have been covered by everyone from the Rolling Stones and Jerry Garcia to Bonnie Raitt and Glen Campbell. His production for seminal funk groups like The Meters has also found a second life as the backbone of some of hip-hop's most recognizable beats. He re-emerged as one of the musical voices of New Orleans following Hurricane Katrina, recording with Elvis Costello and Eric Clapton and touring widely. Already a member of the Rock and Roll Hall of Fame, Toussaint's new solo work earned him six Grammy nominations through 2013 and 2014, as well as a National Medal of the Arts. Sorry to hear that Allen Toussaint died after a concert in Spain," Paul McCartney posted after learning of his death. "Having worked with him in New Orleans I know what a sweet and gentle guy he was and a massive songwriting talent with songs like 'Fortune Teller', Southern Nights', 'Working in the Coal Mine' and 'Play Something Sweet (Brickyard Blues)'. His songs will be cherished by people like me who will have fond memories of Allen forever. Deepest sympathies and love to his family from me and my family," McCartney added. - Billboard, 11/10/15...... Scottish drummer Andy White, a session musican who played drums on some of the Beatles' earliest tracks, passed away on Nov. 9 in New Jersey after suffering a stroke. He was 85. Mr. White appeared on the US release of the Beatles' 1962 recordings of "Love Me Do" and "PS I Love You," and is also thought to have played on the album version of "Please Please Me." As well as playing with the Beatles, Mr. White also provided drums for Tom Jones' 1965 single "It's Not Unusual" and Lulu's 1964 cover of "Shout." In 2009, White said in an interview with a New Jersey paper that he was paid a one-off fee of £5 for three hours work with the Beatles and received no further royalties from the recordings. "You could tell it was something different and very special," Mr. White said in 2012. "But I didn't know just how special it would become." - NME, 11/12/15......

Actor Gunnar Hansen, best known for portraying the Leatherface character in the classic 1974 horror flick The Texas Chainsaw Massacre, died of pancreatic cancer in Northeast Harbor, Maine, on Nov. 7. He was 68. After interviewing with Texas Chainsaw Massacre director Tobe Hooper in 1973, Hansen was given the part of Leatherface the retarded killer. After Texas Chainsaw Massacre he tried to make a living as a writer, and worked as a magazine editor for a while. Hansen, who was originally from Iceland, also directed a documentary on Greenland, and spent some time as a web designer. He was currently casting and re-writing the movie The Last Horror Picture Show....... Original Motörhead drummer Phil "Philthy Animal" Taylor has died at age 61. Taylor drummed with the pioneering British heavy metal outfit from 1975 to 1984 and then again from 1987 to 1992, which means he played on the bulk of the band's classic recordings. Although he officially left Motörhead decades ago, he linked up with the band's current lineup to perform the immortal "Ace of Spades" in Birmingham in Nov. 2014. - Billboard, 11/12/15...... Rock drummer Edward "Fast Eddie" Hoh, who played on many well-known '60s rock songs by such acts as Donovan and The Monkees, passed away on Nov. 7 in Westmont, Ill. He was 71. He also performed at the seminal 1967 Monterey Pop Festival as a member of the Mamas and the Papas touring band. In 1968, he participated in the recording of Super Session, the highly successful 1968 Mike Bloomfield/Al Kooper/Stephen Stills collaboration album. Hoh's flurry of activity came to an end by the early 1970s, and since then he had remained out of the public eye.
As reported earlier, Phil Collins told Rolling Stone magazine earlier in November that he is "no longer officially retired" and is currently working on a new solo album which he also plans to tour behind, but apparently not everyone is thrilled with the news. An irreverent petition on the change.org website titled "Phil Collins must be stopped" has garnered over 2,400 signatures in hopes of stopping the former Genesis drummer/singer from imposing any more music on the world. "There is far too much suffering in the world as it is," reads the petition. "This must be stopped." In his Rolling Stone interview, Collins said he wanted to show his children "what their dad does." Collins, who announced his short-lived retirement in 2011, added: "My kids are now 10 and 14 and they want to see what their dad does. They were in nappies when I was last on the road. They love my music and I'd like to take them out so they can enjoy it." - New Musical Express, 11/6/15......

Elvis Presley has broken the record of 11 for the most U.K. No. 1 singles by a Male Solo Artist for the week ending Nov. 6 with his latest chart-topper in England, "If I Can Dream." Presley's new LP If I Can Dream: Elvis Presley with Royal Philharmonic Orchestra, which features his vocals accompanied by the Royal Philharmonic Orchestra, sold 79,000 units in the U.K. in its first week of release and extends Presley's span of No. 1 titles in the U.K. to 59, with his British release Rock 'n' Roll first topping the country's survey in November 1956. Madonna has also racked up 12 No. 1 albums in the U.K., and the Beatles have the most No. 1 LPs as a group with 15. If I Can Dream drops in the U.S. on Nov. 13. - Billboard, 11/6/15...... It was revealed in the New York Times on Nov. 6 that Nile Rodgers' seminal disco band Chic will be playing the Coachella festival next spring. "Coachella called him and booked Chic to perform at the festival for the first time next spring, right around the time he is due to hit 64. How 'awesome' is that?," according to the article, which also said Rodgers is helping to score a new one-man stage production starring actor Hugh Jackman. The 2016 Coachella festival will take place April 15-17 and April 22-24. Meanwhile, Rodgers is prepping the release of a new Chic album called It's About Time, though no release date has been announced. Chic was also recently nominated for induction into the Rock and Roll Hall of Fame, for a record tenth time. - Billboard, 11/6/15...... Ozzy Osbourne is planning to apologize for an infamous 1982 incident in which he urinated on a tall monument adjacent to the Alamo in Texas during a visit to the San Antonio landmark. Osbourne was banned from the city "for life" for the incident, though he has returned since. Now, Osbourne says he'll make a public apology during a new reality series for the History Channel, which will see him traveling to historical sites with his son, Jack Osbourne. Ten years after the Alamo incident, a concert promoter who was present explained that Ozzy was "super drunk and he had a bladder problem" and that "I don't think anyone would have even noticed what he was doing except that he was doing a photo shoot with the English music magazine Melody Maker and he was dressed in pink tights and ballerina shoes. He wandered over to the side of the statue and there he went." Ozzy and Jack are also set to visit such sites as Stonehenge and Mount Rushmore for their new series, which has yet to have a firm release date. - Billboard, 11/6/15......
2016 Republican presidential hopeful Dr. Ben Carson is the latest candidate to attract the attention of Cher in her notorious string of stream-of-conscious-style musings on Twitter. On Nov. 5, the diva pointed to the fact that many people suspect Dr. Carson is running for the most powerful office in the world only to promote his new book. "Saw Clip of Ben Carson on book signing Tour.He signs book,He & buyer look up,He Fakes Smile 4photo,How much does fake smile cost CHA-CHING," Cher posted. The same day, Cher also riduculed Dr. Carson's controversial statement that the Eyptian pyramids were build by Joseph (of "The Amazing Technicolor Dream Coat" fame), and that they were used to store grain, as opposed to burial sites. "WHY DOES BEN CARSON BELIEVE PYRAMIDS WERE BUILT BY "JOSEPH"(of Bible,& Amazing Tech.Dream Coat)2 STORE"GRAIN"INSTEAD OF PHARAOH'S MUMMIES?"?," she posted. Cher has previously took other GOP presidential frontrunners, Donald Trump and Jeb Bush, to task on Twitter. "Re JEBS NEW SLOGAN "JEB CAN FIX IT" IT'S BETTER SUITED 4 THE SIGN YOUD SEE ON A 9 YR OLD BOYS,LEMONADE STAND.LET IT GO JEB,YOURE NOT JOYOUS," she posted about Bush on Nov. 2. - Billboard, 11/6/15...... In related news, a Twitter feud between Bette Midler and Justin Bieber is heating up after nude photo of Bieber was leaked in October. "The biggest dick in this situation is the dad who abandoned his son," Midler tweeted about Bieber, who then responded: "This Britt Meddler... I don't even know who that is, honestly. I wanted to immediately say Who is this lady?', but then I'm just fuelling this negativity..." Midler then responded to Bieber: "Britt Meddler! I don't know who that is either! But damn that bitch!" - New Musical Express, 11/7/15...... Bruce Springsteen has released a video from his upcoming The Ties That Bind: The River Collection box set that has the Boss and his E Street Band performing "Ramrod" during a legendary performance in Tempe, Ariz., in 1980 during his The River tour. In the video, Springsteen playfully adjusts a microphone chord before launching into the joyous song, calling out to "Big Man" Clarence Clemons for a fun romp on the stage. The Ties That Bind is a 2 hour and 40 minute concert film features 24 songs on two DVDs, along with a CD of 1979/80 studio outtakes; rare tour rehearsal footage of what was then new songs; and a brand new documentary The Ties That Bind about The River. Prior to the release of the box set on Dec. 4, The Ties That Bind documentary will have two preview screenings, at New York City's SVA Theatre on Nov. 14, and Monmouth University's Pollak Theatre in West Long Branch, N.J., on Nov. 17. Springsteen is also set to appear at The Theater Madison Square Garden at the Stand Up for Heroes Veterans Fundraiser on Nov. 10, and at the Shrine Auditorium in Los Angeles to play the "Shining A Light: A Concert for Progress on Race in America" event on Nov. 18. - Billboard, 11/5/15......

A sample of Isaac Hayes 1971 cut "Ike's Rap 2" on "Here," the current breakout single by rising pop singer Alessia Cara, has reawakened interest in Hayes' back catalog. The catalog of Hayes, who died of a stroke in 2008, stretches back to the mid-1960s and includes not just solo recordings like the No. 1 "Theme From Shaft" from 1971 but also songs he co-wrote for acts like Sam & Dave ("Soul Man" hit No. 2 in 1967) and Carla Thomas. And soon, many more will be available as Isaac Hayes Enterprises, which was founded by Hayes' family in the spring and is spearheaded by his 40-year-oldson Isaac Hayes III readies more than 200 unreleased recordings uncovered since soul icon's death. For now, Hayes III plans to release one full Hayes album along with -instrumental and collaborative compilations in the next year while he explores synch and soundtrack opportunities. - Billboard, 11/5/15...... The Rolling Stones announced on Nov. 5 that they'll be touring Latin America for the first time in a decade with a 12-date "America Latina Olé Tour" that's set to get underway on Feb. 3. The tour will make stops in Buenos Aires (2/7), Montevideo (2/16), Rio De Janeiro (2/20), São Paulo (2/24, 2/27), Porto Alegre (3/2), Lima (3/6), and Bogotã (3/10) before wrapping March 14 in Mexico City. The veteran rockers recently wrapped their Zip Code Tour of North America, an unqualified blockbuster and one of the biggest tours of 2015, grossing $109,714,026 at the box office. Tickets for America Latina Olé will go on sale beginning Nov. 9, with info at rollingstones.com. - Billboard, 11/5/15...... Sting was among the featured performers at a benefit concert dedicated to Transcendental Meditation on Nov. 4. The concert at New York's Carnegie Hall was presented by the David Lynch Foundation and was also headlined by Katy Perry It raised money to offer meditation services for 10,000 at-risk New Yorkers. - AP, 11/5/15...... A lock of John Lennon's hair and a Valium pill bottle that once belonged to Elvis Presley are among the items set to be auctioned on the online auction site Julien's Live. The lock of Lennon's hair comes with a card signed by the late Beatle himself that reads: "Love from 'Bald' John Lennon xxx". Bidding for that item starts at $10,000. The other Elvis items include a guitar pick, a prescription for muscle relaxant drugs, and his life insurance policy. - New Musical Express, 11/3/15...... In other Lennon-related news, his widow Yoko Ono and The Flaming Lips are teaming up to release a vinyl version of Ono and Lennon's hit "Happy Christmas (War Is Over)" on Dec. 11 in time for the Christmas season. The single will come with a b-side of "Atlas Eets Christmas," and be released via Chimera Music. Ono and The Flaming Lips also hooked up back in 2011, recording the two tracks and playing them at a New Year's gig in Oklahoma, alongside Neon Indian. - NME, 11/6/15......
The Eagles are postponing their participation in the upcoming Kennedy Center Honors until 2016 due to health problems experienced by Glenn Frey, who is unable to attend the ceremony on Dec. 6. The Kennedy Center announced on Nov. 4 that the Eagles' honor would be postponed by a year, because Frey "has had a recurrence of previous intestinal issues, which will require major surgery and a lengthy recovery period." Frey will be attending next year's ceremony however, along with fellow Eagles Don Henley, Timothy Schmidt and Joe Walsh. Other honorees for this year's Kennedy Center event, which will be taped and broadcast on CBS on Dec. 29, include Carole King, filmmaker George Lucas, actresses Rita Moreno and Cicely Tyson, and conductor Seiji Ozawa. - Billboard, 11/4/15...... Kenny Rogers released his sixth Christmas album, Once Again It's Christmas, on Sept. 25, and Rogers says he thought he could do something different on this yuletide LP. "The label came to me and said, 'We're due another Christmas record,' and I thought after 17 years, I agreed," Rogers said. "I thought I could do something special and different, so I started putting this album together." The new album features contributions from such artists as Jennifer Nettles, Home Free and Alison Krauss. "I've always had this theory that when it comes to duets, you don't commit to partners; you commit to songs. You then find a partner who will sing that song best," Rogers says. Rogers will be performing many of the songs from the set on his annual Christmas tour of North America -- which starts Nov. 11 in Niagara Falls, Ontario. The 26-city trek will be the 35th and final holiday tour for veteran country singer, who announced in September that he would be retiring from live performing in 2016. - Billboard, 11/2/15...... British pop star Cliff Richard has been interviewed by U.K. authorities for a second time over a claim that he was involved with a sex crime with a young boy in the 1980s. The interview followed a police search of the 75-year-old singer's Berkshire home. A number of items were removed from the property. The "Devil Woman" singer has denied any wrongdoing, which according to the BBC relates to an assault claim at a religious event at the Bramall Lane stadium in Sheffield in 1985. Richard so far has not been arrested or charged, and his spokesperson described the latest meeting as voluntary. "Other than restating that the allegations are completely false and that he will continue to co-operate fully with the police, it would not be appropriate for Sir Cliff to say anything further at this time," the spokesman said. - New Musical Express, 11/6/15.
In an interview with the London Sunday Times magazine published on Nov. 1, Keith Richards said he wants the Rolling Stones to begin work on a new studio album in April 2016. "These guys aren't getting any younger, but at the same time, they're getting better. I'd love to shove them in the studio in April, hot off the road," said Richards, who also expressed surprise that his legendary band is still touring and recording. "I never thought I'd get this far," he said. - NME, 11/1/15...... Elvis Presley's former wife Priscilla Presley says she's "not quite convinced" by the idea of creating a hologram for her legendary late King of Rock and Roll hubby. "Our partners are exploring different options," she said of plans to make and tour holograms of Elvis and such other deceased music stars as Michael Jackson, Whitney Houston and Tupac. "I don't think it's full-range usage or a few images. There are ideas, his image in a couple of things I haven't seen anything to look at, there's a lot of talking at the moment. I'm not quite convinced by it," she said. But Priscilla adds she would react strongly against attempts to abuse Elvis' legacy. "It's a precious legacy, and we have to protect it. We have a team that sees what's out there and the name, likeness and image cannot be abused," she said. - NME, 10/30/15......
As Queen's signature song "Boheman Rhapsody" turns 40 on the final day of October, guitarist Brian May spoke to BBC News on Oct. 29 about the song's creation, meaning and legacy. "We all realized it was something wonderful and we should give it our heart and soul... The heavy bit was a great opportunity for us to be at full pelt as a rock band," May said of the song, which was taken from Queen's fourth album A Night at the Opera and topped the U.K. singles chart up on its release. May continued: "But that big, heavy riff came from Freddie [Mercury], not me. That was something he played with his left hand in octaves on the piano. So I had that as a guide -- and that's very hard to do, because Freddie's piano playing was exceptional, although he didn't think so." May added that Mercury "enjoyed the fact there were so many interpretations of the lyrics... It's an outlandish song... I think it's beyond analysis," and while he has his own ideas and feelings about it, he says that he "hates talking about it, and I generally refuse." However, May insists that he's "not sick" of the ubiquitous classic rock track, which was famously featured in the 1992 Mike Myers movie Wayne's World, and that he will "still listen to it in the car." "I still enjoy hearing it. If it comes on the radio, I'll turn it up and listen. But no air guitar. I'm too old for air guitar now," he said. - New Musical Express, 10/29/15...... ELO mastermind Jeff Lynne has revealed the latest track from the forthcoming Jeff Lynne's ELO album Alone in the Universe, which is due on Nov. 13. "One Step at a Time" is the third track to be streamed for fans, after "When the Night Comes" in October, and "When I Was a Boy" in September. Fans who preorder Alone in the Universe will receive "When I Was a Boy" instantly. - NME, 10/29/15...... Billy Joel was on hand on Oct. 31 at Citi Field in Game 3 of the World Series to help his fellow New York Mets fans sing along to his signature tune "Piano Man," which has become an unofficial Mets anthem in recent years. During home games, Mets fans have sang along to "Piano Man" during the 8th inning of games, and native New Yorker Joel couldn't help but join in as the crowd sang the song once again during Game 3 against the Kansas City Royals, which the Mets succeeded in winning 9-3. However, the Royals clinched the best-of-seven-games series 4-1 on Nov. 1 at the same ball park with a 7-2 victory in the fifth game, winning their first MLB championship in 30 years. "Billy Joel's music is part of the soundtrack of every New Yorker's life," the Mets' senior vice president of marketing and communications David Newman told Newsday recently. "He's an iconic New Yorker. We wanted him to be part of our playlist during the games." Joel, sporting a Mets cap, was accompanied during Game 3 by his longtime booking agent, Dennis Arfa, and actor/comedian Kevin James beside him. Earlier in the evening, he kicked off the game with a beautiful rendition of the National Anthem. - NME/Billboard, 10/31/15......
In related news, musician David Peel is rebutting claims that John Lennon, who co-produced Peel's 1972 album The Pope Smokes Dope with wife Yoko Ono, chanted "Let's Go Mets" at the end of one of the tracks on that album, "The Ballad of New York City." The rumor started when Tom Frangione, who hosts the Beatles radio show Things We Said Today, made the claim during a recent broadcast, but Peel says that "Lennon never said that." "He never played on any of my songs. It was me and my hippie friends. Everybody who did the chanting was from the Bronx," Peel says, adding that Lennon was in the control room and "He didn't want to upstage me... He did what I wanted to do." Lennon and Ono signed Peel to a one-record deal on Apple after meeting him in 1971, making him one of a handful of non-Beatle acts to record on Apple (Mary Hopkin, James Taylor, Badfinger and Elephant's Memory are among the others). Peel also participated in the 1972 One-to-One concert at Madison Square during which he performed on stage with Lennon and Ono. - Billboard, 10/29/15...... In other Lennon-related news, an iconic mohair suit once worn by him during the Beatles' early-'60s heyday was set to be auctioned on Oct. 30, having previously been lost for 40 years. The beige, collarless mohair suits were worn by the Beatles and were made by London tailor Dougie Millings. Lennon's suit was originally donated by manager Brian Epstein, along with the three other members' jackets, to London's Madame Tussauds for the first wax works of the band. However, it was misplaced and only found in 2006 at a warehouse owned by the company. The suit, sold by the Fame Bureau auction house, has an estimated value of £150,000. - New Musical Express, 10/29/15...... Elsewhere on the Fab Four front, the Beatles' Apple Corp. will be rolling out a deluxe limited edition of their 2000 No. 1 hits collection 1 on Nov. 13 that's set to include some 50 restored and never-commercially-released films and videos. To kick off the the release of set, dubbed 1+, the band has released the new version of its video for Sgt. Peppers Lonely Heart Club Band's "A Day In The Life," which features trippy footage of John Lennon, Paul McCartney, Ringo Starr and George Harrison alongside rock star pals Mick Jagger and Keith Richards. Footage from the band's early 1967 recording sessions are sprinkled throughout the clip, which was restored frame-by-frame in 4K resolution. "These videos and films are spectacular reminders of the era we lived in. They also rock!" McCartney recently told an online music site. 1+ also features exclusive audio commentary from surviving Beatles McCartney and Starr as well as a 124-page illustrated hardcover book. - Billboard, 10/29/15...... Tom Jones says he's going to take a DNA test to establish his racial background, because he believes that his race has always been questioned due to his skin tone and curly hair. "A lot of people still think I'm black," the "She's a Lady" singer said in an interview with the UK's The Big Issue. "When I first came to America, people who had heard me sing on the radio would be surprised that I was white when they saw me. Because of my hair, a lot of black people still tell me that I'm just passing as white." The Welsh crooner has also said that his mother Freda was confused about her ethnicity, saying that doctors had "asked if she had any black blood and she said she didn't know." "I'm going to get my DNA tested. I want to find out," he added. - NME, 11/2/15......

Ozzy Osbourne was joined by special guests Slash of Guns N' Roses, Tom Morello of Rage Against the Machine, and his own Black Sabbath bassist Geezer Butler as he headlined New Orleans' Voodoo Fest on Halloween night. Osbourne was joined by the trio throughout the night, including on crowd favorite "Iron Man," as he performed a solo set that also included such numbers as "I Don't Know," "Mr. Crowley," and "Bark at the Moon." Ozzy, performing at the rainy concert, sprayed the crowd with a fire hose throughout the night, dumped a bucket of water on his head twice and repeatedly asked the audience if they were having fun. "I can't f---ing hear you," he kept saying, smiling when the crowd responded with cheers of "Ozzy, Ozzy." This was the 66-year-old rocker's first solo performance in several years. - Billboard, 11/2/15...... Meanwhile, Osbourne and Black Sabbath have confirmed to Rolling Stone magazine that there will not be another Black Sabbath album to follow up their 2013 set 13, and that their upcoming The End tour will be, in fact, the end. "In December, I'll be f------' 68, and I think it's time to call it the end of the day," Ozzy said. "I'm not saying I won't get on stage with Geezer or Tony [Iommi] or any of them some time, but officially we're going to be done. I don't want it to dwindle and dwindle and play just for the sake of making another f------ sack full of cash. So it's time, and then I'll go back to doing my own thing," he added. Sabbath's international tour will stretch through most of 2016, with the final date listed as Sept. 21 in Phoenix. - Billboard, 10/29/15......Amazon.com has been celebrating its newly redesigned vinyl store since Oct. 23 with a 13-day free giveaway of vinyl LP's that include such titles as the Grateful Dead's The Best of the Grateful Dead and the Rolling Stones' Sticky Fingers. Visitors can enter their name, email and phone number for a chance to win the record of the day with winners chosen at random. - Billboard, 10/30/15...... Original Grateful Dead members Bob Weir, Bill Kreutzmann and Mickey Hart debuted their new Dead & Company tour with singer/songwriter/guitarist John Mayer in tow on Oct. 29 at the Times Union Center in Albany, N.Y. The response to Mayer was overwhelmingly positive, with thousands of Deadheads watching live streams online and posting such comments as "Are you listening to this?!? He's killin' it!," and "Can you imagine? They're only going to gel more!" One critic remarked plainly: "I was wrong, I take it back." As for the rest of the group, Weir led a romp through beloved GD classic "Tennessee Jed," and "Feel Like A Stranger" found the entire band in great form, with Weir and Mayer trading verses during "He's Gone" gave the anthem a novel feel. The 18-song set culminated with an encore of the GD's sole Top 40 hit, "Touch of Grey." - Billboard, 10/30/15...... Barbra Streisand and Robert Redford, the stars of the 1973 box office smash The Way We Were, will reunite on Dec. 9 as Redford presents Streisand with the 2015 Sherry Lansing Leadership Award at The Hollywood Reporter's 2015 Women in Entertainment breakfast at Milk Studios in Los Angeles. Redford honoring Streisand will serve as a reunion for the two stars, and the Sherry Lansing Leadership Award recognizes women who serve as pioneers in the world of entertainment. Previous honorees include Meryl Streep, Diane Keaton, Jodie Foster and Oprah Winfrey. - The Hollywood Reporter, 11/2/15...... Soul music great Charles Wright, known for his 1971 classic "Express Yourself," has released Up From Where We've Come, his first in a series of autobiographies. The book is an up-close and intimate telling of his family's profound struggles as sharecroppers near Clarksdale, Miss., through the 1940s, and a riveting insider's glimpse into the realities of the times. - Miles High Productions, 10/31/15......

Phil Collins has told Rolling Stone that his is "no longer retired" and that he will begin work on a new album, My Life in 15 Songs, in November, which will be the followup to his 2002 LP Testify. "The horse is out of the stable and I'm raring to go," said Collins, 64. While the '80s solo star and former Genesis drummer/frontman says no details have been set in stone, he also plans to launch a comeback tour behind the next album, depending on how soon he can complete the reissues of his solo albums. "I got very involved in these reissues," he says. "We even re-shot all the covers, which was my idea. I'm easily flattered. If people rediscover the old stuff and show interest, it would be silly not to make more music." Collins added that the door is always open for a Genesis reunion: "I love the guys. I would just prefer to do this first. For now, let's see where this goes." He is also expected to release an autobiography in October 2016. - Billboard, 10/28/15...... Actor Al Molinaro, best known as the second owner of Arnold's Drive-In in the 1970s retro-themed sitcom Happy Days, died on Oct. 30 at Verdugo Hills Hospital in Glendale, Calif. He was 96. Mr. Molinaro also portrayed Murray the cop on ABC's The Odd Couple after being hired by producer Garry Marshall to appear in the TV version of Neil Simon' play about feuding roommates. As Murray, Mr. Molinaro played a simpleminded policeman who at times seemed as much a threat to his friends as he did to any crooks. After that series ended in 1975, Mr. Molinaro's next long-running role was that of Al Delvecchio in Happy Days, the 1974-1984 nostalgic sitcom about 1950s life that starred Ron Howard and Henry Winkler. Mr. Molinaro joined the cast in 1976, replacing Pat Morita as the owner of Arnold's Drive-In, and remained until 1982. Mr. Molinaro's other TV credits included Get Smart, Green Acres, That Girl and Bewitched. He had been retired from acting since the 1990s, and died of complications of gallstone problems, according to his son Michael Molinaro. - AP, 10/31/15.
Current Lynyrd Skynyrd singer Johnny Van Zant says guitarist and sole original surviving band member Gary Rossington is "doing good" after a "slight heart attack" earlier in October, which was caused by a blood clot as he was in the hospital for another procedure for which doctors took him off his blood-thinning medication. Van Zant says Rossington, who underwent surgery after the health scare, wants to finish the band's 2015 itinerary, which has three shows left, including the Alabama National Fair in Montgomery. "(Gary has) lived through a lot of stuff in his lifetime, so, yeah he's gonna be OK here. He's still got a lot of life ahead of him," Van Zant says. A full slate of Skynyrd shows is being put together for 2016, including what Van Zant says will be "something going on in the amphitheaters...with some friends of ours, and if it all works out we're gonna hook up and go out and play a bunch of shows." Meanwhile, the band has just released Pronounced Leh-nerd Skin-nerd & Second Helping -- Live From Jacksonville at the Florida Theatre, a new CD/DVD set of shows in their hometown of Jacksonville, Fla., and is already working on material for a follow-up to its last studio album, 2012's Last of a Dyin' Breed. - Billboard, 10/23/15......
On the one year anniversary of Cream bassist Jack Bruce's death from liver failure at age 71, a number of musicians including his former bandmate Ginger Baker paid tribute to him with a charity gig at London's Roadhouse venue on Oct. 24. Also participating in the "Sunshine of Your Love" gig were Roxy Music lead guitarist Phil Manzanera, Jethro Tull's Ian Anderson, Living Colour's Vernon Reid and Bruce's daughter Aruba Red. "Jack Bruce was one of my biggest heroes when I was growing up -- a consummate musician, composer and all round rock genius with a killer voice and one of the most creative and versatile musical minds of his generation," Bruce said before the event, which also raised funds for East Anglia's Children's Hospices. The concert culminated with renditions of two Cream songs, "Sunshine of Your Love" and "We're Going Wrong." - New Musical Express, 10/25/15...... Ann Wilson of Heart says her current North American tour behind her new solo EP, The Ann Wilson Thing!, is "just totally different from doing the other thing." "It's so much closer to the people and it's just a better connection with them," Wilson says. "I love the musicians in the band and we are getting to do songs that are so much fun for me as a singer to stretch out. I never thought I'd get to sing a Peter Gabriel song or Jimi Hendrix songs. It's just really been a lot of fun and we've been accepted everywhere with the same kind of warmth and excitement." Wilson wrapped the first leg of the tour Oct. 15 at a club in Nashville, Tenn., with special guests Emmylou Harris and Alison Krauss, then resumed touring with Heart and will do a few more solo dates in November and one in December. "I'm having a really great time in my life and in my career right now," says Wilson, who is performing no Heart songs on her solo tour. "I feel energized. I feel healthy. I still love what I do and I still care passionately about it being the real thing." - Billboard, 10/28/15...... The home used by Jimi Hendrix as he resided in London between 1968-69 has been opened to the public for the first time. The flat, located at 23 Brook Street, will also house an exhibition to the late legendary guitarist/vocalist when it opens in February 2016. The home belonged to Hendrix's then girlfriend Kathy Etchingham, and he relocated to Notting Hill area of London when they split. Fans will be able to view the top floor of the home with organizers having spent two years renovating the flat to its original form. Tickets for the exhibition will go on sale on Nov. 2. - NME, 10/28/15...... According to a report in the Detroit News, Aretha Franklin is being sued by a suburban Detroit homeowners association over what they clame is more than $11,500 in unpaid fees on her condo there. The Hills of Lone Pine Association filed the lawsuit in an attempt to foreclose on Franklin's property in the gated community in Bloomfield Hills. The lawsuit names Franklin and two companies that hold mortgages on the $700,000 condo. Franklin was quoted as saying she owns the condo but doesn't live there, and believes she's been "overcharged for years" and has paid only what's "credible and legitimate." She added her attorney is working to reach a settlement on the dispute. - AP, 10/27/15......
A deluxe reissue of Fleetwood Mac's acclaimed 1979 double-LP Tusk is coming in time for the Christmas shopping season, with alternate versions, never before released outtakes, and more. The reissue will be spread across five remastered CDs, two LPs and one DVD, and also include a number of demos and remixes, and live Tusk era recordings from shows in St. Louis and Tuscon. The set, also sporting a booklet with complete liner notes and new interviews, is due on Dec. 4. Fleetwood Mac is currently on tour, and headlined the UK's Isle of Wight festival earlier in 2015. - NME, 10/25/15...... Additional artists set to participate in the upcoming MusiCares person of the year gala honoring Lionel Richie have been announced by the Recording Academy. Stevie Wonder, Usher, Lenny Kravitz and Zac Brown will be joining previously announed performers Pharrell Williams, Luke Bryan and Lady Antebellum at the event, which takes place Feb. 13 at the Convention Center in Los Angeles. Richie will be bestowed the prestigious award in recognition of his "significant creative accomplishments" and for his career-spanning charitable work, which includes fundraising for AIDS awareness to human rights and famine, poverty, human trafficking and women's issues. The event takes place two days before the 2016 Grammy Awards. - AP, 10/27/15...... Def Leppard guitarist Phil Collen will release his autobiography, Adrenalized: Life, Def Leppard, and Beyond, on Nov. 3, and the musician says he reluctantly decided to write a book about his life as a rock & roll star. "I think memoirs and books like that are a bit egotistical, and I don't really like them. I think that whole thing of people going, 'Well, you know, it was really kind of cathartic for me to do a book...' That's a load of bullshit. It's egotistical. It's just talking about yourself, isn't it?" Collen says. Nevertheless, he said he tried to keep his standards high, and used two of his favorite memoirs -- Keith Richards' Life and Bob Dylan's Chronicles Volume One -- as models for what he hoped to achieve. "I thought they were great because they actually dealt with things that were happening in these fascinating people's lives," Collen explains. "It wasn't really about showing off and name-dropping; these people had a lot to say about what they did and how they got there." Def Leppard will release a new studio album, Def Leppard, on Oct. 30, and the band tours Japan and Australia in November. They'll co-headline a U.K. tour with Whitesnake in December, and tour America with Styx and Tesla beginning Jan. 27 in Greensboro, S.C. - Billboard, 10/27/15...... An installment of PBS's Austin City Limits series featuring Don Henley premiered on many PBS stations across the U.S. on Oct. 24. The Eagles principal performed an 11-song set in Austin in September for the show, which included selections from his new solo LP Cass County, along with such solo '80s hits as "Dirty Laundry," "The Heart of the Matter" and "The Boys of Summer." - Billboard, 10/23/15...... A special Kiss compilation featuring all-female artists performing classic Kiss songs, Kiss and Makeup, has been announced by the band's music licensing and marketing firm, MediaHorse. A selection of 16 Kiss tracks re-imagined by distaff artists including Avila, Haliene, Pearl, the Dollyrots, Brett Anderson and Kristen Schaeffer. "Having performed these songs many thousands of times for millions of fans around the world for over 40 years, we loved hearing these fresh new takes on our classic hits by so many super talented female artists," said Kiss's Paul Stanley. "Kiss is rock and roll.. and these ladies really know how to rock our catalog. We love Kiss and Makeup -- and so will you," he added. The album will drop on Oct. 27. - Billboard, 10/27/15......
A long held chart record by the Beatles has just been broken by the British boy band One Direction. The group's new LP, Perfect, has just charted its fifth Top 10 on the Billboard Hot 100 singles chart, besting a record set by the Fab Four. The Beatles launched three of their four Top 10 entries during their latter-period heyday, including "Hey Jude" (No. 10, Sept. 14, 1968), "Get Back," with Billy Preston (No. 10, May 10, 1969), "Let It Be" (No. 6, March 21, 1970), and in 1995, they returned to the Top 10 with "Free as a Bird," which started at No. 10 on Dec. 30 of that year. - Billboard, 10/27/15...... Former Pink Floyd member Roger Waters has chimed in on the 2016 U.S. presidential race, saying he fears former Sec. of State and Democratic hopeful Hillary Clinton might "drop a f---ing nuclear bomb." "Hillary worries me," Waters said in a new interview with Rolling Stone. "I have an awful worry that she might become the first woman president to drop a f---ing nuclear bomb on somebody. There is something scarily hawkish about her, and she has that politician look down of, 'You are never going to get a word of truth out of me.'" Waters had even less kind words for Republican frontrunner Donald Trump in September: "It's American exceptionalism gone crazy and delivered under the umbrella of absolute ignorance... He is pig-ignorant and he always was and he always will be." Waters says he's putting his support behind Vermont senator Bernie Sanders, a socialist who caucuses with the Democrats. "He's the only person in the race that I see with any credibility," he said. - Billboard, 10/27/15...... In related news, Cher tweeted on Oct. 23 that Donald Trump is "a giant among GOP front runners," and also sized up the Republican candidates, calling Ted Cruz "the devil," saying Marco Rubio has a "rage against women," and asking "just tell my why?!" to Ben Carson's candidacy. - Billboard, 10/23/15...... The photographer who snapped the photo used on the cover of Bob Dylan's 1966 album Blonde on Blonde has attempted to solve some of the mysteries surrounding the cover, which shows a blurred image of the singer-songwriter against a brick wall background. Jerry Schatzberg, in an interview with rock critic Bob Egan, says the blurriness of the image wasn't intentional but was instead due to him shivering from the cold weather. "It was pretty cold out. I know all the critics, everybody said 'Oh, they were trying to do a drug shot'. It's not true. It was February, [Dylan] was wearing just that jacket, and I was wearing something similar, and the two of us were really cold," Schatzberg said, adding that "To his credit, [Dylan]'s the one that chose that photograph." The location of the photo has been questioned over the years too, with Schatzberg now saying that he "thinks" he shot it in the "meat-packing distract of downtown [New York]". However, he added that the original setting would now be "totally disguised" due to recent gentrification of the area. - NME, 10/27/15......
On Oct. 26 David Bowie's publicist confirmed reports in the British press that Bowie will release a new album called Blackstar next year. The London Times reported that Bowie will release his 25th studio LP on Jan. 8, which will be the rocker's 69th birthday, and that the album's title track will be released as a single on Nov. 20. But the spokesman denied other aspects of the recent reports, citing the "inaccurate reporting on the sound and content of the album." The Times had described the album as possibly Bowie's "oddest yet" and "completely bonkers." German electro pioneers Kraftwerk were referenced as a point of comparison, along with jazz influences. Bowie is unlikely to mount a tour behind the the LP, as it was reported earlier in October that he has allegedly "retired from touring." - NME, 10/26/15...... Dr. Arnold Klein, the dermatologist who was famously connected to Michael Jackson and other Hollywood celebrities including Elizabeth Taylor, Dolly Parton and Carrie Fisher, died on Oct. 22 at Eisenhower Medical Center in Rancho Mirage near Palm Springs, Calif. He was 70. Klein, who called Jackson "my best friend," treated him for more than 25 years before the pop star's drug-related death in 2009. Debbie Rowe, a nurse who worked for Klein, married Jackson and had two of the singer's three children, Prince and Paris, before the couple divorced. Dr. Klein dismissed media reports alleging that he fathered the children through a sperm donation. When Jackson died, federal drug agents investigating the singer's prescriptions cleared Klein, and his attorney denied that Jackson was addicted to Demerol used for pain relief during medical procedures. The judge ruled that Klein's testimony would not be relevant to the case. - AP, 10/23/15...... Maureen O'Hara, the Irish-born Hollywood actress known as the "Queen of Technicolor" who starred in such iconic films as Miracle on 34th Street and How Green Was My Valley, died at her home in Boise, Idaho, on Oct. 24. She was 95. Ms. O'Hara "was called the Queen of Technicolor," because when that film process came into use, nothing seemed to show off its splendor better than her rich red hair, bright green eyes, and flawless peaches and cream complexion." Yet she was not only famous for her eauty, but for her tendency to portray lively, tenacious women, like Mary Kate Danaher in the 1952 movie The Quiet Man alongside John Wayne. She also appeared opposite Wayne in four other films, including The Wings of Eagles, Big Jake and McKlintock. Ms. O'Hara also starred as John Candy's overbearing mother in Only the Lonely, and her final credit was as the star of the 2000 CBS telefilm The Last Dance. - Jezebel.com, 10/25/15.
Singer/guitarist Cory Wells, one of the founding members of the mega-selling late 1960s/early 1970s band Three Dog Night, passed away on Oct. 20 in his Buffalo area home along the Lake Erie shore, the band confirmed in a press release. He was 74. "It is with deep sadness and disbelief that I must report the passing of Cory Wells, my beloved band mate for over 45 years," said Three Dog Night member Danny Hutton. "Cory was an incredible singer -- a great performer, he could sing anything. Cory was like a brother in so many ways. We had been together since 1965 and I am in shock at this sudden loss," Hutton added.
Wells was one of the three leaders of the band, also including Chuck Negron, who topped the Billboard Hot 100 singles chart three times with such seminal classics as "Joy to the World" (which has appeared in countless movie and TV shows), "Mama Told Me (Not to Come)" and "Black and White." The band, which was known for their interpretations of other songwriters' material, earned a total of 20 Top 40 hits, and put 11 albums in the Top 20 of the Hot 200 album chart, with their best-selling album, 1971's Golden Biscuits hits compilation, peaking at No. 5. After decades with Three Dog Night, Wells stopped performing in September after developing severe back pain. Born in Buffalo, N.Y., on Feb. 5, 1942, Wells started his career in several Buffalo bands as a teen, including The Vibratos, later called The Enemies, before forming Three Dog Night in 1968. An avid fisherman, he maintained a home along the Lake Erie shore in greater Buffalo. He is survived by Mary, his wife of 50 years, his daughters Coryann and Dawn Marie, and five grandchildren. - Billboard, 10/21/15.
The intermission music played during the Grateful Dead's Fare Thee Well shows this summer, which was composed and recorded during a two-day jam session by the surviving Dead members, is getting an official release. The project came together when GD drummer Bill Kreutzmann's son Justin asked Neal Casal (The Chris Robinson Project, Hard Working Americans) to compose and record more than five hours of original music to be played along with the visuals he was preparing for the Fare Thee Well intermissions. Casal then helped create and curate five hours of original music. Titled Interludes for the Dead, the release will highlight the five hours of music and drop digitally on Nov. 27 via the psychedelic project, Circles Around the Sun. The music will also be available in a two-CD set as well as a limited-edition two-LP 180-gram vinyl. Also, all three CDs featuring the entire Circles Around the Sun recordings will be released in the 12-CD/seven-DVD sets available Nov. 20 on Dead.net. - Billboard, 10/20/15......

During his latest monthly residency at New York City's Madison Square Garden on Oct. 21, Billy Joel introduced surprise guest Steve Miller to the crowd to jam with him on a rendition of Miller's 1974 No. 1 hit "The Joker." Miller, 72, played guitar on "The Joker," and later another special guest, John Mayer, was brought onstage to assist on Joel's ballad, "This Is the Time." Joel and Mayer then performed the Eric Clapton/Cream arrangement of the Robert Johnson blues classic, "Crossroads." Joel also celebrated the recent New York Mets entry into the World Series after their sweep over the Chicago Cubs in the MLB playoffs by playing a spirited version of the "Meet the Mets" theme song on piano. - Billboard, 10/22/15...... A performance by Gladys Knight taped at the legendary Apollo Theater earlier in 2015 will air on Oct. 24 at 10:00 p.m. EDT on the Oprah Winfrey Network (OWN) as part of the network's Legends: OWN at the Apollo series. Knight performed inventive arrangements of such Motown classics as "I Heard It Through The Grapevine" and one of her own Motown singles, "I Don't Want To Do Wrong," along with such classics from her Buddah Records days as "Neither One Of Us." Knight also brought out friends Stevie Wonder and Dionne Warwick for a version of "That's What Friends Are For," a Burt Bacharach tune that all three singers originally appeared on -- with Elton John -- in 1985. - Billboard, 10/19/15...... The two-bedroom cottage in Long Branch, N.J., where Bruce Springsteen composed his breakthrough 1975 album Born to Run is currently up for sale, listed at $299,000. The house on West End Court is currently owned by three Springsteen fans, who purchased it in 2009 with the idea of turning the home into a tribute to the New Jersey rock legend. However, those plans were derailed. The owners say the house does occasionally draw visitors, and they say the try to accomodate the fans. Springsteen has said that he wrote every song on the Born to Run album -- including the title track and other classic songs such as "Thunder Road" and "Jungleland" -- while living in the home from 1974 to 1975. - AP, 10/18/15...... Welsh crooner Tom Jones is responding to criticism he received after stating that he was "paranoid" of homosexuals when he first started in the music industry. Speaking to the U.K. publication The Big Issue about his early days in show business, Jones was quoted as saying: "I was ready for most aspects of the music industry but when I met the producer Joe Meek, that threw me off a bit. Because he was a homosexual. I thought, wait a minute, is the London scene, the people who run British show business -- are there a lot of homosexuals involved here? Because if so, I'm going back to Cardiff." The words drew criticism from Andrew White, Director of LGBT rights group Stonewall Cymru, who told London's Daily Mail paper: "It's not unusual to meet gay people in show business so we'd have thought that Sir Tom would have learnt how to talk about us by now. Instead he's still painfully tripping over his words." Now, Jones has taken to Twitter to suggest that his comments were taken out of context, saying that his remarks were about "attitudes in the 50s & 60s." "Context! The story is about knowledge/attitudes in the 50s & 60s. it's called History!," he tweeted on Oct. 23. Jones released his latest album, the covers LP Long Lost Suitcase, on Oct. 9. - New Musical Express, 10/23/15.......

Black Sabbath will be the among the headliners for the U.K.'s 2016 Download Festival, which is set for June 11 and 12. Sabbath, fronted by Ozzy Osbourne, will headline the June 11 show as part of the band's final "The End" tour in 2016. According to a press release, it will be "their biggest and most mesmerising production to date." Sabbath, also featuring original members Tony Iommi and Geezer Butler, will kick off their "The End" trek in the U.S. in Jan. 2016, in Nebraska. Following the U.S. dates, the band will commence a string of dates in Australia and New Zealand in April before heading to Europe in June. - NME, 10/20/15...... Current Queen vocalist and former American Idol runner-up Adam Lambert appeared on the U.K. talk show Chatty Man with host Alan Carr on Oct. 17 and recreated the classic music video of Queen's "Bohemian Rhapsody" with Carr. Lambert recently revealed that he'd like to perform with Queen at this year's Glastonbury festival after rumours circulated that they might be a frontrunner for the 2016 headlining slot, but Queen guitarist Brian May suggested that Lambert's commitments might have been the reason the band didn't play the festival. "Look these things get put on the table, it would be interesting to do Glastonbury if we were an operational unit at the time," May said. "You see this year Adam's off doing his solo work at the moment so it wouldn't have worked. You only look at things that are possible logistically at the time," he added. - NME, 10/20/15...... Producer Eddie Kramer, who worked with Jimi Hendrix on Hendrix's final 1968 album Electric Ladyland, said in a recent interview with the BBC that Hendrix "would have pioneered rap" if he was alive today. "This whole idea of street music would have definitely influenced him," Kramer said. "Jimi was aware of everything that was going on, he was a musical sponge. The next step? Who knows... He may have even gotten into rap. I think about this all the time. Not only would he have been a great record producer, but he would have had his own record company, a film company, a musical production company. He would have been an enormous force -- pretty much like Jay-Z is today. He would have been king of the heap," Kramer added. Kramer was speaking ahead of the release of a forthcoming Hendrix documentary titled Electric Church. - NME, 10/19/15...... Michael Jackson's son Prince Jackson has finally acknowledged rumours suggesting the late King of Pop is not his biological father, but still insists that Michael is the only father he's ever known. After a Twitter troll posted "everyone knows you are a Rowe-Klein NOT A Jackson!! Yall (sic) should stop trying to put on a FAKE front and get real," Prince, 18, responded with a tweet of his own: "The blood of the covenant is thicker than the water of the womb" I was raised by my dad with my brother and sister." Prince and his siblings are currently being raised by their cousin, TJ Jackson (the son of Tito Jackson), and their grandmother Katherine Jackson. Prince, whose mother is Jackson's ex-wife Debbie Rowe, was born in 1997, and his sister Paris Jackson was born a year later. Critics have long speculated over the paternity of the kids, and their 13-year-old sibling Prince Michael Jackson II, who was born to a mystery surrogate, but Michael maintained he had fathered all three of his offspring -- even though they shared no similar facial features. - WENN.com, 10/22/15...... '70s funnyman Steve Martin has collaborated with his fellow Grammy-winning musician Edie Brickell on a new Broadway musical that will launch on the Great White Way in March 2016. Martin and Brickell collaborated on the music, with Brickell penning the lyrics and Martin writing the story. It was inspired by the pair's collaboration on the album Love Has Come for You. Set in the South in the 1920s and 1940s, the show is about a woman who befriends a soldier just home from World War II. The show had its premiere in San Diego in 2014 and this winter has a run at the Kennedy Center. - AP, 10/21/15......
The final trailer for the latest movie in the Star Wars saga, Star Wars: The Force Awakens, was unveiled during halftime on ESPN's Monday Night Football on Oct. 19, causing several online ticket sites, including Fandango and Movie Tickets, to crash. The J.J. Abrams-directed film hits U.S. theaters on Dec. 18, and its cast includes original 1977 Star Wars players Harrison Ford, Carrie Fisher and Mark Hamill, along with Oscar Isaac, Daisy Ridley, John Boyega, Lupita Nyong'o and Adam Driver. - The Hollywood Reporter, 10/19/15...... Actor/comedian Marty Ingalls, best known for his co-starring role in the 1960s sitcom I'm Dickens, He's Fenster, died on Oct. 21 in Tarzana, Calif., as a result of complications from a stroke. He was 79. Ingels began his career with TV appearances in the 1960s before landing a co-starring role opposite John Astin on ABC's I'm Dickens, He's Fenster. He also appeared in two episodes of CBS' The Dick Van Dyke Show as Sol Pomeroy and on an episode of ABC's Bewitched. His big screen credits include The Busy Body with Sid Caesar in 1967, A Guide for the Married Man with Walter Matthau, and The Picasso Summer with Albert Finney in 1969. Ingalls later became known for lending his unique rasp to voiceover work in hundreds of cartoons and commercials. He also launched Ingels, Inc., an agency which booked film stars, including John Wayne and Cary Grant, in TV ad campaigns. Ingalls met Oscar-winning actress and former The Partridge Family star Shirley Jones at a party at actor Michael Landon's home, and the couple married in 1977. In 1990 they published an autobiography entitled Shirley & Marty: An Unlikely Love Story. "He often drove me crazy, but there's not a day I won't miss him and love him to my core," Jones said in a statement. He is survived by stepsons Shaun, Patrick and Ryan Cassidy; a niece and 12 grandchildren. - The Hollywood Reporter, 10/21/15.
The Grateful Dead's Phil Lesh posted a message through the Facebook page of the Terrapin Crossroads restaurant in San Rafael, Calif., that he owns on Oct. 17 announcing that he has been diagnosed with bladder cancer. The bassist says he is currently undergoing treatment at the Mayo Clinic in Scottsdale, Ariz., to eventually remove tumors and expects to make a full recovery. "Thanks to my local doctor Cliff Sewell, and the incredible team at the Mayo Clinic, all is well and I can return to normal activities in two weeks from my surgery," Lesh wrote. As a result of his treatment, the musician said that his Phil Lesh & Friends shows at the restaurant scheduled for Oct. 24-25 have beed canceled. Lesh also battled prostate cancer in 2006. - Billboard, 10/17/15...... In a new interview with a New Zealand radio station, Kiss bassist/vocalist Gene Simmons said he thinks modern music's lack of infrastructure is killing the potential for more great bands like his own and the Beatles to come along. After recounting the major artists from 1958 to 1988 -- including Elvis Presley, the Beatles, the Rolling Stones, Madonna, U2 and Metallica -- Simmons said: "From 1988 until today -- give me the new Beatles and the new Stones. Give me just one. You can't. Rock is dead. And the reason for that? Downloading and filesharing. When you stop charging for things, it becomes worthless. And there's gonna have to be a business model that's gonna have to change. 'Cause there are great bands out there, but there's no support system." - New Musical Express, 10/17/15......
Rod Stewart ended his two-decade songwriting drought with 2013's Time. Now he's on a roll with Another Country, another collection of tunes that he penned himself. "I was born in London, so I'm a cockney Scotsman," he says. "There's a huge Gaelic feel throughout the album, lots of violins and mandolins." On the upcoming single "Love Is," he tries to work out the truth about romance after three divorces. "This is me passing along, to anyone who will listen, a few nuggets of wisdom acquired from my dippings into life's chocolate box down the years," he says. "Believe me, though, I still don't understand the chemistry of love and why sometimes it works and sometimes it doesn't." Another Country drops Oct. 23 from Capitol Records. - Rolling Stone, 9/10/15...... In an interview with TheDailyBeast.com website on the occasion of what would have been John Lennon's 75th birthday on Oct. 9, Yoko Ono said that both her and her husband saw bisexuality as a natural thing: "John and I had a big talk about it, saying, basically, all of us must be bisexual. And we were sort of in a situation of thinking that we're not [bisexual] because of society. So we are hiding the other side of ourselves, which is less acceptable. But I don't have a strong sexual desire towards another woman." Responding to John's statement one time that his relationship with Beatles manager Brian Epstein was "almost a love affair... [but] never consummated," Ono said: "The story I was told was a very explicit story, and from that I think they didn't have [sex]." Ono added that she was "sure Epstein made a move, yeah [but] John just didn't want to do it, I think... I think he had a desire to [sleep with men], but I think he was too inhibited." - Billboard, 10/13/15...... In other Beatles-related news, Paul McCartney's latest reissues of two of his 1980's albums, Tug of War and Pipes of Peace, have reentered the Billboard Hot 200 album chart at No. 56 and No. 70, respectively. Pipes of Peace features a new mix of the 1983 single "Say Say Say," a collaboration with Michael Jackson, with reviously unheard vocals from McCartney and Jackson, where they switch lead vocals on the track. The remix was released to radio on Oct. 2 and accompanied by a new video, directed by Ryan Heffington. So far, nine McCartney and Wings albums have been reissued in the Paul McCartney Archive Collection series, and all nine of them have reached the Top 10 of Billboard's Catalog Albums chart. - Billboard, 10/16/15...... Brian Wilson participated in a DVD release party for the new Wilson biopic Love and Mercy with the movie's stars, including Paul Dano and Elizabeth Banks, at Herb Alpert's Vibrato Grill Jazz club in Los Angeles on Oct. 13. The party started with a screening of the film and ended with a rousing, joyful 35-minute set by Wilson and his 10-piece band, which includes fellow Beach Boys member Al Jardine. Wilson was reportedly in fine spirits throughout the performance, often introducing the tunes: "Here comes a really good song from Pet Sounds," he said before playing "Wouldn't It Be Nice" or telling the audience when to stop clapping during "Good Vibrations" (not to mention gently chastising the band for starting the song too fast). Wilson's 12-song BB hits-heavy set also included a duet with Dano on "You Still Believe in Me." - Billboard, 10/13/15......
A new exhibit dedicated to Graham Nash, "Touching the Flame," opened to the public on Oct. 17 at the Rock and Roll Hall of Fame in Cleveland, Oh., and after viewing it Nash says he thinks it "looks f---ing spectacular." The one thing that I was wanting to do more than anything is make sure people understood Graham Nash is more than just Graham Nash that musician; that I'm a photographer and a painter and a sculptor and la la la la la, all that shit. I'm happy to show it to people, to share what was going on in my life," the CSN/CSNY/Hollies member said. The exhibit combines artifacts over his entire career, including photographs, handwritten lyrics, clothing and instruments, with other memorabilia he owns, including handwritten Bob Dylan lyrics, guitars previously owned by Duane Allman and Phil Everly, and the belt and jeans that he wore at Woodstock in 1969. - Billboard, 10/16/15...... In 1970, after British actor David Hemmings (Blow Up) was rumored to be the preferred lead for a new Stanley Kubrick-directed movie called A Clockwork Orange, Mick Jagger lobbied hard for the role of head "droog" Alex, which was eventually given to Malcolm McDowell. Jagger organized a petition signed by every member of the Beatles, Marianna Faithful, and actress/model Anita Pallenberg who had relationships with Stones members Brian Jones and Keith Richards) and others. In Jagger's vision of A Clockwork Orange, he would play Alex, the Stones would be his droogs and the Beatles would provide the soundtrack. That petition -- an unusual piece of obscure history -- is now up for auction via Paddle8.com, which expects the tattered petition to fetch between $18,000-$25,000. In the end, A Clockwork Orange was scored by one of music's first major transgender figures -- Wendy Carlos -- and Jagger would star in two mostly forgotten 1970 films -- Ned Kelly and Performance. - Billboard, 10/16/15...... ELO has released a second single, "When the Night Comes," from its upcoming album Alone in the Universe. In September, the Jeff Lynne-led band began streaming the LP's first single, "When I Was a Boy," for fans. Fans who preorder Alone in the Universe, which is due Nov. 13, will receive "When I Was A Boy" instantly. - NME, 10/15/15...... Elton John has written an op-ed about his tireless fight to help AIDS victims for Billboard magazine's first ever philanthropy issue. "Through the years, I've done my best to use the incredible platform that I've been blessed with to make a difference, particularly in the fight against AIDS," Sir Elton wrote in the magazine, adding "That's why my foundation continues to work with communities and organizations made up of individuals who share our passion for fighting the stigma that drives this disease. We're committed to securing the basic human rights of those living with or at risk of contracting HIV." John, 68, founded his AIDS foundation in 1992. Since then, the EJAF has raised $349 million for HIV/AIDS treatment and prevention and has become one of the largest HIV/AIDS grant-makers in the world. - Billboard, 10/15/15......
U.K. hard rockers Def Leppard will release their first eponymous LP, Def Leppard, on Oct. 30, and guitarist Phil Collen promises the new album, the group's 11th studio effort, is "the best Def Leppard album since Hysteria," which was released in 1987 and went 12 times platinum. "It's the freest, most liberating thing we've ever done," Collen says. "It's the first time we've ever done an album where there weren't any constraints. We didn't have a record company or an executive at a label going, 'OK, we need this, we need that' or 'OK, the concept of the album is gonna be blah, blah, blah... So we pretty much did that and just followed the muse." On Jan. 27, Collen, frontman Joe Elliott, and the rest of the band will kick off a 13-date US tour behind the new 14-track set in Greensboro, N.C., also visiting cities such as Ft. Lauderdale, Fla. (1/29), Orlando (1/30), San Antonio, Tex. (2/2), Little Rock, Ark. (2/9), Atlantic City, N.J. (2/14) and Brooklyn, N.Y. (2/16) before wrapping in Allentown, Penn., on Feb. 17. - Billboard, 10/16/15...... Neil Young played two seldom-visited tracks from his back catalog -- "Vampire Blues" and "LA" -- for the first time in 40 years during a concert at The Forum in Inglewood, Calif., on Oct. 14. "Vampire Blues" was originally featured on Young's 1974 On The Beach, with "LA" first featured on his 1973 live album, Time Fades Away. Young also played "Vampire Blues" for the first time since 1974 during a show in Eugene, Ore., a week earlier. Young is currently on tour with Promise Of The Real as his backing band across the United States and delved deep into his extensive discography during The Forum gig. - NME, 10/16/15...... Joni Mitchell's good friend and fellow folk-rock legend, Judy Collins says Mitchell is "making good progress" after being diagnosed with a brain aneurysm in March of this year and was found unconscious in her L.A. residence. "NEWS ON JONI --I have just heard from a close mutual friend that Joni is walking, talking, painting some, doing much...," Collins posted about Mitchell on her Facebook page on Oct. 14. Updates on Mitchell's health have been occasional, but hopeful for a full recovery. In 1968, Collins charted the Mitchell-penned "Both Sides Now" to No. 8 on the Billboard Hot 100 singles chart, and won her lone Grammy for Best Folk Performance for the cover. - Billboard, 10/15/15...... Warner Bros. has signed a development deal with TV/radio host Tavis Smiley to turn his upcoming book about Michael Jackson's final days, Before You Judge Me: The Triumph and Tragedy of Michael Jackson's Last Days, into a television series. Smiley's book is due out in June 2016 via Little, Brown and Company, and Warner is also planning to develop a television series around Smiley's other recent book, My Journey with Maya, as a part of the same deal. In other Michael Jackson-related news, actress Jane Fonda revealed that she "once swam naked with Michael Jackson" during the time she was filming the 1981 movie On Golden Pond. "Michael Jackson came and stayed for 10 days on the set," Fonda told an audience at the Loyola Marymount University School of Film & TV on Oct. 15 as part of The Hollywood Reporter's Hollywood Masters series. "We lived together. I went skinny dipping with him. Also, by the way, with Greta Garbo. Fonda added that Michael "wanted to be a movie star -- he had just finished doing The Wiz -- and he had a tape recorder with him, and every day I would bring him to the set, and in between scenes she (her On Golden Pond co-star Katharine Hepburn) would sit down in a chair and pull over a chair for him and tell him stories." - Billboard/WENN.com, 10/15/15......
Bruce Springsteen announced on Oct. 15 that he'll release a long awaited box set of his 1980 double-LP The River on Dec. 4 via Columbia Records. Described as a "comprehensive look at the River era" in a Columbia press release, The Ties That Bind: The River Collection boasts 52 tracks over four CDs which includes unreleased tracks and four hours of never-before-seen video spread out over three DVDs. Included will be the original double album; The River: Single Album which is a CD of 1979/80 studio outtakes; a two-DVD film of never-released concert footage from the band's 1980 show in Tempe, Ariz.; rare tour rehearsal footage of what was then new songs; a brand new documentary The Ties That Bind about The River; and a coffee table book of 200 rare or previously unseen photos and memorabilia with a new essay by Springsteen biographer Mikal Gilmore. - Billboard, 10/16/15...... Jamaican author Marlon James became the first Jamaican winner of the prestigious Booker Prize for fiction on Oct. 13 for A Brief History of Seven Killings, his vivid, violent and expletive-laden novel based on the 1976 attempted assassination of Jamacian reggae legend Bob Marley. James was awarded the £50,000 ($77,000) prize during a black-tie dinner at London's medieval Guildhall, and said he hoped his victory would bring "more attention to what's coming out of Jamaica and the Caribbean, because I think there are some brand-new voices coming out who are exploring contemporary society, who are exploring what's beyond politics, what's beyond colonialism." The book charts political violence in Jamaica and the spread of crack cocaine in the U.S., and hinges on a 1976 attempt on Marley's life -- who is identified in the book only as "The Singer." In other Bob Marley news, a former CIA prisoner who was allegedly tortured by the spy agency in a harsh interrogation program that included being forced to listen to the Irish boy band Westlife at ear-splitting levels says he now listens to Marley to help cope with life after being released from prison. Suleiman Abdullah Salim, a Tanzanian fisherman, is one of three former CIA prisoners on whose behalf the ACLU has sued two architects of the spy agency's harsh interrogation program. Interrogators played the music on repeat for Salim "at ear-splitting volume," according to the ACLU. - AP/Billboard, 10/13/15...... Willie Nelson's camp posted a message on his Facebook page on Oct. 14 saying the octogenarian country legend has been forced to cancel a show and reschedule two others due to an unspecified illness. "Unfortunately Willie has been feeling under the weather so a couple dates have been rescheduled and one cancelled. Sorry for the inconvenience," the statement reads. The affected dates include an Oct. 15 show in Florence, S.C. (rescheduled to 4/6/16), an Oct. 16 concert in Roanoake, Va. (reschedled to 10/19) and an Oct. 17 performance in Reading, Pa. (cancelled). - Billboard, 10/15/15...... During a reading to promote her new book M Train at Illinois' Dominican University on Oct. 15, Patti Smith was moved to tears when one fan returned several items that were stolen from her tour van 40 years ago. Smith was approached by a fan named Noreen Bender who handed her a bag containing personal items she believed were stolen from the van, including "a top, a Keith Richards T-shirt, a remembrance cloth and other accessories" she had kept in a Bob Dylan merchandise bag for over 40 years. Bender explained that a male friend of her Chicago roommate had given her the items. They are thought to be the same items Smith lost when her rented tour truck was stolen outside a Gold Coast hotel following her gig at the Chicago, Illinois' Aragon in June 1979. Surprised and reduced to tears to get the items back, Smith explained to the audience that the top was the same one she wore on the cover of Rolling Stone magazine in July 1978 and the cloth had belonged to her brother and road manager Todd Smith, who died in 1994. The van contained musical equipment worth over $40,000 including amplifiers and guitars and was never found. - New Musical Express, 10/15/15...... Founding Lynyrd Skynyrd guitarist Gary Rossington suffered a heart attack during the second week of October according to a Facebook post on Oct. 13. To give Rossington time to recover, the band has announced it is canceling upcoming shows set for Terre Haute, Ind., and Pleasant, Mich. Rossington is he only original Lynyrd Skynyrd member to remain in the band since its inception in 1964. - Billboard, 10/13/15......

Tommy Chong of the '70s doper duo Cheech & Chong has revealed that he will be undergoing surgery to remove a tumour in his rectum in the hope it will end his painful battle with cancer. Chong checked into the hospital in Los Angeles on Oct. 15 shortly after appearing on the syndicated celebrity TV show Access Hollywood Live, where he revealed he's desperate to overcome his longtime health issues. Chong won his battle with prostate cancer in 2012, insisting pot suppositories were a miracle cure, but earlier this year the comedian was diagnosed with rectal cancer -- and he believes the hemp oil he used to beat his first cancer is the cause of his latest crisis. "When you go into your orifice you've got to clinically know what you're doing with it," Chong said. "I put suppositories up there and I don't know how they did the oil and so on, and so now I found a laboratory where they test and they make sure that the oil that they give you to inject and everything else is pharmaceutically correct, it's pure," he added. Chong says he also believes his stint on TV show Dancing With the Stars is responsible for his latest diagnosis, adding, "I was under a lot of stress and then I wasn't smoking or doing any pot, and the pot keeps you from getting disease. I got it (cancer) during that.... They're going to remove the tumor surgically... It's going to be fine." - WENN.com, 10/15/15...... Republican presidential candidate Donald Trump tweeted on Oct. 14 that he will agree to stop using the Aerosmith song "Dream On" during his campaign events after band frontman Steven Tyler sent him a cease-and-desist letter on Oct. 10, and added that he "has a better one to take its place." "Even though I have the legal right to use Steven Tyler's song, he asked me not to. Have better one to take its place!," Trump posted, and followed up on Twitter with "Steven Tyler got more publicity on his song request than he's gotten in ten years. Good for him!" There is no word yet on which "better song" Trump has chosen to replace "Dream On." - Billboard, 10/14/15...... Journey drummer Deen Castronovo pleaded guilty to domestic violence charges on Oct. 12 and was sentenced to four years probation by a judge in Salem, Ore. Castronovo, who was arrested on June 14 and charged with knowingly causing physical injury to a woman, will be required to undergo counseling for domestic violence offenders and drug abuse. The Marion County District Attorney's Office says he faces more than five years in prison if he violates the terms of his probation. After the first arrest, Castronovo again two weeks later and ordered to jail when prosecutors said he texted the woman 122 times and called her 35 times despite a no-contact order. He has been with Journey since 1998, when he replaced Steve Smith. - AP, 10/13/15...... Pop crooner Engelbert Humperdinck responded to recent comments by Tom Jones in which Jones referred to him as a "a c***" during an interview with a UK paper. Humperdinck said that he was taken aback by the comment and said he was particularly shocked by the language used from Jones considering he is a Sir. "To be honest I feel sorry for Tom always being in a bad mood. Life is too short to hold anger inside. I wish him luck," Humperdinck told Noise11.com. Humperdinck and Jones reportedly had a falling out after Humperdinck left record label MAM in the 1970s. MAM was owned by Jones and Gordon Mills, who managed both artists. - New Musical Express, 10/14/15.
As nude photos of pop sensation Justin Bieber's private parts have gone viral on the internet, Bette Midler took to Twitter on Oct. 10 to lash out at Bieber's father, Jeremy Bieber. "(Justin Beiber's) dad tweeted he's proud of his son's penis size. I think the biggest dick in this situation is the dad who abandoned his son," Midler posted. The The Rose star was referring to Jeremy Bieber's now-deleted tweet that asked Justin "What do you feed that thing? #proud daddy" -- presumably referring to the graphic images of his son. Justin Bieber's camp is threatening legal action against any outlet that shared the leaked photos. Meanwhile, Rod Stewart has branded Justin Bieber's bad boy antics old-fashioned and "fake" in a new magazine interview. Stewart, who had a reputation as a hard-drinking womaniser during his heyday with the Faces in the 1970s, now says the image of a rock 'n' roll wildman has become "passe." "The public have seen it all before and they're tired of rock stars behaving badly," Rod told the U.K. magazine Event. It's passe. The Who and the Faces did it all before they were born." In recent years, Bieber has been rocked by a series of scandals including convictions for vandalism, careless driving and resisting arrest. - Billboard/WENN.com, 10/10/15......
'70s artists Chicago, Cheap Trick, Steve Miller, Deep Purple, Yes, Chic, The Cars, The Spinners and Chaka Khan are among the 15 finalists for induction into the class of 2016 Rock and Roll Hall of Fame, organizers announced on Oct. 8. Others nominated include Janet Jackson, The Smiths, Nine Inch Nails, N.W.A, Los Lobos and James Brown's backing band The J.B.'s. Chicago, Steve Miller, Cheap Trick, The Cars, Chaka Khan, The J.B.'s, Janet Jackson and Los Lobos earned nods for the first time, while Chic has been nominated previously a record 10 times, with N.W.A. on the ballot four times already and Deep Purple and The Spinners being considered for entry three times each. Chicago's Robert Lamm told Billboard that his band is "suprised and honored" to be nominated, while Cheap Trick's Rick Neilsen praised the band's fans for "keeping us working and relevant." Acts are eligible for induction into the Cleveland-based Hall and Museum 25 years after the release of their first recording, album or single, and the public has until Dec. 9 to cast votes on the final inductees. The top five acts will comprise a "fans' ballot" that will make an impression along with those of the 800 artists, historians and music industry professionals who make up the Rock Hall voting body. Those chosen will be announced in December and inducted in a Hall of Fame ceremony next April in New York, which will be taped and later broadcast on HBO. 2015 RRHOF inductees include Ringo Starr, Lou Reed, Green Day, Joan Jett & the Blackhearts and Stevie Ray Vaughan & Double Trouble. - Billboard, 10/8/15...... George Benson was among the headliners at a celebration observing the 100th birthday of Frank Sinatra at Los Angeles' The Park at the Grove on Oct. 9. The outdoor mall, a destination for tourists visiting the Hollywood area, has long used the legendary singer's music to soundtrack the shopping experience. The concert followed a book signing by author Charles Pignone and one of Sinatra's daughters, Tina Sinatra, for their new book, Sinatra 100. The show was one of several Frank Sinatra 100th birthday events scheduled in 2015, including the new CD Ultimate Sinatra and the multimedia exhibit "Sinatra: An American Icon" which will premiere in Los Angeles at the Grammy Museum on Oct. 21. - Billboard, 10/12/15...... Don Henley performed several selections from his acclaimed new LP Cass County at the Forum in Inglewood, Calif., on Oct. 9 as he tours behind the new album. Of the night's 23-song set list, 13 tracks were from Cass County or its two more robust deluxe editions, and Henley warned the crowd that "this show is going to be all over the map... I don't like to live a monochromatic life." "Seven Bridges Road," from the 1980's Eagles Live album, was the only nod to his famous band the Eagles that evening, but there were plenty of solo Henley hits, including "New York Minute," "The Heart of the Matter" and "The End of the Innocence." The three encores included "Boys of Summer," "Train in the Distance" and "All She Wants to Do Is Dance." Meanwhile, Cass County topped Billboard's Top Country Albums chart for the week ending Oct. 17, with 87,000 copies sold, as well as No. 3 on the Hot 200 albums chart. - Billboard, 10/10/15......

Lawyers representing Aerosmith frontman Steven Tyler sent a cease-and-desist order to Donald Trump's campaign on Oct. 10, ordering the 2016 presidential hopeful to stop using Aerosmith's 1973 hit "Dream On" at his campaign events. "Trump for President does not have our client's permission to use 'Dream On' or any of our client's other music in connection with the Campaign because it gives the false impression that he is connected with or endorses Mr. Trump's presidential bid," the letter states. Ironically, in August Tyler showed up at the first Republican presidential debate as the personal guest of Donald Trump, and Tyler reportedly says his demand "has nothing to do with politics," only that Trump was never given permission to use the song. Trump first used "Dream On" at his presidential announcement this summer, as the song played amid opera and Broadway showtunes. One TV commentator noted the title and declared it was a "somewhat odd choice for a presidential campaign." Trump previously received cease-and-desist messages from two other rock acts -- Neil Young and R.E.M.'s Mike Mills and Michael Stipe for using "Rockin' in the Free World" and "It's the End of the World as We Know It (And I Feel Fine)," respectively. - The Hollywood Reporter, 10/11/15......Queen have announced they will release their concert film Queen - A Night at the Odeon - Hammersmith 1975 on CD, DVD, SD Blu-Ray, 2 LP vinyl, Super Deluxe Box Set and digitally (via Virgin EMI) on Nov. 20. "This concert was very special because it was the first time we ever played a whole show completely live on TV | the Christmas Show," said Brian May in a statement. "The quality, after great rescue work and transfer into the digital domain, is amazing. And the energy we had comes across very forcefully." The 19-song, Christmas eve 1975 concert is also notable for being the first time the band performed its iconic song "Bohemian Rhapsody" during its '75 tour. - New Musical Express, 10/12/15...... Phil Collins announced on Oct. 12 that he will write his as-yet-untitled autobiography to be published in October 2016 by Century in Britain and Crown Archetype in the United States. Both are owned by Penguin Random House, which holds global rights. Collins, a seven-time Grammy winner, promised to tell his life story, "warts and all," and a spokeswoman for the publisher said Collins's "unflinchingly honest" memoir would reveal "a Phil Collins that not many people know." The former Genesis member and 1980's solo star added that he's been asked several times in the past to write a memoir but he "never felt that the time was right -- until now." - AP, 10/12/15...... In his new unofficial Lou Reed biography Notes From The Velvet Underground, author Howard Sounes suggests that the late glam-rocker's prickly personality wasn't the only one of his flaws -- Sounes writes that Reed's first wife Bettye Kronstad claims Reed would "Tussle you. Hit you...shake you...and then one time he actually gave me a black eye." Reed, who often sang in explicit terms about violence against women, always insisted that his lyrics were rooted in fiction -- but Sounes contends that after interviewing more than 140 sources, he's found there's more truth to them than Reed ever admitted, and that he was an "unpleasant person." The word that kept coming up was prick," Sounes concludes. "Girlfriends called him a prick, people he was at school with called him a prick; people in his band called him a prick." - Billboard, 10/12/15...... Meanwhile, Reed's sometime collaborator David Bowie has purportedly said that he's absolutely done with touring, according to veteran British concert promoter John Giddings, who hosted one of Bowie's final shows in 2004. "David is one of the best artists I've ever worked with. But every time I see him now, before I even speak to him, he goes, I'm not touring' and I say, I'm not asking," Giddings recently said at the inaugural International Festival Forum. "He has decided to retire and, like Phil Collins, you can't demand these people go out there again and again and again. I'm really pleased and proud that the last show he ever did in the U.K. was the 2004 Isle Of Wight Festival." Bowie's last album, 2013's The Next Day, was a critical and commercial hit, reaching No. 1 in the U.K. and No. 2 in the U.S., and Bowie helped promote the album by releasing five videos from it. The 68-year-old musician underwent an emergency angioplasty in 2004 to relieve an "acutely blocked artery," his reps said at the time. - Billboard, 10/12/15......

Forty years after Kiss visited Chippewa Hills High School in Cadillac, Mich., after the small northern Michigan community's football team credited the band's music for its success on the field the previous year, residents of the city unveiled a monument to the band on Oct. 10. "The renowned bond between Cadillac and Kiss endures to this day," the black granite monument reads, and says the Oct. 9, 1975 event "attained worldwide acclaim as one of the most iconic stories in rock and roll lore... On that day, Kiss came to Cadillac, and a legend was created." Kiss rode in the homecoming parade and performed in the school gym, ultimately departing Cadillac from the football field in a helicopter, showering the students with hundreds of "Kiss Loves You" cards. Then-assistant football coach Jim Neff spearheaded efforts in 1975 to get Kiss to town. The previous year, the football team played Kiss songs before games, and had a seven-game winning streak and became conference co-champions, according to the monument. Although members of Kiss weren't able to attend the event, a Kiss tribute band performed some of their hits. - AP, 10/12/15...... The city of Boston celebrated the influence of punk poetess Patti Smith on their city by proclaiming Oct. 10 "Patti Smith Day." "When Patti Smith emerged on the American art scene in the mid-1970s, she defined a new breed of artist through her mystical poems and urgent rock and roll," Boston mayor Marty Walsh said in a statement. "Ms. Smith captivated audiences yearning for intellectual and emotional challenges in popular art, choosing ambiguity and raw emotion over the traditional stereotypes of women in rock music," he added. Smith was in the city on that date signing copies of her new book, M Train. - New Musical Express, 10/9/15...... The estate of Jimi Hendrix is suing an Arizona guitar shop owner for a guitar once owned by the legendary axman. Experience Hendrix LLC, the company that runs Hendrix's estate, has requested a Pima County Superior Court judge to order the guitar, which is currently owned by Harvey Moltz of Rainbow Guitars in Tuscon, returned. The complaint, filed on Oct. 2, claims that Moltz is not the rightful owner of the Black Widow acoustic guitar, which Hendrix LLC attorney Ed McPherson says is valued between $750,000 and $1 million. Moltz maintains he purchased the guitar in June 2014 from someone who bought it from Sheldon Reynolds, ex-husband of Hendrix's adopted sister, Janie Hendrix. McPherson claims Reynolds stole the guitar. "The guitar is priceless to our family," Janie Hendrix says. "It is one of the few guitars that came home after Jimi passed away. We just want our guitar returned safely and back where it belongs." Moltz's laywer says his client purchased the guitar in good faith, "without knowledge of competing claims of ownership." - AP, 10/11/15...... Yoko Ono marked what would have been the 75th birthday of her husband and late Beatle John Lennon on Oct. 9 by traveling to the island of Videy near Reyjkavik, Iceland to light the Imagine Peace Tower, built in Lennon's honour in 2007. This year was the ninth consecutive year Ono attended the annual lighting ceremony. Earlier the same week, Ono attempted to break the world record for the largest human peace sign at Central Park in New York. Around 2,000 people gathered, while 5,000 attendees were needed to break the record. Lennon's surviving former Beatles bandmate Ringo Starr also paid tribute to the 75th anniversary of John's birth on Twitter, posting: "It is 2 o'clock in the morning in the UK happy birthday John happy birthday to you love to Yoko and Sean peace and love." - NME, 10/9/15...... Joni Mitchell's acclaimed 1971 album Blue is among the recipients of the inaugural Slaight Family Polaris Canadian Heritage Prize. Polaris organizers say the award was designed to essentially answer the question, "Which album would've won if the Polaris Music Prize had existed back then?" Also receiving a similar award, for their respective time periods, were albums by Cowboy Junkies, Sloan and Peaches. - Billboard, 10/9/15...... ZZ Top frontman Billy Gibbons will release his first-ever solo album, Perfectamundo, on Nov. 6 via Concord Records. The album fuses Cuban and other Latin influences with Gibbons' regular mix of rock an blues, even incorporating some hip-hop flavors. Gibbons will be touring behind the new album with his BFG band starting Nov. 10 in Atlanta, and later headline the 2015 Havana Jazz Festival in Cuba. - Billboard, 10/8/15...... Keith Richards, who earlier in 2015 dismissed the Beatles' Sgt. Peppers Lonely Hearts Club Band album as "rubbish," was quizzed on more legendary rock bands in a new interview and described Led Zeppelin as "hollow" and The Who as "all flash." "Jimmy (Page) is a brilliant player. But I always felt there was something a little hollow about it, you know?," Richards said of Led Zeppelin. "I love Page, but as a band, no, with John Bonham thundering down the highway in an uncontrolled 18-wheeler." Moving onto The Who, vocalist Roger Daltrey is "all flash" according to Richards while drummer Keith Moon was a "disaster" when it came to playing with others. - NME, 10/9/15......

Tom Petty has spoken publicly for the first time about his '90s heroin addiction in a new biography by author Warren Zanes, Petty: The Biography. Though "unauthorized," the book has Petty's full backing and was written following extensive interviews Petty and his band The Heartbreakers. Zanes reports Petty became addicted to heroin relatively late in his career, when he was 50 years old. "He's a rock and roller. He had had encounters with people who did heroin, and he hit a point in his life when he did not know what to do with the pain he was feeling." Zanes explained that Petty was concerned the revelation about his drug use would set a bad example to young fans. "If anyone is going to think heroin is an option because they know my story of using heroin, I can't do this," he told Zanes. "I think you're going to come off as a cautionary tale rather than a romantic tale," Zanes replied. - NME, 10/8/15...... In an interview with the UK paper The Metro promoting his new album Long Lost Suitcase and book Over the Top and Back: The Autobiography, Tom Jones said he would never patch things up with his rival, Engelbert Humperdinck. "No. It's as I say -- once a c*** always a c***," Sir Tom, 75, said of the 79-year-old Humperdinck. There has long been reports of competition between the two veteran performers, who are said to have grown resentful of each other's success and developed a simmering rivalry" and "haven't spoken a word to each other in the last two decades." In 2013, Humperdinck reached out to Jones, tweeting: "Hey Tom, I think we should put our differences aside and record a duet in the honour of [former manager] Gordon Mills. What do you think?" Jones failed to respond. - NME, 10/9/15...... Roger Waters has announed he will release a live album from his time spent touring Pink Floyd's The Wall as a solo artist. Waters embarked on a The Wall tour between 2010-2013, and the tour is also the subject of a new documentary which it theaters in September. The two-disc The Wall live album consists of recordings from the tourdates and has been produced by Radiohead producer Nigel Godrich. Due Nov. 20, the album will be available on CD, vinyl and digitally. - NME, 10/8/15...... Leo Sayer said during an interview on the UK TV show Loose Women that he would be interested in performing in the "legend" slot at the next Glastonbury Festival. "There's that nice little slot they put people like Al Green and the other legendary artists. Yeah I could do that, hands down," Sayer said. When asked whether it would be something Sayer would be interested in, the "When I Need You" singer said: "It's on the cards man. I want do to it. Why not?" The 2016 Glastonbury Festival will take place at Worthy Farm over the week of June 22-26, and prevous "legends" acts include Dolly Parton, Shirley Bassey and earlier this year, Lionel Richie. - NME, 10/8/15......
Ann Wilson of Heart released her first ever solo EP, The Ann Wilson Thing, on Oct. 9 via Rounder Records. Highlights include "Fool No More," which was written by Wilson and described by her as "a heavy blues song about bad love and the fleeting of time," and "For What It's Worth," described by the singer/songwriter as "a melding of some timeless lyrics with meat, hair and teeth." Wilson kicked off a tour behind the new release in Hartford, Conn., on Oct. 6, and future shows include Vienna, Va. (10/12, 13), Nashville, Tenn. (10/15) and Oakland, Calif. (11/23, 24). - Miles High Productions..... Steve Mackay a saxophonist whose best known for playing on the Stooges' second album, Fun House, in 1970, died on Oct. 11. He was 66. Mackay left the Stooges near the end of 1970 and later rejoined the group for its comeback albums Ready to Die (2007) and The Weirdness (2013). He also collaborated with such bands as the Violent Femmes, Snakefinger and Commander Cody. Mackay was admitted to a California hospital in September for sepsis, a complication of an infection that can cause multiple organs to fail. - Billboard, 10/11/15...... Larry Rosen, an infuential modern jazz producer and record label co-owner, died on Oct. 9 at his home in Park Ridge, N.J., after a battle with brain cancer. He was 75. Rosen and his partner, composer/pianist Dave Grusin, mortgaged their homes to borrow money to launch GRP Records as an independent label in 1982. Its catalogue included albums by many top jazz artists such as Chick Corea, Lee Ritenour, Diana Krall, Diane Schuur, Patti Austin, Dr. John and Ramsey Lewis. After enjoying success as an independent label, the pair sold GRP to MCA Records in a multimillion-dollar deal, with Rosen remaining as president and CEO of the label until 1995. In 2008, Rosen created Jazz Roots, a popular jazz concert series with an education and mentoring program for music students. - AP, 10/10/15...... John Berg, a Grammy-winning album art designer who conceived covers for the likes of Bob Dylan, Bruce Springsteen and Chicago, passed away on Oct. 11 in Southampton, N.Y. after a battle with pneumonia. He was 83. Berg joined Columbia Records in 1961 and went on to enjoy a prolific career, designing more than 5,000 albums covers including such unforgettable sleeves as Dylan's 1967 Greatest Hits album and Chicago X from 1976. In 1985, he retired from Columbia after reaching the position of a vice president. - Billboard, 10/13/15...... Singer/songwriter Billy Joe Royal, best known for his country-flavored 1965 hit "Down in the Boondocks," died on Oct. 5 of an apparent heart attack. He was 73. Born in Valdosta, Ga., on Apr. 3, 1942, Royal began performing on his uncle's radio show at the age of 11. Royal took up steel guitar and joined the Georgia Jubilee in Atlanta at 14, performing with artists such as his close friend, Joe South, and others including Jerry Reed and Ray Stevens. Royal formed his own rock & roll band in high school in Marietta, and was performing regularly in Atlanta and Savannah by the age of 15. After recording an unnoticed single in 1962, in 1965 he flew from Cincinnati (where he was working at the time) to Atlanta to record "Down in the Boondocks," a song that South had written and wanted Royal to record as a demo for Gene Pitney. The echo-heavy song, which resulted from the use of a large septic tank that had been dragged into the studio, received interest from Columbia Records, who signed Royal to a six-year deal. "Boondocks" became his breakthrough single, reaching number nine on the pop charts and briefly making him a teen idol. Following its success, Royal had a string of lesser Top 40 hits, including "I Knew You When," "I've Got to Be Somebody," and "Cherry Hill Park." As his star faded by decade's end, he became regular performer in Las Vegas and around Lake Tahoe, and did some acting on TV, feature films and commercials. Royal attempted to establish himself as a country artist in the early '80s, and was signed to a contract by Atlantic. He had a string of Top 40 country hits in that decade, including "Burned Like a Rocket" and "I'll Pin a Note on Your Pillow." He continued to have minor hits into 1992 and toured into the 2000s.
An exhaustive and fascinating box set of Bob Dylan studio-outtakes from his influential 1965-66 period, The Cutting Edge: 1965-1966: The Bootleg Series Vol. 12, is due from Columbia on Nov. 6 and offers a definitive look at the development of iconic rocker's plugged-in sound found on the studio albums Bringing It All Back Home, Highway 61 Revisited and Blonde on Blonde. Embryonic takes and alternate versions of some of his greatest songs, including "Subterranean Homesick Blues," "Like a Rolling Stone" and "Visions of Johanna" are included in the collection, which will be available in a two-disc, six-disc, and monster limited-edition 18-disc set that includes every single take of every song from the three albums (the complete "Like a Rolling Stone" sessions take up an entire CD on the latter set, with Dylan scholar/critic Greil Marcus promising "people are going to get lost in that"). The Cutting Edge is the third of Dylan's "Bootleg Series" collection released in the past two years, following Another Self Portrait and The Basement Tapes Complete -- and the Dylan camp says its nowhere near done raiding the legendary musician's vaults. "We've always wanted to do one of pre-album stuff where Bob is just singing songs in Greenwich Village coffeehouses," a Dylan insider says. "We'd also love to revisit Blood on the Tracks, Infidels, Oh Mercy and the gospel albums." - Rolling Stone, 10/8/15.
The current box office smash The Martian features several classic '70s songs on its soundtrack, including Vickie Sue Robinson's "Turn The Beat Around" and Abba's "Waterloo," and now Columbia Records hopes to repeat the success of the '70s-influenced Guardians of the Galaxy soundtrack by releasing all eight of The Martians' '70s songs via iTunes on Oct. 2 and on CD on Nov. 6. The songs included on Songs From The Martian provide lighthearted moments in the Ridley Scott-directed film, including when abandoned astronout Mark Watney (played by Matt Damon) digs up a nuclear generator to provide heat as Donna Summer's "Hot Stuff" plays. "The music was always there for comic relief or for some sarcasm," says The Martian editor Pietro Scalia. "The [songs] are played with irony and were perfectly chosen." "What I saw with The Martian was every use of the music enhanced the movie. There was a reason for every song," Columbia Records soundtrack consultant Glen Brunman added. 2014's Guardians of the Galaxy soundtrack rose to No. 1 on the Billboard Hot 200 album chart in its second week of release, making it the only soundtrack composed of all previously released material to reach No. 1. The Guardians soundtrack has sold 1.4 million copies, according to Nielsen Music, including 5,000 copies on cassette. - Billboard, 10/2/15......

Yoko Ono led thousands of participants in New York's Central Park on Oct. 6 in an attempt to form the world's largest human peace sign to honor her late beloved husband, John Lennon. Although the record attempt didn't succeed, the crowd still celebrated the upcoming birthday of the late Beatles member, who would have turned 75 on Oct. 9. A Guinness World Records representative said the effort drew more than 2,000 people, with at least 5,000 needed for an official record. More than three decades after her husband's assassination, Ono, 82, summed up the event using his famed lyrics, "Imagine all the people living life in peace." "This is the best present to John," she added. Two days earler, Ono and the latest iteration of the Plastic Ono Band -- a loose collective that she formed in 1969 with Lennon and revived in 2009 after a 35-year hiatus -- headlined the Modern Sky Festival, also held in Central Park. - AP/Billboard, 10/6/15...... In other Beatles-related news, Paul McCartney has debuted a remix of "Say, Say, Say," his 1983 collaboration with Michael Jackson. A special version of "Say, Say, Say," featuring unheard vocals and swapped parts, is featured on the recent reissue of Paul's LP Pipes of Peace and, the song's video premiered exclusively on McCartney's Facebook page on Oct. 6. Paul also posted the news on Twitter: Paul McCartney and Michael Jackson - '#SaySaySay [2015 Remix]'Song taken from 'Pipes of Peace 2015 Remaster' - in stores nowVideo directed by Ryan Heffington#PaulMcCartney #MichaelJackson #PipesOfPeace. The new video, which was directed by Ryan Heffington (Lady Gaga), featured a cast of young dancers, most of whom look way too young to remember when McCartney and Jackson ruled the charts. - Billboard, 10/6/15...... David Cassidy was charged with leaving the scene of an accident and driving with an expired license plate tag on Sept. 30 after being involved in a crash in Fort Lauderdale, Fla., earlier in the month. Authorities say Cassidy, 65, sideswiped a truck and then tried to cover his license plate before driving away with a flat tire. They also said the former The Partridge Family star was identified by witnesses in a photo line-up. Cassidy's lawyer, Jason Forman, says the police report is riddled with inconsistencies. He says Cassidy gave police his driver's license and registration before leaving the scene. A hearing has been scheduled for Oct. 27. Cassidy, who resides in Fort Lauderdale, filed for bankruptcy earlier in 2015. - AP, 10/3/15......
Bob Dylan is appearing in a new television commercial for tech company IBM, in which he shares a conversation with a computer to promote IBM's new question-answering system, IBM Watson. In the clip, the computer tells Dylan what he knows about the musician's lyrics: "I know that your major themes are that time passes and love fades", to which Dylan replies: "That sounds about right... Maybe we should write a song together." Dylan has previously appeared in commercials for such companies as Apple, Pepsi, Victoria's Secret and more. Meanwhile, the house in West Saugerties, N.Y., where Dylan and The Band recorded the sessions that would later become The Basement Tapes is now listed for rental. Dylan relocated to the property, nicknamed The Big Pink, after surviving a motorcycle crash in 1966. The musicians recorded music in the basement of the house, which were fully released as a bootleg collection in 2014. The house is being listed online to rent for $650 per month, however the basement is not part of the rental. - New Musical Express, 10/7/15......Rod Stewart, who reunited with his old Faces bandmates Ronnie Wood and Kenney Jones to headline a gig at the Rock 'N' Horsepower event in Surrey in September, says he wants to reunite the band again for the next Glastonbury Festival. "I just wish someone would phone us up from Glastonbury and ask us to do that," Stewart recently said during a BBC Radio interview. "They have never done it. We would be up for it. There are only three of us standing now." Stewart added he'll be hoping any future Faces gigs will be more memorable than the Surrey event, with the frontman admitting the show passed quickly. "It is like sex sometimes," Stewart joked. "It goes by too fast." The Faces previously reunited in 2010 with Simply Red's Mick Hucknall on lead vocals in place of Stewart and played a headline set at the Vintage at Goodwood Festival. That line-up of the band then went on tour in 2011. - New Musical Express, 10/7/15...... Satellite radio host Howard Stern lambasted former Pink Floyd member Roger Waters during a seven-minute soliloquy on Sirius XM Radio on Oct. 6 over Waters' longtime anti-Israel activism. "What is with Roger Waters and the Jews?" Stern asked, while insinuating over and over that Waters is anti-Semitic. "Where do you want the Jews to go, Roger?" Stern asked. "You want them just to go back to the concentration camps? What is it you want, f--head?" Stern continued: "He's got to shut up, Roger Waters. If you take a look over there -- Roger, genius, Mr. Pink Floyd -- there are so many Arab countries and so much land around Israel, if you threw a pin in a pool, that's what Israel is." Waters, who supports a boycott of Israel for engaging in "apartheid" against the Palestinians, has chastised musicians including Jon Bon Jovi and the Alan Parsons Project for agreeing to perform in Israel. - The Hollywood Reporter, 10/6/15......
Bob Seger has been tapped as the 2015 Billboard Legend of Live honoree, and will be honored during the 12th annual Billboard Touring Conference & Awards on Nov. 18-19 at the Roosevelt Hotel in New York. The Legend of Live title is given to professionals who have had significant and lasting impact on the touring industry. The 2014 winner was Lionel Richie, and previous recipients include Elton John, Neil Diamond, George Strait and Ozzy Osbourne. "Bob Seger is one of the most enduring live acts of all time and we are thrilled to honor him as our 2015 Legend of Live," said Billboard's Ray Waddell. Seger, 70, was inducted into the Rock and Roll Hall of Fame in 2004 and the Songwriters Hall of Fame in 2012. - Billboard, 10/6/15...... On Oct. 5 a Los Angeles Superior Court judge finalized Stevie Wonder's divorce from fashion designer Kai Millard Morris, more than three years after Wonder filed to end his second marriage. The couple married in Sept. 2001 and separated in 2009. They have two sons together, ages 14 and 10. Wonder, 65, and his ex-wife will share custody of the two sons, and Wonder was ordered to pay $25,000 a month in child support. - AP, 10/6/15...... The widow of late Mork & Mindy star Robin Williams and Williams' three children from previous marriages reached a settlement in their legal feud over the actor's estate, the two sides announced on Oct. 2. An attorney for Susan Williams, Robin's widow, said his client will remain in the San Francisco Bay Area home she shared with Williams and receive living expenses for the rest of her life. He said she also will receive a watch he often wore, a bike they bought on their honeymoon, and the gifts received for their wedding. The settlement, which is subject to a judge's approval, ends a bitter and public dispute following the beloved comedian's suicide in 2014. An attorney for the three children said, "I think they're just very happy to have this behind them." - AP, 10/2/15...... Never-before-seen photos of such iconic rock acts as the Beatles, the Doors and James Brown from the UK magazine TV Times are being showcased in a new London exhibit titled "Interplay" at Platform Southwark on Joan Street. The exhibit will run through Oct. 18, and another TV Times exhibition, "60 Years, 60 Iconic Images," is also taking place at the Blue Fin Building on Southwark Street. It features photos of Peter Sellers, Woody Allen, Liza Minnelli, David Bowie, Diana Rigg and more. - New Musical Express, 10/5/15...... A court in New Zealand has turned down AC/DC drummer Phil Rudd's appeal against his conviction on a count of threatening to kill a man who used to work for him, as well as convictions of possessing meth and marijuana. The ruling means that Rudd can't avoid serving eight months of home detention. Rudd's lawyers argued the sentence was "excessive," but the judge disagreed and dismissed the appeal. Rudd has said that once his sentence is up, he hopes to rejoin AC/DC, a possibility they've remained silent on. Chris Slade is handling AC/DC drumming duties on their current tour. - Billboard, 10/6/15...... David Bowie has made available a minute-long sample of his haunting theme song for the new UK crime drama The Last Panthers, which will be aired on the Sky Atlantic channel. "On the day of execution, lonely women kneel and smile," Bowie opens, with his vocals cloaked in ghostly distortion. There's distant chanting, a basic programmed beat, and a bit of guitar coming in just before the sample cuts out. The six-part series premieres in the United Kingdom, Ireland, Italy, Germany, Austria via Sky Atlantic on Nov. 12 and in France via Canal+. - Billboard, 10/6/15...... Speaking at the New Yorker Festival on Oct. 3, Patti Smith said she prefers to see herself as a "performer" rather than a "musician." "I feel embarrassed when people call me a musician, because I can't play anything," Smith told the audience. "I didn't have any musical aspirations. I liked being in front of people," she said before adding that she would rather be called a "performer." Smith, whose 2010 memoir Just Kids will become a limited series on cable network Showtime, regularly delivers readings at spoken word events. She recently announced a sequel to Just Kids, titled M Train, to be released on Oct. 6. It has been described as a "roadmap" through Smith's life. Smith has announced her next book will be a detective novel, and she envisions UK actor Clive Owen playing the lead. - NME, 10/5/15......

Former Creedence Clearwater Revival frontman John Fogerty published his revealing new memoir, Fortunate Son: My LIfe, My Music, on Oct. 6. Fogerty said the incentive to write the book came from his wife (and manager) Julie. "I don't know that I would've kept at it had it been only my idea," Fogerty said. "The process was certainly a lot harder than I ever imagined. Growing up I'd see all these people on Johnny Carson, 'So and so has a book, this athlete has a book, that movie star has a book' and all that. It's an event in your life to do something like that -- but it wasn't easy." Fogerty added now that the book has come out, he's ready to return to songwriting and recording the followup to his 2013 LP Wrote a Song For Everyone, a collaboration with other music stars on some of his and CCR's most popular songs. He recently announced he'll play an 8-city residency starting Jan. 8 at the Venetian Theatre inside the Venetian Las Vegas casino and hotel, which will, like his most tours, focus on material from the three albums CCR released during 1969. - Billboard, 10/5/15...... Mick Jagger was spotted touring Havana, Cuba's historic center in late September, give rise to speculation that the Rolling Stones will indeed play Cuba next year. According to various newspapers in Cuba and Spain, The Rolling Stones are planning to play their first concert in Cuba in March 2016. According to an official Cuba newspaper, a hotel maid said Jagger was traveling with one of his children and checking out clubs in the city. Current Rolling Stones bassist Daryl Jones reportedly picqued the band's interest in playing in Cuba, which has recently seen many longtime diplomatic and travel restrictions lifted under the presidency of Barack Obama. - Billboard, 10/6/15...... In other Rolling Stones news, guitarist Ronnie Wood spoke out about the huge amounts of pressure on TV talent show contestants today during a speech at the UK's Cheltenham Literature Festival on Oct. 6. "Apart from being nervous and playing in front of a panel, they play in front of millions and millions of people," Wood said. "It's bad for their ego if they don't make it, or if they make a mistake, I mean it's magnified so much more. I'm amazed more people don't commit suicide, do you know what I mean?" he added. Wood also said that "the thought of being in the Stones is what gave me the drive to carry on... It was the atmosphere that lured me as much as the music, the raggedness, the glory, the image -- it looked like a good job." - NME, 10/7/15...... Best known for a cover showing a mutt with a gun pointed to its head and the tagline "If you don't buy this magazine, we'll kill this dog," National Lampoon captured the outrageous humor of the '70s counterculture and became the merry-prankster farm team for Saturday Night Live and Animal House. Now in selected theaters, Douglas Tirola's new documentary Drunk Stoned Brilliant Dead about the satirical bible's rise and fall is fascinating, funny, smart, juvenile, tragic, and likely to offend just about everyone. It's a must-see for anyone who cares about comedy. - Entertainment Weekly, 10/2/15......
Tom Jones will release his new covers album Long Lost Suitcase, on Oct. 9, which sees the Welsh crooner covering the likes of the Rolling Stones and Hank Williams, among others. Sir Tom, who was recently axed as a judge on the BBC's The Voice, says that he still feels Welsh despite having lived in Los Angeles for a large portion of his life. "Welshness is realism, no bullshit," he said. "A Welsh person will remind you of who you are." Meanwhile, Jones published his new memoir, Over the Top and Back: The Autobiography, on Oct. 8. - NME, 10/5/15...... The skimpy "slave" bikini metal costume worn by Carrie Fisher in Star Wars: The Return of the Jedi sold for 96,000 at a "Profiles in History" memorabilia auction in New York on Oct. 2. That amount, though, pales in comparison to the $450,000 winning bid on the same day for a 16" filming miniature of the "Blockade Runner" ship that's the first spacecraft seen in the original 1977 Star Wars. The auction included around 50 items of Star Wars memorabilia. - New York Daily News, 10/2/15...... Gail Zappa, the widow of Frank Zappa, passed away on Oct. 7 at the age of 70. Born Adelaide Gail Sloatman, Gail married the famed experimental musician Zappa in 1967 at age 22. The couple had four children together, Moon Unit, Dweezil, Ahmet and Diva, as Gail dedicated her time to her family and profession, running all Zappa enterprises and acting as guardian to her husband's legacy after his death in 1993. As such, she advocated for clear definitions of intellectual property and copyright laws for all artists, while seeking to protect her husband's legacy as one of America's greatest composers and musicians. In a statement issued by the Zappa Family Trust, Gail was described as being "motivated by love in all aspects of her life, kept her authenticity intact, unbowed and, simply put, was one bad ass in the music business and political world." Gail met Frank in 1966 following a tour in support of his groundbreaking 1966 debut album Freak Out! Zappa has been reported saying he fell in love with her within "a couple of minutes." Gail moved into his Laurel Canyon house -- a haven for Los Angeles musicians at the time -- and the next year they were married. Like her husband, Gail is regarded as a key figure of Los Angeles' richly creative Laurel Canyon scene. - Billboard, 10/7/15.
Speaking to the UK's The Guardian as he promotes his new LP Cass County, Don Henley reaffirmed his disdain for Frank Ocean after Ocean sampled the Eagles' "Hotel California" for his 2011 mixtape Nostalgia, Ultra without permission. "Some of these young kids have grown up in a world that doesn't understand or respect copyright material or intellectual property," Henley said. "They look at songs as interactive playthings." Just last year, Henley also spoke critically of Ocean, saying, "You can't rewrite the lyrics to somebody else's songs, record it and put it on the Internet." Asked by The Guardian whether he was flattered that an artists as "cool" as Ocean would sample one of his songs, Henley replied: "I didn't think he was cool. I thought he was a talentless little prick. And I still do." The Eagles singer/drummer/songwriter was also critical of Kayne West when asked if he'd be upset if West had referenced one of his songs: "He's either incredibly arrogant or incredibly insecure, or some combination of the two." Cass County dropped on Sept. 25 via Capitol Records. - Billboard, 10/1/15......

In an open letter posted on the Salon.com website on Oct. 2, former Pink Floyd bassist and frequent critic of Israel Roger Waters accused Jon Bon Jovi and his band mates of standing "shoulder to shoulder" with Israel as Bon Jovi prepares for a concert in Tel Aviv on Oct. 3. "Often in the past I have written detailed, and sometimes even persuasive, letters to colleagues in the music business, encouraging them not to give succor to the Israeli government's apartheid policies by performing in Israel," Waters wrote. "Having read Jon's comments last week in Yedioth Ahronoth, I won't waste my time drawing parallels with Apartheid South Africa and the moral stand that so many artists took then and that thousands are taking now in the face of decades of Israeli oppression of Palestinians." Waters then listed many of the casualties suffered by the Palestinians at the hands of the Israeli government. In February, Waters offered similar criticism of '80s pop star Alan Parsons after his Alan Parsons Project performed in Israel. - New Musical Express, 10/2/15...... Meanwhile in other Pink Floyd-related news, David Gilmour's new solo album Rattle That Lock has topped the Billboard Top Rock Albums chart for the week ending Oct. 10. Moving 70,000 units, Rattle That Lock is Gilmour's first No. 1 on that chart, both as a solo artist or as part of Pink Floyd. On the Nov. 29, 2014, chart, Pink Floyd's The Endless River, purportedly its final recording, debuted at No. 2 on the Top Rock Albums chart, although with a significantly loftier 170,000 sold. Rattle That Lock also debuted at No. 5 on the Billboard Hot 200 LP chart, making it his best charting album ever as a solo act. - Billboard, 9/29/15...... Hall & Oates' Daryl Hall has had his popular web-to-cable series Live From Daryl's House renewed for two more years by the high-definition music channel Palladia, which is owned by Viacom. Production for the series, which has been extended through 2017, will begin this fall at Daryl's House Restaurant & Live Music Club in Pawling, N.Y. Recent guests on the program, which was launched in 2007, include Aaron Neville, Sammy Hagar and Ben Folds, among others. The show has earned a Webby Award for best variety series and an O Music Award from MTV, and a national Live From Daryl's House tour also saw a successful run. - Billboard, 10/1/15...... Billy Joel, who is known for dropping amusing asides during his concert performances, got in a jab at his ex-wife Christie Brinkley, who is currently dating John Mellencamp, at a recent concert at Madison Square Garden. After singing "The Longest Time" -- which was written about Brinkley -- Joel told the audience, "And now she's dating John Mellencamp." Brinkley and Mellencamp have been seen on dates together since early September, and it seems Joel -- who's still on good terms with his ex -- is fully aware of her love life. Joel married his fourth wife in July, and the couple welcomed a daughter into the world in August. - Billboard, 9/29/15......

On Sept. 29 The Who announced their rescheduled tour itinerary after their fall North American tour was axed as frontman Roger Daltrey recovers after being recently diagnosed with viral meningitis. Now the veteran British band says it's "Who Hits 50!" tour will kick off on Feb. 27 in Detroit, one of 28 major American and Canadian cities the trek will visit before wrapping on May 29 in Las Vegas. Daltrey said in a statement that "I am now on the mend and feeling a lot better." Guitarist Pete Townshend added that the band "will be coming back stronger than ever!" Tickets for the originally scheduled shows will be honored at the new dates. - AP, 9/29/15...... Paul McCartney and recent Grammy-winner Beck performed together at Peta's 35th anniversary charity gala in Hollywood on Sept. 30. The two musicians jammed on the Beatles' "I've Just Seen a Face" and "Drive My Car," with Sir Paul tweeting afterward: "Thanks to @beck and everyone at #PETA35! Sorry we didn't get to play Beck In The USSR, Get Beck or Paperbeck [sic] Writer!". Meanwhile, Britain's ITV channel announed on Oct. 1 that it will air a new show to determine the country's favourite Beatles Number One. The special two-hour long program, The Nation's Favourite Beatles Number One, is modeled after a similar show about Queen and will allow viewers to vote for their favorite of the Fab Four's 27 chart-toppers in the UK and US -- from 1962's "Love Me Do" to 1970's "The Long and Winding Road." In more Beatles news, the band's first management sold for £365,000 during a Sotherby's auction in London on Sept. 29. The contract is notable for being the only managerial contract signed by all four members of the group, as well as their manager Brian Epstein, and being co-signed by some of the Beatles' parents because they were too young at the time to sign legally themselves. The contract was previously sold for £240,000 in 2008. Also at the auction, an Eric Clapton Fender Stratocaster sold for £45,000. - New Musical Express, 10/1/15...... A new live box set from the Velvet Underground recorded in 1969 is planned for this fall. The 42-track, 4-disc The Velvet Underground: The Complete Matrix Tapes is due Nov. 20 from Polydor/Universal and will feature material from two gigs at the San Francisco club The Matrix took place in Nov. 1969. Recorded on a tape deck by VU guitarist Robert Quine, the release will contain nine previously-unreleased recordings and is the first time all the tapes from the shows have been released in a single set. In August, the band announced a deluxe 45th anniversary reissue of its 1970 album Loaded will drop on Oct. 30. That release will feature 6 discs of material, including the original album remastered in stereo and mono, as well as previously-unreleased demos, outtakes and alternate mixes. - New Musical Express, 10/1/15...... Joe Jackson, the 87-year-old father of Michael Jackson, is "doing a lot better" after suffering a stroke in late July while visiting Brazil, according to his grandson Taj Jackson. "Prognosis is good," Taj Jackson said on Sept. 29. "He's strong and at the same time he's got Jackson hard-headedness of like when you're supposed to take it easy, not taking it easy. So that's the only thing I worry about," he added. Taj, along with brothers TJ and Taryll Jackson, sons of Tito Jackson (one of the original Jackson Five), spoke at an event promoting their reality docuseries, The Jacksons: Next Generation. The series, which premiered on Oct. 2 on Lifetime, also features Michael's children Prince, Paris and Blanket Jackson, and his mother, Katherine Jackson. - AP, 9/20/15......

As the 50th anniversary of the Doors' classic 1967 debut album nears in 2017, surviving members Robby Krieger and John Densmore are promising Doors fans some special treats -- including a long overdue tribute to late keyboardist Ray Manzarek. "There'll be something cool happening," guitarist Krieger told Billboard. "I can't say exactly what yet, but we never did get our tribute to Ray thing going, so it'll be part of that, for sure, and probably for Jim [Morrison], too." The Doors actually formed in 1965 but released their first two albums during 1967. Morrison died in 1971, while Manzarek passed away in 2013 after he and Krieger had reunited to play Doors music under several different names -- mostly owing to legal maneuvering with Densmore and the Morrison estate. However Krieger and Densmore reconciled in the wake of Manzarek's death and are looking forward to giving the Doors its proper 50th anniversary due. Krieger admits that he "doesn't think about" anniversaries too much: "For some reason people still love the Doors' music and I can tell you that it's still fun to play. I think that's a good indicator right there; If people still like to play it then people still like to listen to it. I've played on a lot of records that I wouldn't even care about hearing again or playing live, but for some reason the Doors songs are still fun to play." On Sept. 4, the Doors re-released remastered versions of their two posthumous Morrison releases, 1971's Other Voices and 1972's Full Circle. "After awhile we realized there was quite a market for them, so we finally talked to [Rhino Records] and got it going," Krieger says. "That was, like, 10 years ago, and it took us this long to get around to it." - Billboard, 9/29/15...... A new Christmas-themed album from pop star Kylie Minogue will feature a guest appearance by Iggy Pop on one of its tracks called "Christmas Wrapping." "Christmas Wrapping" was originally recorded by American new wave band The Waitresses in 1981 and is among the 16 tracks on Kylie Christmas, which hits stores Nov. 13. - Billboard, 10/2/15...... A musical based on the 1970's black music TV show Soul Train is heading to Broadway. Helmed by CSI creator Anthony Zuiker, the production will be a lyrical narrative, weaving together the personal story of Soul Train creator Don Cornelius with more than 20 classic hit songs from the TV series, including "Proud Mary" (Ike & Tina Turner), "I'll Be Around" (The Spinners), "Loving You" (Minnie Riperton), and "The Best Thing That Ever Happened To Me" (Gladys Knight & The Pips). - Deadline.com, 9/29/15...... NBC announced on Sept. 30 that it is scrapping a proposed new '70s-themed miniseries produced by Adam Levine and starring Hayden Christensen and Kelsey Grammar. The potential series was eyed as a 10-hour event series that was poised to explore the decade through the eyes of the music executives and artists who helped create some of the most influential music of the era, with contemporary stars re-recording classic '70s hits. Insiders say NBC toyed with the financial numbers but ultimately decided it didn't want to take the gamble and pulled the plug completely. "What not everyone realizes about the '70s is just how much the culture was informed by the corporate world's drive to control, package and profit from it," Boardwalk Records co-founder Tim Bogart told The Hollywood Reporter in Aug. 2014 when the project was first announced. "It was the beginning of the end of the independent labels and the driving force of radio transitioning into the corporate takeover of the business and the demise of the mob influence," added Boardwalk co-founder Gary Randall. Levin and his producer partners are said to be coming up with new ideas for a different music project. - The Hollywood Reporter, 9/20/15......
A live TV production based on the hit 1978 movie Grease will feature pop singer Carly Rae Jepsen in the iconic role of Pink Lady Frenchy, the Fox network announced on Sept. 30. Also joining the cast of the live musical is You're the Worst breakout Kether Donohue, who is set as Pink Lady Jan, while David Del Rio (Spare Parts) will play T-Bird Putzie. The live event, set for Jan. 31, 2016 from 7:00-10:00 p.m. EST, will open with Grammy nominee Jessie J singing a new version of the Barry Gibb-penned title tune, "Grease (Is the Word)" that was featured in the opening-title sequence of the 1978 film starring John Travolta and Olivia Newton-John. - The Hollywood Reporter, 9/30/15...... A documentary on the ill-fated Tower Records record store chain, which was started in the back of a drugstore in 1961 by Michael Solomon and became an industry phenomenon before filing for bankruptcy in 2006, will premiere in selected theaters on Oct. 16. The film, titled All Things Must Pass, is directed by Colin Hanks and looks beyond the fall-back idea that Internet killed the record store and follows the rebellious beginnings and heartbreaking demise, while also profiling Tower founder Solomon. During its 45 year existence, Tower Records was patronized by the likes of Elton John and grew to over 40 stores, with the average one stocking around 25,000 items. - Billboard, 9/30/15...... Frankie Ford, a rock & roll and R&B singer best known for the 1959 hit "Sea Cruise," died on Sept. 28 of natural causes at his home in Gretna, La., following a lengthy illness. He was 76. A childhood singer, Ford was brought to New York by his adapted parents, Vincent and Anna Guzzo, at age 5 when he was to perform on The Ted Mack Amateur Hour. Released via Ace Records, Ford's version of "Sea Cruise" sold more than a million copies and hit No. 14 on the Billboard Hot 100 in 1959. From 1959 to 1961, Ford released a handful of modest hits, appeared on Dick Clark's American Bandstand and barnstormed the country with various rock 'n' roll caravans. But after a stint in the Army in the early 1960s, he came home to discover that the British Invasion had dried up the market for his brand of piano-driven New Orleans R&B and rock 'n' roll. So he went to work on Bourbon Street in New Orleans, holding down regular gigs at various clubs from the mid-'60s until 1980. His final performance was during the 2013 Gretna Heritage Festival. - Billboard, 9/29/15.
A slightly modified version of the new Roger Waters documentary Roger Waters: The Wall will show in theaters worldwide for one night only on Sept. 29. The film, which debuted at the 2014 Toronto International Film Festival, profiles Waters' three-year "The Wall Live Tour" and documents the former Pink Floyd principal's opulent presentation of the band's 1979 rock opera. The tour played 219 shows before more than four million fans and grossed a record $458.6 million. The movie features live and behind-the-scenes footage and interviews with Waters and some of the tour's players and principles. Roger Waters: The Wall will be screened in 2,000 theaters worldwide (500 in the U.S.) on Sept. 29, after premiering in New York the night before. - Billboard, 9/25/15...... Just over a week after two Russian comedians fooled Elton John into thinking he was speaking with a representative for Russian president Vladimir Putin on LGBTI rights during a phone call, the real Vladamir Putin called John and agreed to meet him to discuss the Rocket Man's concerns. "I know that those phone pranksters fooled you. Please don't be angry with them," Putin told Elton on Sept. 24, according to his spokesman Dmitry Peskov. "Putin also said that he understands how popular Elton John is, so if their schedules permit, he will be willing to meet him in the future and discuss any issues that he is concerned about," Peskov added. Earlier in September, John criticized Russia's law against gay "propaganda" and comments by Putin suggesting that gay people "prey" on children. - AP, 9/24/15......

Electric Light Orchestra mastermind Jeff Lynne announced on Sept. 24 that his band will release their next album, Alone In the Universe, on Nov. 13 under the moniker Jeff Lynne's ELO. "When I Was a Boy," the first single from the album, is now available for streaming, and Lynne explained how he came up with the new LP's title: "Music is such a powerful force in our lives. A good song can make people feel much less alone in this universe. And trying to create one of those songs somehow makes me feel less alone too. My whole life -- from being that kid with a dream in Birmingham right until today -- proves how much music can do." In Sept. 2014, ELO performed their first full concert performance in 28 years during BBC Radio 2's "Festival In A Day" in London's Hyde Park, with original ELO keyboard player Richard Tandy. Lynne disbanded ELO in 1986, then reactived the ELO name, with a different line-up, for the 2001 album Zoom. - New Musical Express, 9/24/15...... Two of rock's brashest frontmen -- Aerosmith's Steven Tyler and the Rolling Stones' Mick Jagger -- made guest appearances on different nights during pop sensation Taylor Swift's recent two-night stand at the Bridgestone Arena in Nashville, Tenn. On Sept. 25, Tyler and Taylor jammed on Aerosmith's 1998 hit ballad "I Don't Want to Miss a Thing," the Diane Warren-penned song which was featured in the film Armageddon, which also happens to star Steven Tyler's daughter Liv Tyler. The following evening, Swift delighted fans at her second sold-out show at the venue as Mick Jagger appeared onstage for a duet of the Stones 1965 classic "(I Can't Get No) Satisfaction." - Billboard, 9/27/15...... Electronic music pioneer and producer Brian Eno deliverd the fifth annual John Peel lecture at the Radio Academy's Radio Festival at the British Library in London on Sept. 27. The annual event, named after influential Radio 1 DJ John Peel, sees a keynote speaker sharing their views on issues relating to the music industry and its wider culture. Eno spoke at length on the subject of "the ecology of culture," and how culture plays an essential and important part in society. Previous speakers include The Who's Pete Townshend and Iggy Pop. - New Musical Express, 9/27/15......

Aretha Franklin shared the stage with Pope Francis in Philadelphia on Sept. 27 during the pope's first-ever tour of the U.S. in the fourth week of September. Franklin led an all-star lineup at the Festival of Families in Philly, one of the events organized by the Vatican-sponsored World Meeting of Families, which brought Francis to the City of Brotherly Love after visits in Washington and New York. Hosted by actor Mark Wahlberg, the festival blended song, prayer and testimonials on the joys and challenges of family life and also featured Italian tenor Andrea Bocelli and the American rock band The Fray. Franklin, 73, performed "Amazing Grace" and "Nessun Dorma" from the opera "Turandot," and told reporters earlier that she planned to present Pope Francis with a gift: a box set of sermons by her father, civil rights activist and preacher C.L. Franklin. Meanwhile, it has been announced that Pope Francis will release a rock album. According to Rolling Stone, the album, titled Wake Up!, will drop on Nov. 27 and feature the Holy Father speaking on a variety of world issues in Italian, English, Spanish and Portuguese, with contemporary music in the background. One song from the album, "Wake Up! Go! Go! Forward!," is a mix of post-rock and electroncia. - AP/NME, 9/26/15...... Stevie Wonder headlined the third annual Life Is Beautiful Festival in Las Vegas on Sept. 26, an event that features performances, world-class street art, and culinary demonstrations on 18 sprawling blocks in the city's downtown. Wonder's performance began at 10:45 p.m., and the Motown legend tore into the desert air with one classic cut after another, including "Higher Ground" and "Master Blaster (Jammin')." The 65-year-old legend never seemed to tire as he glided through more of his classic ballads and closed strong with "Superstitious," "Sir Duke" and "Living for the City." - Billboard, 9/26/15...... James Taylor participated in an intimate conversation and special performance for fans during a benefit appearance at the Grammy Museum in L.A. fon Sept. 25 for the museum's popular "An Evening With" series, which benefits its music education program. During a career-spanning interview, a humble Taylor touched on everything from his early career start and longtime friend/mentor, guitarist Danny Kortchmar, to drug addiction, the creative process and his own style of playing ("I don't play up the neck. It's not particularly fancy but it has served me quite well"). Then he and his longtime keyboardist Larry Goldings segued into a suite of classic tunes, including "Something in the Way She Moves," "Sweet Baby James," "Line Em Up," and, of course, "Fire and Rain." The appearance capped a whirlwind week of promotional appearances on TV behind his latest album, Before This World, his first studio LP in 13 years and his first Billboard No. 1 album. - Billboard, 9/26/15......
Ringo Starr, who will kick off his latest All-Starr Band tour in San Francisco on Oct. 1, is also promoting his latest book of photography, Photograph, which dropped on Sept. 21. Starr says the book also serves as "my autobiography," as he plainly puts it, as the memoir aspect comes via extended photo captions. "This is my autobiography," Ringo says, "This is phase 2. The first phase is on record. I have mentioned that several times over the years when people have asked me to do your autobiography, and I don't really want to do that. I want to do it this way. Pictures are great because they remind you of so much." Ringo added that he even "has enough photos for another book, but don't tell (his publisher) Nick (Roylance, from Genesis Publishing)." Also on tap for Ringo this autumn: an auction of some of his and wife Barbara Bach's collectibles at Julien's in Beverly Hills Dec. 3-5, and the Nov. 6 re-release of the Beatles' 1's collection with 50 value-added video clips. The Julien's auction will include a three-piece Ludwig Oyster Black Pearl drum kit that Ringo played many Beatles classics on 1963 and 1964 and lent to Paul McCartney in 1970 so Paul could record his first solo album. "And 10 years ago, (Paul) said, "Oh, I've got that kit of yours, I'll give you it back." I said, okay. That's how it happened. It wasn't like we planned, "Oh, I'll give you this one," Ringo said. - Billboard, 9/25/15...... Meanwhile, Paul McCartney will reissue deluxe ediitions of two of his 1980s albums, Tug of War and Pipes of Peace, on Oct. 2. McCartney says the albums were "cast like films, except using musicians instead of actors." Stevie Wonder featured on the Tug of War track "Ebony and Ivory," with McCartney recalling "I wanted Stevie... I was just reaching. It was just, you know, if you could have anyone. We had a good time. We were all out on Montserrat, and we had a good time." Macca also recounted how Michael Jackson guested on the Pipes of Peace track "Say Say Say": "He was interested in writing with me. He rang me. It was different. I didn't believe it was him. We had a joke about it, and he said he'd like to write with me. I said great, because I love his voice. He came over to England, and we just sat down. I thought, it's not easy to sit down with anyone you don't know and just write. There's got to be some chemistry there. but I thought, 'it is Michael, I'll just try. If it doesn't work, we'll just throw it away'. 'Say Say Say' ended up on Pipes of Peace. - Billboard, 9/24/15...... Queen guitarist Brian May will debut his short horror film One Night in Hell during Universal Studios' Halloween Horror Nights on Oct. 31. Visitors to the Hollywood park will watch the six-minute short at various spots around Universal Studios as they wait for entry to mazes inspired by The Walking Dead and This Is the End, among others. For May, it's a chance to share his passion for the Diableries cards, a French series from the 1860s to 1900 depicting a fantastical demonic world of skeletons." It's just kind of a life's work, a labor of love for me, because I've been collecting those cards for 40 years," May said. "Finally we were able to put the main series of 72 together and offer them to people in the 21st century in 3-D in stereoscopic realism, exactly the same as they would have seen them in the 1860s. So this is something quite deep with me." May added that "you'll probably see some Queen activity" in 2016: "I'm in Buenos Aires at the moment. We just headlined Rock In Rio 30 years after we originally did that to another 100,000 people who are kids, really. It's wonderful that our music still appeals to a new generation." - Billboard, 9/24/15......

Country music legend Kenny Rogers announced during an appearance on the Today show on Sept. 25 that he'll embark on a world tour in 2016 that will be his last. "I've done this long enough. There's a fine line between being driven and being selfish, and I think I crossed that line when I was younger," Rogers said. "I really want to be there with my kids and my wife. I don't see enough of them. And I have some things on my bucket list." Meanwhile, Rogers is gearing up for another North America holiday season trek. His "Once Again It's Christmas Tour," behind his new Christmas album Once Again It's Christmas, starts Nov. 12 at Fallsview Casino Resort in Niagara Falls, Ontario. Details of the 2016 tour haven't been announced yet. Over the course of his career, Rogers has received three Grammys, 11 People's Choice Awards, 18 American Music Awards, eight Academy of Country Music awards and six CMA awards. - Billboard, 9/25/15...... In an interview with Piers Morgan for the UK TV show Live Stories, former Sex Pistols frontman John Lydon (a.k.a. Johnny Rotten) claimed that he was once banned by the BBC after speaking out against sex offender Jimmy Savile. During the interview, Lydon described Savile as being "into all sorts of seediness," adding, "We all know about it but we're not allowed to talk about it. I know some rumours." Lydon claims he was banned by the BBC after a 1978 interview in which he was critical of Saville. "I'm very, very bitter that the likes of Savile and the rest of them were allowed to continue. I did my bit, I said what I had to. But they didn't air that," he said. Lydon and his post-Sex Pistols group, Public Image Ltd, released their 10th studio album, What The World Needs Now, on Sept. 4 and launched an eight-date tour of the UK in Bristol on Sept. 25. - New Musical Express, 9/24/15...... As the 1975 camp classic The Rocky Horror Picture Show celebrates its 40th anniversary in 2015, TV's HBO channel celebrated the anniversary with a special midnight screening on Sept. 26. The freaky phenomenon, based on the stage musical of the same name, famously flopped in theaters before gaining a cult following and a second life as a midnight movie staple. HBO is also streaming the flick on its HBO GO and HBO NOW platforms. - Indiewire.com, 9/23/15......

Gladys Knight has released "Just a Little," the first single from her forthcoming LP, which is expected in 2016. Available on all digital platforms on Sept. 25, the upbeat track teams the seven-time Grammy Award winner with fellow Grammy winner and producer Symbolyc One, aka S1 (Kanye West, Beyoncé). "We just wanted to have fun," says Knight. "Most of the singles I've released prior to this were ballads. I wanted something we could dance to." - Billboard, 9/24/15...... A man disguised as late legendary soul singer Rick James is being sought by police after robbing a credit union in Indianapolis on Sept. 19. Witnesses said the suspect sported a wig that looked very much like James's signature long braids with beads, and an accomplice was dressed as the Youngblood Priest from 1970s blaxploitation classic Super Fly. The robbers have not yet been apprehended by police. - Billboard, 9/24/15...... Sony Classical Records has announced it will reissue every Star Wars soundtrack album on vinyl on Jan. 8, 2016. Star Wars: The Ultimate Vinyl Collection will feature the music from all six Star Wars movies, and recreate the artwork from the original soundtrack releases. The collection will also be released on CD format, coming with interviews with composer John Williams and actor Harrison Ford, as well as a DVD showing how the music is used in the film. Meanwhile, the latest Star Wars film, Star Wars: Episode VIII, has started shooting in Ireland. - New Musical Express, 9/26/15...... The South Florida home owned by former Partridge Family singer David Cassidy has sold for just over $2 million after a bankruptcy cour approved the sale on Sept. 25. Cassidy, 65, filed a Chapter 11 bankruptcy case earlier in 2015. He bought the Fort Lauderdale home in 2001 for $1.1 million. The five-bedroom, six-bathroom house was appraised at $1.9 million. - AP, 9/25/15...... Veteran actor Burt Reynolds has finally paid off his spousal support bill more than 20 years after his divorce from former WKRP In Cincinnati cast member Loni Anderson. The Deliverance star split from Anderson in 1993 after a five-year marriage and was ordered to pay her $234,000 in spousal support as part of their divorce settlement. In July 2014, Reynolds was made to pay Anderson the outstanding balance of $154,500, which he had previously failed to hand over due to long-running financial problems. Anderson has now filed court papers to confirm Reynolds has settled the bill. - TMZ.com/WENN.com, 9/28/15.
Pink Floyd's David Gilmour is on track to score his second solo No. 1 album in the U.K. with his latest effort, Rattle That Lock. Gilmour's fourth solo set, Rattle That Lock is 12,000 units ahead of his nearest competition, Lana Del Rey's latest LP Honeymoon on the Official U.K. Charts Company's tally. Gilmour's previous solo albums include his self-titled 1978 debut LP, 1984's About Face, and 2006's On An Island, the latter of which No. 1 in the U.K. and No. 6 in the U.S. In 2014, Pink Floyd's swansong album, The Endless River, bowed in the top spot in the U.K. - Billboard, 9/23/15...... David Bowie has recorded original new music for the theme for an upcoming TV series in the U.K., The Last Panthers. The song, also titled "The Last Panthers," will provide theme music for the new Sky TV original series about the real-life Balkan gang of diamond thieves, being used in opening credits of each episode. "The piece of music he laid before us embodied every aspect of our characters and the series itself -- dark, brooding, beautiful and sentimental (in the best possible incarnation of this word)," said series director Johan Renck. "All along, the man inspired and intrigued me and as the process passed, I was overwhelmed with his generosity. I still can't fathom what actually happened," he added. The Last Panthers, starring Samantha Morton and John Hurt among others, will premiere this fall. "The Last Panthers" will be the Thin White Duke's first contribution of original music for film or television in 20 years, since he recorded "I'm Afraid Of Americans" for the 1995 infamously campy film Showgirls. - New Musical Express, 9/22/15......
The Bay City Rollers, the tartan-touting '70s pop phenomenon who scored chart-topping hits on both sides of the Atlantic, have announed they're reuniting as a three-piece group for a one-off concert in December. The reunited BCR will feature three of the group's classic five-man lineup -- Les McKeown, Alan Longmuir and Stuart Wood -- and are promising "a very special Christmas present to all the fans that have kept the faith with the band over the years" with a gig at Glasgow's Barrowland Ballroom on Dec. 20. The trio have reportedly been working on a new single called "Boomerang," and is in talks with another original bandmate, Eric Faulkner, to rejoin the group sometime in the future. "You think we're doing it for money but we're doing it for the glory of Scotland and the glory of the tartan," McKeown said at a recent press conference. "(We're) taking the Scottish name all around the globe. That's what we're doing it for -- to see our fans again one more time," he added. Initially known as The Saxons, the BCR scored a No. 1 hit on the Billboard Hot 100 singles chart in 1976 with "Saturday Night," from its eponymous U.S. LP, and enjoyed No. 1's in the U.K. with "Bye Bye Baby" and "Give a Little Love" (both from 1975). In 2007, six members of the band launched a lawsuit against its American label, Arista Records, accusing them of failing to pay millions of dollars in royalties. That legal case remains unresolved. The group has sold an estimated 100 million albums worldwide throughout its career. - Billboard, 9/23/15...... Bruce Springsteen celebrated his 66th birthday on Sept. 23 one day early during a Jackson Browne concert at the Count Basie Theatre in Red Bank, N.J., by jamming with Browne for over 12 minutes on renditions of the Eagles hit and Browne-co-penned "Take It Easy" and Browne's "Our Lady of the Well." Browne's concert capped off a two-night sold-out stand at the venue, and the singer/songwriter is touring behind his latest album, Standing in the Breach. In 2004, it was Springsteen who inducted Browne into the Rock & Roll Hall of Fame. - Billboard, 9/23/15......
Appearing on Stephen Colbert's new late night gabfest The Late Show on Sept. 21, Don Henley called out controversial Republican 2016 presidential candidate Donald Trump, who also appeared on the show earlier, during one of his song performances. "You don't have to be right, Donald, all the time," Henley sang on "Too Much Pride," a track from his new album Cass County. "You can't go on with all these axes to grind. So why don't you lighten up and let it ride. Too much pride," he added. The Eagles co-founder went again, with the line: "Now listen Mr. Trump, empires rise, and empires fall, you stick around here long enough you'll see it all. Now it looks like it's gone nationwide, too much pride." Henley's first solo LP in 15 years, Cass County was recorded in Nashville and Dallas with country greats like Merle Haggard, Dolly Parton and Miranda Lambert -- but don't call it a country album. "It's pretty eclectic," Henley told Rolling Stone. "It's not all that consistent i terms of labels and genres. Some of it's neotraditional country. There's a couple of blues songs on there. There's some things that might be called Americana." The constants are Henley's voice and songwriting. "The record company prefers to call it a Don Henley record and refuses to put it in any particular category," he adds. "I think that's wise. People can decide for themselves." Cass County drops Sept. 25 via Capitol Records. - Billboard/Rolling Stone, 9/10/25...... Farm Aid cofounder Neil Young played a gloriously ferocious rock 'n' roll set that recalled his days with Crazy Horse during his appearance at the 30th anniversary Farm Aid show in Chicago on Sept. 19. Backed by The Promise of the Real, Young's sonic assault matched the fury of his lyrics, taking aim at corporate agriculture giants like Monsanto and the dominance of "factory farms." Young has been on the road all summer with the The Promise of the Real, led by Lukas Nelson, Young's fellow Farm Aid cofounder Willie Nelson's son. Young, Nelson, John Mellencamp, Dave Matthews and all the other 2015 Farm Aid participants jammed on a version of the classic "Will the Circle Be Unbroken?" for the finale. - Billboard, 9/21/15......
The Songwriters Hall of Fame has announced it will add a new honor to its annual induction awards gala in 2016. The Curtis Mayfield Award will recognize a promising singer/songwriter "whose work reflects the inspiration, spirit and soul" of the late R&B/soul pioneer, according to SHOF president/CEO Linda Moran. Mayfield, who was inducted into the SHOF in 2000, wrote more than 1,700 songs during the course of his career, and his catalog includes such iconic songs as "People Get Ready," "Keep on Pushing" and "Superfly." The Curtis Mayfield scholarship award coincides with the 60th anniversary of Mayfield's career in music. Earlier in 2015, plans for a multi-faceted Mayfield salute were announced which include a documentary, the repackaging of classic material and the release of a recently discovered cache of songs and memorabilia. "It's time to celebrate and re-evaluate Curtis' legacy," Mayfield's widow Altheida in a statement. "He was a genius who always stood on his own." - Billboard, 9/22/15...... Speaking of songwriting, the world's most popular English language song, "Happy Birthday to You," is now potentially free from copyright after a federal judge ruled on Sept. 22 that filmmakers challenging Warner/Chappell Music's hold on the song should be granted summary judgment. According to the opinion from U.S. District Judge George H. King, "Because Summy Co. never acquired the rights to the Happy Birthday lyrics, Defendants, as Summy Co.'s purported successors-in-interest, do not own a valid copyright in the Happy Birthday lyrics." The ruling means that Warner/Chappell will lose out on $2 million a year in reported revenue on the song. Unless the defendants are granted a request for an appeal, which is not guaranteed, or unless someone else comes forward with a valid claim of ownership to the song, filmmakers like director Jennifer Nelson -- who sued in 2013 over demands as much as six figures to license " will no longer have to pay to feature "Happy Birthday" in motion pictures and television shows."Happy Birthday to You" dates to late 19th century work by a schoolteacher named Patty Smith Hill and her sister Mildred Hill. - The Hollywood Reporter, 9/22/15...... Aerosmith frontman Steven Tyler joined the country band The Cadillac Three onstage during a sold-out performance at the Cannery Ballroom in Nashville, Tenn., on Sept. 19. Tyler jammed with the band during their encore for a version of Aerosmith's "Sweet Emotion." Tyler -- who is working on his country debut album for Dot Records -- told the audience after the performance that he was joining the band and that they would then be changing their name to "The Cadillac Four." - Billboard, 9/21/15......
A newly-surfaced video in which a Beatles-era John Lennon appears to mock disabled people at a Beatles gig during the 1960s has ignited a new controversy on Twitter and other social media. In the clip from the U.K. TV show It Was Alright, which aired on Sept.19, Lennon encourages the screaming crowd to "clap their hands and stomp their feet," while he speaks with a speech impediment and makes awkward clapping and stomping movements that one Twitter user describes as "distasteful learning disability impressions." In the U.K. paper The Independent, Lorainne Bellamy, a spokeswoman for the disability charity Mencap, who herself has a learning disability, acknowledged the footage was five decades old but said it was "shocking and painful to watch." "Times may have changed," she said, "But I always find it hard to believe how such famous people can have these horrible views about real people." It Was Alright documents many controversial moments from the era, and also features similar moments from the 1970s and 1980s. - New Musical Express, 9/22/15...... In other Beatles-related news, New York auction house Heritage Auctions has sold the first recording contract ever signed by the Fab Four for more than $90,000. The contract, from 1961, was for a recording of a rock and roll version of "My Bonnie Lies Over the Ocean," which was recorded in Hamburg, Germany, and released only in that country. But the single, and the contract, is notable because it led to the Beatles being discovered by manager Brian Epstein, who soon guided the band to international fame. The "My Bonnie" session was before Ringo Starr joined the Beatles. Drummer Pete Best signed the contract along with John Lennon, Paul McCartney and George Harrison. Heritage Auctions did not identify the buyer, who paid $93,750. - Associated Press, 9/19/15...... Elsewhere on the Fab Four front, a cover of the Beatles song "And I Love Her" by late alternative rock icon Kurt Cobain will soon be released on vinyl. Cobain's take on "And I Love Her"' first appeared in Brett Morgen's Cobain documentary Montage of Heck earlier in 2015. The song will be featured on as-yet-untitled 7" vinyl LP that is being labelled as a Cobain "solo album" and will feature unheard music from the Nirvana frontman. The LP is due on Nov. 20, two weeks after a DVD of the Montage of Heck film is released. - NME, 9/22/15...... Citing a busy travel schedule, Aretha Franklin has announced she is postponing two upcoming concerts in Oklahoma, in Durant on Oct. 17 and Tulsa on Oct. 22. Franklin, who lives in Detroit, is notoriously afraid of flying and only travels by tour bus. She says she's not prepared to travel so far again after driving to the West Coast this summer. The 73-year-old R&B great, who is set to perform on Sept. 26 during Pope Francis's visit to the City of Brotherly Love, says she will reschedule the Oklahoma dates. - AP, 9/21/15......
Another famous R&B singer, Patti LaBelle, scolded an audience member during a Sept. 19 gig in Vancouver when she lost her cool after the man, who was among several people invited onstage for a rendition of the LaBelle hit "Lady Marmalade," began unbuttoning his shirt. "Don't you dare, not on my stage!" LaBelle demanded. "I am not Nicki Minaj or that little, uh, Miley [Cyrus]." The situation escalated when the audience member arched his back and showed her his backside. "Get off of my goddarn stage, bitch," the singer yelled as security removed the man from the stage. "And stay off. Put him out of the building. Put him out! How dare you!" During a 2007 show in Kansas City, LaBelle displayed an almost identical reaction to another audience member who was dancing a little too close. - TMZ.com/Billboard, 9/20/15...... A new Janis Joplin documentary, Janis: Little Girl Blue, premiered at the Toronto International Film Festival on Sept. 18. The 107-minute film, directed by Amy J. Berg, profiles the legendary blues-rock icon who died in 1970 of a heroin overdose with a gentle hand, revealing a warm, fun-loving and endearing side of a talented artist who self-destructed at age 27. "(Janis) put women in rock on the map," Berg says. "She literally was the first female rock star and she did it in such a strong way and we're still reaping the benefits of that today." Berg is currently talking with domestic theatrical distributors about a deal, then it will be aired on PBS' American Masters series. - Billboard, 9/18/15...... Chicago Cubs baseball coach Joe Maddon has accused Aussie rockers AC/DC of "totally messing up" the state of the pitch at the team's Wrigley Field stadium after AC/DC played a concert there on Sept. 15. "Since the AC/DC concert, we've had a little bit of trouble," Coach Maddon told The Chicago Tribune. "I don't know if they were out there taking ground balls before the game, or if they had nine-inch heels or spikes. They totally messed up the infield, and it has nothing to do with the groundskeepers. I've seen a bad hop at third, and a bad hop at second. I didn't see one bad hop all year. We just got to get it ironed out." The sold-out gig at Wrigley Field also drew over 15 noise complaints from residents near the stadium, according to the newspaper. There was also significant noise from helicopters above the stadium shooting aerial shots for a live DVD. - NME, 9/23/15......
Speaking of baseball, Hall of Fame catcher Yogi Berra died of natural causes on Sept. 22 at his home in New Jersey, according to Dave Kaplan, the director of the Yogi Berra Museum & Learning Center. He was 90. Renowned as much for his unique way of turning a phrase as for his record 10 World Series championships with the New York Yankees, Mr. Berra was known for such beloved quotes as "When you come to a fork in the road, take it"; "Nobody goes there anymore, it's too crowded"; and, "It gets late early out here." Another, and perhaps the best-known, is "It ain't over 'til it's over." The truism doubled as the title of Lenny Kravitz's 1991 single, which hit No. 2 on the Billboard Hot 100, becoming his highest-charting career hit. More recently, Mr. Berra was name-checked in Chris Brown's "New Flame" (featuring Usher and Rick Ross), which hit No. 6 on Hot R&B/Hip-Hop Songs and No. 27 on the Hot 100 in October 2014. The song's lyrics include a shout-out to the catcher, further entrenching his legend with a new generation. - ESPN.com/Billboard, 9/22/15...... Actor Jack Larson, best known as the sidekick of Clark Kent/Superman on the 1950s TV adventure series The Adventures of Superman, has died at age 87. Mr. Larson, who later produced several films written and/or directed by his longtime companion, the late Oscar nominee James Bridges, died on Sept. 20 at his home in Brentwood, Calif. Further details of his death were not immediately available. - The New York Times, 9/21/15.
Keith Richards attended the premiere of his new documentary Under the Influence with its director Morgan Neville at the Toronto Film Festival on Sept. 17. Thrilling the sold-out house at the Princess of Wales Theatre with an onstage interview after the screening, Richards said that he "didn't even know that I was going to make a record at that time; we were just feeling our way through and I think Under The Influence grew organically along with the record [his new solo LP Crosseyed Heart].... I was still just feeling my way with my great friend [producer, drummer, co-writer] Steve Jordan and several other great friends." One of the most shocking moments in the film is when Jordan reveals that Richards told him he was thinking of retirement, but Richards later says that was "just a ploy." "I just wanted to get some action and I thought the only way I'm going to get some is to threaten to retire," he said. Three days earlier, Richards said in an iHeartRadio interview in New York that the Rolling Stones have "definite plans" to record next year after a tour of South America. - Billboard, 9/18/15......

Hollywood Vampires, the new Alice Cooper and Johnny Depp-fronted supergroup, played their first gig on Sept. 16 at The Roxy in Los Angeles. Featuring Cooper on vocals, Depp and Aerosmith's Joe Perry on guitar and Guns N' Roses' Duff McKagan and Matt Sorum on bass and drums, the band was complemented by a rotating cast of musicians for various cover versions. The Who's touring drummer Zak Starkey appeared for a version of The Who's "I'm A Boy." Black Sabbath's Geezer Butler and Rage Against The Machine's Tom Morello appeared for Jimi Hendrix's "Manic Depression," while Jane's Addiction's Perry Farrell sang lead vocals on Nilsson's "Jump Into The Fire." Devised by Cooper and Depp as a way to cover songs by "their dead friends and heroes," Hollywood Vampires released their debut album on Sept. 11. - New Musical Express, 9/17/15...... The Who announced on Sept. 18 that it is postponing all the remaining shows of its Who Hits 50! anniversary tour after frontman Roger Daltrey was diagnosed with viral meningitis and ordered by his doctors to rest. "We are rescheduling all the shows for next spring 2016," guitarist Pete Townshend told Rolling Stone. "We apologize to all our fans who have supported us in the last 50 years. Once Roger is completely well we will come back stronger than ever and Roger and I will give you all a show to remember." The band previously announced it was postponing the first four dates of its 50th anniversary trek's second leg, citing an unspecified virus. The tour had originally been planned to kick off on Sept. 21 in San Diego. Daltrey also released a statement about the cancellation: "I am now on the mend and feeling a lot better, but I am going to need a considerable time to recover. The doctors tell me I will make a complete recovery, but that I should not do any touring this year." - Billboard, 9/18/15...... Meanwhile, veteran music producer and composer Quincy Jones was admitted to a Los Angeles hospital on Sept. 17 after complaining of shortness of breath. Jones' publicist, Arnold Robinson, said in a statement that the 82-year-old was hospitalized for observations out of caution after having breathing problems, but added that he's going to be OK. Jones' long and storied career has included collaborations with Michael Jackson, Frank Sinatra and Ray Charles, and he has scored soundtracks for numerous films. - AP, 9/18/15......
"Love Song to the Earth," an all-star charity single featuring Paul McCartney, Jon Bon Jovi, Sheryl Crow, Fergie, Moby, Leona Lewis and 10 additional top pop acts, has debuted on Billboard's Pop Digital Songs chart for the week ending Sept. 26 at No. 36. Billed as "Paul McCartney & Various Artists," the song received 11,000 first-week downloads, according to Nielsen Music. Proceeds from the song's sales go toward the Friends of the Earth and the U.N. Foundation in their efforts to inspire further international action on issues related to global climate change. "Love Song to the Earth" will receive key exposure on Sept. 24 when several of the participants perform it at the National Mall in Washington, D.C. as part of the Rally for Moral Action on Climate Justice. - Billboard, 9/18/15...... The annual Farm Aid benefit concert, founded in 1985 by Willie Nelson, Neil Young and John Mellencamp (later joined by Dave Matthews), will also be headlined this year by Imagine Dragons, Jack Johnson, Kacey Musgraves, Old Crow Medicine Show, Jamey Johnson and Mavis Staples. Willie Nelson's son Lukas Nelson and his band Promise of the Real, who have been backing Neil Young on his current tour, will also be featured. Set for Sept. 19 in Chicago at the FirstMerit Bank Pavilion at Northerly Island, the 2015 Farm Aid marks the event's 30th anniversary, and it has become the music industry's longest-running concert for a cause. For the past three decades Nelson, Young, Mellencamp and Matthews have gathered an all-star roster of musicians for a high-profile show to benefit America's independent family farmers, and more than 400 artists have performed at Farm Aid since its founding. - Billboard, 9/18/15...... David Cassidy's waterfront home in Fort Lauderdale, Fla., has received a high bid of $2 million after the house was put up for sale when the former teen idol filed a Chapter 11 bankruptcy case earlier in 2015. Cassidy, 65, bought the five-bedroom, six-bathroom house in 2001 for $1.1 million, and it has been appraised at $1.9 million. The previous high bid for the 7,000-square-foot home was $1.8 million, however that offer was soon withdrawn. Cassidy's lawyer, Susan Lasky, says they were hoping to get more for the home to pay off creditors. A bankruptcy judge will be asked to approve the new offer. - AP, 9/18/15...... Soul great Otis Redding was honored with a memorial marker honoring his ties to Gray, Georgia, on Sept. 18. The 7 foot tall marker is designed like a vinyl record, with Redding on the jacket declaring Jones County, Ga., the "Home of Otis Redding." It is located at the corner of Highway 11 and Highway 129, in downtown Gray, GA near The Station. It also includes an interactive panel with Redding songs and photos and graphics depicting Redding's life and legacy as they relate to his hometown community. Redding was born in nearby Dawson, Ga., on Sept. 9, 1941. - Billboard, 9/17/15......

Elton John was the victim of a cruel prank played by a pair of Russian comedians on Sept. 15 when the two duped the rock legend into thinking he was speaking with a representative for Russian president Vladimir Putin on LGBTI rights. Comedian Vladimir Krasnov admitted to posing as Putin's press secretary and calling John about setting up a meeting with Putin after the Kremlin denied any knowledge of the conversation. It was later revealed the call was a hoax conducted by two famous Russian phone pranksters, Krasnov and Aleksei Stolyarov. Elton had met with Ukrainian president Petro Poroshenko the day before and expressed interest on speaking with Putin on such issues, as Russia is often criticized for its poor treatment of the LGBTI community. On Sept. 17, John posted a rebuttal to the incident on Instagram: "I love Russia and my offer to talk to President Putin about LGBT rights still stands," he wrote. "If this unfortunate incident has helped push this vital issue back into the spotlight, then I am happy to be pranked on this occasion." - Billboard, 9/17/15...... A wildly psychedelic painted 1965 Porsche 356C Cabriolet once owned by Janis Jopin will be put up for auction by RM Sotheby's in New York on Dec. 10. The car, which has been featured at the Rock and Roll Hall of Fame and Museum in Cleveland for the past two decades, is being sold by the Joplin family and is expected to bring more than $400,000. Joplin bought the pearl white Porsche, which was given a meticulous restoration in the early 1990s, in September 1968 and got a friend to customize it with a psychedelic mural. She drove it regularly until she died of a drug overdose in 1970. - AP, 9/15/15...... The producer of a new Aretha Franklin documentary called Amazing Grace has agreed not to screen the film to the public or to film executives for the next 30 days after Franklin filed a request for a temporary restraining order to prevent the screening of the film at the Toronto Film Festival earler in September. Franklin argued that that the Amazing Grace producer had a contractual obligation to get her permission and that the film festival violated her right of publicity when he didn't. The 30-day stipulation happens as the two sides look to see if there's a settlement to be made. According to court documents in the case, Franklin's camp believes that Amazing Grace is going to net $2 million for the producers, and she is reportedly demanding $1 million for her consent. - The Hollywood Reporter, 9/15/15...... Bruce Springsteen will be among the headliners at the 2015 Stand Up For Heroes benefit concert, which is set for Nov. 10 at New York's Madison Square Garden. Now in its ninth year, Stand Up for Heroes is presented by the New York Comedy Festival and the Bob Woodruff Foundation and is designed to raise awareness and funds to support injured service members and their families. Tickets for the event went on sale on Sept. 16 at bobwoodrufffoundation.org and nycomedyfestival.com. Other celebrities participating this year include Jon Stewart, Seth Meyers and Ray Romano. - The Hollywood Reporter, 9/15/15......
Stevie Wonder has topped the UK album chart with his Definitive Collection following an appearance on US TV's The Late Late Show with James Corden in which he blasted some of his biggest hits during a "carpool karaoke" session on Sept. 14. The soul genius was in fine form as he played sight gags ("all English guys look alike"), and belted out a string of classics, including "Superstition," "Sir Duke," "Isn't She Lovely" and "Signed, Sealed, Delivered." At one point, Wonder paused to serenade Cordon's wife with his famous love song, " Just Called To Say I Love You." The video has subsequently gone viral and, as a result, the 2002 Stevie Wonder compilation Definitive Collection has topped the UK iTunes chart. - New Musical Express, 9/15/15...... After Devo co-founder, singer and bassist Jerry Casale married his 26-year-old bride Krista Napp on Sept. 11 in a modest ceremony, the couple held a 9/11-themed wedding reception afterward that many have found distasteful. On Sept. 14, celebrity gossip site TMZ.com ran photos the couple's reception at Michael's Restaurant in Santa Monica, Calif., showing the newlyweds cutting their wedding cake that was shaped like the World Trade Center twin towers with their faces drawn on. Place settings featured an image of a box cutter with "Gerald & Krista" engraved on them, and guests actually got real box cutters as wedding favors, all of which provoked considerable criticism online. Casale, 67, now says that he "apologizes to anyone who was offended, adding that the 9/11 theme was all a surprise to him and his bride. He said now the media attention it's received has "ruined our wedding." Casale explained that they had gotten married on Sept. 11 because the Beverly Hills courthouse is only open on Fridays, and that was the last Friday available before their marriage application expired. "He thought it was some sort of transgressive sick humor, and the problem is, it's not funny," Casale said of his friend who he says planned it all. - Billboard, 9/14/15...... Blues rock guitarist Joe Bonamassa has been nominated for "Album Of The Year" for "Different Shades Of Blue" and "Film Of The Year" for "Muddy Wolf at Red Rocks" at the Classic Rock Roll Of Honour Awards 2015. The awards ceremony takes place on November 11th at London's Roundhouse venue. Bonamassa will tour in the UK this October, beginning with a show in Newcastle on Oct. 21. - Noble PR, 9/14/15......

Gary Richrath, a former guitarist for REO Speedwagon who also co-wrote the group's hit song "Take It on the Run," died Sept. 13 of undisclosed causes, according to a publicist for the band. He was 65. Richrath was a member of the band when it released its self-titled debut in 1971 and was with REO Speedwagon until 1989. He also co-wrote some of the band's songs, including "Take It on the Run," which became a Top 5 pop hit on the Billboard charts. Richrath last played with the band in 2013, when the band performed a benefit concert in Bloomington, Ill., to raise money for tornado victims. REO Speedwagon's string of successful albums include 1977's You Can Tune a Piano, But You Can't Tune a Fish and 1980's Hi Infidelity, which sold 10 million copies in the United States. After leaving REO Speedwagon in 1989, Richrath occasionally collaborated and performed with area bands, and released a solo album, Only the Strong Survive, in 1992. "My longtime friend and collaborator Gary Richrath passed away earlier today. I feel so sad," REO Speedwagon's lead singer, Kevin Cronin, posted on the band's website and Facebook page on Sept. 13. "Gary was both a unique guitarist and songwriter, and the embodiment of the tough guy with a heart of gold. I learned most of what I know about being in a rock band from Gary Richrath. The entire REO Family mourns his death and shares in the grief of his family, friends, and fans. These words do not come close to expressing the depth of emotions I am feeling at this time," he added. Cronin also said that REO will be "dedicating every show we do for the foreseeable future, probably forever, to Gary." No cause of death has been revealed, but Cronin says Richrath's wife told him that he had abdominal surgery a few days before his death and was in the hospital at the time. Richrath, who had moved back to his native Illinois in recent years, is survived by his wife, Justine, two sons and a brother. A private memorial service will take place soon in Peoria, which Cronin says the band will attend. - AP, 9/14/15...... Bryn Merrick, a former bassist for seminal U.K. punk outfit The Damned, died on Sept. 12 after battling throat cancer. He was 56. Merrick played with The Damned from 1983-89, including on the mid-career albums Phantasmagoria (1985) and Anything (1986). - Billboard, 9/14/15.
The Who announced Sept. 8 that they are postponing the first four dates of their 50th anniversary tour as singer Roger Daltrey recovers from an "unspecified virus." Scheduled to kick off on Sept. 14 in San Diego, the "Who Hits 50!" tour also canceled shows for Sept. 16 in Anaheim, Calif.; Sept. 19 in Las Vegas; and Sept. 21 in Los Angeles. A Sept. 18 performance at the iHeartRadio Music Festival in Las Vegas has also been scrapped, and a rep for the band provided no other details about Daltrey's illness. The Who will resume its tour on Sept. 24 in Portland, Ore., and so far no make up dates for the postponed shows have been announced. - AP, 9/8/15......
Yoko Ono announced during a John Lennon Educational Tour Bus stop outside New York's City Hall on Sept. 12 that she will be commemorating what would have been the 75th anniversary of her late husband's birth on Oct. 9 by organizing the world's largest human peace sign. The event is set for Oct. 6 at New York's Central Park, and interested participants can sign-up on site by 12 noon EST, or in advance at eventbrite.com. An aerial photograph showing the human peace sign will take place at 12:30 p.m. EST. Ono says she hopes as many as 10,000 people will participate in the event, which is being sanctioned by the Guinness World Record organization. During the event, Ono's Imagine Peace organization will be accepting donations for the John Lennon Educational Tour Bus, a non-profit mobile facility that allows students to get audio and video recording experience. - Billboard, 9/12/15...... In other Beatles-related news, Ringo Starr is asking his old bandmate Paul McCartney, along with Yoko Ono and Olivia Harrison, to sort through their old pictures for an exhibition which will go on display at London's National Portrait Gallery. The gallery has just unveiled a new exhibition of private photos taken by Starr, and during a launch event there on Sept. 9 Ringo urged McCartney and the two widows to also "dig out (their) negatives." "The other boys had cameras too, so the next plan is I want to get the rest of my pictures, Paul's pictures, Yoko will have John's pictures, Olivia George's... it would make a great book. I'll be in a lot more photos. If I put it out there, they might respond," he said. Starr said he came across photos he didn't know he had when he "had a lot of stuff in storage and had to move everything." The following day Ringo told the BBC that he's been an avid photographer since the age of 19, and that he's a big fan of the "selfie." In conjunction with the exhibit, Ringo will be releasing a new book of the photos, Photograph, on Sept. 21. - New Musical Express, 9/9/15...... In related news, famed glam-rock photographer Mick Rock is planning the release of a deluxe, limited-edition $700 David Bowie photo book called The Rise of David Bowie, and a launch party for upcoming book at publisher Reule Golden's gallery in Los Angeles was held on Sept. 9 before some 600 interested Bowie fans. Rock, who also compiled a Bowie photo book entitled Moonage Daydream in 2002, said he didn't want to pursue another Bowie book without getting the artist involved, and when he approached Bowie with the idea he said yes. "I never presume with David -- David's David, he does what he wants.... Once he said yes, everything was signed on pretty quickly," Rock explained. "The big thing for me, and for David, was that the book had to have a load of previously unseen pictures." - Billboard, 9/11/15......
Aerosmith frontman Steven Tyler previewed songs from his upcoming country music inspired LP at New York City's Melrose Ballroom on Sept. 10. Accompanied by his backing band Loving Mary, Tyler played new material like "Love Is Your Name" (his first appearance on the Hot 100 single chart since 2001) as well as country versions of several Aerosmith songs, including "Cryin'," "What It Takes" and "Pink." Earlier in 2015, Tyler announced his countrified solko project, telling Rolling Stone that "I grew up in the woods of New Hampshire... I have more country in me than people think." His new solo album is expected to be released in 2016. - Billboard, 9/13/15...... AC/DC is known for being Australia's premiere hard rock band, however its original lead singer, the late Bon Scott, was born in Kirriemuir, Scotland. Now the band's fans have launched a crowdfunding effort to raise more than £48,000 to erect a statue of Scott in Kirriemur some 35 years after his death. The original goal of £45,000 was passed on Sept. 4, two years after it began, and is now quickly approaching £50,000 as the Sept. 24 deadline nears. The campaign's website says any extra money outside of the original goal will go toward a memorial garden surrounding Scott's statue. Designed by John McKenna, the statue depicts Scott, who played the bagpipes in the AC/DC song "It's a Long Way to the Top (If You Wanna Rock 'n' Roll)," in a sleeveless denim jacket and tight pants holding a set of bagpipes. The statue will be unveiled at DD8 Music's Bonfest 2016 in April. Meanwhile, AC/DC frontman Brian Johnson recently told The Morning Sun paper that the band's 17th album, 2014's Rock or Bust, could be their last. "Y'know, retirement is like anything. A good footballer, a good ice hockey player, they don't want to retire, but unfortunately, sometimes there's a time when you have to call it quits," Johnson said. "So it's an ongoing thing with us; we never say no, and we never say never.... we just play 100 per cent every night and give it everything we've got. If that's the secret of success, we'll pass it on." - Billboard/NME, 9/11/15...... In a new interview with London's The Daily Mirror, Keith Richards said that he wants his daughters -- Theodora, 30, and Alexandra, 28 -- to snort his creamated ashes after he passes away, just as he reportedly did with his own father's ashes. "I'll give them a straw," said Richards, who clarified the time he snorted his dad's ashes. "I opened my dad's ashes and some of them blew out over the table. What am I gonna do? Do I desecrate them with a dustbin and broom? So I wet my finger and I shoved a little bit of Dad up me hooter. The rest of them I put round an oak tree." Richards will release Crosseyed Heart, his first solo LP in 23 years, on Sept. 18. and a documentary of his life, Under the Influence, is now available on Netflix. Directed by Oscar winner Morgan Neville (20 Feet From Stardom), Under the Influence charts the life and times of rock's original bad boy, looking back at his original jazz and blues inspirations as he plans his first solo album in 23 years. - New Musical Express/The Hollywood Reporter, 9/10/15......
Diana Ross gave a rare performance on Sept. 10 on the eve of the 40th Toronto International Film Festival. Ross deliverd a rare, knockout 30-minute concert at the event, which held at the Four Seasons in Yorkville and was emceed by comedian Martin Short. Subtitled "Cinema to Help the World," the event was held to raise money for the Prince Albert II of Monaco Foundation, which champions environmental causes and aims to combat climate change. - The Hollywood Reporter, 9/11/15...... Jimi Hendrix has earned his 46th Billboard Hot 200 charting album with his latest LP, Jimi Hendrix Experience, Freedom: Atlanta Pop Festival, which debuted at No. 63 for the week ending Sept. 3. The live set moved 8,000 equivalent album units, according to Nielsen Music (nearly 7,000 were pure album sales). - Billboard, 9/10/15...... A running feud between Kiss vocalist/guitarist Paul Stanley and Twisted Sister frontman Dee Snider has apparently escalated into a full blown Classic Rock war. The beef between the two singers began in March when Snider made some criticisms of Kiss on the SiriusXM satellite radio show, calling Kiss's current lineup with guitarist Tommy Thayer and drummer Eric Singer replacing Peter Criss and Ace Frehley, respectively, as "insulting" and that he didn't understand how Kiss fans could accept this "Ace imitation." Stanley responded in a new episode of former pro wrestler Chris Jericho's "Talk is Jericho" podcast on Sept. 9, calling Snider "a wannabe" and his band "a bunch of buffoons." Then in an open letter to Stanley on Facebook later that day, Snider wrote: "For some reason you are oddly threatened by me," and said Stanley was just trying to divert attention away from the real issue he brought up before. Snider added that the "buffoon" comment seems like "a pretty ironic statement" coming from Stanley since the "argument could easily be made that Kiss is the 'king of the buffoons', so in an odd way you've paid Twisted Sister quite a compliment." Snider also challenged Stanley and Kiss to a battle of the bands, saying they should do it "old school," meaning "no costumes, no pyro, no bulls--- -- let's just get up there and rock... I will bury you, son." - Billboard, 9/10/15......

Deep Purple co-founder and current Blackmore's Night leader Ritchie Blackmore says his latest band will release its 10th studio album, All Our Yesterdays, on Sept. 18. Blackmore's wife Candice Night, who's also a member of Blackmore's Night, says the first single from the LP, "Will O' the Wisp," came from watching the animated feature Brave with the couple's two young children. "I didn't know about the Celtic folklore of the Will O' the Wisp until i saw the wisps that were appearing in the movie that basically led the character of Merida through the forest and through the stone circles to the witches cottage," she said. "It caused me to do more research into these little lighted beings that appear and disappear and change your life, change your fate through the woodlands. It was fascinating." Blackmore says he's is gearing up to take the band to Europe next June -- most likely England, Germany and Sweden. "I'm now 70, so I just felt like playing some rock 'n' roll for a few days," he says. "We're going to do four or five dates of just playing the old rock stuff, Purple stuff and Rainbow. I'm doing it for the fans, for nostalgia, and the singer I found is very exciting; he's a cross between Dio meets Freddie Mercury. So this will mean exposing a new singer to the masses, and I'm sure he'll become pretty famous because of his voice." - Billboard, 9/10/15...... The Grateful Dead will release its biggest box set yet, 30 Trips Around the Sun: The Definitive Live Story, on Sept. 18 via Rhino Records. Celebrating the band's 50th anniversary, the release comes as either an 80-disc collection (also available on flash drive) or a condensed four-CD set. Both contain material from 30 previously unreleased concerts over their entire career. The band has just released a song from the collection ahead of its release, a live version of "Uncle John's Band" performed in 1974 at Paris' at Parc des Expositions. The GD spinoff group Dead & Company will kick off a 10-date fall tour on Oct. 29 in Albany, NY. - Billboard, 9/10/15......
In an awkward, tense live TV interview on Sept. 11, former The Partridge Family singer David Cassidy made viewers squirm as he shouted at the interviewers, Eamonn Holmes and Ruth Langsford of the British show This Morning, and demanded that they stop quizzing him about his bankruptcy filing, and accused them of trying to "rubbish" him. Asked how he was feeling at the start of the interview, Cassidy -- who has filed for bankruptcy and put his home up for sale -- turned his head away from the screen in disgust and said tersely, "Absolutely wonderful, thank you." When pressed to discuss his bankruptcy filing, Cassidy then launched into a bizarre rant about U.S. Presidential hopeful Donald Trump, saying, "You know there is someone in our country whose name is Trump, yeah? And he has declared bankruptcy four times. I just did it to reorganize because I'm in the middle of a divorce, but my life is pretty fantastic, thank you very much." The mood turned even more tense when Cassidy was asked about his "debts," as he shook his head in annoyance as he insisted he is not in financial peril. "When you declare bankruptcy in this country, it's something that you do in order to reorganize what you have, your assets etc. So I'm not going to discuss that... Are you just here to rubbish me? Is that the course of your interview?," he snapped. Cassidy's home is on the market for a reported $1.8 million, seven months after he filed for bankruptcy in February. His wife Sue filed for divorce last year after 23 years of marriage, and the troubled entertainer has also been involved in several DUI incidents in the US in recent years. - WENN.com, 9/11/15...... Guitarist Don Griffin, a former member of the post-Smokey Robinson R&B group The Miracles and who also performed with singer Anita Baker, died on Sept. 3 after being involved in a car accident. He was 60. Griffin, the brother of The Miracles lead singer Billy Griffin, played lead and rhythm guitar with The Miracles starting in 1974 and contributed to the group's double-platinum-selling album City of Angels and its No. 1 1976 smash single "Love Machine (Part 1)". After that group split, Don Griffin formed the dance band Madagascar, which was signed to Arista Records by Clive Davis and charted a single, "Baby Not Tonight," in 1981. Griffin then rejoined his brother Billy as the touring guitarist on his solo project and collaborated with him on the platinum single "Hold Me Tighter in the Rain." In 1986, he was recruited by Anita Baker to become her rhythm guitarist and recorded on her album Rapture. Most recently, he had formed a new funk band in Denver for a residency at a Las Vegas club this winter. - Billboad, 9/8/15...... Singer Dennis Greene, a former member of the '50s revival group Sha Na Na, passed away on Sept. 5 at age 66. Sha Na Na were one of the first rock nostalgia acts, and skyrocket to fame thanks to a standout peformance at the Woodstock festival in 1969. The group also appeared in the 1978 movie Grease and performed multiple songs, including "Tears on My Pillow" (with Greene on lead) and "Born to Hand Jive." Later, they starred in their own TV series from 1977 to 1981. After performing with Sha Na Na for 15 years, Greene left the group to pursue a career in law, eventually earning a degree from Yale and becoming a law professor. - Billboard, 9/10/15.
Kiss member Gene Simmons says he's stepping up his computer security after he was blindsided by a police raid on Aug. 20 during an investigation to trace an offender who downloaded child porn using his wireless network. "We came back from hiking and there was a crack taskforce from the Beverly Hills and Los Angeles Police Department, and they asked for permission to come in and search our home, and we said, 'Sure, why not'," Simmons told News.com.au. "So they came in and searched all over the place, and then two or three hours later we all sat down. What happened was, we were off on tour about a year ago, and somehow our (Internet connection) was used by some very bad people to do porn of a certain kind -- the worst kind. So they checked the records, found out that I was on the east coast of America -- they deemed that from there you couldn't do that -- our kids were off in Canada, (my wife) Shannon was outside the country... They're (the police) on the trail, and we're actually helping the FBI and the cops track down the bad guy." Simmons went on to say he has no idea who could have accessed his home Internet, but he has now increased security so it cannot happen again. "They're (the police) not sure (who did it). Because you can be right outside of somebody's home... and if you have the (network) information you can actually do stuff right outside the home, like on the street," he said. "I have no idea (who did it), I'm certainly the last person to understand that stuff. But they have to be in the area, either inside the home or one of the people coming to clean -- we have people coming into the house all the time food deliveries, workmen -- or they were nearby... The FBI came and helped us put in a firewall, whatever the hell that is." - WENN.com, 9/4/15......

Aretha Franklin testified via speakerphone from Detroit during a trial in federal court in Denver to block the screening of Amazing Grace, a documentary a 1972 concert of hers, at the Telluride Film Festival in Colorado without the Queen of Soul's written consent. Franklin says she objects to the screening of the film, which was scheduled to be shown at Telluride three times (with the first showing only a few hours before she testified) because of a technical mistake in the film. The film's director Sydney Pollack, who died in 2008, neglected to synchronize the sound and the music documentary ended up being a silent film. Hundreds of hours were fruitlessly spent trying to match the correct sound to the right piece of footage (with the choir director of the Watts church where the performance was recorded even being enlisted to read lips). Amazing Grace ended up languishing in the studio vaults for decades. "For him to show that film, for him to completely and blatantly ignore me would be terrible," she said of the film's producer, Alan Elliot, whom she sued in 2011 to prevent a prior showing of the movie. "For him to do that would encourage other people to do the same thing and have no respect for me." Attorneys representing Telluride complained that Franklin's move came at the last minute -- an agent who represents her had been told the film would appear two to three weeks earlier -- and that the screenings at a modest theater in a remote southwestern town would not harm her. They also contended that a recently unearthed 1968 recording contract Franklin signed gave away rights to the footage of her concerts. Judge John L. Kane said Franklin deserved the right to control how her image is used. "She would suffer immediate and irreparable damage by this showing," Kane said in issuing his order. The festival could appeal the ruling, but would have to reverse judgment before the last scheduled screening on Sept. 13. - AP, 9/5/15...... Pink Floyd principal David Gilmour has just released a "making of" video for the second single from his forthcoming album Rattle that Lock, which is due Sept. 18. In the video for "Today," Gilmour goes into detail on his collaboration with former Roxy Music member Phil Manzanera, who co-produced the single and previously contributed to Gilmour's 2006 solo album On An Island. The debut single and title track from Rattle That Lock was released in late July. Gilmour is currently on tour with a small number of dates behind the new LP, including five dates at London's Royal Albert Hall on Sept. 23, 24 and 25). After touring the U.K. and Europe into mid-October, he heads to South America in December before coming to North America for shows in five cities during late March and early April. - New Musical Express, 9/6/15......

In a new interview with his hometown paper The Birmingham Mail, Black Sabbath guitarist Tony Iommi confirmed the upcoming Sabbath tour will be its last. "I still love gigging. It's all the travelling and the exhaustion that goes with it that's the problem," says Iommi, who was diagnosed with lymphoma in early 2012 and underwent successful treatment for the illness in Jan. 2013. "That side of things has a big impact on me. Yes, we may fly in luxury, stay in the very best hotels, ride in the most comfortable limos, but there's still a physical cost to touring. Even when we build in rest breaks, I have to have blood tests every six weeks. I find it tough going." The musician also said a followup to the band's last LP, 13, is far from a certainty. "I've been busy writing songs ever since the 13 sessions. At that point, we thought there might be another Sabbath album. But that's up in the air now so I don't know when or where they might appear. The tracks are ready, though." Black Sabbath announced in early September that their farewell tour, expected to last a year, would get underway in Nebraska in mid-January. Dates outside of America, Australia and New Zealand are yet to be announced. - NME, 9/6/15...... Rod Stewart hooked up with his mates from his old band the Faces on Sept. 5 in Surrey, England for a benefit concert for Prostate Cancer U.K. Stewart, guitarist Ronnie Wood and drummer Kenney Jones were backed by nine additional musicians who filled in for bassist Ronnie Lane (who passed away in 1997) and keyboardist Ian McLagan (who died in 2014). Other than a one-off gig at the 1993 Brit Awards, Stewart has not performed in public with the Faces since the band split up in 1975. After the show, Stewart tweeted the night's seven-song set list along with the message "A perfect rockin' evening with my mates": "A perfect rockin' evening with my mates @RonnieWood @KenneyJones! #FacesReunion pic.twitter.com/wgxEOFLSry - Rod Stewart (@rodstewart) September 6, 2015." - Billboard, 9/6/15...... Aerosmith frontman Steven Tyler have an impromptu performance in Moscow, Russia on Sept. 2 when he joined a street performer to sing Aerosmith's "I Don't Want to Miss a Thing." A video of the unexpected performance was uploaded to YouTube on Sept. 4. Tyler, who is prepping a new country music inspired solo album, landed in Moscow on Sept. 2, according to a tweet he posted that day. Tyler -- whose debut country single, "Love Is Your Name," was released in May -- ended the "I Don't Want to Miss a Thing" duet with a high five before posing for photos in front of the cheering crowd. Tyler has previously gone viral with videos of other impromptu performances in Lithuania and Finland. - Billboard, 9/6/15......

Meanwhile, rock legends Ringo Starr and Robert Plant paid tribute to one of their early influences, '50s rock & roller Jerry Lee Lewis, on Sept. 5 for Lewis's upcoming 80th birthday which will occur on Sept. 29. A special gig in Lewis's honor took place at the London Palladium as part of his "farewell U.K. tour." Starr and Plant wheeled a birthday cake onto the stage and joined a host of other musicians and fans in singing "Happy Birthday" to the veteran musician. "Had a great time at the Jerry Lee Lewis show in London happy birthday Jerry peace and love," Ringo later tweeted. - New Musical Express, 9/7/15...... Paul McCartney, Jon Bon Jovi, Sheryl Crow, Fergie, Natasha Bedingfield and Sean Paul are among the 16 international artists who have lent their voices to "Love Song to the Earth," a song recorded to spur action on global climate change. "Love Song to the Earth" will be released exclusively on Sept. 11 through iTunes and Apple Music's Connect radio station. The artists, producers and directors of the "Love Song" project and Apple are donating their respective proceeds to Friends of the Earth U.S. and the United Nations Foundation. - Billboard, 9/3/15...... In more Beatles-related news, the Fab Four's first management contract will be sold at auction on Sept. 29 in London and could fetch as much as £250,000. Also signed by their manager Brian Epstein, the contract was famously agreed to by Epstein despite McCartney annoying the manager by attending a meeting late as he was taking a bath, and cosigned by some of the Beatles' parents because they were too young to sign legally themselves. Other items up for sale in the Sept. 29 auction include a copy of the Beatles' Please, Please Me LP signed by all four members of the band, and one of Eric Clapton's Fender Stratocasters. - NME, 9/5/15...... Queen guitarist Brian May led a funeral march protest in London on Sept. 8 to demonstrate against the government-sanctioned cull of badgers. May, a longtime animal rights activist, has been vocal about anti-badger cull issues and was accompanied by fellow protesters at the march organised by animal welfare group Team Badger. The demonstrators led a hearse with flowers bearing the number "2,263," the alleged number of badgers that were killed in the last badger cull in the U.K. between 2013 to 2014. In a recent guest editorial for The Mirror, May accused the U.K. government of "bone-headedly, doggedly pursuing a policy of murdering British badgers." - NME, 9/8/15...... Ska and reggae trombonist Rico Rodriguez, a member of the 2 Tone revival band the Specials since 1979, passed away in London on Sept. 4 at the age of 80. Mr. Rodriguez, who was born in Cuba but moved to Jamaica as a child, joined the Specials in 1979, appearing on their cover of Dandy Livingstone's "A Message To You Rudy." He was also a solo artist and released his 1977 LP Man From Wareika prior to joining the Specials. He also played with Jools Holland's Rhythm & Blues Orchestra and was awarded an MBE for services to music in 2007. - NME, 9/5/15...... Candida Royalle, a former actress in pornographic films who appeared in dozens of X-rated films since 1975, died on Sept. 7 after a battle with ovarian cancer. She was 64. Born Candice Vadala, she studied music and dance at Parsons The New School of Design in New York and went on to pursue a career in the porn industry. Through her Femme Productions firm, which was established in 1984, Vadala was considered a pioneer for making movies aimed more at pleasuring women and helping couples maintain a healthy sex life. She was also a board member of the Feminists for Free Expression movement and the American Association of Sex Educators, Counselors and Therapists. - WENN.com 9/8/15......
British actress and comedienne Judy Carne, best known to Americans as the popular "Sock It To Me" fall girl on the hit NBC comedy sketch series Rowan & Martin's Laugh-In, died in the U.K. on Sept. 3 at Northampton General Hospital after a battle with pneumonia. She was 76. The bouncy, auburn-haired won overnight fame in the 1960s after joining the Laugh-In ensemble, then returned, albeit briefly, to the limelight in 1985 when she published an autobiography in which she told of her volatile relationship with her first husband Burt Reynolds, confessed to a string of affairs with members of both sexes and chronicled battles with drug addiction. Carne was already a fairly successful TV actress when she joined Laugh-In in 1968, and became the most popular person on the show for her zany, daffy, mini-skirted comic persona, continually getting doused with a bucket of water, or subjected to some other humiliation, every time she uttered the words "Sock it to me!" After leaving that show, she became a heroin addict and her career went into a tailspin. She had married Reynolds in 1963, recalling that when they first met "we were immediately in love, so we immediately made love. I was engulfed by him, my small body lost in his large frame." After their marriage ended in 1966, he became abusive, she alleged. In 1977 and 1978, her life hit rock bottom when, in the space of four months, she was busted three times -- on charges ranging from drug possession to car theft. In June 1978, while celebrating her acquittal on charges of heroin possession, she and her current husband Robert Bergmann (who was driving) were involved in a near-fatal car accident which left her with a broken neck. Carne then returned to her native Northampton and began writing her autobiography, claiming that the process of writing had helped her to put her life back together again, but it would be some time before her troubles were properly resolved. However she did finally fine an lement of peace in the village of Pitsford, Northamptonshire, where she lived a quiet life with two dogs and was much liked by her neighbors. - The Telegraph UK, 9/7/15...... Martin Milner, the handsome actor whose wholesome good looks helped make him the star of two hugely popular TV series, Route 66 and Adam-12, passed away on Sept. 5 near the La Costa neighborhood of Carlsbad, Calif., of undisclosed causes. He was 83. Mr. Milner began his career as a teen actor and shot to fame in 1960 as Tod Stiles with co-star George Maharis in the iconic TV drama Route 66, which found two restless young men roaming the highway author John Steinbeck had dubbed "The Mother Road" in a red Corvette convertible. In 1968, he signed on to do another buddy series, Adam-12, as veteran LAPD Officer Pete Malloy, assisted by rookie cop Jim Reed, played by Kent McCord. The series was produced by Jack Webb, who applied the same realistic treatment of day to day police activities that had made his Dragnet TV show a huge hit and last for seven seasons. "I had a long, long friendship with Marty and we remained friends up till the end," said McCord upon learning of his death. "He was one of the really true great people of our industry with a long, distinguished career... Wonderful films, wonderful television shows, pioneering shows like Route 66. He was one of the great guys. I was lucky to have him in my life." Mr. Milner's big screen credits include The Sands of Iwo Jima, Marjorie Morningstar, Sweet Smell of Success, The Long Gray Line, Mister Roberts, Gunfight at the O.K. Corral, Valley of the Dolls, and Three Guns for Texas, among others. He married actress-singer Judy Jones in 1951, and they had four children: Amy, who died in 2004, Molly, Stuart and Andrew. - AP, 9/7/15.
Speaking to Rolling Stone, the Kinks' Dave Davies said that there is only an "outside shot" of his former band reforming. "I'd say there's an outside shot, but where there's life, there's hope," he said. "I know Ray [Davies] has a lot coming up, and I do as well, so we'll see how things span out in the next few months. A lot of it depends on how Ray and I feel by the end of the year, physically, emotionally and psychologically. I wish I could give you a more definitive answer, but I don't want to jump the gun." Dave, who has not performed with his brother Ray since 1996, had previously said there was a "50/50" chance of the Kinks reuniting for live shows. The pair had apparently began to mend fences after Ray helped with the music for the new Kinks musical "Sunny Afternoon," which Dave saw and reportedly liked. Meanwhile, a new Kinks biopic directed by Julien Temple is currently in the works. - NME, 9/3/15......
Meat Loaf says his upcoming album Braver Than We Are is "completely different from anything else" he or anyone else has done. "There are a couple of normal rock pieces but, for the most part, it's completely different. When you hear the opening track, your mouth's gonna hang open," says the Grammy-winning rocker. "The first song people will either love or despise, which is the way I like it. The opening number is pretty wild. It's not long; the second song is long, and the third song is really long, and the fourth song is kind of long, and then the fifth song goes into a 'down and out kind of guy,' and what's the sixth song? I can't remember pass that," he said of the LP, which reunites him with his longtime collaborator Jim Steinman. Meat Loaf is currently finishing up the album in Nashville for a likely March 2016 release, and kicks off his first tour in two years this fall on Oct. 23 in Temecula, Calif. Meat Loaf also shared some thoughts about his former Celebrity Apprentice boss and GOP presidential candidate Donald Trump: "Donald's very, very smart. I don't want to get myself in trouble here, but if anybody knows how to put people to work, it's Donald Trump. That I know." - Billboard, 9/3/15...... A public domain battle is brewing in Canada over early '60s recordings by such acts as the Beatles, the Rolling Stones and the Beach Boys which, alongside works like Ian Fleming's James Bond character have become subject to a lesser copyright term. A company called Stargrove Entertainment says it submitted royalty payments in order to sell CDs full of recordings in the public domain in the country at Walmart for five bucks each, and they became a hit. But music giants like Universal and Sony are now interfering with Stargrove's marketing of the budget albums, and the publishers (which also include ABKCO and Casablanca) allegedly sent out instructions to a Canadian agency charged with such license applications to stop issuing mechanical licenses to Stargrove, and their sales came to a grinding halt. In a complaint filed on Sept. 2 with the Canadian Competition Tribunal, Stargrove says it has lost out on opportunities, and that its sales are now zero. Sony/ATV declined to respond while Universal hasn't yet responded to a request for comment. In June, Canada extended the copyright term from 50 to 70 years for published sound recordings, meaning that late '60s recordings by the Beatles are no longer on the precipices of being in the public domain there. - The Hollywood Reporter, 9/2/15......

Black Sabbath posted a video on Sept. 3 announcing plans for their final farewell tour, promising fans "their most mesmerizing production ever." The heavy metal icons' "The End" tour will launch in Nebraska in January 2016 before wrapping in Australia and New Zealand in April. ''It's the beginning of the end," the video says. "It started nearly five decades ago with a crack of thunder, a distant bell ringing and then that monstrous riff that shook the earth. The heaviest rock sound ever heard. In that moment heavy metal was born, created by a young band from Birmingham, England barely out of their teens. Now it ends, the final tour by the greatest metal band of all time, Black Sabbath. Ozzy Osbourne, Tony Iommi and Geezer Butler close the final chapter in the final volume of the incredible Black Sabbath story...When this tour concludes, it will truly be the end, the end of one of the most legendary bands in Rock 'n Roll history... Black Sabbath." It is not clear who will be playing drums on the tour after original stickman Bill Ward fell out with his bandmates, however Tommy Clueftos, who plays with Ozzy's solo group, played on the band's reunion album 13 and subsequent tours. - New Musical Express, 9/3/15...... Speaking of Black Sabbath, Rolling Stones guitarist Keith Richards, never one to mince words, described the band as "a joke" in a new interview with the New York Daily News. "Millions are in love with Metallica and Black Sabbath. I just thought they were great jokes," says Richards, who will release his first solo LP in 23 years, Crosseyed Heart, on Sept. 18. Richards wasn't any kinder to the hip-hop/rap genre: "'Rap' -- so many words, so little said. What rap did that was impressive was to show there are so many tone-deaf people out there. All they need is a drum beat and somebody yelling over it and they're happy. There's an enormous market for people who can't tell one note from another." Talking to Entertainment Weekly, Richards said that he'd like to get the Stones into he recording studio as soon as they have finished their scheduled tour dates in early 2016. "I'm trying to get the Stones into the studio, but I don't quite honestly see it happening this year," he said. - NME, 9/3/15...... '70s rock legends David Bowie and Steven Tyler of Aerosmith will be among the artists contributing to a new nautical-set musical based on the popular Nickelodeon animated series SpongeBob SquarePants. The Flaming Lips, John Legend, Lady Antebellum, Cyndi Lauper, Panic! at the Disco and They Might Be Giants will also be participating in the songwriting for the show, which will make its world premiere in Chicago's Oriental Theatre on June 7, 2016, running through July 3 before it eventually heads to Broadway. - The Hollywood Reporter, 8/31/15......

In his forthcoming memoir Fortunate Son: My Life, My Music, former Creedence Clearwater Revival frontman John Fogerty reveals why he refused to play with surviving former CCR bandmates, bassist Stu Cook and drummer Doug Clifford, at the band's induction into the Rock and Roll Hall of Fame in 1993. "Way back in 1968, I had made an agreement with [his brother] Tom [Fogerty, who died in 1990], Doug and Stu to be equal partners. I let them share in my songwriting money. At the time, I thought I was dealing with people who understood the responsibility of what we had. But in 1988, they sold their votes to [producer Saul] Zaentz for $30,000 each -- that's right, thirty pieces of silver. Stu told me, 'I don't care what they do with the music -- just give me the money'? I was disgusted." Fogerty continued: "When the Hall of Fame called in late 1992, they said, 'We are going to induct CCR into the Hall of Fame. Would you perform with the other band members?' I said, 'No.' I'm just not going to stand on a stage with those people three in a row, play our songs and be presented as a band -- particularly because these guys sold their rights in that band to my worst enemy." Fortunate Son is due via publisher Little, Brown and Company on Oct. 6. - Billboard, 8/31/15...... In other rock star memoir news, Elvis Costello's upcoming autobiography, Unfaithful Music & Disappearing Ink, is likely to take its place alongside recent bestselling books by Patti Smith, Bob Dylan and Keith Richards. The book, due Oct. 13 from Blue Rider Press, could include juicy relevations about his famous relationship with model Bebe Buell and the time he got banned from Saturday Night Live. And Carly Simon will finally be spilling everything to her career to her marriage to James Taylor in Boys in the Trees: A Memoir, which drops via Flatiron Books on Nov. 24. But will we finally find out who's so vain? Doubtful. Finally, Grace Jones's ironically titled I'll Never Write My Memoirs, from Gallery Books on Sept. 29, traces her journey from Jamaica to the fashion runways of Paris and then onto Studio 54 and Hollywood with appearances from Andy Warhol, Jessica Lange, Arnold Schwarzenegger and many others.- Billboard, 8/31/15..... Former The Police frontman Sting has announced a new collaboration with French pop star Mylene Farmer. On Aug. 28, the track called "Stolen Car" whic originally appeared on Sting's 2003 album Sacred Love, was released via iTunes in France on Aug. 28 and debuted at No. 1 on the iTunes chart. Sting's Facebook page has posted that the song will be available in the U.S. on Sept. 4 via Cherrytree Records. The song will also be featured on Farmer's upcoming album, Nbuleuses. - Billboard, 8/30/15...... On what would have marked his 57th birthday on Aug. 29, Michael Jackson was remembered by his family, friends and fellow artists with several posts on social media. Jackson, who died on June 25, 2009, received a flood of messages and photo tributes from his siblings Jermaine and La Toya Jackson, as well as fellow musicians and celebrities, including Justin Bieber, Beyonce, Pharrell, Chris Brown, Shawn Mendes and more. "Hold close the memories," Jermaine Jackson posted, while La Toya tweeted "Your Presence Elevated Everyone! Your Music Brought Us Joy! Your Gift Will Be With Us Always!" Jackson died on June 25, 2009. - Billboard, 8/29/15......

Less than a month after ending his longtime relationship with Miss Piggy, Kermit the Frog has reportedly moved on with an ABC exec named Denise, who's also a pig. "She's always stopping by the set of Up Late," a source tells People.com. "He calls her his girlfriend." But Miss Piggy apparently hasn't been sitting at home since splitting with Kermit. Hunger Games star Liam Hemsworth has posted an Instagram photo of himself looking into Miss Piggy's eyes with the caption, "Spent Friday with the most beautiful girl in the world. Kermit, #SorryNotSorry. #TheMuppets #misspiggy." Kermit and Miss Piggy's high profile breakup could make things awkward for the execs of the new Muppets docuseries The Muppets, which will make its debut on Sept. 22. - WENN.com/Postmedia Network, 9/1/15...... Actor Dean Jones, best known for leading roles in several Walt Disney films of the 1960s and '70s including The Love Bug and That Darn Cat!, died on Sept. 1 from complications related to Parkinson's disease. He was 84. Born on January 23, 1931, in Decatur, Ala., Jones began acting after a stint in the Navy during the Korean War. Jones worked steadily throughout the 1950s and made his Broadway debut in 1960 opposite Jane Fonda in the brief run of "There Was A Little Girl." Later that year, he starred on the Main Stem in "Under The Yum Yum Tree," which ran for six months, and reprised his role for the 1963 feature. He already was a veteran presence on TV and in films when he was cast opposite Hayley Mills in 1965's That Darn Cat!, followed by starring roles in such family films as The Ugly Dachshund (1966), Monkeys, Go Home! (1967), Blackbeard's Ghost (1968) and The Love Bug, in which he portrayed a race car driver who works with a VW Beetle named Herbie that has a mind of its own. He reprised that role for a 1977 sequel -- the only one of several theatrical Herbie pics in which he appeared -- and a short-lived 1982 TV series. Earlier in his career, Jones appeared in such features as Tea And Sympathy, with Elvis Presley in Jailhouse Rock (1957), Handle With Care (1958) and Never So Few (1960). His TV credits in that era include Bonanza, Wagon Train and Ben Casey. - Deadline.com, 9/2/15......
Director Wes Craven, best known for helming the first Nightmare on Elm Street film as well as the first four Scream movies, died on Aug. 30 at his home in Los Angeles after a battle with brain cancer. He was 76. Born Aug. 2, 1939 in Cleveland, Craven briefly taught English at Westminster College and was a humanities professor at Clarkson College, where he served as a disc jockey for the campus radio station. Craven wrote and directed his first feature film, The Last House on the Left, which was a rape-revenge movie that appalled some viewers but generated big box office. Next came another film he wrote and helmed, The Hills Have Eyes (1977). In 1984, he re-invented the youth horror genre with the classic A Nightmare on Elm Street, which he also wrote and directed. His iconic Freddy Krueger character horrified viewers for years, and he later conceived and co-wrote sequels including Elm Street III as well. In 1999, in the midst of directing, he completed his first novel, The Fountain Society, published by Simon & Shuster, and in 2005 directed the psychological thriller Red Eye, another box office hit starring Rachel McAdams and Cillian Murphy. In 2009 he produced a remake of The Last House on the Left, and his most recent written and directed film, My Soul to Take, followed a year later. Survivors include his wife, producer and former Disney Studios vice president Iya Labunka.. - The Hollywood Reporter, 8/30/15.