| | |
| --- | --- |
| Favorite Seventies Artists In The News | |



Bringing you the Web's best '70s music & culture news since 1997!

Wednesday, December 7, 2016
Dolly Parton announced on Dec. 6 that she will be hosting a Dec. 13 telethon in Nashville to raise money for her My People Fund, which benefits victims of the recent devastating wildfires in East Tennessee. "I know there are a lot of great events being planned to help the people of East Tennessee, however, I am planning a telethon to support the 'My People Fund' where 100% of the money will help those who lost their homes in the wildfire. I am planning on doing this on Dec. 13th in Nashville, Tennessee," Parton said in a statement. Dolly's My People Fund aims to provide $1,000 each month to families in Sevier County, the area where the country icon grew up and the location of her theme park, Dollywood. For donations, visit dollywoodfoundation.org. - Billboard, 12/6/16...... Stevie Nicks has added 20 new dates in the new year to her "24 Karat Gold Tour" with opening act The Pretenders. With the tour being met with "huge ticket demands" and receiving "stellar reviews" according to her reps, the legendary Fleetwood Mac singer will kick off the winter 2017 leg on Feb. 23 in Reno, Nev., also visiting such cities as Salt Lake City, San Diego, New Orleans, Raleigh, Orlando, Jacksonville, Baltimore, Indianapolis, Pittsburgh, and Newark, N.J. before wrapping in Uniondale, N.Y. on Apr. 6. The tour is in support of Nicks' latest album 24 Karat Gold, which features new versions of works primarily written and demoed between 1969 and 1987 but never officially released. "It's been thrilling to get on stage each night and sing some of my early gems from early in my career along with getting the chance to sing the material from my last two albums," Nicks said in a statement. The current 2016 tour concludes on Dec. 18 at the Forum in Inglewood, Calif. - Billboard, 12/6/16......
While David Bowie's final album Blackstar received three 2017 Grammy nominations in the rock categories when the 59 Annual Grammy Awards nominees were announced on Dec. 6, the late rock icon's swansong set was noticeably absent from the main four categories. Although the title track from Blackstar received Best Rock Song and Best Rock Performance nominations and the album was nominated in the Best Alternative Album category, many expected the critical favorite and commercial success with an intriguing backstory to also have a lock for an Album of the Year nomination. Bowie didn't fare much better when the BBC Music Awards nominations were announced on Dec. 5, with Blackstar again being snubbed for Album of the Year, however Bowie was nominated for a British Artist of the Year prize at the upcoming Dec. 12 ceremony. Blackstar gave Bowie his first No. 1 in the U.S, his 10th chart-topper in his homeland and was a hit across the globe with fans and critics. Meanwhile, other 2017 Grammy Award nominees include the Ron Howard-directed Beatles tour documentary The Beatles: Eight Days a Week, for a Best Music Film nomination, and Paul McCartney's deluxe Tug of War reissue getting a Best Boxed or Special Limited Edition Package Grammy nod. Bob Dylan was nominated for Best Traditional Pop Vocal Album, for Fallen Angels, and Dylan's The Cutting Edge: 1965-1966: The Bootleg Series, Vol. 12 was nominated in the Best Historical Album category. - Billboard/New Musical Express, 12/6/16...... The Rolling Stones are on course to score an official UK number one album for the first week in December for their latest album, Blue & Lonesome. The album, the veteran rockers' first studio release in more than a decade, is way ahead of its nearest competition with almost 66,000 combined sales at the halfway stage of the midweek chart. The all-blues 12-track album was recorded in just three days at British Grove Studios in west London and sees the band return to "their roots and the passion for blues music." Should the album cross the finish line in first place, it'lll be the band's 12th No. 1 in the U.K. The Stones' last studio effort to reach the chart summit in their native country was Voodoo Lounge back in 1994, though a re-release of their 1972 album Exile On Main St also reached Number One in 2010. - NME, 12/5/16...... The Nobel Foundation announced on Dec. 5 that while Bob Dylan won't be attending the traditional Nobel Prize banquet on Dec. 10 in Stockholm, Sweden, the singer-songwriter has written a "speech of thanks" for the occasion that will be read aloud by a yet-to-be-decided person. Earlier in the day, Patti Smith is scheduled to perform Dylan's "A Hard Rain's A-Gonna Fall" as a tribute to the 75-year-old musician. A spokeswoman for the foundation says Dylan's diploma and Nobel Prize medal will be handed over at a later date that hasn't been determined yet. - AP, 12/6/16......
Taking to Twitter on Dec. 6, Queen guitarist Brian May gave fans an update about his health after the musician was forced to cancel an 11-date solo UK tour two months ago due to what he described as a "persistent illness." "Just want to say thanks, dear twitter folks -- for all your kind wishes. I'm still taking it relatively slowly, but getting stronger. Bri -- Dr. Brian May (@DrBrianMay)," he posted. In the fall, May said that he was "now at the point where I don't feel confident to perform the scheduled shows to the standard we all expect... I've been strongly advised to rest and heal, rather than go out and risk 'falling down on the job' out there, which would be a real tragedy." Queen with guest vocalist Adam Lambert completed their 2016 tour at the end of September, and May and Kerry Ellis are due to release a collaborative album in March. - NME, 12/6/16...... A Chicago-based design firm called New World Design Ltd. has announced plans to block out the word "Trump" from President-Elect Donald Trump's Trump Tower in the Windy City with four "golden pig balloons," a protest inspired by the cover artwork of Pink Floyd's 1977 album Animals. "Comprised of four gold colored balloon pigs tethered to buoys in the Chicago River, the folly is a design effort by NWD to provide visual relief to the citizens of Chicago by interrupting the view of the ostentatious Trump Tower Chicago sign," the company said in a statement on its website. "The design scheme follows rigorous rationale in providing layers of meaning while allowing for nuanced interpretations by viewers," it added. The protest follows former Pink Floyd member Roger Waters' use of a giant inflatable pig which flew over the crowd at the recent Desert Trip festival in October in Indio, Calif. On that occasion, the pig was printed with the phrases "F--k Trump and his wall" and "Ignorant, lying, racist, sexist." - Billboard, 12/5/16...... In a post on his Facebook page on Dec. 5, Neil Young questioned whether Pres. Barack Obama will stand up to the corporate interests pushing for the Dakota Access Pipeline (DAPL), following the Army Corps of Engineers' decision to look for an alternate route for the project. After DAPL issued a press release on Dec. 4 stating they remain "fully committed to ensuring that this vital project is brought to completion and fully expect to complete construction of the pipeline without any additional rerouting in and around Lake Oahe" and that "nothing this Administration has done today changes that in any way," Young asked what the president will do if DAPL does indeed move ahead despite the Army Corps' decree. "The question now is whether President Obama will send in law enforcement or the military to halt DAPL from drilling without a permit," Young wrote. "Otherwise, today's announcement will have no enforcement. It will be seen as another US and corporate ploy to send home water protectors, and thousands of veterans, now at Standing Rock Camp, where more than 10,000 are camped." - Billboard, 12/5/16......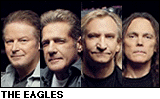 '70s artists The Eagles, James Taylor and Mavis Staples were among those feted by Pres. Barack Obama and First Lady Michelle Obama at the prestigious Kennedy Center Honors show Dec. 4, 2016 at the Kennedy Center in Washington, DC. Eagles members Glenn Frey, Don Henley, Joe Walsh and Timothy B. Schmit were first called for Kennedy Center recognition in 2015, but postponed their attendance in hopes that Frey, who by then was in a fierce battle with colitis, rheumatoid arthritis and pneumonia, would recover. Tragically, Frey passed away in January, and his wife Cindy and children were on hand to receive his honor. Frey's longtime friend and fellow Detroit native, Bob Seger, showed up to pay homage to the band and his 47-year friendship with Frey, noting his upcoming album features a song he wrote for Frey that carries the line, "When I think about you I always smile." Also honoring the Eagles were Kings of Leon, country star Vince Gill and Latin rocker Juanes, who performed "Take It Easy," "Peaceful Easy Feeling" and "Hotel California," respectively. James Taylor was honored by former president Bill Clinton, country/rock singer Darius Rucker, Sheryl Crow and Garth Brooks, while Bonnie Raitt and Andra Day paid tribute to Mavis Staples. The event was taped and will air on the CBS network on Dec. 27. - Billboard, 12/5/16...... Kraftwerk has added two more UK shows to their upcoming 2017 tour, due to heavy ticket demand. The German electro pioneers announced a rare and lengthy run of UK shows earlier in 2016, before tickets instantly sold out within minutes -- much to the frustration of fans. Now the band has added two more shows -- at Oxford on June 6 and Brighton New on June 7 -- to the trek, which kicks off in Dublin on June 2. Kraftwerk will wrap the 17-date tour with a three-night stand at London Royal Albert Hall on June 21, 22 and 23, and are rumoured to be among the headliners at the 2017 Glastonbury festival in June. - NME, 12/5/16.
Friday, December 2, 2016
As the Stevie Nicks with opening act The Pretenders fall tour hit New York City's Madison Square Garden on Dec. 1, Nicks warned the crowd that tonight's show is "not gonna be the same show that you're used to seeing," and promised "magical gothic things from my gothic trunk of secrets and mysteries." Nicks then delivered a set of little-heard rarities like "Starshine," a reject from her 1981 solo debut Bella Donna that eventually ended up on 2014's 24 Karat Gold - Songs From the Vault and "Crying in the Night," a Buckingham-Nicks-era favorite that Nicks rarely played live before this tour. The highlight was "Moonlight (A Vampire's Dream)," the dramatic power ballad whose recording reinvigorated Nicks' solo career earlier in this decade, and which she now calls "my favorite song I've ever written." Pretenders frontwoman Chrissie Hynde, who gushed about Nicks during her band's set and said it was "like being on tour with Elizabeth Taylor," was even invited on stage to sing Tom Petty's part in Nicks' breakout solo hit, "Stop Draggin' My Heart Around." "I'm gonna marry her," Hynde quipped after the performance. "So don't get any ideas." Nicks encored with the Fleetwood Mac staples "Rhiannon" and "Landslide." - Billboard, 12/2/16...... On Nov. 28, Eric Clapton announced he'll play four shows in the US -- New York City's Madison Square Garden on Mar. 19 and Mar. 20 and The Forum in Los Angeles on Mar. 25 and Mar. 26 -- in 2017 that will be billed as "celebration of Clapton's 50 years in music." The dates seem to put hints of retirement to rest after the 71-year-old legendary guitarist revealed in June that nerve damage from his peripheral neuropathy has impacted on his ability to play guitar. Opening acts on the tour include Jimmie Vaughan and Guy Clark Jr., with former Joe Cocker sideman Chris Stainton among the musicians in Clapton's backing band. Tickets go on sale on Dec. 3. - New Musical Express, 11/28/16......

Shortly before participating in the annual lighting of the Christmas tree at Rockefeller Center in NYC on Nov. 30, Neil Diamond told reporters that he'll leave "no song unsung" when he kicks off a 50 Year Anniversary World Tour in 2017. "Especially stuff from The Monkees," said Diamond, who wrote several several songs for the iconic '60s pop band including the No. 1 smash "I'm a Believer." The first leg of the tour gets underway in Fresno, Calif., on Apr. 7, then travels to cities including Atlanta, Dallas, Los Angeles and New York, before wrapping in August. "We play all over the United States, North America, and then we will find other places to go," he said. Diamond promises to pull out all the stops on his tour, and that he still feels energized when performing for his fans. "They can expect me to give everything I possibly can. I will leave no stone unturned, and no song unsung," he said. - AP, 12/1/16...... KISS announced on Nov. 29 they'll be launching their KISSWORLD 2017 European arena tour on May 1 in Moscow. The glam-rock icons will also hit such cities as Helinksi, Stockholm, Oslo, Munich, Vienna, Frankfurt and Rotterdam before traveling to the UK for shows in Glasgow, Birmingham and Manchester before the 15-city tour wraps at London's O2 on May 31. - NME, 11/29/16...... Rod Stewart has joined the lineup of headliners for the UK's 2017 Isle of Wight Festival, which takes place from June 8-11 at Seaclose Park, Newport. Billed as his only UK festival appearance in 2017, Stewart will top the festival bill on the final night of the festival. "I have been very lucky to have played many of the world's finest venues and festivals -- but never played the legendary IOW Festival. I am so excited to put that right. June can't come round soon enough," Stewart said in a statement. The festival originally ran between 1968 and 1970 before being revived in 2002, and recent headliners include Queen + Adam Lambert and Fleetwood Mac. - NME, 11/28/16...... James Taylor has announced a summer tour of four baseball parks for 2017, culminating in a date at Fenway Park, home of his beloved Boston Red Sox. Taylor and his band will open the tour on July 14 at Nationals Park in Washington. It continues July 17 at Wrigley Field in Chicago; July 29 at AT&T Park in San Francisco; and Aug. 11 at Fenway. It will be the third consecutive year Taylor has played Fenway, the venue where the Boston-born Taylor debuted his video for "Angels of Fenway," his ode to the redemptive spirit of baseball and a song featured on his 2015 album Before This World. Bonnie Raitt will open for Taylor at each show. - AP, 11/29/16...... Rush announced on its Facebook page on Nov. 30 that the band is donating the $40,000 award it's getting from the Allan Slaight Humanitarian Spirit Award to the Gord Downie Fund for Brain Cancer Research at Sunnybrook Health Sciences Centre, in honor of the late Tragically Hip frontman Downie. "Many families have been affected either directly or indirectly by this terrible disease. Through Gord's courageous efforts this cause is now getting the attention it desperately deserves. As a fellow musician and friend it's our turn to help support his efforts to fight Brain Cancer now," the post reads. Earlier in December, Canadian Music Week announced that Rush were the 2017 recipients of the Slaight award, which will be handed out in April; the award comes with a $40,000 prize earmarked for the charity of the recipient's choice. - Billboard, 12/1/16......

Country music legend Dolly Parton has established a fund to help victims of the recent spate of wildfires in the Great Smoky Mountains in Tennessee, which is also home to her Dollywood theme park. Parton's My People Fund will provide $1,000 each month to families in Sevier County, Tenn., and in a new video the singer explained how she wanted to help get people "back on their feet" after the deadly natural disaster. "I've always believed charity begins at home and my home is some place special," she said. "That's why I've asked my Dollywood Companies -- including the Dollywood theme park, and DreamMore Resort; my dinner theater attractions including Dixie Stampede and Lumberjack Adventure; and my Dollywood Foundation -- to help me establish the My People Fund. We want to provide a hand up to those families who have lost everything in the fires." Parton's theme park was also threatened by the fires. More info can be found at dollywoodfoundation.org. - Billboard, 11/30/16...... Pres. Barack Obama welcomed four of the recipients of the 2016 Nobel Prize to the White House in Washington on Nov. 30, and noticeably absent was Nobel winner Bob Dylan. "Unfortunately, for those of you wondering, Bob Dylan will not be at the White House today, so everybody can relax," White House spokesman Josh Earnest said during a press briefing. Earnest said Dylan didn't give a reason, but he noted that Dylan and the president had met previously and "the president enjoyed meeting him." In 2012, Pres. Obama presented the iconic rock star with a Presidential Medal of Freedom. Dylan was awarded the 2016 Nobel Prize for literature on Oct. 13 but won't be attending the prize ceremony, later announcing he may travel to Stockholm sometime in 2016 and give his Nobel Lecture then. - AP, 11/30/16...... A new court filing suggests that the late Prince's estate could be worth as much as $200 million, the first time a specific estimate has emerged publicly from court proceedings since the musician died from an overdose in April. Since Prince left no known will, the rock superstar's sister and five half-siblings are in line to inherit equal shares of the estate -- after taxes gobble up about half of it. Attorneys have avoided giving specific figures in public since then, but based on a court filing made public on Nov. 29, Bremer Trust puts the value of the estate at about $200 million, the AP has calculated. In 2016, Prince's estate took in $25 million and sold more albums than any other dead musician for a No. 5 spot on the list of top earning deceased celebrities. Prince's estate has until Jan. 21 to file federal and state estate tax returns. Meanwhile, a new Prince documentary entitled Prince: R U Listening? is reportedly in the works for a spring 2017 release. The film, directed by Find Your Groove's Michael Kirk, will chronicle Prince's rise to fame and will feature interviews with members of his band, as well as friends and admirers including Bono, Mick Jagger, Sheila E, Lenny Kravitz and Billy Idol. Prince's Minnesota estate-turned-museum, Paisley Park, is is also planning a "Celebration 2017" event in April, with guided tours of the late singer's home and performances from Prince's former bands. - AP, 11/30/16......
The Bee Gees announced on Dec. 29 that they've inked a long-term worldwide agreement with Capitol Records that will cover the legendary trio's entire catalog of recorded music -- all 22 studio albums -- plus various compilations, unreleased recordings and other projects. Several soundtracks are also part of the agreement, including the disco era-defining Saturday Night Fever. Capitol will begin working with Universal Music Enterprises (UMe), Barry Gibb and the estates of late members Robin and Maurice Gibb on numerous sales and marketing campaigns aimed at breathing new life into the brothers' catalog, which ranged from psychedelic pop to disco to soft rock. The group's most active years were spent on either Polydor or RSO, aside from a brief stint with Warner Bros. "The Bee Gees catalog is one of the most esteemed and important bodies of work in the history of recorded music, and we are brimming with ideas that will remind fans of its brilliance and further the band's legacy by introducing their music to new audiences," Capitol Music Group chairman and CEO Steve Barnett said. "All of us at the company are honored that The Bee Gees have chosen Capitol as their new home." - Billboard, 11/29/16...... Cher will be among the celebrities featured in This Climate, an upcoming documentary about the perils of climate change. The film, which also features Mark Ruffalo, Vivienne Westwood and Noam Chomsky, will be screened in festivals, events, and universities worldwide in early 2017 after November's United Nations Climate Change Conference and before the World Economic Forum in January, for optimal impact on global discussion. - Billboard, 11/30/16...... A new picture book inspired by John Lennon's 1971 world peace anthem "Imagine" is set for release on Sept. 21, 2017, the United Nations' International Day of Peace. Authorized by Lennon's widow Yoko Ono, the book will be released in partnership with Amnesty International, which will receive some of the proceeds. ith illustrations by Jean Jullien, the book will feature Lennon's lyrics as it tells of a young pigeon's mission to advocate for peace. - AP, 11/29/16...... In other Beatles-related news, a rare copy of the Fab Four's "White Album" originally owned by Ringo Starr has topped a list of the world's most valuable vinyl records. The LP sold at auction in 2015 for £730,876. The list, compiled by LoveAntiques.com, also includes recordings by the formative Beatles band The Quarrymen ("That'll Be The Day/In Spite Of All The Danger" - £100,000) at No. 2 and the Beatles' "Love Me Do" (£80,500) at No. 3. - NME, 11/29/16...... The Recording Academy has announced it will be adding 25 new musical works to its Grammy Hall of Fame, including David Bowie' "Changes," the Jackson 5's "ABC," Elvis Presley's "Jailhouse Rock," Arlo Guthrie's "The City of New Orleans," Merle Haggard's Okie From Muskogee and the Beach Boys' "I Get Around." The selected singles and album recordings are all at least 25 years old to meet requirements for selection, and with this year's additions there will be 1,038 recordings in the Grammy Hall of Fame. - Billboard, 11/28/16......
Neil Young has penned an open letter to Pres. Barack Obama urging an "end to the violence" against the protestors at the Standing Rock Indian Reservation in North Dakota and South Dakota. "Standing together in prayer to protect water displays a deeply rooted awareness of life's interconnected nature, and of the intrinsic value and import of traditional ways," Young posted on his Facebook page on Nov. 28. "This growing movement stems from love, it is the most human instinct to protect that which we love." Despite the hundreds of people standing in solidarity and peacefully protesting against the Dakota Access Pipeline, Young wrote that protesters are met with "violent aggression" from law enforcement. "Standing while being hit with water cannons, mace, tear gas, rubber bullets. Standing without weapons and praying, the water protectors endure human rights abuses in sub freezing temperatures," Young writes. "Thus, it is the ugliness of corporate America, seen around the world." The rocker later called upon the president "to step in and end the violence against the peaceful water protectors at Standing Rock immediately" before discussing President-elect Donald Trump, who he described as a "surprise president [who] claims he does not believe in climate science nor the threats it presents and his actions and words reflect that claim in tangible and dangerous ways." Trump also owns stock in the company laying the pipeline, and has called for its completion. - Billboard, 11/29/16...... The former wife of Phil Collins has told the UK paper Daily Mail that she will sue the former Genesis member after he slammed her with alleged inaccuracies in his new autobiography, Not Dead Yet. Andrea Bertorelli, Collins' first wife, took issue with what her ex shared about their five-year marriage, which ended in divorce in 1980, and blasted him for failing to remember even the simplest of details, like where they actually tied the knot. "Even the most basic facts have become distorted," she said. "For a number of years... I have variously been portrayed as a homewrecker, a gold-digger and a bad mother (in the media). The recent publication of Phil's autobiography Not Dead Yet is the final straw." It's not clear how much compensation Bertorelli is seeking from her ex, who is yet to comment on the lawsuit news. The former couple shares two adult children -- son Simon, a musician, and actress Joely, who was Bertorelli's daughter from a previous relationship. Collins adopted Joely as his own during their marriage. - WENN.com, 12/2/16...... Tony Award-winning character actor Fritz Weaver, who played a German Jewish doctor slain by the Nazis in the 1978 mini-series Holocaust and an increasingly unstable Air Force colonel in the 1964 film Fail Safe, died on Nov. 26 at his home in Manhattan. He was 90. The Pittsburgh-born Mr. Weaver won a Tony in 1970 for his role in Robert Marasco's drama "Child's Play," and also appeared in such TV series as The Twilight Zone, Playhouse 90, Mission: Impossible, Magnum, P.I., Matlock, Gunsmoke, Falcon Crest and Murder, She Wrote. His screen credits included Marathon Man (1976), Demon Seed (1977), Creepshow (1982) and The Thomas Crown Affair (1999). - AP, 11/28/16......
Al Brodax, the producer and co-writer of the Beatles' iconic animated 1968 film Yellow Submarine, died on Nov. 24 in Danbury, Conn. He was 90. In 1960, Mr. Brodax created and headed the television/motion picture division of King Features Syndicate, writing and producing more than 500 episodes of Popeye, Krazy Kat, Barney Google and The Beatles' cartoon series. In 1968, he was producer and co-writer of Yellow Submarine, winning more than 30 awards including the New York Film Critics Circle Award in 1969. Mr. Brodax went on to become the animation supervisor for ABC, producing the shows Make a Wish and Animals, Animals, Animals. In later years, he was a consultant for Marvel Comics. - The New York Times, 11/28/16...... Joe Esposito, a close personal friend and longtime aide of Elvis Presley, died on Nov. 23 of natural causes in Calabasas, Calif. He was 78. Esposito met Presley in 1959 while both were serving in the Army. After they completed their service, Esposito became Presley's assistant in professional matters, from keeping his calendar to functioning as road manager when the King was on tour. Esposito was one of two best men at Presley's 1967 wedding to Priscilla Wagner and a pallbearer at his funeral in 1977. After Presley's death, Esposito worked as a road manager for other artists, including the Bee Gees and Michael Jackson. His daughter, Cindy Bahr, said that her father was suffering from dementia at the time of his death. - AP, 11/29/16...... TV mogul Grant Tinker, the former chairman and CEO of NBC and former husband of Mary Tyler Moore, died on Nov. 29 at age 90. In 1969, Mr. Tinker and his then-wife Moore launched MTM Enterprises, which became an indie powerhouse that produced such hits as Moore's Mary Tyler Moore Show, Rhoda, The Bob Newhart Show, WKRP in Cincinnati, Hill Street Blues and St. Elsewhere. In 1981, he left MTM to become chairman and CEO of then-last-place network NBC. With Brandon Tartikoff as his entertainment president, Mr. Tinker spearheaded a ratings turnaround, with the network rising from last to first place on the strength of a slew of hit new series, including The Cosby Show, Family Ties, The Golden Girls, Cheers, Night Court and Hill Street Blues. He left NBC in 1986, following its acquisition by General Electric. - Deadline.com, 11/30/16.
Sunday, November 27, 2016
Appearing at the Detroit Lions-Minnesota Vikings NFL matchup in her hometown of Detroit on Thanksgiving Day, Aretha Franklin delivered a generous 4 minute and 35 seconds long rendition of the "Star Spangled Banner" prior to the start of the game, which may have been as much a topic at Thanksgiving dinner as the game itself. Her lengthy version of the national anthem then went viral on social media, with one Twitter user joking that "there was enough time to cook a turkey, eat and do the dishes" during the performance. Others opined that the 74-year-old "Queen of Soul" had earned the right to sing the anthem for as long as she wanted. The CBS production team even got in on the fun during the game by including Franklin in a time of possession graphic: "Time of possession battle is crucial. pic.twitter.com/EZVC53fVeD" -- NFLonCBS (@NFLonCBS) November 24, 2016. - AP, 11/26/16...... In related news, James Taylor tweeted a Thanksgiving message to his fans stressing the importance of gratitude on Nov. 24. "Sometimes we suffer setbacks. And if these reversals of fortune are deeply important to us, the loss can be a source of real grief. Recovery takes time and we should allow ourselves time to grieve. But what eventually seems to help most is to take a regular moment to give thanks. To whom we give it is a big question but just go ahead on and do it. Gratitude is the way to an improved attitude, dude," Taylor wrote in the post. The 68-year-old singer/songwriter then gets a little spacey in the message, speculating about the possibility that other distant worlds in the cosmos might support life. "Scientists tell us that it is likely, even inevitable, that there are other worlds in the cosmos which, like our own, would support life. But they are so rare and far apart that it's a long shot we'll ever be in touch... To have been born in human form and consciousness aboard this unbelievably beneficent planet is an incredible stroke of luck. Dig it..." - AP, 11/24/16......
After Bruce Springsteen made headlines earlier in November for being rescued by a group of biker veterans when his own motorcycle broke down on Allaire State Park in New Jersey on Veterans Day, Billy Joel revealed onstage during a Nov. 26 concert at Madison Square Garden that the faulty bike ridden by the Boss was, in fact, built in his own 20th Century Cycles shop in Oyster Bay, N.Y. "So he takes the bike out on Veteran's Day and it breaks down. It's all over national news: Bruce's Bike Breaks Down," the Piano Man told the audience. "So I'm reading this and thinking, Oh s--t, I hope it wasn't the bike I built for him. I called him, 'Bruce, what bike was the bike that broke down?' 'It was the one you made for me,'" Joel continued. Joel then said he apologized to the 67-year-old New Jersey rocker, to which Bruce responded, "Oh no, it's cool, dude." Perhaps to make amends, Joel covered Springsteen's classic "Born to Run" later in the show. Joel, 67, owns a custom motorcycle shop, 20th Century Cycles, in Oyster Bay, N.Y., and Springsteen is one of his clients. - The NY Daily News, 11/27/16...... Speaking of Bruce Springsteen, the musician has taped an appearance on the venerable BBC Radio 4 programme Desert Island Discs that will air during the third week of December. On Desert Island Discs, host Kirsty Young is joined each week by a guest who is asked to "name eight recordings, a book and a luxury item that they would take with them on a desert island." Springsteen said of his track choices that "this is the music that electrified me -- they galvanised me into changing my life in some way." First broadcast in 1942, Desert Island Discs has welcomed the likes of Tom Hanks, Bill Gates and Michael Bubl earlier in 2016. - New Musical Express, 11/24/16...... Stevie Wonder has announced that John Legend and Lionel Richie have been confirmed to perform at his annual House Full of Toys benefit concert, which is set for L.A. Live's Microsoft Theater on Dec. 9. Wonder launched House Full of Toys in 1996 at former Hollywood venue House of Blues. In subsequent years, the concert has been staged at The Forum in L.A. as well as the Microsoft. Concert proceeds benefit the We Are You Foundation, which assists children and families in need. For ticket information (patrons are also asked to bring an unwrapped toy), visit axs.com. Additional performers at this year's event will be announced shortly. - Billboard, 11/23/16......
After Anthony Scaramucci, an advisor to President-Elect Donald Trump, made a surprise announcement that Elton John would be playing the president-elect's January inauguration on the BBC programme HARDtalk on Nov. 23, a rep for Sir Elton unequivocally denied the same day that John will be playing the Washington D.C. event. Scaramucci said that John's performance would demonstrate the president-elect's "commitment to gay rights," commemorating what he referred to as "the first American president in U.S. history that enters the White House with a pro-gay rights stance." It is worth noting however that Trump's running mate, Vice-President Elect Mike Pence, has been strongly criticized by the LGBT community for his anti-gay positions as governor of the state of Indiana. - Billboard, 11/23/16....... In an interview with the London Times, David Bowie's saxophonist Donny McCaslin claims that Bowie was planning to make more music at the time of his death in January at age 69, two days after the release of his album Blackstar, a record which many fans believed was his final farewell. "It certainly didn't seem that it (Blackstar) would be his last record," McCaslin said. "He was going to start writing new music -- or maybe he had started; it wasn't quite clear -- but he was in the process of planning a new recording with us. I don't think Blackstar was this goodbye thing," he added. McCaslin also said Bowie was considering appearing on stage for the first time in a decade. "Clearly there wasn't going to be a Blackstar tour but he was going to sit in with us at (New York jazz club) the Village Vanguard," McCaslin said. "It would just have been him turning up unannounced after rehearsing during the day." Earlier in 2016, McCaslin and his band released their own album, Beyond Now, inspired by and dedicated to their former collaborator. The LP includes original tracks by McCaslin and a number of covers of songs by the likes of Deadmau5, Mutemath, The Chainsmokers and Bowie. - New Musical Express, 11/25/16...... Prolific TV actor Ron Glass, a veteran of such series as Barney Miller, Stakeout, Bureaucrat, Ms. Cop, Vigilante and The New Odd Couple, died at his home in Los Angeles on Nov. 15. He was 71. It is not yet clear if the star had been ill prior to his death, but there is speculation that he was suffering from respiratory problems. The news of Glass's death shocked members of California's Buddhist community, of which he was a prominent figure. Sharing the news on Facebook, one friend wrote: "My Buddhist Brother and Friend, Ron Glass passed last night. I had called him 11/15/16 to find out how is doing since it's been a few months since I had see him last and his nurse said he was not up to talking. I called back on 11/16/16 and said to the nurse: 'let him know that I love him and really care'." The Indiana-born performer also appeared on such series as Friends, Star Trek: Voyager, CSI, Rugrats, Rhythm & Blues and Murder, She Wrote. - The Mirror UK, 11/16/16......

Fidel Castro, the controversial revolutionary leader and former head of state of Cuba, died on Nov. 25 at the age of 90, according to Cuban state television. One of the world's longest-serving political leaders, Fidel Castro ruled Cuba for 49 years after playing a central role in the Cuban Revolution in the 1950s. He cut a divisive figure during his lifetime, transforming Cuba into the Western Hemisphere's first communist country and becoming a thorn in the side of the United States during the Cold War. Hailed by supporters as a hero who fought for socialist ideals by standing up to the U.S. and the world's other political giants, Fidel Castro was seen by critics as a ruthless dictator guilty of subjecting his people to countless human rights abuses, devastating Cuba's economy and forcing more than a million Cubans to flee the island. Considered by many Cubans to be a national hero, Castro in February 1959 was sworn in as prime minister of the island nation, after his group of revolutionaries finally succeeded in forcing the increasingly ruthless dictator General Fulgencio Batista to flee the country, after many attempts. While the international community criticized Castro's government for its brutal campaign of retribution against Batista supporters, the Cuban people were firmly on Castro's side. Hundreds of thousands of Cubans would gather and cheer as he delivered long, rousing speeches -- some of them lasting hours about the revolution (his longest on record in Cuba was 7 hours and 10 minutes). During the Cold War, Castro's Cuba proved especially influential in the politics of the day, after he revealed his belief in socialism and declared his allegiance to the USSR early on in his rule. After Russian missiles, placed in Cuba with Castro's consent, were spotted by an American spy plane in October 1962, the Soviets and the Americans engaged in tense negotiations, the world spun closer to nuclear war than at any other time before or since. Fortunately, however, the USSR -- to Castro's fury -- finally agreed to remove the missiles from Cuba, and the crisis was averted. Castro fell ill in 2006 with an undisclosed disease, and handed the reins of power to his brother Ral Castro. He officially resigned in 2008, after 49 years as Cuba's head of state. Castro was nominated for a Nobel Peace Prize for his work on behalf of developing nations in 2001, and also spoke up against global warming and other environmental issues and was lauded by some for his environmentalism and green policies. - Huffington Post, 11/26/16.
Friday, November 25, 2016
Beloved TV and stage actress Florence Henderson, best known as the ever cheerful matriarch of the iconic '70s series The Brady Bunch, died unexpectedly of heart failure on Nov. 24 at Cedars-Sinai Medical Center in Los Angeles. She was 82. Born on Feb. 14, 1934 in Dale, Indiana, Ms. Henderson got her first big break on Broadway when she was just 18 after being cast in a lead role in the seminal musical "Oklahoma!" before moving on to productions of "The Sound of Music," "The King and I" and "South Pacific." But it was her role as Carol Brady in The Brady Bunch, the innocent sitcom about a blended family, that made her a household name. The series, which aired from 1969 to 1974, returned to television in various forms again and again, including The Brady Bunch Hour in 1977, The Brady Girls Get Married in 1981 (a pilot to the short-lived Brady Brides series) and The Bradys in 1990. It was also seen endlessly in reruns. Ms. Henderson also joined the cast of the 1995 spoof The Brady Bunch Movie, playing Grandma Brady opposite Cheers star Shelley Long as Carol. Her 50+ year career in show business also included a stint as the first female guest host on The Tonight Show, and the release of a cookbook based on the cooking series Country Kitchen. Throughout her career, Ms. Henderson was also known for her philanthropy work, supporting causes including City of Hope and the House Ear Institute (she experienced sudden hearing loss in 1965, and underwent corrective surgery in both ears). In 2010, she competed on Dancing with Stars and was the fifth competitor to be voted off that season. She made a surprise appearance on the show this September, dressed up in character as Mrs. Brady, and was reportedly backstage when her fellow Brady Bunch actress Maureen McCormick, who played Marcia Brady in the series, competed on Dancing With the Stars on Nov. 21. Ms. Henderson, who is survived by two daughters, two sons and five grandchildren, died surrounded by family and friends, her manager, Kayla Pressman, said in a statement on Nov. 24. "Florence Henderson was a dear friend for so very many years & in my heart forever. Love & hugs to her family. I'll miss u dearly #RIPFlorence," Maureen McCormick tweeted on Nov. 25. - USA Today/AP/Huffington Post, 11/25/16.
Tuesday, November 22, 2016
Pres. Barack Obama awarded the Presidential Medal of Freedom, America's highest civilian honor, to 21 groundbreaking musicians, actors, athletes, technological professionals, and others including '70s artists Bruce Springsteen and Diana Ross during a ceremony in the East Room of the White House in Washington, DC on Nov. 22. Prior to the ceremony, the White House appraised Bruce Springsteen's contribution to the nation by describing him as "a singer, songwriter, and bandleader (who) more than five decades ago... bought a guitar and learned how to make it talk." "Since then," the statement continued, "the stories he has told, in lyrics and epic live concert performances, have helped shape American music and have challenged us to realize the American dream." Other honorees include actors Robert De Niro, Robert Redford, Tom Hanks and Cicily Tyson, basketball greats Kareem Abdul-Jabaar and Michael Jordon, philanthropists Bill and Melinda Gates, comedian Ellen DeGeneres, Saturday Night Live producer Lorne Michaels, broadcaster Vin Scully, and various scientists, educators and architects. Obama said the people receiving the medal all influenced him and his presidency in some way and "helped push America forward and inspired millions around the world." The Presidential Medal of Freedom recognizes especially meritorious contributions to the national interests of the United States, to its culture, or to other significant endeavors. - AP, 11/22/16......
"Hallelujah," perhaps the most well known song by late Rock and Roll Hall of Fame member Leonard Cohen, has debuted on Billboard's Hot 100 singles chart for the first time, at No. 59, following Cohen's death on Nov. 7. "Hallelujah" also entered Billboard's Digital Song Sales chart at No. 12 with 33,000 downloads sold in the week ending Nov. 17, according to Nielsen Music. It also drew 3.8 million U.S. streams in that period, a 279 percent increase. Cohen originally released the enduring anthem "Hallelujah" on his 1984 album Various Positions, and Jeff Buckley's 1994 cover of the song (itself inspired by a piano-led version by John Cale three years prior) and now considered by many to be the definitive take on the song, although it, too, wasn't a chart hit at the time and has yet to hit the Hot 100, although it has now appeared on the Digital Song Sales chart at No. 29. Cohen's most recent studio album, You Want It Darker, has also jumped from No. 48 to No. 7 on the Hot 200 albums chart, and his greatest hits album The Essential Leonard Cohen, has also debuted on the chart at No. 13 with 20,000 units and 11,000 albums sold. - Billboard, 11/21/16...... Released on Nov. 11, Pink Floyd's new massive 27-disc box set The Early Years 1965-1972 features unreleased outtakes and demos, TV appearances, seven hours of concert recordings, performances, interviews, over 20 unreleased songs, an updated version of their Zabriskie Point soundtrack and more. Fans have also discovered hidden tracks in the form of alternate mixes of the band's 1972 LP Meddle, inside the set's Blu-ray discs, although specialized software is needed in able to pull both the new stereo and 5.1 mixes of the album from the disc. The set charts the band's first seven years before their The Dark Side of the Moon commercial breakthrough, and also includes the song "Green Is The Colour," which was originally on their 1969 album Soundtrack From The Film More and recorded just after founding member Syd Barrett left the group. - NME, 11/19/16...... Sting was honored with an acheivement award during the American Music Awards in Los Angeles on Nov. 20. The former Police frontman also performed a medley of his hits during the show, starting with his recent single "Can't Stop Thinking About You" from his new album 57th and 9th and running through his Police-era classics "Message in a Bottle" and "Every Breath You Take." "American music lit the musical spark in my young mind," the 65-year-old Sting said while accepting his award. "This uniquely American experiment -- perhaps America's greatest and most influential export -- rock and roll." Sting has also notched his 11th solo Top 10 entry in the Billboard Hot 200 LP chart with 57th & 9th, at No. 9 with 28,000 units sold. Sting last hit the Hot 200 Top 10 with his 2010 album, Symphonicities. Meanwhile, Sting and Bruce Springsteen are slated to perform at the 2016 Rainforest Fund gala on Dec. 14 at New York's Carnegie Hall. - Billboard, 11/20/16......

Speaking of Bruce Springsteen, the Boss has announced he'll be hitting the road for another round of book signings for his just released memoir, Born to Run. The New Jersey rocker will launch a one-week tour beginning Nov. 28 at Books-A-Million in Chicago for a book tour that will stretch through Ohio (Cincinatti, 11/29), continue to Denver (11/30) and Austin, Tex. (12/1), and wind down at 2nd & Charles in Kennesaw, Georgia, on Dec. 2. All books will be pre-signed, and fans will be able to snap a photo with the 67-year-old Rock and Roll Hall of Fame member. Tickets for all shows went on sale on Nov. 22 on the artist's Facebook Events page. Meanwhile, Springsteen has weighed in on the "Hamilton" Broadway show controversy in which the cast of show took to the stage after their Nov. 18 curtain call to address Vice President-elect Mike Pence, who attended the show. "We truly hope that this show has inspired you to uphold our American values and to work on behalf of all of us," cast member Brandon Victor Dixon. Springsteen and his wife Pattie Scialfa posed for a selfie on Nov. 20 in front of the Richard Rodgers Theatre in New York City where "Hamilton" is being presented, with Scialfa writing "looking for VP elect Pence #freedomofspeech." E Street Band member Steven Van Zandt -- while not disagreeing with the statement -- took to Twitter the next day to say the cast chose an "inappropriate" time to make their stand, and instead was "bullying" the politician. "You don't single out an audience member and embarrass him from the stage. A terrible precedent to set," Van Zandt posted. - Billboard, 11/20/16...... A terse letter written by John Lennon to Paul and Linda McCartney shortly after the breakup of the Beatles sold at auction for nearly $30,000 during a sale on Nov. 17 conducted by Boston-based RR Auction. RR says the letter is believed to have been written in 1971 in response to criticism Lennon received from Linda McCartney about his decision to not publicly announce his departure from the band. Filled with profanity and sometimes rambling, the letter reads "Do you really think most of today's art came about because of the Beatles? I don't believe you're that insane -- Paul -- do you believe that? When you stop believing it you might wake up!" - AP, 11/21/16...... Bob Dylan, who was awarded the Nobel Prize for literature on Oct. 13 but won't be attending the prize ceremony, will likely travel to Stockholm next year and might give his Nobel Lecture then, the Nobel Prize's Swedish Academy announced on Nov. 18. Dylan likely will give a concert in the Swedish capital, offering "a perfect opportunity to deliver his lecture," according to the academy. Sara Danius, permanent secretary of the academy, told a Swedish radio station that the Nobel Foundation's rules for laureate lectures are "flexible." Dylan can deliver his as "a written speech, a spontaneous discourse, a film" or another format of his choosing, said Danius. Dylan, 75, has said he cannot attend the Dec. 10 prize ceremony due to pre-existing commitments that, according to his Facebook page, are of a personal nature. Details about who will accept the award on Dylan's behalf are still unclear. - AP, 11/18/16......
Queen guitarist Brian May announced on his Facebook page that the mother of late Queen frontman, Jer Bulsara, passed away peacefully in her sleep on Nov. 13 at age 94. May called Mrs. Bulsera, who he says he had known for 50 years, "a warm and devoted mum to Freddie and, like Freddie, always had a strong twinkle in the eye." Bulsara and Mercury had a close relationship until his untimely death aged 45 from complications arising from AIDS. Speaking of her relationship with her "dear boy," she once told the UK paper The Telegraph: "I often told him I didn't like his clothes and dresses, and tried to get him to cut his hair, but he would explain it was something you have to do when you are in the pop world and gradually I learnt to accept it." Meanwhile, a new Freddie Mercury documentary, Who Wants to Live Forever, debuted on UK TV on the fourth weekend of November on Channel 5. The in-depth film explores Mercury's life from the summer of 1985 at the Live AID concert to the spring of 1987, when he was diagnosed with HIV. 2016 marks the 25th anniversary of the death of Mercury, who passed on Nov. 24, 1991. - New Musical Express, 11/19/16...... As the Rolling Stones prepare to release a new album of blues classics and deep cuts covers, Blue & Lonesone, on Dec. 2, frontman Mick Jagger says an album of new, original material that the band was originally working on when they veered off toward a blues album is still on the docket, but it could take a while. "I was working on it quite recently," Jagger told Billboard/ "We've got a long way to go, but I think it sounds really great and I'm looking forward to carrying on with that." Jagger says he hopes they might return to the new songs in 2017, and guitarist Ronnie Wood has also predicted they'll be back in the studio "next year." Keith Richards, however, was less definitive: "Well, man, you know, I'm not Nostradamus," he quipped. Blue & Lonesone will be the British rockers' first studio LP since 2005's A Bigger Bang. Meanwhile, Jagger reportedly left a huge tip for the staff at the upscale New York Chinese restaurant Philippe Chow when he and his entourage recently visited the eatery. According to TMZ.com, Jagger reportedly left a $500 tip for a $478 bill, as he and his friends ordered a hardy meal -- including lettuce wraps, tuna tartare, chicken satays and green prawns -- for starters. The party then moved onto an order of Mr. Cheng's Noodles and Peking duck, before finishing with Baked Alaska for dessert. Eyewitnesses say Jagger ate his meal quickly and was very polite to staff. - Billboard/WENN.com 11/17/16...... The Ford Motor Company and UAW-Ford have announced a $6 million investment towards a planned expansion of the Motown Museum in Detroit. "We are thrilled to play a role in the next chapter of a global music icon," said Joe Hinrichs, president, The Americas, Ford Motor Company. "The enhanced museum will not only upgrade the visitor experience, it also fits with our commitment to investing in the cultural heritage of Detroit and southeast Michigan." The Motown Museum is located in the Hitsville U.S.A. house where record company founder Berry Gordy launched his music empire in 1959. Scores of classic hits were created there before the label moved to California in 1972. Ford's donation is part of a $50 million upgrade that will create a new Ford-branded theater, space for interactive exhibits and a recording studio at the tourist attraction. - Billboard/AP, 11/18/16......
In related news, Motown icon Smokey Robinson was honored with the prestigious Library of Congress' Gershwin Prize for Popular Song during a ceremony in Washington, D.C., on Nov. 16. "Gershwin music was always on in our house. So for me to be even mentioned in the same breath as the Gershwins is just unbelievable," Robinson said. Robinson also performed a soul-stirring concert at the DAR Constitution Hall, which was packed with some of the U.S.'s most powerful politicians. The event was taped and will air on PBS stations across the US on Feb. 10. - Billboard, 11/17/16...... Country songwriter Mentor Williams, best known for penning Dobie Gray's 1973 No. 5 smash "Drift Away," passed away from undisclosed causes on Nov. 16. He was 70. The brother of singer/songwriter/actor and ASCAP President Paul Williams, Mentor was also known for co-writing such tunes as Randy Travis and George Jones' "A Few Ole Country Boys" in 1990, and Alabama's 1984 hit "When We Make Love." His best-known song by far, however, was Gray's "Drift Away," which has been covered by everyone from Waylon Jennings to Rod Stewart, Michael Bolton, Ray Charles and Roy Orbison -- as well as Uncle Kracker, who returned the song to the Billboard Top 10 in 2003 with his No. 9-peaking, Gray-assisted cover. Williams, a longtime resident of Taos, NM, also worked with, recorded and produced a number of other artists, including Paul McCartney, Kim Carnes and his brother Paul, and served as a staff writer at Almo-Irving in the 1960s. He was also a producer for the A&M, MCA and Columbia Records labels, and had a romantic relationship with country singer Lynn Anderson from the 1980s until her death in 2015. "Mentor was a proud and grateful member (of ASCAP). He will be so missed," Paul Williams tweeted on Nov. 16. - Billboard, 11/17/16...... Canadian guitarist/songwriter Doug Edwards, a former guitarist with the bands Skylark and Chilliwak who penned Skylark's mega-hit "Wildflower," has died at his home in Vancouver after a long illness. He was 71. Born in Edmonton in 1946, Edwards moved to Victoria at age 15 and took up guitar and electric bass. He then moved to Vancouver and, within 18 months or so, was touring with the Fifth Dimension as their guitarist, appearing on The Ed Sullivan Show and opening for Frank Sinatra. In 1970, Edwards teamed with Dave Richardson, a Saanich police officer, to write "Wildflower," which became a gold record in Canada, went to No. 9 on the U.S. Billboard chart, and was covered by more than 75 artists from crooner Johnny Mathis to rapper Drake. "'Wildflower' is one of the most performed songs in the history of Canadian popular music," notes the website of the Canadian Songwriters Hall of Fame. "Wildflower" has also been used to treat female military personnel suffering from PTSD and sexual assault, and has been used to help suicidal addicts recover. Edwards, a session musician for six decades who underwent triple bypass heart surgery on Feb. 1 and then went into cancer treatment, also recorded or performed with Ann Mortifee and Olivia Newton-John, and on TV shows with Tom Jones, Paul Anka and Wolfman Jack.
Thursday, November 17, 2016
Recent Nobel Prize for Literature honoree Bob Dylan has informed the Nobel Prize's Swedish Academy that "he wishes he could receive the prize personally, but other commitments make it unfortunately impossible," and that he won't be making the trip to Stockhom to pick up the prize in person on Dec. 10. Dylan, 75, was awarded the prize on Oct. 13 "for having created new poetic expressions within the great American song tradition." Details on who will accept the award on Dylan's behalf are expected to be announced soon. Dylan at first was silent after the Nobel announcement but eventually said getting the award left him "speechless." - AP, 11/16/16...... Friends and former bandmates of David Bowie have announced they'll throw an all-star concert in memory of Bowie on what would have been his 70th birthday, Jan. 8, 2016. Set for the UK's Brixton Academy, the event will feature music by 30 musicians from throughout Bowie's career. Bowie friend and actor Gary Oldman will host the show, and it will be the first of a series of gigs around the world that will "take place in cities that have a strong connection with David Bowie and his work." The London gig will feature musicians who played on Bowie's final albums, The Next Day and Blackstar, along with former collaborators Mike Garson, Earl Slick and Adrian Belew, among others. - New Musical Express, 11/14/16......
As Joni Mitchell continues to recover from a brain aneurysm that left her unconscious in her L.A. home in March 2015, the legendary Canadian singer/songwriter made another public appearance on Nov. 7, her 73rd birthday, to celebrate the occasion with friends. Wearing red for her special day, a photo of Mitchell was posted to her Twitter account on Nov. 16. Although her condition was listed as life-threatening at the time, Mitchell's attorney Rebecca J. Thyne said the artist "has physical therapy each day and is expected to make a full recovery." Mitchell has kept a low profile since but was snapped out with friends at the Catalina Bar and Grill in late August. - Billboard, 11/16/16...... The exact details of singer/songwriter Leonard Cohen's death on Nov. 7 have emerged, with his manager Robert B. Kory issuing a statement saying Cohen's death was "sudden, unexpected and peaceful" as he died in his sleep after falling down in the middle of the night at his Los Angeles home. Kory's statement also said that Cohen died on Nov. 7 -- three days before his passing was made public. The "Hallelujah" singer, who was 82, had been in declining health for much of the year, though he revealed few details. Cohen, who is survived by two children and three grandchildren, was buried in Montreal in a small ceremony on Nov. 10, the same day his death was announced. A makeshift memorial to Cohen has appeared at New York City's famous Hotel Chelsea, which was immortalized by Cohen in his 1974 song "Chelsea Hotel #2," which he later revealed was about Janis Joplin. Fans have left flowers, handwritten notes and pictures outside the Chelsea in Cohen's memory. A memorial to Cohen in Los Angeles is being planned, according to his reps. - AP, 11/16/16...... In related news, Leon Russell's wife, Jan Bridges, released a statement on Nov. 13 stating the influential songwriter and performer died at his home in his sleep on Nov. 12. "We thank everyone for their thoughts and prayers during this very, very difficult time," she wrote. While Bridges did not specify his cause of death, she said, "My husband passed in his sleep in our Nashville home. He was recovering from heart surgery in July and looked forward to getting back on the road in January. We appreciate everyone's love and support." Elton John, who collaborated with Russell on the 2010 album The Union, tweeted that Russell was "a mentor, inspiration and so kind to me... I loved him and always will." Others tweeting in honor of Russell include Yusuf Islam (Cat Stevens), Charlie Daniels, Chaka Khan, Richard Marx, Whoopi Goldberg, Booker T. Jones an George Benson, whose cover of Russell's composition "This Masquerade" was a Top 10 hit in 1976. - Billboard, 11/13/16......
Bruce Springsteen and Diana Ross will be among 21 people to be recognized by Pres. Barack Obama with a Presidental Medal of Freedom at the White House on Nov. 22. America's highest civilian honor, the medal will also be awarded to Ellen DeGeneres, Robert De Niro, Cicely Tyson, Tom Hanks, Robert Redford, Kareem Abdul-Jabbar, Michael Jordan, Bill and Melinda Gates, Lorne Michaels and sports broadcaster Vin Scully. - AP, 11/16/16...... In other Bruce Springsteen news, a group of good Samaritan bikers rescued The Boss on his own motorcycle after the bike broke down as he was travelling through Allaire State Park in New Jersey on Veterans Day, Nov. 11. Members of the Freehold, N.J. American Legion Post 54 Legion Riders -- who represented Post 54 at the Veterans Day Ceremony in Holmdel for Veterans Day -- noticed a lonely rider on the side of the road calling out for help. After they pulled over, they recognized it was the Rock and Roll Hall of Fame member, and gave him a ride to Mulligan's, a restaurant in Farmingdale, N.J., where the 67-year old rocker made a call for a pickup. After the guys went inside, sat down and had a few drinks, a grateful Springsteen threw in $100, told them to keep the change, posed for a few pictures and took their phone numbers, presumably for future rides, or a thank-you note with free concert tickets. - Billboard, 11/12/16...... Reacting to the surprise election of Donald Trump as the next president of the U.S., Rolling Stones frontman Mick Jagger told the Associated Press in a new interview that "Everyone outside the U.S. is kind of mystified... I'd say, that's the polite word." Also weighing in during the interview were Rolling Stones Ronnie Wood, who aid "There will be some changes made. Hopefully they're going to be good ones," Charlie Watts, who commented that "I don't think he's gonna be as radical as he was coming into it, so I think a lot of what he says is going to be tempered down. Because if it isn't, it's gonna be a hell of bloody ride for four years." Keith Richards, however, offered no opinion. "It's a blank spot to me, I'm telling you... I ain't going there," he said. The Stones are promoting their new exhibit that debuted at Industria in New York City on Nov. 12 after launching in London earlier in 2015. It includes colorful tour outfits, Jagger's lyric book, Keith Richards' 1963 diary, Watts' toy drum kit and various photographs, from posters to magazine covers. The group's first London apartment that the band mates shared in 1962, complete with dirty dishes, beer bottles and blues records placed throughout the flat, has also been recreated. The band is also preparing to release a new album of blues cover songs called Blue & Lonesome on Dec. 2.- Billboard, 11/15/16...... Two members of the '60s pop band The Turtles, Mark Volman and Howard Kaylan (a.k.a. Flo & Eddie), have settled a royalty lawsuit with SiriusXM radio on the eve before the trial was scheduled to begin. Pre-1972 sound recordings aren't protected by federal copyright. So, until recently, the owners of the rights to the songs weren't being compensated for hits played on digital channels like SiriusXM Radio's "'60s on 6." Details of the settlement were not announced, and a motion for preliminary approval of the deal will be filed in the next three weeks. - The Hollywood Reporter, 11/14/16...... Cable channel HBO has announced that a two-part, as-yet-untitled Elvis Presley documentary has just wrapped and will be debuting on their network at some future date. The three-hour doc from Sony Pictures Television will span from Presley's childhood through his final recording sessions at his Graceland Jungle Room studio in 1976. It is written by Alan Light and directed by Emmy/Grammy winner Thom Zimny, who has worked on multiple Bruce Springsteen documentary and video projects. The film is being produced with full participation of Presley's family estate and will include never-before-seen photos and footage. - Billboard, 11/14/16......

Aerosmith has announced that it will launch what it is calling a "farewell" tour in Europe in the spring of 2017. The Hall of Famers, who recently completed a tour of South America, are calling the tour the Aero-Vederici Baby! Tour and will kick it off on May 17 in Tel Aviv, Israel and include 17 dates before wrapping up July 5 in Zurich, Switzerland. The tour includes headlining spots at the Sweden Rock Festival on June 8 and the U.K.'s Download Festival on June 11. Tickets go on sale Nov. 18, and the full itinerary is posted at the band's official web site. Aerosmith's members have been talking about a farewell tour for a year, and guitarist Joe Perry says "that's a little tough for me to wrap my head around." "I mean, we all know our age is creeping up on us, but, man, we've tried to follow the lead of the original blues guys and the early rockers and just keep playing 'til we drop, y'know?," he added. "We all have different feelings about it. I do have a feeling that there'll be a tour that we'll call the final tour -- but when will it end? That I can't say." No North American dates have been announced yet for next year. Aerosmith has announced no plans to release new music, but Perry says "Maybe once we start doing some shows again we'll get inspired and get everyone on the page to do that. We'll see." - Billboard, 11/14/16...... Veteran ska band The Specials have just played two shows in London in November, and have announced they'll play extra dates in Birmingham, Leeds and Hatfield in Hertfordshire in May 2017. In December 2015, The Specials' drummer John "Brad" Bradbury died at the age of 62. After joining the band in 1979, Bradbury had a top 10 hit with The Specials in 1984 -- "Free Nelson Mandela." The Coventry band then split, but reunited for a 2009 tour to celebrate their 30th anniversary. Bradbury had remained part of the group since then. - Billboard, 11/12/16...... A letter from John Lennon and Yoko Ono to Paul McCartney and wife Linda McCartney has been put up for auction to the highest bidder, with bidding expected to reach $20,000 (£16,000). The undated letter sees Lennon responding to prior correspondence from Linda which he says left him "wondering what middle aged cranky Beatle fan wrote it." Lennon writes in his letter: "I hope you realise what shit you and the rest of my 'kind and unselfish' friends laid on Yoko and me, since we've been together." Later in the letter, John goes on to say that doesn't "resent" his former Beatles bandmate but that he feels "sorry for him." He also wrongly predicts that the McCartneys' marriage would be over within two years. "It was likely written shortly before Lennon and Ono's departure for America," says RR Auction representative Robert Livingston. "The draft captures the intense rivalry between the two men in the months, and even years, surrounding the breakup of the Beatles." - New Musical Express, 11/14/16...... A gig by Kraftwerk in Buenos Aires that appeared to be a victim of the Argentinian capital's ban on electronic music events after six people died at the Time Warp festival will go ahead after all, the promoter announced on Nov. 14. Kraftwerk are scheduled to play at Buenos Aires' Luna Park Stadium on Nov. 23. Kraftwerk are also set to tour the UK in 2017. - NME, 11/14/16......
Former The Police frontman Sting reopened the Bataclan venue in Paris on Nov. 12, a day shy of the anniversary of the Paris terror attacks that killed 90 music fans during an Eagles of Death Metal concert in 2015. "We've got two important things to do tonight," Sting said in French. "First, to remember and honor those who lost their lives in the attacks a year ago and to celebrate the life and the music of this historic venue." He then called for a minute of silence in their honor, and said "We shall not forget them, before launching into his 1988 song "Fragile," whose lyrics read: "Nothing comes from violence and nothing ever could." Sting then paid tribute to a list of musicians who have passed within the past year, including David Bowie, Prince, Glenn Frey, Lemmy Kilmister and Leonard Cohen. - Billboard, 11/12/16...... Actress Carrie Fisher, who co-starred in the iconic 1977 Star Wars film with Harrison Ford, has purportedly detailed that she had a three-month extramarital affair with Ford in her upcoming book, The Princess Diarist. Fisher reveals the two thespians were more than just friends while shooting Star Wars: Episode IV - A New Hope in 1976, when she first portrayed Princess Leia and Ford took on the role of Han Solo. An excerpt purportedly from the upcoming release began circulating online on Nov. 15, apparently suggesting Carrie, then 19, was left disappointed the first time she slept with her co-star. Fisher has since spoken out to dismiss the unfounded claims, telling People.com, "Any reports claiming I said Harrison was bad in bed are utterly false. Perhaps people should read the book before they write their stories." Fisher has also taken to Twitter to address the reports, insisting her book makes no mention of Harrison's lovemaking skills. "I would never talk about how someone was in any furniture - chair, bed, coffee table or otherwise," she joked. Fisher says she has no regrets about going public with her fling, even though it suggests Ford was unfaithful to his then-wife Mary Marquardt. Ford and his first wife MaryMarquardt filed for divorce in 1979. He went on to wed Melissa Mathison in 1983, and now he's married to actress Calista Flockhart. Fisther has only been married once - to singer Paul Simon from 1983 to 1984. Ford and Fisher both reprised their roles for Star Wars: The Force Awakens in 2015. - WENN.com, 11/16/16.
Sunday, November 13, 2016
Leon Russell, the longhaired and long bearded pianist/guitarist/songwriter/bandleader who moved from playing countless recording sessions to making hits on his own, died on Nov. 12 in Nashville, Tenn. He was 74. The death of Russell, who had suffered significant health difficulties over the past five years, was announced on his website, which said that he had died in his sleep but gave no specific cause. One of the first of the supersessionmen, Russell played on recordings from whole host of artists from Jerry Lee Lewis through to The Crystals, Herb Alpert, The Byrds, Gary Lewis & The Playboys, Delaney & Bonnie and the Rolling Stones. Born Claude Russell Bridges in Lawton, Oklahoma on Apr. 2, 1941, Russell grew up in Tulsa and studied classical piano from the age of three for 10 years, but then grew tired of the disciplines of formal music. At 14 he learned to play trumpet and put together his own band, lying about his age so that he could work in a Tulsa nightclub, where he played with Ronnie Hawkins and the Hawks, which later evolved into The Band. Later, Jerry Lee Lewis took Russell's band on the road with him. In 1958 he moved to Los Angeles, and began to hustle gigs as a sideman on recording sessions -- something his instrumental versatility enabled him to do with relative ease. He met Ricky Nelson's guitarist James Burton, who taught him guitar, and worked in the studio with Dorsey Burnette, Glen Campbell, and others.
Russell worked on nearly all the Phil Spector hit productions -- from The Crystals' "He's a Rebel" to the Righteous Brothers' "You've Lost That Lovin' Feelin'," as well as on isolated hits like The Byrds' "Mr. Tamborine Man," Herb Alpert's "A Taste of Honey" and Bob Lind's "Elusive Butterfly." After spending some time as an executive with a small record company named Viva, he quit the music business for two years in 1967 in order to build his own sophisticated home studio, and occasionally appeared with friends Delaney & Bonnie on the ABC TV dance show Shindig, and sometimes played sessions. In 1968, he and Marc Benno were signed by Mercury for the Smash label, and made the Asylum Choir album, which sold disappointingly. Russell then toured with Delaney & Bonnie, and teamed with English producer Denny Cordell to form Shelter Records, which signed J. J. Cale, and went to London where they laid down the tracks for Russell's debut solo album, Leon Russell. At the beginning of 1970, Russell put together the Mad Dogs and Englishmen all-star entourage to back Joe Cocker, who had cut Russell's composition "Delta Lady" at Russell's home studio, on Cocker's ambitious American tour. However as the film of the tour illustrates, the whole enterprise served to elevate Russell into the star attraction at the expense of Cocker. In August 1971, Russell was invited by George Harrison to be one of the many leading rock personalities to participate in the Concert for Bangla-Desh benefit show, which also featured Bob Dylan and Eric Clapton.
Russell's considerable stature in the rock world was also fortified when he was invited to work with and produce Dylan, although the resulting tracks, which include "Watching the River Flow" and "When I Paint My Masterpiece," were recorded when Dylan seemed to be creatively at a low ebb. Russell's solo career, however, continued apace, and throughout 1972 and 1973, he was enormously popular in the U.S. He developed a strong onstage personality with his long beard, wispy hair and beard, and familiar stove-pipe hat. His own albums usually employed superstar lineups, and were of variable quality, though after 1972's Carney and a 1973 triple live set recorded at California's Ontario Race Track both went gold, Russell's standing as a solo artist declined. Russell severed his associations with Shelter Records in 1976, and initiated a new label, Paradise Records, with his Wedding Album. The album celebrated his marriage to singer Mary McCreery, who had released a solo album on Shelter in 1973. In more recent years, Russell continued to record and tour, and in 2010 he collaborated with one of his old touring partners, Elton John, on an album called The Union. That same year, Russell underwent surgery for a brain fluid leak and was treated for heart failure. The following year, he was honored with the Award for Musical Excellence by the Rock and Roll Hall of Fame. In July of this year, Russell suffered a heart attack, and was scheduled for further surgery, according to a news release from the historical society of Oklahoma, his home state. - 11/13/16.
Saturday, November 12, 2016
'70s artists Stevie Wonder and Yoko Ono are among the many celebrities reacting to the largely unexpected election victory of Donald Trump as the 45th president of the United States on Nov. 8. On Nov. 11, Yoko tweeted an audio clip after Trump's win -- a response that was utterly Ono, singing an emotive shriek of agony with anxious grunting and utter distress. "Dear Friends, I would like to share this message with you as my response to @realDonaldTrump." "That's an awesome quote," you can hear someone saying on the recording afterwards. In an interview with Philly.com published the day of the election, blind R&B legend Wonder asked a reporter: "If you had an emergency situation and needed to go to the hospital, and you had to get there right away, would you want me driving your car?" he asked, to which the reporter replied "no" -- before he added: "Because I'm not an experienced driver, right?" The "Superstition" singer continued his brilliant, hilarious put-down of Trump: "So my belief is that Hillary [Clinton] is an experienced person of the government, and she has spent 30 years with a commitment. Not to mention that her parents taught her in a kinder way, to have respect and love for all people. That's the person I want to govern, to be the leader of this nation. This is not a reality show. This is life in reality. So I'm with her because I believe in where we are, and where we are going to go. I have always believed that America is great. We're just going to make it greater." - New Musical Express/Billboard, 11/8/16......
Def Leppard has premiered a video for their 2015 eponymous Def Leppard LP track "Let's Go," the opening number from their upcoming live album/DVD And There Will Be A Next Time -- Live From Detroit. The concert is from the English rockers' stop at the DTE Energy Music Theatre, and the set is scheduled to hit stores on Feb. 10. There Will Be A Next Time features the group's entire 17-song set, including its medley of "Hysteria" and the late David Bowie's "Heroes." The set also comes with official music videos for "Let's Go," "Dangerous" and "Man Enough," as well as a lyric video for "Let's Go." Def Leppard will launch a pre-order site on PledgeMusic.com on Nov. 15 to give fans early access to select tracks and exclusive merchandise. Frontman Joe Elliott & co. will launch a tour in April 2017 that will last much of the year. - Billboard, 11/11/16...... Fans of David Bowie are seeking funding for a new statue in tribute to the rock icon to be erected in the town of Aylesbury, north of London. In 1971, Bowie debuted songs from his Hunky Dory and Ziggy Stardust albums at the Friars Club in Aylesbury, and he also referenced the rea's Market Square in the opening lines of the Ziggy track "Five Years." A Kickstarter campaign has been launched to finance the bronze statue designed by sculptor Andrew Sinclair, with organizers seeking £100,000 for the project. Fans have so far donated £26,420 to the cause. The statue would be complemented with a working soundsystem that would play a Bowie song every hour throughout the day and evening. In other Bowie news, a sale of Bowie's art collection conducted by Sotheby's in London smashed expectations, with a painting by Jean-Michel Basquiat selling for more than 7 million pounds ($8.8 million). The first part of the two-day Bowie sale on Nov. 10 netted 24.3 million pounds ($30.3 million), more than double its upper pre-sale estimate. The top lot, Basquiat's "Air Power," sold for 7.1 million pounds ($8.8 million). Another, untitled Basquiat sold for 2.4 million pounds ($2.96 million). Bowie played Andy Warhol in Basquiat, director Julian Schnabel's 1996 biopic of the American artist. The sale, which includes 400 items in all, also includes pieces of furniture and design from Bowie's collection. - New Musical Express/AP, 11/8/16...... Phil Collins announced on Nov. 8 that he'll be one of the headliners at British Summer Time at Hyde Park in June 2017, part of his recently announced comeback solo tour. Collins had already announced a run of shows throughout Europe as part of his "Not Dead Yet" tour, and the Summer Time gig will be the biggest concert yet. "The reaction from the British public has been overwhelming," Collins said in a statement. "I can't wait to play Hyde Park and see everyone there. I will be playing all of the songs that people love." Collins' previously announced dates include five nights in London at Royal Albert Hall, two dates in Cologne, and two dates in Paris, all set for June 2017. - NME, 11/8/16...... Sting has announced he will headline a concert at the NASCAR Sprint Cup Series Awards, which takes place on Dec. 2 at the Wynn hotel and casino in Las Vegas. Sting will perform both a classic hit from his catalog as well as a new song from his latest album 57th & 9th, which dropped on Nov. 11. Meanwhile, Sting is scheduled to reopen the Bataclan concert hall, the same Paris concert venue where the tragic terrorist attack took place in 2015, on Nov. 12. - Billboard, 11/10/16......

Paul McCartney has taken part in the Mannequin Challenge craze, the latest viral sensation that follows the Ice Bucket Challenge and the Harlem Shake. In it, people film themselves holding poses and staying completely motionless -- like mannequins. There's usually music playing in the background and a lot of the videos so far have been soundtracked by hip-hop duo Rae Sremmurd's "Black Beatles." Now McCartney has joined in with his own version, also soundtracked by Sremmurd's track. "Love those Black Beatles," read a caption accompanying Macca's Mannequin Challenge video on Nov. 10. In the clip, Sir Paul stands by his grand piano, one hand tickling the ivories and the other reached out, seemingly in mid-song rapture. As the camera pans around him, you can probably guess which line from Sremmurd's current Top 10 hit blares out: "Black Beatle, bitch/ Me and Paul McCartney related!" - Billboard, 11/10/16...... Over 190 black & white photos from Elton John's personal photo collection have gone on display in "The Radical Eye," an exhibition which has opened at London's Tate Modern gallery. The photos usually adorn John's 18,000 square foot apartment in Atlanta, one of his several homes. John, who began buying photographs after he became sober in 1990, says collecting photos is a "a much healthier addiction," and his collection of 8,000 images is one of the largest troves of 20th-century photography in private hands. The photos on display were taken between 1915 and 1950, and include two dozen photos by surrealist Man Ray, including ones that usually hang above John's bed. The exhibition opened on Nov. 10, and will run through May 7. - AP, 11/10/16...... John Fogerty played an impromptu set that included the classic Creedence Clearwater Revival numbers "Proud Mary" and "Have You Ever Seen the Rain" after he completed his keynote Q&A session at the Billboard Touring Conference in Beverly Hills, Calif., on Nov. 10. Earlier, Fogerty told the gathering of music execs that he was "scared to death of being a one-hit-wonder" when CCR started out. "After a while I started worrying about what was gonna happen after "Susie Q," Fogerty said of the 1968 cover hit. "It was a novelty and I knew it. I started to get busy staying up late and writing songs. I started strumming on the Rickenbacker and 'Proud Mary' came out." Fogerty, 71, also quipped that he dilegently practices his guitar playing, "because Brad Paisley is still better than me." Previous keynote Q&A's for the global touring business conference, now in its 13th year, have included conversations with Roger Waters, Gene Simmons and Chris Cornell. - Billboard, 11/11/16...... The slew of fellow musicians and celebrity admirers reacting to the recent death of revered singer/songwriter Leonard Cohen included several '70s musicians, including Charlie Daniels, Paul Stanley, Bette Midler and Carole King. "Rest in peace Buddy, I learned a lot about music from you," Charlie Daniels tweeted on Nov. 11, while Paul Stanley posted "RIP Leonard Cohen. A poet, songwriter and rogue till the end. Hallelujah." Bette Midler tweeted "Leonard Cohen has died. Another magical voice stilled," while Carole King simply posted "R.I.P. Leonard Cohen." Cohen, whose "Hallelujah" was one of the most covered songs in modern music history," passed away on Nov. 7 at age 82. - Billboard, 11/10/16......

In a new interview with the Washington Post, Eagles co-founding member Don Henley has slammed the U.S. Copyright Office over the sudden replacement of Register of Copyrights Maria Pallante. In October, Librarian of Congress Carla Hayden announced that Pallante would be removed from her position, a move that was met with dismay from many members of the music industry and creators' rights groups. "She was a champion of copyright and stood up for the creative community, which is one of the things that got her fired," Henley said of Pallante, before turning his attention to Hayden. "The Librarian wants free content, and the copyright office is there to protect creators of content. They are diametrically opposed ideologies... [Hayden] has a long track record of being an activist Librarian who is anti-copyright and a Librarian who worked at places funded by Google." In her position as Register, Pallante was seen as a generally fair and sympathetic figure when it came to expanding creators' rights, and advocated for updating many of the Copyright Office's tech-based policies. "There's a mindset that the digital giants have fostered that everything on the internet should be free," Henley told the Post. "When they say they want free and open access, that's code for, 'We want free content.'" Henley added that "you don't make any money from recording music anymore... The streaming services have wiped out that revenue stream." - Billboard, 11/10/16...... Kraftwerk could be forced to cancel a gig in Buenos Aires later in November due to a ban on electronic music events in the Argentinian city. In April, the city ruled to ban all electronic events after the deaths of six people at Time Warp festival. The local government said they would no longer approve permits for major electronic music festivals until a new law is introduced to prevent drug-related deaths at music events. The German electronic music pioneers had been scheduled to play Buenos Aires' Luna Park Stadium on Nov. 23. Kraftwerk have announced they'll tour the UK in 2017, and the band was also recently nominated for next year's Rock And Roll Hall Of Fame. - NME, 11/10/16...... Actor Robert Redford has announced he will retire from acting once he completes the two movie projects he is working on. Redford, 80, made the announcement in an interview with his grandson Dylan Redford for the Walker Art Center, where he will appear at an event on Nov. 12. "Once they're done then I'm going to say, 'OK, that's goodbye to all that,' and then just focus on directing," he said. Redford has two acting projects in the pipeline including a love story for older people called Our Souls at Night with Jane Fonda and a lighter piece with Casey Affleck and Sissy Spacek called The Old Man and the Gun. Redford adds he will turn his attention to painting as a creative outlet. "It's just me, just the way it used to be, and so going back to sketching - that's sort of where my head is right now... So, I'm thinking of moving in that direction and not acting as much," he said. The veteran actor first directed in 1980 with Ordinary People, which won him a Best Director Oscar, and he is also the founder the Sundance Institute, which helps independent filmmakers and runs the annual Sundance Film Festival. - WENN.com, 11/11/16......

Actor Robert Vaughn, the debonair, Oscar-nominated actor whose many film roles were eclipsed by his hugely popular turn in the iconic '60s TV spy series The Man From U.N.C.L.E., died on Nov. 11 after a brief battle with acute leukemia, according to his manager, Matthew Sullivan. He was 83. Born Robert Francis Vaughn into a theatrical family Nov. 22, 1932, in New York City, Mr. Vaughn broke into show business "after a two month struggle" in 1956, and starred in his first movie, No Time to Be Young, in 1957 after he was discharged form the Army. He went on to appear in a number of movies and television shows, and earned an Oscar nomination in 1959 for his supporting role in The Young Philadelphians, in which he played a wounded war veteran accused of murder. He eventually landed a lead role as urbane superspy Napoleon Solo in NBC's The Man From U.N.C.L.E., which debuted in 1964. The show was an immediate hit, particularly with young people, and was part of an avalanche of secret agent shows (I Spy, Mission: Impossible, Secret Agent), spoofs (Get Smart), books (The Spy Who Came in From the Cold) and even songs (Johnny Rivers' "Secret Agent Man") inspired by the James Bond films. Mr. Vaughn's Napoleon Solo character was teamed with Scottish actor David McCallum's Illya Kuryakin, a soft-spoken, Russian-born agent, and the pair put aside Cold War differences for a greater good, worked together each week for the mysterious U.N.C.L.E. (United Network Command for Law and Enforcement) in combating the international crime syndicate THRUSH. After the show was canceled in early 1968 due to sagging ratings, Mr. Vaughn and McCallum reunited in 1983 for a TV movie, The Return of the Man From U.N.C.L.E. in which the super spies were lured out of retirement to save the world once more. Mr. Vaughn, a liberal Democrat, was also drawn to politics in several of the roles he chose, portraying US presidents Harry S. Truman, Woodrow Wilson and Franklin D. Roosevelt in various screen and stage projects. Mr. Vaughn also remained active in movies in his later career, usually in character roles in such films as The Venetian Affair, The Bridge at Remagen, Julius Caesar (the 1970 British version starring Charlton Heston), The Towering Inferno, S.O.B., Superman III and Delta Force. Mr. Vaughn is survived by his wife, Linda Staab Vaughn, their son Cassidy and daughter Caitlin. - AP, 11/11/16.
Friday, November 11, 2016

Canadian poet/novelist/singer/songwriter Leonard Cohen, a highly influential recording artist whose literate, evocative material was covered by many artists including Judy Collins and Jeff Buckley, died at his home in Los Angeles on Nov. 7. He was 82. Born in Montreal on Sept. 21, 1934, to a middle class family with Judaic roots, Mr. Cohen began studying music and poetry at a young age, taking up the clarinet but later turning his attention to writing as he grew older. After attending McGill University, Mr. Cohen published his first book of poetry, Let Us Compare Mythologies, and his first novel, Beautiful Losers, in 1966, and began to set his poems to music. When Judy Collins recorded his song "Suzanne" that same year, his solo career began to take off, and Columbia Records signed him and released his debut album, The Songs of Leonard Cohen, the following year. Full of haunting compositions which were well suited to his lugubrious, flat vocals, The Songs of Leonard Cohen was well received, as was its follow-up, Songs From a Room, though it didn't have the impact of its predecessor. Mr. Cohen then embarked on a series of live appearances in the U.S. and Europe, and for his first European tour in 1970, he employed a backing group called The Army which included his future producer, Bob Johnston, who also produced Bob Dylan and Simon & Garfunkel. A reserved, slightly academic figure who was reportedly dismayed by the adulation fostered by live appearances, Mr. Cohen lacked the necessary stimulus to be a rock star, and his singles did not chart in the U.S. His 1971 release, Songs of Love and Hate, was a typical sparse and haunting collection that ranks among the most emotionally intense of his 13 studio albums, and perfectly captured his dramatic blend of folk and pop. In the mid-'70s, Mr. Cohen became a practicing Buddhist and spent time between 1994-99 secluded at a monastery in Mount Baldy, Calif.
After the monastery years, Mr. Cohen's career was jump-started in 2001 when his backup singer Sharon Robinson released Ten New Songs, which was co-written by Mr. Cohen. In 2012, the masses finally began catching on with the release of his LP Old Ideas, which peaked at No. 3 on the Billboard Hot 200 album chart, and 2014's Popular Problems, which debuted at No. 15. Mr. Cohen began touring in earnest again in 2008, delivering generous, acclaimed shows that were chronicled on a series of concert albums and live videos. Mr. Cohen was inducted into the Rock and Roll Hall of Fame in 2008 by Lou Reed, who lauded him as being mong the "highest and most influential echelon of songwriters." Other honors include induction into the Songwriters Hall of Fame, the Canadian Music Hall of Fame, four Juno awards, and a Grammy Lifetime Acheivement Award in 2010. He was also awarded several literary prizes and honorary university degrees, and was named a Companion of the Order of Canada, the country's highest civilian award, in 2011. HIs romantic relationships included Marianne C. Stang (the subject of "So Long, Marianne"), artist Suzanne Elrod -- with whom he had son Adam and daughter Lorca but never married -- French photographer Dominque Issermann, and actress Rebecca De Mornay. Mr. Cohen's death was announced by his son and current producer, Adam Cohen, on Facebook on Nov. 10, who stated "We have lost one of music's most revered and prolific visionaries" and that his father "passed away peacefully at his home in Los Angeles with the knowledge that he had completed what he felt was one of his greatest records... He was writing up until his last moments with his unique brand of humor." A memorial will take place in Los Angeles at a later date. - Billboard, 11/10/16.
Monday, November 7, 2016
Bruce Springsteen is scheduled to perform at a final evening rally for Democratic presidential candidate Hillary Clinton at Independence Mall in Philadelphia on Nov. 7. Springsteen will appear along with fellow New Jerseyan and Clinton supporter Jon Bon Jovi as well as Pres. Barack Obama and First Lady Michelle Obama, former president Bill Clinton, and the Clintons' daughter, Chelsea. Springsteen has previously performed at presidential rallies for Pres. Obama in 2008 and 2012, and Sen. John Kerry in 2004. Springsteen has also been a frequent critic of Republican presidential contender Donald Trump, stating "he will not win" at a recent question and answer session promoting his new book, Born to Run, at New York City's Town Hall. - Billboard, 11/6/16......

Meanwhile, Ted Nugent campaigned on behalf of Donald Trump in his home state of Michigan, at Sterling Heights' Freedom Hill Amphitheater, on Nov. 6. "I've got your blue state right here. Black and blue," the veteran rocker and advocate for conservative causes said as he grabbed his crotch. "Each and every one of you have only 24 hours to convince the numb nuts that you know, that you can't vote for criminals, you can't vote for liars, you can't vote for scam artists," he added. Nugent, 67, also dropped an array of profanities as he warmed up the crowd in the traditionally Democratic state of Michigan. Nugent then performed "Fred Bear" and "Never Stop Believing for the crowd, shortly before Donald Trump took the stage and said "Unbelievable what's going on" to his supporters. Nugent has supported Trump since the New York businessman and celebrity first announced his campaign in 2015, telling a radio host "I'm a big fan of Donald Trump because I believe in bold, aggressive, unapologetic truth -- period" in August 2015. - Billboard, 11/7/16...... Former Creedence Clearwater Revival principal John Fogerty has been announced as the keynote speaker at the 13th annual Billboard Touring Conference, which takes place Nov. 9-10 at the SLS Beverly Hills Hotel. "John Fogerty is one of the most important popular music artists to emerge in the last 50 years, writing and performing songs that are interwoven into the very fabric of popular culture," said Ray Waddell of Billboard, who will be conducting a Q&A with Fogerty. "For many of us, Mr. Fogerty's voice and guitar provide a truly transformative American experience. I am thrilled to welcome him to the Billboard Touring Conference and fully expect to be entertained, surprised, and inspired in a compelling session," he added. The Billboard Touring Conference & Awards is taking place in L.A. for the first time after 12 years in New York. - Billboard, 11/7/16...... Director Jim Jarmusch describes his new Iggy Pop and the Stooges documentary Gimme Danger as a "love letter" to the 69-year-old Pop and his band. "I call it an essay, a love letter. I call it a blatant celebration of The Stooges," Jarmusch says. " I love all Stooges songs. [1970's] Fun House as an entire record is probably the greatest rock'n'roll record ever made. The lyrics to 'Gimme Danger', the song, are incredibly beautiful, dark and fantastic." Gimme Danger, an Amazon Studios/Magnolia Pictures production, is currently screening in select theaters, and can be pre-ordered for streaming at Amazon.com. - Billboard, 11/4/16......
Rush will be honored with Canada's Allan Slaight Humanitarian Spirit Award during the 2017 Canadian Music and Broadcast Industry Awards in Toronto on Apr. 20, 2017. Rush, comprised of Geddy Lee, Alex Lifeson and Neil Peart, issued a statement saying they were "so incredibly honored" for the decoration, which recognizes outstanding Canadian artists who've contributed to social activism and supported humanitarian causes. "The depth of Allan and Gary Slaight's generosity, consideration and benevolence has no measure," the statement said. "We will strive to carry forward their spirit of charity and goodwill." Gary Slaight of Slaight Communications noted the band's tireless campaigning for people in need. "In recent years, the group has raised money for food banks, Casey House, the Kidney Foundation, Doctors Without Borders, AIDS research; the list goes on," he said. On Nov. 3, a new documentary of Rush's R40 Tour, Time Stand Still, premiered at selected cinemas in Canada and the US. The film will be released on Blu-ray and DVD on Nov. 18. Rush is also preparing to reissue their classic 1976 album 2112 as a special 40th anniversary edition this Christmas. 2112 - 40th will include rare live and previously unreleased material as well as covers from Foo Fighters' Dave Grohl and Taylor Hawkins, Alice in Chains, and others. A 2 CD/DVD edition will feature a newly remastered version of the album with the second disc featuring live outtakes, and the DVD will feature Rush's 1976 performance at the Capitol Theatre and a Q&A with Alex Lifeson. A 3 LP/2 CD/DVD "Super Deluxe" edition will also be available, with the first 1,000 preorders also featuring a limited edition 7-inch pressing of the album's first single, "The Twilight Zone." - Billboard/New Musical Express, 11/3/16...... Neil Young has previewed a new song called "Peace Trail" from his upcoming album of the same name. Originally set for a Dec. 2 release, Peace Trail has been pushed back for a Dec. 9 release. Meanwhile, Young has made his entire back catalogue available on the major streaming services again after removing them in the summer of 2015 because he was dissatisfied with the tracks' sound quality. "It's not because of the money, although my share (like all the other artists) was dramatically reduced by bad deals made without my consent" Young posted on Facebook at the time. "It's about sound quality. I don't need my music to be devalued by the worst quality in the history of broadcasting or any other form of distribution. I don't feel right allowing this to be sold to my fans. It's bad for my music." Young's albums were again made available for streaming on Spotify and Apple Music on Nov. 4. - Billboard, 11/4/16......

Universal Music Publishing announced on Nov. 2 that it had acquired exclusive worldwide publishing rights for Prince's entire song catalog -- released and unreleased. "UMPG will work closely with the artist's estate to develop new creative outlets for his music," the statement said. Before his death, Prince and his staff managed his publishing catalog, with Peermusic handling back-office administration, after an earlier UMPG contract ended in 2013. Negotiations for the licensing rights to much of the prolific Prince's overall catalog, as well as to four decades' worth of unreleased material, are ongoing, according to longtime Prince associate L. Londell McMillan. Earlier in 2016 Prince's longtime label Warner Bros. announced that it had secured the rights to the first posthumous releases since the artist's death on Apr. 21, which include a deluxe edition of Purple Rain containing a full album of unreleased material, out early in 2017. - Billboard, 11/2/16...... Former Pink Floyd member Roger Waters has joined a growing network of UK artists, musicians, film makers, and others who are calling on Israel to withdraw their occupation of the West Bank. Waters has signed a petition requesting that the electronic duo Chemical Brothers cancel their upcoming performance in Tel Aviv on Nov. 12. More than 7,000 signatures were collected in petition against the performance, and so far the Chemical Brothers have made no plans to cancel. - Billboard, 11/2/16...... A new sign of giant red letters that proclaim "Long Live Rock" has just been unveiled in the plaza of the Rock and Roll Hall of Fame in Cleveland, Oh. The sign will be formally dedicated on Nov. 10 as officials share details of a multimillion-dollar redesign expected to include the Hall of Fame and main exhibit spaces. Todd Mesek of the RRHOF says the sign adds another "iconic element" to the attraction, and visitors already have been spotted snapping photos with it. - AP, 11/5/16...... A David Bowie orchestral tribute that took place at the U.K.'s Glastonbury Festival earlier in 2016 has announced it will now embark on a short tour of the UK. The orchestra, conducted by Charles Hazlewood, performed composer Philip Glass' 1996 classical work "Heroes Symphony," based on Bowie's 1977 album "Heroes." The three performances will take place in Bristol (12/10), Nottingham (12/12) and Bexhill (12/14). Bowie was a fan of Philip Glass, citing him as an influence on his music. Meanwhile, the BBC recently announced a series of upcoming Bowie specials to mark the one year anniversary of his death, and a new "best of" compilation, Bowie Legacy, is due on Nov. 11. - New Musical Express, 11/3/16...... Black Sabbath guitarist Tony Iommi has hinted that Black Sabbath could be releasing new music after they wrap their "The End" farewell tour in early 2017. "As I said, I'll be doing some writing," Iommi told Ultimate Classic Rock magazine. "Maybe I'll be doing something with the guys, maybe in the studio, but no touring." Iommi added that he "loves the playing" but he "just can't travel anymore." Black Sabbath's final six gigs will take place in the UK in the winter of 2017, with the final two shows in their native Birmingham on Feb. 2 and 4. - NME, 11/4/16...... The alt rock band Foo Fighters, currently on hiatus, has announced it will reunite in 2017 to particpate in the ceremony honoring Tom Petty as MusiCares Person of the Year on Feb. 10, 2017. It will mark Foo Fighters' first performance since announcing their hiatus in Nov. 2015. The Foo Fighters will be joining previously announced artists Stevie Nicks, Don Henley, Jeff Lynne and Randy Newman at the Petty tribute. - Billboard, 11/4/16......
Appearing at the Q magazine awards in London on Nov. 2 to receive an honor, Meat Loaf revealed to the UK Press Association that he had emergency back surgery in October and was still "in pain" following the operation. "I'm just ready to sit down because four weeks ago I had spinal fusion," said Meat Loaf, whose real name is Marvin Lee Aday. "There was a cyst which was pinching nerves so I had emergency back surgery." Meat Loaf previously revealed that he was on a new diet and fitness regime following his collapse while performing at a concert in Edmonton, Alberta on June 16. The Bat Out of Hell singer previously collapsed on stage at a gig in London in 2003 and at a show in Pittsburgh during 2011.- NME, 11/3/16...... Bob Cranshaw, a veteran jazz bassist known for his hundreds of sessions with everyone from Tony Bennett to Oscar Peterson died on Nov. 2 after a battle with stage 4 cancer. He was 83. Born in Evanston, Ill., on Dec. 10, 1932, Mr. Cranshaw began his career back in the 1950s and his signature light touch on the upright and electric bass could be heard on a galaxy of recordings from some of the jazz and pop world's most popular artists, including George Benson, Coleman Hawkins, Ella Fitzgerald, Peggy Lee, Wayne Shorter, McCoy Tyner, Frank Sinatra, Paul Simon, Rod Stewart, Judy Collins and Buddy Rich. He also served as the session bassist for the iconic PBS children's programs Sesame Street and The Electric Company and played bass in the Saturday Night Live house band from 1975-80. According to the Jazz Foundation, Mr. Cranshaw played on a total of 3,000 recordings and also served as the musical director for The Dick Cavett Show, The Merv Griffin Show and The David Frost Show. - Billboard, 11/3/16.
Wednesday, November 2, 2016
At the 10th Annual Stand Up for Heroes benefit at Madison Square Garden's The Theater on Nov. 1, Bruce Springsteen performed four acoustic numbers and held an auction to help raise money for veterans. After an acoustic version of "Working on the Highway" from Born in the USA, Springsteen told his first of four dirty jokes of the night -- about an elderly couple making love in an alley up against a fence that's "now electrified." After two songs from his 2007 LP Magic, "I'll Work for Your Love" and "Long Walk Home," he wrapped with his 1984 smash "Dancing in the Dark." The Boss also auctioned off a ride to a Freehold, N.J. drive-in in his 1967 Cadillac, a signed guitar, and "his mother's famed lasanga," all for $280,000. A separate auction of a Harley-Davidson motorcycle ridden by Springsteen fetched $150,000. Presented by the Bob Woodruff Foundation and The New York Comedy Festival, the event raised an estimated $1,400,000 for veterans and also featured comic performances by Jon Stewart, Jerry Seinfeld, Louis C.K. and Jim Gaffigan. - Billboard, 11/1/16...... Apple Computer's new iPhone update for their iOS 10.2 comes with brand new emojis of David Bowie's iconic Aladdin Sane makeup, complete with lightning bolt, flamboyant hair and even a very "Ziggy Stardust"-esque jump suit. Acting as a template for various emotions, users will be able to make the Bowie emoji shrug his shoulders, cross his fingers and even face palm. In fitting Bowie androgynous style, the emoji comes in both male and female form. Users can get the latest iPhone update at www.apple.com. Meanwhile, a new Bowie "best of" compilation, Bowie Legacy, hits stores on Nov. 11. - New Musical Express, 11/2/16......
Gregg Allman announced on Nov. 2 that he's ready to mount a full winter 2017 tour after recovering from "serious health issues," which he later revealed as a case of pneumonia, and forced him to cancel several concerts earlier in 2016. Kicking off with two nights in Savannah, Ga., to celebrate New Year's Eve on Dec. 30 and 31, the blues-rock legend will tour throughout January before wrapping with a four-night stand at the Grand Opera House in his hometown of Macon, Ga. Before that trek begins, Allman will omplete a 10-night residency at City Winery in New York, starting on Nov. 6. On the last weekend of October, Allman and his band tuned-up for the upcoming tour with a slot at the Laid Back Festival in Atlanta and an acoustic set at Red Rocks in Colorado. - Billboard, 11/2/16...... James Taylor performed his classic "Carolina on My Mind," among other songs, at a campaign event for Democratic presidential hopeful Hillary Clinton on Nov. 2 at the University of North Carolina at Chapel Hill on the Michael Hooker Fields. Taylor, who grew up in Chapel Hill, N.C., campaigned with Pres. Barack Obama at the "Gt Out the Early Vote" public event to encourage North Carolina voters to vote early at "one-stop" early voting locations. - Billboard, 11/1/16...... Appearing on comedian Marc Maron's podcast "WTF with Marc Maron on Oct. 31, former Pink Floyd member Roger Waters described the rise of Republican presidential nominee Donald Trump as "like Hitler's." "It was insidious in Germany in the '30s when National Socialism came, Waters said. "And National Trumpism feels a bit less insidious, but it's just as dangerous." Waters added the conditions of post-World War I Germany and the United States now are not so dissimilar. "You have to have a population that feels defeated, like the Germans did after the Treaty of Versailles," he said. "So what you have in the States now is everybody's standard of living is falling, like a freefall, and also where the freedoms that are enshrined in your Constitution and in the Bill of Rights are being slowly eroded and taken away from you." At a concert in Mexico City in September, Waters called Trump an offensive name in Spanish, and at the Desert Trip festival in October, he called Trump "arrogant, lying, racist, sexist." - Billboard, 11/1/16...... Bob Dylan has finally formally accepted his recent award of the 2016 Nobel Prize for literature. The Swedish Academy's permanent secretary, Sara Danius, said that Dylan himself contacted them and said "of course" he would accept the prize. Danius told Sweden's TT news agency that Dylan called her on Oct. 25 and they spoke for about 15 minutes. "The news about the Nobel Prize left me speechless," Dylan reportedly told Danius, who posted news of the conversation on Oct. 28 on the academy's website. "I appreciate the honor so much," Dylan added. In an interview with the UK paper The Telegraph posted on Oct. 28, Dylan was quoted as saying he "absolutely" wants to attend the Dec. 10 prize ceremony, "if it's at all possible." Dylan, 75, was awarded the prize on Oct. 13 "for having created new poetic expressions within the great American song tradition," and at first was silent after the announcement, prompting one member of the Swedish Academy to describe his silence as "impolite and arrogant." In 2000, Dylan collected the Polar Music Prize from Sweden's King Carl XVI Gustaf, also in Stockholm, and in 2012, he accepted the Presidential Medal of Freedom in Washington, D.C., from Pres. Barack Obama. - AP, 10/29/16......

A man who bought a 45 rpm single of John Lennon and the Plastic Ono Band's single "Cold Turkey" for $10 as part of a sale of used items found in an attic has made quite a discovery -- a draft of a letter Lennon wrote to Queen Elizabeth II in 1969 protesting the UK's involvement in foreign wars. In the letter, Lennon states that he is returning his honorary MBE (Member of the British Empire) medal that all the Beatles received in 1965 "in protest against Britain's involvement in the Nigeria-Biafra thing, against our support of America in Vietnam and against Cold Turkey slipping down the charts." "Cold Turkey," released in December 1969, peaked at No. 14 on the U.K. charts, and No. 30 on the U.S. charts. Lennon signed the note, "John Lennon of Bag," playing on the term "bagism" he and Ono coined during their late-'60s peace campaign as a way to satirize prejudice and stereotyping. The letter is not, however, the actual letter that Lennon sent to the Queen. A memorabilia expert says the draft was never sent probably due to smudged ink. The buyer, who wishes to remain anonymous, has yet to announce if he plans to sell the letter, which has an estimated value of £60,000 ($72,000). - Billboard/CNN, 10/28/16...... In other Beatles-related news, a new Lego toy set based on the Fab Four's iconic Yellow Submarine movie went on sale on Nov. 1. In October, Lego fans and Beatles fans alike were sent into a frenzy when the new 550-piece Lego pack, which comes complete with John Lennon, Paul McCartney, George Harrison and Ringo Starr, along with the submarine itself and a miniature of Jeremy Hillary Boob from the animated 1968 movie, was announced. "The creation of the Yellow Submarine model was really my way of showing my affection for The Beatles, as well as trying to pay a small tribute to The Beatles phenomenon," said its sponsor, singer-songwriter Kevin Szeto. - New Musical Express, 11/1/16...... Iggy Pop has revealed to Entertainment Weekly magazine that he's returned to the recording studio for the first time since he released his latest LP, Post Pop Depression, in March. "I've made five recordings since then," Pop says, apparently implying that all the tracks are collaborations with other artists. "But they were all recordings not where I'm about, 'Hey, I've got something to say!' No, it was just, people called me up and said, 'Do you want to do a vocal with me, about this, under this circumstance?' More like guesting." Pop, 69, hinted in June that he may never make another proper solo album. "Another album would be a big undertaking from an old git like me!," he told a UK talk show host. Pop is currently making the rounds promoting Gimme Danger, a documentary about his band the Stooges directed by Jim Jarmusch. - NME, 10/31/16...... A new Rolling Stones exhibit entitled "MICK, KEITH, CHARLIE & RONNIE: ART + OBJECTS" opened on Nov. 3 at HG Contemporary Gallery in New York City. Featuring rare memorabilia and art created by or inspired by the band the 200-piece collection, amassed by a private collector and longtime friend of the iconic band, offers an intimate glimpse into the Stones' creative process and lifestyle. "The Stones aren't just musicians. They're immortal. They are the definition of rock 'n' roll... I love how (this exhibit) ties in visual art, musical art and fashion art all in one space," says Contemporary Gallery founder and director Philippe Hoerle-Guggenheim. Highlights include Mick Jagger's hand-written lyrics, a drawing co-created by Ronnie Wood and Keith Richards, and an original hand-painted "Bigger Bang" tongue guitar by Ronnie Wood -- the band's most accomplished visual artist. - Billboard, 10/28/16......
Journey keyboardist-guitarist Jonathan Cain says if the band should be inducted into the Rock and Roll Hall of Fame in 2017 after being nominated in October, he hopes the band's current vocalist, Arnel Pineda will be able to go in with them. "That's wrong, y'know?," Cain said about Pineda not being included on the list of Journey members getting a nod (original Journey drummer Aynsley Dunbar, who played on Journey's first four albums, was also not nominated). "There is no Journey without Arnel right now," Cain continued. "He certainly has learned his stripes. He's been with us longer than any lead singer has consecutively stayed in the band. He's given us 10 years straight, not running off or doing this, doing that, just being The Guy. So that's worth something." Controveries over past and present members of other bands, including Kiss, Deep Purple and Chicago, not being inducted have also plagued the RRHOF in recent years. Cain says that should Journey be inducted, he and his bandmates will lobby for Pineda to also be inducted, be he isn't sure how effective it can be. "We have no control of it; It's just the politics of it all," Cain notes. "What are you gonna do? You're just gonna accept what's given you in this situation. But I think it's a significant oversight, for sure, and maybe they'll reconsider when they think about it." As for former frontman Steve Perry, who was nominated but has been mum about reuniting with the band for a possible induction, Cain says he'd be welcome. "I can't really speak for him in that regard, but certainly the door's always been open for him to join us any time he wants," Cain says. - Billboard, 10/28/16...... In a new interview to mark Halloween, Ozzy Osbourne revealed he thinks Black Sabbath' eponymous 1970 track is "the scariest song ever written." "When we started gigging way back when, as soon as we started playing this song's opening chords, young girls in the audience would fucking freak out," Osbourne told New Musical Express. "They thought we were Satan's f---ing friends or something." Osbourne added that "that's when the whole Prince of Darkness shit started... When people get excited about Halloween coming around each year, all I think is 'well, we used to have Halloween every f---ing night." Ozzy added that while Black Sabbath is retiring after a final gig in February 2017, he has no plans to retire personally. "I'll be continuing my own musical thing. My wife is good at telling me partial information, but I know I'm not hanging my boots up for a while," he said. - NME, 10/29/16...... In an interview with the London Times, the Who's Roger Daltrey says he thinks that rock is "dead" and that "rappers are the only people saying things that matter." "Most pop is meaningless and forgettable" the 72-year-old singer said of the current musical climate. "You watch these [new pop stars] and you can't remember a bloody thing," he added. - NME, 10/28/16...... Former Deep Purple singer Glenn Hughes announced on Nov. 1 that he's been forced to cancel his UK and European tour after co-headliner Living Colour booked a conflicting support slot on Alter Bridge's European tour. Hughes was planning on touring Europe in support of his upcoming solo album, Resonate. When word got to promoters that Living Colour were no longer planning to perform on the co-headline dates, they were forced to refund all tickets. "I am saddened and disappointed that I will not be able to perform for my UK and European fans as I had originally intended," Hughes says. "Unfortunately, an undermining manager got involved and in turn ruined what would have been an amazing tour. I can't wait to get back to the UK and Europe to bring the new songs of Resonate to my fans overseas," he added. All ticket holders of Hughes' UK and European tour will be offered refunds at the point of purchase and can call the venues for more information. - Noble PR, 11/1/16......
Queen will release On Air: The Complete BBC Sessions, a compilation of the band's six performances on BBC radio recorded between 1973 and 1977, on Nov. 4 in the UK and Nov. 11 in the US. The set includes the song "My Fairy King," which Queen first played on a 1973 John Peel live session for the BBC. "This was the first time we'd really seen Freddie [Mercury] working at his full capacity," Queen guitarist Brian May says. "He's virtually a self-taught pianist, and he was making vast strides at the time, although we didn't have a piano on stage at that point because it would have been impossible to fix up." Queen On Air is available as a 2-CD set and a 3-LP vinyl edition, plus a Deluxe 6-disc edition featuring a CD of live concert broadcasts and 3 CDs of radio interviews. - New Musical Express, 11/1/16...... John "Buck" Ormsby, the singer of the classic 1961 garage band hit "Louie Louie" by The Fabulous Wailers, died in Mexico on Oct. 29 following a fall while on a trip there. He was 75. "He was just getting ready to come home," said his longtime partner Pamela Ruznic from the couple's hometown of Tacoma, Wash. The Wailers had several members before bassist Ormsby arrived. But he, Robin Roberts and Kent Morrill formed the group that would in 1961 release their biggest hit, "Louie Louie," and become one of the premier American garage bands of the 1960s, appearing one time on American Bandstand. "Louie Louie" was originally recorded by R&B singer Richard Berry. Roberts came across the song while working in a Tacoma record shop in the late 1950s, and his band The Wailers gave it the distinctive arrangement it has had since, though a version by The Kingsmen is the most well-known. - 10/31/16...... Claude "Curly" Putnam, a prolific country music songwriter who penned some of the biggest songs in that genre's history, died at the age of 85 on Oct. 30 just outside Nashville, Tenn. Born on Nov. 20, 1930 in Princeton, Ala., Mr. Putnam scored his first major hit in 1965 with "Green, Green Grass of Home." Though originally a hit for Porter Wagoner, the song proved to be one of Mr. Putman's most lucrative copyrights, with recordings by Tom Jones, Elvis Presley, and Kenny Rogers. Mr. Putnam's other hits include "My Elusive Dreams" and the Tammy Wynette classic "D-I-V-O-R-C-E," which he co-wrote with Bobby Braddock. In 1980 Mr. Putnam's and Braddock's "He Stopped Loving Her Today" became a No. 1 country hit for George Jones, and is now regarded as the greatest country song in history. In addition to his talents as a tunesmith, Mr. Putman hit the country Top 30 in 1960 with "The Prison Song" and charted a pair of albums and singles for ABC in the 1960s. He was inducted into the Nashville Songwriters Hall of Fame in 1976. - Billboard, 10/30/16.
Friday, October 28, 2016
Appearing on The Tonight Show with Jimmy Fallon on Oct. 25, Phil Collins performed his brooding early '80s hit "In the Air Tonight," with some help from the Tonight Show band The Roots. Collins, who was in New York to promote his new autobiography Not Dead Yet: The Memoir, also told Billboard that he has "a house full of anti-(Donald) Trump'ers." "Even my Matthew, at 11, he hates Trump," Collins says. "I just think Trump is an accident waiting to happen -- a big accident waiting to happen." Collins, who has also released a new compilation titled The Singles, recently announced his first full-fledged tour in 11 years, a nine-date European swing with shows in London, Paris and Cologne, Germany, with 14-year-old Nicholas slated to play drums, as he has noted he's coming off back surgery, his right foot isn't in tip-top shape, and he has a problem with a hand. Collins has also wrapped up a year's worth of reissues of deluxe editions of his entire catalog. - Billboard, 10/28/16......
In 1992, Eric Clapton participated in MTV's Unplugged series of live telecasts, and his resulting album from that show became the best-selling entry in the entire Unplugged series, with 7.7. million copies sold. Now Clapton is being sued for crediting one of the songs from that performance, "Alberta," to the wrong blues singer. "Alberta" is Clapton's version of a famous 12-bar blues called "Corrine, Corrina," which dates back to the late 1920s and has long been credited to the artist Armenter "Bo Carter" Chatmon. A complaint filed in U.S. District Court in Nashville charges that Clapton credits the song to a more recognizeable blues legend Lead Belly and not to Chatmon. The complicating factor seems to have been that Lead Belly wrote a completely different song called "Alberta," and that for unknown reasons, Clapton attributed his version of "Corrine, Corrina" (in which he sings "Alberta, Alberta" instead of the original lyric) to Lead Belly. As a result of this case of mistaken song identity, Chatmon's estate says it has received no royalties related to Clapton's performance of it, and that the beneficiary of that misidentification has been Folkways Music, the publisher of Lead Belly's "Alberta." The lawsuit also states that Clapton correctly identified the song on his 2011 album Marsalis & Clapton Play the Blues, and that he and his co-defendants are fully aware that the Unplugged versions have been mislabeled all these years, with publishing royalties going to the wrong place. Chatmon's estate is seeking $5 million in damages, and the defendants have not responded to the lawsuit. - Billboard, 10/28/16...... Bob Dylan has scored his 68th entry in the Billboard Hot 200 album chart with his 2014 compilation The Essential Bob Dylan, which has once again appeared on the chart -- at No. 76 -- after news of Dylan's selection as the Nobel Prize winner in literature on Oct. 13. The LP is Dylan's second charting album in 2016, with his latest studio album, Fallen Angels, peaking at No. 7 in June. In the week ending Oct. 20, Dylan's total album sales grew 104 percent (to 19,000), while his on-demand audio and video streams jumped 53 percent (to 6.7 million). - Billboard, 10/28/16...... Neil Young has announced he'll release a new studio album, Peace Trail, on Dec. 2 via his longtime label Reprise Records. Young wrote and recorded the new album shortly after the release of his offbeat Earth live album, which was released in June. The 10-track Peace Trail was recorded at Rick Rubin's Shangri-La studios and, according to the label, is primarily acoustic. The album features veteran session men Jim Keltner on drums and Paul Bushnell on bass, with Young co-producing alongside John Hanlon. The album, which will be available on CD, cassette and download, is available for pre-order now through Young's website and his online music store PONOMusic. A vinyl edition will be released in January. - Billboard, 10/26/16......

ABBA, along with Spice Girls music mogul Simon Fuller, announced on Oct. 26 that a new ABBA "live digital experience" will launch in 2018. "The aim is to create an original entertainment experience which will enable a new generation of fans to see, hear, and feel ABBA in a way previously unimagined," according to a press release. Although more details about exactly what the project will mean were not announced, it has been speculated that ABBA will appear as holograms, and Simon Fuller has reportedly been "quietly investing in virtual reality technologies and developing hyper-realistic digital humans in the field of entertainment." ABBA's Benny Andersson confirmed that he and his legendary Euro-pop band are participating in the creative development of the "digital experience," saying in the presser that ABBA is "inspired by the limitless possibilities of what the future holds and are loving being a part of creating something new and dramatic here... A time machine that captures the essence of who we were. And are." Although ABBA member Bjrn Ulvaeus said in 2015 that ABBA would never reform, earlier in 2016 all four members reunited for a special 50th anniversary performance, singing "The Way Old Friends Do" at a private party in a Stockholm hotel, and the band previously held brief reunions in 1986 and 1999. The four members also reunited for the opening of an ABBA-themed restaurant in Stockholm for the first time in eight years, however they did not perform. - New Musical Express, 10/26/16...... Paul McCartney debuted a new song called "In the Blink of an Eye" across iTunes' international stores on Oct. 28, in advance pre-order listing of the soundtrack for the forthcoming animated film Ethel & Ernest. From the song's 60-second preview, its sound is reminiscent of McCartney's "(I Want To) Come Home," which he wrote for the 2009 Robert De Niro film Everybody's Fine. The album's advance track listings features a number of songs by Carl Davis, who collaborated with McCartney on "Liverpool Oratorio." The Ethel & Ernest film is adapted from a graphic novel by Raymond Briggs (The Snowman) about the lives of two Londoners and starring Jim Broadbent and Brenda Blethlyn. - Billboard, 10/28/16...... In other Beatles-related news, Yoko Ono has honored a reference to her in an old The Simpsons episode. A new piece created by Icelandic artist Ragnar Kjartansson for an exhibition curated by Ono at the Reykjavik Art Museum has the exact title and content of "a single plum, floating in perfume, served in a man's hat," which was depicted in season five of The Simpsons when a Japanese conceptual artist who is clearly modelled on Ono pops into Mo's bar for a drink. Titled "YOKO ONO: ONE MORE STORY," the exhibition runs until Feb. 5. Meanwhile, three classic albums by Ono and featuring her late husband John Lennon are due to be reissued on Nov. 11. - New Musical Express, 10/26/16...... Bette Midler is keeping busy of late by appearing as Blake Shelton's mentor on NBC's The Voice; reissuing her platinum-certified debut album, The Divine Miss M; and starting rehearsals for her starring role in Jerry Zaks' upcoming Broadway revival of "Hello, Dolly!" The 70-year-old singer/actress says her experience on The Voice has been a lot of fun. "This show has a real sweetness at its core," she says. "It's not mean-spirited. And of course, Blake is a hoot!" Midler says her role in "Hello, Dolly!" has a "very steep learning curve" but "I must say it's great. I love to dance. Everyone should dance. The weight just falls right off you!" As for the reissue of The Divine Miss M, Midler says she asked the record company "not remaster this so that it's incomprehensible." "I want the same warm analog sound it had when we first put it out," she says. "I really love this record. I was so young -- barely 28 years old -- and I think you hear it in my voice. This young spirit and real joy at finding myself in such a fantastic situation." - Billboard, 10/27/16......
Stevie Nicks will deluxe editions of her first two albums, 1981's Bella Donna and 1983's The Wild Heart, on Nov. 18. "I've had so much fun reliving the making of Bella Donna and The Wild Heart while working on the liner notes and listening to all of the alternate versions and demo takes," Nicks said in the press release. "The liner notes are so much more than liner notes. They are like a little novel. I tried to make whoever reads this feel like they were there. I think...I succeeded...." Bella Donna includes unreleased versions of her hits "Edge of Seventeen" and "Leather and Lace" along with other rarities off various soundtracks such as "Blue Lamp" from Heavy Metal and "Sleeping Angel" from the Fast Times At Ridgemont High soundtrack. Additionally, recordings from a 1981 concert will be included on the album as well. As for The Wild Heart, hits such as "Stand Back" and "Nightbird" have been revitalized, as well as her Tom Petty collaboration, "I Will Run to You." - Billboard, 10/27/16...... An unnamed California woman has filed a new lawsuit against Michael Jackson, accusing the late King of Pop of molesting her three decades ago. In the suit, "Jane Doe" claims Jackson started abusing her in 1986 after inviting her and her mother inside the Jackson family compound in Encino, Calif., while they were star spotting. The woman claims Jackso fondled her genitals and kissed her mouth and body, and also alleges there was vaginal penetration. According to the documents, the abuse continued through puberty and when she turned 16, she claims Jackson started writing checks to keep her quiet. She says the first was for $2,500 and the biggest one - for $600,000 - came in 1993. She is suing Jackson for emotional distress and negligence, and did not specify why she waited 30 years to come forward with her claims. Jackson died in 2009 at age 50. WENN.com/TMZ.com, 10/25/16...... Exclusive vinyl releases by Jimi Hendrix and Bob Dylan will be released by Legacy Recordings for 2016's Record Store Black Friday, the label announced on Oct. 25. Hendrix's posthumous Morning Symphony Ideas, which first arrived in 2000, will be re-released an a limited edition 10-inch, translucent-yellow vinyl and features session recordings of "Jungle," and "Room Full of Mirrors." Dylan's Black Friday release will also feature live material, capturing his performance at the Royal Albert Hall from 1996. - Billboard, 10/25/16...... Elvis Presley is on track to make U.K. chart history with his new posthumous release The Wonder of You, the second collection of orchestral re-workings of Presley songs with the Royal Philharmonic Orchestra. The album should make Presley the artist with the most U.K. No. 1 albums for any solo artist, with 13. Presley current holds 12 career No. 1s in the market, equal with Madonna. The Beatles own the record for the most No. 1's on the national chart with 15. - Billboard, 10/25/16......

Activist and politician Tom Hayden, known for his radical antiwar protests and as a former husband of actress Jane Fonda, died on Oct. 23 at UCLA Medical Center in California after suffering stroke more than a year ago and battling complications from the illness. He was 76. Hayden, who started out as a journalist, was known for his radical activism in the 1960s and 70s, leading a major anti-Vietnam War Movement, and even traveling to Hanoi in Vietnam as part of the movement. He famously took part in protests outside the 1968 Democratic National Convention in Chicago, for which he was indicted on federal charges of conspiracy and incitement to riot as part of the "Chicago Seven." Hayden was convicted two years later, but the charge was overturned. The conservative nemesis then began a political career, and was elected to the California State Assembly in 1982. He then won a seat in the California Senate ten years later, a position he held for eight years. He also ran for Mayor of Los Angeles in 1997, but lost. Hayden, who penned and edited 19 books throughout his career, married Jane Fonda in 1973, just three days after she divorced her first husband. Fonda joined him on missions to Vietnam, and they had a son, Troy O'Donovan Garity, in July 1973. They also adopted teenager Mary Luana Williams in 1982, and the marriage ended in 1990. "He gave me context and strategy and a loving environment that helped me deepen my activism," Fonda told CNN's Larry King in 2005. Hayden married his second wife Barbara and they adopted a son in 2000. "A political giant and dear friend has passed," Los Angeles Mayor Eric Garcetti tweeted. "Tom Hayden fought harder for what he believed than just about anyone I have known." - Hollywoodlife.com, 10/24/16...... The city council in the Minneapolis suburb of Chanhassen has voted unanimously to rezone the Paisley Park home and studio of late superstar Prince, meaning the complex can stay open as a museum for public tours on an ongoing basis. Paisley Park has taken tours on a temporary basis while concerns about traffic and pedestrian safety were reviewed. Following the vote, museum management have announced tickets are on sale for tour dates through December 2016, with visits resuming Oct. 28. Tours for 2017 are expected to go on sale by mid-November, according to a statement on the Paisley Park website. The museum on the estate is now being managed by Graceland Holdings, which runs Elvis Presley's Graceland attraction in Memphis, Tenn. The museum says it expects to draw 600,000 people each year. - Billboard, 10/24/16......

Pop singer Bobby Vee, who enjoyed huge popularity and success in the 1960s with such hits as "Take Good Care of My Baby" (No. 1, 1961), died on Oct. 24 after a battle with Alzheimer's disease. He was 73. Vee, a native of Fargo, North Dakota, launched his career in the late '50s after he famously filled in for his hero, Buddy Holly, after Holly died in a plane crash on Feb. 3, 1959 along with fellow musicians Ritchie Valens and The Big Bopper. After the news was announced, the organizers of the touring concert Holly was playing in tapped Vee and his new band The Shadows to fill in for the next show in Moorehead, Minn., and their subsequent performance launched Vee's career at the tender age of 15. Vee was also notable for giving Bob Dylan his first professional start in the music industry, by tapping him to play piano for a handful of dates with his band. Dylan paid tribute to Vee during a 2013 concert in St. Paul's, Minnesota, where he praised him as "the most beautiful person I've ever been on the stage with." Vee scored a total of 38 Billboard Top 100 hits and seven gold records in the US, and "Take Good of My Baby" went to No. 3 in the U.K. His other hits include "The Night Has A Thousand Eyes," "Come Back When You Grow Up," "Rubber Ball" and "Punish Her." Vee also performed on the same bill as the Rolling Stones during their first ever U.S. tour dates. The Beatles also cited Vee as an early influence, covering "Take Good of My Baby" during their January 1962 Decca demo sessions and inviting Vee on their U.K. television show, Ready Steady Go. Vee was diagnosed with early onset Alzheimer's in January 2011, and performed in public for the last time in June of that year. He moved to a memory care facility the month after his longtime wife Karen's death in 2015. - New Musical Express, 10/24/16.
Sunday, October 23, 2016
Nominees for the 2016 Rock and Roll Hall of Fame class, which include Electric Light Orchestra, Yes, J. Geils Band, Chaka Khan, Journey and Steppenwolf, have reacted to the announcement of their nomination by the Rock Hall on Oct. 18. "I'm very proud to see my ELO music getting this great recognition... It's a big honor to be nominated for induction into the Rock and Roll Hall Of Fame," Jeff Lynne of Electric Light Orchestra says, while Yes drummer Alan White notes that "After being nominated three times you tend to put it on the back burner a little bit," but he still believes that the recognition is "great." Peter Wolf of J. Geils Band, which has been nominated three times previously, says, "It's great to be recognized, but it's a drag to be disappointed. I hope that we make it in. That would be great." Grammy award-winning singer Chaka Khan tweeted that the "3rd time's a charm," after her nomination was announced, while Greg Rolie of Journey says "I have to admit the only thing I thought is it might not ever happen, because of whatever politics were involved. I just didn't know. But here we are now, so...we'll see." Steppenwolf frontman John Kay says, "Well, it's a surprise. I want to express my appreciation and say thank you to whoever found Steppenwolf's efforts worthy of a nomination. So thanks for throwing our hat in the ring and we'll see where it goes." - Billboard, 10/21/16......
Neil Young held his annual Bridge School Benefit Concert at Shoreline Amphitheatre in Mountain View, Calif., on Oct. 22, with such acts as Metallica, Roger Waters and Jim James of My Morning Jacket also participating. Young and Metallica jammed on a cover of "Mr. Soul," a 1967 tune by Young's former band, Buffalo Springfield. Young also performed a cover of Bob Dylan's "Forever Young" alongside Waters and James. Earlier in October, Young was joined onstage by Paul McCartney during his headline set on the second night of Desert Trip festival in Indio, Calif. Both McCartney and Young headlined the Oct. 8 show after Dylan and the Rolling Stones opened proceedings on Oct. 7. - New Musical Express, 10/23/16...... The scrutiny of Bob Dylan's reaction -- or lack thereof -- to recently being named winner of the 2016 Nobel prize in literature continues as his website has posted, then removed, "winner of the Nobel prize in literature." That single clause had been the only public recognition the musician offered the Nobel academy, which had unsuccessfully tried to contact him through his associates before announcing the award on Oct. 18. Since celebrity websites are usually run with limited input from their subjects, it's entirely possible Dylan never knew either that his site had made reference to the prize, or subsequently removed it. However it is less likely that Dylan's manager, Jeff Rosen, would be unaware. Some Dylan fans have suggested that the singer should refuse the Nobel prize because its Swedish founder, Alfred Nobel, was an armaments manufacturer, however an equally likely explanation is that Dylan, in typical form, is intentionally antagonizing the media and his fans. Asked at a press conference in 1965 whether he considered himself primarily a singer or a poet, he replied, "Oh, I think of myself more as a song and dance man, y'know." On Oct. 22, Nobel academy member Per Wastberg told a Swedish paper he thought Dylan's silence on the award "impolite and arrogant." "We have agreed not to lift a finger. The ball lies entirely on his half," Wastberg said. "You can speculate as much as you want but we don't." Even if Dylan decides not to accept the title of Nobel laureate, the Nobel academy do not acknowledge rejections and continue to list winners of its awards. Dylan has been invited to Stockholm to collect his prize from King Carl XVI Gustaf on Dec.10, but according to the Nobel Academy he has yet to confirm his attendance at the event. Other figures who have snubbed the Nobel academy in the past include Albert Einstein and Jean-Paul Sartre. - Jezebel.com/AP/NME, 10/21/16...... In other Bob Dylan news, the rock icon has become the oldest artist to chart on the youth-driven "Social 50" listing, which ranks the 50 most popular artists on Facebook, Twitter, Instagram, YouTube, SoundCloud, Wikipedia, Instagram, Tumblr and Vine. The 75-year-old rocker is also one of only a handful of soloists to reach the Social 50 chart over the age of 50 while still alive. Previous to Dylan, the over-50 Social 50 crowd included David Bowie (in 2013 -- three years before he died), Susan Boyle, Madonna, Juan Luis Guerra and "Weird Al" Yankovic. Artists appearing on the chart in 2016 after their deaths include Glenn Frey, Prince, Merle Haggard and Natalie Cole. - Billboard, 10/20/16......

In a new interview with the London Times, The Who guitarist Pete Townshend admitted live performing no longer appeals to him. "I'm such a boring f--ker... It means nothing to me," said Townshend, who performed with the Who at the recent Desert Trip Festival in California. "I would be a liar if I said, 'It was really fun, man. It was great!' It wasn't great. It was a gig. I did it and I got paid. The fact is, I don't really like performing. But I'm good at it. I'm lucky to be good at something. I could have worked in an abattoir," he added. - New Musical Express, 10/23/16...... Speaking of the Who, former Genesis drummer Phil Collins recently said during a webchat sponsored by the UK paper The Guardian that he would have left Genesis to become the Who's drummer after Keith Moon passed away if he had been asked. "Absolutely would have joined the Who. I would have left Genesis to join the Who," Collins said. "But they've got a great drummer now in Zak Starkey, he's fantastic. Someone with the balls that Keith Moon had." Collins, who announced a comeback tour on Oct. 17, has also said that he'll "never play (drums) the way I used to" and that he suffered a mysterious affliction on the Genesis reunion tour. "One night something happened. It just went. I tried everything -- bigger drumsticks and so on, but it just never came back," he said. - NME, 10/19/16...... During a live interview on BBC Radio 2, Bruce Springsteen revealed that he once wrote a song for the Harry Potter films, but for reasons that are unclear to him, it was never used. Springsteen said the song was titled "I'll Stand By You" and was a "pretty good song" he penned for his eldest son. "It was a big ballad that was very uncharacteristic of something I'd sing myself," the New Jersey rocker noted. "But it was something that I thought would have fit lovely; at some point I'd like to get it into a children's movie of some sort because it was a pretty lovely song." - Billboard, 10/20/16...... Former Commodores founding member and '80s solo superstar Lionel Richie launched a collection of home accessories on Oct. 20 in Los Angeles before an intimate group of friends and fans. "You're witnessing a duck out of water," Richie declared in the middle of Geary's Beverly Hills, which will sell the collection alongside brands Rosenthal and Kelly Wearstler. "You do your research, you find one idea and then two ideas and you realize -- yes, you might be onto something. So if we do this correctly, hopefully in the next 40 years ... I, too, can be Ralph," Richie quipped. Items include dinnerware sets, black onyx highball glasses, a crystal vase, and an "Endless Love" scented candle. - The Hollywood Reporter, 10/21/16...... Attorneys representing the Beatles' Apple Corps filed a motion on Oct. 19 to dismiss a lawsuit filed by the company assigned to represent the intellectual property of 1965 Beatles Shea Stadium concert promoter Sid Bernstein after footage from the concert was included in the recent Ron Howard-directed film Eight Days a Week - The Touring Years. Bernstein's lawyers claim that Bernstein proposed the idea for the concert to Beatles' manager Brian Epstein, that the contract provided that Epstein's company had the right to film and record the performances, but that Bernstein "planned, managed and paid for virtually every aspect of the production." Apple Corps contends that its predecessor, Nems Enterprises (controlled at the time by Epstein), had the "sole and exclusive right" to film the concert, and that Bernstein just "observed the filming and recording," and that the lawsuit is "frivolous." - The Hollywood Reporter, 10/20/16...... In other Beatles-related news, Paul McCartney is backing a campaign to protect the dwindling number of grassroots music venues throughout the U.K. "I've been lucky enough to play in venues of all different shapes and sizes, from tiny clubs to massive stadiums all over the world," McCartney said in a statement on Oct. 19. "Without the grassroots clubs, pubs and music venues my career could have been very different," said the rock legend, who has pledged his support to the Music Venue Trust's #FIGHTBACK campaign. On Oct. 18, around 500 delegates attended the third annual Venues Day conference at London's Roundhouse venue, which saw executives from across the industry address some of the threats to Britain's once-thriving live scene. In London the problem is particularly acute, with such venues as the Marquee, Astoria, 12 Bar Club and Madame Jojos having closed since 2007. The 100 Club, which played host to early gigs by the Rolling Stones and Sex Pistols and saw McCartney play an intimate lunchtime gig in 2010, was only saved from extinction after signing a sponsorship deal with Converse in 2011. - Billboard, 10/19/16...... Carlos Santana says he's supportive of San Francisco 49ers quarterback Colin Kaepernick and his controversial choice to kneel during the National Anthem to protest police killings of black people. "I love it. I think he stepped up. I salute my brother because it takes a lot of balls to go against people who will say, 'Oh, you're not patriotic' and all that," Santana says. "So for [Kaepernick] to put one knee down and other people are copying him, I think it's wonderful," the Bay Area resident added. - Billboard, 10/20/16......
Appearing on the U.K. TV show Loose Women on Oct. 20, Donny Osmond reminisced about his heady days as a teen heartthrob and revealed that "fans used to hide in my dressing room." "There have been times, yeah, there have been times when people have snuck into the dressing room and snuck into the shower," the 58-year-old Osmond said. "This one girl was banging on the door like crazy, I finally let her out but, I'm kidding! I'm kidding!," he joked the singer who has just had his Las Vegas show with sister Marie Osmond renewed for a ninth year. Donny went on to brush the incident off as "innocent" and noted how devoted he is to his wife Debbie, who the Mormon married in 1978, in the Salt Lake Temple at the tender age of 20." I am dedicated to my wife completely and always will be, but this is the loyalty of the fans who still follow me," he said. - WENN.com, 10/21/16...... The Rolling Stones were forced to cancel a concert scheduled for Las Vegas' T-Mobile Arena on Oct. 19 after frontman Mick Jagger came down with a bad case of laryngitis. "I'm so sorry about the cancellation of Wednesday's show in Las Vegas, I've got bad laryngitis," Jagger posted on Twitter on Oct. 19. "I do apologise to everyone who bought tickets," he added. According to a statement issued by the band, their frontman has been advised by doctors to rest his voice. "We hope to have information about the possibility of rescheduling this date very soon," note reps for the band. The Stones recently headlined both weekends of Desert Trip at The Empire Polo Club in Indio, Calif., earlier in October. Toward the end of their set on the second weekend, Jagger's voice noticeably cracked as he spoke between songs, which prompted a quip from the singer about the throat-wrackingly "dry and windy climate." - Billboard, 10/19/16...... In related news, Queen guitarist Brian May has cancelled a solo tour set for this December with his frequent touring partner Kerry Ellis due to a "persistent illness." "We're very sad today to announce the indefinite postponement of our 'candlelight' concert dates this coming December," May wrote on his website on Oct. 20. "This is a decision I've agonized over, but in the end it has become inevitable. I managed to complete the recent Queen and Adam Lambert dates in Asia but I have been increasingly battling with a persistent illness which is destroying my energy and my will." May added he hopes this step will "give all our team a chance to re-plan their time in December... Sincere apologies to all." - New Musical Express, 10/21/16...... On Oct. 18, New York's highest court heard oral arguments in a case pitting the owner of The Turtles' 1967 hit song "Happy Together" against Sirius XM Radio. The issue was whether the copyright holders of recordings made before 1972 have a common law right to make radio stations and others pay for their use. The suit was filed by Flo & Eddie Inc., a company controlled by two founding members of the band -- Mark Volman and Howard Kaylan -- that owns the rights to the recordings and claim they're entitled to royalties. Sirius argues it's not required to pay royalties for recordings made before the federal Copyright Act was changed in 1972 to establish limited protections for recordings. The case was referred to the Court of Appeals from a federal appeals court. - AP, 10/18/16...... Several Prince reissues and unreleased Prince material have been announced for the coming months, which include a greatest hits album, Prince 4Ever, on Nov. 22, a deluxe reissue of the 1984 classic Purple Rain in Apr. 2017, and a third album that contains previously unreleased Prince songs, rumoured to be the first of many, on a date to be announced. Prince's estate are reportedly unsure of what the vault contains as they have only begun the process of cataloging the recordings. - NME, 10/21/16...... Led Zeppelin guitarist Jimmy Page was spotted attending a London club show by the Kings of Leon on Oct. 18. Page, who has been seen at many of the band's gigs over the years, was seen standing in a private fenced-off enclosure by the mixing desk at the 229 Club in London. The Kings of Leon are in England promoting their new LP, WALLS. - NME, 10/19/16...... Former Deep Purple singer Glenn Hughes has premiered a new song called "Let It Shine" from his new solo album Resonate, which hits stores on Nov. 4 in the U.K. Hughes kicks off a UK tour behnd the new album on Nov. 8 in Leamington Spa, with openers Stone Broken. Resonate is Hughes' first solo album in over 8 years. - Nobel PR, 10/19/16......
Veteran record executive Phil Chess, co-founder of the legendary Chicago-based rhythm and blues label Chess Records which many credit with inventing rock 'n' roll, died on Oct. 19 at his home in Tuscon, Ariz. He was 95. Mr. Chess and his brother Leonard, both Polish immigrants, founded Chess Records in 1950 in Chicago and at first focused on blues and R&B, cutting songs by artists including Muddy Waters, Howlin' Wolf, Willie Dixon and Memphis Slim. A year after forming, Chess Records released what many consider to be the first rock single, "Rocket 88" by Jackie Brenston/Ike Turner and his Delta Cats. In 1955, the Chess brothers began a long a fruitful relationship with rock pioneer Chuck Berry, who recorded such classics as "Maybellene," "Roll Over Beethoven," "Sweet Little Sixteen" and "Johnny B. Goode" for the Chess offshoot, Checker Records. Chess or Checker was also home to guitar icon Bo Diddley, who cut his biggest singles with the label. The Chess brothers sold the label to General Recorded Tape (GRT) in 1969, for $6.5 million. Leonard died later that year, and Phil retired in 1972. - Billboard, 10/19/16...... Robert Bateman, the songwriter behind such Motown hits as "Please Mr. Postman" and "Playboy," died on Oct. 16 in Sherman Oaks, Calif., of a massive heart attack. He was 80. The deep-voiced Mr. Bateman, an Illinois native, had been among the first personnel enlisted at Berry Gordy Jr.'s fledgling Motown Records in 1959, initially working as a backing singer and engineer. He acquired Motown's first set of recording gear -- a tape machine discarded by Detroit radio station WJLB. His own group, the Satintones, recorded several singles for the label. With "Please Mr. Postman" -- which he cowrote and coproduced for The Marvelettes in 1961 -- Mr. Bateman helped give Motown its first No. 1 hit on the U.S. pop charts. The song was famously revived two years later by the Beatles for the group's second album. Mr. Bateman left Motown Records in 1963 but remained in the music industry, moving to New York to work at Capitol Records and produce material with artists such as Wilson Pickett. He was also present at the Woodstock festival in 1969, according to his nephew Tony Stovall. Mr. Bateman's last public appearance in Detroit came Aug. 21 in Dearborn, where he was inducted into the R&B Hall of Fame. - 10/16/16...... Robert "Big Sonny" Edwards of the R&B band The Intruders, best known for the chart-topping R&B single "Cowboys to Girls," died of a sudden heart attack at a Philadelphia hospital on Oct. 15. He was 74. The news of Edwards' death was announced on Oct. 18 by Philadelphia International Records co-founders Kenneth Gamble and Leon Huff. As one of the first acts signed to Gamble & Huff's fledgling Gamble label, The Intruders scored a string of R&B hits from the mid-'60s through the early '70s -- and simultaneously set the stage for the writing/production duo's pioneering Philly soul sound and the establishment of the legendary Philadelphia International label. The Philly-based Intruders' additional top 10 hits include "(Love Is Like a) Baseball Game," "When We Get Married," "I'll Always Love My Mama" and "I Wanna Know Your Name." - Billboard, 10/18/16.
Tuesday, October 18, 2016
Bob Dylan being named as the 2016 recipient of the prestigious Nobel prize in literature on Oct. 18 has spawned a media frenzy, with columns written and debates sparked from several sources, but the iconic singer/songwriter has yet to chime in on the win himself. So on Oct. 17 the Swedish Academy -- responsible for choosing the Nobel Laureates in Literature -- announced it had stopped trying to contact him for his reaction to the announcement. "Right now we are doing nothing," Sara Danius, the Academy's permanent secretary, told Swedish radio. "I have called and sent emails to his closest collaborator and received very friendly replies. For now, that is certainly enough," she added. It is also unclear if the 75-year-old artist intends on showing up for the official ceremony, set for Dec. 10 and presided over by Sweden's King Carl XVI Gustaf, and give a speech the way most recipients generally do. "If he doesn't want to come, he won't come," Danius said. "It will be a big party in any case, and the honor belongs to him." Meanwhile, streams of Dylan's songs have reportedly increased by more than 500 percent globally on the streaming service Spotify.com after the announcement of prize. Dylan's most listened-to song after the announcement was "Like a Rolling Stone," which increased by 258%. Fellow musicians congratulating him on the honor include his Sony labelmate Bruce Springsteen, who described him on his official website as the "father of my country." "He planted a flag, wrote the songs, sang the words that were essential to the times, to the emotional and spiritual survival of so many young Americans at that moment," Springsteen posted. - Billboard, 10/17/16......
The Rock and Roll Hall of Fame announced a long list of 19 nominees for the 2017 induction class into the Cleveland-based hall and museum on Oct. 18. The impressively varied list includes Classic Rock stars Electric Light Orchestra, J. Geils Band, Journey, Steppenwolf, The Cars and Yes, along with Chaka Khan, Joan Baez, The Zombies, Kraftwerk, Joe Tex, MC5, Pearl Jam, Jane's Addiction, Janet Jackson, Depeche Mode, Bad Brains, Tupac Shakur and, of course, perennial nominees Chic, their eleventh nomination since 2003. The nominees where revealed by 2014 Rock and Roll HOF inductee and E Street Band member Steve Van Zandt and RRHOF Foundation CEO Joel Peresman live on SiriusXM's new all music talk channel Volume, during the "Feedback" morning show. To be eligible for nomination, the acts must have released their first recording no later than 1991 (i.e. 25 years after the release of their first commercially available record). As in previous years, fans can participate in the selection process by visiting rockhall.com to vote for who they believe deserves to be inducted. The top five artists on the fans ballot will be counted along with the other ballots to help choose the 2017 nominees; voting will be open through Dec. 5, with one ballot per day. The final list of inductees, chosen by an international voting body of more than 800 artists, historians and members of the music industry, will be announced in December, with the ceremony slated for New York's Barclay's Center in April 2017. - Billboard, 10/18/16...... Two of the three previously-unheard David Bowie songs that will appear on the official soundtrack album for Bowie's "Lazarus" musical were unveiled by the BBC on Oct. 18. The songs, which include "No Plan" and "When I Met You," were produced by longtime Bowie producer Tony Visconti and the band which contributed to Bowie's final LP, Blackstar. A third and final unreleased song -- "Killing a Little Time" -- has yet to be revealed. The "Lazarus" musical soundtrack hits stores on Oct. 21, and the "Lazarus" musical will make its London premiere Oct. 25 at King's Cross Theatre, with dates scheduled through Jan. 21, 2017. It first premiered in late 2015 in New York City. - Billboard,. 10/18/16...... Rock & Roll legend Chuck Berry celebrated his 90th birthday on Oct. 18, and has announced plans to release his first new album in 38 years via Dualtone Records in 2017. Simply titled Chuck, the album is comprised primarily of new and original songs written, recorded and produced by Berry. In making the announcement, Berry said the LP was "dedicated to my beloved Toddy," eferring to his wife of 68 years, Themetta Berry. "My darlin' I'm growing old! I've worked on this record for a long time. Now I can hang up my shoes!" After a string of nearly two dozen albums on the Chess label released from the late 1950s through the mid-1970s, Berry's last album to date was 1979's Rock It on Atco Records. - Billboard, 10/18/16......
As rumoured, Phil Collins has officially announced plans to mount comeback concerts in 2017 in three European cities including London (at Royal Albert Hall on June 4, 5, 7, 8 and 9), Cologne (June 11 and 12), and Paris (June 18 and 19). He's also rumoured to be appearing at the 2017 Glastonbury festival. Speaking to reporters in London on Oct. 17, the 65-year-old former Genesis frontman said he initially retired to spend more time with his family but started to drink after his family split up. "I've changed my mind," he said of leaving the stage for good. "I'm living with my young kids. They want me to go out on the road and do my thing, and why not?" Collins, who first retired in 2002 but decided to tour again in 2007, also said he's not likely to play drums on tour, however he might try performing the introduction to "In the Air Tonight." Collins explained that his son Nicholas will be taking over drum duties on the upcoming tour. The Spotify.com streaming service reported that streams of Collins' song have nearly doubled since he announced his live comeback, with "You Can't Hurry Love," "In the Air Tonight," "Against All Odds," "You'll Be in My Heart" and "Another Day in Paradise" leading the pack. - AP/New Musical Express, 10/17/16...... The Zombies have announced the final tour dates for full album performances of their classic 1968 set Odessey & Oracle. The Zombies -- including founding members Colin Blunstone and Rod Argent -- will play 26 dates in North America in 2017, beginning on Mar. 17 in the Philadelphia suburb of Glenside and wrapping on Apr. 29 in Los Angeles. Additionally, the Zombies are releasing an album-sized (12" x 12") coffee table book in March 2017 featuring stories about making Odessey & Oracle, handwritten lyrics and artwork from Terry Quirk (who designed the LP's timeless cover art) and Vivienne Boucherat. - Billboard, 10/17/16...... Former Pink Floyd frontman Roger Waters has confirmed he is working on a new album with Radiohead producer Nigel Godrich. Speaking to Rolling Stone, Waters said he has spent the last year working on a new record, which will be the followup to his 1992 LP Amused to Death. "We've got some really good work in the can," Waters said. "Nigel's really good. He said to me, 'People always want to do these long records. How long was The Dark Side Of The Moon?' I said '38 minutes.'" Waters added that he's "also been falling in love, deeply in love... So the record is really about love -- which is what all of my records have been about." He added that he was "really happy" that his former Pink Floyd bandmates, Dave Gilmour and Nick Mason, recently "reunited" to release a joint statement, condemning Israeli forces over the detention of female activists sailing to Gaza. "It is an issue I care about deeply," he said. - New Musical Express, 10/13/16......
Cher announced on Oct. 18 that she will call her 2017 tour "Classic Cher" and will begin the tour with a residency at the Park Theater at Monte Carlo on Feb. 8. After playing 9 shows at that venue through Feb. 25, the diva will then travel to Washington, DC to finish off the tour with three shows at The Theater at MGM National Harbor on March 17, 19 and 20. The opening act will be Bruno Mars, both in Las Vegas and Washington. - Billboard, 10/18/16...... Elton John performed at a private, star-studded fundraiser for Democratic presidential candidate Hillary Clinton on Oct. 13 at the Los Angeles home of Casey and Laura Wasserman. Tickets for the event started at $33,400 and went as high as $100,000. John performed a strong set and was heard telling the crowd why he backs Clinton. "We need a humanitarian in the White House, not a barbarian," said Elton, who added that he loves all that Clinton stands for: "Equality, decency, kindness and respect." John also noted Hillary's efforts to combat the AIDS epidemic, saying "I've dedicated the past quarter century of my life to the fight against AIDS -- to advocating for the human rights of all people ... no matter who they are, who they love, or where they live. And Hillary has been doing this important work -- fighting for equality, for the rights of all people -- long before I was." Earlier in October, the 69-year-old John announced that he will soon publish a "no-holds-barred" autobiography, although a release date has yet to be confirmed. - The Hollywood Reporter, 10/14/16...... Paul McCartney played a rare small club show on Oct. 13 at Pappy & Harriet's Pioneertown Palace in Pioneertown, located near Joshua Tree in Yucca Valley in Southern California. A vegetarian buffet, befitting the vegetarian McCartney, was served, but there were no dinner reservations and no one was allowed to leave once inside. McCartney was in the area as one of the headliners of the Desert Trip festival earlier in the month, which took place at the site of the Coachella festival in Indio, Calif. - Billboard, 10/13/16...... In other Beatles-related news, the Lego toy company announced on Oct. 12 that it is teaming up with the Fab Four for a new "Yellow Submarine" toy set. Hitting stores on Nov. 1, the set will include four mini-figures of John, Paul, George and Ringo costumed in their Yellow Submarine outfits that can ride inside the model (the top of which comes off), plus over 550 Lego bricks. Adding to the play is a mini-figure of the Yellow Submarine movie character Jeremy Hillary Boob. The U.S. list price is $59.99. "The Yellow Submarine is bright, fun, and colorful, which also made it a good subject to translate into Lego form," says creator Kevin Szeto. - Billboard, 10/13/16......

Songwriter Carole Bayer Sager released her autobiography, They're Playing Our Song, on Oct. 18, in which she humorously revisits her life, from almost drowning when she was 2 months old to her very happy ending with third husband, former Warner Bros. CEO Bob Daly. Along the way, the beautiful Oscar- and Grammy-winning lyricist partnered both professionally and personally with collaborators Marvin Hamlisch and Burt Bacharach on hits such as "Midnight Blue," "When I Need You," "Nobody Does It Better," "Don't Cry Out Loud," "It's My Turn," "Heartlight," "Arthur's Theme," "That's What Friends Are For," and countless others. Sager, 69, also spills stories about writing with everyone from Bette Midler and Michael Jackson to Bob Dylan and Clint Eastwood. - Billboard, 10/17/16...... Chic featuring Nile Rodgers have announced that they're set to play a special one-off Christmas show in London, at Eventim Apollo in Hammersmith on Dec. 23. The event will be a charity show to raise money for Autism Rocks. Rodgers' first UK appearance since headlining FOLD Festival back in the summer, which he curated. - NME, 10/17/16...... Appearing on PBS' Austin City Limits series on Oct. 14, former Led Zeppelin frontman Robert Plant performed Zeppelin's classic 1968 track "Babe, I'm Gonna Leave You." The performance marked Plant's first time on the Austin City Limits stage for more than a decade, and he performed for a full hour with his band the Sensational Space Shifters. Other numbers included "Rainbow," "Turn It Up" and "Little Maggie." Meanwhile, Plant recently joined the "We Are Not Afraid" campaign, along with Keith Richards, Iggy Pop, Ringo Starr, Debbie Harry and Yoko Ono. "We Are Not Afraid" is a global campaign aimed at raising funds for the refugee crisis and victims of religious and political violence. - NME, 10/15/16.
Thursday, October 13, 2016
The Desert Trip Festival, a classic rock summit held at the site of the Coachella festival in Indio, Calif. and headlined by the Rolling Stones, Bob Dylan, Neil Young, Paul McCartney, The Who and Roger Waters over three nights, got underway on Oct. 7 with the Stones and Dylan playing the first night. "I'm not going to make any age jokes," Mick Jagger quipped as the Stones took the stage, adding "Welcome to the Palm Springs Retirement Home for Genteel Musicians." After referring to Dylan as the "opening act," which drew gasps from some in the pit, the Stones played a 19-song set that opened with "Start Me Up" and encored with "You Can't Always Get What You Want" and "(I Can't Get No) Satisfaction." On Oct. 8, Day 2 of the fest welcomed Paul McCartney and Neil Young, with the former Beatle bringing out opening act Young for a three-song collab that had eyes wide and phones in the air. The two music legends traded vocals on "A Day in the Life," and instead of finishing the song with the usual orchestral climax, they transitioned into John Lennon's "Give Peace a Chance," inviting the audience to chant along as peace signs flashed on the screen behind them. Grunge pioneer Young then jammed with McCartney on the Beatles' own scorcher, "Why Don't We Do It In the Road." On Oct. 9, the Who headlined Day 3 with Roger Waters. The Who's two-hour, 22-song set kicked off with "I Can't Explain" and encored with "Won't Get Fooled Again." "We were 1967's version of Adele or Lady Gaga or Rihanna or Bieber," Townshend joked as he introduced "I Can See For Miles," the Who's first US hit. "Roger and I are so glad to be out here at our age," Townshend also said. "And I couldn't do it without Roger." - Billboard, 10/8/16......
Bob Dylan was awarded the 2016 Nobel Prize for Literature on Oct. 13 for "having created new poetic expressions within the great American song tradition." "Bob Dylan is a great poet in the English-speaking tradition," said Sara Danius, the Nobel Academy's permanent secretary and literature professor at Stockholm University. "If you look back, far back, 2,500 years or so, you discover Homer and Sappho and they wrote poetic texts that were meant to be listened to, that were meant to be performed, often with instruments -- and it's the same way with Bob Dylan." Danius' statement also praised the singer-songwriter's creative output over five decades, including his constant reinvention of himself, and as "a wonderful sampler, a very original sampler." Dylan being awarded the Nobel prize for literature for 2016 came as a surprise to many, as his odds of beating out such favorites as American novelist Philip Roth and Japanese author Haruki Murakami was given odds of 50/1 by the London bookies. The Nobel Committe's additional statement that Dylan had "recorded a large number of albums revolving around topics like the social conditions of man, religion, politics and love" and that his words have repeatedly been republished could be taken as seeking to forestall criticism of their decision. - CNN, 10/13/16...... Former Pink Floyd member Roger Waters announced he'll kick off a 40 date "Us + Them Tour" of North American arenas next year in Kansas City, Mo., on May 26. The tour, which includes two-night stands in Los Angeles, Chicago, Philadelphia, Brooklyn, Boston and Toronto before wrapping on Oct. 28 in Vancouver, BC, is Rogers' first tour not themed around a specific Pink Floyd album since the early 2000s. It follows his three-year "The Wall" trek, which went down as the most successful tour by a solo artist in touring history. "The new show's going to be called 'Us + Them' because it's really specifically about the line from this 1973 song 'Us and Them' that goes 'With, without/And who'll deny that's what the fighting's all about,'" Rogers said in a statement. "Because the main message that I have to propagate, if I can, is embodied in the (concept) that the idea of perpetual war, which has been embraced by the neocons particularly in the United States of America, is an entirely wrong way for the human race to live," he added. Waters says he's currently in the process of recording a new solo album that he expects will be in fans' hands before the tour begins in May. He's been working in L.A. with producer Nigel Godrich of Radiohead collaborating fame. - Billboard, 10/13/16...... Officials in Nassau County, N.Y., have announced that Billy Joel will play the first concert at the newly renovated Nassau Coliseum on Long Island on Apr. 5, 2017. In Aug. 2015, Long Island native Joel played the last show at the Nassau Veterans Memorial Coliseum before its renovation, and has played the venue 32 times over the course of his career. - Billboard, 10/11/16......
Elton John announced on Oct. 13 that he'll release his first ever memoir in 2019. "I'm not prone to being a nostalgic person," Sir Elton said in a statement. "I'm often accused of only looking forward to my next gig or creative project. It's come as quite a surprise how cathartic I am finding the process of writing my memoirs. As I look back, I realize what a crazy life I have had the extreme privilege of living." John said he's working with The Guardian critic Alexis Petridis on the autobiography, which will be published by Henry Holt & Company, a division of Macmillan, who won the rights in a bidding war with two other publishers. Elton's memoir will follow a string of acclaimed memoirs from other rock icons over the last decade, including Bob Dylan, Keith Richards and Patti Smith, among others. - Billboard, 10/13/16...... Over 100 pieces of furniture from David Bowie's private collection are set to be auctioned in November by Sotheby's. "The works produced by the historical avant-garde design collaborative Memphis Milano, led by Ettore Sottsass, could not have found a more receptive and tuned-in audience than David Bowie," said Ccile Verdier of Sotheby's. The auction takes place on Nov. 11, with two other "Bowie/Collector" auctions will focus on his collection of art, accompanied by an exhibition, taking place on Nov. 10 at Sotheby's. Meanwhile, the official script and song lyrics from Bowie's musical "Lazarus" will be released in a new book in November. The "Lazarus" musical will get its UK premiere on Oct. 25 at the Kings Cross Theatre in London, after first premiering in New York in late 2015. Bowie's final ever recordings will be heard when the official soundtrack album for the "Lazarus" musical is released on Oct. 21. - New Musical Express, 10/13/16...... Michael Jackson has once again topped the list of top-earning dead celebrities compiled by Forbes magazine, with his empire earning a staggering $825 million in the past year. Earlier in 2016, Sony bought Jackson's half of Sony/ATV Publishing for $750 million, giving the pop legend his highest payout to date. Other '70s artists making the 2016 highest-paid dead celebrities list include Elvis Presley ($27 million), Prince ($25 million), Bob Marley ($21 million), and John Lennon ($12 million). - Billboard, 10/12/16...... Recently interviewed for The New Yorker magazine, Leonard Cohen revealed that he feels he is ready to embrace the end of his life. "I am ready to die," Cohen said. "I hope it's not too uncomfortable. That's about it for me." Cohen, whose health has been declining in recent years, is gearing up for the release of his latest album You Want It Darker, and sings "I'm ready, my Lord," in the album's title track. The LP will be the follow-up to the 82-year-old Cohen's 2014 album, Popular Problems. - Billboard, 10/12/16...... The concert website eFestivals.com is reporting that Phil Collins is on the verge of announcing a massive string of UK comeback concerts, some 15 years after the former Genesis drummer played his last major solo shows. Collins could be considering headlining such major UK festivals as the Isle of Wight Festival and Barclaycard Presents British Summer Time at London's Hyde Park (Collins' live promoter John Giddings is also the organizer of the Isle of Wight Festival). Collins retired from playing live in 2002, citing injuries to his back and arms caused by years of playing drums. He went on a brief reunion tour with Genesis in 2007, but has since been absent from performing concerts. In Oct. 2015, he announced that he was coming out of retirement to play live shows, saying he'd love to take his sons Nicholas and Matthew "out on the road." On Oct. 20, Collins will release his autobiography, Not Dead Yet. - NME, 10/13/16......
Just call him "Sir Roderick David Stewart" -- Rod Stewart was made a Knights Batchelor by Prince William at Buckingham Palace in London on Oct. 11. Prince William paid homage to Stewart's Scottish heritage by wearing tartan-patterned pants and a jacket with military-style red and gold trim. The "Maggie May" singer received the honor for services to music and charity, and joins the likes of such previously knighted rock stars as Paul McCartney, Elton John, Mick Jagger and Tom Jones. - Billboard, 10/11/16...... '70s artists Sammy Hagar, Bette Midler and Joan Jett appeared as guest advisors on the NBC talent series The Voice on Oct. 10. "The more you are like yourself, and the way you sing, the way you play your instruments, the better chance you have of making it", Hagar advised Adam Levine's group of contestants. Midler assisted Blake Shelton's group, while Jett advised Miley Cyrus' group. - Billboard, 10/11/16...... A Linda Ronstadt tribute concert has been set for Dec. 11 at Los Angeles' Ace Hotel, with such artists as Jackson Browne, Maria Muldaur, Grace Potter, Sara Watkins and Dawes headlining. Ronstadt revealed to AARP magazine in Aug. 2013 that she was suffering with Parkinson's Disease, and all proceeds from the show will go to the Michael J. Fox Foundation for Parkinson's Research. In a statement, Maria Muldaur said she's known Ronstadt since 1966. "It is heart-wrenching to think that this mysterious ailment known as Parkinson's disease has robbed us of her gorgeous, enthralling voice, but I'm happy to report firsthand that it has done nothing to diminish her spirit and keen mind," Muldaur said. "I'm honored to participate in this celebration of Linda's music, which will benefit the Michael J. Fox Foundation for Parkinson's research to speed a cure for Parkinson's disease, which can't come a moment too soon," she added. - Billboard, 10/11/16...... Actress Michelle Williams is in early negotiations portray Janis Joplin in director Sean Durkin's long-in-the-works biopic centering on the famous female rock icon. The movie, titled Janis, is based on Love, Janis, which was penned by Joplin's sister, Laura Joplin. It uses Joplin's letters to family and friends to tell the story of a young woman rising from playing at coffeehouses to playing at Woodstock, dealing with sudden fame and celebrity while combating alcohol and heroin addiction all the while trying to keep her creativity. Janis is only one of several competing Joplin movie projects in development, as Hollywood has been trying to make a biopic on the late singer for at least two decades. - The Hollywood Reporter, 10/10/16...... John Lennon will be getting his own comic book biography, as IDW Publishing unveiled a new graphic novel focusing on the former Beatle on the final day of 2016's New York Comic Con. The new book will adapt the 2010 novel by French author and screenwriter David Foenkinos, which retold Lennon's story through the framework of transcriptions of sessions between Lennon and an imaginary therapist. The story travels through Lennon's entire life, from childhood, worldwide fame and his solo career and marriage to artist Yoko Ono. - Billboard, 10/9/16......

The Boston Pops Orchestra has announced it will turn Steven Spielberg's classic 1975 shark thriller Jaws into a live concert presentation. "Jaws In Concert," which will feature an orchestra playing John Williams' iconic score as the film unspools, will have its world premiere at the Boston Pops Orchestra (which Williams famously helmed from 1980-1993) in the summer of 2017 with Keith Lockhart conducting. Though Williams is not composing any new music for the live concert presentation, there is approximately five minutes from the original music composed for the film that was not used, and that music will be restored specifically for the new live presentation. - Billboard, 10/11/16...... In other '70s-related movie news, the producers of Star Wars have been forced to pay $2 million after Harrison Ford's leg was "crushed" on the set of the latest Star Wars installment, The Force Awakens. Prosecutors in the UK compared the accident at Pinewood Studios, in which a hydraulic door on the iconic Millennium Falcon fell "millimetres from Ford's face" and crushed his leg like a "blunt-edged guillotine," to a "car collision that could have killed Ford when the 74-year-old actor broke his tibia and fibula. The Disney subsidiary Foodles Productions pleaded guilty to two criminal charges of failing to protect workers, and was fined £1.6million. - New Musical Express, 10/13/16...... Singer/songwriter/guitarist/bassist Don Ciccone, a former member of the Four Seasons, died on Oct. 8, according to a statement released by his daughter. He was 70. Ciccone, a New Jersey native, was a founding member of the 1960s band The Critters, who charted Billboard hits with "Mr. Dieingly Sad" and "Younger Girl," both written by Ciccone. After leaving The Critters and joining the U.S. Air Force during which he served in the Vietnam War, he was tapped by Frankie Vallie to join the Four Seasons, where he played guitar and bass. He also contributed lead vocals to songs including "Rhapsody" and their No. 1 hit, "December 1963 (Oh, What a Night)." After leaving the Four Seasons in 1981, he began touring with Tommy James & the Shondells as their bassist and musical director, remaining on until 1987. Later in life, he pursued a solo recording career, recording albums including "Lost & Found." He is survived by his wife, Stephanie, and his two children, Marli and D'Arcey - 10/10/16...... Joan Marie Johnson Faust, a founding member of the 1960s girl group The Dixie Cups, has died in New Orleans of congestive heart failure. She was 72. Faust, Barbara Ann Hawkins and her sister Rosa Lee Hawkins were the three original members of The Dixie Cups, who famously knocked the Beatles out of the top spot on hit parade in 1964 with their hit "Chapel of Love" and went on to become New Orleans music legends. - 10/6/16.
Saturday, October 8, 2016
Cher has joined the chorus of protest against Republican presidential candidate Donald Trump after a video recording from 2005 featuring Trump making vulgar comments about women was released on Oct. 7. Posting on Twitter, Cher said, "LADIES--WE R NOT DISPOSABLE BLOW UP DOLLS,4RICH MENS PLEASURE.I HAD SCARY EXPERIENCE W/RICH IMPORTANT FILM PROD.& I WAS CHER/? I WANTED JOB--." Cher, who has more than 3 million Twitter followers, has voiced her disapproval of Trump often in the past year, often calling him a "LYING CON MAN" and a "PUNK ASS." - Billboard, 10/7/16...... A David Bowie tribute event is being held in Carinda, Australia, on Oct. 8 and 9, where the star filmed his classic "Let's Dance" video. "Let's Dance Carinda" will feature a re-enactment of the famous clip and a Bowie covers act named Lady Stardust. A tiled wall that Bowie stands in front of in the clip still remains, and is called "the David Bowie wall." - New Musical Express, 10/4/16.....


After teasing a potential new album for more than a year, the Rolling Stones announced on Oct. 5 that they'll end their longest-ever studio album drought on Dec. 2 with the release of Blue & Lonesome, a 12-track all-blues effort described in a press release as taking "the band back to their roots and the passion for blues music which has always been at the heart and soul of The Rolling Stones." Produced by Don Was and the "Glimmer Twins" (the longtime pseudonym used by Stones frontman Mick Jagger and guitarist Keith Richards for their production work), the Stones' first all-blues album will be released by Interscope Records and is currently available for pre-order. Blue & Lonesome was reportedly recorded "spontaneously," with live studio playing and no overdubs by the band -- currently comprised of Jagger, Richards, drummer Charlie Watts and guitarist Ronnie Wood, as well as longtime touring sidemen Darryl Jones (bass), Chuck Leavell (keyboards) and Matt Clifford (keyboards). Eric Clapton also contributes fret work to two tracks on album after his old friends asked him to participate as he was recording his own album in an adjacent studio. As they announced the new LP, the Stones unveiled the blue-tinged remake of their iconic lips symbol by projecting them across several locations in London on the evening of Oct. 5, including Marble Arch and the Centre Point building. Meanwhile, two days earlier on Oct. 3 the Stones played a surprise set for 1,200 truckers in Las Vagas, Nev. Semi truck company Freightliner hired the band to play a surprise set at their annual customer appreciation dinner, which took place inside the Bellagio conference room. The Stones treated the crowd to renditions of "Start Me Up," "Wild Horses" and "Gimme Shelter" as well as a rare performance of "Mixed Emotions" from Steel Wheels, a song they haven't played in 25 years. - Billboard, 10/6/16...... The start of legendary producer Quincy Jones' lawsuit against Sony Music and MJJ Productions over royalties Jones claims he's owed from posthumously released Michael Jackson albums has been delayed after a court has ruled the two defendants can no longer share the same legal team. In September, Judge Michael Stern have Quincy Jones the green light to pursue damages claims related to payment from permanent digital downloads. Jones is essentially arguing that he was cheated out of his share of royalties because Sony was underpaying MJJ, a song company controlled by the late artist's estate. The payment of digital downloads is an area of continual conflict between artists and labels and has taken center stage in several major lawsuits in the past decade. Jones' legal fight with Sony began in 2013, when he sued both Sony and MJJ, claiming master recordings he produced were remixed after Jackson's death to avoid paying him backend profit participation. The trial had originally been scheduled for mid-October, and It remains to be seen exactly how long it will take for new attorneys to get up to speed and get a trial back on the books. A status conference is currently scheduled for November. - The Hollywood Reporter, 10/7/16...... Roger Daltrey has again blasted a planned remake of the Who's 1979 Quadrophenia movie project, which will be made and set 35 years after the original film and star several of the original cast, including Phil Daniels. "It's just someone fishing to make some money," Daltrey told the UK paper The Daily Mirror. "It becomes a nonsense. The whole point of Quadrophenia was that it was a moment in time captured in a film... That moment in time is gone. It doesn't matter what those characters are doing now. It was about what we all went through at that age," he added. Ray Burdis, the director and writer of 1979's Quadrophenia, has defended the project, entitled To Be Someone, insisting it was not a sequel and was based on the novel by author Peter Meadows, who says his book was merely "inspired by" Quadrophenia. - NME, 10/7/16......

Sole surviving Bee Gees member Barry Gibb recently premiered new songs from his new album In the Now before an intimate listening party of 25 at Miami's Hit Factory/Criterion Studios -- along with more than 20,000 Bee Gees fans watching online. Gibb and his 11-piece band worked through four new songs from the album, then pivoted to the Bee Gees catalog for their 1977 classic "How Deep Is Your Love." "This one's for mum," he says (his mom Barbara Gibb recently died at 95). In the Now drops on Oct. 7 via Columbia Records. - Billboard, 10/6/16...... The surviving members of the tension-plagued Pink Floyd have just "reunited" -- at least online -- to release a joint statement condemning Israeli forces over the detention of female activists sailing to Gaza. In a joint statement posted on the Pink Floyd Facebook page, David Gilmour, Nick Mason and Roger Waters say that "Pink Floyd reunites to stand with the Women of the Gaza Freedom Flotilla" and they fully support Women's Boat to Gaza, an activist group that sailed from Barcelona to Gaza last month and were arrested by the Israeli navy earlier in October. They are expected to be deported. - NME, 10/7/16...... Prince's Paisley Park estate in Minnesota was opened to the public for the first time on Oct. 6 since the singer's death in April. The thousands of fans who attended were given a surprise treat when it was revealed that Prince's remains were being kept in an urn within the studio -- the same place where the "Purple Rain" singer passed away in the spring. The remains are being held in an urn designed by Prince's sister and nephew, who teamed up with Foreverence, a company that has created custom burial urns for such recently deceased rock legends as Lemmy Kilmister and Scott Weiland. The urn is designed to resemble a miniature version of Paisley Park, and features signature Prince details, like his purple Yamaha piano and white doves. - Billboard, 10/7/16...... Appearing on the CBS late night talk show The Late Late Show With James Corden on Oct. 6, Stevie Nicks revealed she was inspired to write the "Moonlight (A Vampire's Dream)" from her 2011 album In Your Dreams after seeing the second Twilight movie New Moon. Nicks then said that she couldn't just release one single, and therefore crafted the entire album around the track. Nicks told Twilight star Taylor Lautner, who was also on the panel, that "If it hadn't been for your movies... I've since made two records -- In Your Dreams, and 24 Karat Gold -- I would never have never made those albums because I was so staunch in my belief that it was over." - Billboard, 10/7/16...... Jimmy Page's guitar solo on the classic 1971 Led Zeppelin track "Stairway to Heaven" has just been voted the greatest solo ever by Classic Rock magazine. "Stairway to Heaven" was recently the subject of a lawsuit which the band won after after a jury deemed that the band did not plagiarise Spirit's 1968 song "Taurus." Trustees for late Spirit member Randy California have filed an appeal against the original verdict, with their lawyer saying there are "many appealable issues" for him to build a case on. - New Musical Express, 10/6/16...... Bruce Springsteen has debuted at No. 1 on Billboard's Top Rock Albums chart for the week ending Oct. 15 with his new career retrospective Chapter and Verse. The album, which accompanies Springsteen's recently released autobiography, Born to Run, is Springsteen's fifth No. 1 on the chart (which began in 2006), with all five having debuted at the summit. Chapter and Verse features 18 songs spanning the New Jersey rocker's nearly 50-year career. Meanwhile, Springsteen has told Rolling Stone magazine that he admires San Francisco 49ers quarterback Colin Kaepernick's national anthem protest, while acknowledging the difficulty of making political statements in sports. "I admire Kaepernick, but it's a very difficult field to be outspoken in," Springsteen said. As for the Black Lives Matter movement, he said it is a case of "chickens coming home to roost." "Black Lives Matter is a natural outgrowth and response to the injustices that have been occurring for a very long time in the United States," he told the magazine. - Billboard/Rolling Stone, 10/5/16......
Excerpts from Brian Wilson's forthcoming autobiography I Am Brian Wilson: A Memoir have been posted online at Google Books and include part of the first chapter entitled "Fear," in which the Beach Boys mastermind recalls his fear about going onstage in 2004 at London's Royal Festival Hall where he played the Beach Boys album Smile for the first time. In addition to the book project, which hits stores on Oct. 11 via Da Capo Press, Wilson is also planning to release a concert film called Brian Wilson & Friends. - New Musical Express, 10/7/16...... The Country Music Association announced on Oct. 4 that Dolly Parton will be received the 2016 Willie Nelson Lifetime Achievement Award at the upcoming 50th annual CMA awards on Nov. 2 in Nashville. Parton is a nine-time CMA winner, including Entertainer of the Year. Willie Nelson was the first recipient of the award, presented in 2012. It honors an artist who has achieved national and international fame through performances, philanthropy, humanitarian efforts and record sales, and previous recipients also include Kenny Rogers and Johnny Cash. The 2016 CMA awards will air on ABC on Nov. 2. - AP, 10/4/16...... There is now new hope that AC/DC frontman Brian Johnson could perform live with the band again "within six months" after hearing aid developers Asius have been in contact with the 68-year-old singer about letting him test a hearing aid prototype that could help protect his hearing in the live arena. "We need to know he can test it without further damaging his hearing. And I expect those tests will go very successfully," says Asius' Chief Scientist Stephen Ambrose. Ambrose adds the company intends to make it's technology available "at a price point that people can afford." Johnson was replaced by Guns 'n Roses frontman Axl Rose for the band's recent "Rock Or Bust" world tour. In other AC/DC-related news, a new book maintains that sharks like listening to heavy metal music and in particular, AC/DC. Matt Waller, a chartered boat operator in Southern Australia, says he first noticed in 2011 that sharks behaved in a much calmer manner when played heavy metal music. "I started going through my albums and AC/DC was something that really hit the mark. Their behaviour was more investigative, more inquisitive and a lot less aggressive," he writes. - NME, 10/5/16...... A New York City street situated at the at the intersection of 67th Avenue and 110th Street will officially be renamed Ramones Way after the iconic '70s punk band the Ramones on Oct. 23. The street's location marks the main entrance to Forest Hills High School, where all four original Ramones members -- Johnny, Joey, Dee Dee and Tommy -- attended. In April, the Queens Museum opened an exhibit of Ramones memorabilia, and an expanded version of the exhibit will move to the Grammy Museum in Los Angeles later in October. - Billboard, 10/4/16...... Former Talking Heads frontman David Byrne has announced that he will be showcasing an art exhibition focused on neuroscience. According to a statement, "The Institute Presents: Neurosociety"is described as "an immersive theatrical experience" that will present the work of 15 cognitive neuroscience labs. Byrne co-created the exhibition with Mala Gaonkar. Speaking to The New York Times, Byrne said, "We won't be running these experiments like the labs do, but recreating some of their work in more entertaining or theatrical ways." The exhibition will open on October 28 and will run until May 31 at Pace Gallery in Menlo Park, Calif. - NME, 10/4/16...... Damian Marley, the youngest son of reggae legend Bob Marley, has announced that he will convert a prison into a cannabis factory. Marley has teamed up with the company Ocean Grown Extracts to turn California State prison into a growth space cultivating medical marijuana. "Many people sacrificed so much for the herb over the years who got locked up," says Marley. "If this [project] helps people and it's used for medicinal purposes and inspires people, it's a success." - Billboard, 10/4/16......

Rod Temperton, a legendary songwriter best known for penning some of Michael Jackson's biggest solo hits including "Thriller," "Rock With You" and "Off the Wall," died in London in early October after what a spokesperson described as a "brief aggressive battle with cancer." He was 66. Temperton's first break came as co-founder and keyboardist of the pioneering funk/disco band Heatwave, for whom he wrote a string of platinum singles including "Boogie Nights." Temperton left Heatwave in 1978 and began working with Quincy Jones on what would become Jackson's solo breakthrough album, 1979's Off the Wall, for which he also wrote the song "Burn This Disco Out." The collaboration continued on what would become Jackson's most iconic work, 1982's Thriller, for which he wrote the title track, as well as "Baby Be Mine" and "The Lady in My Life." His biggest Billboard Hot 100 hit, as a songwriter, came with "Baby, Come to Me," a 1983 hit by Patti Austin with James Ingram, which hit No. 1 for two weeks. His other compositions include "Hey Lover" by LL Cool J, "Sweet Freedom" by Micheal McDonald and "Stomp!" by the Brothers Johnson. Temperton and Jones were nominated for a Best Original Song Oscar in 1986 for the song "Miss Celie's Blues" from the movie The Color Purple. His passing was announced by Jon Platt, Chairman & CEO of Warner/Chappell: "Rod Temperton, British composer and musician, died last week at the age of 66 in London following a brief aggressive battle with cancer. His funeral was private. He was often referred to as The Invisible Man. He was the sole writer of multiple successful songs such as "Thriller", "Off The Wall", "Rock With You", "Give Me The Night", "Sweet Freedom", "Always & Forever" and "Boogie Nights" to name just a few. His family is devastated and request total privacy at this, the saddest of sad times." - Billboard, 10/4/16...... North Carolina concert promoter Marc Hubbard pleaded guilty on Oct. 4 to defrauding the University of Hawaii of $200,000 by promising to produce a Stevie Wonder fundraising concert that never happened. Hubbard pleaded guilty to wire fraud in federal court in Honolulu, saying he lied about his ability to secure Wonder for a concert. As part of a plea deal, prosecutors will recommend that Hubbard's sentence run concurrently with the sentence he receives for a similar case in Pennsylvania. Hubbard is scheduled to be sentenced in Pennsylvania later in October and in Hawaii on Feb. 16. - AP, 10/4/16.
Monday, October 3, 2016
After a David Bowie box set of mid-'70s recordings, Who Can I Be Now? 1974-76, dropped on Sept. 23, another posthumous Bowie release has been announced. Bowie Legacy is a collection of the rock icon's "finest singles" along with selections from his final album, Blackstar, plus a previously unreleased version of the classic 1971 single "Life On Mars?" mixed by its original producer Ken Scott. Bowie Legacy will be available on CD, vinyl and download in standard and deluxe formats. The CD and digital versions will be released on Nov. 11, before the double vinyl edition drops on Jan. 7, 2017 -- the week of the anniversary of his death. On Oct. 21, a 2-disc release of cast recordings from the Bowie-inspired and created musical "Lazarus" will hit stores and feature Bowie's final studio recordings ever -- "No Plan," "Killing A Little Time," and "When I Met You." - New Musical Express, 9/28/16......

After first experiencing a stalker problem in 1977, Van Halen frontman David Lee Roth has posted on his website that another (or possibly the same?) stalker is terrorizing him in recent weeks. Roth says the obsessed fan has called his phone early in the morning nearly 100 times in the past few months. "Help! I have a stalker. A very real one. 75 stalker phone calls in the last four months. All of them at 5:30 to 6 in the morning... Every now and then at 2 in the afternoon. Never on the weekend. The phone calls show up on my old phone but they don't show up on the phone bill." Roth added that this stalker is "particularly obsessed" and "knows a little about tech." "They can remove the number out of my phone when they want to," he posted. Roth says that he's called in "the professionals," who told him the calls are designed to terrify him and ruin his day. "It's exactly what happened to me during my first stalker experience in 1977 (and) the second time (is) even worse." "I was more afraid and more intimidated the second time around. It really threw me off in the way where you stop eating or you eat too much and you sleep all the time," he says. - WENN.com, 9/29/16...... Paul Simon participated in a Q&A at The Grammy Museum in Los Angeles on Sept. 30. Simon, 74, says he's more determined to be full of surprises than ever in his advanced years. "I know how easy it is to become bored with popular music," he said. "Because I am bored to death of it. I know that applies to me as it applies to every other artist If you want people to listen, you really better make it interesting, because there are a lot of choices of things to do -- not only things to listen to." Hosted by veteran rock journalist David Wild, the Q&A was largely devoted to Simon's latest album, Stranger to Stranger, Simon's most critically acclaimed album since perhaps The Rhythm of the Saints. Simon went on to say that he felt it was Art Garfunkel's burgeoning movie career that broke up Simon & Garfunkel. "It was the movies that broke us up," Simon said. "We were separated for too long by two movies that Artie made. But no matter what, we couldn't have followed Bridge Over Troubled Water with a (similarly epic) album... It would have been like my first solo album anyway, because you have to go down and make it smaller and more rhythmic. And that would not be playing to Simon & Garfunkel's strength, which includes having a big ballad, which Artie can knock out of the park." But he also suggested his wandering interests in Jamaican and other world music would have eventually split the duo if Garfunkel's films hadn't: "I already wanted to go to a Jamaican rhythm ... I thought, if I want to get this, I've gotta go to Jamaica. That would not have been an easy argument to make to Artie... He wouldn't have liked that." Asked what he thinks constitutes a hit, he said: "I always say the song I wish I wrote: 'Silent Night.'" - Billboard, 10/2/16...... A new musical based on the life and music of reggae legend Bob Marley is coming to the UK in 2017. "One Love: The Bob Marley Musical" will feature some of Marley's most popular tracks, including "No Woman No Cry," "Exodus" and "Jamming." Premiering at the Birmingham Repertory Theatre on Mar. 10, the musical will run though Apr. 8. It is an updated version of director/writer Kwame Kwei-Armah's show "Marley," which he staged in Baltimore in 2015. - New Musical Express, 10/1/16......
A massive collection of mid-'60s Bob Dylan recordings is being planned for release this holiday season. The 1966 Live Recordings, a new box set with a whopping 36 discs that captures numerous shows Dylan played across the US, Europe and Australia, will drop Nov. 11. Adam Block of Legacy Recordings says the inspiration for the new box set came when his label was culling material from the 2015 mid-'60s Dylan compilation, The Cutting Edge 1965-1966: The Bootleg Series Vol. 12. "We were continually struck by how great his 1966 live recordings really are... the intensity of Bob's live performances and his fantastic delivery of these songs," Block noted. The vast majority of the recordings have never been released before, and Dylan's May 26 Royal Albert Hall show is also being released as a standalone album on Dec. 2. - Billboard, 9/30/16...... The new Ron Howard-directed Beatles documentary Eight Days a Week: The Touring Years has sold enough tickets in its first two weeks to warrant keeping it in cinemas for a third week. Eight Days a Week became available by streaming for home viewers on Hulu after its world premiere on Sept. 15. The film will be released on Blu-ray and DVD on Nov. 18. Paul Dergarabedian, an analyst for the film industry site comScore, says the movie's popularity is "a testament to the inexhaustibly profound interest that exists by today's audiences in the Fab Four." The cumulative take for the film since its opening was $2,088,918, which Dergarabedian calls a success. "In the indie documentary world, $2 million is a lot of bucks at the box office," Dergarabedian says. Eight Days a Week was also the most profitable film in 48 of the top 50 theaters in its first week of release, according to its distributor, Richard Abramowitz of Abramorama. - Billboard, 10/2/16...... Ringo Starr has premiered a new version of his peace anthem "Now the Time Has Come" featuring Colombian superstar Fonseca, who sings a Spanish verse on the powerful track. The release follows a peace treaty signed in late September by Colombian president Juan Manuel Santos and the rebel group FARC (Fuerzas Armadas Revolucionarias de Colombia). "Now the Time Has Come," written by the ex-Beatle and producer Bruce Sugar, was initially premiered in partnership with United Nations in celebration of the International Day of Peace. - Billboard, 9/30/16...... After a Philadelphia fifth-grader named Michael Fenerty skipped school for the chance to meet Bruce Springsteen at a book signing for Springsteen's new autobiography Born to Run on Sept. 27, Springsteen signed an absentee note for the boy to present to his school. The boy's father brought along a pre-typed note that Springsteen signed to excuse his son's absence, and Springsteen quipped to the boy that he would have to read the note first because that's how he got in trouble with his first music contract. The school's principal reportedly only received a photocopy of the note. - AP, 9/30/16......
Tom Petty has been named the 2017 MusiCares Person of the Year for his charitable work for the homeless, the MusiCares Foundation and the Recording Academy president and CEO Neil Portnow announced on Sept. 28. Petty will receive the honor at the annual MusiCares dinner and benefit concert in Los Angeles on Feb. 10, two days before the 59th annal Grammy Awards. Participants in the concert will be revealed at a later date. "I am so very pleased to be honored as the MusiCares Person of the Year. I have so much respect for this organization, which really does care about the people in our industry," Petty said in a statement. "I myself know many people who MusiCares has aided in desperate situations. Again, let me say this is a true honor." Petty, a three-time Grammy Award winner, and his wife Dana were given the Midnight Mission Award in May 2011. Midnight Mission offers emergency help and drug and alcohol assistance programs for the homeless in the Los Angeles area. - Billboard, 9/28/16...... During his first of three scheduled gigs in Mexico City on Sept. 27, Roger Waters lashed out at Republican presidential candidate Donald Trump with a message projected on the stage behind him that called Trump an offensive name in Spanish. "We don't want a wall that separates us from our sister, our mother earth, or from each other," Waters also told the crowd. The former Pink Floyd member also criticized Mexican President Enrique Pena Nieto, blaming his administration for many of the thousands of people who have gone missing since Mexico's drug war began in 2006. "Mr. President ... Where are they? What happened to them?," Waters said. - AP, 9/29/16...... After Iggy Pop posed nude for a New York Academy of Art-organized class back in March, a collection of drawings from the event are set to go on display at the the Brooklyn Museum in November. "It was not about anything silly," Pop noted at the time. "It wasn't about my winkie, or anything. It was just a documentation of what's left of me," the 69-year-old former Stooges frontman noted. The drawings from the class will also be featured in a new art book, Iggy Pop Life Class, which carries the same name as the exhibition and will be released on Oct. 25. - NME, 9/28/16...... Sony Corp. announced on Sept. 30 that it has completed its acquisition of the Michael Jackson's estate share of Sony/ATV Music Publishing, giving it sole ownership of the music publishing powerhouse. The deal was first announced in March, but it took a while to close because the transaction had to be scrutinized by the EU Commission and because the Jackson estate needed to do some house cleaning in preparation for cashing out, sources say. In a press release, Sony said it had paid $750 million for the Jackson estate's 50% share in the company. Both Sony and the Jackson estate still have a stake in EMI Music Publishing, which is administered by EMI. The Jackson estate still has substantial interests in other music assets, including all of Jackson's master recordings as well as Mijac Music, the publishing company that owns all of the songs written by Jackson as well as songs by some of his favorite songwriters and artists that were acquired by Michael during his life. - Billboard, 9/30/16......
After the celebrity gossip site TMZ.com posted on Sept. 30 that police had rushed to Playboy founder Hugh Hefner's mansion in Los Angeles when several other news outlets received a tip that the 90-year-old Hefner had passed away, Hefner posted a message on Twitter later that night. "I wish the tabloids had informed me a little earlier in the week that I'm sick. I might have cancelled my weekend plans," he posted. A representative for Playboy Enterprises also confirmed that Hef "was fine." "It is no secret that over the past few years he has suffered with back pain that has made it a bit more challenging for him to get around, but at 90 years of age, he is enjoying his life and still very involved in the day-to-day activities of editing the magazine," the statement said. Rumors first began to swirl that Hefner's health was failing after a New York Post/Page Six report on Sept. 29 claimed the reclusive media mogul was "super sick" and had dropped to 90 pounds. Hefner -- who married third wife Crystal, 30, a former Playmate, in 2012 -- sold his famed Playboy Mansion for $100 million in August. The deal gave him the right to continue living there for the rest of his life. - The Hollywood Reporter, 10/1/16...... Tom Jones will be returning as a coach for the UK version of The Voice in ITV's reboot of the show, along with new coaches Gavin Rossdale and Jennifer Hudson. Jones, Rossdale and Hudson will be joining long-standing coach Will.i.am of the Black Eyed Peas on the singing talent show, after ITV bought the rights to the show beginning in 2017. Earlier in 2016, Sir Tom famously told the BBC to "go f--- themselves" when he was replaced by Boy George without consulting him -- slamming them for what he said was "sub-standard behaviour." - New Musical Express, 9/29/16...... A crowdfunded statue of late Motörhead frontman Lemmy Kilmister has been erected in his favorite bar in Hollywood -- the Rainbow Bar and Grill on the Sunset Strip. The crowdfunded effort to finance the statue was first announced in February, and a total of $23,000 was raised for a life-sized statue constructed by artist Travis Moore. Moore says the statue was modelled on a photograph taken by legendary rock photographer Robert John. Kilmister died in December 2015. - NME, 9/28/16...... Ozzy Osbourne's daughter Kelly Osbourne has settled a legal spat with an alleged former mistress of Ozzy's, hairdresser Michelle Pugh. Pugh had accused Kelly of "elder abuse" after it emerged she had conducted a four-year affair with rocker Ozzy behind his wife Sharon's back. The scandal rocked the Osbournes' marriage, led to a brief separation earlier in 2016, and resulted in Ozzy seeking therapy for sex addiction. Pugh claims she was targeted with abuse and became the victim of bullying after she was identified as the other woman in May. She initially filed papers in August, accusing Kelly of publicly disclosing "private facts" and causing "intentional infliction of emotional distress" to her on Twitter, but now her lawyer says the dispute has been "privately resolved." Sharon was asked about Kelly's actions on her TV show The Talk and she admitted she found Kelly's tweets about Pugh funny. She explained, "She loves her mom. She loves her dad so much... I'm always proud of my girl. What are you going to be mad (about)? She's an adult." - WENN.com 10/1/16...... Legendary guitarist Robin Trower launched a 13-date tour of the UK on Sept. 30 in Norwich. The "Bridge of Sighs" guitarist also visits Holmfirth (10/1), Manchester (10/6), Clitheroe (10/7), Chester (10/8), Gateshead (10/10), Glasgow (10/11), Stockton (10/12), Frome (10/14), Leamington (10/15), Exeter (10/16) and London (10/18) before wrapping in Brighton on Oct. 19. Trower is touring behind his 2016 release, Where You Are Going To, and the opening act on all dates is the Stevie Nimmo Band. - Noble PR, 9/30/16......
In a new interview with AARP magazine, actor Warren Beatty denies a claim by author Peter Biskind in his 2010 unauthorized Beatty biography that Beatty has bedded 12,775 women in his life. Although Bonnie and Clyde star once had a playboy reputation in the '60s and '70s, the 79-year-old Oscar winner told AARP it wouldn't have have been possible to reach that number. "Think about it, sleeping with 12,775 people? That would mean not just that there were multiple people a day, but that there was no repetition," he said. Beatty said while he may have been promiscuous in the past, he has never had an issue with any of his former lovers. "Look, I never misled anyone and... I'm a nice guy," he says. In 1992, the actor settled down after marrying actress Annette Bening, and the two have four children together. "I waited a long time to be married," he continues. "When you don't get married until you're 54... well, as (playwright) Arthur Miller said (in "Death of a Salesman"), 'It comes with the territory'." - WENN.com, 9/28/16...... Accomplished pop/country songwriter John D. Loudermilk, who penned The Raiders' 1971 No. 1 hit "Indian Reservation," passed away on Sept. 21 at the age of 82. Among Mr. Loudermilk's many other compositions that became big hits for a variety of artists are "Abilene" and "A Rose and a Baby Ruth" (George Hamilton IV), "Ebony Eyes" (The Everly Brothers), "Everything's Alright" (The Newbeats), "Norman" and "Paper Tiger" (Sue Thompson), "Talk Back Trembling Lips" (Johnny Tillotson), "Waterloo" (Stonewall Jackson) and "Tobacco Road" (The Nashville Teens)....... Conductor Neville Marriner, the founder of the London Orchestra, has died at 92. Mr. Marriner founded the Academy of St Martin in the Fields with the dream of creating a chamber ensemble, and started by having a group of friends gather to rehearse in his living room. The academy first performed at the London church on Trafalgar Square, which gave the ensemble its name, in 1959. The London Orchestra enjoys one of the largest discographies of any chamber orchestra worldwide. Mr. Marriner worked with orchestras around the world, and was appointed a Commander of the Order of the British Empire in 1979 and a Knight Bachelor in 1985. In 2015, he was made a Companion of Honour for his services to music. - AP, 10/2/16.
Wednesday, September 28, 2016
Bruce Springsteen held a book signing meet-and-greet at the Barnes & Noble in Freehold, N.J., on Sept. 27 for his new book Born to Run. Thousands of fans flocked to the location for a once-in-a-lifetime chance to meet the Boss and have their newly purchased book signed, which also guaranteed a spot in line for a selfie with the rock legend. Two-thousand tickets were sold through Eventbrite.com, but hundreds more showed up in the parking lot hoping for a picture and a glimpse of the hometown hero. "Hey, everybody! Let's get this started!," said Springsteen, who showed up around 10:20 a.m. dressed all in black with a leather jacket and motorcycle boots. The crowd then broke into an impromptu rendition of "Happy Birthday," as Springsteen, who turned 67 on Sept. 23, settled in for a marathon 5-hour book signing session -- one hour longer than his record four-hour concert. Springsteen's book tour continues at the Union Square Barnes & Noble on Sept. 28 in New York and at the Apple Store in SoHo. Meanwhile, in a new Rolling Stone interview, Springsteen branded Republican presidential candidate Donald Trump as a "moron" who has the United States of America "under siege." Asked what he thinks about Trump's meteoric rise in the world of American politics, Springsteen said: "Well, you know, the republic is under siege by a moron, basically. The whole thing is tragic. Without overstating it, it's a tragedy for our democracy... The ideas he's moving to the mainstream are all very dangerous ideas -- white nationalism and the alt-right movement." The musician went on to endorse Democratic candidate Hillary Clinton, saying: "I like Hillary. I think she would be a very, very good president." - Billboard/New Musical Express, 9/27/16......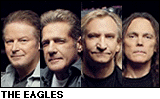 Speaking to The Mirror paper on Sept. 26, Don Henley said the Eagles could fly again following Glenn Frey's untimely death in March -- if Frey's son, 22-year-old Deacon Frey -- joins the group. "At some point in the future, we might work our way round to [reuniting]," the Eagles co-founder said. "You know, Glenn has a son who can sing and play quite well. And one of the only things that would make sense to me is if it were his son," Henley added. Deacon Frey often joined his dad onstage before Glenn's death. Henley still performs songs during his solo concerts that were written with Frey, such as "Desperado," but out of respect for Glenn, Don says he doesn't do songs that Frey sang lead vocals on. "I don't think that would be quite right, even if I co-wrote them. I'm just not doing it," he said. If the Eagles should reunite with Deacon Frey, Henley also raised the possibility of longtime band friend Jackson Browne, who jammed with the band during the Glenn Frey tribute at the Grammys in February, also performing with them. "With Jackson, of course, we could do 'Take It Easy' and a couple other things," said Henley, "but the only way I would consider any kind of reunion, I think, would be with Glenn's son, Deacon," he said. Meanwhile, a life-size bronse statue of Frey has been installed in the "Standing on the Corner" Park in Winslow, Ariz., alongside a previously installed statue that many feel looks like Jackson Browne. Two morning radio personalities from Phoenix classic rock station KSLX -- Mark Devine and Paul "NeanderPaul" Marshall -- helped fund the $22,000 Frey statue, along with the Standing on the Corner Foundation and the City of Winslow. The unveiling took place during Winslow's annual "Standing on the Corner" music festival on the fourth weekend of September. "We thought a statue would be a great way to pay tribute to his everlasting impact on Arizona's history," said Marshall. Browne and Frey co-wrote the Eagles' song "Take It Easy" in 1972 that included the lyric "standing on a corner in Winslow, Arizona." Shops around the Winslow park display Eagles tour posters and sell T-shirts, magnets and mugs depicting the hit song and its lyrics. - Billboard/AP, 9/27/16...... Speaking of the Eagles, Joe Walsh has just written and recorded a new song called "No Man's Land" about issues facing American military veterans of the current conflicts in the Middle East. "This is really a forgotten war over there," Walsh says. "There's not political candidate that has touched what we're doing over there. Nobody. It's not even talked about and it's not even in the media. Nowhere can you get a report on what's been going on or progress or even deaths or injuries or anything, and that's just not OK with me. And these guys are coming home either missing arms or legs or just completely shattered, mentally. And I see homeless vets and I go, 'That's not OK'." "No Man's Land" was recorded for a new documetary entitled Citizen Soldier, tells the story of the Oklahoma National Guard 45th Infantry Brigade Combat Team -- aka The Thunderbirds -- who were deployed to Afghanistan during the latest surge. Walsh was introduced to the film by one of its co-directors, Christian Tureud, and immediately volunteered to write "No Man's Land" after viewing some of the footage. "So that's what I wrote the song about -- 'We're out here in nowhere land, and the only way home is my brothers and my god and me," Walsh notes. "And the people that we're fighting have a God, and our Gods don't agree.' I just wanted to tell their story the way I saw it in the film." - Billboard, 9/26/16......

Fleetwood Mac vocalist/keyboardist Christine McVie has confirmed that Fleetwood Mac are working on a new album, and the band has already recorded seven tracks for it. "We cut seven songs in the studio already for the start of a brand-new studio album, which we did probably nearer two years ago," McVie told Rolling Stone. "We shelved that temporarily and then went on the road and did the tour. And now, actually, I think we're going back in, in October to try to finish it off. Stevie (Nicks) hasn't participated yet, but hope springs eternal. She's going on a solo tour at the moment." McVie added that she and Lindsey Buckingham have plenty of songs and there are "tons more in the bag that we have yet to record." "And they're fantastic," McVie adds. "So we're going to carry on and try to finish the record. And then maybe if Stevie doesn't want to be part of that then we can go out and just do some smaller concerts." Nicks has left the future of her participation in Fleetwood Mac uncertain, saying "It's like, do you want to take a chance of going in and setting up in a room for like a year [to record an album] and having a bunch of arguing people? And then not wanting to go on tour because you just spent a year arguing?" Fleetwood Mac's last studio album was 2003's Say You Will. Meanwhile, the band has just reissued its 1982 album, Mirage. which includes a three-CD and DVD set with a disc of B-sides, as well as a live collection culled from two nights at the LA Forum in Oct. 1982. - New Musical Express/Rolling Stone, 9/26/16...... Stevie Wonder is the latest celebrity to featured in PBS's animated Blank on Blank interview series. An animated Wonder discusess his childhood, his experience with racism, and his faith on the program installment that premiered on Sept. 27, just one day prior to the 40th anniversary release of his epic 18th studio album, Songs in the Keys of Life. Wonder says that after he grew up in a Pentecostal church, his decision to sing "worldy" music saw much criticism from his church members, but it wasn't enough to stop him from pursing his dreams. "If God didn't want me to sing it, he wouldn't have given me the talent to do it," he said. - Billboard, 9/27/16...... The Rolling Stones have announced they'll release Havana Moon, a concert of their 2016 show in Cuba, on CD, DVD and Blu-Ray on Nov. 11. A three LP vinyl set is also being released as is a special deluxe edition. Havana Moon was recently screened in cinemas for one night only, and is the band's official document of their historic outdoor Cuba show, which saw them perform to over 1.2 million fans in the Cuban capital, a place where rock concerts by foreign bands have long been prohibited. Havana Moon was directed by Paul Dugdale, who has previously made concert films for Adele and Coldplay. "The Cuba show was simply amazing," frontman Mick Jagger said as he announced the film earlier in the year. "It was an incredible moment; a huge sea of people for as far as the eye could see. You could feel the buzz of the enthusiasm from the crowd and that was for me the stand-out moment," he added. - NME, 9/27/16......

Kenny Rogers has told Billboard that he plans on retiring from music in 2017, and has no further plans to record or perform after the conclusion of his current tour. "I've done everything I set out to do," explained the 78-year-old Rogers, who began his music career back in 1958. "Every goal I've set, I've done that, and there's a point where you have to say, 'I've had my turn. Let someone else have it,' and that's kind of where I am. It's not that I dislike music; it's just that I can't keep doing this and do what I want to do, which is spend time with my family." Rogers also said he'd like to spend more time with his 12-year-old twins he has with his fifth wife, Wanda Miller. "My boys are playing football this year, and we went to watch a game and they were so excited about us being there, and that's the kind of thing that as a parent you want to be part of as much as you can," he said. Roger's now-farewell tour will conclude on Apr. 8, 2017 in Danville, Kentucky. He'll visit the UK and Ireland for the last time in November, including two dates at the London Palladium. - New Musical Express, 9/27/16...... Jann Wenner, the founder of Rolling Stone magazine, has announced he's selling a 49% stake in the magazine to BandLab, a digital music company owned by the son of Asian billionaire Kuok Khoon Hong. BandLab will run a new, Singapore-based international subsidiary that will focus on developing live events as well as looks for merchandising and hospitality opportunities in Asia. It will have no say in editorial content. Wenner's son and Rolling Stone digital manager, Gus Wenner, says they are hoping to take the Rolling Stone brand into "new and different areas and markets." "Long-term, my dad and myself recognize that in order to truly grow and truly transform the business," he said. Terms of the deal were not disclosed. - The Hollywood Reporter/Bloomberg News, 9/25/16...... Paul Simon was among the headliners for the "Global Citizen: The World On Stage" charity event at Jack H. Skirball Center for the Performing Arts on Sept. 22 in New York City. Simon also presented the inaugural George Harrison Global Citizen award to Olivia and Dhani Harrison (George's widow and son, respectively). Also performing were such artists as Kesha, Tom Morello, Warren Haynes and Regina Spektor, among others. Several speakers also addressed various causes in dire need of help and support -- such as the refugee crisis, education, poverty, hunger, and gender equality. - Billboard, 9/23/16......

Newly interviewed on the Australian version of the TV newsmagazine 60 Minutes, Olivia Newton-John said she's convinced her ex-lover Patrick McDermott is dead after he went missing during a fishing trip, despite reported sightings of him in Mexico. "It was very hard, he was lost at sea and nobody really knows what happened," said Newton-John ."It's human to wonder but, you know, those are the things in life you have to accept and let go. Because whenever you go through difficult times, there's always those concerns. I live on and of course questions come up, always, it's human," she added. Two detectives who attempted to track McDermott down believe he faked his own death to avoid a series of debts. The U.S. Coast Guard declared McDermott had "most likely drowned" when his boat disappeared off the coast of San Pedro, Calif., and Olivia says she chooses to agree with that. Newton-John, 68, dated cameraman McDermott on and off for nine years, following her divorce from Matt Lattanzi in 1995. She finally found love with John Easterling and the couple wed in 2008, three years after McDermott's disappearance. - WENN.com, 9/27/16...... The Beach Boys have announced they'll play two shows in the UK in 2017, at London's Royal Albert Hall on May 18 and 19. The concerts, which will not feature Brian Wilson, are so far the only Beach Boys concerts in the UK scheduled for 2017. The current BB line-up features Mike Love and Bruce Johnston, alongside "supporting musicians" John Cowsill, Tim Bonhomme, Randell Kirsch, Scott Totten and Love's son Christian Love. Al Jardine, a fellow member of the original line-up, left the band in 2012, the same time as Wilson. - NME, 9/27/16...... Kraftwerk have announced they'll kick off an 11-date tour of the UK in the summer of 2017 at Glasgow's Royal Concert Hall on June 9. It will mark Kraftwerk's first full tour of Britain since 2004, and feature the band's 3D concerts, which they first played in 2013 at New York's Museum Of Modern Art and have since performed at art galleries around the world. The tour will wrap at London's Royal Albert Hall with two nights on June 21 and 22. - NME, 9/26/16...... Guitarist Joe Bonamassa has added three dates to this April 2017 UK concert tour -- in Edinburgh (4/18), Blackpool (4/22/) and Sheffield (4/24). The shows are in addition to Bonomassa's previously announced concerts at London's Royal Albert Hall on Apr. 20 and 21. Bonamassa's 2017 tour follows hot on the heels of his critically acclaimed "Salute To The British Blues Explosion" tour of 2016 that saw the American guitarist paying homage to the music of Jeff Beck, Eric Clapton and Jimmy Page. - Noble PR, 9/26/16...... The Tubes have announced they'll embark on a 12-date UK tour this fall at London's Under the Bridge venue on Oct. 7. The San Francisco-based band's "Mondo Pulp Tour" will also hit such cities as Manchester (10/8), Bristol (10/11), Brighton (10/15), Southhampton (10/16) and Holmfirth (10/21) before wrapping in Glasgow on Oct. 22. "We're thrilled to be coming back to the country that started it all for us," says the Tubes frontman Fee Waybill. In 1977 The Tubes toured the UK, but many of their shows were banned due to British censorship. - Noble PR, 9/28/16...... Buckwheat Zydeco, an acclaimed accordion player who performed with the likes of Eric Clapton and U2 during an illustrious career in music, died on Sept. 24 from a battle with lung cancer. He was 68. Born Stanley Dural, Jr., the Lousiana-born Zydeco made his name performing with his band, Buckwheat Zydeco and Ils Sont Partis Band (though they later reverted to performing under Zydeco's name). Zydeco was invited by Clapton to open for him on his 1988 North American tour after earning rave reviews for his band's live shows. The year before, they'd signed to Island Records to release their first album on a major label, On A Night Like This. Zydeco released 25 albums across his career, while also collaborating with the likes of U2, Keith Richards and Paul Simon, often in the live arena. "I am grieving for my best friend and colleague of more than 30 years," his manager, Ted Fox, posted on Facebook. "Buck made everything and everyone he touched better and happier. RIP my dear friend, my brother." - NME, 9/26/16......

Arnold Palmer, the telegenic golfer known as the king of the sport and whose immense popularity drew a legion of fans known as "Arnie's Army" and helped propel the game just as television was coming of age, died in Pittsburgh on the morning of Sept. 25. He was 87. Along his way to becoming one of the sport's best players, Mr. Palmer also became a successful businessman, philanthropist, trailblazing advertising spokesman, talented golf course designer and experienced aviator. "We are deeply saddened by the death of Arnold Palmer, golf's greatest ambassador, at age 87," the U.S. Golf Association said in a statement. "Arnold Palmer will always be a champion, in every sense of the word. He inspired generations to love golf by sharing his competitive spirit, displaying sportsmanship, caring for golfers and golf fans, and serving as a lifelong ambassador for the sport. Our stories of him not only fill the pages of golf's history books and the walls of the museum, but also our own personal golf memories. The game is indeed better because of him, and in so many ways, will never be the same." Mr. Palmer also left his stamp on developing some 225 courses throughout the world, and was the first golfer to surpass $1 million in earnings. Mr. Palmer's appeal was so wide that he even gave origin to the "Arnold Palmer," a mixture of iced tea and lemonade that was one of his favorite drinks and is now available in grocery stores. Mr. Palmer was awarded the Presidential Medal of Freedom in 2004, and in 2012 he was honored with the Congressional Gold Medal. "The game has given so much to Arnold Palmer, but he has given back so much more," his close friend and fellow golfing legend Jack Nicklaus said. - USA Today, 9/26/16...... Grand Ole Opry star Jean Shepherd, one of country music's most colorful characters and beloved performers, died on Sept. 25 after an extended illness. She was 82. A fixture on the Opry stage for six decades, the Oklahoma-born and California-raised Ms. Shepard was also a member of the Country Music Hall of Fame, where she was inducted as a member in 2011. She started her musical career playing in an all-female group called The Melody Ranch Girls, who caught the eyes and ears of Capitol Records superstar Hank Thompson, who helped her sign with the label. Her first single, "Crying Steel Guitar Waltz," failed to chart, but she would soon pair with Ferlin Husky for the million-selling "A Dear John Letter." The record was a hit, topping the charts. Her other hits include "Second Fiddle (To An Old Guitar)," "If Teardrops Were Silver," and "A Tear Dropped By." She made a classic of Bill Anderson's "Slippin' Away" in 1973, and hit the Country Top 40 for the last time with her cover of Anderson's "The Tip of My Fingers" in 1975, peaking at No. 16. Her autobiography, Down Through The Years, was released in 2014, and she marked an amazing six decades as an Opry member in November 2015. - Billboard, 9/25/16.
Friday, September 23, 2016
In an essay on The Huffington Post on Sept. 22, Barbra Streisand pulled no punches about her distaste, and distrust, of Republican presidential candidate Donald Trump. "When a politician ends almost every sentence with 'believe me'... don't! He's probably lying," Streisand wrote in the essay entitled "Facts Matter." Streisand also quoted PolitiFact.com's 71 percent rating of Trump's comments as "false," "mostly false" or "pants on fire" as proof, she believes, that "the majority of the time that Trump speaks, he is not telling the truth." In her 1,200-word essay, Streisand also asked if facts matter to Trump and if they don't. "This should be profoundly unacceptable to the American people. Our country and its stability is on the line. Facts do matter!" The longtime liberal advocate has also taken to mocking "The Donald" frequently onstage recently, singing a parody of Stephen Sondheim's "Send in the Clowns" earlier in September at an LGBT fundraiser for Clinton, twisting the lyrics to take swipes at the billionaire real estate mogul. "Is he that rich? Maybe he's poor/ Till he reveals his returns, who can be sure?" she sang to the crowd of 1,000 supporters. - Billboard, 9/22/16...... In related news, Gene Simmons' son Nick Simmons has often demonstrated he's no fan of his father's tendency for making offensive statements, and in a recent interview with TMZ.com the younger Simmons described his dad as the "Donald Trump of rock." "He's the f---ing Donald Trump of rock. I can't take it anymore," Nick said. His statement came after Gene's statement on Sept. 19 that it's "time for America to embrace police profiling as a means to prevent terrorist attacks. - Billboard, 9/20/16......

Bruce Springsteen celebrated his 67th birthday on Sept. 23 with the release of Chapter and Verse, the "audio companion" to Springsteen's upcoming memoir, Born to Run. Before forming the E Street Band, Springsteen ruled Jersey bars with his early bands, the Castiles, Still Mill and the Bruce Springsteen Band. The highlight of Chapter and Verse: the Castiles' "Baby I," a jangly garage-rock kiss-off howled by a 16-year-old Springsteen, who was already showing he had wit to spare ("I got someone new/ Someone better than you," he shouts). The set, compiled by Springsteen, also includes 13 other songs, from a 1972 demo of "Growin' Up" to 2012's "Wrecking Ball." Chapter and Verse is available as a single CD and a double LP, with bonus lyrics and rare photos. Born to Run hits stores on Sept. 27. The musician participated in an illuminating interview on CBS Sunday Morning on Sept. 18 to help promote the new releases, in which he opened up about his drive, his father, and his bouts with depression. "I'm conditioned to do it from many, many years of experience," he said of his recent marathon performances in East Rutherford, N.J., and Philadelphia. "Don't try it at home, kids." - Rolling Stone/Billboard, 9/22/16...... A previously-unreleased David Bowie album called The Gouster is included in the just released Bowie box set Who Can I Be Now? 1974-76, and The Gouster can currently be streamed in its entirety on Spotify.com. The 7-track The Gouster was recorded by Bowie in 1974, and served as the basis for material that would make up his 1975 studio album, Young Americans. Meanwhile, a digitally restored 40th anniversary version of the 1976 Bowie cult sci-fi film The Man Who Fell to Earth is currently being screened in UK cinemas now. Directed by Nicolas Roeg, the film stars Bowie as Thomas Jerome Newton, an alien who crash lands on Earth. Tony Richmond, the original cinematographer behind the film, says it's "wonderful to see it again.. They did a fabulous job." Studiocanal are releasing the film on DVD and Blu-ray on Oct. 10 with a special collector's edition to follow. The soundtrack will be re-released on Sept. 23. - New Musical Express, 9/23/16...... In other Bowie-related news, a memorial plaque dedicated to the late music icon in Berlin, Germany has been stolen just three weeks after its unveiling. The plaque -- which quoted the late musician's lyrics from his hit 'Heroes': "We can be heroes, just for one day" -- was unveiled by the city's mayor in August at his former home from 1976 to 1978. German media reports that the theft, along with vandalism, took place on Sept. 17 and that police are now investigating the crime. Fortunately, it is also reported that the company that produced the plaque had multiple prints made in the event of damage or theft. - NME, 9/20/16......

The Kinks will release a 10-disc mono vinyl box set, The Mono Collection, on Nov. 18. Containing tracks recorded from 1964 to 1969, the set brings together the British Invasion act's first 8 albums in mono, along with the bonus double Kinks compilation album The Kinks (a.k.a. 'The Black Album'). A hardcover 48-page book including never-before-seen photos and new interviews with Ray Davies, Dave Davies and Mick Avory is also included. The 2016 Kinks-based musical "Sunny Afternoon" which tells the story of the band and includes the title song, "Waterloo Sunset" and "You Really Got Me," among others, has garnered a new generation of fans for the band. - NME, 9/20/16...... A new Elvis Presley limited TV series based on rock critic Dave Marsh's 1982 book Elvis is in the works at Weinstein Television. TWC struck a deal with Presley's estate that grants it the rights to Presley's extensive musical catalog and will also allow the production to be the first ever to shoot in Presley's Graceland mansion. The production also will have access to Elvis' cars, clothes and other items. Presley's ex-wife, Priscilla Presley, will executive produce the eight-to-10 part series with Jerry Schilling, Harvey Weinstein and David Glasser. "I'm a big fan of Harvey Weinstein's independent films," Priscilla Presley said on Sept. 21 in a statement. "I'm thrilled to have the opportunity to work with him on this show and tell the story of how Elvis changed the culture of music and initiated a revolution that changed the world." - The Hollywood Reporter, 9/22/16...... The Beatles have earned their 32nd Top 10 LP on the Billboard Hot 200 album chart with their latest release, Live at the Hollywood Bowl. Nielsen Music reports the album moved 36,000 equivalent album units for the week ending Sept. 15. Of that sum, 35,000 were in traditional album sales. Like its 1977 predecessor, The Beatles at the Hollywood Bowl, the release features songs from the Fab Four's three Hollywood Bowl performances in 1964 and 1965. The 1977 album peaked at No. 2 and eventually fell out of print. Only three other acts -- the Rolling Stones (a record 36), Barbra Streisand (34) and Frank Sinatra (32) -- have scored at least 30 Top 10 albums. Meanwhile, the Beatles' Apple Corps. has just announced DVD release details of the new Ron Howard-directed Beatles touring documentary, Eight Days a Week: The Touring Years. The film will be available on Nov. 18 on DVD and Blu-ray on a single disc, as well as in a two-disc set with extra features and a 64-page booklet. Eight Days a Week: The Touring Years premiered in theaters and on Hulu on Sept. 16. - Billboard, 9/19/16...... In other Beatles-related news, Ringo Starr released a video and a new song called "Now the Time Has Come" on Sept. 2 in celebration of the U.N.'s International Day of Peace. "I worked on this record with peace and love," Starr said. "It was a joy to be part of this project." The song is part of the social media #HugForPeace campaign to promote a day of non-violence through the peaceful act of hugging, and was co-written by Starr and producer Bruce Sugar, with vocals including Starr's All-Starr Band member Richard Page. - Billboard, 9/22/16...... Elsewhere on the Fab Four front, a custom-made suit of John Lennon's made by the band's tailor, Douglas Millings, is expected to bring as much as $65,000 (£50,000) when it's put up for auction by rrauction.com on Sept. 26 at the Royal Sonesta Hotel in Cambridge. The suit, one of many made by Millings for the band between 1962 and 1966, was later donated by Lennon to Madame Tussauds, with the permission for the waxwork museum to use it on a future exhibit. Also auctioned on the same day will be a signed Beatles postcard -- which includes the rare signature of fill-in Beatles drummer Jimmie Nicol -- and signed receipts by George Harrison, Ringo Starr and Pete Best from the Star Club days. - NME, 9/22/16......

Hours after formally announcing his retirement on Sept. 20, AC/DC bassist Cliff Williams took his final bow as the band wrapped its Rock or Bust World Tour in Philadelphia. Williams capped off a nearly 40-year tenure with the famous Aussie rockers, with founding guitarist Angus Young and stand-in singer Axl Rose giving Williams props during their closing number, For Those About to Rock (We Salute You)." "Ladies and gentlemen, Mr. Cliff Williams," Rose told the audience at the song's end. Then Young walked his longtime bandmate forward to the front of the stage to take one last bow. Earlier in the day, Williams, 66, announced he would be retiring in a video. "It's time for me to step out, that's all... It's just my time, I'm happy I just need family time, just chill out and not do this," he said. Williams joined AC/DC in 1977 as a replacement to original bassist Mark Evans. - Billboard, 9/21/16...... In a new interview with the British paper The Telegraph, Jimmy Page stated that Led Zeppelin "isn't done yet," and hinted that some new Zeppelin reissues could be on the way. "Led Zeppelin isn't done yet, quite clearly, because every year since 1968 there's been new fans," Page said. "The re-releases have more than doubled the amount of Led Zeppelin work out there. I wanted it done authoritatively, 'cause I was the one writing the stuff, I was the producer and mixer. I don't think it's any more weird than writing your autobiography," he added. Page also commented on why he thinks Led Zeppelin's music still stands today. "It was done with so much freedom and conviction by master musicians, that's why it has traveled over time," he said. "It was an extraordinary connection, the synergy within the band. There was an area of ESP between Robert Plant, John Paul Jones, John Bonham and myself." Page's interview comes on the heels of the newly-expanded Zeppelin album The Complete BBC Sessions, which was released on Sept. 16. - New Musical Express, 9/20/16...... Neil Young has released a new video for his song "Indian Givers," which includes footage from the protests surrounding the construction of the controversial Dakota Access oil pipeline. Young is also seen singing in his car during the video, with lyrics stating: "There's a battle raging on the sacred land/Our brothers and sisters have to take a stand/Against us now for what we all been doing/On the sacred land there's a battle brewing." In 2014, Young advocated against the Keystone XL pipeline with the song "Who's Gonna Stand Up?" on his Storytone album. He also hooked up with Willie Nelson that year for a concert in Nebraska against the expansion. - NME, 9/20/16...... A Prince tribute concert set for Oct. 13 at the Xcel Energy Center in St. Paul, Minn., has sold out immediately after tickets went on sale on Sept. 19. With tickets ranging from $19.99 to $152.50, the gig will be headlined by Stevie Wonder, Christina Aguilera, Chaka Khan, John Mayer and Tori Kelly, among others. - AP, 9/19/16...... Magnolia Pictures will release Danny Says, a documentary that chronicles the life of rock and roll music industry exec Danny Fields who was responsible for managing such acts as Iggy and the Stooges, MC5 and the Ramones, on Sept. 30. Fields, an incredibly influential force in the music industry, also collaborated with the likes of Alice Cooper, The Doors and Lou Reed, among others, and in the film Alice Cooper says "Danny was in the middle of it all... guys like Danny are always sort of in the wings, but they're always the most effective people." Named after the Ramones song, Danny Says will arrive in theaters, On Demand, iTunes and Amazon Video on Sept. 30. - Billboard, 9/22/16......

Singer/songwriter John Prine releases a new album, For Better or Worse, on Sept. 30, a sequel of sorts to his 1999 Grammy-nominated duets disc In Spite Of Ourselves. The first single, "Fifteen Years Ago," is a cover of a No. 1 country hit in 1970 for Conway Twitty. "It's a really good story song, which I've always been a sucker for," Prine says. Prine's collaborator on the track is country singer Lee Ann Womack, and Prine says "getting her to do it made it all the better, because her voice is just pure country." Meanwhile, Prine, Tom Waits and Tom Waits' wife Kathleen Brennan will be honored for their songwriting at The Song Lyrics of Literary Excellence Awards on Sept. 26 at the John F. Kennedy Presidential Library and Museum. The award has been bestowed biennially since 2012 by the New England chapter of the writer's group PEN. Organizers say the award is typically given to artists who have contributed definitive works to the American music canon. Elvis Costello will be the master of ceremonies at this year's event. - Billboard/AP, 9/19/16...... Rights for the Rolling Stones concert documentary Ole! Ole! Ole!: A Trip Across Latin America have been obtained by the subscription VOD platform CraveTV. As part of the deal, CraveTV also acquired the Stones' companion concert film, The Rolling Stones Havana Moon, a film based on the mega group's Havana show. CraveTV will stream Ole! Ole! Ole! from Oct. 14, with Havana Moon to follow with a Jan. 2017 launch. Meanwhile, Keith Richards has confirmed to Rolling Stone that the Stones are deep into making their first album since 2005's A Bigger Bang. "It was fun -- always is!" he says, describing a recent London session where they cut several songs in only two days. Richards has said the album will have "a lot of Chicago blues," including material by Little Walter and Howlin' Wolf. Eric Clapton even played on a couple of songs, which Richards said felt "like old times down in Richmond [London]," where both acts played the Crawdaddy Club in the Sixties. - Billboard/Rolling Stone, 9/18/16...... Bob Weir hasn't released a true solo album since 1978, but jamming with the National (who recently released an extensive Grateful Dead tribute album) at Weir's TRI Studios made him want to give his solo career another shot. Members of the National back him on Blue Mountain, out Sept. 30, which revisits his obsession with cowboys (evident in classics like "Mexicali Blues"). Highlights on the album, co-written with Josh Ritter, include "Ki-Yi Bossie," a campfire singalong with Ramblin' Jack Elliott. - Rolling Stone, 9/22/16......

At 71, Van Morrison says he makes records to please one person: himself. "If it's not interesting, then I don't do it," he says. Keep Me Singing, his first LP of new songs in four years, includes a swing intrumental, a tribute to hero Bobby "Blue" Bland, who died in 2013, and "Too Late," a doo-wop tune about making the most of one's limited time ("It's too late to start over again/ Can't complain," Morrison howls). It's the perfect mission statement of a rock star in twilight, though the song was written years ago. "I came across it in a notebook and thought, 'What happened to this one?'" he says. Keep Me Singing drops on Sept. 30. - Rolling Stone, 9/22/16...... A representative for Monty Python star Terry Jones confirmed on Sept. 22 that the actor has been diagnosed with dementia, and is no longer able to give interviews. The 74-year-old British funnyman who, alongside Michael Palin, John Cleese, Terry Gilliam, and Graham Chapman formed the iconic surreal comedy group, has been told by doctors he has primary progressive aphasia - a type of dementia affecting the brain's frontal lobe. It was recently announced that Jones would be honored with a lifetime achievement award at the upcoming British Academy of Film and Television Arts (BAFTA) Awards. Organizers are still hoping Jones will attend the event but it is thought he will be accompanied by a family representative and won't give a speech. - WENN.com, 9/23/16...... Actor Bill Murray of Saturday Night Live and Caddyshack fame has announced a new line of golf clothes. Murray's love of the Chicago Cubs baseball team reportedly served as the major inspiration behind the design of the new line -- despite the fact that the clothes have been designed to be worn on the golf course, rather than at the ballpark. The full line will go on sale on Murray's golf website, William Murray Golf, on Oct. 20. Murray is an avid golfer, often participating in celebrity golf tournaments. - NME, 9/22/16...... Jerry Corbetta, a legendary rock keyboardist best known for fronting the rock quartet Sugarloaf, has died at age 68. Formed in Denver, Sugarloaf charted two Billboard Top 10 hits in the '70s, including the No. 3 "Green-Eyed Lady" in 1970 and the No. 9 "Don't Call Us, We'll Call You" in 1975. Before founding Sugarloaf, Corbetta was connected to the Four Seasons for many years...... Actor James Westmoreland, known for appearing in such films as The Young Philadelphians, No Time for Sergeants and The Last Sunset, died on Sept. 14 in a hospital near his home in La Quinta, Calif. He was 80. Mr. Westmoreland also starred on the short-lived ABC Western series The Monroes In 1970, Mr. Westmoreland was married for 47 days to True Grit actress Kim Darby; they had known each other for about three weeks before they exchanged vows. - The Hollywood Reporter, 9/22/16...... Director Curtis Hanson, known for helming such films as Eminem's 2002 hip-hop drama 8 Mile as well as Losin' It, The River Wild, Wonder Boys and In Her Shoes, died on Sept. 20 of an apparent heart attack at his Hollywood Hills home. He was 71. Mr. Hanson also had screenwriting credits for such '70s films as The Dunwich Horror (1970), Sweet Kill (1972), The Silent Partner 1978, and The Little Dragons (1979). - The Hollywood Reporter, 9/20/16.
Sunday, September 18, 2016
Bruce Springsteen posted a new video of himself reading from his forthcoming book Born to Run on Sept. 13. "Writing prose has its own set of rules," Springsteen says in the clip. "It connects up to your musical rules but you got to create the music without the music. You gotta create momentum purely on the page." Springsteen added that writing a book differs from writing a song in that the songwriter has less time to make his or her point in a few verses. Springsteen received a reported $10 million advance from Simon & Schuster for Born to Run, which is out Sept. 27, and some publishing insiders are questioning whether the book can earn back the hefty advance, which could be the highest payout ever for a music memoir (the publisher declined to confirm the amount). While Keith Richards' bestselling 2010 memoir Life sold one million copies in its first year and earned back much of Richards' reported $7 million advance, Springsteen's book will be more introspective than your typical sex-and-drugs rock memoir: The only drugs he discusses at length are antidepressants. Meanwhile, Springsteen and his E Street Band have announced a tour of Australia and New Zealand which is set to kick off in January. At a Sept. 11 concert in Pittsburgh, the Boss dedicated a song to a fan who gave him a copy of the US constitution amended to mock Donald Trump. "It does say 'F--- Trump' on the front of it. And this next song was his request," Springsteen said. He then played "Long Walk Home" from his 2007 album Magic. - Billboard/NME, 9/13/16......
Hundreds of Rush fans attended a new art park named after Rush singer/bassist Geddy Lee and Rush guitarist Alex Lifeson on Sept. 16 in Toronto, Canada. The fans withstood a driving rainstorm for the official opening of the Lee-Lifeson Art Park, which has a giant likeness of Lee and Lifeson in mosaic tile, and includes a small outdoor stage and amphitheatre for acoustic performances and permanent interactive sculpture installations. The park is located in the Toronto neighborhood of North York where Lee and Lifeson both grew up and formed Rush in 1971. "We're obviously thrilled and amazed that someone would want to do something like this and put our names on it, and we're really happy for the community that there's some investment arts and leisure for this neighborhood," said Lee. "This park will still be here weeks after we're gone," added Lifeson. The idea for the 7000 sq. metre art park originated with Councillor John Fillon in 2012, who also came onstage to say a few words. Toronto mayor John Tory also gave the pair the Key to the City. - Billboard, 9/17/16...... Ozzy Osbourne's family has purchased an auction lot of early Black Sabbath memorabilia that was scheduled to be sold by the Sheffield Auction Gallery to prevent the items from reaching private hands. The gallery had been due to sell the memorabilia from the earliest days of the band, 1968-73, on Sept. 30 with the items expected to fetch as much as £3,000, but a spokesman for the gallery confirmed on Sept. 16 that Ozzy's family pre-empted the auction by buying all the items. Discovered in the 1980s by a Black Sabbath fan living in the Docklands area of East London when his flat was being renovated, the items included postcards sent from on tour to Osbourne's mother Lillian at her home in Birmingham, early publicity photos, tour flyers and posters plus handwritten lyrics for songs including "Changing Phases," which eventually became the song "Solitude" from Black Sabbath's 1971 album Masters Of Reality. The spokesman added that there had been a "huge amount of pre-auction interest" in the items, and did not disclose how much Osbourne's family paid for the items. Black Sabbath continue on their farewell tour, with their final show scheduled in their hometown of Birmingham, UK on Feb. 4. Meanwhile, Ozzy Osbourne's wife Sharon Osbourne revealed on Sept. 13 during her talk show The View that she had a "complete and utter breakdown" which forced her to take an emergency leave from the show in May 2015. "I woke up in Cedars-Sinai Hospital and for probably three days I knew nothing. "I couldn't think, I couldn't talk, I could do nothing. My brain just shut down on me," admitted Osbourne, 63. At the time, Sharon's doctors reported that she suffered from "extreme exhaustion" and believed she returned to work too soon after being treated earlier in the year for pneumonia. Sharon credited group therapy for helping her mental state because "there were several people suffering with what I was suffering." - New Musical Express/People.com, 9/16/16...... The Who's Pete Townshend has launched a line of guitar replicas modelled on the one which he famously smashed on stage in 1976 during a Who gig at the Boston Garden. Townshend smashed his original Les Paul Gold Top Deluxe before 15,000 fans at the show, with its shattered remnants now on display at London's Victoria & Albert Museum. Guitar manufacturer Gibson is selling just 150 copies of the "Pete Townshend Gold Top '76," inspired by a guitar Townshend regularly played in the 1970s and manufactured using the same vintage techniques. The new model includes a reference to the incident, with a "Break Here" sticker placed on the back of the guitar next to its eighth fret, where Townshend smashed the original. - NME, 9/15/16......
A release date has been confirmed by BMG Music for a new Lou Reed box set of albums recorded by Reed between 1972 and 1982. Lou Reed - The RCA & Arista Album Collection, Vol. 1 will be released on Oct. 7 in the US and Nov. 18 in the UK, after being intitally announced back in May. The set will be comprised of six early Reed albums -- all of which were remasted by Reed himself shortly before his death in 2013 -- and include Transformer (1972), Berlin (1973), Rock n Roll Animal (1974), Coney Island Baby (1975), Street Hassle (1978) and The Blue Mask (1982). All LPs will be housed in sleeves with original artwork, and the collection includes a 30-page book featuring previously unseen photos and memorabilia from Reed's personal archives, as well as added liner notes. "Lou put his heart into remastering these records," his widow Laurie Anderson said in a press release." "They are not smoothed out... They leap out at you with their original energy." - NME, 9/14/16...... As his 1966 album Sunshine Superman celebrates its 50th anniversary in 2016, pop legend Donovan performed at Carnegie's Zankel Hall in New York City on Sept. 15. Donovan, 70, revisited some of his less-heralded songs, including the the medieval "Guinevere" to the more modern "Jennifer Juniper." Donovan also shared the story of how he contributed key lyrics to the Beatles' "Yellow Submarine" and recalled the time a pre-stoner Graham Nash chided him for smoking weed backstage. "I lived it, and I barely believe it myself," he frequently ended his stories. - Billboard, 9/16/16...... Hip-hop musician Skepta has beaten out David Bowie's Blackstar for the UK's Mercury Prize for his fourth album, Konnichiwa. Skepta beat out competition from London bookies' favourite Bowie, whose final album Blackstar was nominated for a posthumous win, as well as albums from artists including Anohni, Radiohead and Savages. Musician Jarvis Cocker, who was among this year's judging panel, said that Bowie would have approved of panel's decision. "We as a jury decided that if David Bowie was looking down on the Hammersmith Apollo tonight if he would want the 2016 prize to go to Skepta," he told the audience during the Mercury Prize ceremony at the Hammersmith Apollo in London on Sept. 15. Established in 1992 and open to acts from Britain and Ireland, the Mercury Prize often favors the eclectic and obscure over better-known performers. In other Bowie-related news, Bowie's son Duncan Jones has confirmed on Twitter that there is no truth to recent reports that his dad's ashes were scattered at the The Temple of Black Rock City in Nevada during the week-long Burning Man gathering earlier in September. "That Burning Man thing? What people will do & say for attention never ceases to amaze me. Not true. Kind of a gross claim as well. *sigh*" Jones wrote. "...We all know if dad DID want his ashes scattered in front of strangers, it would be at the Skegness Butlins. ;)," he added. Bowie's estate has also confirmed that the Burning Man report, in which Bowie's godchild had been granted permission from Bowie's widow Inman had granted permission for a portion of Bowie's ashes to be scattered during the event, was false. - NME, 9/12/16...... Paul McCartney and Ringo Starr attended the world premiere of director Ron Howard's new Beatles documentary Eight Days a Week. in London on Sept. 15. A day earlier, McCartney, Starr and Howard participated in a live Facebook chat, with McCartney saying "In the cinema, we're going to be able to hear ourselves. We couldn't hear ourselves when we were live. So much screaming going on." McCartney added that Howard was a natural choice as the film's director. "Ron was going to do it because we loved his work as a Hollywood director. And we liked him as Richie in Happy Days as well." Among the revelations in the film are that John Lennon's apology for his "Beatles are Greater than Jesus" remark "made him sort of a broken man" and that the Beatles refused to play to segregated audiences. Meanwhile, a lawsuit has emerged over footage from the Beatles' 1965 Shea Stadium concert that is used in the film. On Sept. 12, Sid Bernstein Presents, LLC -- a company representing the late businessman who promoted the group's 1965 concert at New York's Shea Stadium -- filed lawsuit against two Beatles-related companies, Apple Corps Ltd. and Subafilms Limited. The lawsuit contends Sid Bernstein Presents is the rightful owner of the Shea Stadium footage, and claims infringement also occurred two decades ago when the Shea Stadium footage appeared in the 1995 docu-series The Beatles Anthology. The suit, filed in U.S. District Court in New York, says Bernstein, who died in 2013 at 95, produced the concert and hired the Beatles and the supporting acts to perform. - Billboard, 9/15/16......
Sting has made his first appearance in 12 years on Billboard's Adult Alternative Songs radio airplay chart with "I Can't Stop Thinking About You," the lead single from his Nov. 11 album 57th & 9th. The song debuted at No. 19 on the chart for the week ending Sept. 24, making it the former Police frontman's first entry on that chart since his 2004 song "Stolen Car (Take Me Dancing)," which bowed at No. 19. 57th & 9th is Sting's first rock-focused set since 2003's Sacred Love. - Billboard, 9/16/16...... Keith Richards, Robert Plant, Iggy Pop, Yoko Ono and Ringo Starr are among 175 artists who have joined "We Are Not Afraid," a global campaign aimed at raising funds for the refugee crisis and victims of religious and political violence. "We Are Not Afraid" takes its name from a song by Nigerian singer Majek Fashek, and its video is directed by former 10cc member Kevin Godley and features Richards, Plant, Pop, Ono and Starr as well as Debbie Harry and Buddy Guy It will be released on Sept. 29. Proceeds from the single will be donated to Human Rights Watch (HRW) and the International Rescue Committee (IRC). - New Musical Express, 9/14/16...... Stevie Wonder has been added to the lineup of a Prince tribute show which is set for St. Paul, Minn., on Oct. 13. Prince's family and organizers have announced the event will be held at the smaller Xcel Energy Center in St. Paul, after previously planning to hold it at the new NFL stadium in Prince's hometown of Minneapolis. The lineup also includes Christina Aguilera, Chaka Khan, John Mayer, Tori Kelly, Anita Baker, Doug E. Fresh, Luke James, Bilal and Mint Condition. Prince's inner circle will be represented by Morris Day & The Time, Judith Hill and Liv Warfield along with Prince's New Power Generation, led by Morris Hayes. Meanwhile, Prince's ex-wife Mayte Garcia has announced she will release an "intmate" memoir of her life with Prince called The Most Beautiful: My Life With Prince on Apr. 14, 2017, the one-year anniversary of Prince's death. - AP/Billboard, 9/15/16...... Songwriter Alan Cole filed a copyright infringement lawsuit in Pennsylvania federal court on Sept. 15 against late reggae legend Bob Marley's record company Tuff Gong Music. Cole claims he co-authored Marley's songs "War" and "Natty Dread," but just recently discovered he doesn't own the copyrights. In May, Cole hired a lawyer to help him transfer one half of his interest in "War" to the family of former Ethiopian Emperor Haile Selassie. That lawyer discovered Tuff Gong Music holds the copyright as the "employer for hire." "[Cole] was led to believe that the songs were being copyrighted for him by the record company," states the complaint. "[Cole] was never employed by Tuff Gong Music." Cole is suing Tuff Gong and the Island Def Jam Group, a division of Universal Music and successor in interest to the copyright, and is asking the court to declare that the label infringed on his copyrights. - The Hollywood Reporter, 9/16/16...... Stevie Nicks performed Fleetwood Mac's "Landslide" during the Sept. 14 episode of the TV series America's Got Talent. Grace VanderWaal, a 12-year-old finalist on the show, brought Nicks onstage after her performance, introducing her as "a true hero of inspiration." Nicks sang "Landslide" and told host Nick Cannon that young VanderWaal "has a bright future." - Billboard, 9/14/16......
A two-night tribute to Tom Petty dubbed Petty Fest was held at Hollywood's Fonda Theatre on Sept. 13 and 14. Described as a "40th anniversary celebration of Tom Petty & the Heartbreakers, performers included Norah Jones and comedian/actress Kristen Wiig, who dueted on Petty's pot-smoking-introvert anthem "You Don't Know How It Feels" and the more contemplative "Time to Move On." Jakob Dylan and Dhani Harrison reprised their fathers' roles in the Traveling Wilburys on "End of the Line," and the 30-song set was capped off with all the musicians covering Petty's "Free Fallin'." - Billboard, 9/14/16...... It has been revealed that guitarist Rick Parfitt of the British hard rock band Status Quo was declared clinically dead for several minutes when he suffered a heart attack after a gig in Turkey in June. Parfitt suffered a heart attack following the band's show at Expo 2016 in Antalya, Turkey, leading to him pulling out of the band's concerts for the rest of the year. Status Quo's manager Simon Porter says Parfitt is expected to make a full recovery, but might not be able to tour again as he wants to make his eight-year-old twin children Tommy and Lily his priority. "Rick may well have performed his last show with Quo, but no final decision will be made until next year. Regardless, it is his wish that the band continue to tour as planned and he will always be a part of Quo's numerous other off stage activities," Porter said. The collapse in June was Parfitt's fourth heart attack, after he had undergone a quadruple bypass following his first heart attack in 1997. Status Quo are continuing to tour with guest guitarists, and begin an 11-city UK tour on Dec. 8 in Nottingham. - NME, 9/15/16...... Brian Eno has launched a new interactive website to accompany his 2016 album The Ship. Eno describes the site as an "generative film" which explores the themes and music of the album, released in April on Warp Records. The project attempts to answer the question: "Does the machine intelligence produce a point of view independent of its makers or its viewers? Or are we -- human and machine -- ultimately co-creating new and unexpected meanings?" - NME, 9/15/16...... Actor James Stacy, best known for starring in the TV Western Laramie, died on Sept. 15 in Ventura, Calif. He was 79. Stacy's turbulent life included being married to actresses Connie Stevens and Kim Darby, becoming a double amputee after a motorcycle accident, and serving prison time for child molestation. Stacy's other TV credits included The Donna Reed Show, The Adventures of Ozzie & Harriet, Bonanza, Gunsmoke and Wiseguy. He also appeared as a wounded Vietnam vet in the film Just a Little Inconvenience opposite Barbara Hershey, hoping to encourage other amputees and persons with disabilities to fulfill their goals of living a full life. He was also nominated for an Emmy for a guest appearance on Cagney & Lacey. - Variety.com, 9/16/16.
Tuesday, September 13, 2016
Yusuf/Cat Stevens kicked off his 50th anniversary A Cat's Attic acoustic tour in Toronto, Canada on Sept. 12 at the Sony Centre for the Performing Arts. Yusuf, 68, appeared onstage in front of a backdrop depicting a moonlit skyline with London's Big Ben, the locale of many of the autobiographical songs he performed. He played more than 30 songs from his career, beginning with "Where Do the Children Play?" from 1970's Tea for the Tillerman, and "If You Want to Sing Out Sing Out," which first appeared in the 1971 film Harold & Maude. Yusuf skipped the 27 years he got out of the music business -- when he almost drowned, called out to God, and began his conversion to Islam and lifelong service to education and humanitarianism -- and suggested to learn more about that you'll have to read his 2014 memoir because "it's too long a story." A portion of ticket sales from Yusuf's tour, which continues for 11 more dates and celebrates the 50 years since his first hit "I Love My Dog," will be donated to UNICEF and International Rescue Committee to help child refugees through his charity Small Kindness. - Billboard, 9/13/16...... Queen played Israel for the first time in 40 years in Tel Aviv on Sept. 12, longer than current Queen touring vocalist Adam Lambert has been alive. Wearing a skintight leather getup and Robocop sunglasses, Lambert stood at the fore alongside his much older bandmates, founding guitarist Brian May and drummer Roger Taylor. Queen opened with the galloping "Seven Seas of Rhye," also including "Fat Bottom Girls," "Don't Stop Me Now," "Love of My Life," "Another One Bites the Dust" and "I Want it All" in the setlist. The band encored with "We Will Rock You" and "We Are the Champions" as confetti showered down. - Billboard, 9/13/16......
Former Michael Jackson choreographer Wade Robson has added new negligence claims against two companies formerly controlled by Jackson that he says fostered nearly a decade of sexual abuse. In the graphic new complaint filed on Sept. 12, Robson claims Jackson first sexually assaulted him when he was seven years old when his family was invited to stay at Neverland Ranch, where he slept in Jackson's bed while his family stayed in separate guest quarters. He describes sexual encounters ranging from French kissing to penetrative sex, and claims the abuse continued until he was 14, but became less frequent when he "began showing signs of puberty" and Jackson was "no longer as interested in him sexually." In July, Robson hired attorney Vince Finaldi to represent him in his trial against the Jackson estate, which is scheduled to get underway in March 2017. Finaldi seeks to add several negligence claims to the suit, arguing the MJJ companies "breached their duty to take reasonable protective measures to protect minor children in their charge." - The Hollywood Reporter, 9/13/16...... Stevie Nicks announced on Sept. 13 that she's planning to add a tribute to Prince to her upcoming 24K Gold Tour by performing their collaboration "Stand Back." Nicks says her 1983 hit single was inspired by her hearing Prince's "Little Red Corvette" on the radio during her honeymoon with Kim Anderson. Nicks said when she entered the studio to record the demo for "Stand Back," she called Prince and told him the story of how she wrote the song. Prince then came down to the studio and played synthesisers on the track, although he was initially uncredited. The two never performed the song together on-stage and Nicks previously said she was "heartbroken" that she missed the opportunity to do so when Prince died in April. Nicks also admitted the two disagreed on drug use, saying Prince "hated that I did drugs and that's probably why we didn't hang out more." Nicks will kick off her tour behind her 2014 album 24 Karat Gold: Songs From the Vault on Oct. 25 with opening act the Pretenders. - New Musical Express/AP, 9/13/16...... Jeff Lynne's ELO peformed three shows with an orchestra at the legendary Hollywood Bowl in Los Angeles over the second weekend in September. The three Hollywood Bowl shows constitute three-fifths of ELO's entire American tour, with the final two dates to follow at Radio City Music Hall in New York on Sept. 16 and 18. The 18-song setlist is essentially the same as what Lynne has been doing overseas without symphonic accompaniment, focusing mainly on the run of hits that began in America with "Can't Get It Out of My Head" in 1974. - Billboard, 9/11/16......
Appearing on the Fox News program Fox & Friends on Sept. 12, Wayne Newton said he agrees with those who are not pleased with the current protest by NFL players who are not standing for the playing of the national athem, and said they can "get the hell out" of the country if they are that unhappy. "I think every American has the right to do or say whatever freedom offers us. However, during a national anthem is not a time or a place to show that kind of thing," the iconic Las Vegas performer and "Daddy Don't You Walk So Fast" singer said. "I have no tolerance at all for it." San Francisco 49ers backup quarterback Colin Kaepernick made headlines after he didn't stand for the national anthem during preseason games. Kaepernick told reporters it was his way of protesting the injustice against minorities, stemming from more videos surfacing of unarmed African-American men being shot by white police officers. - The Hollywood Reporter, 9/13/16...... Jimmy Page has joined the lineup of guests for the new BBC2 series Later With Jools Holland. The Led Zeppelin guitarist will appear on the first episode, which also features Sting, Kings of Leon, Jack White, M83 and Banks. Page won't be performing on the show, instead he will discuss the newly-expanded Zeppelin album The Complete BBC Sessions, which drops. Sept. 16. The new season of Later With Jools Holland will be broadcast on BBC2 on Sept. 13 with a half-hour live segment, before the full hour-long pre-recorded version debuts on Sept. 16. - New Musical Expresss, 9/8/16...... Bruce Springsteen will once again be among the headliners for the upcoming Stand Up for Heroes benefit show at Madison Square Garden on Nov. 1, as he has done every year since the charity series began 10 years ago. Presented by the Bob Woodruff Foundation and the New York Comedy Festival, Stand Up for Heroes mixes music, comedy and an auction, and raises funds to support injured service members and their families. Also on the bill for this year's edition are comedians Jerry Seinfeld, Jon Stewart, Jim Gaffigan and Louis C.K.. The 2015 edition featuring Jon Stewart, Ray Romano and Seth Meyers raised $6.1 million and was the most successful year yet. - Billboard, 9/12/16...... In other Springsteen news, the Boss has announced he'll embark on a national book tour promoting his forthcoming biography, Born to Run, on Sept. 27 at the Barnes & Noble in Freehold, N.J. Springsteen will also visit various book stores and libraries in New York, Philadelphia, Seattle, Los Angeles, Portland, Ore., San Francisco and New York City before concluding in Boston at the Harvard Coop on Oct. 10. Born to Run drops on Sept. 27, and a companion album, Born to Run: Chapter and Verse, is due out on Sept. 23. - Billboard, 9/12/16......
ZZ Top released a new live album, Live: Greatest Hits from Around the World, on Sept. 9, a collection that features concert cuts from 13 cities on three continents. "I can't remember who came up with the different cities on different tours [idea] for different songs, but we thought that was kind of a tasty idea, so here it is," says ZZ Top bassist Dusty Hill. Hill adds that "playing live is the essence of what what we do." "I love recording and I love everything -- videos, everything like that -- but playing live is what does it for me. If we're off the road too long I start bugging all my friends; I've gotta find somebody to play for. So this was a fun project for me," Hill said. Hill adds the band is currently working on a ZZ Top documentary, with no release date yet determined. The group is also planning to release a new studio album to follow up 2012's Rick Rubin co-produced La Futura. - Billboard, 9/12/16...... The final recordings by David Bowie will be featured on a 2-disc release of cast recordings from the Bowie-inspired and created musical "Lazarus." Due Oct. 21, the first disc will include the New York cast versions of 18 Bowie songs -- all of which were recorded on Jan. 11, just hours after the icon died the previous night. The second disc will include Bowie's final studio recordings in the form of three previously unreleased songs -- "No Plan," "Killing A Little Time," and "When I Met You." Meanwhile, there are reports that Bowie's ashes have been scattered at The Temple of Black Rock City, the temporary community set up in Black Rock Desert for Burning Man in Nevada. According to sources close to Bowie, the late rock icon and his godchild "had long talks about Burning Man and what it stands for, and David loved the message behind it." Bowie was purportedly commemorated by 70 people at The Temple of Black Rock City, which was put up for attendees to pay respects to their loved ones and at the end of the week is burned to the ground. In more Bowie-related news, his widow Iman made her first public appearance since her husband's death in January on Sept. 7 at designer Tom Ford's New York Fashion Week show. Iman posted a picture of herself getting ready on Instagram with the caption "My first night out attending an event since last year!" The musician and Iman were married from 1992 until his death. - Billboard/New Musical Express, 9/12/16...... Taking the stage at the "LGBT for Hillary Clinton" event in New York on Sept. 9, Barbra Streisand sang rewritten lyrics for the Stephen Sondheim ballad "Send in the Clowns" to zing Republican presidential nominee Donald Trump. "Is he that rich? Maybe he's poor," Streisand sang. "Something's amiss, I don't approve. If he were running the free world, where would we move?" Streisand also praised Clinton, her longtime pal. "Hillary's kind, smart, that is clear," Streisand continued. "While she is giving us hope, Trump is selling us fear!" Later in the song, she blasted Trump as a "sad, vulgar clown." The tune was part of Streisand's intimate, seven-song set at the event, which was held at Cipriani Wall Street in New York. In other Streisand news, the diva has been tapped to chair the New World Trade Center Arts Center in New York. Streisand will serve as board chair of the Ronald O. Perelman Performing Arts Center that will be dedicated to producing new works and serving as a public space, officials announced on Sept. 9. Located between One World Trade Center and the memorial plaza, the cube-shaped center will aim to both commemorate the Sept. 11 tragedy and reflect the vitality of New York City. The center also will be home to the Tribeca Film Festival. - The Huffington Post/AP, 9/11/16......

A musical based on the life and music of '70s disco queen Donna Summer is in the works. The project is being brought to Broadway by some of the talent behind hit shows like "Jersey Boys" and "Hamilton." A workshop of early parts of the show was staged in New York recently, with the part of Summer played by Ariana DeBose, who has previously appeared in both "Hamilton" and Broadway musical "Motown." Two more actors will portray Summer at different stages of her life: through childhood, superstardom during disco's heyday and in her later years. Summer, who was born in Boston in 1948, died in Naples, Florida in 2012 of lung cancer at age 63. - NME, 9/8/16...... In related news, Summer's producer Giorgio Moroder brought back the days of disco at an "I Feel Love" immersive event in Brooklyn on Sept. 8 and 9. "I grew up on their music and Donna Summer in South Africa," said original Village People cowboy Randy Jones. "It made me gay." Moroder took over the DJ booth at 11:30 p.m. and immediately went into Summer's orgiastic "Love to Love You Baby," followed by her dramatic "MacArthur Park," plus "Take My Breath Away," the 1986 Berlin song Moroder won an Oscar for co-writing. "Disco music is perfect," said Moroder between spins. "It's beautiful. I love it!" - Billboard, 9/10/16...... As a Ron Howard-directed movie about Beatlemania, Eight Days a Week: The Beatles Touring Years, premieres in theaters nationwide on Sept. 16, Howard, Ringo Starr and Paul McCartneyrecently participated in a press conference about the new film. Starr said he first met Howard in the '70s, "when he was a lad and I was a lad." Howard said Starr and Who drummer Keith Moon "wandered onto the Happy Days set... I'm not kidding. Everything stopped and the assistant director tried to keep rehearsal going, but [co-star] Henry Winkler and I said [to the AD], "Get the f-- out of here! We'll catch up later!" Eight Days a Week arrives in 80 theaters for one-night-only sneak peek on Sept. 15, followed by a full-week engagement in 50 theaters starting Sept. 16. A companion album, The Beatles: Live at the Hollywood Bowl, which captures the group's 1964 and 1965 performances at the legendary venue, dropped on Sept. 9. - Billboard, 9/9/16...... Folk-rock legend Donovan will become the third recipient of the John Lennon Real Love Award at the 36th annual John Lennon Tribute Concert to be held on Dec. 2 at Symphony Space in New York City, the event's non-profit sponsor Theatre Within announced on Sept. 8. Donovan, who accompanied the Beatles on a trip to India in 1968 and composed songs there, will perform a set of Beatles songs and his own at the concert and dedicate them to Lennon. Donovan's body of work speaks for itself. It's seminal and beloved by fans and fellow artists," Joe Raiola, executive producer and artistic director of Theatre Within's Annual John Lennon Tribute, says. "Donovan is a beautiful soul who was positively influenced by John," Lennon's widow Yoko Ono said in a statement. "I think it is lovely that Theatre Within is honoring him with the 'John Lennon Real Love Award' and that the Tribute continues to flourish." - Billboard, 9/8/16...... With its shag carpeting, Polynesian flair and indoor waterfall, the "Jungle Room" in Elvis Presley's Graceland den epitomized the kitsch excess of the King's declining years. It was also the unlikely birthplace of his final recordings, showcased in the new RCA/Legacy reissue Way Down in the Jungle. This is a chance to eavesdrop on a troubled icon pulling himself together for a final sprint. Obviously, there's some schlock (his version of Neil Sedaka's "Solitaire"). But when he glides through Johnny Ace's 1954 R&B classic "Pledging My Love," his innate Elvis-ness is as seductive as ever. - Rolling Stone, 9/8/16...... Wayne Kramer of the seminal Detroit-based punk band MC5 was among the headliners at the Prison Reform and the Jail Guitar Doors Benefit in Los Angeles on Sept. 9. "I'm a returned citizen," Kramer says, "I served a federal prison term." In 1974 the Detroit native was part of a drug sting, supposedly the result of his and his bandmates' connections to political activism the White Panther party, by the federal government, which resulted in a four-year prison term. Kramer says the prison term he received for procuring a pound-and-a-half of cocaine for an informant with a briefcase full of of $100 bills would have ended with a life sentence today. Also performing were Shooter Jennings, Marshall Crenshaw, Jill Sobule, Keith Morris and Don Was, among others. - Billboard, 9/9/16......
Rhino Records will reissue a 2-CD remastered version of Bette Midler's classic 1972 Grammy-winning debut album The Divine Miss M on Oct. 21. The special edition includes the remastered album, a bonus disc of singles, outtakes, demos and new liner notes written by Midler. A digital version will also be available, as well as a 1-LP vinyl format with the remastered original album (co-produced by Barry Manilow) and original album artwork. In addition to the top 40 hits "Do You Want to Dance" and "Friends" and the Top 10 hit "Boogie Woogie Bugle Boy," the second disc has nine additional tracks including the single mixes for "Friends" and "Chapel of Love" and a version of "Do You Want to Dance" mixed by album co-producer Joel Dorn. Midler has been tapped to serve as a mentor on the upcoming 11th season of NBC's The Voice. - Billboard, 9/9/16...... Former Saturday Night Live star Chevy Chase has reportedly entered rehab as an in-patient at Hazelden Addiction Treatment Center in Minnesota -- the same place his longtime pal Robin Williams was treated in 2014. A rep for Chase said the 72-year-old comidean is seeking a "tune-up" for an alcohol-related problem. In the 1980s, Chase checked into the Betty Ford Clinic in California, and Jan. 1995 was convicted of drunk driving in Beverly Hills. Chase is set to appear in two upcoming movies, Dog Years and The Christmas Apprentice, while he and his Vacation co-star Beverly D'Angelo are in talks to play retired characters who have to give up their comfortable lives and raise their grandchildren in a new TV comedy. - WENN.com, 9/6/16...... Ska pioneer and Jamaican music legend Prince Buster died in a Miami hospital on Sept. 8 after suffering a stroke. He was 78. Born Cecil Bustamante Campbell in Kingston, Jamaica, in 1938, Prince Buster became one of the island's most revered musicians, performing and producing popular ska bands in the 1960s including The Vikings and the Folkes Brothers. A prolific musician, he recorded thousands of records, including such hits as "Al Capone," and "Judge Dread." He helped ignite the ska movement in England and later helped carry it into the rocksteady era in the mid-1960s. During a ska revival in the late 1970s, a group of British musicians named their band Madness after one of his hit songs and also covered his song "One Step Beyond" in 1979. Prince Buster couldn't walk after a massive stroke in 2009, but he could still communicate and travel. - AP, 9/9/16.
Thursday, Sept. 8, 2016
Bruce Springsteen played his longest U.S. concert in history in Philadelphia on Sept. 7. At 4 hours and 4 minutes and 34 songs played, the show at Citizens Bank Park surpassed the previous U.S. record set only eight days earlier at MetLife Stadium in East Rutherford, N.J., on Aug. 30 (a 2012 set in Helsinki, Finland, still holds the world record at 4:06). Springsteen and his E Street Band treated the Philly crowd to an early 10-song set that focused primarily on his first two albums, Greetings From Asbury Park, N.J. and The Wild, the Innocent & the E Street Shuffle, and he also included his Academy Award-winning song, "The Streets of Philadelphia." Meanwhile, as he prepares to release his anxiously awaited autobiography Born to Run on Sept. 27, Springsteen has given a new interview to Vanity Fair magazine, opening up about his complex relationship with his late father, his own struggles with depression, and his next album, which he says is completely finished. - Billboard, 9/8/16......
A huge 26-by-15 foot iron sculpture created by Bob Dylan will be unveiled by the iconic singer/songwriter at the entrance of the new $1.3 billion MGM National Harbor resort casino in Prince's County, Maryland, when the casino opens later in 2016. Titled "Portal," the sculpture will be Dylan's first permanent piece to be displayed in a public space. Dylan reportedly fashioned the sculpture with hand-selected found objects, including farm equipment, kitchen utensils and tools. Creating sculptures out of pieces of iron and other metals has been one of Dylan's hobbies for the past 30 years, but only in 2013, at the Halcyon Gallery in London, did he exhibit his first metalwork, called "Moodswings," publicly. "I've been around iron all my life ever since I was a kid. I was born and raised in iron ore country -- where you could breathe it and smell it every day," Dylan said at the time. "And I've always worked with it in one form or another," he added. - New Musical Express, 9/7/16...... The first three of a planned 11-LP reissue series of all of Yoko Ono's albums will hit stores on Nov. 11 via Secretly Canadian and Chimera Music. Unfinished Music No. 1: Two Virgins (1968), Unfinished Music No. 2: Life With Lions (1969), and Plastic Ono Band (1970) will all include bonus tracks and feature the original vinyl packaging with never-before-seen photos. The vinyl was re-mastered from the original tapes by mastering engineer Greg Calbi, who worked with John Lennon, and musician Sean Lennon, her son. The reissue series will also be available, for the first time ever, for digital download. - Billboard, 9/7/16...... A tribute concert to late blues icon B.B. King was held at the Wallis Annenberg Center for the Performing Arts in Beverly Hills, Calif., on Sept. 1. "Icon: The Life and Legacy of B.B. King" featured performances from such diverse acts as Slash, Kenny Wayne Shepherd, Keb' Mo', Jimmie Vaughan, Joe Bonamassa, Bobby Bland, Susan Tedeschi and Derek Trucks. "B.B. gave me inspiration, friendship, advice and the stage," said Joe Bonamassa, who opened for King at the age of 8. "If it wasn't for him, I wouldn't be standing here." Also sharing reflections via video were Eric Clapton, Bonnie Raitt and Buddy Guy. Proceeds from the event support the Grammy Foundation and Grammy Museum, two charitable organizations of The Recording Academy. - Billboard, 9/2/16......
Meat Loaf's classic 1977 rock opera Bat Out of Hell is being adapted into a musical for the U.K. stage, with previews set to begin on Feb. 17, 2017 at Manchester Opera House. Scripted by Jim Steinman, who also wrote all the songs on the LP, the storyline of "Bat Out of Hell: The Musical" is described in a press release as "a romantic adventure about rebellious youth and passionate love, set against the backdrop of a post-cataclysmic city adrift from the mainland." "Bat Out of Hell: The Musical" coincides with the 40th anniversary of the release of the 1977 album, and is being produced by David Sonenberg, Michael Cohl, Randy Lennox and Tony Smith. After its U.K. run it will eventually play Canada. Bat Out of Hell has been certified as selling 14 million copies in the U.S. by the R.I.A.A., and according to Neilsen Music, has sold an additional 5.2 million units since 1991. Although Meat Loaf is not directly involved in the new production, he praised his longtime collaborator Steinman. "He and I have been friends and worked together for over 40 years so it's incredible for me to see his dream of over 50 years finally come to fruition," Meat Loaf said. The singer's next LP, Braver Than We Are, hits stores in the U.S. on Sept. 16 and Sept. 9 in Europe. All the songs were written by Steinman. - Billboard, 9/6/16...... Queen guitarist Brian May, who is also an astrophysicist, has announced in a new video that an asteroid discovered in 1991 orbiting betwen Mars and Jupiter will be named after his late bandmate, Queen frontman Freddie Mercury. "I'm happy to be able to announce that the International Astronomical Union's Minor Planet Center has today designated Asteroid 17473, discovered 1991, in Freddie's name, timed to honor his 70th Birthday," May said. "Henceforth this object will be known as Asteroid 17473 Freddiemercury." May says that you "need a pretty decent telescope" to see the heavenly body. "It's just a dot of light but it's a very special dot of light and maybe one day we'll get there," May said. - NME, 9/5/16......
Stevie Nicks announced on Sept. 6 that she'll kick off a new 27-date leg on her 24 Karat Gold Tour on Sept. 25 in Phoenix, Ariz. With opening act the Pretenders, Nicks will also visit Denver (9/27), Houston (9/29) and Dallas (9/30) in September. After taking October off, the tour picks up in Tampa, Fla., on Nov. 2 for shows in major U.S. and Canadian cities before wrapping on Dec. 18 at The Forum in Inglewood, Calif. Meanwhile, in a new interview with the New York TImes, the singer admitted that she regrets doing so many drugs during her career. "Yes, it (doing drugs) was a lot of fun between 1975 and 1990 - until it wasn't," Nicks recalled. "I walk onstage every night now and do a three-hour show with Fleetwood Mac, and I have a great time up there. I wish I had known that I actually had the energy to do this entire set totally sober and get just as excited. On one hand, that makes me feel great and on the other it makes me sad that I ever did my first line of coke," she added. - Billboard/New Musical Express, 9/6/16...... Former Deep Purple singer Glenn Hughes will release his twelfth solo album, Resonate, on Nov. 4 in the U.K. via Frontiers Music Srl. The album dovetails Hughes' UK and European tour with special guests Living Colour, which kicks off in the UK on Nov. 8 in Leamington Spa. Resonate is Hughes' first solo album in over 8 years and features his live solo band members, in addition to his longtime friend and drummer Chad Smith of Red Hot Chili Peppers. The new album will be available in two configurations: regular CD and Deluxe Edition including one bonus track and DVD. Vinyl release will be made available via the Frontiers' label partners Soulfood Music. - Noble PR 9/8/16...... Some diehard fans of Michael Jackson are claiming the singer is still alive after spotting what they believe to be the King of Pop in a selfie taken by his daughter, Paris Jackson, in May and posted on Instagram. In the photo, Paris is pictured sitting beside a pile of clothes on the passenger seat next to her. But now, some fans of Jackson maintain the clothes are the late singer in disguise. The rumours surrounding the photo have intensified after Jackson's 19-year-old son Prince Jackson recently wrote a poem in honour of his late father. Its lines include: "To many he is a king/To me a man/All he inspires/To lead a noble cause/Everyone is family, not a fan even while receiving thunderous applause." Jackson died in 2009, when Paris was 11. Taken while Paris was travelling around the Joshua Tree in California, the photo is captioned: "If you give a little love, you get a little love of your own." - NME, 9/5/16......
Barbra Streisand has earned her 11th No. 1 album on the Billbaord Hot 200 album chart with her latest release, Encore: Movie Partners Sing Broadway. The LP extends the diva's record for the most Billboard No. 1 albums among women artists, and ties her with Bruce Springsteen for the the third-most among all acts. Only the Beatles have more No. 1 albums in the U.S., with a record 19 chart-toppers. Released Aug. 26 through Columbia, Encore is an all-star collaborative affair, and pairs Streisand with a range of actors -- including Anne Hathaway, Daisy Ridley, Jamie Foxx and Melissa McCarthey -- to cover songs from Broadway. - Billboard, 9/4/16...... Country music legend Loretta Lynn has postponed shows after suffering injuries in a fall that will require minor surgery. In a statement posted on her website on Sept. 7, the 84-year-old singer/songwriter's injuries were described as not serious, but her doctors have advised her to stay off the road until she's made a full recovery. Lynn was forced to cancel a Labor Day weekend show at her home in Hurricane Mills, Tenn., and three upcoming shows in September have been postponed. Lynn released her latest album, Full Circle, earlier in 2016, and she continues to tour regularly. - AP, 9/7/16...... Jerry Heller, known for being NWA's original manager and before that a successful tour promoter for such acts as Elton John, The Who and Kraftwerk, passed away at Los Robles Hospital in Thousand Oaks, Calif. on Sept. 2 after suffering a heart attack. He was 75. In the '60s and '70s, Heller worked as an agent for numerous artists Marvin Gaye, ELO, Journey and Creedence Clearwater Revival, while also promoting the first US tours by Elton John, Kraftwerk and Pink Floyd. Heller later helped to accelerate the rise of NWA and the gangsta-rap movement as the group's original manager, and co-founded the highly influential Ruthless Records with group member Eazy-E. In 2015, Heller filed a defamation lawsuit last year over the way he was portrayed in the hit NWA biopic Straight Outta Compton. He was played by Paul Giamatti in the acclaimed film. In 2006, he published his autobiography, Ruthless: A Memoir, written with Gil Reavill. - NME, 9/3/16......
Veteran actor Hugh O'Brian, best known for starring in the long-running TV western The Life and Legend of Wyatt Earp, died of natural causes in his home in Beverly Hills, Calif., on Sept. 5. He was 91. The ABC Western The Life and Legend of Wyatt Earp, in which the exceedingly handsome, muscular O'Brian starred as the title character, ran for 221 episodes from 1955-61. At the time he was one of television's great male sex symbols. In 1957, Mr. O'Brian was nominated for an Emmy for best continuing performance by an actor in a dramatic series for his work on the series. Mr. O'Brian also dedicated a great deal of his life to a charitable effort he created himself in 1958, the Hugh O'Brian Youth Leadership Foundation, a nonprofit youth leadership development program for high schoolers. The organization sponsors 10,000 high school sophomores annually through leadership programs in all 50 states and 20 countries. He is survived by his wife, the former Virginia Barber, whom he married in 2006 at the age of 81. - Variety, 9/5/16...... Outspoken conservative activist Phyllis Schafly, who helped defeat the Equal Rights Amendment in the 1970s and founded the Eagle Forum political group, died on Sept. 5 at her St. Louis home after a battle with cancer. She was 92. Mrs. Schlafly rose to national attention in 1964 with her self-published book, A Choice Not an Echo, that became a manifesto for the far right. It chronicled the history of the Republican National Convention, sold three million copies and helped conservative Arizona Sen. Barry Goldwater earn the 1964 GOP nomination. Although she earned master's and law degrees, she once said perhaps her greatest legacy was the ultraconservative Eagle Forum, which she founded in suburban St. Louis in 1972. - AP, 9/5/16.
Saturday, Sept. 3, 2016
Former AC/DC drummer Phil Rudd has completed his eight months of home detention on threatening-to-kill charges in 2015, and in a new interview with the New Zealand Herald he says his recovery from recent heart attack is more important than returning to AC/DC. "I was just at home walking around at home, and I started feel, well just funny I had a strange pain in my chest," the 62-year-old musician said. "So my housekeeper took me to the hospital, when they hooked me up and did all these tests turned out I had a big heart attack... my artery was all blocked up, and they said I had to stay in and have an operation." After receiving treatment, Rudd is now out of the hospital and says he's "ready to rock." Although Rudd says he isn't exactly yearning to rejoin the band, he's leaving the door open. "If Angus [Young] wanted me to play then that is up to him," Rudd said. "But I don't really want to play with Axl Rose... I don't really rate him," he added. Instead, Rudd says he plans to spend time re-releasing and touring behind his 2014 solo album, Head Job, and teaching a drumming master class at Paul McCartney's Liverpool Institute of Performing Arts. Meanwhile, the Rudd-less version of AC/DC continues its US tour through Sept. 20. - Billboard, 9/1/16......
The first UK home of late Queen frontman Freddie Mercury has been decorated with an English Heritage Blue Plaque in the singer's honor. Mercury's parents moved into the terrace house in Feltham, West London when they emigrated to the UK from Zanzibar in 1964. Mercury's sister Kasmira Cooke, who was on hand for the unveiling, said that "Secretly he would have been very proud and pleased too." Queen guitarist Brian May, also in attendance, said: "It was here that I first visited Freddie soon after we had met through a mutual friend. We spent most of the day appreciating and analysing in intimate detail the way that Jimi Hendrix had put his recordings together in the studio -- listening to Hendrix on vinyl played on Freddie's Dansette record player -- which had stereo speakers on opposite sides of the box!" The performer was also hailed by UK Secretary of State for Culture Karen Bradley, who called him a "global icon whose music touched the lives of millions of people around the world." Mercury, who passed away in 1991, would have celebrated his 70th birthday on Sept. 5. - New Musical Express, 9/1/16...... Barbra Streisand has hit the top of the charts in England for the seventh time in her 50-year career with her new duets album Encore - Movie Partners Sing Broadway. The diva previously reached the top in the UK with her A Star Is Born, Greatest Hits Vol . 2, Guilty, Love Songs, The Essential Barbra Streisand and, most recently, Love Is the Answer in 2009. Only Madonna, with 12 chart-toppers, has more UK No. 1 LPs than Streisand. - Billboard, 9/2/16...... The city council of Foxborough, Mass., has voted to extend the city's concert curfew by 15 minutes -- from 11:15 p.m. to 11:30 p.m. -- to accomodate the upcoming Bruce Springsteen and the E Street Band show at Gillette Stadium on Sept. 14. A spokesman for the venue said Springsteen, who has been playing 3 1/2 to 4 -hour sets on his current "The River Tour," has played Gillette twice before with no issues. Foxborough is the last stop on the US leg of the tour, which began in January. Meanwhile, Springsteen and the band have played another marathon 4:01 concert in East Rutherford, N.J. on Aug. 30 which should become their longest ever US concert. The 34-song concert shattered records from shows at the same venue on Aug. 23 and Aug. 25. The record for the longest E Street Band show, 4 hours and 6 minutes, was set in 2012 in Helsinki, Finland. At the finale, Springsteen told the crowd that the three-night stand was the most fun the group ever had at the Meadowlands, and he concluded his 9 encores with "Jersey Girls" as the sky ignited with fireworks. - AP/Billboard, 9/2/16...... In more Springsteen-related news, the rocker has shared what he says was the hardest part of writing his autobiography, Born to Run, in a new video on his official website. "The hardest part was the third [part of the] book where you had to write about the present, because it's all people you are living with in your life today," he says. "That was the most challenging part. Stuff that was in the past, [it] just felt like you had a lot of freedom there." Born to Run is due Sept. 27. - Billboard, 9/1/16......
Beach Boys singer Mike Love's upcoming memoir includes detals of the band's brief relationship with cult leader Charles Manson in the late 1960s. Love reportedly writes that Manson and his followers moved in with bandmate Dennis Wilson in 1968, a little more than a year before Manson's cult killed seven people, including actress Sharon Tate. Love recalled one occasion when he was at the house with another Beach Boy, Bruce Johnston, when Manson handed out LSD and was "orchestrating sex partners" for some of his female followers. When Love tried to bow out of the situation Manson, according to Love, told him "you can't leave the group." Love's autobiography, Good VIbrations: My Life as a Beach Boy, is due Oct. 19. - AP, 9/1/16...... Original Black Sabbath drummer Bill Ward has responded to Black Sabbath frontman Ozzy Osbourne's recent claims that he contacted Ward about joining the band's farewell tour. Posting on Facebook on Sept. 1, Ward said that "Ozzy has never reached out since January 26/27 2012 when he called to see when I would be arriving in the UK to join rehearsals for the 13 CD. Since that last phone call, he has never reached out to me, and I have not reached out to him." Ward's post was in response to a new interview Ozzy did with Rolling Stone magazine, in which he was asked if he'd consider having Ward join the band for their final concerts ever in their hometown of Birmingham in Feb. 2017. "I don't know. Every time I reach out to Bill I get yelled at for something. If something can be worked out, great," Ozzy said. "[Touring drummer] Tommy [Clufetos] is doing a great job I'm sad that Bill never came through," he added. Ward, who left the band in 2012, has cited what he considers to be an unfair contract as a reason to stay away. "The contract was impossible to sign," Ward wrote in the Facebook note. "The group rhetoric of 2012, 2013 and throughout, was fault-finding, condemning and full of dishonest evaluations of me as a person, including my so-called health issues." Ward also said he got a "no" from a Black Sabbath rep in 2015 when he inquired about possibly rejoining for the farewell tour. Black Sabbath is currently on tour in North America as it heads towards its final two concerts in Birmingham on Feb. 2 and 4. In other Black Sabbath news, Ozzy Osbourne has told Rolling Stone that he thinks Adolf Hitler was gay. Ozzy, a World War II expert, believes the infamous dictator was hiding a sexual secret, which may have turned him mad. "I always thought he was gay," Osbourne said. "Back then, being gay was a criminal offense. When he would go to (vacation spot) Berchtesgaden, his cleaners would check to see if there were any stains on his blankets. And there never were any." - Billboard/WENN.com, 9/2/16......
A major Pink Floyd retrospective called "The Pink Floyd Exhibition: Their Mortal Remains" is set to run at the UK's historic Victoria and Albert Museum in West London's South Kensington district from May 13 to Oct. 1, 2017. Produced with the collaboration of the surviving Pink Floyd members, the retrospective will feature "never-before-seen classic Pink Floyd concert footage" and a "custom-designed laser light show," as well as over 350 artefacts including instruments, music technology, original designs, architectural drawings, handwritten lyrics and psychedelic prints and posters. Previously unseen material and set and construction pieces from stage performances including The Dark Side Of The Moon, The Wall and The Division Bell will also be presented. "It's an impressive and enduring British design story of creative success," said museum diretor Martin Roth. - New Musical Express, 8/31/16...... The Guinness World Records organization has certified Ringo Starr's copy of the Beatles' "White Album" as the "most expensive LP ever sold at auction." The Dec. 2015 sale of Starr's first-edition "White Album" copy with the catalog number 0000001 was sold by Julien's Auctions and went for a whopping $790,000. It had been kept in a vault in perfect condition by Starr for more than 35 years. The LP was sold as part of a three-day auction of items owned by the band's drummer and his wife, Barbara Bach, with proceeds going to his social welfare charity, the Lotus Foundation. The name of the buyer was not disclosed. The previous record holder in the category was an Elvis Presley acetate that sold for $305,000. The 2017 edition of the Guinness records also notes that David Bowie has earned a record for the most simultaneous entries on the UK album charts -- 19 albums in the UK Top 100 -- after his Jan. 2016 death. - Billboard, 9/1/16...... Such rock stars as Paul McCartney, Jon Bon Jovi and Jimmy Buffett performed at an outdoor private fundraiser for Democratic presidential nominee Sec. Hillary Clinton in the Hamptons in Long Island, N.Y., on Aug. 30. McCartney performed "Jet," "Can't Buy Me Love" and "Lady Madonna," also leading Buffett and Bon Jovi in a rendition of "Hey Jude" to close the 75-minute show. "This is the first time I've paid to hear myself sing," McCartney told the crowd. McCartney also danced with Clinton, and her husband, former president Bill Clinton, also was in attendance. - Billboard, 8/31/16...... Several of Prince's closest friends and musical collaborators are planning a tribute to the late rock star. An Oct. 13 at the new U.S. Bank Stadium in Minneapolis will "feature members of the iconic Prince Family," including Morris Day and the Time, Sheila E., The Revolution and New Power Generation, according to a Minnesota State Arts Board newsletter. - AP, 8/31/16......

Guernsey's Auctions of Manhattan has announced it will conduct an auction of several of the late blues-rock great Johnny Winter's guitars, song notebooks and memorabilia on Sept. 30 and Oct. 1 at the Gibson Brands Showroom in New York. Guernsey reps say the items being put on the block include jewelry, scarves and hats -- "sweat stains and all" -- and "extremely rare" rock and blues posters and vintage photos. The collection is being sold for Winter's family. - AP, 9/1/16...... In a new interview with Entertainment Weekly, Sting says his forthcoming album 57th & 9th was inspired by the "immortal" David Bowie, as well as other recently deceased musicians including Prince, Lemmy Kilmister and actor Alan Rickman. "David Bowie went first, and then Lemmy, and then my friend Alan Rickman died, and then Prince. It all seemed to topple on top of each other. It was a strange time because you think that these people are immortal, but then suddenly they're like the rest of us, they die," Sting said. 57th & 9th, due Nov. 11, will be Sting's first solo album since 2013's The Last Ship. - NME, 8/30/16...... Dean Stuart Wetter, the 65-year-old husband of Heart singer Ann Wilson, has been charged with assault in an alleged attack on two relatives during the group's show in suburban Seattle. Court records reveal that two teens were watching a Heart show from backstage on Aug. 27 when they left to walk around. They were walking past the tour buses when they saw Ann Wilson's new tour bus and wanted to look inside. Wetter reportedly started yelling at the boys after they left the door open and allegedly punched one of them in the back of the head before grabbing him by the throat. When the other boy stepped in, Wetter allegedly also grabbed his throat. Wetter, who married Ann Wilson in 2015, has been charged with two counts of assault by Seattle authorities and is free on $10,000 bail. - AP, 9/1/16.
Monday, August 29, 2016
A three-person board announced on Aug. 29 that it had denied parole for Mark David Chapman, the convicted murderer of John Lennon. The board did not specify the reason for denying Chapman, 61, parole for the ninth time since he was found guilty of slaying Lennon in front of his and wife Yoko Ono's Dakota apartment building in New York City on Dec. 8, 1980, as the couple returned from a recording session. The parole board had reportedly received five letters recommending parole for Chapman in 2016, however, those writing the board requesting it deny parole for Chapman included Yoko Ono. In his last hearing two years ago, Chapman claimed to have found Jesus and said he was an "idiot" for killing Lennon. He added that he was "confused" and "needed a lot of attention at that time, and I took it out on him." - Billboard/New York Daily News, 8/29/16...... Mick Jagger has reportedly reached a five-figure monthly child support deal with his current lover, 29-year-old ballet dancer Melane Hamrick, whom the 72-year-old has been dating on-and-off for the last two years. Hamrick, who is due to give birth in December, announced she had unexpectedly became pregnant during the Rolling Stones' tour of South America earlier in 2016. The hefty payments are said to be around $15,000 a month until the child turns 18, meaning that Hamrick, who currently lives in New York, will bank an estimated total of $3.3 million. Jagger has also agreed to purchase a house for Hamrick and his latest child, which will be his eighth. - WENN.com, 8/29/16......
Guns N' Roses frontman Axl Rose joined AC/DC for the Aussie rockers' first night of their 10-date Rock Or Bust Tour on Aug. 27 in Greensboro, N.C. The show was highlighted by a performance of "Live Wire" from the band's 1975 album T.N.T., the first time the band have performed the track live since 1982. The tour will be AC/DC's last with Rose, who joins the dates fresh from Guns N' Roses' Not In This Lifetime tour. Rose was recruited after their long-time frontman Brian Johnson was advised against performing live by physicians after experiencing hearing problems. Johnson announced earlier this year that he had met with in-ear technology specialist Stephen Ambrose for treatment of his hearing loss, and says he hopes he can rejoin AC/DC at some future point. After dates in Fort Lauderdale, Fla. (8/30), Atlanta (9/1), Cleveland, Oh. (9/6), Detroit (9/9), Buffalo, N.Y. (9/11), New York City (9/14) and Washington, D.C. (9/17), AC/DC will wrap the tour in Philadelphia on Sept. 20. - New Musical Express, 8/28/16...... Bruce Springsteen and the E Street Band are known for their marathon concerts, and now the band appears to have set a new stateside record on Aug. 23 at the MetLife Stadium in East Rutherford, N.J. The band performed a 35-song, 3 hour and 52 minute set which the Springsteen fansite Backstreets.com reports is the Boss's longest U.S. show ever. However that concert is shorter than Springsteen's longest concert ever, a 4 hour and 6 minute show in Helinski, Finland, in 2012. Springsteen and his band are performing in seven U.S. cities, including East Rutherford, before wrapping the tour on Sept. 14. The band spent three months performing in Europe on their The River Tour 2016, which kicked off in January. - AP, 8/25/16...... Led Zeppelin has shared a previously unreleased track called "Sunshine Woman" to help promote their upcoming album The Complete BBC Sessions, which is due on Sept. 16. "Sunshine Woman," recorded in 1969, was recently unearthed and previously only available as a bootleg. It will be one of eight unheard recordings to feature on The Complete BBC Session, which is a remastered version of 1997's BBC Sessions, along with additional tracks. - NME, 8/25/16...... The Beach Boys will release all of their pre-Capitol Records recordings in a new 2-disc set, Becoming the Beach Boys, on Aug. 26 via Omnivore Records. Most prior budget label releases of the recordings did not use the master tapes and featured inferior sound quality, until the DCC Compact Classics release Lost & Found 1961-62 in 1991, but that release only contained a fraction of the sessions. Becoming the Beach Boys was produced with the full cooperation of the band and contains all of the available tapes plus studio chatter. The "classic line-up" of the band is featured on the recordings, which included brothers Brian, Carl and Dennis Wilson, cousin Mike Love and friend Al Jardine. The CD also contains songs by Kenny and the Cadets, which included Brian and Carl Wilson, their mother Audree Wilson, Al Jardine and Val Poliuto. Liner notes were written by Jim Murphy, who authored a book also entitled Becoming the Beach Boys in 2015. - Billboard, 8/26/16......
Legendary pop music producer, instrumentalist and record label executive Herb Alpert has pledged $10.1 million to Los Angeles City College through his Herb Alpert Foundation. The college says it will be able to provide free tuition as well as private lessons to all its music majors for years to come as a result of the donation. "I love the idea that we can open the door to help students who are financially challenged to study at LACC, which is a beautiful college," the "Rise" trumpeter said. "If you haven't been there lately, the campus is alive and kicking, and there are a lot of great teachers and a lot of great energy there," he added. Meanwhile, Alpert is doing sessions with an orchestra at Hollywood's Capitol Studios for his first Christmas album in 48 years. - The Hollywood Reporter, 8/26/16...... Country/pop crossover superstar Dolly Parton is on track to score her first Billboard No. 1 on the Top Country Albums chart in 25 years with her new LP Pure & Simple. The album is forecast to sell around 20,000 copies in the week ending Aug. 25, which will likely enable the set to debut at No. 1. Parton last topped that chart in 1991 with her Eagle When She Flies album, which was her sixth Country No. 1 LP. Released Aug. 19 on Dolly's own Dolly Records/RCA Nashville, Pure & Simple is the diva's 43rd studio album. - Billboard, 8/25/16...... The family of late funk/pop icon Prince announced on Aug. 25 that it will open Prince's Paisley Park estate in Minnesota to the public beginning in October. The property served as both a production studio and creative hub from 1985 to his death in April this year, and fans will be able to tour his video editing suite, rehearsal rooms and personal concert hall as well as see thousands of Prince artefacts including his concert wardrobe, awards, instruments, artwork, rare recordings and more. - New Musical Express, 8/25/16...... In related news, Kiss singer Gene Simmons has made further controversial comments about Prince's death, implying that the singer's death was "a choice." "I knew Prince and I knew [David] Bowie," Simmons said during an interview with radio station WNOR. "Bowie died from disease. Prince died from drugs, as did Michael Jackson.
Drugs killed them, but it was a choice." Shortly after Prince's death, Simmons said Prince had died of a drug overdose, several weeks before the official cause of death was confirmed. In the latest interview, Simmons said that "people got upset" when he said that, "but that's why he died... Drugs are a selfish thing. This generation, and previous ones, believe that drugs use are a part of life, but I reject that. You play with fire, you're going to get burnt." Simmons and his fellow Kiss bandmate Paul Stanley have claimed that they have never consumed alcohol or taken drugs. - NME, 8/26/16..... In other Kiss-related news, comic book publisher Dynamite Entertainment has announced it will publish a new Kiss comic series -- simply titled KISS -- in October. The new comic book series, according to Simmons, will be a "love letter to the fans who've stayed with the band for that time -- as well as newcomers who've never read a Kiss comic before." Kiss made its first appearance in comic books in Howard the Duck No. 12 in 1977, and has been in other comics series from Image Comics, Dark Horse Comics, IDW Publishing and even Archie Comics through the years. - NME, 8/26/16...... Adam Wakeman, the keyboardist in Ozzy Osbourne's band since 2004, has said in a new interview that Osbourne wants to record a new solo album once the current Black Sabbath farewell tour is over. "Well [Black Sabbath are] finishing on February 4th, and then we'll see what happens with Ozzy after that," Wakeman said. "I mean, he wants to do another tour, he wants to do another album, but there's going to be a period of time when he needs a rest, so yeah, hopefully we'll be back out." Ozzy's last solo album was Scream in 2010, released three years before the last and final Black Sabbath LP, 13. - NME, 8/25/16...... George Clinton has announced he will release a new album on Flying Lotus' Brainfeeder label. Clinton and Flying Lotus became fdriends with Clinton appeared on a collaboration by Flying Lotus and Kendrick Lamar. - Billboard, 8/24/16...... Former The Dukes of Hazard star John Schneider's home in Holden, Louisiana, has been flooded as a result of the recent floods that have devastated the state. Schneider says overflow from the Tickfaw River in August inundated all of his property, flooding his home with about 4 feet of water as well as another house in which his mother lives. Schneider says he's lost a lot of memorabilia and equipment but his situation is not unique. About 90% of the homes in the parish were flooded, according to Schneider, and that the response by friends and strangers has been "amazing." - AP, 8/27/16...... Rudy Van Gelder, a legendary jazz engineer who worked extensively in the 50s and 60s for labels such as Blue Note, Impulse and Prestige, died at his Englewood Cliffs home in New Jersey on Aug. 25. He was 91. Iconic jazz artists that Mr. Van Gelder worked for include John Coltrane -- on his seminal 1965 LP A Love Supreme -- Herbie Hancock and Miles Davis. - NME, 8/28/16...... Juan Gabriel, sometimes known as the "Latin Elvis," died on Aug. 28 after suffering a massive heart attack in Los Angeles as he was preparing to fly to El Paso, Tex., for another concert. He was 66. At the time of his death, Gabriel, already one of Latin music's biggest superstars, was arguably at the apex of his career, despite his age. He was in the midst of the U.S. leg of his MeXXico Es Todos Tour, a 22-city arena trek that had him playing on 360 stages to accommodate sold out crowds. The week before his death, his latest album, Vestido de Etiqueta: Por Eduardo Magallanes, debuted at No. 1 on Billboard's Top Latin Albums chart. In the fall, Telemundo will begin airing a TV series based on his life. Gabriel leaves behind a legion of fans spread around the world, and on Aug. 28 he was the top-trending Twitter topic worldwide, outpacing even the MTV VMAs. He is survived by his four children. - Billboard, 8/28/16......
Beloved comedic actor Gene Wilder, who regularly stole the show in such comedy gems as The Producers, Blazing Saddles, Young Frankenstein, Willy Wonka and the Chocolate Factory and Stir Crazy, died on Aug. 29 at his home in Stamford, Conn. The actor, 83, died of complications from Alzheimer's disease, according to his nephew Jordan Walker-Perlman. Born Jerome Silberman in Milwaukee on June 11, 1933, Mr. Wilder began studying acting at the age of 12. After getting his B.A. from the U. of Iowa in 1955, Mr. Wilder enrolled in the Old Vic Theater school in Bristol, where he learned acting technique and fencing. After returning to the U.S., he taught fencing and did other odd jobs while studying with Herbert Berghof's HB Studio and at the Actors Studio under Lee Strasberg. Mr. Wilder made his feature film debut in 1967's Bonnie and Clyde and was nominated for an Academy Award for his role in Brooks' The Producers that same year. Mr. Wilder went on to star in the high profile Brooks films Blazing Saddles and Young Frankenstein, for which he was also nominated for a Best Adapted Screenplay Academy Award with Brooks. He also dabbled in directing, helming four features, including The Adventure of Sherlock Holmes' Smarter Brother, The World's Greatest Lover, The Woman in Red and Haunted Honeymoon. He went on to form a successful on-screen partnership with fellow comedian Richard Pryor starring in Silver Streak, Stir Crazy, See No Evil, Hear No Evil and Another You together over the course of 15 years. In 1982, Mr. Wilder met his future wife, Saturday Night Live player Gilda Radner, as the two were filming the movie Hanky Panky. Radner would die of ovarian cancer, and Mr. Wilder's book Gilda's Disease: Sharing Personal Experiences and a Medical Perspective on Ovarian Cancer was a remembrance of his third wife. Mr. Wilder's other books included a 2005 biography, Kiss Me Like a Stranger: My Search for Love and Art, and also several novels with his most recent being 2013's Something to Remember You By. - Variety, 8/29/16...... Jeanne Martin, the second wife of Dean Martin, died on Aug. 24 after a battle with cancer at her Beverly Hills, Calif., home. She was 89. Ms. Martin married Dean in 1949 during the height of his fame, and the pair were one of Hollywood's most photographed couples. Matriarch of their large family, she gave birth to three of Dean's children while raising four more from his previous marriage. Their breakup in 1969 caused nearly as much distress to Martin's fans as his professional split with partner Jerry Lewis had in 1956. After their divorce was finalalized in 1972, Dean Martin was wed once more, to Catherine Hawn, a hair-salon receptionist, and legally adopted her daughter, Sasha, but that union ended in 1976. Jeanne Martin never remarried. The pair became reacquainted in 1987 when one of their sons, actor Dean Paul Martin, was killed at 35 while piloting a military jet. Jeanne and Dean remained on good terms until his death from respiratory failure on Christmas Day 1995. She is survived by son Craig Martin; daughters Gail Martin Downey, Deana Martin Griffeth and Gina Martin Romano. - The Hollywood Reporter, 8/25/16.
Wednesday, August 24, 2016
Bruce Springsteen and the E Street Band paid homage to their home state of New Jersey with a marathon 35-song, nearly 4-hour concert at MetLife Stadium in East Rutherford on Aug. 23. Backed by a string section, the Boss's setlist included songs about growing up in the Garden State including "Sprit in the Night," "Growin' Up," "Wrecking Ball," "My Hometown," "Because the Night" and "Mansion on the Hill," also even getting into the holiday spirit with "Santa Claus is Coming to Town," a request taken from a sign in the audience. "It's the perfect summer song," the 66-year-old rocker quipped. He also told several tales, including one about his late dad prior to "Independence Day," and "Something in the Night," he told fans, was inspired by his playing bars until 3 a.m., then eating at a diner afterwards. Encores included "Jungleland," "Born to Run," "Dancing in the Dark," "Rosalita," "Tenth Avenue Freeze-Out," "Shout" (with the singer donning a cape in an ode to James Brown), "Bobby Jean" and "Jersey Girl." The band is also set to play the venue on Aug. 25 and Aug. 30. - Billboard, 8/24/16......

Stumping for Democratic presidential nominee Hillary Clinton in Princetown, Mass., on Aug. 21, Cher told Clinton supporters that she believes the former Secretary of State is "genuine" and that "this chick is tougher than Chinese algebra." "I'm here for multiple reasons, but I'm here one out of love and one out of fear," Cher said. "Because I'm so frightened for what's going to happen to this particular community. I know there's going to be other people, other minorities that are going to be totally screwed as well, but I honestly fear for your safety." As for Sec. Clinton's opponent, Republican Donald Trump, Cher said "I just think he's a f---ing idiot." She added that Trump and his anti-LGBT running mate, Indiana Gov. Mike Pence, "will try to turn back every clock, they will try to take back every one of your rights." "I feel like, 'What happened to the '70s? We already fought this battle'," she said, adding that "Trump doesn't want to be president... he wants the adulation, he doesn't give a sh-- about the work." - Billboard, 8/23/16...... The city of Berlin, Germany, where David Bowie famously recorded his "Berlin trilogy" of Low, "Heroes" and Lodger, unveiled a plaque honoring the late musician on Aug. 22 at the building where he lived from 1976 to 1978. Mayor Michael Mueller recalled Bowie's "special relationship" with his city as he unveiled the plaque outside the house on a busy street in the city's Schoeneberg district -- currently home to a dental practice among other things and which has been turned into a makeshift Bowie shrine following news of the music icon's death in January at age 69. The plaque quotes the refrain from the latter's title track -- "We can be heroes, just for one day." - AP, 8/22/16...... '70s music superstars Neil Young, Meat Loaf and Olivia Newton-John will be among the guests on the new season of newsman Dan Rather's series The Big Interview, which airs on AXS TV. Young will be featured on the Sept. 13 episode of series at 8:00 p.m. EDT, discussing his new album, Earth, and topics including his childhood polio and his experience with the band Crosby, Stills, Nash & Young. Meat Loaf appears on the Sept. 20 episode, while Newton-John is the guest on Oct. 4. A marathon of past Big Interview shows will air starting at 8 a.m. EDT on Sept. 10, including Rather's conversations with Frankie Valli, Merle Haggard, Gene Simmons and Loretta Lynn. - AP, 8/22/16......

Joni Mitchell, who is on the mend after suffering a brain aneurysm some 17 months ago, made a rare and welcome public appearance at a Chick Corea concert at L.A.'s Catalina Bar and Grill on Aug. 20. Mitchell appeared to be relaxed as she posed for a photo with friends, and later posted it on her official website the following day. On Mar. 31, 2015, the iconic Canadian singer, then 71, was found unconscious in her L.A. home. Friends said her condition appeared to be "gravely serious," and that she was initially unable to speak. Updates on her life-threatening condition have been only occasional since. Three months after that incident, her attorney Rebecca J. Thyne said the artist "has physical therapy each day and is expected to make a full recovery" and by July, Mitchell had returned home to continue with her therapy. - Billboard, 8/21/16...... Aretha Franklin issued a statement on Aug. 22 saying she's cancelling several planned concerts to rest up. "Due to doctors' orders I will have to cancel a few concerts for the next month or so," she said. The performances include an Aug. 26 show at the Wolf Trap National Park for the Performing Arts near Vienna, Virginia. The 74-year-old Queen of Soul, who was forced to cancel a show in Las Vegas in 2015 because of exhaustion, added she should be back on the road in November. - AP, 8/22/16...... Ringo Starr, helping to promote the upcoming Ron Howard-directed Beatles documentary Eight Days A Week: The Touring Years, has told Mojo magazine that the Beatles never intended to quit touring for good after calling it quits on live performing after their 1966 show at San Francisco's Candlestick Park. "The Beatles were never gone. And they could have come back," Starr said. Paul McCartney, who was also interviewed for the article, noted that "We got a bit conflicted, we got a bit fed up towards the end of it." Their only other live performance after that date included an impromptu concert on the rooftop of the Apple headquarters on Savile Row in 1969. Eight Days A Week: The Touring Years is scheduled for UK release on Sept. 15, and premieres in the US the following day. - New Musical Express, 8/24/16...... Grammy-winning songwriter and singer Burt Bacharach has announced he is cancelling two September concerts as he recovers from a broken arm. A spokesman for the 88-year-old Bacharach said the musician will skip scheduled performances on Sept. 3 in Curacao and Sept. 17 in Lancaster, Calif., and that he plans to resume his touring schedule in October. The publicist said she did not know how Bacharach broke his arm. - AP, 8/23/16......

Former Monkees and First National Band member Mike Nesmith has posted online that he plans on joining fellow surviving Monkees members Mickey Dolenz and Peter Tork for one final 50th Anniversary Monkees show, at the Pantages Theater in Los Angeles on Sept. 16. "The show is set for September 16th -- which I believe is almost a perfect match for the fifty year anniversary of the TV show," Nesmith wrote, adding that "I am bringing Gretsch, my beautiful, intelligent blonde to help me, and it looks like I'll make it once again." The Monkees musical sitcom premiered on NBC on Sept. 12, 1966, and ran for two seasons. Nesmith has previously performed with Dolenz and Jones on the Monkees 50th anniversary tour twice, via Skype in New York City on June 1, and on stage in Monterey, Calif., on Aug. 5. Nesmith added his upcoming solo projects for 2017 include a promotional tour for his upcoming book, Infinite Tuesday, and a solo concert tour. Meanwhile, Dolenz and Tork will take their Monkees 50th anniversary tour to Australia and New Zealand. - Billboard, 8/19/16...... Jazz harmonica player Jean "Toots" Theilemans, whose moody solos contributed to the soundtracks of such iconic films as Midnight Cowboy, The Getaway and Sugarland Express as well as in the theme song of Sesame Street, died in his sleep in a Belgian hospital on Aug. 22. He was 94. The Brussels-born Mr. Theilemans started playing the harmonica as a hobby and became interested in jazz during the German occupation. His first international breakthrough came in 1950 when he joined Benny Goodman on a European concert tour. After emigrating the the US in 1952, Mr. Theilemans joined Charlie Parker's All Stars, and also played with such pop music icons as Ella Fitzgerald, Frank Sinatra, Paul Simon and Billy Joel. Mr. Thielemans, who also played guitar, was honored by Belgium's royal family in 2001, when King Albert II gave him the title of baron. He had been hospitalized in July after a fall, but had reportedly been in good spirits after an operation on his shoulder. "We have lost a great musician, a heartwarming personality. All my thoughts are with the family and friends of Toots Thielemans," Belgian Prime Minister Charles Michel tweeted. - The Hollywood Reporter, 8/22/16.
Friday, August 19, 2016
After their first wave of vinyl reissues were released in June, Pink Floyd has announced a second batch of vinyl reissues of three of their 1970s albums -- Atom Heart Mother, Meddle and Obscured by Clouds -- will be released on heavyweight 180g vinyl on Sept. 23. The band previously announced that vinyl reissues of The Wall and The Division Bell will hit stores on Aug. 26, and all of Pink Floyd's albums are due to be reissued eventually. - New Musical Express, 8/18/16...... A three-finger hand gesture slyly given by Steven Tyler in the intro video to the Rock N' Roller Coaster at Florida's Disney Hollywood Studios has finally been removed -- some 17 years after the Disney people realized Tyler was pulling one over on them. The gesture, which is hardly wholesome and known as "the shocker," has now been digitally edited to have the Aerosmith frontman holding up four fingers instead. A few hours after learning Disney's action, Tyler responded to the news on social media with a somewhat different hand gesture, a four-letter word hat, and a mocking facial expression. A Disney spokesperson could not be reached for comment. - Billboard, 8/18/16......

Former Bee Gees legend Barry Gibb announced on Aug. 19 that he'll release his first solo album with new material, In the Now, on Oct. 7 via his new contract with Columbia Records. The album sees Gibb collaborating with his sons Stephen and Ashley Gibb, and the three along with other members of Gibb's band will perform never-before-heard material from the new LP before fans at the Hit Criteria studio in Miami, Fla., on Aug. 20 from 7:00 PM-8:30 PM EDT. The event, dubbed In the Now 360 - The Live Stream with Barry Gibb, will be streamed on YouTube using 360 technology, providing fans with a unique opportunity to catch an intimate glimpse of their rehearsal. The live stream can be viewed and the new album can be pre-ordered on BarryGibb.com. - Billboard, 8/19/16...... David Bowie's longtime producer Tony Visconti has revealed in a new essay for the UK music mag Uncut that Bowie once abandonded a planned remake of a Bruce Springsteen song after meeting with the Boss. Visconti writes Bowe planned to cover Springsteen's "It's Hard to Be a Saint in the City" during the sessions for what would eventually become Bowie's 1975 album Young Americans. "David took [Springsteen] into another room for a private chat," Visconti recalled. "By the time Bruce left, he was more pleasant and said his goodbyes to the rest of us. David and I never worked on 'Saint' after that, although it was finished or re-recorded eventually with someone else." Bowie's version of "Saint," which appears on Springsteen's 1973 debut album Greetings From Asbury Park, NJ, eventually appeared on his 1989 box-set Sound + Vision. A new Bowie box set of mid-'70s recordings, Who Can I Be Now? 1974-76, will drop on Sept. 23. Other upcoming Bowie-related releases include the soundtrack of the late music icon's classic 1976 film The Man Who Fell to Earth. Featuring specially composed music by Japanese prog-rock musician Stomu Yamash'ta and John Philips (the main songwriter for '60s pop band The Mamas And The Papas), the LP uses recently rediscovered "lost" master tapes, and will be released on Sept. 9, the same day the film is reissued in cinemas. The vinyl and box set are due on Oct. 24, the same day the film is reissued on DVD. In still more Bowie news, his widow Inman posted a picture of the couple's daughter Alexandria on Aug. 15 to celebrate her 16th birthday. Alexandria "Lexi" Zahra Jones, the couple's only child, was born in Aug. 2000. "Happy sweet 16th birthday to my baby girl Lexi! Stay sweet "Classy with a hint of sassy," Inman tweeted. - NME, 8/19/16...... Bruce Springsteen posted the foreword of his forthcoming autobiography, Born to Run, on his official website on Aug. 16. The opening lines begin with a bit of embellishment, with the musician writing that he hails from a "boardwalk town," aka Asbury Park, New Jersey (Springsteen grew up inland in Freehold). "I come from a boardwalk town where almost everything is tinged with a bit of fraud," he writes. "So am I. By 20, no race-car-driving rebel, I was a guitar player on the streets of Asbury Park and already a member in good standing amongst those who 'lie' in service of the truth artists, with a small 'a.' But I held four clean aces. I had youth, almost a decade of hard-core bar band experience, a good group of homegrown musicians who were attuned to my performance style and a story to tell." The book, which is due on Sept. 27, will be accompanied by a new album Chapter and Verse. - Billboard, 8/16/16......

Iggy Pop will release an autobiography called Total Chaos on Nov. 17 via Third Man, the vinyl-obsessed record label headed by former White Stripes musician Jack White. Co-authored by Jeff Gold, Jon Savage and Johan Kugelberg, the book boasts that it will be "the first time [his] story has been told in Iggy's own words," and includes Pop's recollections about his days with the proto-punk band the Stooges from 1967-1973, and the Stooges revival in the early 2000s. The Stooges' last studio album, Ready to Die, was released in 2013, and earlier in 2016 Pop released his latest solo album, Post Pop Depression. - Billboard, 8/18/16...... As she campaigned in Cleveland, Oh., on Aug 17, Democratic presidential nominee Hillary Clinton stopped by the Quicken Loans Arena where Paul McCartney was soon to be performing and met with Sir Paul and his wife Nancy Shevell behind closed doors. No photos were taken during the meeting, but McCartney later posted a photo on his Twitter account of the two with the headline "She's With Me. pic.twitter.com/vHPMHMjFvV." After the pic was posted on Facebook, reactions ranged from "I love Paul's music but like him just a bit less now" to "Great pic! Rock on Sir Paul!" Meanwhile, Universal Music Group has announced that McCartney is returning to Capitol Records in a new worldwide recording agreement. Touted as a "historic deal," the contract will encompass McCartney's entire catalog of master recordings beginning with the 1970 McCartney album. It also marks a return to the label where he started his solo career. "This is genuinely exciting for me. Not only was Capitol my first U.S. record label, but the first record I ever bought was Gene Vincent's 'Be-Bop-A-Lula' on the Capitol label," McCartney said in a statement. Capitol/UMe will service McCartney's albums on his current label, Concord Records, beginning in July 2017. Capitol also revealed that the former Beatle is currently working on a new studio album. - Billboard,. 8/17/16...... In other Beatles-related news, Yoko Ono has named the four recipients of the 2016 Lennon Ono Grant For Peace, which will be presented in Reykjavik, Iceland on Oct. 9, what would have been John Lennon's 76th birthday. The winners are Chinese activist and artist Ai Weiwei, Inidian artist Anish Kapoor, Danish artist Olafur Eliasson and Hungarian poet and performance artist Catalan Ladik. The award, which is presented every two years, was founded in 2002. - New Musical Express, 8/17/16...... Elsewhere on the Fab Four front, Ringo Starr's rep confirmed on Aug. 15 that the famous drummer is now a great-grandfather, as his granddaughter, Tatia Starkey, and her partner, Adam Low, welcomed a son named Stone Zakomo Low on Aug. 14. Tatia is the daughter of Ringo's son, Zak Starkey, who is a drummer for the Who, and has also drummed in the past with his dad's All-Starr Band and Oasis. Tatia Starkey also has a musical career as a member of the band Belakiss. Ringo will kick off his latest All-Starr band tour in Sonqualmie, Wash., on Oct. 15. - Billboard, 8/16/16...... Barbra Streisand has previewed a duet of "Pure Imagination" from Willy Wonka & the Chocolate Factory with Seth MacFarlane that will be featured on Streisand's upcoming duets album Encore: Movie Partners Sing Broadway. "I've always loved the song 'Pure Imagination,'" Streisand says in a behind-the-scenes video. "I thought Seth MacFarlane would be great." Encore: Movie Partners Sing Broadway drops on Aug. 26. - Billboard, 8/17/16......

A deluxe reissue of Big Star's 1978 album Third featuring a whopping 69 tracks including original demos, rough mixes, early mixes, vocal takes and a cover of the Velvet Underground's "After Hours" is being planned for a fall release. Third was actually recorded in chaotic circumstances three years earlier in 1975 with the band disintegrating and the declining mental state of singer Alex Chilton, and by the time it was released, Big Star had already split. The release, called Complete Third, and an accompanying photo book that documents the band's entire career, will be released in October. - NME, 8/16/16...... Thousands of Elvis Presley fans made their way to the King of Rock & Roll's Graceland mansion in Memphis, Tenn., on Aug. 16 to hold their annual candlelight vigil, despite a heavy rainstorm. Police presence was reportedly heightened due to a nearby protest by activists supporting the Black Lives Matter movement. 2016 marks the 39th anniversary of Presley's death, and the fans walked slowly through Elvis's gravesite while holding candles. It was the culmination of Elvis Week, the annual celebration of his life and career. - AP, 8/16/16...... The Rolling Stone website has posted the full court transcript of Jimmy Page's testimony during the recent "Stairway To Heaven" plagiarism case. The transcript documents the Led Zeppelin guitarist's full questioning during the hearing in Los Angeles in June. Page and the rest of the band had been accused of stealing the band Spirit's song "Taurus" from 1968. The transcripts reveal that the trial contained some moments of humor, including Page's deadpan response of "Well yeah" to the question "you had a gift in being able to play the guitar, correct?" by the prosecutor. - NME, 8/15/16...... A Minnesota judge has given the administrator of Prince's estate the green light to sell six of the late artist's properties.Carver County Judge Kevin Eide gave the trust approval to list the properties, which include homes, vacant lots and buildings in Prince's hometown of Chanhassen, a suburb of Minneapolis. The list includes a commercial building estimated at $22 million and a 156-acre piece of land in Lakes Ann and Lucy valued at $13.7 million. Prince's home and recording studio Paisley Park is not among the 15 properties to be liquidated. - Billboard, 8/14/16...... Ozzy Osbourne's wife Sharon Osbourne weighed in on the recent announcement that Mick Jagger is set to become a dad for the eighth time with girlfriend Melanie Hamrick. Appearing on her TV show, The Talk, Osborne said: "The thing that gets me is that at 73 his face is so wrinkly. All I do is I think his genitalia must be so wrinkly... it must be hanging, wrinkly and grey," she shuddered in front of the audience. "I just couldn't think of anything worse. Because you look up and that is wrinkly and you look down and that is wrinkly, and that is like 'no'. He is 73. How much longer is he going to have anyway? Amazing - now he has got somebody to push him around in a wheelchair," she continued, adding that she's never found Jagger attractive. - WENN.com, 8/18/16......
Actor/comedian Jack Riley, best known for portraying Elliot Carlin on the 1972-77 CBS sitcom The Bob Newhart Show as well as appearing in several Mel Brooks films, died in Los Angeles on Aug. 19 after a battle with pneumonia and infection. He was 80. A native of Cleveland, Oh., Mr. Riley began his career as a regular on the 1962-63 ABC sitcom Occasional Wife, which was narrated by Vin Scully. He went on to guest on dozens of popular TV series including I Dream of Jeannie, Hogan's Heroes, Rowan & Martin's Laugh-In and The Partridge Family before landing what would become his signature role -- the neuroses-laden Elliot Carlin on The Bob Newhart Show, which starred Bob Newhart as a Chicago psychologist. Carlin appeared in nearly 50 episodes as a patient of Newhart's who had a persecution complex and constantly put himself down. He appeared in all six seasons of the show, which also starred Suzanne Pleshette and Marcia Wallace. During that show's run, Mr. Riley could also be seen in episodes of such series as M*A*S*H, The Mary Tyler Moore Show, Happy Days, Cannon, Columbo and Police Woman. In 1976, he played a Hollywood executive in Silent Movie, Mel Brooks' follow-up to Young Frankenstein, and later appeared in the Brooks films High Anxiety (1978), History of the World, Part I (1981) and Spaceballs. He continued to work steadily throughout the '80s and '90s and through the 2000s, with his later-career highlight as the voice of Stu Pickles, the father of Tommy and Dil on Rugrats. Mr. Riley appeared on more than 140 episodes of the animated series, reprising the role in the 1998-2003 film trilogy and several episodes of follow-up series All Growed Up! He is survived by his wife, Ginger Lawrence. - Deadline.com, 8/19/16...... Longtime political talk show host John McLaughlin, the host of The McLaughlin Group for 34 straight years, died on Aug. 16 at the age of 89. Known for his combative and irascible style, Mr. McLaughlin was a former left-leaning jesuit priest and teacher who lurched rightward and embarked on a Senate run in 1970 as a Republican. He became famous defending Richard Nixon during Watergate, telling CBS News that the president was "the greatest moral leader in the last third of this century." He compared the Watergate investigation to the Spanish Inquisition, insisted that Nixon hadn't committed any crimes, and likened the House Judiciary Committee to Lord of the Flies, according to a 2014 story in the Jesuit magazine America. "For 34 years, The McLaughlin Group informed millions of Americans," a post on the show's Facebook page reads. "Now he has said bye bye for the last time, to rejoin his beloved dog, Oliver, in heaven. He will always be remembered." - TheHill.com/CBS News, 8/16/16...... Veteran actor Fyvush Finkel, an Emmy Award winner best known to contemporary audiences for his roles on Picket Fences and Boston Public, died on Aug. 14 in his Manhattan home. He was 93. Mr. Finkel spent most of his early career on Gotham's Lower East Side performing in the Yiddish theater. His son, Ian, said his father had been suffering from heart problems. - Variety, 8/14/16.
Sunday, August 14, 2016
Stevie Nicks and Keith Richards will be among the contributors to rocker Sheryl Crow's next studio album. Crow, 54, made the announcement at the BlogHer16 conference in Los Angeles on Aug. 5, where she told the crowd that she has been free of breast cancer for 10 years after being first diagnosed with the disease in 2006. The 54-year-old Crow, who last released an album in 2013, added that she is in the process of recording a new album at her home studio in Nashville that is "inspired by the people who have inspired me since I was a kid." - Billboard, 8/12/16...... Rock and Roll Hall of Famer Leonard Cohen will release his 14th studio album in the fall via Sony. Titled You Want it Darker and produced by Cohen's son, Adam Cohen, and will be the follow-up to the 82-year-old artist's 2014 LP, Popular Problems. - Billboard, 8/12/16......
On Aug. 11 the Rolling Stones announced a comprehensive 15-disc box set of mono recordings of their 1960s ABKCO material. Due Sept. 30, The Rolling Stones in Mono features both the British and US releases of their albums from 1964's The Rolling Stones to 1969's Let It Bleed. All 186 of the songs the band recorded in mono will be featured, which includes their B-sides and non-album singles and EPs. The release will be available as 15 CDs, 16 vinyl LPs and digitally. The physical formats feature a 48-page book containing an essay by Rolling Stone's David Fricke and rare photographs of the Stones by rock photographer Terry O'Neill. - New Musical Express, 8/11/16...... In a new interview with the Australian media outlet WA Today, Alice Cooper cited current turbulent world events as the reason why it's "impossible" for a rock band to shock an audience. "I don't honestly believe that a rock band can shock an audience anymore," said Cooper, whose controversial stage antics in the '70s included guillotines, decapitated baby dolls and hanged mannequins. "With ISIS, with people shooting cops, with cops shooting blacks -- now CNN is so much more shocking than Rob Zombie or Marilyn Manson or Alice Cooper," he added. Cooper also said it was "easy to shock the audience in the '70s... because we were much more wholesome... Now, with the internet, it's literally impossible to shock an audience. I mean, somebody just killed 50 people in a gay bar. That shocks me." Earlier in 2016, Cooper launched a campaign to become both Prime Minister of the UK and President of the USA, with a campaign platform including "adding Lemmy [Kilmister] to Mt. Rushmore" and a "ban on taking selfies." - New Musical Express, 8/14/16......
As Elvis Week in Memphis, Tenn., approaches in the fourth week of August, officials at Elvis Presley's Graceland attraction have announced that a new 200,000-square-foot entertainment complex will be built across the street from the Graceland mansion. According to the Aug. 11 announcement, the new $45 million complex will include exhibits that highlight the late singer's life and career exploits in music and film. It will be part of a $137 million expansion that includes the construction of a $92 million hotel, The Guest House at Graceland. The hotel is scheduled to open on Oct. 27, and the new complex is set to be completed in the spring of 2017. In related news, Elvis's daughter Lisa Marie Presley has reportedly checked herself into a rehab center to tackle an addiction to prescription pills. Lisa Marie, 48, has struggled with substance abuse during her youth and is now receiving professional help at the luxury Hills Treatment Center in Los Angeles. "She's doing OK but needed to get this under control," a source close to Presley said. In July, Presley filed for a legal separation from her fourth husband, Michael Lockwood, to whom she has been married for 10 years. - AP/New Musical Express, 8/12/16...... Phil Collins has announced he will play his 1982 smash "In the Air Tonight" at the US Open tennis tournament on Aug. 29, during the event's opening ceremony. The song is particularly appropriate because it will also mark the first occasion where the Arthur Ashe Stadium's new retractable roof will be operational. The performance will Collins' second live performance since coming out of retirement in 2015. In March, Collins gave a seven-song set at a benefit concert in his current hometown of Miami. Collins is also prepping an autobiography which will be published in October. - NME, 8/12/16......
In a new interview with Rolling Stone, Paul McCartney compares the creative process of his "Only One" collaborator Kayne West to that of pop art icon Andy Warhol. "He's got a room full of guys working on riffs, and he walks around going, 'I like that one'," Sir Paul explained. "It reminded me of Andy Warhol, these artists who use students to paint their backgrounds and things. It's a well-used technique," he added. McCartney also said the two agreed that if their collaboration didn't feel right, they wouldn't tell anyone it happened. Of the sessions that also produced "All Day" and the Rihanna collaboration "FourFiveSeconds," he added, "I thought, 'I don't know how I'm going to fit into that, but let's see. Here goes nothing.'" In the same interview, Macca said that the Beatles were "threatened" back then as Yoko Ono was "sitting on the amps" as they recorded. "Most bands couldn't handle that. We handled it, but not amazingly well, because we were so tight," he said. When asked if he would ever tour with Ringo Starr, McCartney concluded, " I don't think either of us have ever thought why do it, or why not. It's just that our roads are parallel, with intersections and diversions. He's a great drummer, man. That's the thing about Ringo. He has a feel that nobody else has. As to going out on the road, it might be complicated." - Billboard/NME, 8/11/16...... Participating in the unveiling of a plaque at a UK cancer hospital, Black Sabbath guitarist Tony Iommi revealed that his cancer is in remission. Iommi has been receiving treatment at the Spire Specialist Care Centre, and Iommi unveiled the plaque which recognized the facility's high standard of patient care. "I can't thank them enough for what they have done for me and others like me," he said. In Jan. 2012, Iommi revealed that he had been diagnosed as being in the early stages of lymphoma, just a few months after Black Sabbath announced it was writing and recording its new studio album, 13. Iommi's condition reportedly forced the band to withdraw as a headliner for the 2012 Coachell festival, but it returned to the road in 2013-14. The band is currently on its farewell tour, which it announced in Sept. 2015, with their last U.S. show set for Nov. 12. In Feb. 2017, the members will play their last dates ever as Black Sabbath in their hometown of Birmingham, UK. - Billboard, 8/10/16......
Yusuf Islam/Cat Stevens has announced a string of North American concerts this fall to commemorate the 50th anniversary of his first hit single, "I Love My Dog," in 1966. Dubbed the "A Cat's Attic Tour," the run of intimate-sized venues kicks off Sept. 12 in Toronto, also visiting Philadelphia (9/15), Boston (9/17), New York's Beacon Theatre (9/19, 20), Washington, D.C. (9/22), New York's Global Citizen Festival in Central Park (9/24), Nashville (9/27), Chicago (9/30) and San Francisco (10/3) before winding up with a two-night stand on Oct. 6 and 7 at the Pantages Theatre in Los Angeles. According to a press release, Yusuf's tour will feature "a night of songs, storytelling and goodwill." - Billboard, 8/11/16...... The UK's Rewind South festival will take place on Aug. 19-21 with such acts as Leo Sayer, Adam Ant, Rick Astley, Marc Almond and Andy Bell of Erasure, among others. The festival is celebrating its eighth year and will take place at Temple Island Meadows, Henley-on-Thames. - Noble PR, 8/11/16...... The manager of Ted Nugent's 340-acre ranch in Pulaski Township, Mich., has been charged with supplying a fatal heroin dose to an acquaintance of Nugent's named Jim Lawson, who lived in a house he rented from Nugent on the property until his death on Apr. 29. The property manager, Melissa Mullins, faces a court hearing on Aug. 16 to determine if there's enough evidence to send the case to trial. Lawson appeared in Surviving Nugent, a 2003 documentary on cable channel VH1, and after his death Ted Nugent posted a message on his Facebook page saying that "hearts are shattered" because of the death. - AP, 8/14/16...... Actor/director Robert Redford rescued a horse stranded by a freeway in New Zealand earlier in August as he was on his way to the set of the upcoming Disney movie Pete's Dragon. "There was a horse that was on the side of a freeway that we would all take to get to work and we noticed for 24 hours this horse continued to be there... There's no water, there's no hay and the horse looked like it was abused," Redford's co-star Bryce Dallas Howard noted on the TV show The Talk. "Bob saw this... and figured it out, went door to door; no one said, 'This is my horse', and he got folks to come in and bring the horse out and rescue it and now he's set up the horse for the rest of its life... He actually is the horse whisperer." Howard added that Redford was "an incredible, phenomenal human being... He would walk to work every day. He was so present with everyone. He's this wonderful man." - WENN.com, 8/9/16......

Folk singer/songwriter Glenn Yarbrough, a founding member of the folk trio The Limeliters and who later charted such solo hits as "Baby the Rain Must Fall," died on Aug. 11 at his home in Nashville, Tenn., after a bout with chronic obstructive pulmonary disease, dementia and other health issues. He was 86. The Milwaukee-born Mr. Yarbrough sang and played guitar with fellow Limeliters members Lou Gottlieb and Alex Hassilev from 1959 and 1963. The group was known for such songs as "There's a Meetin' Here Tonight," "City of New Orleans," "A Dollar Down" and "Lonesome Traveler." After leaving the group in 1963 (though he often returned for reunion tours), Mr. Yarbrough had a solo career that spanned nearly 40 years, with his highest-charting success in 1965 with "Baby the Rain Must Fall," which was featured in the Steve McQueen and Lee Remick movie of the same name. It reached No. 2 on the Billboard Adult Contemporary chart, and No. 12 on the Hot 100 pop singles chart. Mr. Yarbrough was also a sailing enthusiast who, according to his daughter, "would sail until the money ran out; then he'd get back on the road to play some more shows." He continued this routine until he was 80. Though he suffered from dementia in the last years of his life, his daughter said her father remained a "warm happy man." - AP, 8/12/16...... Barbara Gibb, the mother of Bee Gees members Barry, Robin and Maurice Gibb as well as Andy Gibb, died in Miami on Aug. 12. She was 95. Born in Manchester, England, Mrs. Gibb had lived in Miami for the past 20 years. With her late husband Hugh Gibb, she managed the Bee Gees early career. Sadly, Mrs. Gibb saw three of her five children (she also had a daughter named Lesley) pass away during her lifetime: Andy in 1988 at age 30 of a heart condition, Maurice in 2003 at age 53 due to complications of a twisted intestine, and Robin in 2012 at age 62 from liver and kidney failure after battling cancer. - Billboard, 8/13/16...... Veteran music industry manager David Enthoven, who helmed the careers of such '70s acts as T. Rex, King Crimson, Emerson, Lake & Palmer and Roxy Music as well as contemporary singer Robbie Williams, as died at age 72. Enthoven was also the co-founder of the London-based management company ie:music, which he formed in 1992 with former Island Records executive Tim Clark. Williams was always its star client, but the pair also helped guide the careers of Sia and Bryan Ferry, with its current roster including Lily Allen, Lamar, Passenger and Will Young. - Billboard, 8/12/16...... British actor Kenny Baker, best known for portraying the Star Wars droid R2-D2, has died at age 81 after a long battle with a lung condition. Mr. Baker's family paid tribute to the diminutive 3 ft. 8 in. actor by issuing a statement saying he "brought happiness to a lot of people." Mr. Baker received a credit in the latest Star Wars film which came out in 2015. - The Daily Mail, 8/13/16.
Tuesday, August 9, 2016
Australian songwriter Bob Daisley has filed a lawsuit over $2 million in unpaid royalties he claims he is due as the co-writer of Ozzy Osbourne's 1980 song "Crazy Train." Osbourne, Daisley and Ozzy's late guitarist Randy Rhoads are credited with writing the song, but according to court documents filed in Nevada on Aug. 8, Daisley is seeking $2 million in unpaid royalties. The complaint alleges that "although royalties have been paid to Daisley over the years, an audit conducted in 2014 showed that Osbourne and his company had been improperly deducting undisclosed fees before distributing royalties to Daisley and improperly withholding Daisley's rightful share of royalties owed under the publishing agreements for the commercial exploitations of the songs." Daisley is a former bassist on Osbourne's band and also co-authored several of the songs on Ozzy's LP Blizzard of Ozz, which includes "Crazy Train," as well as songs on Osbourne's Diary of a Madman, Bark at the Moon, The Ultimate Sin and No Rest for the Wicked. Reps for Ozzy Osbourne responded to the lawsuit in a statement, saying "For the past 36 years Mr. Daisley has been receiving bi-annual royalty statements and checks" from Ozzy's Blizzard Music Limited, and that "several different auditing firms [hired by Mr. Daisley] found no discrepancies... He has previously filed lawsuits in the UK and the US and has lost on each occasion." - New Musical Express/Billboard, 8/9/16......

Styx will release a new live DVD called Live at the Orleans Arena Las Vegas on Sept. 2, the latest in a series of concert videos the band has released since its last album of new material, Cyclorama, dropped in 2003. Styx co-founder/guitarist James "J.Y." Young says the live DVD series suits the group better than a new studio album right now." "Look, we know what people want from us, and it's 'Come Sail Away' and 'Lady' and 'Light Up' and 'Too Much Time On My Hands' and...the hits," Young says. "We're doing great on the road now, better than ever, and we're getting a lot of young people too, which is really gratifying. So why put in all that time and money into making something [new] that people may or may not by when we can put out something we know they want and they'll really like." Young's bandmate, Tommy Shaw, adds that a video release is easier to keep control of than streaming. "Since radio has changed so much, this is something that's a little harder to lose control of," Shaw says. "It's more of our doing than something that's just out there streaming, and you don't know where it's playing, if it's playing, are you getting compensated for it. We shoot it. We edit it. We put it out and we know how many are sold. It really feels like ours," he added. Live at the Orleans Arena Las Vegas was filmed in July 2014, and is the most recent document of Styx in concert. "We haven't shot one since then," Shaw says. "I don't think we've held any back, either. But I'm sure we'll do more when we feel the time's right." As for new music from the band, Young says that "Touring has been the complete focus of this band since '99, but there needs to be a new record from us at some point. I just don't know when, but I think that's less than five years away." - Billboard, 8/9/16...... On Aug. 8 the judge in the Led Zeppelin - "Stairway to Heaven" royalty dispute trial ruled that the band has no right to recoup nearly $800,000 in legal fees because the lawsuit against them was not frivolous. Judge R. Gary Klausner rejected the arguments of lawyers for Jimmy Page and Robert Plant, who contended the suit was brought only to shake down the wealthy rock stars for money and that awarding defense costs would deter future old and meritless copyright claims. Klausner said he had found the suit had enough merit to go to trial and there was no evidence that the plaintiff, the estate of the late Randy California of the band Spirit, "harbored nefarious motives." - AP, 8/8/16......
'70s disco producer Giorgio Moroder's latest project is the soundtrack of a new USA Network series titled Queen of the South, a show about a woman on the run in the US after her drug-dealer boyfriend is murdered in Mexico. "I liked Queen of the South because it reminded me a bit of Scarface," Moroder says, adding that working with a 30 minute format is completely different from a feature length film. Moroder, whose movie scoring credits include the 1979 smash Midnight Express, will be performing on Sept. 8 and 9 at an "immersive musical experience" in Brooklyn named after one of his famous Donna Summer-sung hits, "I Feel Love." Queen of the South airs Thursdays on USA Network at 9:00 pm CST. - Billboard, 8/9/16...... A hologram of legendary late heavy metal vocalist Ronnie James Dio closed out the Wacken Open Air festival in Germany on Aug. 6. Created by Eyellusion, the hologram was seen by 75,000 fans who attended the massive metal event, which featured such as Iron Maiden, Ministry, Testament, Bullet For My Valentine and the Ronnie James Dio spinoff group, Dio Disciples. Dio Disciples guitarist Craig Goldy says there plans to take the Ronnie James Dio hologram on tour in 2017. "We can't wait to bring this experience to even more of his fans and perhaps even a newer generation when we bring this incredible live experience on the road next year," he said. Dio died in 2010 at the age of 67 after a battle with stomach cancer. - Billboard, 8/7/16...... Former Deep Purple vocalist/bassist Glenn Hughes kicked off his first ever U.S. solo tour on Aug. 9 in Annapolis, Maryland. "When I came back in the early '90s, I wasn't represented appropriately. I always had a career in Europe," Hughes says. "I just think when I got sober, I pretty much focused on the United Kingdom or Europe in general and the Far East. But it's very clear to me that the door is open in America. I love this country. I want to go back to where it all started for me, which is playing in clubs, a lot of people coming into this tiny little place, crammed to the hilt. I just want to go back and get that vibe," he added. Hughes will be releasing a new solo album in November through Frontiers Records. His U.S. tour wraps Sept. 3 in Los Angeles. - Billboard, 8/5/16......
Gregg Allman has canceled all his U.S. tour dates through mid-October as he battles "serious health issues," according to an Aug. 5 press release. The 68-year-old Rock & Roll Hall of Fame member is currently being treated by the Mayo Clinic, and no further details were given on his condition. The string of axed dates include an Aug. 12 performance at Scranton, Pennsylvania's Peach Music Festival, and conclude with an Oct. 16 gig in Clearwater, Fla. Allman has promised to return Oct. 29 for his own Laid Back Festival in Atlanta, with all shows after that on as scheduled. "I want to thank my fans and friends for supporting me while I rest up and focus on getting better and back on the road as soon as I can," Allman said in the statement. "I've been working hard with my band, my pride and joy, to play our music for everyone. We'll see y'all in October." Allman's health troubles in recent years include a battle with Hepatitis C, which he contracted through a tattoo needle decades earlier, and in 2010 he underwent liver transplant surgery. In 2011, he was forced to cancel tour dates over an upper respiratory condition, for which he eventually required lung surgery. Allman, whose last studio effort was 2011's Low Country Blues, has hinted he's working on a new album that he hopes to release in early 2017, a collaboration with producer Don Was. - Billboard, 8/5/16...... The soundtrack of the 1983 David Bowie-starred movie Merry Christmas Mr. Lawrence will be reissued on Oct. 21 via Milan Records. Composer Ryuichi Sakamoto, who won a BAFTA award for Best Film Music for his score, also starred alongside Bowie in the film, in which Bowie plays a British solider held captive in a Japanese prison camp during WW2. Bowie's character develops an intimate relationship with one of the guards, Captain Yonoi, played by Sakamoto. - New Musical Express, 8/8/15...... Singer/songwriter Jack Tempchin will release a new solo album, One More Song, on Sept. 2 through Blue Elan Records. One More Song is titled after one of the nine songs on the set, which has previously been recorded by former Eagles' bassist Randy Meisner and Kate Wolf and performed live by Jackson Browne and Linda Ronstadt. A re-recording of the Tempchin-penned song "Slow Dancing," a hit for Johnny Rivers, will also be included. - Billboard, 8/5/16......
Todd Rundgren will release a live multi-media extravaganza titled An Evening With Todd Rundgren - Live At The Ridgefield on Aug. 26. Available on CD, Vinyl, DVD, and Blu-ray, the album was recorded live at the Ridgefield Playhouse in Ridgefield, Conn. on Dec. 15, 2015, and includes some of the versatile artist's best known songs, including "Hello It's Me," "I Saw The Light" and "Bang The Drum." Also included are fan favorites that haven't been performed live in decades, including songs from Rundgren's eclectic Utopia and Nazz albums. - Noble PR, 8/5/16...... Singer/songwriter/guitarist Pat Upton, a former member of the band Spiral Starecase who wrote the band's iconic 1969 love song "More Today Than Yesterday," died on July 27. He was 75. "More Today Than Yesterday" was a No. 12 hit for the Sacramento, Calif.-based Spiral Starecase, and the year's No. 50 song. Upton once said that he wrote the song "by accident, in a motel room in Las Vegas" and "was thinking about Bobby Golsboro singing it." The song has been covered by artists such as Andy Williams, Sonny and Cher, Lena Horne, Patti Austin and Diana Ross, and is a popular wedding selection. Upton was also once a backup singer for Rick Nelson, and in 1983 he returned to his native Alabama to open P.J.'s Alley in Guntersville, Ala. The club was the last venue Rick Nelson performed in before a Dec. 31, 1985 plane crash in Texas claimed his life. Upton last saw Nelson that morning, before his plane took off from Guntersville Airport, and had a photograph taken with him then. - 7/28/16...... Legendary New Orleans jazz clarinetist Pete Fountain passed away on Aug. 6 after recently suffering a stroke and undergoing heart surgery. He was 86. In the 1950s, Mr. Fountain was the bandleader for Lawrence Welk's TV show but he left after two years to return to New Orleans. He would continue to make appearances on The Ed Sullivan Show and The Tonight Show. Mr. Fountain performed for four different U.S. presidents and in 1987 performed "Just a Closer Walk with Thee" at a Mass in New Orleans led by Pope John Paul II. - TheDailyBeast.com, 8/6/16...... Ricci Martin, the son of late singer Dean Martin, died at his home in Utah on Aug. 3 of as yet undiscosed causes. He was 62. Ricci Martin enjoyed a career as a musician, releasing a single titled "Stop, Look Around" in 1975, which featured on Beached, an album produced by Carl Wilson of the Beach Boys. Wilson later became a brother-in-law to Martin. Martin also performed with Desi Arnaz Jr. and Billy Hinsche in the 1990s, who were in a band called Dino, Desi and Billy with Martin's brother Dean Paul Martin. Ricci Martin stepped in following his brother's death in 1987 in a plane crash. More recently Ricci Martin had been performing tribute concerts to his father, and even published a book about growing up as part of the large Martin family, titled That's Amore. - NME 8/7/16...... Musician Gary S. Paxton, who was "Flip" in the pop act Skip & Flip, has died at the age of 77. Paxton also wrote and produced for several '60's acts including The Monkees.
Thursday, August 4, 2016
David Bowie's farewell 2016 album Blackstar has been nominated to win Britain's prestigious Mercury music prize. Since the Mercury Prize often favors eclectic and obscure performers over better-known ones, the rock icon's haunting Blackstar still may not be the overwhelming favorite, as it has to compete with releases by artists such as Laura Mvula, Bat For Lashes, Anohni, Jamie Woon and Michael Kiwanuka. The 2016 winner will be announced on Sept. 15. In other Bowie-related news, the late singer's good friend Iggy Pop paid tribute to Bowie on Aug. 2 during his BBC 6 Music radio show Iggy Confidiential by playing such tracks as "Boys Keep Swinging," "Diamond Dogs," "Paper Monsters" and "Under Pressure." "The way I chose them was from memory," Pop said of his song selection. "I took out a piece of paper and a pen and closed my eyes and just remembered what I liked at different times | I'm weighing things that are a little more low on the totem pole, but not obscure." Pop also discussed his memories of Bowie during the show, which is part of a larger BBC tribute to Bowie the same week. A Bowie tribute concert at Royal Albert Hall the first weekend in August is also planned featuring performances from John Cale, Amanda Palmer and Marc Almond, among others. - AP/New Musical Express, 8/4/16......

In an interview with Bloomberg Businessweek, Ringo Starr revealed that he voted for Britain to leave the EU in the recent Brexit referendum because the EU is in a "shambles." "I voted for Brexit, because I thought the European Union was a great idea, but I didn't see it going anywhere lately," the Beatles legend said. "It's in shambles, and we're all stuck with people who want to make arrangements for their own country and don't think for the other countries. Britain should be out and get back on its own feet," Starr added. "And now Scotland wants to leave and Wales wants to leave. Then it will be Devon. God knows where it will end." Although his former bandmate Paul McCartney admitted in July that he didn't vote in the June Brexit poll because he was on tour at the time, Sir Paul told the Washington Post that he was leaning for Britain to remain in the EU: "I think I would have come down on the remain side because people like the Governor of the Bank of England, a lot of financial experts, were saying that." Starr also commented on the late arrival to streaming services by the Beatles, who only made their catalog widely available to stream in 2015: "We're just moving with the times. When we started with vinyl, and then CDs came out, that was good for us financially, because it wasn't in the contract. We had to go to CDs in the end. We were pretty late there. We were late to iTunes, too, but went there so you could buy the tracks. Streaming is huge now, so we're moving on. Who knows what's going to be next?" Ringo added that he doesn't stream music himself, but prefers to listen to the radio instead. "If I'm in the car, I usually listen to the radio, 88.5 Northridge [KCSN-FM, operated by California State University at Northridge]. I just love that channel, because it's such a mixed bag," he said. - New Musical Express, 8/4/16...... In a hearing on Aug. 4, lawyers for Prince's ex-wife Manuela Testolini argued that records from the couple's 2006 divorce should remain sealed. The Minneapolis Star Tribune has sought to have the couple's divorce records released publicly, but Testolini's attorneys objected, saying the records are tied to a private settlement. An attorney for the paper argued that "Prince's privacy died with him and that the court files are newsworthy, given Prince's death and the case surrounding his estate," which has an estimated value of $300 million or more. The judge ruled that he was taking the matter under advisement. Testolini was the second wife of Prince, who died on Apr. 21 from an accidental overdose of fentanyl. Meanwhile, on July 29 a Minnesota state judge barred 29 people who claim to be Prince's heirs -- including five alleged children, 11 alleged siblings and 13 people claiming more distant family relationships -- from seeking a share of the late pop superstar's multi-million dollar estate. However, Carver County District Judge Kevin Eide allowed a possible niece and grandniece to continue to pursue their claims, saying they may submit to genetic testing to prove a blood relationship, as will Prince's sister Tyka and three of Prince's half-siblings. - AP/Billboard, 8/4/16......
Cher has created an "I'm With Cher" campaign, a play on Democratic presidential nominee Hillary Clinton's "I'm With Her" slogan, to celebrate her many hears of political advocacy. Cher has not been shy about weighing in on the 2016 campaign and her distaste for Republican presidential nominee Donald Trump (whose name she always accompanies with a toilet emoji) and her support for Clinton. Tweeting to her more than 3 million followers, Cher voices her disapproval of Trump daily, calling him (in all-caps, no less) a "LYING CON MAN" and a "PUNK ASS." Now Cher's series of tweets has inspired one fan to design posters, buttons and bumper stickers sporting the phrase "I'm With Cher" and some of the artist's greatest "down with Trump" tweets. Creator and designer Anna Niess says she has received so many requests to order the merchandise that they will now be available for purchase for Cher fans and Trump haters alike. Niess claims on the website that the "I'm With Cher" merchandise proceeds will benefit the organization Everytown for Gun Safety, "or an organization of Cher's choice." - Billboard, 8/2/16...... Prog-rock icons Kansas will release its first new album in 16 years, The Prelude Implicit, on Sept. 23, and Kansas drummer Phil Ehart says it will "start a new chapter in the book of Kansas." "The title of the album, The Prelude Implicit, means without a doubt this is a new musical beginning for the band," Ehart says. "This is the prelude, this is the beginning of a new musical expanse for us. The thing that [guitarist] Richard [Williams] and I realized is: it's the music, the Kansas music. If the band Kansas stops, then the music stops. Yeah, you can still listen to your CD and pop in a video or something, but it's a great live band, and the fans are not only coming, but they're coming more so now. We're enjoying a real resurgence of sorts, so it's something we want to continue." Kansas has recruited a new singer-keyboardist, Ronnie Platt, and also added former lighting director David Manion on keyboards and Zak Rizvi on second guitar. Ehart added that with the previous incarnation of the band, "it just wasn't meant to happen." "We discussed it. We talked about it, but the enthusiasm wasn't there with certain members. The new material wasn't being written. It didn't want to be written. But once the new personnel came on, boy, it happened overnight. It really ignited," he said. Kansas' 100-plus tour dates in 2016 include a fall run beginning on Sept. 30 in Pittsburgh during which the group will not only promote the new LP, but also play its 1976 breakthrough album Leftoverture in its entirety to celebrate the band's 40th anniversary. Ehart says he's confident there won't be another 16 years before the followup to The Prelude Implicit, as its record label Inside Out Music has already asked for a follow-up in early 2018. - Billboard, 8/4/16......
'70s/'80s hitmakers Kool & the Gang have charted their first Billboard hit in 10 years with "Sexy (Where'd You Get Yours)," which has debuted at No. 28 on the Adult R&B Songs roundup for the week ending Aug. 13. The single arrives as the group is currently in the midst of its Keepin' The Funk Alive U.S. Tour, which runs through the end of August. Kool & the Gang is comprised of veteran founding members, Ronald and Robert "Kool" Bell, Dennis Thomas and George Brown, along with new vocalist Walt Anderson. Kool & the Gang charted nine No. 1's on the charts in the 1970s and 1980s with hits like "Hollywood Swinging" (one week at No. 1 in 1974), "Ladies Night" (three weeks in 1979) and "Joanna" (two weeks in 1984). - Billboard, 8/3/16...... Content provider Netflix is working on an original animated series for kids based on the famed Jobete Music catalog of Motown hits from artists including Marvin Gaye, the Jackson 5, Lionel Richie, Smokey Robinson, the Supremes, the Temptations and Stevie Wonder. With Smokey Robinson serving as executive music producer, the first season of the untitled project will feature songs covered by contemporary artists and will be released on Melodia/Motown Records to coincide with the as-yet-unannounced launch date of the show. "I am thrilled to be a part of this wonderful new series that will embrace the magic of Motown and present our songs to a whole new generation of fans and their families," says Robinson, who will curate the song choices and select cover artists. Netflix's Motown project follows the recent announcement of a Beatles-themed animated series for children, Beat Bugs, which features covers of Fab Four songs performed by artists including Jennifer Hudson, Pink, Sia, Rod Stewart and Pearl Jam's Eddie Vedder. That series began streaming on Netflix on Aug. 3, with its soundtrack available the same day. - Billboard, 8/3/16......

People magazine is reporting that Ozzy Osbourne is currently undergoing "intense therapy" to overcome a sex addiction issue that he's been afflicted with for the past six years. In the same story, Ozzy's hair colorist Michelle Pugh said that Osbourne not only gave her "the greatest love of [her] life" but also "a very real relationship" and what felt like "an old-fashioned romance." She expressed doubt that Ozzy had a sex addiction and claimed they'd known each other professionally for a year before Ozzy "made the first move on her." Pugh has also filed a defamation lawsuit against Ozzy's daughter Kelly Osbourne over a series of tweets made by Kelly after rumors of the alleged affair between Ozzy and Pugh leaked out. In May, Ozzy's wife and longtime manager Sharon Osbourne kicked out of their house over what some outlets reported was an affair with Pugh. "I don't know where I'm going, who I'm going with," she admitted on CBS' The Talk, which she co-hosts. "And I just need time to think. And really think about myself, about what do I really want. Because I'm 63 years of age and I can't keep living like this." In July, Ozzy told Good Morning America that his marriage was "back on track." Meanwhile, Ozzy and Black Sabbath are in the midst of a worldwide farewell tour, with the next show set for Aug. 17 at Wantagh, NY's Jones Beach Theater. - Billboard, 8/3/16...... Elton John has given permission for guitarist Slash of Guns N' Roses fame to record a cover of his classic outer space-themed song "Rocket Man" for a Kickstarter.com campaign by motorcycle daredevil Eddie Braun, who plans to leap across the Snake River Canyon in Idaho on Sept. 17. Slash's version of "Rocket Man" will serve as the theme for Braun's dangerous stunt, which almost took the life of famed motorcycle stuntman Evel Knievel in Sept. 1978. Braun plans to jump the canon with the the help of a 10,000 horse-power rocket called the "Evel Spirit" which Braun says can go from 0 to 400mph in three seconds. Evel Knievel tried and failed in his attempt. Braun says he plans to live-stream his jump attempt, and fans can download Slash's "Rocket Man" after the action. - Billboard, 8/3/16.
Saturday, July 30, 2016
The family of late rock icon Prince issued a press release on July 28 announcing an offical Prince tribute concert will take place on Oct. 13 at U.S. Bank Stadium in Minneapolis, Minn. "We are excited for the opportunity to bring everyone together for the official family celebration of Prince's life, music and legacy, and there is no better place to do it than his hometown of Minneapolis," the statement read. "We are honored by the artists who will pay tribute and grateful to those that have worked so hard to make this celebration possible." Prince, who died on Apr. 21 of a drug overdose, has been honored by countless performers during their live shows in the past three months, and in May his songs "Nothing Compares 2 U" and "Purple Rain" were performed by Madonna and Stevie Wonder at the Billboard Music Awards. - AP, 7/29/16...... Carole King entertained delegates on the final day of the 2016 Democratic National Convention in Philadelphia on July 28 with a performace of her classic "You've Got a Friend." Members of the audience were seen holding hands, smiling, singing and dancing together to King's 1971 hit, which was also popularized by James Taylor. "Hillary [Clinton]'s got so many friends and Bernie [Sanders] too and all of us together!," King said as she finished. - Billboard, 7/28/16...... A Lou Reed tribute concert at New York City's Lincoln Center called "The Bells: A Daylong Celebration of Lou Reed" took place on July 30. The free event took its name from the title track, "The Bells," from Reed's 1979 LP and was selected by Reed's widow, artist Laurie Anderson and his longtime producing partner Hal Wilner. Performers included members of Sonic Youth, fronted by such vocalists as David Hohansen of the New York Dolls, Lenny Kaye and Jon Spencer, among others. Reed died on Oct. 27, 2013 from liver disease at age 71. - New Musical Express, 7/28/16......



A massive 27-disc retrospective of early Pink Floyd recordings featuring unreleased demos, TV appearances and more than 20 unreleased songs called The Early Years 1965-1972 will hit stores on Nov. 11. Collected in 7 individual book-style packages, the set will bundle more than 15 hours of video, including rare BBC Sessions, live concert performances, interviews and three feature films: The Committee, More and La Valle (Obscured by Clouds). The previously unreleased tracks include 1967's "Vegetable Man" and "In the Beechwoods," which have been remixed for the release, as well as remixed and updated versions of the band's score for the film Zabriskie Point. A 2-CD set of highlights from the box set, The Early Years -- CRE/ATION, will be released on Nov. 11 as well through Pink Floyd Records. Each of the 7 packages will also be released separately in 2017 with the exception of the bonus disc CONTINU/ATION. - Billboard, 7/28/16...... Chapter and Verse, a musical companion piece to Bruce Springsteen's upcoming 500-page autobiography Born to Run, will drop on Sept 23. Featuring five previously unreleased songs, Chapter and Verse will reflect the themes and sections of Springsteen's Born to Run memoirs. Kicking off with two tracks from Springsteen's high school band The Castiles, its 18 tracks also include material from the Steel Mill and the Bruce Springsteen Band, winding its way through 2012's Wrecking Ball. The Born to Run book will arrive via Simon & Shuster in hardcover on Oct. 5. Springsteen and his E Street Band kick off the U.S. leg of their summer stadium tour with a three-night stand in East Rutherford, N.J., and conclude Sept. 14 in Foxborough, Mass. His anticipated new solo album, which manager Jon Landau says is a "very different kind of record," is expected in 2017. - Billboard, 7/28/16...... Rod Stewart has been added to the contributors of Beat Bugs, a new Netflix animated series that features Beatles songs covered by the likes of Eddie Vedder, Pink, Jennifer Hudson, Robbie Williams and the Lumineers, among others. Premiering in the U.S. on Nov. 18, season one of Beat Bugs will include Pink's version of "Lucy In The Sky With Diamonds," Robbie Williams with "Good Day Sunshine," Eddie Vedder singing "Magical Mystery Tour," and the Lumineers doing "Honey Pie." Stewart is set to cover "Sgt. Pepper's Lonely Hearts Club Band" in season two. A 27-track two-disc soundtrack album for the first season will be released exclusively to Apple Music the day of the show's Aug. 3 premiere. - Billboard, 7/27/16...... In other Beatles-related news, George Harrison's widow Olivia Harrison says she and her 37-year-old son Dhani Harrison have talked about him finishing some unreleased tracks that her late husband left behind. "There are a lot of songs that are unfinished," Olivia said. "I think there's a project there. I just need time to get to it." Olivia, Paul McCartney, Ringo Starr and John Lennon's widow Yoko Ono all attended the 10th anniversary of the Beatles musical Love by Cirque du Soleil at the Mirage Hotel in Las Vegas on July 14. Ono says she's also working on a project of approximately 10 songs of hers and John Lennon's that she had intended to get out by now, but she was temporarly halted by a bout with the flu (and briefly hospitalized in February). "That derailed the whole situation," she said. "Everything in my body is OK now, except I have a problem walking," she added. Meanwhile, a stamp collection that belonged to John Lennon is set to go on display at the Stampex exhibition in London between Sept. 14-17. Lennon, who began his stamp collection at age 10, collected stamps from letters received from New Zealand and America and defaced pictures of Queen Victoria and King George VI with moustaches. A classic car owned by John is also going up for auction at RM Sotheby's in London on Sept. 7. Lennon purchased the 1956 Austin Princess in Aug. 1971 and went on to use it the following year in a promotional film for his album Imagine, alongside wife Yoko Ono. The car's seats were replaced with five aeroplane seats, which are still in the car today. - Billboard/NME, 7/25/16...... An appeal has been filed over the recent Led Zeppelin "Stairway to Heaven" verdict in which songwriting partners Jimmy Page and Robert Plant were cleared of accusations that they lifted a riff from an obscure 1968 instrumental by Randy California of Spirit for the intro to the classic rock anthem. The filing does not provide legal arguments for why the case should be reconsidered, but trust attorneys complained after the verdict that the judge did not allow jurors to hear the recording of Spirit's "Taurus." A hearing on the appeal is scheduled for Aug. 8. Attorneys for Zeppelin and the other defendants, including their record label, are seeking close to $800,000 in legal and other fees from the trust California, whose real name is Randy Wolfe, because it failed to win. - AP, 7/27/16......


The O'Jays have sent a cease and desist letter to the campaign of 2016 Republican presidential nominee Donald Trump after Republican congressman Rep. John Mica posted a new pro-Trump video using the group's classic "For the Love of Money" without the band's consent. Founding O'Jays members Eddie Levert and Walter Williams had decried the use of their 1972 hit "Love Train" just a few days earlier during the Republican National Convention in Cleveland. The letter, issued by the O'Jays' attorneys and sent to Rep. Mica and copied to Trump's campaign chairman Paul Manafort, reads in part "Your use of our clients' signature song, and utilizing the original recording, constitutes a patently false implication that Mr. Levert and Mr. Williams have endorsed you or your political agenda or Mr. Trump's agenda. Our clients unequivocally do not endorse you, your agenda nor your party's views or those of Mr. Trump. On the contrary, Mr. Levert and Mr. Williams have actively opposed these ideals [and] we hereby demand that you... immediately and permanently refrain from exploiting our clients' proprietary material." - Billboard, 7/27/16...... The first ever Outlaw Music Festival set for Montage Mountain Pavillion in Scranton, Penn. on Sept. 18 was announced on July 26 by Willie Nelson on July 26. In addition to Nelson, the concert will be headlined by Neil Young + Promise of the Real, Sheryl Crow, The Chris Robinson Brotherhood, Lee Ann Womack and Brothers Osborne. - Billboard, 7/26/16...... Steven Tyler's new country crossover LP We're All Somebody From Somewhere has nabbed the No. 1 spot on Billboard's Top Country Albums chart for the week ending Aug. 6. The album sold 17,000 copies in its first week (ending July 21), according to Nielsen Music, and bowed at No. 19 on Billboard's all-genre Hot 200 album chart the same week. Tyler kicked off his Out on a Limb tour behind the new album on July 2 at the Venetian Theatre in Las Vegas, and will hit 19 cities. The newly released title track is the album's third single, with "Love Is Your Name" and "Red, White & You," peaking at Nos. 19 and 29 on the Hot Country Songs roundup. - Billboard, 7/26/16...... The Gibson cherry sunburst electric guitar used by Elvis Presley during rehearsals for his legendary 1968 "comeback" special is among several Presley items set to be auctioned beginning on Aug. 13, during Graceland's "Elvis Presley Week." Presley's birth record, a black and gold outfit he performed in, an Indian ring, and a TCB necklace will also be auctioned. - NME, 7/26/16...... The Rolling Stones will screen their Mar. 25 free concert in Havana, Cuba, across the world this fall. Havana Moon: The Rolling Stones Live in Cuba includes the hits "(I Can't Get No) Satisfaction," "Start Me Up," "Jumpin' Jack Flash" and "Brown Sugar." The film will be released in cinemas internationally on Sept. 23. - NME, 7/28/16...... A Florida man who could possibly be German electronic music pioneers Kraftwerk's biggest fan has legally changed his name after the band. The man has posted a picture of his driver's license on his Flickr page with his name as "Kraftwerk," followed by his address. It is unclear what his real name is although his account web address lists the name David Sanborn. The man also posted a series of pictures wearing the band's iconic red shirt and black tie from their 1978 Man-Machine album as he goes shopping, driving, eating and gassing up his car. - NME 7/25/16......
Brian Wilson & Friends, a concert film of Brian Wilson's Dec. 12, 2014 concert for the PBS Soundstage concert series, is set to be released on Aug. 2. The concert featured appearances from Wilson's former Beach Boys bandmate Al Jardine, fun.'s Nate Ruess and country music star Kacey Musgraves. The concert originally aired in the U.S. on PBS throughout 2015, and was offered as exclusive DVD and Blu-ray sets as a premium gift for viewer contributions to the network's annual pledge drive. A CD version of the show will also be available for the first time and is to set to include bonus tracks, behind-the-scenes footage and guest artist interviews. Wilson is set to launch a book about his life, I Am Brian Wilson: A Memoir, via Da Capo Press in October. - New Musical Express, 7/28/16...... The David Bowie co-written "Lazarus" musical is heading to London for a run this fall after premiering off Broadway just before the rock icon's death in January. Based on Walter Tevis' classic 1963 British sci-fi novel and considered Bowie's completion of Nicolas Roeg's 1976 film adaptation, "Lazarus" stars Michael C. Hall as a humanoid alien who came to Earth from his drought-stricken planet many years earlier. After amassing a fortune in business while attempting to build a rocket ship to take him home, he was experimented on by the government and finds himself living in depressed isolation, unable to leave or die. "Lazarus" is set to run in London from Oct. 22 through Jan. 22 at the Kings Cross Theatre. In other Bowie-related news, the band who backed the singer on his final album Blackstar have announced their own album inspired by and dedicated to their former collaborator. Saxophonist Donny McCaslin says he and his group, which includes guitarist Nate Wood, bassist Tim Lefebvre and drummer Mark Guiliana, will release the LP, titled Beyond Now, on Oct. 14 via Motma Music. The record includes original tracks by McCaslin and a number of covers of songs by the likes of Deadmau5, Mutemath, The Chainsmokers and Bowie. Meanwhile, Bowie's son Duncan Jones and his wife Rodene have welcomed their first child, and named baby boy after Duncan's late father. "Stenton David Jones. Born July 10th, exactly six months after his grandad made room for him. Love you both so," Duncan Jones posted on Twitter on July 29. Bowie, who passed away on Jan. 10, also has a daughter, Duncan Jones' half-sister, Alexandria, who is in her teens. Duncan Jones' mother is Bowie's first wife Angie, while Alexandria's mother is supermodel and businesswoman Iman, to whom Bowie was married from 1992 until his death.- Billboard/NME, 7/30/16...... Three of Michael Jackson's nephews -- Taj, TJ and Taryll Jackson -- have filed a $100 million libel suit against the celebrity gossip site RadarOnline.com over allegations that they were sexually abused by their uncle and accepted gifts to cover it up, stemming from purported documents from a 2003 raid of Jackson's Neverland Ranch. "Radar has built a business of publishing false, embarrassing and hurtful gossip for profit and its latest victims are the members of the band 3T, Taj, TJ and Taryll Jackson," according to the suit filed by Bert Fields on July 27. "Radar has tried to profit by launching a vicious and unrelenting attack on [Jackson] based on claims that, years ago, he was guilty of sexual abuse, even though, at the time, he was found 'not guilty' of that very charge," Fields writes. "Radar represents its 'reports' as 'new' and based on official 'Detective Reports.' Not only have those Detective Reports been available to the public for many years, Radar has misrepresented what the Reports say." In June, RadarOnline posted a series of stories claiming newly discovered documents show Jackson had been "stockpiling images of pornography, animal torture, S&M and gore in a bid to seduce innocent young boys." The site claims the documents came from Santa Barbara County Sheriff's Department reports and quotes a "private investigator with direct knowledge of the raids" saying "the report cites Michael even used sexy photos of his own nephews, who were in the band 3T, in their underwear to excite young boys." The complaint also says the Jackson nephews demanded a correction of the libelous stories on July 5 and received a refusal from RadarOnline two days later. - The Hollywood Reporter, 7/27/16......
Ozzy & Jack's World Detour, a new travel show starring Ozzy Osbourne and his son Jack Osbourne, premiered on the History Channel July 27. The series takes the father and son duo to historic sites around the U.S. and the U.K., including the Alamo in Texas, where in 1982 the Prince of Darkness famously relieved himself on the Alamo Cenotaph across the street. Ozzy, who resumes his Black Sabbath The End tour on Aug. 17 in Wantaugh, N.Y., has also provided a voiceover for an episode for Disney's animated series The 7D. He cameos in the episode titled "Bummer Vacation," premieres on July 30. The show, which sees the seven dwarfs from Snow White getting a modern update, also features Osbourne's wife Sharon and daughter Kelly. Appearing on ABC's Good Morning America on July 25 to promote his new projects, Ozzy declared his marriage to Sharon is "back on track again," after tabloid reports in May claimed the pair had had "mutually agreed" to split, with Ozzy moving out of their family home. It was suggested that the singer had an affair with a celebrity hair stylist. "You just, you make mistakes, and you learn by your mistakes, I think," Ozzy said. "It's just a bump in the road. Some days it's good, some days it's terrible, some days you just drift apart for a while. But you get back on the horse, you know," he added. - Billboard/NME, 7/30/16...... Veteran rock producer Sandy Pearlman, best known for producing nine albums for Blue Oyster Cult as well as the Dictators' Go Girl Crazy! and the Clash's first U.S. release Give 'Em Enough Rope, died on July 26 after a long struggle following a cerebral hemorrhage he suffered in Dec. 2015. He was 72. Pearlman, who is sometimes credited with coining the phrase "heavy metal" while working at the rock magazine Crawdaddy, also managed Blue Oyster Cult, The Dictators, Romeo Void, and, briefly, the Ronnie Dio-era Black Sabbath. He was president of 415 Records and vice president of pioneering 1990s online music service e-music. Pearlman's work producing, writing for and co-managing Blue Oyster Cult was immortalized in the legendary Saturday Night Live "More Cowbell" sketch, where Christopher Walken played a fictionalized version of the rock n' roll raconteur. - Billboard, 7/26/16...... Marni Nixon, a Hollywood voice double whose singing was heard in place of the leading actresses in such classic movie musicals as West Side Story, The King and I and My Fair Lady, died on July 24 of cancer in New York. She was 86. Ms. Nixon, who was initially uncredited for her work, early on resented the dubbing work but later came to terms with it. "I realized now that this was something that would outlive me. Something that would last," she wrote in her 2006 memoir, I Could Have Sung All Night. Ms. Nixon also appeared before the cameras in 1965, in a small role as a nun in The Sound of Music, and provided the singing voice of Grandmother Fa in the 1998 animated film Mulan. Ms. Nixon was the the ex-wife of Oscar-winning composer-conductor Ernest Gold, and the mother of late rock musician Andrew Gold, who arranged music for Linda Ronstadt and had a top 10 hit in 1977 with "Lonely Boy." He died in 2011. She also had two daughters with her first husband, Martha and Melani. - AP, 7/26/16.
Monday, July 25, 2016
The Beatles' Apple Corps' Ltd. and Universal Music Group announced on July 20 that the band's 1977 live LP of 1964 Hollywood Bowl performances will be released globally on CD for the first time ever on Sept. 9. Containing material from the legendary quartet's Hollywood Bowl concerts in Aug. 1964 and Aug. 1965, The Beatles Live at the Hollywood Bowl will also be available as a digital download the same day, and a 180-gram vinyl release will follow on Nov. 18. Intended as a companion release to director Ron Howard's new Beatles rockumentary Eight Days a Week: The Touring Years, the package will include all 13 tracks from the original vinyl release, plus four previously unreleased live tracks -- "You Can't Do That" and "I Want to Hold Your Hand" from the Aug. 1964 concert, and "Everybody's Trying to Be My Baby" and "Baby's in Black" from the Aug. 1965 show -- along with a 24-page booklet with an essay by Rolling Stone contributor David Fricke. All tracks have been remixed from the original three track tapes by producer Giles Martin, the son of Sir George Martin who produced the original album and wrote in the original liner notes, and engineer Sam Okell at Abbey Road Studios. The original Hollywood Bowl album debuted on the Billboard charts on May 21, 1977, and peaked at No. 2 in the UK and No. 1 in the UK. Although it was never released officially on CD, the album was heavily bootlegged. Ron Howard's new film, which premieres within a week after the album's release, concentrates on the group from the years 1962 to 1966 and will include footage of the "Boys" performance featured on the original Hollywood Bowl album. - Billboard, 7/20/16......
In other Beatles news, a long lost recording by Paul McCartney in his early Fab Four days has been discovered in tucked inside a paper bag in the attic of the family of British pop singer Cilla Black and is expected to fetch at least $20,000 when it's put up for auction on Aug. 27. The 7-inch 45 record has no artist listed, only the title "It's For You" and "Demo." In 1964, McCartney recorded a demo of the track to a Dick James demo disc, which was delivered to Black at the London Palladium, where she was performing. The whereabouts of the demo since then have been unknown until now. The official version of Black's "It's For You" cracked the Top 10 in the U.K., but only reached No. 79 in the States. A 20-second excerpt of the song can be heard at beatlesauction.co.uk, who is conducting the auction. - MeTV.com, 7/21/16...... The list of '70s Classic Rock and Soul musicians objecting to Republican presidential nominee Donald Trump using their songs during his political events has exploded after the GOP convention in Cleveland, Oh., on July 18-21. George Harrison's estate, the Rolling Stones, Earth, Wind & Fire and The O'Jays have joined the likes of Queen, Paul Rodgers of Bad Company, Aerosmith, Neil Young and REM, among others, in protesting Trump's use of their music. After Harrison's Beatles classic "Here Comes the Sun" was played during the RNC convention on July 21, his estate tweeted "The unauthorized use of 'Here Comes the Sun' at the RNC is offensive & against the wishes of the George Harrison estate" the next day, wryly adding, "If it had been Beware of Darkness, then we MAY have approved it! #TrumpYourself," in reference to the track from his solo album, All Things Must Pass. Also on July 21, Trump and the Republicans ignored a previous request from the Rolling Stones to refrain from playing their music at the candidate's events. "The Rolling Stones do not endorse Donald Trump. You Can't Always Get What You Want was used without the band's permission," a rep for the band tweeted the next day. Earth, Wind & Fire slammed the Trump campaign on July 20 in a tweet after their hit "September" was played at the convention, tweeting "Another unauthorized use (September) at the Republican Convention, against our wishes." The O'Jays are also upset that their 1972 smash "Love Train" was used at the RNC event, with founding members Eddie Levert and Walter Williams issuing a statement saying "Our music, and most especially, 'Love Train' is about bringing people together, not building walls... I don't appreciate being associated with Mr. Trump and his usage of our music without permission." Finally, Queen have issued a second statement expressing their frustration against Donald Trump using their 1977 single 'We Are The Champions' at his rallies. Queen released another statement on July 20 stating they are "frustrated" at Trump's "repeated unauthorised use of the song ['We Are the Champions']." - Billboard/NME, 7/22/16......
A "lost" David Bowie album titled The Gouster that eventually became his hit 1975 LP Young Americans will be included in a planned second box set compiling the late singer's complete music. The tracklisting for The Gouster was to have been: "John, I'm Only Dancing (Again)," "Somebody Up There Likes Me," "It's Gonna Be Me," "Who Can I Be Now?," "Can You Hear Me," "Young Americans" and "Right" before Bowie decided to revamp the album and name it after Young Americans' title track, a reference to a dress code worn by Chicago teenagers in the 1960s. The Gouster will be included in Who Can I Be Now?, the second Bowie box set that follows the release of 2015's Five Years, which covered the years 1969 through 1973's Pin Ups. The new release will cover 1974-76, and feature a booklet written by Bowie producer Tony Visconti, who produced many of its recordings. - New Musical Express, 7/22/16...... The PonoMusic Store, Neil Young's high resolution digital music service, has gone offline following the recent acquisition of Omnifone, up until now PonoMusic's sole provider of hi-resolution audio downloads. The sale has forced Young's service to go dark until a new platform can be established, which will be 7digital, a London-based indie services platform. In a message posted to its website, Pono said the "process of transition is now well underway" and that it would take several weeks to complete. Young launched his PonoMusic Store in Jan. 2015 with a library of 2 million-plus songs with all the major labels. In an open letter in Aug. 2015, Young called Pono a "labor of love" and reiterated the company's mission to bring high-quality audio to fans -- "not some 21st century fake shallow Xerox facsimile, with all of the essence taken away and replaced by a thin exterior with no passionate core." - Billboard, 7/22/16......
Don McLean of "American Pie" fame has taken a plea in a domestic violence assault case against his estranged wife, Patrisha McLean, that dates back to January of 2016. McLean pleaded guilty to domestic violence in a Camden, Maine court on July 21, which will allow him to avoid jail time if he stays out of trouble for at least a year, however he was ordered to pay a $3,000 fine. A lawyer for Patrisha McLean said in March that his client was filing for divorce and that the legal papers cited "adultery, cruel and abusive treatment, and irreconcilable differences." The two had been married 30 years. Don McLean, whose original manuscript and notes to "American Pie" sold at auction for $1.2 million in 2015, initially pleaded not guilty to the charges. - AP, 7/22/16...... Britain's Official Charts Company has announced it's honoring Paul McCartney with its second "Official Record Breaker Award" as the most successful album act of all time in the U.K. The honor was given after Sir Paul hit the No. 1 album spot 22 times beginning from his time with the Beatles and continuing into his solo career. Macca's run of 15 UK number one albums with the Beatles began in 1963 with Please Please Me and With the Beatles, and his solo U.K. chart toppers began in 1971 with Ram. "Okay, you know how it really feels? It feels unbelievable, because when you write your songs you don't count how well they're doing," McCartney said in a statement. "I remember when Please, Please Me went to No. 1, that was our first No. 1 record, and it's a beautiful feeling to suddenly get this [award], I mean it's amazing." McCartney went on to thank the OCC, which is celebrating its 60th birthday in 2016, and "everyone who made it possible by buying the records, we love you too!" - Billboard, 7/22/16......

Debbie Harry of Blondie is collaborating with the iconic blue jeans manufacturer Levi's, and took the stage during a July 19 concert at New York's Bowery Ballroom in honor of Levi's new 505C jean, a style inspired by the Levi's 505s that Harry wore in a now-iconic image by photographer Richard Young from a 1978 performance in Tokyo. "Blue denim has always been truly American," said the 71-year-old singer, who performed hits like "Call Me," "Heart of Glass" and "Rapture" (including the rap) at the event. - Billboard, 7/20/16...... Bruce Springsteen's manager Jon Landau says Springsteen's next project will be a solo album, which he describes as "a very different kind" of Springsteen record. "All I can say is that there is a solo record -- and when I say solo record, I'm not talking about an acoustic record," he says. "It is, in fact, a very expansive record, a very rich record. It's one of Bruce's very creative efforts. Stay tuned, and we'll see exactly how that shapes up next year." Landau did not elaborate on a release date or supporting tour, only saying it's "premature to say much about it." "It's a wonderful record, and we'll see how the next year unfolds. We're terrible planners. You have people who know where they're playing 18 months from now and have all of next summer's festivals booked, and we just have a knack for not planning that far ahead. That's our way." Commenting on The Boss's current The River tour, Landau said: "This is a 67-year-old guy that's out there doing the best shows of his life, and people are coming." - Billboard, 7/21/16...... Joe Perry returned to performing with his new supergroup Hollywood Vampires at Weill Hall in Rohnert Park, Calif., on July 22 after having a health scare during a show in Brooklyn on July 10. The band, which also includes Alice Cooper Ian Hunter, Johnny Depp and Matt Sorum, has three additional dates scheduled with one in Oregon and two in California for the remainder of their tour. - Billboard, 7/21/16.
Wednesday, July 20, 2016
Actor/director/writer/producer Garry Marshall, a beloved figure in show business responsible for such TV hits as Happy Days, Laverne & Shirley and Mork & Mindy as well as helming such bigscreen blockbusters as The Flamingo Kid, Beaches, Pretty Woman and The Princess Diaries, died on July 19 from complications of pneumonia following a stroke at a hospital in Burbank, Calif. He was 81. Born in the Bronx, N.Y., on Nov. 13, 1934, Mr. Marshall broke into showbiz in the late 1950s as a joke writer, eventually earning his way to becoming a writer on The Tonight Show with Jack Paar. In 1970, Mr. Marshall adapted his first TV hit, The Odd Couple, from the Neil Simon play with writing partner Jerry Belson. He went on to create the sitcoms Happy Days, Laverne & Shirley (which starred his sister, Penny Marshall) and Mork & Mindy (which introduced the world to Robin Williams). The following decade, Mr. Marshall turned his talents to feature films, finding his first hit with The Flamingo Kid in 1984, followed by Overboard (1987) and Beaches (1989). His 1990 film Pretty Woman propelled Julia Roberts to stardom, and 2001's The Princess Diaries made Anne Hathaway a household name. Then came the celebrity-filled, holiday-themed comedies: 2010's Valentine's Day, 2011's New Year's Eve and this year, Mother's Day. Mr. Marshall also had several memorable acting credits, starring in '90s films such as Soapdish and A League of Their Own and serving as micro-managing network president Stan Lansing on TV's Murphy Brown. More recently, he appeared on episodes of Brooklyn Nine-Nine, Bojack Horseman and Hot in Cleveland. He remained prolific even in his final years, having recently finished a rewrite of Pretty Woman for the Broadway-bound musical. "He loved telling stories, making people laugh, and playing softball, winning numerous championships," read a statement sent by his rep. "Even at age 81, he had a record this year of 6-1 pitching for his team." "Rest In Peace .. Thank you for my professional life. Thank you for your loyalty, friendship and generosity," Happy Days star Henry Winkler tweeted upon hearing the news of Mr. Marshall's passing. Mr. Marshall is survived by his wife of 53 years, nurse Barbara Sue Marshall; two sisters, Ronny Hallin and Penny Marshall; three children, Lori, a writer, Kathleen, a theater producer, and Scott, a film and TV director. - USA Today, 7/20/16.
The 2014 Fender Stratocaster played by Eric Clapton at his 70th birthday concert in 2015 is expected to raise more than $20,000 for charity when it goes under the hammer in a live auction in Dallas on July 23. Currently owned by Johnny Nicholas of the country group Asleep at the Wheel, the Clapton-autographed guitar was intended to benefit Nicholas's wife Brenda, but, sadly, she passed away from leukemia in June. All proceeds from the Dallas-based Heritage Auction will now go toward Leukemia research. - TMZ.com, 7/16/16...... After bowing out of Yes's 2016 European tour in the spring to undergo surgery to repair an injured disc in his lower back, drummer Alan White says the operation has had a "very positive result" and that he hopes to "be back in good form and ready to rejoin the Summer YES Tour in the near future." "I'm eager to be on the road with the band but also need to ensure my recovery is complete before doing so," White tweeted on July 18. Yes will kick off the American leg of the tour on July 25 in Lancaster, Penn., with drummer Jay Schellen (Hurricane, Asia, World Trade) filling in for White until he can recover. The tour is set to wrap on Sept. 18 in San Diego. - Billboard, 7/18/16......
Queen has issued a statement saying that Republican presidential candidate Donald Trump's use of their 1977 classic "We Are the Champions" during Day 1 of the 2016 Republican National Convention in Cleveland on July 18 was "unauthorized" and "against our wishes." "An unauthorised use at the Republican Convention against our wishes," the band tweeted on July 19. Also on the same day, Queen's publishing company, Sony/ATV Music Publishing, weighed in: "Sony/ATV Music Publishing has never been asked by Mr. Trump, the Trump campaign or the Trump Organization for permission to use 'We are the Champions' by Queen. On behalf of the band, we are frustrated by the repeated unauthorized use of the song after a previous request to desist, which has obviously been ignored by Mr. Trump and his campaign." Sony/ATV went on to say that the band "does not want its music associated with any mainstream or political debate in any country," and that it does not want "We Are the Champions" "to be used as an endorsement of Mr. Trump and the political views of the Republican Party." "We trust, hope and expect that Mr. Trump and his campaign will respect these wishes moving forward," the statement concluded. In June, Queen guitarist Brian May had cautioned the Trump campaign to refrain from using the rousing ballad, saying "permission to use the track was neither sought nor given... We are taking advice on what steps we can take to ensure this use does not continue." - Billboard, 7/19/16...... In related news, the '60s pop band The Turtles is threatening to sue the Republicans for using its No. 1 1967 smash "Happy Together" as the GOP kicked off its convention earlier in the day. Turtles lead singer Howard Kaylan tweeted on July 18 that "We never approved this use... Now we call the laywers." In addition to Queen and The Turtles, several other musicians -- including Adele, Neil Young, the Rolling Stones, Aerosmith and REM -- have refused to let the controversial politician use their music at his rallies. Meanwhile, cover of David Bowie's "Station to Station" by the house band at the convention, led by GE Smith of Saturday Night Live fame, has also raised eyebrows by some. The traditionally conservative audience was treated to the "Station to Station" lyric "It's not the side-effects of the cocaine / I'm thinking it must be love." - Billboard/New Musical Express, 7/19/16...... Paul McCartney was joined onstage by Grateful Dead guitarist Bob Weir during Macca's concert at Boston's Fenway Park on July 17 for jams of Wings' "Hi, Hi Hi" and the Beatles' classic "Helter Skelter." Weir's Dead & Company had just completed a two-night stand at the same venue, and Weir stuck around to perform with the Beatles legend for the first time ever. After the Boston gig, McCartney's One on One summer tour continued to Hersheypark Stadium in Hershey, Penn. - Billboard, 7/17/16...... In other McCartney news, a letter from Paul to the late Prince sold at auction for $14,822 on July 17. In the letter, McCartney greeted Prince as "Dear Princely person" and asked his fellow musician to help him set up the Liverpool Institute For Performing Arts. Sir Paul wrote that he was contacting "friends and all good people" asking for donations. He also told Prince: "One of these days you'll have to come and teach a class some moves!!" It is unknown if Prince made good on McCartney's request, as the vast majority of Prince's contributions to charity were made anonymously. Meanwhile, former Police frontman Sting has recorded a tribute to Prince as part of his first straight pop album in 17 years. Sting is putting the finishing touches on 57th & 9th, which will include "50,000," a ballad written the week Prince died in April. The album is named after the intersection in New York where Sting is recording 57th & 9th, which is produced by Sting's new manager, Martin Kierszenbaum. - NME, 7/19/16......
Alice Cooper says he's "tired of the rhetoric -- the mudslinging -- the media frenzy" going on in the current political scene in both the US and the UK, and is launching simultaneous campaigns to become both President and Prime Minister, respectively. On his just launched website aliceforprimeminister.com, the '70s shock-rocker outlines his manifesto, which includes "Getting Brian Johnson back in AC/DC, a snake in every pot, no more pencils no more books," and "adding Lemmy [Kilmister] to Mt Rushmore." Other amusing points include "a ban on talking during movies in theatres" and a "ban on taking selfies, except on a designated National Selfie Day." "He is asking his fellow Americans, his British friends and all those around the world who are disillusioned with their leaders, to join The Wild Party," according to a press release. "Alice Cooper is tackling the everyday concerns discussed among his fellow woman and man - the ordinary, decent hard working (and rocking) people he meets and entertains every day while performing nearly 100 concerts a year around the world." To accompany the campaign, the Coop has recorded a new version of his classic track "Elected," which originally came out in 1972. - New Musical Express, 7/15/16...... Diana Ross's summer tour hit the legendary Hollywood Bowl in Los Angeles on July 15, for her first L.A. performance in nearly three years. Descending from the ceiling of the Bowl stage on a swing while singing her smash single "I'm Coming Out," the Supremes legend then tore through a hits medley of "More Today Than Yesterday," "My World Is Empty Without You," "Baby Love," "Stop! In the Name of Love," "Come See About Me" and "You Can't Hurry Love." Ross also treated the crowd to a salute to the late Billie Holiday and the Holiday biopic Lady Sings the Blues in which she starred, performing "Don't Explain" and "Good Morning Heartache." Ross dedicated the latter tune to her former love and Motown label boss, Berry Gordy. She encored with a cover of Gloria Gaynor' "I Will Survive," "Reach Out and Touch (Somebody's Hand)," and a reprise of "I Will Survive." Ross played a second show at the venue the following night. - Billboard, 7/16/16...... Rock and Roll Hall of Fame inductees Heart, Joan Jett & the Blackhearts and Cheap Trick kicked off their co-headlinging Rock Hall Three For All Tour at the DTE Energy Music Theatre in suburban Detroit on July 14. All three bands have a touring history together -- tour headliner Heart and Cheap Trick date back to the '70s, and Heart and Jett have hit the road together extensively during the past couple years. "We all know each other and like each other, so it's cool," Heart's Ann Wilson said. Though the three acts did not collaborate at all during their sets, they made a point of paying homage to their own heroes as well as showcasing their respective repertoires. Cheap Trick payed homage to The Move with "California Man," Joan Jett covered Sly & the Family Stone's "Everyday People," and Heart paid tribute to Led Zeppelin with covers of "Immigrant Song" and "Misty Mountain Hop." The tour runs through Sept. 23. - Billboard, 7/15/16......
Speaking of Led Zeppelin, the band has announced it will release The Complete BBC Sessions, a 33-track album featuring a song not heard since it was first broadcast on Auntie Beeb in 1969, on Sept. 16. The release features a 3-song session from March 1969 that was taped from AM radio in Europe who came forwrd with the recording and restored to releaseable quality by Zeppelin's Jimmy Page. Also included is the first broadcast version of "Stairway To Heaven," aired in April 1971 from BBC Paris Cinema in London's Regent Street, as well as the only performance of "Sunshine Woman," which the band never recorded. The first version of The BBC Sessions was released in 1997, but the new edition adds a disc of eight previously-unreleased songs as well as the rare "White Summer," previously only available on the 'Led Zeppelin' box-set. The other 24 songs have been remastered by Page and engineer John Davis. The album will be available as a 2-CD/4-LP standard edition, 3-CD/5-LP deluxe edition, digital download, and a deluxe box-set. - New Musical Express, 7/19/16...... In a new interview with the UK's Radio Times, Rolling Stones guitarist Keith Richards vowed his iconic band will continue until their death, saying it's what the best bands do. "They're not really bands if they don't last; they're groups," Richards says. "We're a band and a real band sticks until it dies. These bands, they become big, but they're generational, just for their one decade. They literally go when their testosterone goes." In the same interview, the musician also said that the Stones "are still hoping to release their best music," 52 years after they released their self-titled debut LP in 1964. Richards also criticized the Beatles as live performers: "Musically, The Beatles had a lovely sound and great songs. But the live thing? They were never quite there." He added that he enjoyed being friends with the band, but that he "excommunicated" them when they fell under the influence of mystic leader Maharishi Mahesh Yogi in 1967. "They wanted somebody else to take them away. They didn't want to be God any more, so they plugged it all onto the Maharishi," he said. The Stones previously announced that they are continuing to work on their first studio album since 2005's A Bigger Bang, and have hinted it may be the first covers album of their 52-year career. - NME, 7/19/16...... Performing during a Kiss concert in Bozeman, Montana on July 16, Gene Simmons took a tumble onstage as the band closed its set with "Rock and Roll All Nite." After falling backwards, the 66-year-old Simmons was soon picked back up by security staff and didn't appear to be hurt. - NME, 7/18/16...... Steven Tyler's song "Hold On (Won't Let Go)" has been named the official song for the Professional Bull Riders, a Colorado-based bull riding organization, and the song will be used on CBS television broadcasts of live bull riding events. Tyler cut the song for his new debut solo album, We're All Somebody From Somewhere, and was so enamored with the results that he flew out to the Nevada desert to shoot the video for the CBS intro. Tyler has just kicked off a 19-city solo tour of the US titled the "The Steven Tyler... Out on a Limb Tour." - Billboard, 7/15/16......
Jeff Beck is celebrating the 50th anniversary of his solo career in 2016, with a new album called Loud Hailer, a new book titled BECK01, and a summer tour with one of his favorite fellow guitarists, Buddy Guy. Beck will formally celebrate his golden anniversary on Aug. 10 with a blowout show at the Hollywood Bowl in Los Angeles, with Guy, Aerosmith's Steven Tyler, and other special guests to be announced. His 11-song LP Loud Hailer features vocalist Rosie Bones and guitarist Carmen Vandenberg, and uses a decidedly different approach than his instrumental-dominated predecessors. "What it allowed me to do was become more of an accompanist, so not to do an album of guitar recitals," Beck says. In his book BECK01, Beck documents his dual love of music and vintage hot rods, which he rebuilds at home in England. "I don't like the idea of somebody hoisting their hobby on somebody, but when I thought about it I thought maybe there's enough people who're interested in seeing how they all came together," Beck says. Details about the book are available at www.jeffbeckbook.com. - Billboard, 7/15/16...... Alan Vega of the trailblazing electronic duo Suicide died in his sleep on July 16. He was 78. Born in Brooklyn in 1938, Vega formed Suicide with multi-instrumentalist Martin Rev in 1970. Inspired by a Stooges concert in New York in the early 1970s, Vega -- who had worked as an artist and sculptor for several years -- incorporated Stooges frontman Iggy Pop's confrontational, audience-baiting tactics into the group's act. Suicide's 1977 self-titled debut is widely considering one of the seminal albums of electronic music, and was hailed by such critics as Lester Bangs. Suicide was among the earliest users of synthesizers and drum machines, and the duo ushered in a new sound that would evolve and endure for decades. The group performed at such legendary NY music venues as CBCG and Max's Kansas City during the mid-'70s, alongside such artists as the Ramones and Blondie, and had been scheduled to headline California's Desert Daze festival in October. Bruce Springsteen paid tribute to Vega in a post on his Facebook page, calling him "one of the great revolutionary voices in rock and roll." - Billboard, 7/17/16...... Bonnie Brown, one of the three siblings of the country trio The Browns, died on July 16 in Little Rock, Ark., of complications of lung cancer. She was 77. With older siblings Jim Ed and Maxine Brown, The Browns helped define the Nashville sound of the 1950s and '60s. They were inducted in 2015 into the Country Music Hall of Fame and Museum after Jim Ed's death earlier that year. After scoring a No. 1 hit "The Three Bells," the group disbanded in 1968 as Jim Ed and Maxine pursued solo careers. All three reunited in the '80s and again in 2006 for a PBS special Country Pop Legends. Offstage, Bonnie Brown notably once broke up with a young Elvis Presley "because he was, she said, a lousy kisser." - AP, 7/16/16.
Friday, July 15, 2016
According to a report in the U.K. paper The Sun, Mick Jagger is about to become a dad for the eighth time, as his current girlfriend Melanie Hamrick is reportedly three months pregnant. Jagger, 72, and Hamrick, a 29-year-old ballet dancer, have been dating for the past two years. A source close to the couple says they're "surprised and happy" for the impending arrival, and that Mick isn't "fazed" by the news, even though he already has seven children with four other women, including four kids with his former longtime partner, supermodel/actress Jerry Hall. Jagger and Hamrick were first noticed together on a hotel balcony in Switzerland in June 2014, just three months after Jagger's fashion designer L'Wren Scott tragically committed suiced. In May, Jagger's Rolling Stones bandmate Ronnie Wood and his wife Sally Humphreys became the parents of twin girls. - WENN.com, 7/14/16......
Aerosmith guitarist Joe Perry was hospitalized on July 10 after having a health scare as he was performing with the superband Hollywood Vampires during their performance at the Coney Island Ampitheater in Brooklyn. Perry, 65, was forced to leave the stage as the band performed a cover of Spirit's "I Got a Line on You." After the incident, fans and fellow artists tweeted their support for Perry, who is said to be in stable condition, including Aerosmith frontman Steven Tyler, who on July 13 said he is "really concerned" about his longtime bandmate. "It's starting to scare me a little bit," said Tyler. "I know they're putting out nothing, but he's recovering, he's really good, he fainted, exhaustion. But I know my brother. He's just about the only other guy that's as passionate about his art as I am," added Tyler, who is on the road promoting his new album We're All Somebody From Somewhere. Tyler also noted that he "knows how to maintain my career, my health" [but] "I don't think [Joe] knows how to... I think he's out there and someone's overbooking him." Perry is currently off the Hollywood Vampires tour, though a statement was released promising that he'll "rejoin his fellow Vampires on stage again soon." In addition to Perry, the Hollywood Vampires is comprised of Alice Cooper, Ian Hunter, Johnny Depp and Matt Sorum, and the band was forced to cancel a July 11 televised performance on The Late Show With Stephen Colbert. In other Aerosmith-related news, Steven Tyler's daughter, actress Liv Tyler, gave birth to her third child, a daughter named Lulu Rose, on July 9. Tyler is engaged to sports agent David Gardner, and the couple are also the parents of a one-year-old son, Sailor Gene. Tyler, 38, also has an 11-year-old son, Milo, from her marriage to British rocker Royston Langdon. - Billboard/WENN.com, 7/13/16...... Late soul superstar Marvin Gaye's three children have given their blessing to a planned documentary on Gaye called Marvin, What's Going On? that will focus on his 1971 classic LP What's Going On. "We would like to express our excitement about the upcoming documentary feature film about our father and the creation of his amazing 'What's Going On' album," Gaye's children -- Nona, Marvin III and Frankie Gaye -- told Variety in a statement. "We are proud that his relevance remains intact, and we look forward to being a part of this cinematic journey." The documentary, which is being developed by Noah Media Group and Greenlight, will be "the defining portrait of this visionary artist and his impeccable album," according to the documentary's producers. It is expected to begin shooting later in 2016 in Detroit, Los Angeles and Washington, and feature never-before-seen footage as well as interviews with Motown's "top stars." - Billboard, 7/14/16......

In addition to his groundbreaking musical talent, late rock icon David Bowie also had a keen eye for fine art and modern British classics, and he amassed a collection of more than 400 objects d'art over his lifetime. Now Sotherby's Fine Art Auctions has announced it will publicly display the Bowie-owned paintings by "many of the most important British artists of the 20th Century" in November before putting them under the hammer in a three-part sale. The "Bowie/Collector" collection will be exhibited from Nov. 1-10 at Sotherby's in London, with review exhibitions also to be held in New York, Los Angeles and Hong Kong. "Art was, seriously, the only thing I'd ever wanted to own," Bowie told the New York Times in 1998. "It can change the way that I feel in the mornings." Meanwhile, Bowie's final album Blackstar, which was release on Jan. 8 and only two days before his death, has been named the best selling vinyl LP of 2016 to date. According to the vinyl publication The Vinyl Factory, Blackstar has sold 57,000 copies on vinyl so far this year, ahead of Adele's latest effort 25, which has sold 36,000 vinyl copies. - Billboard/NME, 7/14/16...... Pink Floyd's David Gilmour played his first ever concert at the historic Pompeii Ampitheatre in Italy on July 10. The 2,600 strong crowd was treated to an audio visual spectacle featuring lasers, pyrotechnics and a setlist featuring songs from throughout Gilmour's career, including the Pink Floyd classics "The Great Gig in the Sky" and "One of These Days" as well as selections from his latest solo album, Rattle That Lock. The ancient Roman stone ampitheatre was famously buried in ash when Mount Vesuvius erupted in AD 79, and only uncovered after the Second World War. In 1971, Gilmour and the other members of Pink Floyd played there, with no audience present, for their 1972 concert film Pink Floyd Live at Pompeii. Gilmour's 2016 Rattle That Lock World Tour will continue in Italy, Germany, France and Belgium before wrapping with a five night stand at the Royal Albert Hall in London. - New Musical Express, 7/11/16...... An unexpected power cut during a Bruce Springsteen and the E Street Band concert in Paris on July 11 forced the New Jersey rocker to keep the crowd entertained by signing autographs and chatting with fans in close proximity to the stage, even joining his bandmates for an impromptu conga line. Once power was returned to the AccorHotels Arena after 20 minutes, The Boss launched into a rendition of his 1984 hit "Dancing in the Dark." The concert was the first of two gigs at the venue, with the band also performing there on July 13 before heading to Rome on July 16 to continue the European leg of his The River tour. - NME, 7/12/16...... Meat Loaf says he's signed up to a diet and fitness regime after he recently collapsed on stage during a gig in Canada. Meat Loaf, whose real name is Marvin Lee Aday, was playing a concert in Edmonton, Alberta when the incident occurred. He had previously cancelled shows in Moose Jaw and Calgary earlier in the week due to illness. "I'm okay. Weak. I've gotta go to physical therapy," Meat Loaf told Classic Rock magazine. "I had back surgery and knee surgery within the last two years, and the knee surgery failed, so I haven't been able to work out on tour." He added that he is now on a diet and has "lost getting close to 20 pounds now... So we're trying to watch out for my health and make it easier onstage." Meat Loaf says he plans to lose another 15 before he takes his tour to the U.K. behind his forthcoming album, Braver Than We Are. - New Musical Express, 7/11/16......
The lyrics of Stevie Wonder's song "As" were quoted by Dallas Police Chief David Brown during a memorial service for five Dallas police officers who were fatally shot by a deranged gunman on July 7. Chief Brown said, among other lyrics: "Just as hate knows love's the cure, you can rest your mind assure that I'll be loving you always." Brown received a long, loud standing ovation from those in attendance. The five who died were shot during a protest against the police killings of black men in Louisiana and Minnesota. Nine officers and two civilians were injured in the attack. Three days later on July 10 during a concert in the UK in Hyde Park for the British Summertime Festival, Stevie Wonder urged his fans to choose "love over hate" and expressed dismay over the troubles in the world. Wonder played his 1976 Grammy-winning album Songs in the Key of Life during the show, and at the start he told fans he loved them all in these difficult times, and asked them to live in positivity. "The songs and the words that we talk about, those conditions still exist in the world and that hurts my heart," he said. The Motown icon played for over two hours to a sellout London crowd of 65,000 people, closing this year's British Summertime series. - AP, 7/12/16...... Stuart "Woody" Wood, the guitarist with the recently reunited Bay City Rollers, announced on July 9 on his Facebook page that his concert later that evening at Scotland's T in the Park Festival in Perthshire would be his last with the band. Wood, 59, reunited with orginal BCR vocalist Les McKeown and bassist Alan Longmuir in Dec. 2015, and the three were reportedly working on new music with manager John McLaughlin. "Hi All...just to say TITP is my last gig," Wood posted on his Facebook page. "Disappointed is an understatement but outwith my control. Details will follow in due course...love as always,Woody x." Wood later denied rumours that his exit was due to health problems or otherwise. Les McKeown is set to release a new collection of music, Les McKeown: The Lost Songs, on Aug. 22 through iTunes and will continue to tour throughout the year with his group. - Billboard, 7/10/16...... British pop star Cliff Richard is reportedly planning a comeback after recently being cleared of charges of historical sex offences by U.K. authorities. A source close to Richard said the musician is "going to release his new album this year now that he's cleared his name... He's had it on hold for years now throughout this ordeal." In June, the Crown Prosecution Service confirmed that Richard would not face charges after their investigation, which began in 2014, yielded "insufficient evidence to prosecute." "I have always maintained my innocence, co-operated fully with the investigation, and cannot understand why it has taken so long to get to this point," Richard said at the time. - NME, 7/12/16...... Organizers of the Rewind 80s Festival have announced the lineup for the 2016 edition of the annual concert series. The three star-studded festivals will include headline performances from such '80s acts as Adam Ant, Rick Astley, ABC, Big Country, Leo Sayer, Thomas Dolby and The Beat at Rewind Scotland, which takes place from July 22-24. For Rewind North, which occurs on Aug. 5-7, headliners include Thompson Twins' Tom Bailey, UB40, Go West and Nik Kershaw. The Rewind South edition, taking place on Aug. 19-21, will feature Lloyd Cole, Rick Astley, Adam Ant, Marc Almond and Roland Gift, among others. - Noble PR, 7/12/16......
Chaka Khan released a statement on July 10 announcing that she and her sister, Yvonne Stevens, also known as Taka Boom, have both entered a drug rehabilitation program to battle their addictions to prescription drugs. Khan, 63, said the recent death of Prince motivated her to seek treatment and that said she has been battling an addiction to the same medication that led to Prince's untimely death on Apr. 21. "Unfortunately, I will miss concert appearances over the summer," she said. "However, it's vital that I put my health and well-being first. I know that I am disappointing some of my fans, but I also know they would want me to recover and be well and healthy." Khan said that she and her sister "agreed we would take this journey together and support each other through the recovery." The Grammy-winning Khan had one of her biggest hits with the Prince-penned song "I Feel For You," and the two were longtime friends. An autopsy found that Prince died of an overdose of fentanyl, a powerful opioid painkiller. - AP, 7/10/16...... The Federal Bureau of Investigation announced on July 12 that it was closing the books on the unsolved case of the '70s hijacker known as D.B. Cooper, reasoning that its crime-fighting resources would be better used elsewhere. The famous case began on Nov. 24, 1971, when when a dark-haired man who called himself Dan Cooper, dressed in a business suit and tie and believed to be in his mid-40s, boarded a Northwest Orient Airlines flight in Portland, Oregon, bound for Seattle. After take-off, the man handed a flight attendant a note claiming he had a bomb in his briefcase and opened it to show a mass of wires and red sticks, according to the FBI's account of the incident. The aircraft safely landed in Seattle, where the man freed 36 passengers in exchange for $200,000 in cash from the airline and four parachutes, but kept several crew members aboard as the plane took off again, ordered this time to fly to Mexico City. At some point during that flight, at an altitude of about 10,000 feet (1.9 miles), the man executed one of the most flamboyant getaways in criminal history, leaping out of the back of the plane into the night with a parachute and the ransom money. Whether Cooper survived the jump over a rugged, wooded landscape somewhere between Seattle and Reno, Nevada, has never been confirmed, and his true identity has never been established. The FBI said that evidence obtained during the course of the investigation "will now be preserved for historical purposes at FBI headquarters in Washington, D.C." - Yahoo News, 7/12/16...... Oscar-winning director Michael Cimino, best known for the 1978 Vietnam war epic The Deer Hunter, died on July 2 at age 77. Preceding Apocalypse Now and Platoon, the acclaimed The Deer Hunter was one of the earliest big-budget studio films to earnestly grapple with the war in Vietnam and starred Robert De Niro, Christopher Walken and John Savage as three steelworker best friends from blue-collar Pennsylvania who go off to Vietnam and are all indelibly scarred in their own ways. Cimino's 1980 film Heaven's Gate, on the other hand, was a $44 million financial flop that turned the hot writer-director into a bruised and buried scapegoat. - Entertainment Weekly, 7/10/16.
Sunday, July 10, 2016
On July 7 Paul McCartney posted a "throwback" photo of his Beatles bandmate Ringo Starr to Twitter to mark Ringo's 76th birthday on the same day. The photo, thought to be taken during the recording of McCartney's 1981 solo LP Tug of War, shows the pair together at AIR Studios in the Caribbean island of Montserrat. "Paul and @ringostarrmusic at AIR Studios, Montserrat. Photo by Linda McCartney #ThrowbackThursday #TBT pic.twitter.com/LBEuX7tjMn," the post reads. Meanwhile, a former Ludwig drum kit of Ringo's has sold at auction for $2.2 million at a Juliens Auction in Beverly Hills, Cal. The 1963 Ludwig Oyster Black Pearl three-piece kit was used to record some of the Beatles' earliest tracks, including "Can't Buy Me Love," "She Loves You," "All My Loving" and "I Want to Hold Your Hand," with Starr playing the kit for more than 200 performances between May 1963 and Feb. 1964. A percentage of the sale of the kit, which was owned by Clive Edwards, will go to Ringo Starr's Lotus Children Foundation. - New Musical Express, 7/7/16......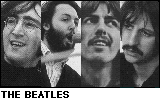 In other Beatles-related news, John Lennon's copy of a 1977 document that ended the Beatles' stormy relationship with Allen Klein is being put up for sale through the company Moments In Time, with an asking price of $95,000. When the Beatles, solo artists at the time, decided not to renew Klein's contract with Apple Corps Ltd. in 1973, Klein promptly sued them for $19 million (roughly $75.3 million today). The settlement, dated Jan. 8, 1977, ruled that Apple had to pay Allen Klein and ABKCO just over $5 million (or roughly $19.8 million now) while Klein had to pay out a total of $800,000 (roughly $3.2 million now). The agreement said that it released Apple "from any liabiity whatsoever" related to the relationship of the Beatles and Klein. Paul McCartney, who never allowed himself to be represented by Klein as part of the Beatles, was not involved in the suit or the settlement but, according to his father-in-law Lee Eastman who represented him at the time, "was delighted to see his friends end this problem." The other three Beatles began their relationship with Klein on Jan. 28, 1969, at a meeting with Lennon and Yoko Ono at the Dorchester Hotel. McCartney's refusal to be associated with Klein became a major cause of friction between the Beatles, leading to their split in April 1970. - Billboard, 7/8/16...... Elsewhere on the Fab Four front, the traveling Beatles exhibit Ladies and Gentlemen: The Beatles! has opened at the Grammy Museum at L.A. Live. The exhibit, which colorfully details the Fab Four's game-changing impact on pop culture and features more than 400 items of rare photos, clothing and tour artifacts, will be on display through Sept. 5. The exhibit will then travel to Little Rock, Ark., at the William J. Clinton Presidential Center. It first opened at the New York Public Library for the Performing Arts in 2014, also making stops at the Grammy Museum Mississippi, the LBJ Presidential Library in Austin, and the Woody Guthrie Center in Tulsa, Okla. - Billboard, 7/7/16...... Movie studio SudioCanal has announced it is nearing completion of the restoration of the sci-fi classic The Man Who Fell to Earth, which stars David Bowie as a humanoid alien from a distant planet on a mission to take water back home, to mark the film's 40th anniversary. The 1976 Nicolas Roeg-directed movie, which is being restored in 4K and is arguably the late rocker's most iconic turn on the big screen, will also be released theatrically in the UK on Sept. 9 by Park Circus. - The Hollywood Reporter, 7/7/16...... A US chart record for the most consecutive weeks for a Number One album and song in the charts that was set by Michael Jackson has been equalled by Toronto rapper Drake. Drake's Views and "Once Dance" have remained on the chart for seven consecutive weeks, with Jackson being the only other solo male artist to achieve that feat, with Thriller and "Billie Jean," in 1983. However Whitney Houston and the Beatles have both had longer runs in the US charts, each having simultaneous Number Ones in the album and singles charts for 12 consecutive weeks. - NME, 7/6/16......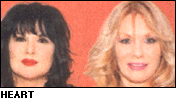 Heart released its 16th album and first new release in four years, Beautiful Broken, on July 8 via Concord Records. Beautiful Broken features new songs written by sisters Ann and Nancy Wilson, and sees the siblings revisit some of their favorite catalog tracks in fresh recordings as well as a title track featuring guest vocals from James Hetfield of Metallica. "There is really a seventies feel to this record both in the sound, and the way we got to the emotional core of each song," Nancy Wilson said in a statement. "We picked songs that we always wanted to re-do, plus we've added three new tracks. On both new and old, we have the band playing together the way we used to. This is classic Heart." The LP features previously released songs that have been reworked, including "City's Burning," "Down on Me" and "Sweet Darlin'," and the title track was originally a bonus song on Heart's previous album, Fanatic, but the new version is an almost entirely new song with vocals and some new lyrics from Hetfield. "It blows the previous version [of "Beautiful Broken"] out of the water," Nancy Wilson says. "James just took the song on, and what he added was perfect with a bite and a rock accent." The LP was co-produced by Nancy and Heart bassist Dan Rothchild, who says his goal was to recapture the band's live feel in the studio. "On these classics, some of which had suffered from eighties-era over-editing-production-curse, we stripped the paint off and found the beauty underneath," he said. Four of Beautiful Broken's songs feature string arrangements from Paul Buckmaster, who has worked with Elton John and the Rolling Stones. Heart is currently on tour behind the new album with fellow Rock & Roll Hall of Fame members Joan Jett and Cheap Trick. - Billboard, 7/6/16...... Warner/Chappel Music, the publisher in the recent Led Zeppelin "Stairway to Heaven" trial, is seeking nearly $800,000 in in attorneys' and expert witness fees after a June 16 opinion directed lower judges to consider awarding attorneys' fees to prevailing parties in copyright cases by examining factors like "frivolousness, motivation, objective unreasonableness, and the need in particular circumstances to advance considerations of compensation and deterrence." Warner/Chappel says it takes issue with the way the plaintiff, Michael Skidmore, "tried to tar 'Stairway to Heaven' and its authors, Jimmy Page and Robert Plant" and says it "successfully defended plaintiff's attempt to wipe 'Stairway to Heaven' off the map and, in doing so, defendants furthered the important copyright purpose of enriching the general public through access to creative works." A hearing on the request is scheduled for Aug. 8. - Billboard, 7/8/16...... It appears that AC/DC will be thinning its ranks once again with the announcement by bassist Cliff Williams that he plans to retire after the Aussie rockers' current Rock or Bust tour. Speaking to the Southwest Florida publication Gulfshore Life for a feature about rockers who live in the area, Williams, 66, said that being in AC/DC is "what I've known for the past 40 years, but after this tour I'm backing off of touring and recording." "Losing Malcolm, the thing with [drummer] Phil [Rudd, who had legal difficulties] and now with [singer] Brian [Johnson, who stepped aside this year due to hearing loss]", it's a changed animal. I feel in my gut it's the right thing." Williams' decision comes just after AC/DC played a string of European dates with Guns N' Roses singer Axl Rose filling in for Johnson on the band's 2016 tour. Should Williams retire, it would leave guitarist Angus Young as the only original member of the group. - NME, 7/8/16......
Fleetwood Mac has announced it will give its lone 2016 live performance at the Los Angeles Dodgers' second annual Blue Diamond Gala at Dodgers Stadium on July 28. The band will close out the night with a set from centerfield, following a blue carpet entrance (in honor of the Dodger colors) and a ceremony honoring Vin Scully, the iconic Dodgers announcer who plans to retire at season's end. All proceeds from the evening, which will also include Dodgers players and coaches, will go towards the Los Angeles Dodgers Foundation, which benefits underprivileged local communities. In 2015, Fleetwood Mac wrapped its lengthy On With the Show Tour, which saw the reunion of its '70s "classic" lineup of Christine McVie, Lindsey Buckingham, Stevie Nicks, Mick Fleetwood and John McVie. All five will perform at the Dodger gala. - Billboard, 7/5/16...... Former Pink Floyd guitarist David Gilmour has been made an honorary citizen of Pompeii, Italy, as his tour hits the city's Amphitheatre Of Pompeii on July 9. The venue is the oldest Roman amphitheatre in the world, and where Pink Floyd played an infamous concert in 1971, later showcased in the 1972 documentary Pink Floyd: Live at Pompeii. Pompeii mayor Ferdinando Uliano bestowed the citizenship on Gilmour as he returned to the ancient city. Meanwhile, it has been announced that late founding Pink Floyd member Syd Barrett, whom Gilmour replaced in Pink Floyd, will be the subject of a series of events in his hometown of Cambridge later in 2016. An unreleased film about the musician made by Anthony Stern, a former school friend of Barrett's, titled Get All that Ant?, will be screened for the first time on Oct. 21 during the Cambridge Film Festival, while fans will be able to embark on Barrett-themed walking tours. Get All that Ant? is comprised of film footage, stills and archive footage produced during the '60s in Cambridge, London and San Francisco. Tickets for the fim screenings and the walking tours will be available from the Cambridge Live website. - New Musical Express, 7/7/16.