| | |
| --- | --- |
| Favorite Seventies Artists In The News | |



Bringing you the Web's best '70s music & culture news since 1997!


On Apr. 21 Joe Walsh canceled a concert in Cleveland set for July 18 after learning that it had ties to the Republican National Convention as the GOP meets in the city to pick its presidential candidate. "It was my understanding that I was playing a concert which was a non-partisan event to benefit the families of American veterans on Monday, July 18 in Cleveland," Walsh posted on his website.

"The admat I approved said this specifically. Today it was announced that this event is, in fact, a launch for the Republican National Convention. In addition, my name is to be used to raise sponsorship dollars for convention-related purposes. Therefore, I must humbly withdraw my participation in this event with apologies to any fans or veterans and their families that I might disappoint." Walsh, who launches a 25-date tour with Bad Company on May 12 in Dallas, added that he is "very concerned about the rampant vitriol, fear-mongering and bullying coming from the current Republican campaigns." "It is both isolationist and spiteful. I cannot in good conscience endorse the Republican party in any way. I will look at doing a veteran related benefit concert later this year," he added. - Billboard, 4/21/16...... The Midwest Medical Examiner's Office in Minneapolis, Minn., announced on Apr. 22 that it had completed an autopsy on Prince, who shockingly died the previous day at the age of 57, but the results will likely not be released for several weeks. Prince was found dead in his Chanhassen, Minn., compound, slumped unconscious in an elevator, and was pronounced dead at 10:07 a.m. (11:07 EST), about 15 minutes after emergency personnel responded to a call for help. Medical personnel were unable to revive the Grammy-winning musical icon, who performed his final show at the Fox Theatre in Atlanta on April 14. He was then secretly cremated in an intimate ceremony at a nondescript funeral home in Minneapolis shortly after the autopsy was completed. Britain's The Daily Mail paper is reporting that Prince's longtime drug dealer, who asked to be named only as "Doctor D," said Prince had a "secret major drug addiction" and would spend up to $40,000 a time on six-month supplies of Dilaudid pills and Fentanyl patches -- both highly addictive opioid pain killers -- and according to sources Prince overdosed on the opiate Percocet. Doctor D said the musician regularly bought drugs from him between 1984 and 2008, and that Prince suffered crippling stage fright and could not get on stage and perform without the drugs -- but had a phobia of doctors so could not obtain a prescription legally. "He needed the drugs because he was so nervous -- he could be nervous in a room with just five people in it. He was scared to go out in public, he was scared to talk to people and didn't like to go on stage -- he had the worst case of stage fright I'd ever seen," the drug dealer added. On Apr. 23, Prince was remembered at a private memorial service held at his Paisley Park estate, with family, representatives and friends handing out purple hat boxes to well wishers and friends including Sheila E at the gates. Meanwhile, Prince's 1984 smash "Purple Rain" has returned to the Billboard Hot 100 singles chart, as well as the Hot R&B/Hip-Hop Songs chart. Five of his tracks also appear on the Hot Rock Songs chart. Prince also claims the Nos. 1 and 2 spots on the Billboard Hot 200 albums chart with his The Very Best of Prince and Purple Rain soundtrack, respectively. Also AMC Theatres has announced the Purple Rain film will play in 87 of its theaters across the US on Apr. 23 through Apr. 28. Musicians paying tribute to the legendary musician include Bruce Springsteen, who sang "Purple Rain" at a concert at Brooklyn's Barclays Center on Apr. 23, and David Gilmour, who suprised the crowd during a London concert on Apr. 24 by mashing up "Comfortably Numb" with "Purple Rain." - Billboard/New Musical Express, 4/25/16......
Although Peter Frampton says he thinks recent controversial anti-LGBT laws that have been passed in Mississippi and North Carolina are "absurd," he is defending his decision to go ahead with scheduled concerts in those states, citing a need to honor his commitment to fans who have already purchased tickets. "Performing live has been one of the most important opportunities I've been given and I am lucky to share my music with so many of my amazing, loyal and diverse fans," Frampton said in a recent interview with Rolling Stone. "My band and I will uphold our commitment to play our scheduled shows there this summer and honor fans who have already purchased tickets and/or made travel plans." However Frampton says he has no intention of playing those two states in the future, unless they reconsider the laws. "We will not play again until these laws are changed... I will be making a donation in support of the rights and protections of the LGBTQ community." Frampton joins several other artists, including Gregg Allman and Jimmy Buffett, who have also chosen not to cancel their concerts, but are speaking out about the controversial laws. - Billboard, 4/22/16...... Kraftwerk has announced it will launch a new run of 3D concerts in the US this fall, beginning on Sept. 3 in North Bethesda, Maryland. In 2015, the German electronic pioneers played 12 dates of 3D shows in America in smaller markets like Portland, Calgary and Nashville. Kraftwerk will also be visiting Atlanta (9/3), Memphis (9/6), New Orleans (9/8), Dallas (9/10), San Antonio (9/12), Phoenix (9/15), and San Diego (9/16) before wrapping in Los Angeles on Sept. 18. The band is also set to headline the Movement Electronic Music Festival from May 28-30 in Detroit, Mich. - Billboard, 4/25/16...... Chicago and Earth, Wind & Fire wrapped their joint Heart and Soul tour at Madison Square Garden in New York City on Apr. 18. The two acts. Speaking about Chicago's recent induction into the Rock and Roll Hall of Fame, frontman Robert Lamm joked to the crowd that "I have a feeling it's thanks to the Chicago-style voting: five people voting 37 million times." The most moving portion of the concert, though, was EW&F's tribute to the group's recently deceased founder Maurice White. As the band played "In the Marketplace (Interlude)," a picture of White was projected on the background. - Billboard, 4/21/16...... ZZ Top has put its North American tour on hold as bassist Dusty Hill recuperates from a fractured shoulder he sustained before an Apr. 14 show in Lubbock, Texas. Hill, according to a statement from the band, tripped on a dimly-lit step while walking to the stage for the show, and Hill says his doctors are "doing their best to get me back in the game as soon as possible." Since the injury, ZZ Top canceled its April 15 show in Shawnee, Okla. and will not be able to perform again until a May 28 festival date in Frisco, Tex. - Billboard, 4/20/16......

Legendary music producer Phil Spector, who is currently serving a 19 years to life sentence at the California Health Care Facility in Stockton, Calif., for the 2003 murder of actress Lana Clarkson, has allegedly filed for divorce from his wife Rachelle Short, amid reports that she is spending all of his estimated $35 million fortune. Spector, who will be 88 before he is eligible for parole, filed legal documents on Apr. 22 alleging that Short has been "spending like a mad woman," with a list of extravagant purchases that included a $350,000 airplane, an Aston Martin and a Ferrari. Short has also apparently treated herself to expensive plastic surgery and jewellery, as well as buying her mother two homes. In addition, Short has reportedly only given Spector a $300-a-month stipend during his time behind bars. Spector cited irreconcilable differences in the divorce papers, and also has requested that his daughter Nicole control his fortune. - WENN.com, 4/23/16...... A rare version of David Bowie's Hunky Dory album is expected to fetch £36,000 at auction when it goes up for sale in late April. The record in question is an acetate disc created after the album was mastered but before it was released to the public as a finished vinyl. It was used as the precursor for a limited run of 500 promotional copies of Bowie's 1971 fourth album. Versions of this white label record, which is known amongst collectors as the 'BOWPROMO' are themselves tremendously valuable, with one selling for around $10,000 on eBay in 2012. The acetate was owned by late Bowie guitarist Mick Ronson, who played with Bowie's backing band at the time, before being passed through family and friends until it arriving in the hands of its current owner, Dennis Graham, in 1973. "It's quite a funny story on how I came to own it," Graham says. "The record had been given to my neighbour as a gift from Mick Ronson's mum and he ended up giving it to me in exchange for a bottle of beer! I kept it for all these years and it's unbelievable to see how much it's now worth." - NME, 4/22/16...... The Who's Roger Daltrey has confirmed that the Who will definitely be playing an upcoming "mega festval" in Indio, Calif., this year between Oct. 7-9, along with such icons as Paul McCartney, Bob Dylan, Roger Waters and the Rolling Stones. "I think it's us and Roger Waters on the same day," Daltrey told Canada's Postmedia Network. "It's a fantastic idea for a festival. It's the greatest remains of our era." Daltrey also weighed in on the recent announcement that Guns 'N Roses singer Axl Rose will be joining the band to replace vocalist Brian Johnson on the the remainder of AC/DC's Rock or Bust World Tour after Johnson was forced to retire from performing music for good or face permanent hearing loss. "I mean, go and see karaoke with Axl Rose? Give me a break," Daltrey said. In another recent interview with the London Free Press, Daltrey said that he "really feels badly for Brian" and that "it must be heartbreaking for him after all the service he's given that band over the years." "I thought their farewell statement to the press and to Brian was fairly curt to say the least. I felt for him. That must have hurt," he added. Meanwhile, the singer of an AC/DC tribute band called Thunderstruck is claiming he was auditioned by AC/DC to be their new frontman. Thunderstruck's Lee Robinson recently told Blabbermouth that the band flew him into Atlanta during March to audition for them. He says AC/DC bassist Cliff Williams had found out about the tribute act after stumbling upon Youtube clips of their performances. - New Musial Express, 4/22/16......

'70s soul singer Billy Paul, best known for his No. 1 1972 single "Me and Mrs. Jones," died on Apr. 24 at his home in Blackwood, N.J., after what a statement described as a "serious medical condition." He was 82. Born Billy Paul Williams in Philadephia on Dec. 1, 1934, Mr. Paul began singing at an early age, even sharing a bill at Club Harlem in Philadelphia with Charlie Parker when he was only 16 years old, later saying he "learned in a week what would normally take two years to pick up" thanks to Parker. His recording of "Me and Mrs. Jones" topped the Hot 100 in late 1972, and it earned the singer a Grammy Award for Best R&B Vocal Performance, Male in 1973. The single was written by the hit Philly songwriting team of Kenneth Gamble and Leon Huff, who also wrote and produced albums for Mr. Paul including Ebony Woman and Going East. Later in his career, Mr. Paul sued Gamble and Huff and other industry officials over unpaid royalties, and was awarded $500,000. Throughout his career, Mr. Paul released 15 albums, the most recent being 1988's Wide Open. His manager, Beverly Gay, said the musician had been diagnosed with pancreatic cancer and hospitalized during the previous week at Temple University Hospital in Philadelphia. A statement on his website called him a "pioneer of today's R&B music [who] will be truly missed." Gamble and Huff released a statement upon hearing of Mr. Paul's passing, calling "Me and Mrs. Jones" "one of the greatest love songs ever recorded" and their recording of the song with Mr. Paul "our proudest moment." "He was one of the greatest musicians ever to come out of Philadelphia," the duo added. - Billboard, 4/24/16...... Lonnie Mack, a veteran guitarist whose instrumental recordings influenced guitar players including Stevie Ray Vaughan, died in a Nashville, Tenn., hospital on Apr. 21 of natural causes. He was 74. Born Lonnie McIntosh in West Harrison, Indiana, Mack played sessions for record labels in Cincinnati with blues and R&B greats such as James Brown, Hank Ballard and Freddie King. Mack's 1963 recording of Chuck Berry's "Memphis" became a radio hit, and he followed that with "Wham!," which inspired the nickname "whammy bar" for the tremolo bar he had on his Gibson Flying V. - AP, 4/22/16.

Prince, a music icon who became known as one of the most flamboyant, controversial and influential artists of the 1980s and beyond, died on Apr. 21 of as yet undisclosed causes at his Paisley Park recording studio on his Chanhassen, Minn. estate. He was 57. Prince had reportedly been hospitalized on Apr. 14 when his private plane, enroute to Minnesota after concerts in Atlanta, Ga., was forced to make an emergency landing in Moline, Ill., where he was taken by ambulance to the hospital but discharged a few hours later and returned home by plane. His publicist later revealed that he had been suffering from "flu-like symptoms." The following day, Prince was spotted riding his bicycle around town and hosted an all-night dance party at Paisley Park, his last public appearance. Born Prince Rogers Nelson (his father, jazz pianist John Nelson, was a member of the Prince Roger Trio) on June 7, 1958, Prince was raised in Minneapolis and secured a long-term contract with Warner Bros. Records in the late 1970s. The promotional tour for his fifth studio album 1999 album, released in 1982, featured a special revue troupe, Prince and the Revolution, replacing his original backing band. His single "Little Red Corvette" gained significant airplay on MTV as he began work on the Purple Rain film, a glamourized autobiographical piece in which he would star. "When Doves Cry," from the soundtrack, became the first Prince song to top the US charts, and he followed up with two additional strong singles, "Let's Go Crazy" and "Purple Rain" (numbers 1 and 2 respectively), further establishing him as one of the premiere acts of the '80s. His later releases include the quasi-psychedelic Around the World in a Day (1985), Parade (1986), Sign 'O the Times (1987), Lovesexy (1988), Graffiti Bridge (1990), Diamonds and Pearls (1991) and the 1992 Love Symbol Album, which introduced the cryptic "symbol" that he would legally adapt as his name in the following year. After entering into a protracted legal battle with his record label, Warner Bros., Prince abandoned the special moniker in Sept. 1993, becoming "The Artist Formerly Known as Prince," for which he suffered widespread ridicule. After "The Most Beautiful Girl in the World" in 1995 became his bestselling single in years, Prince sacked his New Power Generation band in 1996 and announced that he would not be touring, preferring to spend more time with his wife and new baby (who tragically died months after birth). Prince celebrated his release from his Warner Bros. contract with the sprawling Emancipation release, and another 4-CD set, Crystal Ball, was initially sold over the Internet before being released to distributors. In May 2000, Prince announced he had reverted back to his original moniker. Over his 35-plus-year career, Prince released 39 solo studio albums, and his influence stretches from pop to R&B to funk to hip-hop. The artist, a 7-time Grammy winner, was inducted into the Rock and Roll Hall of Fame in 2004 (his first year of eligibility), and in 2007 he delivered an acclaimed Super Bowl half-time performance, hailed by some as the best Super Bowl performance ever. Pres. Barack Obama released a statement after hearing of the music icon's death, calling him "one of the most gifted and prolific musicians of our time [who] did it all." - Billboard, 4/21/16.
Howard Weitzman, the lead attorney for Michael Jackson's estate in the upcoming tax court battle in 2017 over how much money Jackson's estate owes the Internal Revenue Service in estate taxes, has spoken publicly for the first time about the case. Weitzman says both sides haven't exchanged much information so far and the IRS hasn't explained how its independent auditor determined its huge valuation against Jackson's estate, which could be worth more than $1 billion with interest and penalties. Some tax specialists even wonder if it could lead to criminal tax evasion charges, and the outcome of the case could impact celebrity estate planning for years to come. "This is the biggest estate tax case I've ever seen," says attorney and tax specialist Gary Wolfe. Jackson estate executors John Branca and John McClain have overseen a remarkable turnaround in the value of the estate after Jackson's 2009 death, with the 2009 documentary This Is It grossing $261 million, a Cirque du Soleil tribute show that packs in fans, and the release of posthumous Jackson albums, video games and other lucrative memorials. Weitzman says he estimates that Jackson earned no more than $50 million from the licensing of his name and image when the pop star was alive, even during the Thriller heyday. "It seems preposterous that the IRS would arrive at a value 10 times this amount," Weitzman says. "This is bizarre." - The Hollywood Reporter, 4/20/16......
An 18-disc box set of Jerry Lee Lewis' work at the legendary Sun Records in Memphis, Tenn., At Sun Records: The Collected Works, has been released by German-based Bear Family Records. "It's the first genuine attempt to chronicle absolutely everything that could be found of Jerry Lee Lewis at work, on his own account, in the Sun studios," says the set's co-producer Andrew McRae. Lewis recorded for the label between 1956 and 1963, cutting a total of 623 tracks for label. The set also included two 300-page books with many never before published photos of "The Killer." - Billboard, 4/19/16...... Tom Waits has penned a moving tribute to late country music great Merle Haggard in the new Rolling Stone magazine. "When I was a teenager I was listening to songs like they were books and studied them to learn how to write songs of my own. Who ever thought that something great could come out of Bakersfield? It made me feel a whole lot better about living in a place called National City," writes Waits, who grew up around San Diego, not far from where Haggard was born. "[Merle]'s voice was golden, writes Waits, and his songs were "lived in, broke in and filled with longing -- his last name will always be an adjective," Waits added. "Merle's songs are train-like... lonesome, well made and hard as hell. May they always keep moving." Meanwhile, Merle Haggard's life story, which began in a converted boxcar, included time in San Quentin prison and flourished into a Hall of Fame country music career, could become the subject of a new biopic. A script, named "Done It All" after one of the Hag's songs, has reportedly been completed by Cliff Hollingsworth, who wrote the screenplay for the Oscar-nominated James Braddock boxing biopic Cinderella Man. Haggard died in Palo Cedro, Calif. of pneumonia on Apr. 6, his 79th birthday. - Billboard, 4/20/16......
Classic rockers Boston have become the latest act to cancel concerts in North Carolina because of the state's new law on LGBT rights. "[The law] has the appearance of an oppressive discriminatory law against a small minority," Boston guitarist Tom Scholz posted on his Facebook page on Apr. 18. "And other aspects of the law arguably encourage bigotry," he added. Boston had been scheduled to play in Charlotte, Greensboro and Raleigh in early May. North Carolina's legislature recently overturned an ordinance by the city of Charlotte that would have allowed transgender people to use bathrooms corresponding to their gender identity, and blocked all other cities and counties from passing similar rules against discrimination. - AP, 4/18/16...... As his One on One Tour hit Seattle on Apr. 17, Paul McCartney brought out Seattle's own Krist Novoselic, formerly of Nirvana, to jam on the Beatles classic "Helter Skelter. Novoselic, who has performed with McCartney previously at the 12-12-12 Hurricane Sandy and on Saturday Night Live, also provided some backing vocals on the song. In other McCartney news, the origins of a "mysterious" house remix of McCartney's 1973 Wings track "Nineteen Hundred And Eighty-Five" have been revealed. A limited pressing of 300 white labels of the remix was made available on the Phonica Records website on Mar. 31 and soon sold out, with some copies fetching upwards of $400 on eBay. After McCartney's Twitter account linked to a web article about the remix, fans begin to speculate that it had been officially commissioned by the ex-Beatle, but now producers Timo Maas and James Teej have claimed the remix as their handiwork, explaining that they released it with McCartney's full approval. According to Billboard, Timo Maas said that he actually started work on the remix in 2009, but set it aside because he "never fully succeeded in working the parts to a point where I really felt the end result was worth passing along." After he and his parter Teej worked on the song again in 2015, Maas said the pair were happy enough with their remix to send it to McCartney for approval, and he "thought it was very cool" and gave them the green light to put it out. "That will forever be the biggest moment of my music career and words can't express how it felt to have him personally approve the remix," Mass said. - Billboard, 4/19/16...... Elsewhere on the Fab Four front, the Beatles U.S. chart records for the most number of weeks spent at No. 1 has been broken by singer Rhianna, whose recent hit "Work," featuring Drake, is currently top of the Billboard Hot 100 charts for the ninth week running, giving her an overall tally of 60 weeks' worth of No. 1 songs. That is one more week at the summit than the Beatles' overall total in America. - New Musical Express, 4/19/16...... The London Sunday Times has named Elton John as the most charitable British musician in 2015, with the Rocket Man handing out £26.8 million ($38 million) to charitable causes that year, with much of it benefiting Aids foundations on both sides of the Atlantic. Other '70s artists making the list included Ringo Starr, who raised and donated more than £6 million ($8.5 million) through an auction of Beatles memorabilia, at No. 6, and Queen's Brian May and Roger Taylor, who each donated £1.1 million ($2.4 million) to charity. - Billboard, 4/19/16..............................................


Music from the late '80s/early '90s "supergroup" The Traveling Wilburys will finally be available for streaming for the first time in June under a new licensing agreement between the group and Concord Bicycle Music for both physical and digital reissues. The band -- composed of George Harrison, Bob Dylan, Roy Orbison, Tom Petty and Jeff Lynne -- formed in 1988 and released two albums on Warner Bros., 1988's Traveling Wilburys Vol. 1 and 1990's Traveling Wilburys Vol. 3 (recorded after Orbison's death). Vol. 1 reached No. 3 on the Billboard 200, while Vol. 3 peaked at No. 11. Concord Bicycle Music will also rerelease the box set The Traveling Wilburys Collection, which was originally released by Rhino Records in 2007. The new Traveling Wilburys Collection, which includes Vol. 1 and Vol. 3, bonus tracks and a DVD, comes in several formats: a limited deluxe edition; a numbered 2-CD, 1-DVD box set; a 3 LP deluxe 180-gram vinyl box, a standard 2-CD set; a 1-DVD package; and as high-resolution downloads. Earlier in 2016, Concord Bicycle's publishing arm, Bicycle Music Company, entered into an exclusive worldwide agreement with the estate of George Harrison for his Harrisongs catalog, which includes much of his Beatles work, his solo material, and his contributions to the Traveling Wilburys' albums. - Billboard, 4/18/16...... Aretha Franklin says she's now "ready to sign" for a biopic deal that's been in development since at least 2011. The 74-year-old Queen of Soul, who made the announcement on Apr. 14 at her birthday party at the Ritz-Carlton Hotel, says there's "very little left now [to negotiate], very little. They have given me creative control and that's all I wanted." Negotiations for a film have been in the works since at least 2011, when Franklin admitted she wanted Halle Berry to play her. Five years later, Jennifer Hudson is reportedly now set to play the legendary Memphis-born singer, who has won a staggering 18 Grammy Awards charted 77 songs on the US hit parade. Scott Bernstein, who produced the acclaimed NWA biopic Straight Outta Compton movie, will be working with Aretha on the movie. - AP, 4/18/16...... In a new interview with Rolling Stone magazine, Paul Simon revealed that he is "no longer on speaking terms" with Art Garfunkel. When asked whether the duo would ever play together again, Simon said: "No, out of the question. We don't even talk." Simon's remarks come after Garfunkel called him an "idiot" and a "jerk" in 2015 and said he "created a monster" when he became his friend in grade school. Simon also said he thinks the reason most people come to his concerts is they want to hear his 1998 hit "You Can Cal Me Al." "They wanna hear 'You Can Call Me Al,'" he says. "So I play it. It's not like I would pick out 'You Can Call Me Al' and play it because I really want to, but people like it so much that I'm like, 'Of course I'll do it.' I'll play 'Me and Julio [Down by the Schoolyard]' too, though I actually like 'Me and Julio.'" Simon will release his 13th solo album, Stranger to Stranger, on June 3. - NME, 4/19/16......
AC/DC announced on Apr. 16 that Guns N' Roses frontman Axl Rose will be handling lead vocal duties in the band for Brian Johnson, who had to bow out from touring due to hearing issues. "AC/DC band members would like to thank Brian Johnson for his contributions and dedication to the band throughout the years. We wish him all the best with his hearing issues and future ventures," the band said in a statement. "As much as we want this tour to end as it started, we understand, respect and support Brian's decision to stop touring and save his hearing. We are dedicated to fulfilling the remainder of our touring commitments to everyone that has supported us over the years, and are fortunate that Axl Rose has kindly offered his support to help us fulfill this commitment," they added. Rose reportedly met with Angus Young and other band members in Miami and Atlanta earlier in the year to discuss his joining the band, despite his commitments to Guns N' Roses' summer touring schedule. AC/DC is also considering having other singers, including Sebastion Back of Skid Row and Nic Cester of the Aussie band Jet, alternate with Rose when the band resumes its Rock or Bust European tour on May 7 in Lisbon, Portugal. The 12-date European tour leg is set to wrap June 12 in Aarhus, Denmark. - Billboard, 4/16/16...... A notebook used by Freddie Mercury towards the end of his life and containing the final Queen lyrics is set to be auctioned by Bonhams of London on June 29. The notebook includes Mercury's lyrics to "Too Much Love Will Kill You" and "The Show Must Go On," among other songs, and has an estimate price of £50,000-£70,000. Mercury and Queen recorded "The Show Must Go On" just six weeks before his untimely death at the age of 45 in Nov. 1991. "There are plenty of collectors out there who I'm sure would love to have this -- it's because it is so personal, he had it there with him for nearly three years. It gives you a really close connection," a Bonham's spokesman said. Meanwhile, a new survey has found that Freddie Mercury pushed his voice to its limits - and his vocal cords vibrated more and moved faster than his peers, even those of the powerful opera singer Luciano Pavarotti. A scholarly paper published in Logopedics Phoniatrics Vocology studied 23 Queen songs as well as the Freddie Mercury: The Solo Collection boxset, and hypothesised that Mercury was actually a baritone singing as a tenor and that he showed instances of "subharmonic vibration," the phenomenon of "a sound production system driven to its limits." While Mercury's vocal range was deemed "normal for a healthy adult," the study showed that the singer's vocal cords vibrated more and moved faster than his peers, even more than that of Pavarotti. - NME, 4/20/16......

Former Kiss lead guitarist Ace Frehley was admitted to a Wilkes-Barre, Pa., hospital on Apr. 15 after playing a gig in the city earlier in the evening after complaining of exhaustion and dehydration. A message posted on Frehley's website the following day said he "reluctantly" agreed to cancel a sold-out show that evening in Poughkeepsie, N.Y. Frehley, 64, said in March that he's "leaving the door open" to joining the original Kiss line-up, which he was a member of from 1973-1982, later rejoining in 1996 for a reunion tour and departing agan in 2002. Frehley said that while the idea "hasn't been discussed" (band principals Paul Stanley and Gene Simmons have been quoted as saying "We'll never work with Ace again"), Frehley says "they also said that before the reunion tour in '96. So who knows?" "Who knows what the future will bring? If it did happen at some point... it'd be magical if it was handled right," he said. Meanwhile, shoulder surgery has prevented Paul Stanley from performing with Kiss during the band's headlining gig at the 23rd annual Race to Erase MS fundraising gala held at the Beverly Hilton Hotel in Los Angeles on Apr. 15. "Tore my bicep tendon. Surgery reattached it with a screw and stitches to anchor in place. Not much I can do now!" Stanley wrote on Facebook and Twitter, before adding: "Thanks to my AMAZING doctor I WILL be great & ready to rock WAAAAYYYY before the tour!" Earlier in April, Kiss announced they'll begin a 5-date summer "Freedom to Rock" Tour of the U.S. on July 7 in Boise, Idaho. - AP/NME, 4/16/16...... It appears Bruce Springsteen's 24-year-old daughter Jessica Springsteen, a horse riding enthusiast, will not participating in the 2016 Olympics, as her name did not make the shortlist of the United States Equestrian Federation's top 10 riders to make the summer's Olympic team. Jessica represented the United States as an alternate rider in the 2012 Summer Olympics, and was the winner of the American Gold Cup in 2014 and a featured model as Gucci's equestrian ambassador. Earlier this year, her parents Bruce Springsteen and Patti Scialfa hosted a fundraiser for the team, raising $1.5 million. - Billboard, 4/16/16...... Doris Roberts, a veteran character actress best known for her role as Marie Barone on Everybody Loves Raymond, died on Apr. 17 of as yet undisclosed causes. She was 90. Ms. Roberts was nominated for 11 Emmys, including seven for Raymond, winning four for her work on that series. She picked up her first Emmy in 1983 for a guest appearance on St. Elsewhere, making for a total of five wins overall. Her stage roles included "Last of the Red Hot Lovers" in 1969-71, and her movie appearances include Something Wild, Barefoot in the Park, Divorce American Style, No Way to Treat a Lady, The Honeymoon Killers and A Lovely Way to Die. During the '70s she guested on shows including The Mary Tyler Moore Show, Mary Hartman, Mary Hartman (as a faith healer), All in the Family, Rhoda, Soap, Alice and Barney Miller. Ms. Roberts was originally intended to play Vivian, the character ultimately portrayed by Rue McClanahan, on Maude, but the producers decided that her persona was too similar to that of series star Bea Arthur. Ms. Roberts is survived by her son Michael, from her first marriage, who was also her manager; and three grandchildren. - Variety, 4/18/16.
Elton John is reportedly in talks to join the cast of a sequel to the 2015 action spy hit Kingsman. Kingsman: The Golden Circle will include returning lead actor Taron Egerton as well as new cast members Julianne Moore, Halle Berry and Pedro Pascal, among others. It is unclear what role John would be taking, although he could be playing himself. Elton won an Oscar for his sountrack contribution to 1994's The Lion King, although his acting efforts have been mostly limited to voiceovers for shows such as The Simpsons, or acting as a narrator in the animated film The Road to El Dorado. - Billboard, 4/12/16......
Diana Ross is recovering from head and neck pains after being involved in an automobile accident on her way to a performance at the Sands casino complex in Bethlehem, Penn., on Apr. 13. Police say the Lincoln Town Car in which the Motown legend was riding was crashed into by an SUV which ran a stop sign. Ross, 72, as treated at the scene by paramedics and indicated she would seek further treatment on her own. Ross performed as scheduled later in the evening, and a 22-year-old New Jersey woman, who was driving the SUV, received a traffic citation. - AP, 4/14/16...... Steve Miller is defending some strong comments he made to Rolling Stone magazine after being inducted into the Rock and Roll Hall of Fame on Apr. 9, including a slam on the experience of the ceremony, the lack of female inductees and respect for artists, and the music industry in general. "This whole industry f---ing sucks and this little get-together you guys have here is like a private boys' club and it's a bunch of jackasses and jerks and f---ing gangsters and crooks who've f---ing stolen everything from a f---ing artist," Miller told the magazine. Now, Miller says he feels bad for the Black Keys, who inducted him and have since said they regret it now in the aftermath of his comments. "I think their experience was as bad as mine. It shouldn't have happened, and if the Rock And Roll Hall Of Fame would have had good enough manners to at least introduce us, we'd probably be friends. We have a lot in common, and I think they've been played pretty good by Rolling Stone," Miller told Billboard. Miller added that he thinks the RRHOF has been turned into an elitist group, and that those nominated are the opposite of the spirit of rock and roll. "You have to speak truth to these people. The whole experience is not like what you would think being inducted into the Rock And Roll Hall of Fame would be. You'd think it would be a wonderful experience," he said. Miller also elaborated on the "gangster and crooks" comment, saying his record companies "have grossed over $1 billion from my work, and I've spent 50 years auditing them to force them to pay me what my contracts call for." "I caught them illegally selling hundreds of thousands of my records in markets worldwide. They've broken their contracts; they've broken their word. They have built-in theft in all their accounting," he said. Miller says he isn't really surprised at the negative reaction of his comments to Rolling Stone. "I've gotten hundreds of emails from artists and pals and peers just saying, "right on, man, I can't believe you had the balls to say that," that kind of stuff. The reaction from the Rock & Roll Hall of Fame and Rolling Stone magazine has not surprised me at all," he said. - Billboard/New Musical Express, 4/15/16...... Meanwhile, Gene Simmons of Kiss is continuing his feud with rapper Ice Cube after Simmons said he didn't think the hip-hop group N.W.A. deserved to be inducted into the Rock and Roll Hall of Fame. "Rock 'n' roll is not conforming to the people who came before you, but creating your own path in music and life. That is rock 'n' roll and that is us," Ice Cube said as he inducted N.W.A. into the Cleveland-based hall and museum, to which Simmons tweeted in response: "Respectfully-- let me know when @JimiHendrix gets into the hip hop hall of fame. Then youll have a point." After Ice Cube tagged Simmons on Twitter with "@genesimmons I repeat. And say this with a Kiss," on Apr. 11 Simmons tweeted: "Cube - I stand by my words. Respect NWA, but when Led Zep[pelin] gets into Rap Hall of Fame, I will agree with your point." A day later Simmons posted, "Zep does not qualify for Rap Hall of Fame: and that's Because Zep is Rock!!" - Billboard, 4/11/16......
Speaking of Led Zeppelin, a U.S. District Judge ruled on Apr. 8 that a trial is needed to determine of the band's epic "Stairway to Heaven" song copied its opening notes from the late '60s band Spirit's song "Taurus." Judge R. Gary Klausner opined that lawyers for the trustee of late Spirit guitarist Randy Wolfe had presented enough evidence for the suit to go to trial. Klausner wrote that while the songs have some differences, lawyers for Wolfe's trustee may be able to prove they are substantially similar. The two bands performed at some concerts and festivals around the same time, but not on the same stage. Klausner wrote that the evidence presented so far represented a circumstantial case that Led Zeppelin may have heard "Taurus," which was written around 1967, performed before "Stairway to Heaven," which was released in 1971, was created. Judge Klausner set a trial date for May 10 in Los Angeles, and his ruling removed Zeppelin band member John Paul Jones from the case. Bandmates Robert Plant and Jimmy Page remain defendants in the case. - AP, 4/12/16...... In related news, U.S. District Court judge John A. Kronstadt has denied a request for Pharrell Williams and Robin Thicke to pay about $3.5 million in attorney's fees and costs connected to their legal fight over Willams and Thicke's hit "Blurred Lines," which they claim infringed on Gaye's "Got to Give it Up," and for which the family was awarded $7.4 million. Kronstadt later dialed that award back to $5.3 million in damages plus 50 percent of the song's future royalties, and now he's denying much of the $3.5 million the Gayes wanted to add to that tab. The judge found that the Gayes are entitled to 65 percent of costs related to expert witnesses and deposition transcripts, service of process and service of subpoenas on several companies. - The Hollywood Reporter, 4/12/16...... Bruce Springsteen was joined by Bob Seger during Springsteen's The River tour in Ann Arbor, Mich., in suburban Detroit on Apr. 14. Springsteen journeyed into the crowd during "Tenth Avenue Freeze-Out" when guitarist Steven Van Zandt waved-up Seger -- who lives nearby and was sitting in the front row on the side of the stage with his wife Nita -- and handed him a tambourine to help finish the song. Seger stayed onstage for the show-closing rendition of the Isley Brothers' "Shout," finishing the song by leaping in tandem with Springsteen and then joining the band for its final bow. Back in October 1980, Seger also joined Springsteen and his band in Ann Arbor for an encore reprise of "Thunder Road" during Springsteen's original The River tour. Springsteen also warned the audience that Michigan was considering LGBT-discriminating legislation "similar to the ones that forced us to cancel our show in North Carolina" on April 10 in Greensboro. "We hope the bill doesn't pass, 'cause we love playing in Michigan," Springsteen said. "So keep your heads up." - Billboard, 4/15/16......
In related news, Gregg Allman said he didn't cancel his Apr. 13 concert in North Carolina, which has passed a "bathroom law" similar to the one Michigan is proposing, although he stands with the LGBT community. In a strongly worded Facebook statement, Allman said that while the "discriminating" law is "infuriating," he knows that "North Carolina is a state full of good folks and loyal fans, many of whom are angry about and feel misrepresented by this action." Jimmy Buffett has taken a similar stance, saying he's not canceling two upcoming North Carolina concerts, in Raleigh on Apr. 21 and Charlotte on Apr. 23, even though he thinks the state enacted a "stupid law" limiting protections for lesbians, gays and transgender people. "I am not going to let stupidity or bigotry trump fun for my loyal fans this year," Buffett posted on his blog on Apr. 11. On Apr. 13, Ringo Starr announced he was canceling his upcoming All Starr Band performance in Cary, North Carolina on June 18, saying "I'm sorry to disappoint my fans in the area, but we need to take a stand against this hatred. Spread peace and love." - Billboard/AP, 4/15/16...... Paul McCartney fans attending the former Beatles superstar's One on One Tour in Fresno, Calif., on Apr. 13 received a special treat -- the first performance of the Beatles' 1964 classic "A Hard Day's Night" in concert by Paul in 51 years. It was the first time McCartney had played the song as the solo act, and he last played it as a member of the Beatles at the Cow Palace in Daly City, Calif., on Aug. 31, 1965. McCartney, 73, effortlessly delivered a nearly three-hour, 38-song set at the 16,000-capacity Save Mart Center arena that spanned his five-decade career with the Beatles, Wings, and as a solo artist. Sir Paul was backed by Paul "Wix" Wickens on keyboards, Brian Ray on bass/guitar, Rusty Anderson on guitar and Abe Laboriel Jr on drums. Paul last toured with his 2013-2015 Out There tour, which grossed $196 million from 60 shows. The sold-out show boasted a brand new stage production with massive screens, mind-blowing psychedelic visuals, and spectacular laser and fireworks displays. - Billboard, 4/14/16...... Meanwhile, Paul McCartney, Bob Dylan and the Rolling Stones are reportedly in talks to appear at what is being touted as "one of the biggest concerts in history" with a three-day festival which is being planned on the same site as the Coachella Festival in Indio, Calif., on Oct. 7-9. Other major artists also set to appear include The Who, Neil Young and Pink Floyd's Roger Waters. "It's so special in so many ways," Young's longtime manager Elliot Roberts told a Los Angeles paper. "You won't get a chance to see a bill like this, perhaps ever again. It's a show I look forward to more than any show in a long time." - New Musical Express, 4/16/16...... A Black Sabbath farewell concert at The Forum in Inglewood, Calif., on Feb. 11 earned $1.2 million in ticket sales and drew a crowd of 14,013 fans, making it the top concert in Billboard's Hot Tours Roundup for the month ending Apr. 12. The concert was the Heavy Metal legends' first concert on the first North American leg of Sabbath's ongoing farewell tour, which runs through September. - Billboard, 4/13/16......
A 2-CD set of vintage Bad Company performances titled Live 1977 & 1979 will be released on Apr. 29. The first CD features 15 songs recorded at The Summit In Houston, Tex., on May 23, 1977, while the second disc has 14 songs from a gig at The Empire Pool, Wembley, London on Mar. 9, 1979, along with a rendition of "Hey Joe" recorded at Capitol Center in Washington, D.C. on June 26, 1979. The original Bad Company, fronted by Paul Rodgers, will be hitting the road with coheadliner Joe Walsh this summer, beginning on May 12 in Dallas, Tex. Black Crowes guitarist Rich Robinson will be filling in for Mick Ralphs after the latter declared he was "just not feeling up" to the trek. - Billboard, 4/13/16...... Stevie Wonder will be joined by openers Pharrell Williams and Corinne Baily Rae when he performs at London's Hyde Park on July 10, the only UK visit by Wonder on his Songs in the Key of Life tour. Wonder will be playing the entirety of his classic 1976 album on the tour, which will last at least 18 months. - New Musical Express, 4/14/16...... David Bowie's final album Blackstar has topped the list of the best-selling vinyl record for the past year in the UK's Official Charts Company's first-ever vinyl chart, which it began in Apr. 2015. Other '70s artists making the top selling vinyl list include Fleetwood Mac (Rumours, #15), the Beatles (Sgt. Pepper's Lonely Hearts Club Band, #16, Elvis Presley (If I Can Dream, #18, and Pink Floyd (Dark Side of the Moon, #19). Bowie also had 5 singles in the top 20 vinyl singles list for the past year, led by "Golden Years." - NME, 4/15/16.
Steve Miller, Deep Purple, Chicago, Cheap Trick and N.W.A. were formally inducted into the Rock and Roll Hall of Fame on Apr. 8 during the Cleveland-based hall and museum's 31st annual ceremony at Barclays Center of Brooklyn. Former Talking Heads frontman David Byrne, who gave David Bowie's Rock Hall induction speech in 1996, opened the ceremony with a tribute to the recently deceased Bowie by covering Bowie's first No. 1 hit, "Fame," with accompaniament from the Roots and Kimbra. Chicago drummer Danny Seraphine spoke of how his band "lived together, cried together, fought together and f---ed together." Then, as if he had shocked even himself, he added, "Did I really say that?," before Chicago performed a blistering rendition of their early hit "25 or 6 to 4." In his acceptance speech, Steve Miller encouraged the Rock Hall to "be more inclusive to women ... and more transparent to the public... And most importantly, to support music in our schools." Metallica drummer Lars Ulrich did the induction honor for Deep Purple, calling the band "a beautiful contradiction" and called out those who "might mistake them for a one-hit wonder" for their rock classic "Smoke on the Water."
"They were equals for songwriting, recordings and accomplishments," Ulrich said. During his acceptance speech, Cheap Trick's Rick Nielsen called out Rob Thomas amidst the sea of gray and dyed hair on stage that night -- "Rob, you look too healthy to be around here." The grand finale featured all inductees jamming on a cover of Fats Domino's "Ain't That a Shame," rendered in the arrangement from Cheap Trick's classic 1977 live album Cheap Trick at Budokan. Also inducted in the Ahmet Ertegun Award for Lifetime Achievement category was late songwriter/producer Bert Berns ("Hang On Sloopy," "Under the Boardwalk," "Here Comes the Night"). - Billboard, 4/9/16...... In related news, Kiss bassist/vocalist has responded to N.W.A. member MC Ren's statement at the ceremony, in which he called out Simmons for predicting that the "death of rap" is coming in the next 10 years and "that is all good and healthy." "I want to say to Mr. Gene Simmons that hip-hop is here forever. We're supposed to be here," MC Ren said. Now, Simmons has responded by tweeting: "Respectfully -- let me know when @JimiHendrix gets into the Hip Hop Hall Of Fame. Then you'll have a point." - New Musical Express, 4/10/16...... Speaking of Kiss, the band has just announced a massive 35-date summer "Freedom to Rock" Tour of the U.S. that will kick off on July 7 at Boise, Idaho's Taco Bell Arena. Other dates include Rockford, Ill. (8/20), Toledo, Oh. (8/24), Allentown, Pa. (9/1) and Bridgeport, Conn. (9/7) before wrapping in Huntington, W.V. on Sept. 10. Kiss will also be among the headliners at this year's Nancy Davis' annual Race to Erase MS gala on Apr. 15, which benefits research in Multiple Sclerosis. - Billboard, 4/8/16...... Former Cheap Trick drummer Bun E. Carlos will release a solo album of rock covers, Greetings From Bunezuela!, on June 24 via eOne Music. The 13-song set includes covers of songs by such artists as the Bee Gees ("Idea"), the Rolling Stones ("Tell Me") and the Who ("Armenia in the Sky"). - Billboard, 4/8/16...... The late Merle Haggard was laid to rest in a private funeral service on his Palo Cedro, Calif., ranch. Singer Marty Stuart officiated at the funeral, which began with a recording of Lefty Frizzell's "I Love You a Thousand Ways" and featured a performance of "Precious Memories" by Stuart's wife, Connie Smith. Also paying his respects to the country music legend was Kris Kristofferson, who performed a three-song set. Haggard died April 6 at age 79 after a battle with pneumonia. - Billboard, 4/11/16...... Bob Dylan has shared the track listing for his upcoming Great American Songbook covers album, Fallen Angels. Standards by the likes of Johnny Mercer, Harold Arlen and Sammy Cahn, including "Young at Heart," "All or Nothing at All," "It Had to Be You," "That Old Black Magic" and "Come Rain or Come Shine" will be included in Dylan's 12-track followup to his 2015 Frank Sinatra covers album, Shadows in the Night. Dylan recorded the new tracks with his backing band in Capitol Studios in Hollywood in 2015. Anyone who buys a ticket to his upcoming tour, which begins in June, will receive a CD copy of the album. - Billboard, 4/7/16......
Paul Simon announced he'll release his 13th solo studio album, Stranger to Stranger, on June 3 via Concord Records. The new LP finds the iconic singer/songwriter in an experimental mode, with contributions from a group of Flamenco musicians and the Italian electronic dance music artist Clap! Clap!. "It's about making music that sounds old and new at the same time; music with a sense of mystery," Simon said in a statement. Simon will tour behind the new album this spring and summer with a trek of around 40 shows in North America. The first single, "Wristband," is already available for streaming. - Billboard, 4/7/16...... Lionel Richie will be honored with the Johnny Mercer Award at the Songwriters Hall of Fame's 47th annual induction ceremony in New York in June. The Mercer award is the Hall's highest honor and is reserved exclusively for past inductees -- Richie has been a member since 1994. "Lionel is more than well deserving of this honor as one the greatest and most prolific songwriters and identifiable music voices in our century," noted SHOF co-Chairmen Kenneth Gamble and Leon Huff. Previous recipients of the Mercer Award have included Elton John and Bernie Taupin, Phil Collins, Paul Anka, Kris Kristofferson, Smokey Robinson, Stevie Wonder, Carole King, Billy Joel and Paul Simon, among others. - Billboard, 4/11/16...... In other Motown-related news, Smokey Robinson will be honored at the 8th Annual Little Kids Rock Benefit and Auction, set for Oct. 4 in Manhattan. "We are so excited about the prospect of honoring such an iconic songwriter and musician," says David Wish, CEO and Founder of Little Kids Rock. "It is our mission to help kids unlock their inner music makers and there are few, if any, in the music industry who can inspire this more than Smokey Robinson." All the proceeds help Little Kids Rock bring instruments and free lessons to more than 250,000 disadvantaged public school kids in 30 cities. - Billboard, 4/8/16...... Sheet music for David Bowie's 1984 hit "Blue Jean" signed by the late artist will be auctioned off as part of the 2016 Rumble in the Jumble, the London-based charity jumble sale. The item is being auctioned as part of The Music Circle's annual celebrity jumble sale Rumble in the Jumble, which takes place on May 14 at east London's Oval Space. - NME, 4/11/16...... In a new interview with Rolling Stone, Aerosmith frontman Steven Tyler stated that the band could be calling it quits for good as early as 2017. "I'm doing 30 [solo] shows from May until August. And then in 2017 we go out with Aerosmith," Tyler told the mag. "We're probably doing a farewell tour. Look, there's two bands that still have the original members, us and the Stones. I'm grateful for that," he added. Tyler is currently working on his country music side project, whilst Aerosmith guitarist Joe Perry has been working with Alice Cooper and Johnny Depp on the new band Hollywood Vampires. Meanwhile, Tyler has made a second TV spot for Skittles fruit candy, after the first one premiered during Super Bowl 50 in February. - NME, 4/11/16......

Bruce Springsteen announced on Apr. 8 that he and his E Street Band would be canceling a planned show in Greensboro, N.C., on Apr. 10 due to the state's controversial "bathroom" law. "[This law] dictates which bathrooms transgender people are permitted to use," Springsteen wrote on his site. "Just as important, the law also attacks the rights of LGBT citizens to sue when their human rights are violated in the workplace. No other group of North Carolinians faces such a burden. To my mind, it's an attempt by people who cannot stand the progress our country has made in recognizing the human rights of all of our citizens to overturn that progress." The Boss also offered his "deepest apologies to our dedicates fans in Greensboro," but added "some things are more important than a rock show." Organizers have announced all previously purchased tickets will be refunded at point of purchase. North Carolina's HB2 law, which passed this March, specifically overturns city ordinances designed to protect the right of transgender people to use the restroom of their choosing. In response to Springsteen's action, a U.S. congressman representing portions of Greensboro accused Springsteen of being a "bully." "It's disappointing he's not following through on his commitments," said Rep. Mark Walker, a Republican freshman congressman. "Bruce is known to be on the radical left," Walker continued, "and he's got every right to be so, but I consider this a bully tactic. It's like when a kid gets upset and says he's going to take his ball and go home." Canadian rocker Bryan Adams also canceled an upcoming show in Mississippi on Apr. 10 in protest of that state passing a similar law to North Carolina's. - Billboard, 4/8/16...... Carlos Santana will release Santana IV, a new album that reunites the lineup from 1971's classic Santana III LP, on Apr. 15. "We completed a whole album -- we did 16 songs in four days and they're killer," says Santana. The album features guest vocalists including Ronald Isley, who takes lead vocals on the tracks "Love Makes the World Go Round" and "Freedom in Your Mind." In addition to touring with his regular band, Santana is also gearing up for the debut concert by Supernova, an all-star jazz fusion collective featuring such artists as Herbie Hancock, Wayne Shorter and Marcus Miller, which takes place at L.A.'s Hollywood Bowl on Aug. 24. - Billboard, 4/10/16...... Queen's Brian May has responded to a recent Howard Stern interview with actor Sacha Baron Cohen, in which Cohen said he pulled out of a planned biopic of late Queen frontman Freddie Mercury because the band "wanted a PG-rated story that showed how Queen pulled together after Mercury's death." Cohen, however, said wanted to focus on Mercury's "wild" life in a darker story. "Sacha became an arse," May said in a new interview with Britain's Daily Mail. "We had some nice times with Sacha kicking around ideas, but he went off and told untruths about what happened." May added that the band had no intention in cleaning up the story: "Why would he go away and say that we didn't want to make a gritty film?... Are we the kind of people who have ever ducked from the truth? I don't think so." May added that he and Queen bandmate Roger Taylor are currently eyeing another actor, Ben Whishaw, to portray Mercury in the film. "He's fabulous," May said, "a real actor." - Variety.com, 4/10/16......
Allman Brothers Band drummer Butch Trucks says fans can probably expect even more unreleased music from the band's vaults in the future, which will follow the band's recently released Live From A&R Recording, New York, August 26, 1971. "Don't be surprised if we come up with more," Trucks says. "We still have quite a lot of material, shows that were recorded in the early days." Live From A&R Recording captures the ABB shortly after the release of the classic At Fillmore East concert album, playing a special show for select fans. Meanwhile, Gregg Allman continues to tour the U.S. this summer and spring, with such coheadliners as Peter Frampton and ZZ Top. - Billboard, 4/9/16...... Graham Nash was one of the Sixties' great optimists. But there's a dark feel to his reflective new album, This Path Tonight. "The question haunting me/ 'Is my future just my past?'" he asks on the Blook on the Tracks-esque "Myself at Last." "Target" begins with a riff that mirrors ex-girlfriend Joni Mitchell's "A Case of You," and "Golden Days" conjures memories of CSNY's long-lost harmony brotherhood with a lonely, unaccompanied voice. "What happened to 'All you need is love'?" Nash wonders. Corny perhaps, but still a damn good question. - Rolling Stone, 4/7/16...... Dennis Davis, the longtime drummer for David Bowie, died on Apr. 7 after a battle with cancer. Born and raised in Manhattan, Davis learned his craft under the tutelage of master jazz drummers Max Roach and Elvin Jones. His talents can be heard on seven Bowie albums -- including Heroes, Low, Lodger, the live album Stage and Scary Monsters -- as well as Iggy Pop's 1977 set The Idiot. He also recorded with the likes of Stevie Wonder, George Benson and Jermaine Jackson. Davis returned to the Bowie fold when he played percussion on Bowie's final trek, his A Reality Tour, in 2003. - Billboard, 4/8/16...... Sir Tom Jones' wife, Lady Melinda Rose Woodward (known as Linda), died on Apr. 10 at Cedars Sinai Hospital in Los Angeles after a short battle with cancer. She is thought to have been 75 years of age. Jones had recently cancelled a number of tour dates overseas due to a "serious illness" in his family. Jones (real name Thomas Jones Woodward) met his wife (maiden name Trenchard) at secondary school in Treforest, near Pontypridd, south Wales. The pair married in 1957, both aged 16. Their only child, Mark, was born a month later. Jones, who recently described his wife as "an unbelievable woman...the most important thing in my life," had recently cancelled a number of tour dates overseas due to a "serious illness" in his family. A statement posted to Jones' official website said that Woodward was "surrounded by her husband and loved ones" at the time of her death, and offered no further information. - New Musical Express, 4/11/16......
Rock troubadour Tom Waits has joined the cast of a pilot for a new dramatic series from Hulu, Citizen. Waits will play Cesar, a priest, who is a walking anachronism of virtue and vice, joining a cast that includes Forrest Goodluck, Augusto Aguilera and Alex Gonzalez. Citizen is part of Hulu's ongoing bid to compete with awards-friendly original fare on Netflix and Amazon such as House of Cards and Transparent, respectively. Waits' previous acting credits include The Book of Eli, The Imaginarium of Doctor Parnassus, Mystery Men and The Outsiders, among others. - Billboard, 4/7/16...... R&B singer-songwriter Leon Haywood, whose 1974 hit single "I Want'a Do Something Freaky to You" was memorably repurposed by rapper Dr. Dre's "Nuthin but a 'G' Thang," died on Apr. 6 in Los Angeles. He was 74. Born in Houston, Haywood moved to Los Angeles in the 1960s and found work as a keyboardist, working with Sam Cooke's touring band. He notched a pair of minor R&B chart hits at the end of the decade, then reemerged in the mid-1970s as a reliable crafter of mid-tempo, string-drenched funk anthems on 20th Century Fox Records. "Stroking (Pt. II)," "Come and Get Yourself Some" and the Sly Stone-indebted "Keep It in the Family" were all hits on the R&B chart, while "I Want'a Do Something Freaky to You" reached No. 15 on the pop singles chart in 1975. In 1981, Haywood wrote a Grammy-nominated Top 40 hit for labelmate Carl Carlton, "She's a Bad Mama Jama," before seguing into a career as a producer. - 4/7/16...... Bill Henderson, a well-respected jazz vocalist and actor, died on Apr. 10 of natural causes in Los Angeles, according to Lynne Robin Green, president of LWBH Music Publishers. He was 90. A native of Chicago, Mr. Henderson sang with the Ramsey Lewis Trio, Dizzy Gillespie, Count Basie, Frank Sinatra, Tony Bennett, Quincy Jones, the Charlie Haden Quintet and many others. His 1963 album, Bill Henderson With the Oscar Peterson Trio, is considered a classic in the jazz vernacular. Mr. Henderson was a fixture on the Playboy circuit in the 1970s and appeared often at many festivals, including Playboy Jazz at the Hollywood Bowl, Monterey Jazz and the Litchfield Jazz Festival in Connecticut. Later, he performed at The Kennedy Center and in New York at the Hotel Algonquin's Oak Room and at Lincoln Center. He also appeared in several films and TV series, including ER, Hill Street Blues, Happy Days, Sanford and Son, The Jeffersons and Good Times - The Hollywood Reporter, 4/7/16.
Simon & Garfunkel's iconic 1966 single "The Sound of Silence" has entered the Billboard Hot 100 singles chart following its appearance in a YouTube video, titled "Sad Affleck," which features a portion of an interview with Batman v Superman stars Ben Affleck and Henry Cavill. In the clip, Affleck is seen seemingly staring off in the distance as Cavill gives a lengthy answer to a question concerning the film's negative reviews as the Paul Simon-penned tune plays. The song also entered the Rock Streaming Songs chart at No. 2. Meanwhile, a cover of "The Sound of Silence" by Disturbed sits at No. 3 on the Hot Rock Songs chart since the band performed it on a Mar. 28 episode of TBS's Conan show. "The Sound of Silence" originally topped the Billboard Hot 100 for two weeks in 1966. - Billboard, 4/6/16...... Gregg Allman's tour bus was involved in an accident in Jackson County, W.V., on the morning of Apr. 6 as it was traveling to a gig in Charleston, SC. Three members of the tour crew "were taken to the hospital with minor injuries and released shortly thereafter," according to a rep for Gregg Allman. Allman himself was not on the bus, which crossed into the northbound lane of I-77 and crashed into trees next to a creek running near the highway. The concert at Charleston's Clay Center will go on as scheduled, according to the rep. - Billboard, 4/6/16......
Heart's Ann Wilson will be featured in an upcoming episode of Connecticut Public Television's new series The Kate on TheKate.tv on Apr. 9 singing a raw, stunning cover of John Lennon's "Isolation." Wilson takes the stage as the leader of her Heart side project The Ann Wilson Thing that finds her reinterpreting various rock, soul and blues classics, including the Buffalo Springfield's "For What It's Worth." Named after Katherine Hepburn, The Kate is filmed in front of a live audience at the historic 250-seat Katharine Hepburn Cultural Arts Center in Old Saybrook, Conn. - Billboard, 4/6/16...... Rolling Stones guitarist Ronnie Wood said on Apr. 4 that the band is planning to release a new album, possibly in 2016, which will be the followup to 2005's A Bigger Bang. "We went in to cut some new songs, which we did," the 68-year-old Wood said. "But we got on a blues streak. We cut 11 blues in two days. They are extremely great cover versions of Howlin' Wolf and Little Walter, among other blues people. But they really sound authentic." The Stones recently wrapped a tour of Latin America, with a free show in Cuba on Mar. 25. Wood's statement comes after his bandmate Keith Richards also recently said the band plans on releasing new music. "There's one coming. I can't say no more. My lips are sealed," he said. After their Bigger Bang tour ended in 2007, the Stones resumed touring in 2012 to mark their 50th anniversary, but have only released a couple of new songs since then. - AP, 4/4/16...... In other Rolling Stones news, a huge exhibit showcasing five decades of the band's history entitled "Exhibitionism" has opened at London's Saatchi Gallery. The vast exhibition, which covers 20,000 square feet, features more than 500 artifacts borrowed from the band's archive and private collectors, include musical instruments, lyrics, sketches, film clips, outfits, posters, album artwork and stage designs. A whole room is devoted to designer John Pasche's famous lips-and-tongue Stones logo, inspired by a picture frontman Mick Jagger had seen of the Hindu goddess Kali, and another room is a life-size recreation of an apartment the band members shared in 1962-63 in the Chelsea neighborhood of London. "Exhibitionism" runs to Sept. 4, with an international tour planned to follow the London run. - AP, 4/5/16...... Meanwhile, Mick Jagger has weighed in Britain's upcoming referendum to remain in the European Union. In an interview with Britain's Sky News, Jagger says he can see leaving the European Union to be "beneficial" to the UK in the long term. "I wonder if David Cameron, if he was asked today, whether he would actually want to put this out for a referendum now," Jagger said. "To me personally, I don't think [the result] is going to make a huge difference. I think to the country in the short term [leaving the EU] will be detrimental. In the longer term, in a twenty-year term, it might turn out to be beneficial," he added. In May 2015, the Conservatives' political adviser Jim Messina claimed that Jagger correctly predicted the results of the UK general election. "One of the savviest political observers I've come across is Mick Jagger," Messina said. "I was invited to a dinner that included the legendary rocker in London before the British election (I took about 9,000 selfies), when I discovered that Mick has been a bit of a political junkie his whole life." - New Musical Express, 4/6/16......
Guitar legend Jeff Beck will release a new studio album on July 15, the followup to his 2010 Grammy Award-winning LP Emotion and Commotion. The title of the album is yet to be announced, or whether two new songs Beck included on his 2015 live album, Jeff Beck Live+, "Tribal" and "My Tiled White Floor," will be included. Beck has also announced he will be releasing a memoir, BECK01, three days before the new album on July 12. The book will explore his "passions for hot rodding and rock & roll," with the limited-edition title signed and individually numbered by Beck and hand-bound in leather and aluminum. Beck will mount a summer US tour behind his new album and book, co-headlining with blues legend Buddy Guy. - New Musical Express, 4/4/16...... Remastered versions of the Beatles' three Anthology volumes from 1995 and 1996 debuted on all streaming services at midnight on Apr. 4. Anthology, Volumes 1-3 originally released in two-disc sets in 1995 and 1996, included rare and previously unreleased recordings, plus studio outtakes, alternate versions and singles "Free as a Bird" and "Real Love. Upon their original release, the collections went multi-platinum in several countries and "Free as a Bird" (completed by Paul McCartney, George Harrison and Ringo Starr from 1977 demos recorded by John Lennon) became the band's 34th top 10 hit in the U.S. The tracks can be heard on major international services including Apple Music, Deezer, Google Play, Microsoft Groove, Prime Music, Rhapsody, Slacker Radio, Spotify and Tidal, as well as dozens of local streaming partners around the world. The Anthology tracks come less than four months after the Beatles released their catalog of hit music to streaming services for the first time. - Billboard, 4/4/16...... In other Fab Four news, a live "musical documentary" stage show which closely recreates the sound of the bnd's famous Abbey Road recordings is now on tour in the UK. "The Sessions - A Live Restaging of The Beatles at Abbey Road Studios" includes performances of songs from their albums Please, Please Me and Abbey Road as they were originally recorded, with four actors potraying John Lennon, Paul McCartney, George Harrison and Ringo Starr, while screens around them display recording details and live musicians recreate the vocals, music and arrangements that were originally used. Another actor will narrate the show in role of the "fifth Beatle," producer George Martin, who died in March aged 90, and to whom the show is dedicated. The show is inspired by the memoir of former Abbey Road Studios sound engineer Geoff Emerick. "The Sessions" debuted at London's Royal Albert Hall on Apr. 1 and will tour other UK cities and some European countries. - NME, 4/2/16...... Elton John is set to appear as himself in an upcoming episode of ABC's country music drama Nashville, producers announced on Apr. 4. The "Rocket Man" singer will perform alongside up-and-coming singer and songwriter Gunnar (Sam Palladio) in the May 18 episode of the series, which serves as the penultimate episode of season four. Nashville follows several fictional country music stars, and has prevously welcomed other real hit makers, including Brad Paisley, Florida Georgia Line and Sara Evans. The role will be a rare scripted series appearance for Sir Elton, who most recently appeared on his good friend Lady Gaga's 2013 Christmas special. John will appear in the May 18 episode of the 10:00 p.m. EDT Wednesday night series. - The Hollywood Reporter, 4/4/16......
Toni Tennille, the better half of the '70s hitmaking duo The Captain and Tennille, released her autobiography, Toni Tennille: A Memoir, on Apr. 1. The "Love Will Keep Us Together" singer takes readers through the more difficult moments of her life that many Captain and Tennille fans may be unaware of, including her upbringing in the segregated south to "fighting a lonely struggle against the controlling and often bizarre behavior of her emotionally inaccessible husband," Daryl "The Captain" Dragon. - Billboard, 4/4/16...... Elvis Costello kicked off a summer tour of America on Apr. 2 with two sold-out shows at L.A.'s Theatre at Ace Hotel on Apr. 2. Although the tour isn't technically a "book tour" -- he did one of those in the fall of 2015 replete with speaking engagements and signings for his memoir Unfinished Music & Disappearing Ink -- the effects of the book were felt throughout his part-scripted, part-freestyle "Detour" show, as he told droll stories while snarling and cooing his way through his famous rock songbook. Costello filmed one of his "Detour" concerts during the 2015 fall leg of his European tour, which was screened in January as a one-night theatrical release in dozens of U.S. cinemas, followed by a DVD release. - Billboard, 4/3/16...... David Bowie has scored three of the Top 10 albums on the UK's Official Charts Company chart following his death in January. Only Adele' with her new album 25 sold more albums in England than Bowie's final LP, Blackstar, with the late rock legend also coming in at No. 4 with The Best of Bowie and No. 10 with another hits collection, Nothing Has Changed - The Very Best of David Bowie.. In other Bowie-related news, Bowie's widow Inman has lost her mother, Maryan Abdulmajid, just three months after the death of her husband. Inman confirmed the news of her mother's passing in an Apr. 1 Facebook post, in which she shared an image of her wedding to David: "Saddened by death of my mom Maryan Baadi. May Allah grant her the highest jennah. I beg that you respect my family's privacy during our time of grief #ripmaryanbaadi." - New Musical Express, 4/6/16...... Scientists at the University of South Australia have used AC/DC's hit "Thunderstruck" to help in cancer research, it was announced on Apr. 3. The scientists used the bone-jarring tune to help adapt the delivery of chemotherapy-related drug Camptothecin, improving delivery direct to cancer cells. It's thought the research could also be used in other areas of drug delivery. The researchers have also released a paper on the subject, titled "Thunderstruck: Plasma-Polymer-Coated Porous Silicon Microparticles As a Controlled Drug Delivery System." The project comes after AC/DC guitarist Malcolm Young successfully battled lung cancer and subsequently retired in 2014. - NME, 4/3/16......

Bonnie Raitt played the first of two sold-out shows at Manhattan's Beacon Theatre on Apr. 1 behind her new LP, Dig In Deep. The 66-year-old Grammy winner opened the set with a cover of INXS's 1987 chart-topping hit "Need You Tonight," followed by the blues-rocker "Gypsy in Me," "The Comin Round Is Going Through," Gerry Rafferty's "Right Down the Line," the Willie Dixon blues classic "Round and Round," and an exquisite acoustic "Angel From Montgomery." Raitt will be on a world tour throughout 2016 and 2017. - Billboard, 4/2/16...... Aerosmith's Steven Tyler gave a big Aerosmith fan who was born with Down syndrome free backstage passes to both of Aerosmith's shows at the Fallsview Casino after the two bumped into each other by chance at a medical suppies store earlier in the day, where Tyler was shopping for a back brace. Tyler asked the fan, Anthony Yorfido, if he was going to the Mar. 30 show, but Yorfido told Tyler he couldn't get tickets. "Oh, don't worry about that, you guys are coming with me. I'll get you backstage passes," Tyler said to Yorfido and his mother. Yorfido was also brought on stage during the concert, and he played maracas during "Sweet Emotion." - The Niagara Falls Review, 4/3/16...... Michael Jackson's daughter Paris Jackson has honored her late dad by turning one of his touching notes into a tattoo. Paris, 18, headed to the Timeless Tattoo parlour in Hollywood to get the tribute, the words "Queen of my Heart", which was written in Michael's handwriting, etched on the outer side of her lower left arm. "'Queen of My Heart' in his handwriting," she wrote in the caption of an Instagram post. "To everyone else he was the King of Pop. To me, well, he was the king of my heart. Thank you dermagraphink, you're a legend." It is thought Paris got the tattoo to mark her 18th birthday, which was on Apr. 3. She celebrated the occasion on social media by posting an image of herself locking lips with rocker boyfriend Michael Snoddy and taking a trip to Disneyland in California. Michael Jackson died in June 2009 at age 50 from an overdose of prescription drugs. - WENN.com, 4/6/16...... Cable TV's BET channel has acquired more than 1,000 vintage episode of the dance show Soul Train, which aired from 1971 into the 2000s, from InterMedia Partners and the Yucaipa Companies. BET has aired the Soul Train Awards show since 2009 and has aired older Soul Train episodes of the show on BET and Centric in the past. Financial details of the deal were not disclosed. Soul Train creator and host Don Cornelius sold the company in 2008, four years before his death in 2012. - Variety, 4/4/16......
Influential country music singer/songwriter Merle Haggard died in Palo Cedro, Calif., on the morning of Apr. 6, his 79th birthday, after a battle with pneumonia. Born Apr. 6, 1937, in Oildale, Calif., outside Bakersfield, Haggard often ran into trouble with the law and he spent time in juvenile detention centres and served jail sentences during the 1950s. It was as an inmate at San Quentin prison that Haggard first saw Johnny Cash perform, an event he later characterized as life-changing. Following his release from prison in 1960, Haggard went on to record a number of hit country singles. His first top 20 hit, "Sing Me a Sad Song," came out in 1963, and he scored his first No. 1 single with 1965's "I'm a Lonesome Fugitive." By 1967, Haggard was one of country music's biggest stars with 37 songs charting in the Top 10 of the Billboard Country singles chart that year. He went on to have 38 No. 1 country singles over his career, third only to George Strait (44) and Conway Twitty (40), and logged eight No. 1 singles in 1966-69 alone. Haggard's most famous songs include "Mama Tried," "The Bottle Let Me Down," The Fightin' Side of Me," and "Okie From Muskogee," which became a touchstone for debate at the height of the Vietnam War era. After garnering considerable coverage in 2003 with "That's the News," his sharply critical song about media coverage of the Iraq war, Haggard founded his own independent label Hag Records. Haggard's last album was 2015's Django and Jimmie, a collaboration with his longtime friend Willie Nelson. Haggard was the recipient of two Grammys, was inducted into the Country Music Hall of Fame in 1994, and celebrated as a Kennedy Center Honors recipient in December 2010. His most recent solo studio album was 2011's Working In Tennessee, released on Vanguard. Haggard underwent surgery for lung cancer in 2008, and had been hospitalized for various ailments over the past few years -- most notably for pneumonia, which forced several concert postponements and cancelations in 2015 and 2016. He is survived by fifth wife Theresa Ann Lane and his six children. - Billboard/NME, 4/6/16...... Latin Jazz saxophonist Leandro "Gato" Barbieri, who composed the Grammy-winning music for the steamy Marlon Brando film Last Tango in Paris and recorded dozens of albums over a career spanning more than seven decades, died on Apr. 2 in a New York hospital from pneumonia. He was 83. The Argentine-born musician recorded some 35 albums between 1967 and 1982, when he stopped consistently making new records. He toured regularly and went on to record four more albums, including 1997's smooth jazz Que Pasa, which reached No. 2 on Billboard's contemporary jazz charts. Though in poor health, Mr. Barbieri, still sporting his trademark black fedora hat, had been performing monthly at the Blue Note jazz club in New York since 2013. He last performed at the club on Nov. 23. - AP, 4/2/16.
The first of two David Bowie tribute concerts took place at New York's Carnegie Hall on Mar. 31, with Debbie Harry of Blondie, Ann Wilson of Heart, Michael Stipe of R.E.M., and the Flaming Lips performing live in memory of the late rock legend. Also taking part were Bowie collaborator Tony Visconti, '80s star Cyndi Lauper, and Laurie Anderson, the ex-wife of late Bowie collaborator Lou Reed, Rickie Lee Jones, and Bob Dylan's son Jakob Dylan. The concert, initially announced prior to Bowie's death, was originally intended to be a retrospective on his career. - New Musical Express, 4/1/16......

A 67-track, 4-disc Paul McCartney greatest hits compilation entitled Pure McCartney is being readied for a June 10 release via Hear Music. Billed as "the only comprehensive career collection released of Paul McCartney's solo works from his solo career," the collection has been curated by Sir Paul himself and includes songs later than 1989 which have so far not been included on any McCartney hits collection, including 2012's "My Valentine," 2014's "Hope For the Future," and 2015's "Say Say Say" remix. "Me and my team came up with the idea of putting together a collection of my recordings with nothing else in mind other than having something fun to listen to," McCartney said in a statement. "Maybe it's to be enjoyed on a long car journey or an evening at home or at a party with friends? So we got our heads together and came up with these diverse playlists from various periods of my long and winding career," he added. Also available the same day will be 2-CD version that includes his 12 Top 10 U.S. singles and 10 Top 10 U.K. singles. McCartney kicks off a U.S. tour on Apr. 13 in Fresno, Cal. - NME, 4/1/16...... A Mar. 28 Bruce Springsteen and the E Street Band concert at New York's Madison Square Garden, which was a rescheduled due to the blizzard that struck the city in late January, provided a special treat for the Boss's fans: Springsteen's 90-year-old mother, Adele, was invited onstage to dance with her iconic rock star son. She's still got the moves," Springsteen declared about his mom, who started it all by buying her son his first guitar for $18 at a pawnshop. Adele Springsteen previously joined her son onstage for "Dancing In The Dark" at shows in Philadelphia in 2009 and 2012. The 32-song gig on his The River tour, which included a special "Meeting Across the River" that segued into "Jungleland," was attended by such celebrities as Bruce Willis, Danny DeVito, Brian Williams and U2 drummer Larry Mullen, Jr.. - Billboard, 3/29/16......
Representatives for Elton John are denying allegations first reported by the celebrity gossip cite TMZ.com that the Rocket Man sexually harassed his former security guard in 2014. Jeffrey Wenninger, who was employed by Elton as a security guard, claims he was groped by John on several occasions during that time. But Orin Snyder, a lawyer for John's Rocket Entertainment Group, has responded to the claims, strongly denying them and accusing Wenninger of making the story up to score a monetary settlement. "This baseless lawsuit is brought by a disgruntled former security officer seeking to extract an undeserved payment," Snyder told Digitalspy.com. "These claims are patently untrue and contradicted by numerous previous statements made by this plaintiff. We will not give into his latest abuse of the legal system," he added. In the lawsuit, Wenninger says he was harassed by Elton on three separate occasions in 2014, accuses the singer of putting his hands down the security guard's pants and attempting to grab his genitals and put his finger between his bum cheeks. The singer allegedly told him to "Get your todger out,", which is British slang for penis, and to "say hello to Uncle Elton." On another occasion, Wenninger claims John twisted his nipples and said, "You gorgeous thing, you." Wenninger claims he tried to resist Elton verbally and physically, but his attempts did not work.Wenninger, who was employed by Elton until Sept. 2014 when, according to him he was effectively fired from John's security detail because he had reported a fellow officer for overtime theft, is suing for sexual harassment and battery. He is a former LAPD officer and Medal of Valor recipient who now works for the security firms J Bondi, Inc. and Hamitsu. - WENN.com/AP, 3/29/16...... In a new interview Rolling Stones guitarist Keith Richards was critical of artists like Adele and Rhianna who work with a team of songwriters for their smash hits. "Well, they can't rely on themselves, can they?," Richards said, adding that "We're in the midst of a heavy-duty 'showbiz' period, even stronger than when we killed it last time. The X Factor and all this competition shit. It's just for people who want to be famous. Well, if it's fame you wants, good luck. You'd better learn to live with it." In contrast, Richards said that he wrote the classic Stones track "(I Can't Get No) Satisfaction" in "bed with a guitar" one night. - New Musical Express, 3/30/16...... Country music icon Merle Haggard has canceled his April concert dates as he recovers from a recurring bout of double pneumonia. Haggard, 78, said in a statement that "I want to thank my fans for their prayers and well wishes. I hope to be back on the road in May, but I'm taking it one day at a time." The "Okie From Muskogee" singer, who had a battle with lung cancer in 2008, had previously canceled dates in February and March. - AP, 3/30/16......

In other country music news, it was announced on Mar. 29 that country/pop crossover star Charlie Daniels will officially be inducted into the Country Music Hall of Fame later this year. The induction of Daniels into the CMA's "Veterans Era" category is the crowning achievement in a career that dates back to the early 1960s. He wrote "It Hurts Me," a 1964 cut for Elvis Presley, and made a name for himself as one of the top instrumentalists in town -- playing on three of Bob Dylan's albums, including the seminal Nashville Skyline. His public breakthrough came in 1974 with the release of his Fire On The Mountain LP, and enjoyed his biggest hit with 1979's "The Devil Went Down To Georgia," which became the CMA single of the year. He continued to rack up hits in the 1980s and 1990s, with songs such as "In America" and "Drinkin' My Baby Goodbye." Daniels, along with '80s/'90s country star Randy Travis and legendary producer Fred Foster, will be officially inducted into the Country Music Hall of Fame during a Medallion Ceremony in Fall 2016. - Billboard, 3/29/16...... Although Gene Simmons hasn't endorsed controversial Republican presidential candidate Donald Trump so far, the Kiss bassist/singer did have several positive things to say about him in a recent interview with Rolling Stone magazine. "He is the truest political animal I've ever seen onstage," Simmons proclaimed. "He has no speechwriters, no editing, no nothing. He's actually on tape going 'motherf----r.' You cannot turn away." Simmons also said Trump is good for the political system" and pointed out that his non-politician status has allowed him to express beliefs most politicians wouldn't. On that note, he remarked, "Everybody is sick and tired of being politically correct." Simmons, who has expressed regret for voting for Barack Obama, also weighed in on Trump's proposal to build a wall between the U.S. and Mexico: "...walls actually work... It's unkind, but in terms of pragmatics, it actually works The Pope has said the wall is unkind, but it's interesting that at the Vatican there's a wall." - Rolling Stone, 3/31/16...... Black Sabbath is teaming up with UK clothing manufacturer Supreme for a new clothing line. The "Supreme x Black Sabbath" collection will consist of denim jackets, sweatshirts, t-shirts and hockey jerseys adorned with the band's artwork for their 1970 self-titled debut as well as the typography from their fourth album Vol 4. - NME, 4/1/16......

In other Heavy Metal news, Motörhead will release a live album and film from two shows during their last-ever tour. Titled Clean Your Clock, the release will come on colored double vinyl, as well as CD, DVD and Blu-ray. The release documents the band's two Munich gigs, which took place on Nov. 20 and 21 just five weeks before the death of frontman Lemmy Kilmister on Dec. 28, 2015, and before their final gig in Berlin on Dec. 11. - NME, 4/1/16...... Legendary Motown bassist James Jamerson, Jr., hailed as one of th greatest R&B bass players ever, died on Mar. 26. Jamerson, the son of Motown bassist James Jamerson, Sr. who died in 1983, was born in Detroit and was a member of the Temptations' road band in the late 1960s, soon developing into arguably the most sought-after bass player in the R&B world. He contributed to albums by such acts as Tavares, The Four Tops, The 5th Dimension, The Crusaders, Johnny Taylor, The Dramatics, Teena Marie and countless others. In the late 70s, Jamerson formed the group Chanson and landed a hit with "Don't Hold Back." He also toured with such artists as Natalie Cole, Chaka Khan and many others. - SoulTrax.com, 3/27/16...... Andy "Thunderclap" Newman, the pianist for the British band Thunderclap Newman, died at his home in London on Mar. 30. He was 73. Thunderclap Newman, which was founded by the Who's Pete Townshend, had their biggest hit in 1969 with the track "Something In The Air," from the album Hollywood Dream which was produced by Townshend. The song, which was later remade by Tom Petty and the Heartbreakers, spent three weeks at the top of the UK singles chart. Mark Mark Brzezicki, the former drummer for Thunderclap Newman and close friend of Newman's, said that after Townshend and producer Kit Lambert saw Newman play piano at art college, they were inspired to form Thunderclap Newman in 1968. "He was an incredibly talented musician. He had his own unique, very individual piano-playing style," Brzezicki said. Brzezicki and Newman were due to go back into the studio in April to work on more music. - 3/31/16......

Oscar-winning actress, sitcom star and singer Patty Duke died in a Coer D'Alene, Idaho, hospital after battling a ruptured intestine on the morning of Mar. 29. She was 69. "This morning, our beloved wife, mother, matriarch and the exquisite artist, humanitarian and champion of mental health, Anna Patty Duke, closed her eyes, quieted her pain and ascended to a beautiful place," read a family statement. "We celebrate the infinite love and compassion she shared through her work and throughout her life." Duke won an Oscar in 1962 for her performance in the Hellen Keller biopic The Miracle Worker, becoming the youngest ever to win the statue in a competitive category. Although she performed in films, theater and TV, Duke was most successful in television, winning three Emmy Awards among 10 nominations. Duke was also the youngest star at the time to have a TV series bearing her name, with her The Patty Duke Show running for three seasons beginning in 1963 on ABC, and she was nominated for an Emmy in 1964. Duke later starred in the film Valley of the Dolls (1967) where, countering her squeaky-clean image, she played a pill-popping alcoholic. Her other films included Happy Anniversary (1959), By Design (1981), Willy/Milly (1986), The Hitch-Hikers (1989), Prelude to a Kiss (1992), Bigger Than the Sky (2005) and Amazing Love (2012), appearing opposite her son, Sean Astin. Born Dec. 14, 1946, in Elmhurst, N.Y., Duke got her first part as a film extra in 1955 and made her first television appearance as a dancer on the The Voice of Firestone. She was married from 1972-85 to former The Addams Family star John Astin. He adopted Sean, and they had Mackenzie together. - Variety, 3/29/16...... Legendary Jamaican singer Jimmy Riley died on Mar. 23 in New York after a battle with cancer. He was 68. In 1967, Riley recorded several rock steady classics with The Uniques including "My Conversation," as well as renditions of Curtis Mayfield's "Gypsy Woman" and "My Woman's Love." Riley embarked on a solo career around 1969 and his greatest commercial success arrived in the early 1980s when his first No. 1 hit in Jamaica, "Love and Devotion," also reached the British pop charts in 1982. Riley was the father of Tarrus Riley, one of contemporary reggae's most in-demand artists, with whom he often recorded with in recent years. - Billboard, 3/28/16...... David Baker, a prolific jazz composer and musician who founded the jazz studies program at Indiana University, died on Mar. 26 at the age of 84. Mr. Baker wrote more than 2,000 pieces of music and was nominated for a Grammy in 1979 and a Pulitzer Prize in 1973. In 2000 he was named a National Endowment for the Arts Jazz Master, the United States' highest jazz honor. Mr. Baker performed in the U.S., Japan, Australia, New Zealand and across Europe, including a 1960 tour with longtime friend Quincy Jones' big band. He also worked with bands led by Stan Kenton, Maynard Ferguson and George Russell. - Billboard, 3/28/16...... Actor James Noble, best known for his role as Governor Eugene Gatling on the '70s sitcom Benson, died on Mar. 28 in Connecticut. He was 94. - Variety, 3/30/16.
A rep for AC/DC has responded to recent reports that former Guns N' Roses frontman Axl Rose will fill in for Brian Johnson for the rest of AC/DC's 2016 tour after Johnson was advised by doctors to "stop touring immediately or risk total hearing loss." "Nothing official to announce. Will update you if that changes," the rep told New Musical Express, in response to a report from Atlanta DJ Jason Bailey, who claimed that a "very very good source" informed him that Rose will join the band for the rest of their tour dates after being "flown in" to the US city to audition with the group. Bailey also said that Rose has met with AC/DC, and "it's all but a done deal that Axl will front AC/DC for the ten remaining shows. All ten, including Atlanta." A Guns N' Roses fansite has also reported that Rose was spotted in Atlanta, further speculating that he might have been auditioning to link up live with AC/DC. Rose is a longtime AC/DC fan who has been known to cover such classics as "Whole Lotta Rosie" at Guns N' Roses concerts in the past. Meanwhile, Rose has also been confirmed to be joining his former bandmates Slash and Duff McKagan this summer for a series of live GNR dates, including a headline slot at the Coachella festival in April and warm up gigs in Las Vegas. - New Musical Express, 3/24/16......
David Gilmour of Pink Floyd opened his summer 2016 tour of North America behind his 2015 solo LP Rattle That Lock on Mar. 24 at the Hollywood Bowl in Los Angeles. Gilmour used the Bowl's specialized capability to have its searchlights converge in a perfect Dark Side of the Moon-style pyramid to full advantage, as he performed his guitar heroics before a capacity crowd on a tour that will also take him to Inglewood, Calif., Toronto, Chicago and New York. The Mar. 24 show was the 70-year-old Gilmour's first stage outing of any kind in 10 years. Also featured during the show was David Crosby of Crosby, Stills and Nash, who was brought out be Gilmour his songs "A Boat Lies Waiting," "On and Island," and the encore, the 1979 Pink Floyd classic "Comfortably Numb." - Billboard, 3/25/16...... The Rolling Stones performed a historic free gig in Havana, Cuba on Mar. 25 before a 450,000-strong crowd in a country where rock and pop music had been banned for decades, until the early 2000s. "Hello, Havana. Good evening, my people of Cuba," frontman Mick Jagger said, before the band launched into "Jumpin' Jack Flash." It was the first time ever Jagger and bandmates Keith Richards, Charlie Watts and Ronnie Wood had performed in the Communist country since the Stones were formed in 1962, just three years after the Cuban revolution. The 18-song set consisted of many of the same hits and classics they've been playing in various sequences on their Amrica Latina Ol Tour -- "Jumpin' Jack Flash," "It's Only Rock 'n Roll," "Tumbling Dice," "Paint It Black," "Honky Tonk Woman," "Midnight Rambler," "Miss You," "Gimme Shelter," "Start Me Up," "Sympathy for the Devil," "Brown Sugar," and the two-song encore, "You Can't Always Get What You Want" and "Satisfaction." Havana was the finale of the band's 2016 America Latina Ol stadium tour, which saw them previously playing in Argentina, Mexico, Uruguay, Chile, Peru, and Colombia, and was filmed for a future Eagle Rock Entertainment DVD, to be titled Concert for Amity. - Billboard/NME, 3/26/16...... Tom Petty has reacted to the sudden death of his good friend, comedian Garry Shandling who passed away at age 66 on Mar. 24. "I've known Garry for a long time. We go back to the mid-80's," Petty said. "I just want people to remember what great work he gave us. The Larry Sanders Show just stands as some of the best TV work ever done. He was always quiet about his talent and just a really decent guy." Petty added that the two had a "very strong friendship" and they "kept in touch all that time." "You know, he'd come to our shows, and he'd hang out with us. I went to his house many times. And he would come to my house. It was a comfortable friendship where if he came over I didn't feel like I had to entertain him, and it was the same way back. He had an incredibly original talent, and as a man I can't say enough about him. He was more than a showbiz acquaintance to me, he was a dear friend, and I will miss him," he added. Born in Chicago, Shandling moved to Los Angeles in the early 1970s to give comedy writing a shot, first earning a living writing ad copy. But his dry, cerebral wit quickly earned him staff-writer gigs on sitcoms and like Sanford and Son and Welcome Back, Kotter. After a near-death experience in a 1977 car accident, Shandling decided to concentrate on stand-up comedy, finding the constraints of traditional sitcom writing limiting. He started performing at the Comedy Store in L.A. a year later, capitalizing on his real-life neuroses. - Billboard, 3/25/16......
Paul McCartney is set to appear in the fifth installment of the Pirates of the Caribbean movie franchise, according to reports. Filming had apparently already concluded on the movie when Sir Paul was added to the cast, with an extra scene featuring him added to allow him to make his cameo. His appearance follows Rolling Stones guitarist Keith Richards' roles in the third and fourth POTC films, as Captain Teague. The fifth film, Pirates Of The Caribbean: Dead Men Tell No Tales, is due for release on May 26, 2017, and will star Johnny Depp, Orlando Bloom, Javier Bardem and Geoffrey Rush. - New Musical Express, 3/24/16...... In other Beatles-related news, a rare record record recorded by the Fab Four that was found in the loft of Gerry and the Pacemakers keyboardist Les Maguire was auctioned off for #163;77,500 on Mar. 21. The 10-inch acetate of "Till There Was You" and "Hello Little Girl" from 1962 was the first Beatles disc to be cut before the band broke into the national charts and featured the handwriting of their manager Brian Epstein. The 78 rpm record, made at the former HMV record store on Oxford Street in London, was mislabelled by Epstein as "'Til There Was You" and described as being the work of "Paul McCartney & The Beatles." "Hello Little Girl," on the flipside, was again mislabelled as "Hullo Little Girl" and was described as being the work of "John Lennon & The Beatles." The record was submitted to late Beatles producer George Martin in an effort to secure a recording contract, and had been locked away in Maguire's Liverpool loft, where it had been wrapped in paper for more than 50 years. - NME, 3/22/16...... Bruce Springsteen and the E Street Band helped promoters say goodbye to the L.A. Sports Arena with a Mar. 19 concert at the venue, which had hosted major concerts and other events for more than five decades. Springsteen and his band first performed at the arena, which is being demolished for the construction of a new soccer stadium, during his original The River tour in 1980. "We're so glad to be here in the beautiful Sports Arena tonight," Springsteen said from the stage at the first of the three sold-out shows. "They're gonna knock this beautiful building down." He then introduced "Wrecking Ball," a song written for the Meadowlands when his hometown stadium in New Jersey was demolished, as "One for the Sports Arena." It was Springsteen's 34th and final stop at the famed venue, which has also hosted such acts as David Bowie, the Kinks, U2 and AC/DC. - Billboard, 3/25/16...... A London-based law firm is suing the estate of Michael Jackson for more than $200,000 that it claims it is owed in legal fees it did for the King of Pop in the two years leading up to his 2009 death. Atkins Thomson Solicitors is suing prominent entertainment attorney John Branca and music executive John McClain, executors of Jackson's estate, for breach of contract in a state claim filed on Mar. 21 in California. In Nov. 2009, the firm filed a creditors claim for $204,204.36 and claims defendants refused to pay, finally rejecting the invoice in writing in Dec. 2015. "The Estate doesn't believe the attorney's claim for work allegedly done for Michael Jackson is valid and we intend to contest this lawsuit," Jackson estate attorney Howard Weitzman said in response to the suit. - The Hollywood Reporter, 3/23/16......

The Bee Gees' Barry Gibb is reportedly set to join Coldplay during their headlining set at the 2016 Glastonbury Festival, which will take place at Worthy Farm over the week of June 22-26. According to the UK tabloid The Sun, Gibb had been asked to perform but didn't have time to perfect a full set with his touring band, and "as soon as Coldplay frontman Chris Martin got wind, he asked Barry if he wanted to come on stage with Coldplay." Gibb quickly agreed, and the musicians are putting a Bee Gees medley together cramming in all of their classics. "It's going to be really special. There are likely to be a few other surprise guests on the night too, which are still to be decided," according to a source. Barry Gibb is the last surviving member of the Bee Gees. - NME, 3/25/16...... Timeless pop tunes from the 1960s and 1970s, including Billy Joel's "Piano Man," Gloria Gaynor's "I Will Survive," The Supremes' "Where Did Our Love Go," and Merle Haggard's "Mama Tried" have been selected for induction into the Library of Congress' National Recording Registry. Under the terms of the National Recording Preservation Act of 2000, the Librarian of Congress, with advice from the National Recording Preservation Board, selects 25 recordings each year to be preserved. They must be "culturally, historically or aesthetically significant" and at least 10 years old. The Curtis Mayfield-led Impressions hit "People Get Ready," Santana's 1970 album Abraxas, and George Carlin's 1972 comedy LP Class Clown were also among the 25 recordings inducted this year. - Billboard, 3/23/16...... A previously unreleased David Bowie demo called "To Be Love" recorded in 1970 at the Roxbury Road Studios in Los Angeles during Bowie's first trip to the US with sound engineer Ron de Strulle has been made available for streaming online via de Strulle's MindBodyNetwork.com website. "My first impression of David was that he was warm, open, friendly, and not looking for star treatment like most of the other artists who came to RR Studios," de Strulle told The Huffington Post. "He was interested in the production process and excited about anything creative." De Strulle added that Bowie "could pick up an instrument and play anything. He would say 'I never played this instrument before,' and then he would cut loose and play. Pure genius." In other Bowie news, a mural of the late iconic rocker that became a shrine after his death is set to be listed by the South London city council to ensure it remains protected.The mural is on the side of Morleys department store, a stroll from the legendary Brixton Academy and just opposite the Tube station for Brixton, the south London area where Bowie was born in 1947. The artwork, created by Australian artist Jimmy C in 2013 after researching Bowie's life, has been visited by thousands of people, many of whom left flowers, message or gifts, in the days after Bowie passed away Jan. 10 following a battle with cancer. - NME/Billboard, 3/24/16......
Legendary rocker Robin Trower will release a new studio album, Where You Are Going To, on May 6 via Manhaton Records. The guitarist, whose 1974 album, Bridge of Sighs, is regarded by many rock pundits as a blues milestone, describes his new studio album as a continuation of his previous album Something's About To Change. "It ranges from rock to funky soul, with some epic blues grooves," Trower says. "The title track is me reflecting on my life and career, and how we have no idea how our lives might unfold." Trower adds the album also features two very emotional tracks, "We Will Be Together Someday" and "I'm Holding On To You," which are "both dedicated to the memory of my late wife." - Noble PR, 3/23/16...... A deluxe reissue of the Beach Boys' influential 1966 album Pet Sounds will hit stores on June 10 to mark the LP's 50th anniversary. A 4 CD/Blu-ray Pet Sounds - 50th Anniversary Deluxe Edition will feature stereo, mono, and high resolution recordings of the album, plus instrumentals, 5.1 surround mixes, session outtakes, alternate mixes, previously unreleased live tracks, and more. A 2 CD edition pairing the remastered album in stereo and mono with highlights from the collectors edition's additional tracks, as well as a vinyl release, will also be released. Band mastermind Brian Wilson began a 50th anniversary Pet Sounds world tour to also commemorate the album on Mar. 26 in Auckland, New Zealand. - Billboard, 3/23/16...... Elton John has met with rapper Young Thug at John's residence in Atlanta, Ga., on Mar. 23 to reportedly begin collaborating on new music. That day, the "Slime Season" rapper shared a photo of himself standing next to Johr on Instagram. In the photo, Elton is wearing a gold and black tracksuit and a cap with "THUGGER"' written on it. The two musicians have not revealed the nature of their meeting, saying only that they are "fans of one another." Young Thug has reportedly also recording a song using an instrumental of "Rocket Man" that Elton sent to him earlier in March, and in a December interview Elton said he was a fan of the Atlanta rapper. - NME, 3/23/16...... The estate of late M*A*S*H star Wayne Rogers is being sued for child support by a woman who claims he fathered her child. Melinda Naud filed a creditors claim against Rogers' estate on Mar. 21, a follow-up to a civil suit she first filed in Aug. 2013 before the actor's death last December. Naud, an actress who had roles on the TV shows Happy Days and The Dukes of Hazzard, claims Rogers made promises to financially provide for the child, including the creation of a $500,000 trust fund, a $1,000,000 life insurance policy, plus provision for college expenses and child support, a total she claims amounts to $3,418,000. She is also alleging reach of contract, fraud, concealment and false promise. Naud claims Rogers asked her to keep the news of the birth of "their child," Luigi Calabrese, in 1985, quiet and hid his existence from his second wife Amy Hirsh. In January a judge gave the go ahead for the suit to continue after the actor's passing. Rogers' estate is reputed to be worth $75 million. - WENN.com, 3/21/16...... Baseball Hall of Fame member Joe Garagiola, who later became a well known baseball announcer and sometime substitute host for Johnny Carson, passed away at the age of 90 on Mar. 22 in Arizona. Mr. Garagiola played nine seasons as catcher for four teams including the New York Giants, but he was most famous as an announcer for NBC Sports television and radio over nearly three decades beginning in 1961, trading the roles of play-by-play announcer and color commentator with Kurt Gowdy and, later, Tony Kubek. He also teamed with Vin Scully for three World Series in the 1980s. Mr. Garagiola also was a popular presence as a panelist on NBC's Today show and as host or panelist on various game shows, including He Said, She Said, To Tell the Truth and The Match Game. One of his fans was Johnny Carson, who had Mr. Garagiola serve as guest host several times on The Tonight Show. Mr. Garagiola had the distinction of presiding over the program when John Lennon and Paul McCartney stopped by in May 1968, marking the only appearance by any of the Beatles on the program. He was inducted into the National Sportscasters and Sportswriters Hall of Fame in 2004 and was the 2014 recipient of Buck O'Neil Lifetime Achievement Award for his contributions to pro baseball. - Deadline.com, 3/23/16......

Acclaimed writer Earl Hamner, Jr., best known for drawing upon his Depression-era upbringing in the Blue Ridge Mountains of Virginia to create the beloved 1970s family series The Waltons, died in Los Angeles on Mar. 24 after a battle with pneumonia. He was 92. Although best remembered for The Waltons, which aired for nine seasons and won more than a dozen Emmys, that show barely scratched the surface of Mr. Hamner's literary accomplishments. Mr. Hamner was also a bestselling novelist (Spencer's Mountain), the author of eight episodes of the classic 1960s TV show The Twilight Zone and, as a screenwriter, adapted the popular children's tale "Charlotte's Web," into a hit 2006 film. He also created the popular, long-running TV drama Falcon Crest and wrote for such other TV shows such as Wagon Train, Gentle Ben and The Wild Thornberrys. Like The Waltons' John Boy character which he modeled on himself, Mr. Hamner was born in the foothills of Virginia's Blue Ridge Mountains, on July 10, 1923. Also like John Boy, he was the eldest of eight children and named after his father. The show aired for more than 200 episodes, with Mr. Hamner providing brief voiceover narration in each one, telling his audience about his family's years in the Blue Ridge Mountains and how it had shaped him. Mr. Hamner had decided to become a writer at age six, however, after getting a poem published on the children's page of a Richmond, Va., newspaper. After graduating from Schuyler High School at the top of his class, Mr. Hamner attended the University of Richmond on a scholarship until being drafted into the Army during the Second World War. He returned to Richmond in 2013 just a few days before his 90th birthday, to accept a resolution from the state Legislature declaring him a "Virginia treasure." Mr. Hamner, who was surrounded by family when he died as his favorite music, John Denver's Rocky Mountain Collection, was played, is survived by his wife, Jane; son, Scott; and daughter, Caroline. - AP, 3/25/16...... Ken Howard, the tall, barrel-chested actor konwn for starring in the CBS late '70s drama The White Shadow, died on Mar. 23. He was 71. Howard also appeared in the NBC drama Crossing Jordan and, more recently, on 30 Rock. He was also a former president of the SAG-AFTRA actors guild. - Variety, 3/23/16...... David Smyrl, the Emmy-winning actor best known for his role as retired firefighter Mr. Handford on Sesame Street, died after a bout with lung cancer on Mar. 22 at Lankenau Medical Center outside Philadelphia. He was 80. Mr. Smyrl moved to California to work on the sitcom Benson in the 1970s, where he earned a People's Choice Award. He also worked as a writer and actor on The Cosby Show, playing contractor Sam Lucas. From 1990 to 1998, Mr. Smyrl played the smiling, singing store-owner on Sesame Street, succeeding Leonard Jackson, who played a grumpier Handford. - AP, 3/25/16.
The Rolling Stones pushed back their history-making concert in Havana, Cuba from Mar. 20 to Mar. 25 after learning that U.S. Pres. Barack Obama was making his own history-making two-day trip to the island on Mar. 20. "He's our opening act... at one point we thought he [Obama] was coming to the show," joked Stones production manager Dale Skjerseth. The Mar. 25 show, which caps the band's 2016's America Latina Ol stadium tour, is expected to bring approximately 500,000 fans to Havana's Ciudad Deportiva de la Havana venue. A free concert with a first-come, first-served arrangement, the unprecedented gig took 140 band employees and at least 80 Cubans to get the grounds ready. The Stones will become the biggest act to play Cuba since the country's 1959 revolution led to the rejection of rock bands like Elvis Presley and the Beatles. - Billboard, 3/21/16......

In other Rolling Stones-related news, frontman Mick Jagger has told the U.K.'s Daily Mirror paper that he regrets not staying in touch with David Bowie prior to his death on Jan. 10. Jagger, who collaborated with Bowie during the '70s and '80s, mostly notably working together for 1985 single "Dancing In The Street," said it had been a "long time" since he had seen his pal before he died, and that he was "very upset" at not being able to see him one last time. Jagger also revealed that he was in New York, the city where Bowie lived and died, when he passed away. "I was listening to his album [Blackstar] before he died and ahead of it coming out," Jagger said. "I thought I must get in touch with him as I hadn't seen him in long time. But he died almost immediately after that. I was very upset." Jagger also reflected on Bowie's career, noting he "chose rather good designers to work and had a tremendous sense of style and verve that took his stage act to another level... He was a bit like Grace Jones in some respect, she did the same sort of thing. In a certain way, that's a lot of superficiality... but for someone like Lady Gaga or Bowie, it's part and parcel of their sense of style and the projection of their inner self." - New Musical Express, 3/22/16...... Speaking of David Bowie, the rock star's longtime producer and collaborator, Tony Visconti, criticised the current music industry during his keynote speech at South by Southwest Festival (SXSW) in Austin, Tex., on Mar. 17. "It can't get any worse," he said, and went on to describe mainstream pop as "a computer and a vocal that was doctored to goodness knows how much." Visconti also took aim at TV talent shows for giving the impression "that becoming a big star is just luck. They think get a great hairdo and makeup and everything's going to be hunky dory -- until next week." The producer also criticised the record labels for not being willing to take risks: There are great people all around us -- the next David Bowie lives somewhere in the world, the next Beatles, the next Springsteen but they're not getting a shot, they're not being financed," he said. "[Bowie] was an extraordinary man, full of love and life. He will always be with us. For now, it is appropriate to cry," Visconti added. - NME, 3/17/16......
To mark the 60th anniversary of the release of Elvis Presley's 1956 self-titled debut album for RCA Records, the label has released Elvis Presley - The RCA Album Collection, the most comprehensive album collection yet. Boasting 60 discs that span the entire run of the legendary artist's tenure with the label, the set includes every original album Presley released on the label, along with three discs of rarities. "What we decided to do was hone it down to what would be considered a new album with some new material on it that was released during his lifetime -- the first place that a song appeared on a long playing record while he was alive," says RCA/Legacy senior VP John Jackson. "There's also a few discs of stray material that either were never on LPs or was discovered after he passed away. In essence, it's the complete masters collection that we did about 10 years ago, but arranged in the order that the fans would have first experienced the music." - Billboard, 3/19/16...... A movie script based on "Bubbles the Chimp," Michael Jackson's famous pet during the 1980s, has been acquired by the production companies End Cue and Starbuns Industries, and will be made using stop-motion animation, in the vein of the Oscar-nominated film Anomalisa. Written by screenwriter Isaac Adamson, the script has been a hot property in Hollywood, and will be executive-produced by Adamson and Lee Stobby. The movie has Bubbles narrating his own life story after being adapted by Jackson, and "details his life within King of Pop's inner circle through the scandals that later rocked Jackson's life and eventually led to Bubbles' release." Bubbles the Chimp was a frequent companion to the iconic singer in the 1980s, even joining him on his Bad World Tour in Japan. Meanwhile, the two companies that fought viciously over the rights to hologram and digital projection technology for Michael Jackson and other deceased artists have finally come to an agreement with each other. The squabble began when Hologram USA, run by entrepreneur Alki David, filed a patent infringement lawsuit in Nevada against Pulse Evolution Corp. at the time of the 2014 Billboard Music Awards, which featured Pulse's work on a Michael Jackson hologram. But now the parties have agreed to rest their bitter dispute so as to move forward in their plans to conquer the universe with holograms and digital projections of celebrities everywhere. - The Hollywood Reporter/Billboard, 3/19/16...... When news broke on Mar. 14 that the Michael Jackson estate would sell its 50 percent share of Sony/ATV Music Publishing to Sony in a $750 million deal, many wondered whether Paul McCartney would finally be able to acquire the rights to his share of the company's crown jewel -- the Lennon-McCartney catalog -- since it begins coming up for reversion in 2018. Now it has been revealed that McCartney has initiated legal proceedings that will allow him to claim the ownership of parts of the Fab Four's catalog in the US, three decades after the rights to the tracks were sold to Jackson. Parts of the catalog will qualify for the claiming of ownership by the original songwriters in January of 2018, and while Yoko Ono has long since done a deal with Sony that gives the company ownership of Lennon's half of the song rights, McCartney has set the process for reclaiming his share into motion. McCartney is using the U.S. Copyright Act of 1976, which gave songwriters the ability to recapture the publishers' share of their songs after two consecutive 28-year terms (or 56 years), to reclaim the rights to his share of 32 songs in the US, though the laws won't apply to his share of the rights in other parts of the world. It was widely reported that after Jackson had bought ATV Music in 1985, McCartney felt he had been undercut; he had advised Jackson on the virtues of music publishing and felt the King of Pop had betrayed their close personal friendship through setting up a deal to buy ATV music. - NME, 3/20/16...... In other Beatles-related news, John Lennon's son Sean Lennon has formed a band with Les Claypool of Primus called The Lennon Claypool Delirium. The new band is currently streaming a new single "Mr. Wright," from its upcoming album, Monolith of Phobos, which hits stores on June 3. The band, which also features the Beastie Boys' Mark Ramos Nishita and Paul Baldi of the Fungi Band, will also kick off a three month US tour this summer. - Billboard, 3/21/16......
The Beach Boys' Brian Wilson will perform the band's landmark 1966 album Pet Sounds in its entirety on tour around the world this summer to mark the 50th anniversary of the hugely influential LP. The 2016 tour, 70 to 80 dates in total, will be the first time Pet Sounds will be played in its entirety on stage in 17 years. When the album was released in 1966, "We didn't play it on stage," Wilson says, describing the record as, "an album that started out with 'Wouldn't It Be Nice' and just went from there." Wilson is touring as much as he has in the past 20 years, averaging over 50 dates and year and topping 70 this year. "No, I never thought I would [tour so much]," he muses, "but I do anyway. I'll be touring a little bit every year." And even though Pet Sounds as an album is noteworthy for its studio wizardry, Wilson says it adapts well to the concert stage. "I did it [live] 17 years ago," he says, "and we've gotten better over the years." Wilson says his favorite songs to perform live include "Callifornia Girls" and "Good Vibrations," the latter a masterpiece released as a standalone single the same year as Pet Sounds (it later appeared on 1967's Smiley Smile). Wilson's 2016 Pet Sounds tour begins Mar. 26 at the Auckland (New Zealand) Civic Center, and is expected to wrap in early November. - Billboard, 3/17/16...... Billy Joel has announced he will play his 36th show in his landmark "franchise" run at New York's Madison Square Garden on Dec. 17. The shows, which are being described as the most successful arena engagement of all time, include 35 sold-out performances before some 700,000 fans. This summer Joel will also play nine stadium dates, including seven Major League Baseball stadiums in North America, and a sold-out Wembley Stadium in London (with 60,000 tickets sold), and CommerceBank Arena stadium in Frankfurt, Germany. As part of this 2016 run, Joel has already sold out Wrigley Field in Chicago, Fenway Park in Boston and Philadelphia's Citizens Bank Park, each for the third year in a row. - Billboard, 3/17/16...... Seymour Stein, the cofounder and chairman of Sire Records, will be honored with the Howie Richmond Hitmaker Award at this June's Songwriters Hall of Fame ceremony. Stein, a music industry legend, signed a who's who of artists to the Sire label over the years, including Talking Heads, the Ramones, the Pretenders, Richard Hell, the Replacements and many more. He was inducted into the Rock and Roll Hall of Fame in 2005. The SHOF's 47th Annual Induction and Awards Dinner will take place June 9 at the Marriott Marquis Hotel in New York City. - Billboard, 3/17/16......

Veteran songwriter Carole Bayer Sager, who penned many hit songs including "Nobody Does It Better," "A Groovy Kind of Love," "Don't Cry Out Loud" and "The Best That You Can Do," will release her memoir, They're Playing Our Song, via Simon & Shuster on Oct. 18. The title comes from the long-running musical of the same name, which was inspired by her relationship with the late Marvin Hamlisch. Sager was also once married to Burt Bacharach and close friends with movie icon Elizabeth Taylor. In her five-decade career, she collaborated with such top artists as Neil Diamond, Celine Dion, Bob Dylan, Carole King, Melissa Manchester, Bette Midler, Carly Simon, Michael Jackson and Frank Sinatra, among many others. - Billboard, 3/21/16...... Motown legend Smokey Robinson will be honored by the MusiCares MAP Fund for his charitable efforts on May 19 during a ceremony in Los Angeles. The MusiCares MAP Fund provides members of the music community access to addiction recovery treatment regardless of their financial situation. Robinson will receive the Stevie Ray Vaughan Award, which was given to Pete Townshend of The Who at the 2015 benefit concert. The 76-year-old Robinson also will perform at the event, to be hosted by comedian-actor Cedric the Entertainer. Also performing some of Robinson's biggest hits will be Cee Lo Green, Kenneth "Babyface" Edmunds and El DeBarge. - AP, 3/20/16...... A 9-year-old rock fan up late at a Bruce Springsteen concert had a note for his teacher if he was late for class the next day - and it was signed by The Boss himself. Fourth-grader Xabi Glovsky and his dad Scott attended the Mar. 15 stop in Los Angeles by Springsteen and his E Street Band on their The River tour, catching the Boss's eye with a homemade sign that said: "Bruce, I will be late to school tomorrow. Please sign my note." After the show, Springsteen invited the pair backstage where they posed for photos, also scribbling a note for the Claremont boy's teacher: "Dear Ms. Jackson, Xabi has been out very late rocking & rolling. Please excuse him if he is tardy." Springsteen later posted the photos and the note on his website. Xabi's father, 48, is a die-hard Bruce fan who has attended dozens of Springsteen concerts in the last three decades, and says he has been singing Xabi to sleep with Springsteen songs since he was born. - AP, 3/21/16...... The British government body Historic England has just awarded Grade II listed status to the London townhouse where the Sex Pistols lived and recorded in the 1970s. Number 6 Denmark Street was built in the 17th century and still features caricatures drawn by John Lydon (aka Johnny Rotten) of his bandmates and other notable punk figures like Malcolm McLaren and Nancy Spungen, the girlfriend of Sex Pistols member Sid Vicious, on its walls. It was also recently announed that Joe Corr, the son of Sex Pistols manager Malcom McLaren, will hold a ceremonial burning of punk memorabilia in Camden, in which he'll torch a personal collection worth more than £5 million in its entirety. Corr is burning the collection in part to protest the establishment-sanctioned nature of the Punk London commemorative event, which has been backed by Queen Elizabeth II and takes place later this year. - New Musical Express, 3/22/16......
In a recent interview with Rolling Stone magazine, Kiss singer/bassist Gene Simmons said that he is "looking forward to the death of rap." "I'm looking forward to music coming back to lyrics and melody, instead of just talking. A song, as far as I'm concerned, is by definition lyric and melody, or just melody," Simmons mused. He added that songs like The Troggs' "Wild Thing" and Napoleon XIV's "They're Coming to Take Me Away, Ha-Haaa!" are fine but are "predominantly novelty songs." "Music is about melody and lyric, whether it's rap or doo-wop, or yeah, even rock," he said. Asked why he never connected with rap music, Simmons replied: "I don't have the cultural background to appreciate being a gangster. Of course that's not what it's all about, but that's where it comes from. That's the heart and soul of it. It came from the streets." Simmons then predicted the death of rap music: "Rap will die. Next year, 10 years from now, at some point, and then something else will come along. And all that is good and healthy." - Rolling Stone, 3/17/16...... In a new interview, Rod Stewart revealed his five-year-old son Aiden, the youngest of his eight children, loves to dress up like a lady. "The little one, I don't know yet," the 71-year-old Stewart told The Interview People agency. "He likes dressing up as a lady. So we don't know which way he's thinking. He's always dressing up like Mary Poppins. Hopefully he'll grow out of it." Rod added that if Aiden comes out as gay when he is older, he would not be bothered, saying, "If he turns out to be homosexual, that's okay with me. As long as he's happy." Aiden is Rod's son with model Penny Lancaster, who he married in 2007. They have a 10-year-old son Alastair, and Rod is hoping he will follow his dad's passion and become a soccer star, but he says Penny wants him to be a swimmer. - WENN.com, 3/22/16.
Day of the Dead, a Grateful Dead tribute album featuring Mumford & Sons, Wilco, Bela Fleck, Bruce Hornsby, Lucius and The War on Drugs is set for release on May 20. The deluxe 5-CD set will also be available on limited edition vinyl, and profits from sales will benefit the Red Hot Organization, which fights AIDS/HIV health related issues around the world. Selections from the set will be performed live this summer at the Eaux Claires Festival in Wisconsin on Aug. 12-13. - Billboard, 3/17/16...... The Who have been named as the final night headliners of the 2016 Isle of Wight Festival, which is set for Seaclose Park in Newport between June 9-12. Founding members Pete Townshend and Roger Daltrey will be backed by Zak Starkey, Pino Palladino, and Pete Townshend's son Simon Townshend as the Who brings its Who Hits 50! tour to the UK for its only performance in the country during 2016. Other headliners at the festival include Queen, Iggy Pop, Adam Ant, Buzzcocks and the Godfathers. - New Musical Express, 3/17/16......

Robert Plant performed at the South By Southwest festival in Austin, Tex., on Mar. 16, fronting a house band led by Charlie Sexton and featuring Jimmie Vaughan through renditions of classics by such artists as the Coasters ("Youngblood") and Clyde McPhatter ("Let the Boogie Woogie Roll"). Plant also paid tribute to late Austin DJ Paul Ray, whose radio program he called "my anchor, quite often, at least sonically" during his time there and said he was performing "to say thanks to (Ray's) contribution to me." A day earlier, Iggy Pop played a generous hour and 50-minute set at the SXSW fest with an all-star team that included Josh Homme of Queens of the Stone Age. Pop will release a new solo album, Post-Pop Depression, on Mar. 18, and kick off a tour on Mar. 28 in Seattle, with a European leg launching May 4 in Stockholm, Sweden - Billboard, 3/17/16...... Stevie Wonder has announced he'll play his classic 1976 double LP Songs in the Key of Life in its entirety during the British Summer Time festival in Hyde Park on July 10. It will be the first time the Motown icon has brought his successful SITKOL tour to the UK, after performing the album for 34 shows in North America. It was previously announced that Carole King will also play the Summer Time fest on July 8, performing her classic 1970 LP Tapestry. - New Musical Express, 3/14/16...... Bruce Springsteen and the E Street Band brought their The River tour to the Los Angeles Sports Arena on Mar. 15, performing the 1980 album The River in its entirety followed by a generous helping of "hits." With Springsteen skipping merrily (and repeatedly) through the crowd slapping hands and crowd-surfing, the excitement seldom lagged. The tour, Springsteen's first in two years, began in January and the U.S. leg wraps on Mar. 17 with another show at the Memorial Sports Arena. A four-city UK tour begins in Manchester on May 25. - Billboard, 3/16/16...... David Bowie's handwritten lyrics for his 1973 track "The Jean Genie" are being auctioned by U.S. auctioneers Paddle 8, with a starting bid of £35,000. The lyrics, written in just 18 lines with Bowie using a black ballpoint pen on a single page of cream lined notepaper, were given to fan Neal Peters when he was president of the Original David Bowie Fan Club in the US. "This is the only set of complete handwritten lyrics to have come to auction," Paddle 8 said in a statement. "Bowie is believed to have kept almost all of his original lyrics, notes, and manuscripts, creating an archive that spanned his entire career. As a result, major pieces of memorabilia rarely come on the market, and only a handful of key items have sold at auction over the years." Meanwhile, a Bowie-inspired music software plug-in that was developed by audio developers Eventide in collaboration with Bowie's long-time producer Tony Visconti is set to be released to the public. The plug-in is said to be inspired by "how powerful an instrument Bowie's voice was... and how he was able to harness that power by employing various microphone techniques" and aims to "mimic and build upon the real world effects that Visconti had created." The plug-in's first commercial use was on a track created for an upcoming episode of HBO's new '70s-themed series, Vinyl. - New Musical Express, 3/17/16......

The culture minister of Pompeii, Italy, announced on Mar. 16 that Pink Floyd guitarist David Gilmour will be returning to the city's ancient Roman Amphitheatre of Pompeii this summer on July 7 and 8, almost 45 years after Pink Floyd filmed their acclaimed concert Live at Pompeii at the same venue. Gilmour's two-night stand at the theatre will be part of his upcoming summer tour to support his 2015 solo album, Rattle That Lock, which gets underway Mar. 24 at the Hollywood Bowl in L.A. and runs through September, when he performs four shows at London's Royal Albert Hall. - Billboard, 3/16/16...... The Rolling Stones played Mexico for the first time in a decade on Mar. 14, delighting a crowd of about 60,000 fans who packed a sports stadium in the country's capital. Frontman Mick Jagger celebrated the concert by poking fun at actor Sean Penn, whose secret interview with Joaquin "El Chapo" Guzman while the convicted drug lord was a fugitive from justice has provoked controversy in Mexico. "Sean Penn came to interview me at the hotel, but I escaped," Jagger joked to cheers and roars of laughter. Jagger also quipped that the band enjoyed drinking tequila but now they prefer mezcal, another agave-based spirit which is known for its smoky flavor. After a second show in Mexico on Mar. 17, the Stones will perform a historic free concert in Havana, Cuba, on Mar. 25, three days after U.S. Pres. Barack Obama wraps up his own landmark visit to communist-run Cuba. - AP, 3/15/16...... The death of Emerson, Lake & Palmer keyboardist Keith Emerson on Mar. 9 was officially ruled a suicide by the Los Angeles coroner's office on Mar. 15. Authorities had suspected Emerson shot himself but the determination did not become official until after the autopsy. In a recent interview with the U.K. publication The Daily Mail, Emerson's girlfriend Mari Kawaguchi, who found his body at their shared California residence, revealed that Emerson's "right hand and arm had given him problems for years... He had an operation a few years ago to take out a bad muscle but the pain and nerve issues in his right hand were getting worse." Kawaguchi added that he had concerts coming up in Japan and -- even though a back-up keyboard player was hired to support him -- he was worried about his playing ability, and was sensitive to online criticism about some of his performances in 2015. "He was tormented with worry that he wouldn't be good enough," Kawaguchi said. "He was planning to retire after Japan. He didn't want to let down his fans. He was a perfectionist and the thought he wouldn't play perfectly made him depressed, nervous and anxious." Meanwhile, on Mar. 10 Emerson's former bandmate Greg Lake paid tribute to Emerson on his official website. "To all ELP friends and fans all over the world, I would like to express my deep sadness upon hearing this tragic news," Lake posted. "As sad and tragic as Keith's death is, I would not want this to be the lasting memory people take away with them. What I will always remember about Keith Emerson was his remarkable talent as a musician and composer and his gift and passion to entertain. Music was his life and despite some of the difficulties he encountered I am sure that the music he created will live on forever," he added. - AP/Billboard/NME, 3/15/16......
Former J. Geils Band singer Peter Wolf will release his first new solo album in six years, A Cure For Loneliness, this spring. Described as a stylistic blend that mixes studio creations with live recordings -- including a bluegrass-flavored "Love Stinks" -- A Cure For Loneliness is due on Apr. 8. Wolf will be touring with his backing band, the Midnight Travelers, behind the new LP throughout 2016, starting with a show in Hartford, Conn., on Apr. 29. - Billboard, 3/17/16...... Lynyrd Skynyrd and Peter Frampton have announced they'll co-headline a a summer tour of North America beginning on June 3 at Times Union Center in Albany, N.Y. In Nov. 2014, Frampton teamed with the iconic Southern rockers for a cover of J.J. Cale's "Call Me the Breeze" at the Fox Theatre in Atlanta, which appeared on Skynyrd's July 2015 live CD, One More For the Fans! So far twelve dates have been announced for the tour, which also includes stops in Los Angeles on Aug. 18 and Las Vegas on Aug. 19, and more dates are expected to be announced soon. - Billboard, 3/15/16...... Sony Corp. has agreed to buy out Michael Jackson's 50 percent interest in the Sony/ATV music publishing company, giving Sony complete control of the company. According to the announcement, Sony has signed a memorandum of understanding to pay the Jackson estate $750 million for the 50 percent interest it has in the publishing company that began as a joint venture between Sony and Jackson 21 years ago. A definitive agreement is expected by Mar. 31, with the deal closure expected to come in late 2016 or early 2017. The transaction is subject to certain closing conditions as well as regulatory approval. With the deal's closure, the Jackson estate will retain the 10 percent interest it holds in EMI Music Publishing, as well as Mijac Music, the publishing company that owns the songs written by Jackson as well as songs written by other writers, plus Jackson's master recordings. John Branca of the Jackson estate said the deal will "further allow us to continue our efforts of maximizing the value of Michael's estate for the benefit of his children." A portion of the proceeds will be used to finish the pay-down of $500 million in debt that the estate held seven years ago, leaving it completely debt-free and with cash on hand, according to one source. After taxes, fees and expenses, the balance will be transferred to a trust for the benefit of Michael's beneficiaries, which are his three children. - Billboard, 3/14/16...... Aretha Franklin was forced to cancel two shows in Florida on Mar. 14 due to "lack of band personnel." Although the Sarasota, Fla. and St. Augustine, Fla. shows were canceled, Franklin will still be performing at the Jazz in the Gardens Music Festival in Miami Gardens, a rep for Franklin has confirmed. The Queen of Soul will also be performing in North Carolina and Ohio through July. - Billboard, 3/14/16...... In a new interview with the BBC, Eagles co-founder Don Henley said the tribute by the Eagles and Jackson Browne to late Eagles member Glen Frey at the Grammy Awards on Feb. 15 was the Eagles' "final farewell" and he "doesn't think you'll see us performing again. "I think it was an appropriate farewell," Henley said, and noted that the tribute almost didn't happen. Frey died on Jan. 18 of complications from rheumatoid arthritis, acute ulcerative colitis and pneumonia in New York at age 67. - Billboard, 3/13/16...... Jackson Browne and filmmaker Judd Apatow were among those paying tribute to the late Warren Zevon during a Zevon tribute show at the Largo in Los Angeles on Mar. 11. Also participating was Zevon's son Jordan Zevon, who spookily recaptured some of his father's vocal idiosyncrasies on the song "Studebaker." - Billboard, 3/12/16...... A trailer for the upcoming Miles Davis biopic starring Don Cheadle was released on Mar. 16. The film focuses on a period of the iconic jazzman's life in the '70s when he took a break from music. The film, called Miles Ahead, will hit U.S. theaters on Apr. 1 and Apr. 22 in the U.K. - NME, 3/16/16......

Former Genesis member Phil Collins played his first public solo show in six years on Mar. 11 at a charity show in Miami, where he resides. The show featured five Collins originals, including "Another Day in Paradise," "Against All Odds," "In the Air Tonight," "Easy Lover" and "Take Me Home," as well as covers of the Temptations' "My Girl" and Bob Dylan's "Knockin' on Heaven's Door." In Oct. 2015, Collins announced that he was "no longer officially retired" and is working on a new album as well as making plans to perform live, partly in order to show his kids what their dad does. - NME, 3/12/16...... Singer Gogi Grant, who once knocked Elvis Presley off the top of the U.S. hit parade with her 1956 hit "The Wayward Wind," died on Mar. 10 at the age of 91. Ms. Grant also dubbed for actress Ann Blyth in the 1957 biopic of torch singer Helen Morgan, and portrayed a recording artist in the rock & roll movie The Big Beat, (1958), a movie that also featured Fats Dominon, The Del-Vikings, The Diamond and The Mills Brothers. "The Wayward Wind," which replaced Presley's "Heartbreak Hotel" at No. 1 on the Billboard charts in 1956, was performed by many other acts over the years, including Tex Ritter, Patsy Cline, Sylvia and the Beatles. Ms. Grant took a two-decade hiatus from show business to raise a family but returned to singing in 1987 and performed into her late 80s. - Billboard, 3/13/16...... Singer Frank Sinatra Jr., the only son of iconic entertainer Frank Sinatra, died of cardiac arrest on Mar. 16 before a scheduled concert performance in Daytona Beach, Fla. He was 72. Sinatra Jr. had been scheduled to perform at the 2,500-seat Peabody Auditorium, but local NBC affiliate WPTZ reported he became ill in the afternoon and was taken to Halifax Health Medical Center. He was scheduled to perform next on Thursday at the 2,000-seat Mahaffey Theater in St. Petersburg, Florida., and then on May 19 at the 2,400-seat Adler Theater in Davenport, Iowa. He began performing in his teens and carried on a career of entertaining across mediums for the past 50 years. More recently, he had a guest spot playing himself on The Sopranos and appeared on two episodes of Family Guy. Survivors also include his mother, Nancy Sinatra Sr., the first of Frank Sinatra's four wives, and his son, Michael. His father died at Cedars-Sinai Medical Center in Los Angeles on May 14, 1998, at age 82 after suffering a heart attack. - Billboard, 3/16/16...... British composer Peter Maxwell Davies, who served as Queen Elizabeth II's official master of music, died on Mar. 14 of leukemia at his home in Scotland's Orkney islands. He was 81. One of Britain's best-known modern composers, Mr. Davies created some 300 works including symphonies, the operas "Taverner" and "The Lighthouse," and "Eight Songs for a Mad King," about the current queen's troubled ancestor, George III. His most recent work was an opera for children, "The Hogboon." - AP, 3/14/16...... Actor Robert Horton, who starred on the TV series Wagon Train and, later, A Man Called Shenandoah, died of natural causes on Mar. 9 at a rehab facility in Los Angeles. He was 91. - WesternClippings.com, 3/13/16.

Legendary prog rock keyboardist Keith Emerson of the British supergroup Emerson, Lake & Palmer was found dead at his home in Santa Monica, Calif., on Mar. 10 of an apparent self-inflicted gunshot wound to the head. He was 71. "We regret to announce that Keith Emerson died last night at his home in Santa Monica, Los Angeles, aged 71," a post on ELP's official Facebook page stated. "We ask that the family's privacy and grief be respected." A native of Yorkshire, UK, Emerson enjoyed a musical career spanning 50 years and was widely acknowledged as one of the finest keyboardists of the early '70s prog rock era. Emerson, along with guitarist/singer Greg Lake drummer Carl Palmer formed ELP in London in 1970, and the trio released its first eponymous album in 1971, which peaked at No. 18 in the US and was certified gold the same year. ELP's six additional albums of the decade, including Pictures at an Exhibition, Trilogy, Brain Salad Surgery (considered by many fans to be their finest work), and the live set Welcome Back My Friends... To the Show That Never Ends, also acheived gold album status and continued to feature he group's instrumentally complicated yet sonically cohesive prog-rock mixing classical structures, improvisational jazz and electronics. After splitting up in 1979, the band recruited a new drummer, Cozy Powell, in 1986 and continued on as Emerson, Lake & Powell.
In 1992, Carl Palmer rejoined the band and the original trio released two additional albums, Black Moon and The Return of the Manticore. Prior to his success with ELP, Keith Emerson played with British band The Nice, melding rock music with classical and jazz influences, and his keyboard contributions can also be heard on Rod Stewart's 1970 album, The Rod Stewart Album. Classically trained as a child, Emerson was known as one of the most technically proficient keyboard players of his generation. He started experimenting with the Moog synthesizer after hearing Wendy Carlos' landmark 1968 LP Switched-On Bach. His showmanship while performing on the Moog, Hammond organ or piano was one of the trio's defining elements. Emerson also released several solo albums, played in the '80s prog rock band 3, and scored several films including 1981's Nighthawks starring Sylvester Stallone. "I am deeply saddened to learn of the passing of my good friend and brother-in-music, Keith Emerson," Carl Palmer said on his website. "Keith was a gentle soul whose love for music and passion for his performance as a keyboard player will remain unmatched for many years to come. He was a pioneer and an innovator whose musical genius touched all of us in the worlds of rock, classical and jazz. I will always remember his warm smile, good sense of humor, compelling showmanship, and dedication to his musical craft. I am very lucky to have known him and to have made the music we did, together. Rest in peace, Keith." - Billboard/New Musical Express, 3/11/16.
Ted Nugent has weighed in on the popularity of controversial conservative Republican presidential candidate Donald J. Trump, calling the real estate developer and former reality show host a "glowing middle finger" to American politics, but adding that "nobody believes Trump is a conservative." In a brief interview with The Hollywood Reporter, Nugent said he is none too pleased with conservatives in the entertainment industry who won't stand up for their principles in liberal Hollywood. "I know [some of them support Trump] for a fact, but vowed to not 'out' them," Nugent said. "To balk at performing our we-the-people responsibilities to demand accountability from our elected employees is America's greatest sin. Pu----s." The Nuge, also known as a strong supporter of the Second Amendment, revealed he also supports Texas senator Ted Cruz in his bid for the White House, but Trump "is the only candidate to admit he carries -- i.e. keeps and bears -- a firearm." - The Hollywood Reporter, 3/11/16......

Graham Nash, who is set to release his first new solo album in 14 years, This Path Tonight, on Apr. 15 says it's a "very hopeful album" despite being at least partly inspired by his current divorce from his second wife, Susan. "That's why I started the album with 'Where are we going?,' because I don't know," says Nash. "I only know I'm on the right path. But I'm not a dark person. I'm trying to be as positive as possible, and even though it looks bleak and it looks like I don't know where I'm going, there's light at the end of the tunnel," he adds. Nash says that "Target," a track from the new album, was inspired by his relationship with his girlfriend Amy Grantham, a New York artist who shot This Path's Tonight's cover photo of the musician in Woodstock, the famous locale where Crosby, Stills and Nash performed in 1969. As for the future of CSN, Nash says there are no plans for the trio to continue on together. "Right now, I don't want anything to do with [David] Crosby at all. It's just that simple," he says. "In my world there will never, ever be a Crosby, Stills, Nash & Young record and there will never be another Crosby, Stills & Nash record or show." After headlining the Bluesfest in Australia later in March, Nash will kick off a spring U.S. tour on Apr. 22 in Beverly Hills, Calif., then tour Europe in May and June. Meanwhile, the Graham Nash: Touching the Flame exhibit at the Rock and Roll Hall of Fame and Museum in Cleveland, Oh., will be on display through the end of spring. - Billboard, 3/11/16...... A three-minute preview of the eight-part TV series Soundbreaking that recently deceased Beatles producer Sir George Martin was working on when he died on Mar. 8 is available for viewing on YouTube. Sir George and his son Giles Martin had spent the past five years working on the series, which chronicles the evolution of recording technologies. "Music is the only common thread and universal language that binds us together regardless of race, nationality, age or income," he said prior to his passing. "And, recorded music is how we experience it and what makes it accessible. Through the production of Soundbreaking, I was afforded the opportunity to tell the story of the creative process of so many of the artists I have worked with throughout my life." Soundbreaking will make its North American broadcast debut on PBS in Nov. 2016. Details will be unveiled at SXSW in Austin, Tex. on Mar. 14. - Billboard, 3/11/16...... In other Fab Four-related news, Paul McCartney has just announced six initial North American dates on his upcoming 2016 One on One tour. Kicking off on Apr. 13 in Fresno, Calif., the tour will also visit Portland, Ore. (4/15), Seattle (4/17), Vancouver, B.C. (4/19, 20), Little Rock, Ark. (4/30) and Sioux Falls, S.D. (5/2). In a press release, Sir Paul promised a newly redesigned set and "no shortage of surprises." His last North American tour, dubbed the "Out There" tour, wrapped in Oct. 2015. - NME, 3/9/16...... Saying she was "inspired" by Kim Kardashian's recent nude selfie that went viral on the Internet, Ozzy Osbourne's wife Sharon Osbourne has posted her own nude selfie on Twitter. "You inspired me!," Sharon tells Kardashian in the post with the same censor bars Kardashian used in her viral pic. - Billboard, 3/9/16......


Meanwhile, in an interview with Sharon Osbourne on her daytime show The Talk on Feb. 27, Elton John lamented the fate of Tower and his favorite L.A. bookstore, Book Soup on Sunset Boulevard. "I love record stores... and book stores," John told Osbourne. "If Book Soup, over the road, went as well, then I'd probably throw myself off a cliff." Later, the Book Soup store then acknowledged Sir Elton's endorsement with a message on a chalkboard in front of the store. "He comes in every other month and stocks up," says Book Soup's Rob Bieselin, who lettered the chalkboard and constructed a "shrine" to the rock star in one of the store's windows in gratitude for his business and support of West Hollywood charities. Bieselin added that Book Soup's celebrity-savvy customers usually leave John alone when he visits and peruses limited editions and the store's collection of vinyl LPs. "He just does his thing," Bieselin said. John also revealed on The Talk that Sharon Osbourne once stole his boyfriend, before she hooked up with Ozzy. "Years ago -- and I'm talking about years ago -- I would stay at the Waldorf Astoria Hotel (in New York) with my boyfriend at the time, and he disappeared," Elton recalled. "He didn't come back to the room and I found out years and years later (he had been with Sharon)." Sharon quickly apologized and said, "It's not my fault! He was interested in my stamp collection!" Osbourne then said it was actually Elton she wanted, which prompted the openly-gay Rocket Man to respond, "Well, you got as much chance of that as Donald Trump winning the Democratic (presidential nomination)!" Meanwhile, Elton is also known as an avid collector of photography, and a collection of photographs from his private collection is set to be displayed at the Tate Modern art galleries in London as part of a new exhibition. The modernist photography show, titled "The Radical Eye," will feature more than 150 pieces from more than 60 artists, including Man Ray, Andre Kertesz and Berenice Abbott. In a statement, John described it as an "honor" for him and husband David Furnish to loan the images to the gallery. "It is a great honour for David and I to lend part of our collection to Tate Modern for this ground-breaking exhibition. The modernist era in photography is one of the key moments within the medium and collecting work from this period has brought me great joy over the last 25 years," he said. The Radical Eye: Modernist Photography from the Sir Elton John Collection opens on Nov. 10, 2016. - The Hollywood Reporter/NME, 3/10/16...... It has been revealed that David Bowie's teenage daughter Alexandria, 15, will inherit a $25 million windfall from her late dad when she reaches her 25th birthday. Alexandria is the child of Bowie and his former supermodel wife Inman, his wife of 24 years. She will also inherit his trendy apartment in Manhattan's trendy Soho district. Duncan Jones, Bowie's 44-year-old son with his first wife, actress Angela Barrett, will inherit his share of his dad's estate in the coming weeks. Bowie, who succumbed to a battle with cancer on Jan. 10 at age 69, also didn't forget about his loyal household staff members and assistants either, setting aside a few million dollars to make sure they were taken care of. - WENN.com, 3/9/16......
Former Rolling Stones member Bill Wyman has been diagnosed with prostate cancer, according to reps for the legendary bassist. "Bill has been diagnosed with prostate cancer," reads the statement. "He is undergoing treatment and is expected to make a full recovery as it was caught in the early stages. The Wyman family has asked for their privacy during this time." After leaving the Rolling Stones, Wyman has fronted his own band, Bill Wyman's Rhythm Kings. He was present at the recent wedding of media mogul Rupert Murdoch and model/actress Jerry Hall, the former girlfriend of Stones frontman Mick Jagger. Meanwhile, Mick Jagger was recently spotted in downtown Bogot, Columbia, strolling down the city streets, surrounded by security detail and with throngs of fans snapping pictures alongside. At one point along the way, Jagger stopped at an oblea stand, and using a series of hand signals, manages to purchase one and starts munching away. For the uninitiated, obleas are a Colombian delicacy, consisting of dulce de leche spread between two large, thin wafers. The Stones performed at Bogota's Campin Stadium on Mar. 10 as part of their "Amrica Latina Ol" tour. - Billboard, 3/10/16...... Elvis & Nixon, a comedy about the famous 1970 meeting between the King of Rock and Roll and US Pres. Richard Nixon at the White House in Washington, D.C., will debut at the Tribeca Film Festival in New York, which runs from Apr. 13-24. Directed by Liza Johnson, Elvis & Nixon is produced by Amazon Studios and stars Michael Shannon as Presley and Kevin Spacey as Richard Nixon. - AP, 3/9/16...... In a new interview with Rolling Stone magazine, Rush guitarist Alex Lifeson suggested the Canadian power trio's 2015 R40 Tour would be their final tour. "We had such a great time on the tour. And It was really nice to go through all the material reverse chronology, and I think our fans really enjoyed it. I think that no matter how long it would have been it would have been too short," Lifeson said, but added hope for the future. "Maybe next fall or something like that, we'll plan something," he said. "We took a year off before the last tour and we didn't discuss anything about the band or work, and everybody had a great time, and we came back from that." - Billboard, 3/9/16...... Patrisha McLean, the wife of folk rock singer/songwriter Don McLean, has filed for divorce in Maine, only weeks after Don McLean was arrested on domestic violence charges. A lawyer for Patrisha stated in the legal papers filed oN Mar. 10 cited "adultery, cruel and abusive treatment, and irreconcilable differences." McLean, a resident of Camden, Me., was arrested in January on charges including domestic violence assault. He has pleaded not guilty, and has been prohibited from having contact with his wife. The McLeans have been married for 30 years. - AP, 3/10/16......

AC/DC has rescheduled 10 tour dates on their Rock or Bust World Tour after doctors advised lead singer Brian Johnson to stop touring immediately or risk total hearing loss. The Aussie rockers announced they were postponing a Mar. 8 concert in Atlanta, as well as stops in Washington, D.C., Detroit and Philadelphia leading up to April 4's planned show at New York City's Madison Square Garden. The band is expected to make up these canceled gigs later in the year, likely with a guest vocalist. Current ticket holders may hold onto their tickets for the rescheduled concerts, or receive a refund. The band had also been set to perform UK gigs in Manchester and London during June, although it is not currently known whether these shows will continue to go ahead with or without Johnson, who joined the band in 1980 after the death of singer Bon Scott. Original AC/DC vocalist Dave Evans has offered to fill in for Johnson during his absence. Evans, who briefly sang in the band during 1974, recently told The Sydney Morning Herald paper: "It would be nice to do one guest performance [with AC/DC]. [Former members] were all part of the band no matters what era they were from." - Billboard/NME, 3/7/16...... Despite recent revelations that former Deep Purple bassist Glenn Hughes won't be performing with the band during its upcoming induction of Deep Purple into the Rock and Roll Hall of Fame, Hughes says he still hopes to perform when the band is inducted during the ceremony on Apr. 8 at the Barclays Center in Brooklyn. "All I know is I'm getting the award," said Hughes, who played with the band for three studio albums between 1973-76. "There's a lot of gossip and innuendo about who's saying what. I'd love to play. I'd love to sing. And so would David," referring to David Coverdale, who was part of Deep Purple's "Mk. 3" (third iteration) and "Mk. 4" (fourth iteration) lineups with Hughes. Meanwhile, Hughes is gearing up for a solo tour that will kick off Aug. 9 in Annapolis, Md., a start that was delayed to allow him to recover from double knee replacement surgery during January. "The knees are doing incredible," he said. Hughes says he's also planning to record a solo album during June that he hopes to have out by fall. - Billboard, 3/7/16......
Carole King will play her first UK gig in 27 years this July when she will be among the headliners at the British Summer Time festival at London's Hyde Park. King, 74, will headline the July 8 show, with support coming from the Eagles' Don Henley and her daughter Louise Goffin. King will be performing her classic 1971 album Tapestry in its entirety, the first time she has ever done so at a concert. "I can't wait to perform Tapestry from beginning to end for the first time... in the heart of one of my favorite cities," King said. - NME, 3/8/16...... Robert Plant will be among the headliners at the UK's Meltdown Festival, which takes place at Southbank Centre in London from June 10-19. The former Led Zeppelin frontman will play the final day of the festival, which will raise funds to aid Britain's refugee crisis. - NME, 3/8/16...... Foreigner have confirmed they'll embark on a massive summer 2016 tour of Europe beginning with a concert at the London Palladium on June 7. Foreigner will then play dates Belgium's Graspop, Cologne's Tanzbrunnen, and Tel Aviv's Caesarea Amphitheatre, among several others. Opening for the band will be John Parr, known for his hits "St. Elmo's Fire," "Restless Heart" and "Naughty Naughty." - Noble PR, 3/10/16...... Actor/comedian Steve Martin will curate an exhibition at Boston's Museum of Fine Arts devoted to Canadian modernist Lawren Harris. Martin was on hand at the museum for a preview on Mar. 11, and discussed Harris' work the following day during the public opening of the show. "The Idea of North: The Paintings of Lawren Harris" runs through June 12. - AP, 3/11/16...... Jon English, an Australian singer and actor known for his work in music, television and on the stage, died suddenly on Mar. 9 following complications from surgery. He was 66. English's roles include Judas Iscariot in Jesus Christ Superstar in the 1970s and later as the Pirate King in The Pirates of Penzance. In February, English was hospitalized due to what was described as "unexpected ill health," and his unexpected death surprised many. - Billboard, 3/9/16.

Sir George Martin, the famed Beatles producer who signed the group to a label contract when no one else would and produced virtually all of their songs and introduced many of their arrangements, passed away at the age of 90 on Mar. 9. Known as the "Fifth Beatle," Sir George was the head of EMI's Parlophone Records in the UK which, in its early years, concentrated on jazz and comedy. Sir George was on the lookout for a rock act when he met Beatles manager Brian Epstein in Feb. 1962. At the time, the Beatles were comprised of John Lennon, Paul McCartney, George Harrison and drummer Pete Best, and every other British label had passed on signing the band. After hearing the band's demo made for Decca Records a month earlier, Sir George thought it was "rather unpromising," but detected something special in the harmonies of Lennon and McCartney, and scheduled the group for a recording session at EMI's Abbey Road studios in June. Liking what he heard, he signed them up, but suggested they replace Pete Best in the studio with another drummer, and Ringo Starr came on board. He allowed them to record their own material, including "Love Me Do," which became their first single and peaked at No. 17 on the British charts. For the band's first U.S. single, "Please Please Me," released in Nov. 1962, he convinced the boys to speed up the tempo. It proved to be a smash hit. "Gentlemen, you have just made your first No. 1 record," he memorably told them from the control room. Sir George also served as the Beatles' arranger, and suggested strings be added to "Yesterday," which would become one of the most covered songs of all time, and conducted the string section for "Eleanor Rigby." He played piano on "In My Life" and composed its harpsichord section; was responsible for the breathtaking orchestral windup in "A Day in the Life"; and used backward tapes to help shape the psychedelic elements of Sgt. Pepper's Lonely Hearts Club Band, piecing together shreds of tape at random after throwing them in the air for the the swirly organ on "Being For The Benefit of Mr Kite." In his 1979 autobiography All You Need Is Ears, Sir George recalled how his recording sessions with the Beatles was a "team effort." "Without my instruments and scoring, very many of the records would not have sounded as they do. Whether they would have been any better, I cannot say. They might have been. That is not modesty on my part; it is an attempt to give a factual picture of the relationship."

Sir George received an Academy Award nomination for best music, scoring of music, adaptation or treatment for the Beatles' 1964 classic film A Hard Day's Night; arranged the score for their 1968 animated movie Yellow Submarine; and scored, with Paul and Linda McCartney, the 1973 James Bond film Live and Let Die. In addition to producing other artists including America, Jeff Beck, Cheap Trick, Ella Fitzgerald, Neil Sedaka, Dire Straits, Peter Gabriel, Sting, Meat Loaf, Carly Simon, Celine Dion and many others (in total, he was behind a whopping 23 No. 1 singles in the U.S. and 30 in the U.K.), Sir George also worked on such film as Crooks Anonymous (1962), The Family Way (1966) and Pulp (1972). In 2006, Sir George remixed, along with his son Giles Martin, the music for "Love," the Cirque du Soleil production that celebrated Beatles music in conjunction with Apple Corps. It included a new orchestral song, written by Martin, for a solo version of Harrison's "While My Guitar Gently Weeps." His work with the solo LP's of Paul McCartney included producing his albums Tug of War (1982), Pipes of Peace (1983). He was knighted by Queen Elizabeth II in 1996 (a year before Paul McCartney received the honor) and inducted into the Rock and Roll Hall of Fame in 1999. Born on Jan. 3, 1926, in Highbury, London, Sir George received a few piano lessons as a child but mostly learned to play by himself and had "fantasies about being the next Rachmaninoff." He entered the Royal Navy and after leaving the service in 1947, he received a government grant to study music at the Guildhall School of Music and Drama, a London college, where he learned composition, orchestration and how to play the oboe. He became head of A&R at Parlophone in 1955, working with such major British stars as Peter Sellers, Spike Milligan, Peter Cook and Dudley Moore. In 1962, under the pseudonym Ray Cathode, Sir George put out an electronic dance single, "Time Beat," recorded at the BBC Radiophonic Workshop, which fueled his desire to find a rock 'n' roll group with whom to work. He left EMI in 1965 but continued to work in a freelance capacity, producing the Beatles' final album release, Abbey Road. Along with his longtime engineer Geoff Emerick, Sir George oversaw postproduction on an eight-track analog-mixing desk for platinum-selling Beatles compilations like Live at the BBC and Anthology, which featured unreleased songs "Free as a Bird" and "Real Love." In 1949, Sir George married Sheena Chisholm, and after they divorced, wed Judy Lockhart-Smith, a Parlophone secretary, in 1966. In addition to Judy Martin and his son Giles, survivors include his other children Alexis, Gregory and Lucy. "The world has lost a truly great man who left an indelible mark on my soul and the history of British music," Paul McCartney posted on his blog after hearing the news of Sir George's passing, also calling him a "true gentleman" and saying he "was like a second father to me." "God bless George Martin peace and love to Judy and his family love Ringo and Barbara George will be missed xxx," Ringo Starr tweeted on Mar. 9. - Billboard, 3/9/16.
A U.S. district judge ruled on Mar. 7 that the Amazing Grace documentary featuring 1972 concert footage of music icon Aretha Franklin can't be screened or released without the singer's permission. Much of the footage from the documentary was shot by late director Sydney Pollack at the New Missionary Baptist Church in Los Angeles and, according to court documents, "the footage was taken with the express understanding that it would not be used commercially without agreement and consent by Ms. Franklin." In Sept. 2015, Franklin requested an emergency injunction that stopped screenings of the film at the Telluride Film Festival, claiming that 80 percent of the film features her and her performance. The court made permanent a temporary restraining order that agreed with Franklin's claim that the film "violates her contractual rights, her intellectual property rights, her rights to use and control her name and likeness, and represents an invasion of her privacy." However an attorney for Alan Elliott, the defendant in the case, says the ruling absolutely does not mean the film won't be released. "This is in furtherance of the parties' efforts over the last few months to get a deal done so the world can see this great film," he said. - The Hollywood Reporter, 3/7/16......
Bob Dylan announced on his official website on Mar. 7 that his upcoming 37th studio album, another album of cover standards, will be titled Fallen Angels, and he'll kick off a summer 2016 tour behind the new LP with a two-night stand in Woodinville, Wash., on June 4 and 5 at the Chateau Ste. Michelle Winery. Other key dates include Berkeley, Calif. (6/9); Santa Barbara, Calif. (6/11); San Diego (6/13-14); Morrison, Col. (6/19); Indianapolis, In. (6/25); Nashville, Tenn. (6/26); Lenox, Mass. (7/2); Vienna, Va. (7/5-6); Queens, N.Y. (7/8); Philadelphia (7/13); Boston (7/16); and Portland, Me. (7/16) before wrapping in Gilford, N.H. on July 17. No release date was given for the new album on the site, however it states "For every pair of tickets purchased, you will receive a redemption code to receive a Compact Disk of Bob Dylan's forthcoming album Fallen Angels (Not available for Indianapolis and Boston.)" Opening for Dylan on the tour will be Mavis Staples. Meanwhile in other Dylan news, Barbara Streisand has reached out to the New York Times to tell her side of the story of a note from her to Dylan that is included in the recently announced Dylan archives that will be archived and displayed at a permanent Oklahoma residence. "I was so touched to find out (Bob) had saved a note from me," Striesand said via a spokesperson. "It prompted me to go back into my own archive and retrieve a letter I had saved from him. As I remember it, first he sent me flowers and a lovely note, asking me if I would like to sing with him. In return, I sent him the note that's in his archive, thanking him for the flowers and the invitation. But for whatever reason, it never happened at the time." The note is from the late '70s/early '80s period, and a few years earlier Dylan was rumored to be one of the male performers under consideration for the role opposite Streisand in her 1976 film A Star Is Born. - Billboard, 3/7/16...... A letter penned by John Lennon in 1951 that is thought to be the earliest known letter written by the late Beatles legend is set to be sold at auction in April. The letter by the 11-year-old Lennon is a thank-you letter to his aunt, which thanks her for his Christmas presents that included a towel with his name on and a book about ships. The letter will be sold by online auction house TracksAuctions.com, closing on Apr. 3. It is part of an auction collection that includes around 300 items. - New Musical Express, 3/7/16......
Patti LaBelle and late Earth, Wind & Fire principal Maurice White were among the honorees at the BET Honors at on Mar. 5 at the Warner Theatre in Washington, DC. LaBelle said above all she is thankful for the recognition from BET. "It means everything great," the "Lady Marmalade" singer said. "I've done the show about three times performing and then for me to be honored tonight, I am just so wonderfully blessed." LaBelle added fans can expect her new, jazz-flavored album out by the end of the year. "I've finished it, and it will be released in about six months," she said. - Billboard, 3/7/16...... Sinead O'Connor and Ava Cherry were among the performers paying tribute to David Bowie at a cancer fund-raising concert at the Metro in Chicago on Mar. 4. O'Connor fronted the Bowie tribute band Sons of the Silent Age (a group which takes its name from a track on Bowie's "Heroes" album) for covers of the rock icon's "Life on Mars" and "Sorrow" (originally a hit for The Merseys). Cherry, a former collaborator and backing vocalist for Bowie, performed "Young Americans" at the sold-out concert, which raised funds for cancer research. Money raised from the concert will go toward immunotherapy research, a treatment that uses your body's own immune system to help fight cancer. Bowie died Jan. 10 after a battle with liver cancer at age 69. Meanwhile, Bowie was honored by The Who at their concert on Mar. 3 at New York's Madison Square Garden. A message displayed on the Garden's big screens prior to The Who's performance read: "David Bowie. Friend of The Who. Son of New York. Tonight we will distinctly miss David Bowie, longtime fan of The Who. He's told the story of how he climbed the fence at London's Roundhouse to sneak backstage and give Pete Townshend a copy of his new 1969 album, David Bowie. He covered I Can't Explain and Anyway, Anyhow, Anywhere on his Pin Ups album. Nearly every year at MSG, he sat in the first row right beside the stage. We'll miss our friend, a true icon of music and art, and a brilliant innovator." Bowie, a resident of New York City, was a regular guest and performer at MSG. - Billboard, 3/7/16...... In other The Who news, the band returned to US late-night television for the first time since 1967 on Mar. 4 when they performed "Who Are You?" on The Tonight Show with Jimmy Falllon. The Who last performed on American TV in 1967 on The Smothers Brothers Comedy Hour. The band is promoting their The Who Hits 50! North American tour, which resumed on Feb. 27 at Detroit's Joe Louis Arena after being postponed for almost six months after lead singer Roger Daltrey was diagnosed with viral meningitis. - New Musical Express, 3/5/16...... Two vinyl releases of David Bowie's music will be re-issued to coincide with the UK's Record Store Day 2016. Bowie's official Facebook page announced on Mar. 7 that the pair of Bowie re-issues will come in the form of a "Station to Station" single "TVC15" and the second, 1970's The Man Who Sold The World album (which is also reportedly being reissued with original German artwork). Record Store Day runs on Apr. 16. - NME, 3/7/16...... Elton John is among several high-profile celebrities who have signed an open letter calling on world leaders to fight for gender equality across the globe. The letter, released on Mar. 6, states that some 62 million girls around the world are denied the right to education, 500 million women can't read and 155 countries have laws that discriminate against women. "Nowhere on earth do women have as many opportunities as men. Nowhere," the letter states. "The fight for gender equality is global." Others signing the petition include Mary J. Blige, Oprah Winfrey, Charlize Theron, Meryl Streep, Tina Fey, Amy Poehler, Robert Redford, Ashley Judd, Patricia Arquette, Muhammed Ali and Colin Ferrell. Meanwhile, on Mar. 2 Elton co-headlined a Hillary Clinton fundraiser with Katy Perry at Radio City Music Hall in New York. John played an eight-song set that included "Tiny Dancer," "Your Song" and "Still Standing," which he dedicated to Clinton. "This is a very important year for America and she's the only hope you have," Elton said at the event. - AP/Billboard, 3/6/16......
Veteran rockers Joe Walsh and Bad Company announced on Mar. 3 that they'll be hitting the road in the US together beginning on May 12 in Dallas for a 25-city "One Hell Of A Night" tour. "I had always hoped that we would do something together and so here we are 30 years later finally touring together, Bad Company frontman Paul Rodgers said in a statement. "It has taken us this long so I wouldn't miss this. Unless you want to wait 30 more years for our next tour in 2046! There is only one Joe Walsh, he is such a unique person and an uber talented singer, songwriter and musician." The tour, which wraps on July 3 in Nashville, will also include stops in Morrison, Col. (5/15); Los Angeles (5/20); Phoenix, Ariz. (5/22); New Orleans (5/26); Tampa, Fla. (5/28); Holmdel, NJ (6/11); Wantagh, NY (6/14); Kansas City, Mo. (6/20); Chicago (6/23); Pittsburgh (6/28); Charlotte, NC (6/30) and Atlanta (7/1). The tour, in which Walsh and Bad Company will rotate the finishing slot for each performance, will be Walsh's first since his friend and former Eagles bandmate Glenn Frey died Jan. 18. Bad Company, currently comprised of Rodgers, vocalist Mick Ralphs and drummer Simon Kirke, is expected to announce the release of a classic live album soon. - Billboard, 3/3/16...... The operators of an Elvis Presley exhibit in Las Vegas that opened at the Westgate Las Vegas Resort in 2015 amid great fanfare have "left the building" amid a leasing dispute that involves hundreds of the King's artifacts. The hotel-casino says it's holding the valuables from the Elvis attraction after the operator, Exhibit A Circle LLC, defaulted on its 10-year lease with the off-Strip property. Westgate said its casino shuttered the space on Mar. 4 after it was told the operators were leaving. "They notified us they were shutting down. We closed the facility," Westgate's chief operating officer Mark Waltrip said. "We weren't going to let them pack up in the middle of the night." Waltrip said the casino spent millions of dollars outfitting the space and wants to recoup money owed as part of the leasing agreement, and meanwhile, Elvis Presley Enterprises, which loaned hundreds of Elvis memorabilia and artifacts to the attraction, says it will seek court intervention to get the items back. Poor marketing and promotional efforts have been blamed for the attraction's lack of financial viability. - AP, 3/2/16......
Former Velvet Underground member John Cale has revealed that he will be performing the VU's classic Velvet Underground & Nico album in Paris in April with a band comprised of special guests including the Libertines and more. Cale says the Nico LP will be performed in its entirety t the Philharmonie de Paris on Apr. 3. - NME, 3/3/16...... Alice Cooper's manager Shep Gordon says he's generally pleased with the depiction of his client in HBO's new series VInyl, about the early '70s record business. But Gordon says the scene in episode 3 in which an A&R exec tries to convince Cooper's character, played by Dustin Ingram, to leave the band that bears his name for a solo career never happened, although Cooper did eventually split from the band, following the success of the 1973 album Billion Dollar Babies. "If you got a million miles away to Mars, then it was accurate," Gordon quips. "But in that moment, it wasn't. I think the story has been told over and over again. It didn't come out of an A&R guy's thing. It really came out of each of the guys having the desire to do their own things." Gordon adds that he likes how Vinyl depicts how artists were often seen as commodities. "It was very rare to find someone on the business side who really dealt with an artist as an artist," he says. "That was one of my biggest challenges." - Billboard, 3/4/16...... Media mogul Rupert Murdoch married actress/model Jerry Hall, the former girlfriend of Rolling Stones frontman Mick Jagger, on Mar. 5 during a private ceremony at St. Bride's church in London. Murdoch, who has been married three times previously and is 84 years old, said he was "the happiest man in the world." The star-studded guest list included actor Michael Caine, Irish rocker Bob Geldof, and composer Andrew Lloyd Weber. Murdoch, executive chairman of News Corp and owner of 21st Century Fox Inc, and Hall, 59, posed for photographs after the service at the historic church, but simply smiled and made no comment to the waiting media. - Reuters, 3/5/16...... Lana Rae Meisner, the wife of former Eagles member Randy Meisner, was found dead at the couple's home in Los Angeles on Mar. 6. LAPD detectives say Lana Rae accidentally shot herself as she was "moving a rifle that was stored inside the closet when it accidentally went off." Hours before the incident, police had been summoned to the residence after a domestic violence call, but left without incident. Randy Meisner has been cleared of any wrongdoing in his wife's death. Celebrity gossip site TMZ.com reported that Lana Rae had called the police to report her husband, who she said was "acting erratically" and in possession of a BB gun, according to law enforcement sources. Randy Meisner was taken to hospital on Mar. 7 after "acting in an altered state," according to TMZ. Meisner was a member of the Eagles from 1971-77, when he was replaced by Timothy Schmidt. - NME, 3/7/16......

Gayle McCormick, a big-voiced singer who scored the Top 5 hit "Baby It's You" in the late 1960s with the soul/psych rock band Smith before going solo in the '70s, died on Mar. 1 in suburban St. Louis following a lengthy battle with cancer. She was 67. McCormick began her career in the mid-1960s in St. Louis as the featured singer in a well-known local band called Steve Cummings and The Klassmen. By 1969 she had moved to Los Angeles and joined a group that had recently changed their name from The Smiths to simply Smith. Before long, the band and its striking frontwoman caught the eye of "Runaway" singer Del Shannon, who helped them get signed to Dunhill Records. In July 1969, the band released A Group Called Smith, a tight-knit set of mostly rock covers that peaked at No. 17 on Billboard's Top LPs chart. Their biggest hit was Burt Bacharach's "Baby, It's You," previously recorded by The Shirelles and the Beatles, which rose to No. 5 on the Hot 100. While riding the wave of that hit, McCormick and the band made appearances on The Ed Sullivan Show, American Bandstand and elsewhere. In the summer of 1969, Smith's cover of The Band's "The Weight" was included in Easy Rider soundtrack album -- the original was heard in the actual film -- and in 2007, "Baby, It's You" got renewed attention when director Quentin Tarantino featured it in his film, Death Proof. After Smith disbanded in 1970, McCormick was signed to a solo deal by Dunhill, which led to her self-titled debut in 1971. Though unable to match the early success of Smith, the set's standout single, the dance-ready "It's a Cryin' Shame," did reach No. 44 on the Hot 100. McCormick then lost interest in the music business, married a carpenter and moved to Hawaii before ending up back in St. Louis a few years later. - Billboard, 3/4/16...... Former First Lady and actress Nancy Reagan, the wife of the 40th US president Ronald Reagan, died at her home in Los Angeles of congestive heart failure. She was 94. As first lady during Ronald Reagan's eight years in the White House, Mrs. Reagan was known as the "Just say no" spokeswoman of anti-drug campaigns and as a fierce protector of her husband, both personally and politically. When Ronald Reagan was shot in a 1981 assassination attempt, Mrs. Reagan never left the hospital where the president was treated until he was released. After she and her husband left Washington, Mrs. became his protector again as he struggled with Alzheimer's disease until his death in 2004. Afterward, she remained a staunch guardian of his image and legacy. Mrs. Reagan is survived by Patti Davis and Ron Reagan -- her two children with Ronald Reagan -- and Michael Reagan, a son from Ronald Reagan's first marriage to Jane Wyman. Maureen Reagan, Ronald Reagan's daughter with first wife Jane Wyman, died in 2001. Mrs. Reagan will be buried at the Ronald Reagan Presidential Library in Simi Valley, Calif., next to her husband, Ronald Wilson Reagan, who died on June 5, 2004. - CNN, 3/7/16...... Bud Collins, a colorful tennis broadcaster who pioneered tennis journalism, died on Mar. 4 at hishome in Brookline, Mass. He was 86. Mr. Collins, known for his kaleidoscopic clothing and encyclopedic knowledge of the sport, was a favorite son of Boston who led the way for print journalists to become broadcasters. Mr. Collins wrote for the Boston Globe for 50 years and worked in the NBC booth from 1972 until the network let him go in 2007. For viewers, he was as much a part of NBC's coverage of Wimbledon as strawberries and cream. - The Hollywood Reporter, 3/4/16.
A secret archive of Bob Dylan memorabilia is set to go on display at the Brady Arts District in Tulsa, Okla., which also houses the Woody Guthrie Center. The University of Tulsa and The George Kaiser Family Foundation paid an estimated $15-20 million for the memorabilia, a vast collection that includes more than 6,000 letters, notebooks, handwritten lyrics, instruments and much more. On arrival in Oklahoma, the process of cataloguing the items will take two years. According to a press release, some of the items include a notebook filled with lyrics circa Dylan's Blood on the Tracks period, his wallet from 1966 containing Johnny Cash's address and phone number and a business card from Otis Redding, and a leather jacket worn by Dylan at his 1965 Newport Folk Festival appearance. The Brady Arts District also houses the Woody Guthrie Center, and Dylan's items will be displayed alongside a rare copy of the Declaration of Independence, a cache of Native American art, and the papers of folk icon Woody Guthrie. "I'm glad that my archives, which have been collected all these years, have finally found a home and are to be included with the works of Woody Guthrie and especially alongside all the valuable artifacts from the Native American Nations. To me it makes a lot of sense and it's a great honor," Dylan said in a statement. - New Musical Express, 3/2/16......

Yoko Ono was released from a Manhattan hospital on Feb. 27 after being admitted there a day earlier for treatment for flu-like symptons. Ono, 83, spent the night at Mount Sinai West Hospital after someone in her The Dakota residence on the Upper West Side called 911 and said the artist had "slurred speech" and was "possibly having a stroke." Ono was then transported to hospital by ambulance where she was diagnosed with the flu. Ono's son Sean Lennon tweeted that night that she was "really fine," and on the following day he tweeted "She's home and running about as usual. Just the flu in the end. I may go get a flu shot now..." Mount Sinai West Hospital, formerly known as Roosevelt, is the same facility where her husband, John Lennon, died after being shot by an assassin on Dec. 8, 1980. Meanwhile, Ono has revealed her favorite Beatles album in a new interview with US Weekly magazine. "I don't know if people will hate me for saying this, but I always preferred 'The White Album' to 'Sgt. Pepper's Lonely Hearts Club Band'," Ono said, but quickly added "Don't get me wrong, I love 'Pepper's' too." - AP/New Musical Express, 2/27/16...... In related news, John Lennon's boyhood stamp collection is set to go on display at the World Stamp Show, which will be held in New York City from May 28-June 4. Lennon's interest in philatey was sparked as a child when a relative reportedly handed down a half filled book of collectors stamps. The collection has been housed at the The Smithsonian National Post Museum since 2005, and the majority of it is filled up with United States and New Zealand postage stamps that the iconic rocker collected in later life. In 2005, a curator with the Smithsonian noted there weren't many rarities in John's collection: Typically, young boys aren't interested in rarity," he said. "They tend to concentrate on geography and colors. If they come back to collecting when they have more time and money, that's when collections become exceptional." - NME, 3/2/16......
The Songwriters Hall of Fame announced on Mar. 2 that Tom Petty, Elvis Costello, Marvin Gaye and Nile Rodgers and Bernard Edwards of Chic will be inducted into their organization during the 47th Annual SHOF Induction and Awards Dinner at the Marriott Marquis Hotel in New York City on June 9. SHOF co-chairs Kenneth Gamble and Leon Huff, a famous songwriting team themselves, noted that the 2016 inductee roster "is a beautiful mosaic of the best of late 20th Century popular music...with creators of Rock & Roll, Soul/R&B, Country and Funk/Dance represented." Gamble and Huff are serving their first year as co-chairmen of the SHOF. Gaye and Edwards will be inducted posthumously. - Billboard, 3/2/16...... The Rolling Stones have announced they will play a free concert in Havana, Cuba on Mar. 25, becoming the biggest act to play Cuba since its 1959 revolution. A massive audience is expected when the Stones play Havana's Ciudad Deportiva, just three days after US Pres. Barack Obama visits the carribean nation. Although Cuba once persecuted young people for listening to rock music, then seen as a tool of Western capitalism, it has since dropped that policy, and its government has increasingly allowed large non-official gatherings. "We have performed in many special places during our long career but this show in Havana is going to be a landmark event for us, and, we hope, for all our friends in Cuba too," the band said in a statement. - AP, 3/1/16...... Around $6.2 million was raised on Feb. 28 at Elton John's annual AIDS Foundation Oscar Viewing Party at The City of West Hollywood Park in West Hollywood, Calif. Elton, who performed with his band at the event for the first time in nearly a decade, noted he remembered the first one, which was held 24 years ago, very well. "We raised about $300,000 and we thought we were the best thing since sliced bread," he said. Also performing was Mary Wilson of The Supremes, and other attendees included Mariah Carey, Ashlee Simpson, Boy George, Brandy, Brittany Snow, Dave Grohl, Dave Navarro, Heidi Klum, Hillary Swank, Kelly Osborne, Lana Del Ray, Mary J. Blige, Trey Parker, Vince Vaughn and Zooey Deschanel, among others. A day earlier, Elton and his band shut down Hollywood's Sunset Strip with a pop-up performance in front of the old Tower Records building, was also live streamed exclusively on AOL.com. John performed an hour-long, 12-song set of old and new hits alike to thank the city of West Hollywood for its support of his AIDS Foundation and its Academy Awards Viewing Party. - The Hollywood Reporter, 3/1/16......
Legendary vocalist Freddie Mercury of Queen will be honored with a commemorative Blue Plaque at his West London home. Mercury, who died of AIDS in 1991, had a London residence in Feltham, west London, and is among the list of celebrities and famous contributors to culture that are to be honored this year with the Blue Plaque. More than 900 Blue Plaques have been installed across the UK to date, and an app is being developed which will guide people to the homes of Blue Plaque honorees including Mary Shelley, Ian Fleming and Mozart. Meanwhile, shooting is expected to start in June on a long-planned Freddie Mercury biopic, with Ben Whishaw set to play the rock star. - New Musical Express, 2/26/16...... Former Cream drummer Ginger Baker has canceled all upcoming tour dates with his band Airforce 3 after being diagnosed with "serious heart problems." "Just seen doctor big shock. no more gigs for this old drummer. everything is off. of all things i never thought it would be my heart," Baker posted on his blog. Upon hearing the news, several fans commented on Baker's Facebook page that the drummer should give up smoking. His team responded to many of those comments to say that Baker "gave up smoking months ago." - Billboard, 2/28/16...... Def Leppard announced on Feb. 29 that they'll kick off a massive 55-city North American tour on May 1 by headlining the Moonstone Festival in Orlando, Fla. REO Speedwagon and Tesla have been named as supporting acts for many of the dates, and two nights early in the tour -- on May 4 in Lafayette, La. and May 5 in Corpus Christi, Tex. -- will also feature Styx. The tour wraps on Oct. 10 in Cedar Rapids, Ia. - Billboard, 2/29/16...... Iggy Pop recently posed as a nude model for a life drawing class at the New York Academy of Art. The Feb. 21 event was organized by the Brooklyn Museum in conjunction with British artist and Turner Prize winner Jeremy Deller. Portraits from the session will be on display at Brooklyn Museum later this year, as part of an exhibition titled "Iggy Pop Life Class." The drawings will then embark on a tour of different galleries and museums. On Mar. 18, Pop will release his new solo album, Post-Pop Depression. - NME, 3/1/16......

The Who resumed its US "The Who Hits 50!" tour on Feb. 27 in Detroit at the city's Joe Louis Arena. At the end of the nearly two-hour show, frontman Roger Daltrey -- whose bout with viral meningitis caused some 2015 shows to be postponed and pushed the entire second North American leg of the tour off for almost six months -- offered thanks to "you nice people who supported me last year... We never gave up." Though he sounded strained in certain points of the 20-song set, Daltrey performed with robust confidence, right up to the lung-busting scream in "Won't Get Fooled Again." The show was shortened and tweaked a bit from the 2015 edition, dropping staples such as "I Can't Explain" and the mini-opera "A Quick One (While He's Away)," and pacing the set with instrumental breaks. For instance, the Quadrophenia instrumental "The Rock" was inserted before the vocally demanding "Love Reign O'er Me." Guitarist Pete Townshend proclaimed "Roger, you sang f---ing great!," and earlier joked that "We are not just senior citizens... We are wise, wonderful, worthy wankers!" - Billboard, 2/28/16...... Former The Runaways guitarist Lita Ford claims in her new memoir, Living Like a Runaway, that Led Zeppelin singer Robert Plant once approached her to replace Zeppelin bassist John Paul Jones when Jones left the band for a while in 1975. Ford says that after a Runaways gig in L.A., Plant "asked me if I could play bass." "'For who?' I asked. 'Led Zep.' He might have been drinking or pulling my leg, but he seemed to be dead serious in the moment." Ford never heard back from Plant, but Jones did leave Led Zeppelin around the same time. The Runaways guitarist covered Led Zeppelin's "Rock And Roll" for a tribute album released in 1997. Meanwhile, Plant and his band the Shape Shifters have been confirmed to head the UK's Wilderness Festival in Oxfordshire on August 4-7. - NME, 2/27/16...... Country music icon Merle Haggard has been admitted to a California hospital for treatment of a recurring bout of double pneumonia. Haggard's publicist said in a statement that the "Okie From Muskogee" singer has had to postpone his concert dates in March. Haggard, 78, had returned to the stage in February after cancelling some dates because he was still feeling weak from a previous case of pneumonia in both lungs. The statement said that his doctors wanted him to take one more month off the road to rest and recover. - AP, 3/2/16......
Officials in California have dubbed the tunnel north of the Golden Gate Bridge in San Francisco The Robin Williams Tunnel in commemoration of the beloved actor, comedian and longtime Bay Area resident. Signs were erected to officially mark the passageway on Feb. 29. The $3,000 signs were privately funded. Sarah Michelle Gellar, who played Williams' TV daughter on the CBS sitcom The Crazy Ones, hailed the tribute on Instagram. "I guess I know who is on the other end of the #rainbow#robinwilliams," Gellar wrote in reference to the tunnel, noting, "It's the former Waldo tunnel in SF." Residents previously referred to the U.S. Highway 101 tunnel as the "Waldo tunnel" because it cuts through the Waldo Grade. Its famed rainbow arches invoked memories of Williams' multi-colored suspenders on the sitcom, Mork & Mindy, prompting Belvedere, Calif., resident Julie Wainwright to campaign for a name change following the actor's death nearly two years ago. - USA Today, 2/2/16...... Legendary Los Angeles DJ and media personality Charlie Tuna died in his sleep on Feb. 19. He was 71. Tuna was the morning drive-time radio personality for numerous formats and stations across a four decade career, and his voice set the tone for KROQ-FM as the influential station tweaked its format for a rock audience. Tuna was presented with his star on the Hollywood Walk of Fame in 1990 and a string of accolades followed, including recognition from his home state Nebraska Broadcasters Association with entry into the Hall of Fame in 1999. He was voted as a Top 10 radio personalities in L.A. on several occasions and in 2008 was inducted into the National Radio Hall of Fame. Tuna was also announcer for various TV shows ranging including America's Top 10 with Casey Kasem and he hosted the internationally syndicated Cinema, Cinema, Cinema for 30 years. "His was a life well-lived," a statement on his website reads, "and he will always be remembered for the joy, laughter and love of music he brought to many throughout the world with his presence on the radio. All who knew him will sadly miss him." - Billboard, 2/29/16...... Lennie Baker, a longtime member of the '50s revival group Sha Na Na who sang lead on the rock and doo-wop group's hit "Blue Moon," died on Feb. 24 at South Shore Hospital in Weymouth, Mass., where he had been briefly hospitalized after developing an infection. He was 69. Baker spent 30 years touring with Sha Na Na as a vocalist and saxophone player. He sang lead on "Blue Moon," which he performed at Carnegie Hall and around the world, and often said it was his favorite tune. Baker left the group in 2000 and was living on Martha's Vineyard at the time of his death. Another former Sha Na Na member, Dennis Greene, died in September. - AP,2/26/16......
George Kennedy, the beefy character actor best known for playing cops, soldiers and blue-collar authority figures in such famous films as Cool Hand Luke, Airport and the Naked Gun films, passed away on Feb. 28 at his home in Boise, Idaho. He was 91. "He passed Sunday morning, due to old age and some health issues," according to his grandson, Cory Schenkel. Mr. Kennedy broke through with 1967's Cool Hand Luke, in which he played Dragline, a convict who resists, and then becomes friendly with, Paul Newman's Luke character. The marvelous thing about that movie was that as my part progresses, I changed from a bad guy to a good guy," Kennedy said in 1978, according to the Hollywood Reporter. "The moguls in Hollywood must have said, 'Hey, this fellow can do something besides be a bad guy.'" The performance won him an Oscar for Best Supporting Actor. Later numerous film credits include Airport (1970), Earthquake (1974) and Modern Romance (1981), and he also had a number of TV roles, including starring in the short-lived '70s series Sarge and The Blue Knight. Late in life, Kennedy wrote a memoir, Trust Me, in which he described growing up lonely in New York and the joy he found in acting. "I considered the time I spent acting a gift from the beyond," he told interviewer Brad Berkwitt. "It was what I could do best." - CNN, 2/29/16...... Winston "Merritone" Blake, a Jamaican musicologist, producer, and owner/operator of Merritone Music, succumbed to complications from asthma on Feb. 27 at a Kingston hospital. He was 75. Merritone is Jamaica's oldest continually operational sound system, founded in 1950, prior to the emergence of the island's indigenous popular music forms and its prolific recording industry. In 1973 Merritone Blake and his brothers Trevor, Tyrone and Monte pened Kingston's landmark Turntable Club, which enjoyed a 28-year run. Reggae legend Bob Marley went there often, as did many prominent musicians, politicians and other professionals. - Billboard, 3/1/16.
Social media site Instagram's new "InstaMiniSeries" channel, which features original episodic programming packaged as Instagram videos, premiered a new series on Feb. 25 at 8:00 p.m. EST devoted entirely to David Bowie's final album Blackstar. Instagram has also announced subsequent episodes of the series, titled Unbound, will follow every Monday, Tuesday, Thursday and Friday, for a total of 16 episodes. In a press release, the site says that in the fall of 2015 Bowie granted them "unmediated access to the music and images" from what would prove to be his last album before he passed away on Jan. 10. Unbound, according to Instagram, "will take the audience on a journey of evocative images inspired by the moods suggested in the album's music, lyrics and artwork," and also features visual interpretations of Bowie's songs by actors including Tavi Gevinson and Patricia Clarkson. - Billboard, 2/22/16......
In other Bowie news, it has been revealed that the late rock icon turned down the opportunity to have his music included on the soundtrack for the 1996 film Trainspotting, directed by Danny Boyle and starring Ewan McGregor as a heroin addict in Edinburgh, UK. In a new interview, Boyle says he and his team initially wanted to add a Bowie song and only turned to Iggy Pop's Bowie-produced "Lust For Life" when Bowie turned them down. Since his death, it has emerged that Bowie declined a number of other invitations and collaboration offers, including a Boyle-directed Bowie biopic and collaborations with the Red Hot Chili Peppers, Coldplay, Dave Grohl, and others. Meanwhile, Iggy Pop paid homage to Bowie during the annual Tibet House charity benefit concert at Carnegie Hall on Feb. 22 in New York City. Backed by the Patti Smith Group, Pop kicked into a one-two punch of Bowie classics with "Jean Genie" and "Tonight," the latter which he co-wrote with Bowie for Pop's Lust for Life album and later covered by Bowie on his Tonight LP as a duet with Tina Turner Meanwhile on Feb. 25, Bowie's son Duncan Jones praised the Bowie tribute during the Brit Awards earlier in the evening, which included impassioned words from Annie Lennox and actor Gary Oldman, a musical medley of Bowie's hits and a cover of "Life on Mars" from 1971's Hunky Dory, performed by the band Lorde. Oldman also accepted a Brit Icon award on behalf of Bowie and his family. "Finally found the links to tonight's Brits. Just... beautiful. Thank you," tweeted Jones, who the previous week had described Lady Gaga's Bowie tribute at the Grammys as "overexcited or irrational." - New Musical Express/Billboard, 2/26/16...... Bruce Springsteen mistakenly gave a shout out to Pittsburgh when he was actually performing in Cleveland, Oh., during a stop on his The River tour at the rock & roll city on Feb. 23. "Party noises Pittsburgh," Springsteen exclaimed during the show at Cleveland's Quicken Loans Arena. "And Cleveland, too!," he quickly added. However all was forgiven by the enthusiatic Cleveland crowd, as he and his E Street Band rewarded them with a stellar show, including a blistering version of "Youngstown" that included an intense Nils Lofgren guitar solo. The Boss also treated them to a tour premiere of "Growin' Up." - Billboard, 2/24/16......
In a new interview with Rolling Stone, Elton John turned his war on lyp-synching to Janet Jackson. "You know, f---ing music magazines writing a review of Janet Jackson saying, 'This is the greatest show -- four and a half stars,'" Elton said. "It's f---ing lip-synced! Hello! That's not a show! I'd rather go and see a drag queen. F--- off." John has previously criticized Madonna for lip-synching during her shows, but later said he "probably went too far with Madonna, and I got very personal and I wrote her -- she was very gracious." - Billboard, 2/25/16...... Don McLean announced on Feb. 26 that he is postponing a tour of Australia that was set to begin on Mar. 14 in Hobart following a string of domestic abuse charges leveled at the veteran singer. "Don McLean graciously accepts the willingness of the promoter to postpone the current tour to exactly the same time in 2017 in order to allow Don McLean and his family time to work at reuniting," reads a statement issued on McLean's behalf. "This is an unprecedented moment in the family history. Don McLean thanks all his fans for their patience and love and he looks forward to seeing them next year." A rep for McLean said the artists will make up all the planned Oz shows on the same dates in 2017, as McLean and his family "work at reuniting." On Feb. 22, McLean pleaded not guilty to additional charges stemming from his Jan. 18 arrest in Maine when his wife Patrisha filed a handwritten request for protection. The Knox County district attorney's office had added five charges against McLean earlier in February, bringing the total to six. McLean said in a statement that the new charges do not change his position that he is not guilty. He says the case is "a tragedy for our family and especially my wife." Patrisha McLean posted on Don's website saying that "Don has a big heart. He and I had many happy times in the 30 years of our marriage and what has recently transpired is unfortunate for all of us." - Billboard, 2/26/16...... The Boston Pops have announced their 2016 spring concert schedule will include a tribute to composer John Williams's Star Wars soundtrack, as well as concerts featuring the Beach Boys' Brian Wilson and guitarist Tom Scholz of the band Boston. "We couldn't be happier with the terrific lineup of guest artists joining us for the 2016 Boston Pops season," Pops conductor Keith Lockhart says. "I can't remember a more diverse season with such great potential, both to please our loyal audiences and reach out and entice music lovers of all ages." The Pops also will pay tribute to late rock legends David Bowie and Eagles member Glenn Frey, in "Beatles to Led Zeppelin" concerts on May 10-11 featuring Scholz and devoted to classic rock. - AP, 2/21/16......
Peter Frampton released an album of entirely acoustic music on Feb. 26 with the 11-track Acoustic Classics." I spent a few months going in every day doing different performances of different songs until I found the ones that worked for me and I thought people would like," says Frampton, who recorded the album in his Nashville studio, playing acoustic guitar and bass and a bit of piano on "I'm In You." The LP also includes acoustic takes on such Frampton classics as "Wind of Change," "Show Me the Way," "Lines on My Face," "Baby, I Love Your Way," and even an unlikely selection, "Do You Feel Like I Do." "I thought, 'Look, I've done all the others. Let's give it a go,'" Frampton recalls about the latter song. Frampton, who plans to be on the road with his full band this summer doing dates with Lynyrd Skynyrd and Gregg Allman, added he's already looking forward to beginning work on his next album. "I want to move on to something different and then maybe the album after that might be a live acoustic show," he says. "Even though new music from me isn't going to leap to the Top 40 stations or streams or whatever, it doesn't matter because it's what I do every day. I'm always creating. Whether people want to hear it or not, I'm gonna do it." - Billboard, 2/22/16...... AC/DC has topped the latest round-up of Billboard Hot Tours list for the week ending Feb. 22 with sold-out shows in Fargo, N.D., St. Paul, Minn., and Chicago. The shows generated $5.7 million in revenue from 47,939 sold seats. AC/DC's Rock or Bust tour kicked off in April 2015 with a headlining appearance at the Coachella music festival in Indio, Calif., followed by a three-month stadium run through European markets beginning in May. The band performed in North America in Aug. and Sept., before returning Down Under for shows in Australia and New Zealand. Their 2016 winter trek through U.S. arenas will stretch into early April, and a final stint in Europe is on the books for May and June. - Billboard, 2/23/16...... Rolling Stones guitarist Ronnie Wood and his wife Sally, who are expecting twin girls, have announced that Sally won't be accompanying the band on its tour of Latin America due to fears of exposure to the Zika virus. It's "too dangerous" Wood tweeted on Feb. 23, adding that Sally has been "sent home." The Stones played the first Brazilian gig of their Ole Tour at Rio de Janeiro's Maracana stadium on Feb. 20. Next they head to Sao Paulo, then Porto Alegre, before traveling to Peru, Colombia and Mexico. The mosquito-borne Zika virus has been described as being particularly harmful to pregnant women and their babies. - AP/Billboard, 2/23/16...... A rare Beatles recording of "Till There Was You" and "Hello Little Girl" that sat dormant in an attic for 50 years is set to be auctioned in March. The 10-inch vinyl recording, which is dated from 1962, belongs to Les Maguire, former keyboardist for beat group Gerry and the Pacemakers, one of the Fab Four's fellow Liverpudlian bands. The 78 rpm disc, produced at the HMV shop in London's Oxford Street, has been described as a "Holy Grail item" of Beatles memorabilia by rare record price guide editor Ian Shirley. Although a starting bid has yet to be set, it's thought that it could command at least £10,000. In other Beatles-related news, South Korean fans of the band will soon be able to legally stream the group's music after Universal Music Korea announced that a total of 17 of their albums will be available for streaming beginning on Leap Day, Feb. 29. The delay is the result of long-stalled negotiations over licensing fees, according to the Korea Times. Until now, Korean fans had to buy actual albums or songs either physically or digitally via iTunes to get their Beatles fix. In Dec. 2015, Beatles streaming officially arrived to the rest of the world via Apple Music, Spotify, Google Play and Tidal. - New Musical Express/Billboard, 2/26/16......
Electronic pioneer Brian Eno has announced a new album, The Ship, to be released on Apr. 29. Eno says the album was in part inspired by doomed liner The Titanic, with one of the albums two tracks, "Fickle Sun," split into three distinct movements. The first hears a poem narrated by British actor Peter Serafinowicz, while the last movement, "I'm Set Free" is a cover of the Velvet Underground's song of the same name. Eno says he was inspired by the battlefields of WWI and the final resting place of the Titanic, which "persist and we pass in a cloud of chatter." - NME, 2/25/16...... Veteran country music singer Sonny James, best known for the crossover teen anthem "Young Love," died on Feb. 22 in Nashville. He was 87. Mr. James helped personify a lighter musical style of country in the mid 1950s, continuing his career through the early 1980s. Known as "The Southern Gentleman," Mr. James was also one of the first artists in the format to consistently see his records cross over to the pop charts. His streak of 16 consecutive No. 1 hits on Billboard's Hot Country Songs chart from 1967 through 1971 established a success level that went unsurpassed for close to two decades, helping him to eventually gain membership into the Country Music Hall of Fame in 2006. In Dec. 1956, "Young Love" entered various country charts, and quickly became his first No. 1 country single. It also rose to No. 1 on the Billboard Hot 100 pop singles chart, and remained on that chart for 17 weeks. Another hit the same year, "First Date, First Kiss, First Love," peaked at No. 25 on the pop chart. Mr. James also served as the host of the first-ever CMA Awards in 1967 and produced Marie Osmond's 1973 song "Paper Roses," which hit No. 1 on Hot Country Songs and reached No. 5 on the Hot 100. - Billboard, 2/22/16...... Elvis Presley's personal physician George C. Nichopoulos, better known as "Dr. Nick," died in Memphis on Feb. 24. He was 88. Mr. Nichopoulos was Presley's doctor for 11 years before the singer's death from heart disease on Aug. 16, 1977. The Tennessee Board of Medical Examiners later suspended and ultimately revoked Mr. Nichopoulos's medical license after it ruled he had over-prescribed potentially addictive drugs to 13 patients, including Presley and fellow singer Jerry Lee Lewis. In 1981, a jury acquitted him of criminal charges of indiscriminately and negligently prescribing drugs to Presley. In a 2009 interview with a Memphis paper, Mr. Nichopoulos said, "I don't regret any of the medications I gave him. They were necessities." - Billboard, 2/26/16......
A judge has ruled that a lawsuit filed by producer Quincy Jones against the estate of Michael Jackson and record label Sony over royalties on some of Jackson's biggest hits can go trial. On Feb. 25, Superior Court Judge Michael Stern said a jury should decide the numerous factual disputes about whether Jones -- who worked with Jackson on three of his most popular solo albums: Off the Wall, Thriller and Bad - is owed any money. Jones sued the estate and Sony Music Entertainment in 2013, seeking at least $10 million. He contends the defendants re-edited songs for the This Is It film and a pair of Cirque du Soleil shows to deprive him of royalties and production fees. Jones is also seeking a credit on the film that was done by using Jackson's final rehearsals for a planned series of comeback concerts in London. Jones's lawsuit states his contracts call for him to have the first opportunity to re-edit or alter the songs, in part to protect his reputation. In other Michael Jackson-related news, a solo piano rendition of Jackson's 1987 hit "Bad" by a 13-year-old Korean boy Yoham Kim has become a viral sensation. The performance has racked up over 64,000 Facebook reactions and over 87,000 views on YouTube. - AP, 2/25/16...... Actor Tony Burton, who played the trainer to both Sylvester Stallone and Carl Weathers in the Rocky films, died on Feb. 26 after frequent illness in the past year. He was 78. Mr. Burton played Tony "Duke" Evers, the trainer to Weathers' Apollo Creed character, in the original 1976 movie and its 1979 sequel. After that character's death in 1985's Rocky IV, his character joined the team behind Stallone's Rocky Balboa, where he remained for four more Rocky movies, concluding with 2006's Rocky Balboa. Mr. Burton, a native of Flint, Mich., began his acting career in 1974, hoping to parlay his two Golden Gloves light-heavyweight titles into a Hollywood career. He was also in 1976's Assault on Precinct 13, 1980's The Shining, and had a steady string of TV guest spots. He retired from acting in 2007, the year after his final Rocky movie. "Sad news. RIP Tony Burton. His intensity and talent helped make the Rocky movies successful," Carl Weathers tweeted on Feb. 26. - USA Today 2/26/16.
A lock of John Lennon's hair that was snipped when he got a haircut for his role in the 1967 film How I Won the War sold for $35,000 at an auction conducted by Dallas-based Heritage Auctions on Feb. 20. UK-based memorabila collector Paul Fraser purchased the 4-inch lock that had been cut and kept all these years by a German hairdresser. Also during the auction, a photo of the Fab Four signed by all four members went for $42,500, and a sealed copy of the band's notorious "butcher" cover for the Yesterday and Today album went for $125,000. Meanwhile, Lennon's widow Yoko Ono was presented with New Musical Express's 2016 Inspiration Award during the NME Awards on Feb. 17 at London's O2 Academy Brixton. The multimedia artist and activist, who turned 83 the following day, said she was "excited to get this award... I didn't expect it at all. It's great to be busy together," before a video of her life was screened for the audience. - AP/NME, 2/10/16................


Deep Purple vocalist Ian Gillan has responded to a Facebook post by his fellow Deep Purple founding member Ritchie Blackmore saying that he had been banned from participating in the band's upcoming induction into the Rock and Roll Hall of Fame on Apr. 8 at the Barclays Center in Brooklyn. Blackmore left the band in 1993, and Gillan says since there are no circumstances under which a "reunion" could take place, "DP inductees will accept the awards and then the living breathing Deep Purple will perform." "It should be stressed that there is no slight intended nor any desire to upset anyone regarding this decision; it is purely a mark of respect to [current DP members] Steve Morse and Don Airey... So, let's all get up there, shake hands, smile for the cameras and get it done with dignity and respect for all the existing and past members of a very special family," Gillan wrote. A rep for Blackmore posted a message on his Blackmore's official site on Feb. 18 saying that Blackmore was "honored" by the induction and "was discussing the possibility of attending, until we received correspondence from the President of the Rock Hall of Fame who said that [DP manager] Bruce Payne...had said 'No'.......!!!!! Therefore Ritchie will not be attending the ceremony. He sincerely thanks all the fans that voted for him for their support." As it stands now, the current lineup of DP will be performing at ceremony, and Blackmore will not be attending. - Billboard, 2/19/16...... Late Pink Floyd founding member Syd Barrett will be honored with a memorial and tribute concert in Cambridge, UK on Oct. 27, the same day that he will also be remembered with an unveiling of a statue of him at the city's Corn Exchange venue. The date coincide with the anniversary of the musician playing his final handful of concerts with Floyd at the city's legendary venue. The Swedish group Men On The Border will "reinterpret" the music of Barrett and Pink Floyd, with further backing music supplied by the Swedish Sandviken Symphony Orchestra. "Syd loved Cambridge, it always meant home to him," Barrett's sister Rosemary Breen says. "He would have been very surprised and delighted to be recognised in such a unique way. His family would like to thank everyone involved with this memorial." Barrett died in 2006 of pancreatic cancer. - New Musical Express, 2/17/16...... In an interview with CNN's Anderson Cooper on Feb. 18, presidential candidate Donald Trump name-dropped some of his favorite musicians, including Elton John, the Beatles and Michael Jackson. Trump said he became closely acquainted with Jackson when the King of Pop lived at the Trump Tower for several weeks, after getting married to Lisa Marie Presley at one of his VIP clubs. "He was up there for one week with her and he never came down," Trump said. "I don't know what was going on but they got along." Trump went on to say that Jackson was an "unbelievably talented guy" but "lost tremendous confidence" after undergoing plastic surgery on his face. "He had people that did numbers on him that were just unbelievable... Believe it or not, when you lose your confidence in something, you can even lose your talent," Trump added. - Billboard, 2/19/16...... Bruce Springsteen announced on Feb. 19 that he and his E Street Band will play four dates in the UK this summer on their The River world tour. As with his US dates, Springsteen and the band are expected to play the 1980 double-LP in its entirety. The dates include Manchester (5/25), Glasgow (6/1), Coventry (6/3) and London's Wembley Stadium on June 5. - NME, 2/19/16...... Cable TV's HBO channel has renewed the new '70s record industry-based series Vinyl for another season after the premiere episode of the show aired on Feb. 14. Acclaimed director Martin Scorsese directed the two-hour pilot, which stars Bobby Cannavale as a record label president in the 1970s trying to save his company. Vinyl is also exec-produced by Scorsese and Mick Jagger, with Jagger's son James Jagger also appearing in the show. - The Hollywood Reporter, 2/19/16......
Hall & Oates brought their 2016 tour to New York's Madison Square Garden on Feb. 19 with a selection of their '70s and '80s smashes. The duo stoked the adoring crowd's eagerness by playing only singles released between 1973 and 1984, including "Sara Smile," "She's Gone," "Kiss on My List," "One on One" and "I Can't Go for That," with "Las Vegas Turnaround" being the only album cut in the set. The 2014 Rock and Roll Hall of Fame inductees encored with a cover of the Delfonics' hit "Didn't I Blow Your Mind This Time," after guitarist John Oates declaring earlier in the show, "It's a love fest here in New York City." - Billboard, 2/20/16...... Additional acts including Blondie's Debby Harry, Bette Midler and Mumford & Sons have been added to already star-studded David Bowie two-night tribute-turned-memorial concerts on March 31 and Apr. 1 in New York City. Harry will perform a solo set at March 31's Carnegie Hall concert, as well as a set with her Blondie bandmates at the Apr. 1 Radio City Music Hall show, while Midler will perform during the March 31 show and Mumford & Sons at the Apr. 1 show. Previously announced acts include the Pixies, Michael Stipe, Cyndi Lauper, Laurie Anderson, Cat Power, the Roots and Ann and Nancy Wilson of Heart. - Billboard, 2/17/16...... In other posthumous Bowie-related news, the iconic rocker will be given an official tribute during the UK's 2016 Glastonbury Festival. An entire set of Bowie's Glastonbury set in 2000 will be screened for the crowd at the Worthy Farm event, and fans had already planned a "mass singalong" to pay homage the Ziggy Stardust legend during the festival. Meanwhile, composer Philip Glass is in talks to stage a tribute to Bowie during the 26th Annual Tibet House Benefit Concert in New York on Feb. 22. Glass helped form the Tibet House, which works to preserve and further Tibetan culture and identity, in 1987. Meantime, Chic's Nile Rodgers, who produced some of Bowie's hit albums in the 1980's, is defending the Bowie tribute by Lady Gaga during this year's Grammy awards, which has been disparaged by some, including Bowie's son Duncan Jones. Rodgers fired off a series of Tweets on Feb. 17 saying that "we did what we thought and still think was right in our short time slot" and that he would know what Bowie would or would not have appreciated. Lady Gaga's Bowie tribute was the most-talked-about Grammy moment on Facebook across the country, according to the site. NME/Billboard, 2/19/16...... Speaking of the Grammys, rapper Tyga has said that he wishes he had known that a group that included Paul McCartney, Beck and drummer Taylor Hawkins of Foo Fighters had not been allowed entrance into a post-Grammy party that he headlined at the Hollywood club Argyle on Feb. 15. "I had no knowledge -- I was inside performing," Tyga said on Jimmy Kimmel Live! on Feb. 17. "I wish I knew that [Paul] was outside. I would've went out there with the mic, brought him in and perform 'Rack City' with me." Tyga then extended a personal invitation to McCartney on-air for his Feb. 26 show at L.A.'s Club Nokia, even offering, "I'll personally walk you in." - Billboard, 2/17/16...... Def Leppard say they'll be back on the road this spring, despite frontman Joe Elliott's vocal problems that forced the postponement of 10 shows on the group's most recent U.S. tour. The band plans to make up the postponed shows in May and then go on with a planned North American tour in June. Def Leppard's latest album, released in October 2015, debuted at No. 1 on Billboard's Top Rock Albums chart and is still selling well. "I still think it's the strongest record the band's made since I've been in the band," says DL guitarits Vivian Campbell, who joined the group in 1992. - Billboard, 2/17/16......

Eric Clapton has revealed that vocals and guitar work by George Harrison will be featured posthumously on Clapton's forthcoming solo album, I Still Do. Harrison's playing and singing will be used on the track "I Will Be There" under the pseudonym "Angelo Mysterioso," which Harrison used when he contributed to Clapton's supergroup Cream's 1969 Goodbye album. Produced by veteran UK boardman Glyn Johns, who also worked on Clapton's 1978 LP Backless, the 12 track I Still Do is due out on May 20 via Clapton's own Bushbranch imprint, in association with Surfdog Records. It will also feature cover artwork by UK graphic designer Sir Peter Blake of Sgt. Pepper's Lonely Hearts Club Band fame. - New Musical Express, 2/19/16...... A Kickstarter.com campaign has been initiated to fund a movie based on the '70s CBS sitcom Good Times. "In the case of Good Times there is going to be a comparison, but it's not an infringement of copyright," says attorney Shaun Weiss, who represents Bernadette Stanis, who played Thelma in the series, and will be reprising her role in the crowd-funded effort. - Deadline.com, 2/17/16...... Pulitzer Prize-winning author Harper Lee, who wrote the acclaimed 1960 novel To Kill a Mockingbird, passed away at the age of 89 on Feb. 18 in an assisted living facility in her hometown of Monroeville, Alabama. The book, a landmark in American literature and required reading in many US high schools, brings to life the 1930s tale of Southern lawyer Atticus Finch, who is tasked with defending an African-American man, Tom Robinson, accused of rape. Gregory Peck portrayed Finch in director Robert Mulligan's equally praised 1962 screen adaptation of the book, which claimed eight nominations at 35th Academy Awards and nabbed three wins. Another novel by Ms. Lee, Go Set a Watchman, was released in 2015. Originally written prior to To Kill a Mockingbird, Go Set a Watchman saw a revision of the Finch character in a storyline set two decades after the events of the first book. Ms. Lee famously avoided giving interviews in recent decades, her last lengthy one being in 1964. - The Hollywood Reporter, 2/19/16.
Bruce Springsteen has announced he will release his long awaited autobiography this fall. Titled Born to Run, the book will feature the Boss' memories told in "disarming candor," according to a press release. Springsteen said he began the book after watching the 2009 Super Bowl. "Writing about yourself is a funny business," Springsteen was quoted as saying. "But in a project like this, the writer has made one promise, to show the reader his mind. In these pages, I've tried to do this." Springsteen was reportedly paid a $10 million advance for the memoir from publisher Simon & Schuster. The work will be published in hardcover, ebook, and audio editions by Simon & Schuster on Sept. 27 in the United States, United Kingdom, Canada, Australia, and India, and rights have already been sold to publishers in nine countries. - Billboard, 2/11/16...... Sting performed to a sold-out audience at Toronto's Air Canada Center on Feb. 14 during the NBA All-Star Game half-time show. The 64-year-old former Police frontman's 10-minute set included the his 1999 solo hit "Desert Rose," the reggae-rock classic "Message in a Bottle," the hard-rocking "Next to You," and finally the smash hit ballad "Every Breath You Take." Meanwhile, Sting says he's "thrilled and surprised" that "Stolen Car," his duet with French singer Mylene Farmer, has just hit No. 1 on Billboard's Dance Club Songs chart. "I'm absolutely thrilled and surprised," Sting said. "It's so great to be No. 1, especially on the Dance Club Songs chart. Wow!" An earlier version of the song, featuring Twista, topped the Billboard singles chart in 2004. - Billboard, 2/15/16......
Barry Manilow was rushed to a Los Angeles hospital on Feb. 11 due to "complications from emergency oral surgery that Manilow had on Monday (Feb. 8)," according to a statement on his Facebook page on Feb. 11. The crooner, 72, is in the midst of his One Last Time - One Last Tour trek and had completed a sold-out show in Memphis when he was flown back to Los Angeles. Manilow was forced to reschedule shows in Kentucky and Tennessee due to the emergency, however the singer made a surprise return to the stage for Clive Davis' pre-Grammys party in L.A. on Feb. 14, just days after being hospitalized. Manilow reportedly showed no ill effects when he appeared at Davis' glittering annual party, and opened his performance with a rendition of his 1976 hit "Mandy." "I'm really glad to be here. What a week!," Manilow said after the performance. "This is the 40th anniversary of the release of "Mandy" -- and the beginning of this beautiful party." His latest album was nominated at the Grammy Awards for what would have been second Grammy Award. - Billboard, 2/15/16...... In other Grammy news, Lady Gaga performed an extended tribute to David Bowie during the 58th annual show at the Staples Center in L.A. on Feb. 15. Gaga channeled the late rock icon's Ziggy Stardust persona as she ran through several of his hits, including "Space Oddity," ''Let's Dance," ''Changes" and "Heroes." Days before the Grammys, it was reported Gaga got a large tattoo of Bowie's face on the side of her body. "I don't know who I'd be if I didn't have (Bowie as) a figure in my life. I don't know what my identity would be," Gaga said before the show. Also at the ceremony, the legacy of late Earth, Wind & Fire mastermind Maurice White was saluted as the surviving members of the group, which is the recipient of the Grammy Lifetime Achievement Award, presented the Record of the Year statuette at the show. Late Eagles member Glenn Frey was also honored with surviving current and former members Don Henley, Bernie Leadon, Joe Walsh and Timothy Schmit uniting with Jackson Browne to perform the Eagles' 1972 hit "Take It Easy." Two nights earlier, another Frey tribute was held at the Troubadour club in L.A., with Bonnie Raitt, Lee Ann Womack, Jack Ingram and others participating. And a Grammys tribute to former Commodores member and '80s solo star Lionel Richie took place, with Richie, Demi Lovato John Legend performing a medley of some of Richie's biggest hits, including "Easy Like Sunday Morning," "Hello," "Penny Lover," "Brick House" and "All Night Long." - AP/Billboard/New Musical Express, 2/16/16...... The suburban Detroit neighborhood of Royal Oak has approved named a stretch of street after late Eagles star Glenn Frey, who was born in Detroit and grew up in Royal Oak. Glenn Frey Drive will run adjacent to Royal Oak Middle School - the former Dondero High where Frey was a student. On Feb. 11, the Royal Oak School Board voted 12-0 to rename part of Willis Avenue after Frey. New signs are expected to go up by Feb. 18, one month to the date after Frey died of complications from rheumatoid arthritis, acute ulcerative colitis and pneumonia in New York at age 67. - AP, 2/11/16......

Phil Collins released the first two titles in his "Take a Look at Me Now" reissue series, 1981's Face Value and 1993's Both Sides, on Jan. 29. The second batch, 1982's Hello, I Must Be Going! and 1996's Dance Into the Light come out Feb. 26. Fans of the original albums my be surprised by the new album cover photos for the series -- which are nearly identical replicas of the original covers save for Collins' current face in place of the initial images. "I wanted to bring something new to (the packages), so we came up with the idea of the second CD and then I had the idea to re-shoot all the album covers," Collins says. "It kind of brought it into this period now that we're living in, and these songs were personal to me then and they're still personal to me now. I had a great team. I had a great photographer and a great computer guy. We had three people there that were just working on the lighting and the look, and we managed to replicate all the covers beautifully." The former Genesis drummer added that the upcoming reissue of his 2010 album Going Back, which was mostly an album of R&B and Motown covers, will come out with fewer songs and a revised sequence. "I loved the original songs and I loved what we've done with my replicas of those songs," he says of the LP. "So we put everything on, but I think maybe it was too much. I think for a number of reasons that album was missed." - Billboard, 2/14/16...... Surviving Doors members Robby Krieger and John Densmore participated in an all-star charity tribute to late Doors member Ray Manzarek at The Fonda Theatre in Los Angeles on Feb. 12. The two musicians were joined by an eclectic array of guest vocalists filling in for Jim Morrison, including Taylor Hawkins of Foo Fighters and Andrew Wyatt. But the real thrill for the artists and capacity crowd was seeing Krieger and Densmore play together again on the Doors number "When the Music's Over," featuring Gov't Mule's Warren Haynes on vocals and guitar. Before the song, Krieger shared a story about "When the Music's Over" that began with Morrison and his wife Pam calling him at 3 a.m., having taken too much acid. According to Krieger, they summoned him to their home, freaking out, where he suggested they go into nearby L.A.'s Griffith Park to get with nature and come down off their trip. As a result Morrison missed the session for "When the Music's Over," so they recorded the track without him, only to have him show up later and want to add his part. So the singer overdubbed his vocals. "He got it in one take," Krieger said, drawing applause and laughter from the crowd. The concert benefited the Stand Up To Cancer fund, which was founded by Manzarek. - Billboard, 2/13/16......
Bob Dylan is reportedly working on another album of cover standards to follow up his 37th studio album, 2015's Shadows In the Night, at Hollywood's Capitol Studios. "It's going along great," Schmitt said. "[Dylan] sounds great," says engineer Al Schmitt, who also worked on Shadows. "His mood in the studio is fabulous. We're having a good time. We're like two old shoes together now, we're so comfortable with one another now," he added. Schmitt did not confirm whether the songs would be covers of Frank Sinatra songs like Shadows In the Night. That album, recorded live by Dylan and a five-piece band, debuted at No. 7 on the Billboard Hot 200 album chart. - Billboard, 2/14/16...... Black Sabbath performed at the Forum in Los Angeles on Feb. 11, one of the heavy metal gods' first North American dates on their "The End" tour. Sabbath opened with the eponymous first song from their also self-titled debut album, with frontman Ozzy Osbourne struggling to find his voice. Sabbath also treated the crowd to such classics as "War Pigs," "Children of the Grave" and "After Forever." - Billboard, 2/13/16...... Elton John will be among the headliners at an upcoming Hillary Clinton fundraiser concert on March 2 at New York's Radio City Music Hall. Clinton, a 2016 presidential hopeful, announced the concert on Twitter, and both former President Bill Clinton and daughter Chelsea Clinton will be present at the event. Tickets (at $125 each) will benefit the Hillary Victory Fund. Also headlining the concert will be Katy Perry and Andra Day. - Billboard, 2/12/16...... In other Elton news, the Rocket Man recently told a U.S. radio station that he feels the Rolling Stones are no longer relevant. "I think Mick [Jagger] wants to still be relevant on the radio -- well they are not," Sir Elton said. "What I think the Rolling Stones should do is a great blues record, and go back to what they used to do -- and do things like 'Come On' - the Chuck Berry song like they did in their early career. That is what they should do," he added. John released his latest studio album, Wonderful Crazy Night, on Feb. 5 via Island Records. - New Musical Express, 2/14/16...... Speaking of the Rolling Stones, the members of the band are under a 24-hour armed guard on their South American tour following the shooting of a worker at one of their gigs. The band have taken extra precautions after a man was shot dead in botched attempt to steal drinks takings from their La Plata stadium show. A 55-year-old contractor was killed when three cars attempted to hijack a van transporting cash from alcohol sales after the concert. In the wake of the incident, the Stones have stepped up their security arrangements and will travel separately, escorted by armed bodyguards. Meanwhile, frontman Mick Jagger has revealed in a new Esquire interview that he originally wanted the new HBO series Vinyl, which he co-produced and stars his son James Jagger, to be a movie. "It was a movie idea. I went to Marty (co-producer Martin Scorsese) and said that I'd like to do something that covers the actual inside of the record business, using (his film) Casino as shorthand." Instead, the end result was instead a 10-part TV series, telling the story of 1970s New York-based music executive Richie Finestra (Bobby Cannavale), with themes of sex, drugs and rock 'n' roll featuring heavily. - NME/Esquire, 2/14/16......
Former Talking Heads frontman David Byrne has blasted Republican presidential candidate Donald Trump on a new post on his website. "Trump supporters [are] so seemingly unaware of his lies and bullshit," Byrne said in the lengthy essay, which he titled "The Echo Chamber." Byrne added that Trump's rise coincides with a socio-economic shift in American society. "My guess is that the middle class senses the end of the American dream and that white middle class Americans are experiencing a lack of mobility and opportunity in the economic spheres where they were previously the privileged and entitled majority. This probably drives a lot of Sanders supporters, too," he continues, "though my bias leads me to assume that Sanders isn't propagating outright lies and misconceptions -- he's actually addressing issues and not simply massaging his ego and building his brand." - NME, 2/12/16...... Pink Floyd guitarist David Gilmour has been confirmed to headline the upcoming Teenage Cancer Trust series of gigs, which are being curated by The Who's Roger Daltrey. The gigs will run at the famed 5,000 capacity Royal Albert Hall in London from April 19-24. Gilmour will headline the closing concert on Apr. 24, while other performers include Simply Red (4/21) and New Order (4/23). "I'm very happy to be announcing such a varied line up," Daltrey said in a press release. "The money raised is invaluable to this charity, which receives no government funding in England, to help young people with cancer in the NHS." - NME, 2/15/16...... Carole King gets the American Masters treatment on Feb. 19 when PBS premieres the new documentary Carole King: American Woman. When you see the compelling stories behind her career -- from her years as a behind-the-scenes hit writer for other singers during pop music's Brill Building era to her James Taylor collaborations to Tapestry to winning the Gershwin Prize for Popular Song -- it's clear that King is a natural legend. - Entertainment Weekly, 2/19/16.
What is being touted as the "largest lock of John Lennon's hair" ever sold has been put up for action online by the Dallas-based Heritage Auctions. According to the sales description, the lock of hair was trimmed from the late Beatles legend in Sept. 1966 during the filming of the Richard Lester-directed movie How I Won the War, which featured Lennon. Bidding has reached as high as $12,000 for the lock, and previous locks of Lennon's hair have fetched $48,000 in 2007 and $25,600 in 2015. - Rolling Stone, 2/9/16...... In other Beatles-related news, a new report conducted by the Liverpool John Moores University and the University of Liverpool, and commissioned by Liverpool City Council, has found that the tourist income generated by the Fab Four to their home city adds almost £82 million to the city's economy, and supports as many as 2,335 jobs. The report found that the "Beatles economy" in Liverpool grows 15 per cent each year with "further significant growth potential" in the future. A University of Liverpool professor stressed the importance of "maintaining standards in efforts to promote this legacy," while another prof added that "we need to convey the core point that Liverpool was not just the birthplace of The Beatles, it was their cradle; what they learned as Liverpudlians they took into the world... The self-confidence and openness to cultural influences remains a vibrant and distinctive aspect of the life of the city. The still fresh music of The Beatles reminds us who we are and who we could become." The Beatles formed in Liverpool in 1960 and became instrumental in the local Mersey Beat scene during their early career. In Dec. 2015, the city unveiled a new Beatles statue to mark the band's final performance in the city, on Dec. 5, 1965. - New Musical Express, 2/8/16......

A Grammy tribute to late Eagles co-founder Glenn Frey will feature past and present surviving members of the band -- Don Henley, Bernie Leadon, Joe Walsh and Timothy Schmit as well as "Take It Easy" co-writer Jackson Browne -- during the 2016 Grammys, which is set for Feb. 15 at the Staples Center in Los Angeles. It seems a sure bet the Eagles and Browne's setlist will include "Take It Easy," which was written primarily by Browne with contributions from Frey. Frey died at age 67 of complications from rheumatoid arthritis, acute ulcerative colitis and pneumonia after several months of illness. His last performance with the Eagles took place in Louisiana on July 29, 2015. The Grammy Awards will be broadcast live on CBS on Feb. 15. - Billboard, 2/10/16...... Elton John has told a British music website that he's planning on collaborating with the contemporary band The Killers and their frontman Brandon Flowers for the next Flowers LP. "I'm hoping to go to Vegas and write with Brandon for the new Killers record| So that'll be interesting," said John, who also expressed his love of working with other artists in the studio. "It's just great to be able to see how other people sing, what they write, how they do it, and it gives you an idea of, 'Oh they do it that way'," Sir Elton remarked. - New Musical Express, 2/9/16...... Late Motörhead frontman Lemmy Kilmister will be honored with a life-size, bronze statue to be erected outside his favorite bar in Los Angeles, the Rainbow Bar & Grill on the Sunset Strip. Fans commissioned the statue, which was made by L.A. artist Travis Moore, through a crowdfunding campaign, with over $15,000 raised for the project so far. Kilmister was a regular at the bar before he passed away on Dec. 28 at age 70, and the bar recently hosted a memorial in his honor. - New Musical Express, 2/8/16...... Iggy Pop, who will be releasing a new studio album, Post Pop Depression, on Mar. 18, has revealed that it could be his last. "I feel like I'm closing up after this. That's what I feel. It's my gut instinct," Pop said in an interview on Feb. 6. Pop added that he still might perform occasionally -- such as "singing 'Happy Birthday' at your mother's (or) something like that" -- but "to really make a real album you really have to put everything into it and the energy's more limited now." Pop, 68, recently announced that he will headline London's Royal Albert Hall with his new band in May, and then play selected dates around the globe. Pop released the first track from Post Pop Depression, "Gardenia," in late January. - NME, 2/6/16...... The Grateful Dead-spawned superground Dead & Company has announced it keep on truckin' with a summer tour of 17 American dates beginning on June 10 in Charlotte, N.C. Other stops on the tour, with original GD members Bob Weir, Mickey Hart and Bill Kreutzman along with John Mayer, Oteil Burbridge and Jeff Chimenti, include Cincinnati; Noblesville, In.; Camden, N.J.; Saratoga Springs, N.Y.; Bristow, Va.; Flushing, N.Y.; Hartford, Conn.; Boulder, Col.; Detroit; East Troy, Mich.; and Pittsburgh before the tour wraps with a two-night stand in Boston on July 15 and 16. The band is also set to appear on The Tonight Show Starring Jimmy Fallon on Feb. 18. - Billboard, 2/8/16......

It appears former Chicago principle Peter Cetera won't be participating in Chicago's upcoming induction into the Rock and Roll Hall of Fame in April. Cetera, the group's original singer and bassist who left the group in 1985, posted a copy of a note he sent to Rock Hall Foundation chief Joel Peresman and induction ceremony producer Alex Coletti on his website on Feb. 8 that reverses previous statements that he was willing to play with the band during the April 8 ceremony at the Barclays Center in Brooklyn. "Unfortunately this scenario doesn't work for me," Cetera wrote. "I know we all did our best to make it happen, but I guess it's just not meant to be. Personally I'm frustrated and tired of dealing with this and it's time to move on. I have a life with two beautiful daughters and a solo career and its time to get back and give them the full attention they deserve. Thanks for all your help and consideration! Have a great show and please send any individual award I receive to the contact you have for me," he added. In December, Chicago singer/keyboardist Robert Lamm announced that Cetera, along with founding Chicago drummer Danny Seraphine, would be attending and performing at the ceremony, only to be corrected by Cetera. Lamm subsequently apologized for making the announcement without Cetera's confirmation, and in January, Cetera posted a letter on his website saying he was willing to perform "25 or 6 to 4" that night, also suggesting that all of Chicago's living members, past and present, be invited to play the song. Earlier in February, Lamm told Billboard that "I don't even know if our band is going to play... I don't know if it's going be a house band or Paul Shaffer playing. I have no idea. It'll all be worked out, I'm sure, but as to what I know now, it's very little." Lamm said Cetera's refusal to take part in the ceremony could have been due to his "wanting to to play [the song] in a different key if he was going to play with us, which is definitely not going to happen, and then he wanted to play with his band but not with us and sing his songs or sing whatever songs the Hall wants him to sing... It's all very strange." As of now, Lamm and remaining co-founders Lee Loughnane, James Pankow and Walter Parazaider are confirmed to participate in the induction. - Billboard, 2/8/16...... Don McLean has pleaded not guilty to a domestic violence charge after the "American Pie" singer was arrested on Jan. 18 when his wife filed a handwritten request for protection. McLean's attorney announced on Feb. 8 that the singer entered the plea in writing and will not appear in court in Maine when his case is heard on Feb. 22. The attorney says nothing substantial will come of the misdemeanor count on that date because of the handwritten plea. McLean and his wife later announced through the attorney that they had "agreed to move forward," and the protection order was dismissed. McLean and his wife life in Camden, Maine. - AP, 2/8/16...... A home in Mayfair, London where Jimi Hendrix once lived that has been converted to a museum was opened to the public for the first time on Feb. 10. Hendrix lived at the flat at 23 Brook Street, which was owned by Hendrix's then girlfriend Kathy Etchingham, for a year between 1968-69. Among the items on display at the museum are a copy of Bob Dylan's Highway 61 Revisited that is stained with Hendrix's blood. Fans will also be able to view the top floor of the home with organisers having spent two years renovating it to its original form. - New Musical Express, 2/9/16......
Carlos Santana has taken to Facebook to criticize his hometown of San Francisco for not featuring "local" Bay Area bands to be featured in the Super Bowl 50 halftime show on Feb. 7. "I do feel compelled to point out to you that the Halftime Show should have included some of the local iconic bands that the World would have loved to see perform," reads a Feb. 9 post by Santana, who was featured in a Super Bowl highlight reel playing guitar. "Bands like Metallica, Steve Miller, Journey and yours truly. We would have rocked the Half Time Show and done the SF Bay Area proud," he added. After reading Santana's post, Journey updated their own Facebook page with the message, "Thank You Carlos, and yes we would have all Rocked it!" - Billboard, 2/9/16...... David Bowie's widow Inman has broken her silence for the first time since her late husband's passing on Jan. 10 with a simple message on Twitter. "'Love & Gratitude' - Iman," she posted on Feb. 6. Inman had posted a number of Twitter messages in the days leading up to Bowie's death, including: "The struggle is real, but so is god" and "Sometimes you will never know the true value of a moment until it becomes a memory." Meanwhile, Bowie's Duncan Jones has revealed on Twitter that he's going to become a dad. "1 month since dad died today. Made this card for him at Christmas. Due in June. Circle of life. Love you, granddad," Jones posted on Feb. 10, alongside a cartoon drawing of an unborn foetus. Jones then went on to ask for parental advice in a series of tweets, saying: "So how knackering is it having a baby? Moon shoot knackering or morning after a house party knackering?" - NME, 2/10/16...... In related news, Mick Jagger's son James Jagger has told Britain's The Independent paper that he actually prefers The Kinks to his dad's famous rock band. "When people ask me if I prefer the Rolling Stones or the Beatles, then I will always say the Rolling Stones. But if someone asks if I prefer the Rolling Stones or The Kinks, I'd choose The Kinks," said James. The 30-year-old son of Mick and model Jerry Hall, who has begun a career in acting, is due to star in the new HBO drama series Vinyl, which premieres on the channel on Feb. 14. - NME, 2/8/16...... Paris Jackson, the 17-year-old daughter of Michael Jackson, has suggested she has troubles with alcohol and is attending Alcoholics Anonymous meetings during a series of furious rants on Instagram. "This is f---ing ridiculous. I am expected to literally sit on my ass all day replying to comments people leave me (positive and negative)?" Paris posted. "I have AA meetings to go to. Family obligations. Personal obligations. Its so f---ing selfish that I am literally attacked on every f---ing thing I post just because people that I don't even know aren't getting what they want," she added. Paris' rant comes more than two years after she was hospitalized following an apparent suicide attempt in June, 2013. - WENN.com 2/5/16......
San Francisco-based musician Dan Hicks, who began his music career in the 1960s and was the founder of Dan Hicks and the Hot Licks, died on Feb. 6 after a two-year battle with cancer. He was 74. Hicks, a veteran Bay Area singer/songwriter/band leader, formed the Hot Licks after leaving the band The Charlatans, a pioneer of the '60s psychedelic "San Francisco sound" along with the likes of the Jefferson Airplane and the Grateful Dead. The Hot Licks produced several successful albums but broke up in 1973, at the height of its popularity. Perhaps best known for the songs "I Scare Myself" and "Canned Music," Hicks' songs were frequently infused with humor, as evidenced by the title of one of his tunes, "How Can I Miss You When You Won't Go Away?" Hicks' latest album, Live at Davies, was released in 2013. Hicks was diagnosed with throat and liver cancer in 2014, and in March 2015 he announced on his website that he had been stricken with liver cancer and, while "confident" in his recovery, would be postponing all live performances. "My darling darling husband left this earth early this morning. He was true blue, one of a kind, and did it all his own way always," his wife CT Hicks posted on Dan's Facebook page on Feb. 6. - AP/Billboard, 2/6/16...... Singer Joe Dowell, who was briefly popular in the early 1960s with a No. 1 hit titled "Wooden Heart," died on Feb. 4 at a hospital in his longtime hometown of Bloomington, Ill. He was 76. "Wooden Heart" already had been a hit for Elvis Presley in Europe when Dowell's version was released in the US. With its bouncy tempo and echoed vocal track, the song topped the Billboard chart in early Sept. 1961. Dowell's other songs included "The Bridge of Love" and "Little Red Rented Rowboat." In subsequent years he recorded commercial voiceovers and gospel songs.

Singer/songwriter/producer/musician/arranger Maurice White, the co-creator of the hugely popular '70s and '80s group Earth, Wind & Fire, died of natural causes on the morning of Feb. 4, according to a post on EWF's Twitter feed. He was 74. "Our brother Maurice White passed peacefully in his sleep this morning. The light is he, shining on you and me. pic.twitter.com/ppWTHKUyG6," the band posted. White, who was diagnosed with Parkinson's Disease in the early '90s, had stopped touring with the band around 1994. Born in Memphis on Dec. 19, 1941, White moved to Chicago in the early '60s and was hired as a session drummer for Chess Records. Following a post-Chess stint as a member of the Ramsey Lewis Trio, White became a member of the Capitol-signed band Salty Peppers with friends Wade Flemons and Don Whitehead. Relocating to Los Angeles, he established the nine-member first incarnation of Earth, Wind & Fire in 1971 with himself, Flemons, Whitehead and White's bass-playing brother Verdine White, among others. Under contract to Warner Bros., the band released two albums. By 1973, a remodeled Earth, Wind & Fire -- including the White siblings, vocalists Philip Bailey and Jessica Cleaves, drummer Ralph Johnson and keyboardist Larry Dunn -- was signed to Columbia Records. From that period through the early '80s, the band was a permanent fixture on both the R&B and pop charts. Earth, Wind & Fire, whose moniker was chosen from the elements in White's astrological sign, Sagitatarius, became known for its game-changing fusion of R&B/soul, pop, jazz, funk, disco, rock, Latin and African rhythms, and are hailed as one of the most successful bands of the 20th Century.
Scoring its first top five R&B single in 1974 with "Mighty Mighty," the band scored its first R&B/pop crossover hit a year later with "Shining Star," No. 1 on both charts. Embracing the themes of empowerment, unity, spirituality and love, White guided the band through a host of R&B and pop hits that have since become classics, among them: "That's the Way of the World," "Sing a Song," "Serpentine Fire," "September" and "After the Love Has Gone." EWF were honored with six Grammy Awards, and became one of music's most influential, iconic and longest-running bands. Beyond the music, their concerts became must-see spectacles during which the brilliantly garbed band members mesmerized audiences with disappearing acts and other magic tricks. In addition to EWF, White collaborated with other artists during his career, including projects by Minnie Riperton, Barbra Streisand, Barry Manilow, James Ingram, Neil Diamond and Brian Culbertson. White even logged his own top 10 R&B single with a cover of "Stand By Me," taken from his 1985 self-titled solo album. Even after being diagnosed with Parkinson's, White stayed busy behind the scenes, and collaborated with Maurice Hines on the 2006 Broadway play "Hot Feet," and in 2007 executive producing an EWF tribute album, Celebrating the Music of Earth, Wind & Fire. Earth, Wind & Fire was inducted into the Rock and Roll Hall of Fame in 2000, and are set to be honored with a Grammy Lifetime Achievement Award at the Feb. 15 ceremony. Among those paying tribute to the late multi-talented musician on Twitter include Questlove, Nile Rodgers, Bryan Adams, Quincy Jones, Jimmy Jam, Chris Rock, Arsenio Hall, Bootsy Collins, Earvin Magic Johnson and Craig Robinson, who posted "Keep Your Head To The Sky," recalling one of EWF's biggest hits. - Billboard/NME, 2/4/16.
Bruce Springsteen invited an 89-year-old grandmother on stage to dance during a performance of "Dancing in the Dark" during the the Boss's show at the Air Canada Centre in Toronto on Feb. 2. As Springsteen and his E Street Band performed the Born In the USA track during its encore performance, the rocker noticed the woman, named Evelyn, in the crowd enjoying the show, and asked her up to the stage. The show was part of his The River Tour, which will see the musician touring North America until March, finishing up with two shows in Los Angeles between March 15-17. His The River trek leads the Billboard Hot Tour Roundup from Jan. 26-Feb. 1, with $12.2 million in ticket sales. The first five dates of his North American arena trek are included in the roundup, and all five arenas since the Jan. 16 opener in Pittsburgh have logged a combined sold ticket count of 90,579, with Chicago's Jan. 19 show taking in $2.7 million at the box office and selling 19,120 tickets. - New Musical Express/Billboard, 2/3/16......
A line of cannabis products commemorating what would have been the 71st birthday of reggae legend Bob Marley's 71st birthday on Feb. 6 are slated to be launched on that day in conjunction with Marley's estate and New York based Privateer Holdings. "Marley Natural" Product Manager Tahira Rehmatullah says his team has "visited hundreds of farms around the world, learning all about growing processes and different strains, trying to find the best quality cannabis there is," and that "our goal is to work with all local farmers in every jurisdiction where we are offering cannabis." Some states in the US have a decriminalization policy in effect, where marijuana is sold through state controlled "dispensaries," however current regulations require that marijuana can only be distributed in areas where it is grown. Marley's son Stephen Marley, who will be performing at a launch party for Marley Natural, says "if my father was here physically, he would be up front advocating for this plant, so we are very proud to put our Marley Natural brand out there." - NME, 2/5/16...... He was famously known as "The Man in Black," and now country music legend Johnny Cash now has a species of black tarantula spiders named in his honor. After biologists discovered 14 new types of U.S. tarantuals, a black arachnid has been dubbed Aphonopelma johnnycashi because it makes its home near Folsom Prison, California, where Cash staged a famous concert for inmates on Jan. 13, 1968. The breakthrough performance became a popular live album, and it contained one of his signature songs, "Folsom Prison Blues". Cash died in 2003, aged 71. "It's a perfect name," explains Florida Museum of Natural History's Chris Hamilton, who led the team of biologists. "It fits the spider -- it's found around Folsom and the males are predominantly all black, so it fits his image. I have a Johnny Cash tattoo so I was very happy that it worked out that way." - Billboard, 2/5/16...... As the 2016 U.S. presidential campaign moves into high gear, many of the candidates are making some incredible promises, but perhaps none more unbelievable than a pledge to reunite legendary British prog-rockers Pink Floyd. Ohio Gov. John Kasich, who is running for the Republican nomination, appeared on CNN on Feb. 1 to discuss the Iowa caucus and told host Anderson Cooper that he is a huge Pink Floyd fan, and pledged to reunite the squabbling surviving members of the group if he becomes president. "Roger Waters is a remarkable artist," Kasich said. "I saw The Wall in Pittsburgh; it was absolutely incredible." Kasich then make his big statement: "And if I'm president, I am going to once and for all try to reunite Pink Floyd to come together and play a couple of songs." Pink Floyd, which last played together in 2005 at Bob Geldof's Live 8 charity benifit, has stated that its latest album, 2013's The Endless River, was unequivocally its last. - Billboard, 2/2/16......
A new musical based on the songs of Jimmy Buffett will make its world premiere at the La Jolla Playhouse in California on May 16, 2017, producers announced on Feb. 4. The show will combine the singer/songwriters laid-back blend of rock and country tunes with an original story by writers Greg Garcia and Mike O'Malley. It's described as "the story of a part-time singer, part-time bartender, and fulltime good ol' boy named Tully who suddenly finds himself in uncharted territory -- falling in love with a beautiful, career-minded tourist." Buffet and producer Frank Marshall -- the producer of such films as Back to the Future and Raiders of the Lost Ark -- teamed up to create Parrothead Productions, which helped produce such Broadway shows as "Big Fish" and "Doctor Zhivago." - Billboard, 2/4/16...... Elton John surprised train commuters at a London rail station on Feb. 4 with an impromptu performance of his classic 1971 track "Tiny Dancer." The Rocket Man gave the performance at St Pancras station in central London as he promotes his new album Wonderful Crazy Night, which dropped Feb. 5 via Island Records. "A colleague and I were just walking through the station and there was a bit of a crowd, then everyone started clapping and cheering. Elton sat down and started playing 'Tiny Dancer'," said onlooker Ruth Swailes. "He didn't sing, played for about five minutes, then got up and walked away, all very low key," she added. Following his performance, Sir Elton signed the piano with the message: "Enjoy this piano. It's a gift. Love, Elton John." John later confirmed that he donated the piano to the station with a post on Instagram: "Surprise!! I popped into St Pancras International to christen the Yamaha piano which I donated to the station. Now everyone can have a play." A day earlier, John is reported to have told BBC Radio 2 that he's going to start pulling back on his music career over the next several years to focus more on his family. John will also be joining late night TV host James Corden during Corden's special post-Super Bowl broadcast on Feb. 7 on CBS for and installment of Corden's popular "Carpool Karaoke" series. - Billboard, 2/5/16...... In other Super Bowl news, a commercial featuring Aerosmith frontman Steven Tyler is set to be aired during the game. Tyler will appear in an ad for Skittles candy, with his face made entirely out of Skittles, singing the Top 10 Aerosmith "Dream On." - Billboard, 2/2/16...... The Rolling Stones performed their 1967 track "She's a Rainbow" live for the first time in 18 years on Feb. 4 as they kicked off South American leg of their 2016 world tour at Chile's Estadio Nacional stadium. The track, which originally appeared on their 1976 album Their Satanic Majesties Request, was played for the first time since 1998 and, reportedly, only the 11th time in their entire history. The tour is set to wrap on Mar. 17 in Mexico City, and the band is reportedly gearing up to work on its first album since 2005's A Bigger Bang. New Musical Express, 2/4/16......
Punk legends the Ramones will mark the 40th anniversary of their 1976 eponymous debut album in 2016 with a marketing blitzkrieg that will include a new documentary, a South by Southwest Music Festival panel, a traveling exhibit of memorabilia, and a collector's reissue. The campaign, which focuses on the four original members -- Joey, Johnny, Dee Dee and Tommy Ramone, all of whom died between 2001 and 2014. On Mar. 17, a South by Southwest panel featuring Sire Records exec Seymour Stein will be held, with several bands performing the group's music. The following month, an exhibit of Ramones memorabilia is set to open at the Queens Museum in New York on Apr. 10 and will include Johnny's recently unearthed leather jacket and guitar. An expanded version of the exhibit moves to Los Angeles' Grammy Museum in October. In addition, a world tour of at least 18 cities is planned for 2017. On the music side, Rhino Records will release a three-CD/one-LP deluxe collector's edition of the band's self-titled first album, and include demos and a live concert. - Billboard, 2/3/16...... Ozzy Osbourne's wife Sharon Osbourne confirmed that her husband is now "ready to rock" on the Feb. 4 edition of the morning gabfest The Talk after Ozzy and Black Sabbath were forced to cancel a series of dates in Canada earlier in February after the singer was diagnosed with bronchitis. "He's doing so much better," Sharon said. "He had sinusitis, which went to bronchitis, and he said that he felt like he had the Pacific Ocean in his ear, and he couldn't hear properly, and it's been a nightmare. He had to cancel four shows. They're all gonna be rescheduled; we're working on it now," she added. Black Sabbath is set to perform in Seattle on Feb. 6 in a show that's part of the band's farewell "The End Tour" that will run until September 2016. - NME,2/5/16...... UK classic rockers Status Quo have announced their 2016 "The Last Night of The Electrics" tour will be their last with a statement on their official website on Feb. 4. "We've talked about it for some time and have decided that it's time for us to hang up the electrics. It's getting harder and harder for us to play those shows" Status Quo singer/guitarist Francis Rossi posted. "It's 30 years since we last said we were stopping but this is a final decision. It doesn't mean we won't do other things, perhaps the odd special, but we're agreed that the moment has come. There's more to come from us in the years ahead, but we won't tour the electric set ever again." Although never huge in the US, Status Quo has charted over 60 songs in the UK, with 22 of those reaching the UK Top 10 Singles Chart. In 1991, Status Quo received a Brit Award for Outstanding Contribution to Music. The band also spent a consistent 500 weeks in the albums chart, joining the likes of Queen and the Beatles. Meanwhile, the band is also scheduled to appear at a number of festivals across Europe this summer between May-July including Wirral Rocks on May 21 and Somerset Rocks in Taunton on Aug. 26. - NME, 2/4/16......
The Hollywood Vampires, the new "super group" comprised of Alice Cooper, Joe Perry, Duff Mackagan and Johnny Depp, is set to pay tribute to late rock stars Lemmy Kilmister and David Bowie during the 58th annual Grammy Awards on Feb. 15. Lady Gag a has also been confirmed to sing a medley of David Bowie songs on the night. The 2016 Grammys will take place at the Staples Center in Los Angeles. - NME, 2/4/16...... The Jefferson Starship said on Feb. 3 that it intends to continue touring after the death of its co-founder, guitarist/singer Paul Kantner, on Jan. 28 at age 74. According to a report on Jambands.com, the band have decided to carry on with their tour, which started in January and is due to finish Apr. 14 in Stockholm, Sweden. The band's current lineup includes David Freiberg of fellow San Francisco psychedelic rockers Quicksilver Messenger Service, along with Donny Baldwin, Slick Aguilar, Chris Smith, Cathy Richardson and Jude Gold. - Billboard, 2/3/16...... Comedian Bob Elliott, half of the hilarious radio and TV comedy team Bob and Ray, died at his home in Cundy's Harbor, Maine, on Feb. 3 at the age of 92. After a stint on a local Boston radio station and then on NBC radio, the low-key Mr. Elliott and his more-boisterous comedy partner Ray Goulding hosted The Bob and Ray Show on TV from 1951-53. The duo were known for their low-key humor and took turns serving as the straight man while often mocking their medium. Bob and Ray later recorded comedy albums and appeared often on The Tonight Show and The Ed Sullivan Show. On Broadway starting in 1970, they starred in "The Two and Only," where they did comedy sketches, and were seen on the big screen in Cold Turkey (1971), directed by Norman Lear, and, playing brothers, in Arthur Hiller's Author! Author! (1982). After Goulding died in 1990, Mr. Elliott appeared as a castmember on Garrison Keillor's American Radio Company of the Air and showed up in the Bill Murray comedy Quick Change (1990). He also played the father of his real-life son, actor Chris Elliott, on the 1990-92 Fox series Get a Life. Survivors also include his grandchildren (and Chris' daughters) Abby Elliott, also a former Saturday Night Live cast member, and actress Bridey Elliott (Fort Tilden). - Billboard, 2/3/16.
After previously canceling two shows in late January, Def Leppard announced on Feb. 1 that it's postponing the remainder of its winter U.S. tour dates "due to illness," although no band member was specified. The cancellation was for shows in San Antonia, Tex.; Little Rock, Ark.; and Brooklyn's Barclays Center that ran from Feb. 2-17. The band said it will announce new dates for those shows soon, and tickets will be honored for their rescheduled shows. Opening for Def Leppard on the tour are Styx and Tesla. - Billboard, 2/1/16...... A three-hour live telecast on Fox of the musical "Grease" on Jan. 31 was a big hit for the network, with 12.2 million viewers tuning in to see Julianne Hough, Aaron Tveit, Carly Rae Jepsen. Vanessa Hudgen, Carlos Pena Vega and Keke Palmer play the students of Rydell High in the 1950s-set musical. Grease: Live still fell short of NBC's The Sound of Music Livein 2013, which attracted 18.3 million live viewers. Just hours before Grease: Live aired, the soundtrack for the live television event was made available for purchase on iTunes. - Billboard, 2/1/16......
Jeff Lynne's Electric Light Orchestra will be headlining the final night of the 2016 Glastonbury Music Festival, which is set for June 22-26 at Eavis' Worthy Farm in Somerset, England. In 2015, the band released its first album of new music in 15 years, Alone in the Universe, which peaked at No. 4 on the UK's Official Albums Chart and No. 23 on the US's Billboard Hot 200 album chart. It will be the first ever Glastonbury appearance for ELO leader Jeff Lynne and his band, which will tour arenas throughout the U.K. and Europe in the leadup to their Glastonbury performance. - New Musical Express, 2/1/16...... In a remarkable coincidence, it has been revealed that Signe Anderson, the original singer of the Jefferson Airplane, died on Jan. 28, the same day as Jefferson Airplane co-founder, guitarist and vocalist Paul Kantner. An official cause of Anderson's death has not yet been revealed, although the 74-year-old reportedly had suffered health issues in recent years. The Seattle-born and Portland, Ore.-raised Anderson joined the JA in 1965, and sang on the band's 1966 debut album, Jefferson Airplane Takes Off. Soon after, she married Merry Prankster Jerry Anderson, and exited the JA after giving birth. She was replaced by Grace Slick. "One sweet Lady has passed on. I imagine that she and Paul woke up in heaven and said "Hey what are you doing...," JA co-founder Marty Balin posted on his Facebook page on Jan. 30. Balin has also reacted to the death of Paul Kanter, telling Billboard that Kantner "didn't do anything to take care of his health with all his drinking and everything, smoking cigarettes all the time, pushing himself too much." "He asked me to join him for this last go-round. He'd been touring around the world and I talked to him and said, 'You better be careful. Take care of yourself. You've got a grueling schedule.' He just said, 'Don't worry about me. I can do anything. I'm strong as a bull.' He WAS a hard-headed German," said Balin, who added that he left the group because of all the cocaine use and "It all got too famous and I couldn't deal with (Kantner). I couldn't talk to him. I didn't have the energy to fight him, so I just went and did my own thing." - Billboard, 1/29/16...... Black Sabbath has postponed two Canadian dates in Edmonton and Calgary due to frontman Ozzy Osbourne suffering from "extreme sinusitis." The two shows, part of Sabbath's 2015/2016 farewell tour, were set for Jan. 30 and Feb. 1, respectively, and rescheduled dates have yet to be announced but will be shortly, according to a post on Ozzy's Twitter account. However the band currently has concerts booked through September. - Billboard, 1/30/16...... Yoko Ono will be the recipient of The Inspiration Award at this year's New Musical Express (NME) Awards on Feb. 17 at the O2 Academy in Brixton, London. "Thank you, NME for this great honour. I accept this as your encouragement for me to keep making my 'Sound of Music'," Ono said in a statement on Feb. 1. The gala will take place the day before Yoko's 83rd birthday on Feb. 18. The magazine and website noted that Yoko had been an inspiration "to generations of musicians, artists and activists (and) has fans in David Bowie, Ornette Coleman, Nile Rogers and Eric Clapton," among others. - NME, 2/1/16......
Rod Stewart has announced he'll kick off a 7-city tour of the UK this fall at Liverpool's Echo Arena on Nov. 12. Stewart's "From Gasoline Alley to Another Country Hits Tour" will also visit London's O2 (11/22), Sheffield (11/29), Birmingham (12/2), Leeds, (12/6) and Manchester (12/8) before wrapping at Glasgow's SSE Hydro on Dec. 13. Stewart is touring behind his 2015 album, Another Country. - New Musical Express, 2/1/16...... Iggy Pop, who once collaborated with David Bowie on Pop's 1977 albums The Idiot and Lust for Life, has spoken of the pair's friendship in a new intervew with Rolling Stone magazine. Pop said he first met Bowie after hearing that he liked his band the Stooges, which was "something not a lot of people would admit at the time." "My impression was that he was very poised and very friendly, but not as friendly in that setting as when I got to know him in smaller groups," Pop recalled. "I could see that he had some ideas for me... I learned a lot from him. I first heard the Ramones, Kraftwerk and Tom Waits from him," Pop added. Bowie and Pop also toured together in 1976 on Bowie's "Station To Station" tour, and lived together in Berlin in 1977, with Bowie helping Pop write The Idiot and Lust For Life, his first two solo albums following the end of the Stooges. Pop, meanwhile, is preparing to release his new studio album, Post Pop Depression, on Mar. 18. - New Musical Express, 1/28/16...... In other Bowie-related news, it has been revealed that the late rocker wanted his ashes scattered in Bali "in accordance with the Buddhist rituals" in a 20-page will filed under his legal name of David Robert Jones on Jan. 29 in Manhattan. The document said that the singer was worth about $100 million, but didn't break down the finances, and that he left his SoHo home to his wife Inman, along with half of the rest of his worth. His son Duncan Jones from a previous marriage received 25 percent and his daughter Alexandria also received 25 percent as well as his Ulster County mountain home. Bowie left $2 million to his longtime personal assistant Corinne Schwab and left her shares he owned in a company called Oppossum Inc. He left $1 million to Marion Skene, Alexandria's nanny. Bowie prepared the will in 2004. He said if cremation in the Indonesian island was "not practical" then he wanted his remains cremated and his ashes scattered there still. According to the death certificate, filed with the will, his body was cremated Jan. 12 in New Jersey. Meanwhile, it has come to light that Bowie once auditioned for a role in the hugely popular movie The Lord of the Rings. Actor Dominic Monaghan, who played hobbit Merry in the first LOR film, said as he was waiting for his audition in the Peter Jackson-directed movie David Bowie came in in and signed a little list and went in. "I'm assuming he read for Gandalf. I can't think of anything else he would've read for," Monaghan said. In more Bowie news, the artwork for Bowie's final album Blackstar has been released publicly for fans to use for free on the website BowieBlackstar.net. "...In the spirit of openness and in remembrance of David we are releasing the artwork elements of his last album ['Blackstar'] to download here free under a Creative Commons NonCommercial-ShareAlike licence," a statement from Bowie's London-based design agency, Barnbrook, says. "That means you can make t-shirts for yourself, use them for tattoos, put them up in your house to remember David by and adapt them too, but we would ask that you do not in any way create or sell commercial products with them or based on them. Any questions or commercial licence usage please contact us." - AP/NME/The Hollywood Reporter, 1/30/16...... Director and Empire creator Lee Daniels has signed on to direct a new documentary about the famed Apollo Theater in Harlem. "I am honored to be entrusted with the story of this incredible American iconic institution and work with this team. I used to go to The Apollo Theater as a kid and never in a million years would I have imagined I would be back to be doing this -- it is very special for me," Daniels said in a statement. Daniels, creator of the hit Fox series Empire whose film credits include The Butler, is joining Apollo Theater president-CEO Jonelle Procope in appealing to the public to cull through any memorabilia, including audience footage and photographs, they might have for use in the new documentary. "We have established a website for anyone who wants to submit. We will, of course, respect everybody's ownership of their property," the duo said. - Billboard, 1/28/16......
Singer Chaka Khan, who is releasing a new single, "I Love Myself," on Feb. 19 is inviting fans to submit a one-minute video clip of themselves lip-synching to the song's chorus by Feb. 19. The winning clips will then be featured in the song's accompanying music video. "It is important that in these troubled times we honor our own self-respect," says the "Tell Me Something Good" singer in announcing the "I Love Myself" video contest. "Beauty knows no boundaries and is accepting of us all whether black, white, gay, straight, physically or mentally challenged." A percentage of the new single's net proceeds will benefit two charitable organizations that assist victims of domestic violence and discrimination, and be distributed through The Chaka Khan Foundation. More details can be found at Khan's "I Love Myself" website. - Billboard, 1/28/16...... The upcoming tribute to former Commodores member and '80s solo star Lionel Richie during Grammy week festivities will feature contributions from Rihanna, Dave Grohl, Ellie Goulding, Yolanda Adams, Leon Bridges and Florence Welch. Richie is being honored as the 2016 MusiCares Person of the Year during thec elebratory gala, which will be held Los Angeles on Feb. 13. Previously announced participants include Lenny Kravitz, Lady Antebellum and John Legend. - Billboard, 1/28/16...... Aretha Franklin has donated hotel rooms to residents of Flint, Mich., who have been affected by the city's ongoing water crisis. Franklin, a resident of Detroit, likened the situtation to Hurricane Katrina on Jan. 27, calling it "just horrible" to see families holding up jars of "green and brown" water on television day after day. "Flint is so close to Detroit I think it's just regarded as being a part of Detroit. My contribution is to donate 50 rooms nightly at either the [Detroit] Holiday Inn Express or the Comfort Inn with coupling it with a per diem, which is food and beverage at the Coney Island just next door where they really have good food, because I go in there a lot...My assistant is helping me to set that up," Franklin said, adding that she also plans on asking her good friends Stevie Wonder, Berry Gordy and Smokey Robinson to chip in on the effort. - Jezebel.com, 1/28/16...... The NBA's 2016 All-Star game halftime show at Toronto's Air Canada Centre on Feb. 14 will be headlined by 16-time Grammy winner Sting, it was announced on Jan. 28. The former Police frontman will be performing a medley of his classic hits for the show, which will broadcast in more than 200 countries and territories as well as heard in 40 languages. The show will be broadcast in the US on cable TV's TNT channel beginning at 8:00 p.m. ET and on Sportsnet ONE and TSN in Canada. - Billboard, 1/28/16...... Neil Young once sang about "the story of Johnny Rotten" and how it was "better to burn out than fade away." Now John Lydon (ne Johnny Rotten) seems to be taking Young's advice to heart. The former Sex Pistols member, who turned 60 on Feb. 31, says in a new interview with GQ magazine that he is still smoking and drinking. "If I can't enjoy being alive, then I don't want to be alive. Drinking and cigarettes and having fun and staying up for endless days -- these are all great attractions to me," he said. Lydon also claimed that the last time he exercised was "years and years ago... when my band PiL was first touring America." Lydon's post-punk group PiL released their tenth studio record, What The World Needs Now, in September 2015. - Billboard, 2/1/16......
Actors Ryan O'Neal and Ali MacGraw, the stars of the smash 1970 tearjerker Love Story, returned to the setting of the movie, Harvard University in Cambridge, Mass., on Feb. 1, a little more than 45 years after their soppy duet in the movie turned them into major movie stars. MacGraw and O'Neal's return was aimed at promoting their national tour of "Love Letters," a play about a couple who maintain contact over 50 years through notes, cards and letters. Now in their 70s, the pair arrived on campus in an antique MG convertible similar to the one in their 1970 movie about a rich-and-preppy Harvard student who marries a working-class Radcliffe girl over his parents' objections. Later, the two reflected on their mutual past before an audience of current Harvard students, in a conversation moderated by arts journalist Alicia Anstead. O'Neal, 74, noted that cancer, as in the movie, has played a big part in his real life, including his battle with leukemia. MacGraw, 76, said being back on campus recalled wonderful memories that few of her subsequent experiences in film ever captured. And both admitted they had a crush on each other during filming. "Love Letters" begins a one-week engagement at Boston's Citi Shubert Theatre on Feb. 2. - USA Today, 2/1/16.

Guitarist/vocalist Paul Kantner, a founding member of the pioneering Bay Area psychedelic band the Jefferson Airplane as well as the 1970s JA spinoff band Jefferson Starship, died on Jan. 28 of multiple organ failure, following a heart attack earlier in the week. He was 74. Kantner and Marty Balin formed Jefferson Airplane in 1965 after meeting at the San Francisco club The Drinking Gourd. The band, which first played folk-rock material, were rounded out by guitarist/vocalist Jorma Kaukonen, drummer Skip Spence, vocalist Signe Anderson, and bassist Bob Harvey, though Harvey was soon replaced by Jack Casady. The Airplane played their first major show on Aug. 13 of that year at the new Matrix Club, which later became an outlet for new Bay Area bands, and they became one of the first bookings for promoter Bill Graham -- who managed them for a short period -- at his legendary Fillmore Auditorium. Before the end of the year, they were signed by RCA Records, and their debut album, Jefferson Airplane Takes Off, was released in Sept. 1966 and went gold. Just before that LP came out, Anderson left the group to have a baby and was replaced by former model and former Great Society vocalist Grace Slick. With Slick's stronger and more expressive vocals, the band defined what became known as the "San Francisco sound," and not only epitomized the burgeoning Haight-Ashbury counterculture but also provided its soundtrack with Top 10 hits like "Somebody to Love" and "White Rabbit," a song which developed Lewis Carroll's "Alice Through the Looking Glass" with its acid connotations (and was banned in some areas of the U.S. as a drug song). Jefferson Airplane Takes Off climbed to No. 3 on the Billboard Hot 200 album chart, sold half a million copies, and became the first of five of their seven albums to go gold. After releasing Surrealistic Pillow in 1967, which featured the two aforementioned singles plus two more killer cuts called "Plastic Fantastic Lover" and "Today," the band released After Bathing at Baxter's the same year, which featured a nine-minute psychedelic jam-collage called "Spayre Change." In 1968 came their magnum opus, Crown of Creation, which included Slick's "Lather" and the David Crosby-penned "Triad," a song about a ménage à trois that had been rejected by Crosby's group The Byrds.
After a string of arduous U.S. tours and free festivals -- including the horrendous nerve-shattering event at Altamont in 1969 -- schisms in the band began to appear, precipitated primarily by Slick's pregnancy with Kantner's child. In 1970, Kantner and Slick recorded Blows Against the Empire, an LP that also featured Crosby, Jerry Garcia, Graham Nash and other friends, and became the first musical work nominated for the science-fiction writers' Hugo Award. Also in 1970, the band released a greatest hits package, The Worst of the Jefferson Airplane, and on Jan. 25, 1971, Slick and Kantner's baby girl, China, was born. In August, the Airplane formed their own label, Grunt, and released a reunited effort, Bark. In 1972, Airplane members Kaukonen and Casady formed Hot Tuna, and also that year Long John Silver became the Jefferson Airplane's last studio LP. In 1974, Slick and Kantner formed the Jefferson Starship with Balin, and had their big breakthrough in Jan. 1975 with their second album, Red Octopus. That LP was the Jefferson Starship's first No. 1 LP, hitting that position several times during the year and selling four million copies on the strength of singles like Balin's No. 3 "Miracles." The followup, 1976's Spitfire, became their first platinum album, but after another platinum LP, Earth, in 1978, both Slick and Balin left the group. In 1979, the band recruited singer Mickey Thomas, best known as the lead vocalist on Elvin Bishop's hit "Fooled Around and Fell in Love," and the new lineup's Freedom at Point Zero peaked at No. 10. Professing his disdain for the group's more commercial direction, Kanter left Jefferson Starship in 1984, and the group became known as simply Starship. That lineup achieved even greater commercial success, with "We Built This City" and "Sara" from the platinum 1985 album Knee Deep in the Hoopla, and both songs hit No. 1 on the pop chart. In 1989, Kanter, Slick, Balin, Casady and Kaukonen revived the early Jefferson Airplane lineup and released the poorly-selling Jefferson Airplane. In 1996, Kantner, Slick and the other members of the original Jefferson Airplane were inducted into the Rock and Roll Hall of Fame. Kantner, who is the first of Jefferson Airplane's founding members to have passed away, is survived by three children: sons Gareth and Alexander and daughter China. After learning of Kantner's death, Grace Slick updated her Facebook cover photo with a picture of a young Kantner, before posting a brief statement: "Rest in peace my friend. Love Grace." - Billboard/Rolling Stone Encyclopedia of Rock & Roll, 1/29/16.
Barry Manilow says he's working on the followup to his 2014 album My Dream Duets, which has been nominated for a Grammy this year. Manilow, a native of Brooklyn, will be mixing his own originals with standards on a new thematic LP about his beloved hometown. This Is My Town: Songs of New York will such famous NYC-themed songs as "On Broadway," "New York, New York," "Downtown," "Lonely Town" and even Don Henley's 1990 single "New York Minute." "It's half standards and half originals. We just got out of the studio with a beautiful 40-piece orchestra. It's gonna be a great-sounding album," says Manilow, who anticipates a release later in 2016. Manilow is also continuing to work with producers on bringing his musical "Harmony" to Broadway after successful runs in Atlanta and Los Angeles. On Jan. 28, he'll kick off the 2016 leg of his One Last Tour trek in Pensacola, Fla., and is considering one more North American leg in the spring before taking the show to the U.K. in June. The 72-year-old pop crooner insists this will be his final full-scale tour, though not a retirement from performing altogether. Meanwhile, Manilow is trying to help spur donations of musical instruments to the International School of Louisiana in New Orleans by giving a Yamaha piano to the institution. Also, anyone who donates a new or gently used instrument to the school between now and Jan. 29 will receive two free tickets to his Jan. 29 show in New Orleans at the Smoothie King Center. - Billboard/AP, 1/25/16......
Parlophone Records UK has announced David Bowie's seminal first six albums from 1969-73 will be getting a vinyl re-release on Feb. 26. Space Oddity, The Man Who Sold the World, Hunky Dory, The Rise and Fall of Ziggy Stardust and the Spiders from Mars, Aladdin Sane and Pin Ups will all be reissued on heavyweight 180g vinyl. Bowie's Bowie at the Beeb box set compilation of recordings from various BBC Radio stations from 1968-1972 will also be released on that day. All the albums have been remastered. Meanwhile, Newsweek is reporting that a treasure trove of new music the legendary artist created will be released in stages beginning in 2017. According to an unnamed source "close to the late artist, there's "a long list of unscheduled musical releases that Bowie planned before he died," which have been "divided into eras," the first of which will hit stores before the end of 2017. Also, a cast album for Bowie's off-Broadway musical "Lazarus" is also in production. The musical, which featured 18 of the artist's biggest hits, closed on Jan. 20 after its two-month run at the New York Theatre Workshop. Meanwhile Labyrinth, director Jim Henson's 1986 fantasy film starring Bowie, is getting a reboot with a script by Nicole Perlman, the co-writer of the hit film Guardians of the Galaxy. Labyrinth told of a teenager, played by Jennifer Connelly in one of her first roles, who has to navigate a fantastical maze in order to save her young brother, kidnapped by a goblin king (Bowie). It is unclear whether the new film, which is being produced by Columbia/TriStar, will be a reimagining of the story or a sequel. Despite the film's popularity in recent years, it was a box-office disappointment at the time of its release and led to Henson's exit from film directing. It was only in the intervening years that the film gained a strong cult following. In other Bowie-related news, his producing partner Tony Visconti will be the opening keynote speaker at this year's 30th annual South by Southwest Music Conference and Festival (SXSW). The 2016 SXSW Music Festival runs March 15-20 and is expected to showcase 2,000 acts ranging from across all the genres. Visconti's keynote address will take place March 16. Finally, Bowie's son Duncan Jones thanked fans on Twitter on Jan. 23 for their support following his father's death earlier in January. "Hi all. Just wanted to thank you for the incredibly kind words & thoughts. I'll be easing my way back into Twitter- pic.twitter.com/n0ytOiESWb," Jones posted. Jones is the director of the films Moon and Source Code. - Billboard/The Hollywood Reporter/New Musical Express, 1/27/16...... Actor Joseph Fiennes has been cast to play Michael Jackson in a new one-off, half hour British TV comedy, chronicling a fabled road trip that the King of Pop took with Elizabeth Taylor and Marlon Brando in the wake of the 9/11 terror attacks in 2001.
The unbelievable story is based on a 2011 Vanity Fair article that alleged the three entertainment icons rented a car and fled New York westward following the attacks. Unable to fly, they were hoping to make it home to California and made it as far as Ohio while gorging on junk food in the car, before catching a plane the rest of the way. Taylor's former assistant has claimed the legendary actress never joined Brando and Jackson on the trip, and Fiennes, who has been the subject of controversy over his controversial casting as an African-American, insists that the project is only intended to be lighthearted. "It's a light comedy look. It's not in any way malicious. It's actually endearing," he told Entertainment Tonight. Fiennes is a white British actor best known for his role in 1998's Shakespeare in Love, as well as more recent roles in Hercules and American Horror Story. - Billboard/Vulture.com, 1/26/16...... In other Michael Jackson news, it appears the crazy Internet conspiracy theory that the King of Pop provided uncredited musical contributions to the 1994 Sega video game Sonic the Hedgehog 3 is true. The gist of the convoluted story is that former Sega exec Roger Hector, who worked on Sonic 3, has confirmed in a recent Huffington Post article that Jackson reached out to Sega in the early '90s to express his admiration for the new Sonic the Hedgehog franchise. Sega, which released several titles of Jackson's Moonwalker video game, invited him to visit their office. Jackson was provided with a demo of the game and invited to compose music for it. "He took it from there and started making music," Hector said. After receiving music from Jackson's team for Sonic 3, Hector recalled, "I was really impressed with how much of a signature Michael Jackson sound there was in this, and yet, it was all new." Sega, however, still denies Jackson had any involvement on Sonic 3. Meanwhile, producer John Branca, who's also the co-executor of Jackson's estate, has hinted that more Michael Jackson movies could be on the way. "I'd like to see a movie about the History album and tour," says Branca. "It was his last tour, and his most underappreciated album. Michael was out of favor in the U.S. at the time. But if you listen to it start to finish, it's one of the greatest albums of all time." Branca also says a movie about Jackson's blockbuster 1982 album Thriller is also "definitely a candidate, and that he's planning Halloween-themed events around the album in 2017, its 35th anniversary. But until then, fans will have to be content with the new Spike Lee-directed Showtime documentary Michael Jackson's Journey From Motown to Off the Wall, which premiered on Jan. 24 at the Sundance Film Festival and hits Showtime on Feb. 5. "This (film) shows the story of Michael resurrecting the Jacksons and making his first solo album -- and we all know what happened after that," Branca says. - Billboard, 1/26/16......

Bruce Springsteen and the E Street Band have rescheduled their postponed Madison Square Garden concert, which was cancelled on Jan. 24 due to a blizzard in New York City, to March 28. Tickets to the original show will be honored on the new night. Springsteen's camp has also announced that his The River Tour is extending its U.S. run with 14 new shows, and the band will play May 19 in Portugal as the headlining act on the first night of "Rock in Rio Lisboa." The new dates will begin with a third and final show at Los Angeles Memorial Sports Arena March 19, and will extend through Denver, Dallas, and Detroit with two final shows at Brooklyn's Barclays Center on April 23 and 25. The River Tour, Springsteen's first in two years, follows the release of his 1980 The River deluxe reissue The Ties That Bind: The River Collection. The band is performing the entire River record in sequence on every date of the tour, complemented with an additional set of songs to stretch the show to over three hours. - Billboard, 1/27/16...... The attorney for singer/songwriter Don McLean, who was arrested on a misdemeanor domestic violence charge on Jan. 18 in Camden, Maine, said on Jan. 24 that he and his wife have agreed to dismiss an order of protection case that followed his arrest. Attorney Walter McKee said the couple have "agreed to move forward" and dismiss the order of protection case, however McClean is still due in court on Feb. 22 in his criminal case. The "American Pie" singer is pleading not guilty, according to McKee. McLean's wife, photographer Patrisha McLean, said in a statement she "did not intend to define Don or our relationship" with her handwritten request for protection. In the request, Patrisha McLean said she feared for her life due to her husband's rage when she called 911. It also documented a pattern of abuse going back decades. She also asked McLean's fans not to focus on the criminal case: "Don has a big heart. He and I had many happy times in the 30 years of our marriage and what has recently transpired is unfortunate for all of us." - AP, 1/25/16......
Brian Wilson has announced he'll be launching an ambitious Pet Sounds 50th Anniversary World Tour on Mar. 26 at Auckland, Australia's Civic Theatre. More than 70 dates are confirmed so far in countries also including Japan, the UK, Spain, Israel and Portugal, with additional shows being added. Wilson, joined by former bandmates Al Jardine and Blondie Chaplin, will also be playing the seminal 1966 album in its entirety in U.S. cities coast-to-coast on the tour beginning on June 14 in Burlington, Vermont, wrapping on Oct. 14 in Lake Tahoe, California. "It's really been a trip to sit here and think about releasing Pet Sounds 50 years ago," the 73-year-old Beach Boys mastermind said in a statement. "I love performing this album with my band and look forward to playing it for fans all across the world," he added. - Billboard, 1/25/16...... Iggy Pop has announced he'll be headlining London's Royal Albert Hall on May 18 with new bandmates, drummer Josh Homme (Arctic Monkeys) and Matt Helders (Queens of the Stone Age). On the same day, Pop will release his new album, Post Pop Depression, which he recorded in secret in 2015. Pop released the first track from the album, "Gardenia," earlier in January. - New Musical Express, 1/27/16...... Sony Pictures Classics has acquired the worldwide rights (excluding France and Germany) to a new documentary on Frank Zappa, Eat That Question -- Frank Zappa In His Own Words. Directed by Thorsten Schutte, the film zooms in on the iconoclastic composer-musician entirely through rare archival footage from his three-decade career and includes clips of rare TV interviews and international performances. "I'm delighted and I'm thrilled that Sony Pictures Classics believes in the film and I feel we're in very good hands," said Schutte, whose film premiered on Jan. 25 at the Sundance Film Festival. "The news of the acquisition is really the cherry on the cake of our world premiere at Sundance," he added. - The Hollywood Reporter, 1/23/16......
Olivia Newton-John, who played Sandy in the big-screen adaptation of the hit stage musical Grease, says there's "something magical" about the story, which will get a live TV treatment on Jan. 31 when the Fox network stages its own staging of the musical, Grease: Live!, with Julianne Hough stepping in as the newest Sandy. "I think Julianne's going to be a wonderful Sandy," Newton-John says. "She's an amazing dancer and has a really lovely energy about her." Fans hoping for a live Grease fix from Newton-John can instead check out the diva singing Grease tunes in her concert residency show in Las Vegas at the Flamingo. The ongoing 90-minute show, Summer Nights, premiered in 2014 and has been extended through 2016. It features a bevy of Newton-John's hits. - Billboard, 1/22/16...... Bette Midler will return to Broadway for the first time since her hit 2013 one-woman play "I'll Eat You Last: A Chat With Sue Mengers" with a new production of "Hello, Dolly!" The show will begin Broadway performances on Mar. 13, 2017 and open on Apr. 20, 2017 at a theater to be announced. A "Hello, Dolly!" revival has been on Broadway's wish list for a long time and was mentioned as a suitable vehicle for Midler following "I'll Eat You Last," which then marked her return to the Broadway stage after a nearly 40-year absence. Based on Thornton Wilder's farce" The Matchmaker," "Hello, Dolly!" first premiered on Broadway with Carol Channing in the title role and won ten Tony Awards. - Billboard, 1/19/16...... "Rewind: The 80s Festival," the world's biggest 80s music festival, will return with three UK festivals during July and August 2016. Tickets for all three festivals will go on sale at 9am on Friday January 29th at the official website rewindfestival.com. Artists participating in this year's festivals - Rewind Scotland, Rewind South and Rewind North -- include Adam Ant, Rick Astley, ABC, Big Country, Leo Sayer, Slim Jim Phantom From Stray Cats, Go West, Thompson Twins, Thomas Dolby, and members of Joy Division and Heaven 17. - Noble PR, 1/27/16...... The ABC network is in early stages of developing a Watergate miniseries set in the 1970s Richard Nixon White House during the notorious Watergate burglary and scandal. Written by Jon Maas (The Last Debate) and produced by Bob Cooper, the series takes place amid the sexual revolution of the 1970s and is told through the eyes of John Dean, then-White House Counsel for President Nixon. - Deadline.com, 1/25/16......

Actor Abe Vigoda, best known for his roles as mobster Tessio in The Godfather and as Detective Sgt. Fish in TV's Barney Miller and a spinoff series Fish in which he starred, died of natural causes on Jan. 26 at his home in New Jersey. He was 94. Mr. Vigoda, a tall character actor with the characteristically slouched shoulders and hangdog face, became something of a pop culture figure due to repeated false reports of his demise, which became the subject of jokes. Reflecting his somewhat odd celebrity was the existence of a punk rock band named Abe Vigoda; his recurring appearances in the late 2000s on Late Night With Conan O'Brien; and the existence of a website named "IsAbeVigodaDead.com," which for years consisted simply of a blank page with the word "No." After a few guest roles on TV series, Mr. Vigoda was cast as the aged, malady-laden and slow-moving cop Phil Fish in ABC police sitcom "Barney Miller," which started its long run in 1974. The character was so popular that the network launched a spinoff, simply titled "Fish," in 1977. For a while, Mr. Vigoda appeared on both series, and also guested on series including Hawaii Five-O, Kojak, The Bionic Woman, The Rockford Files and Eight Is Enough. During the 1980s and '90s, he appeared on shows including The New Mike Hammer, Tales From the Darkside, MacGyver, Murder, She Wrote, Law and Order and Wings. Mr. Vigoda also enjoyed steady film work, including the 1990 Tom Hanks comedy Joe Versus the Volcano, which was a box office failure but developed a cult following. In 1986-87 he starred on Broadway in a revival of "Arsenic and Old Lace," and during the 2010 Super Bowl, Mr. Vigoda appeared with Betty White in a commercial for Snickers candy bars. Mr. Vigoda's wife Beatrice died in 1992. He is survived by a daughter. - Variety, 1/26/16.
As a massive blizzard bears down on much of the Eastern U.S. on Jan. 22, concerts by such artists as Jackson Browne and former Styx member Dennis DeYoung have been postponed due to States of Emergency being declared. North Carolina Gov. Pat McCrory's edict forced Browne to postpone a show in Asheville set for Jan. 22, and DeYoung's concert at the Paramount in Huntington, Long Island, N.Y. has been put off until Feb. 25. New York City, Philadelphia, and Washington D.C., are also among the cities expected to be hammered with snow, sleet and freezing rain. - Billboard, 1/22/16......

Police in Maine arrested Don McLean on a misdemeanor domestic violence charge at his Camden home on Jan. 18, and court records show she then filed a handwritten request for protection that claims her 70-year-old husband's rage was "unfathomably deep and scary." In the request, she said McLean's abuse often left her bruised, and that she feared for her life when she called 911 earlier in the week. "Don terrorized me for four hours, until the 911 call that I think might have saved my life," she wrote. On Jan. 21, McLean issued a statement saying his marriage is experiencing a "very painful breakdown," that he is "not a villain," and that it is an emotional time for his family. "I may never recover from this but I will try and hope to continue to entertain you all as I always have," McLean said. The singer/songwriter was released from the Knox County Jail on a $10,000 bail the same day and is due in court Feb. 22. McLean's attorney, Walter McKee, said his client will plead not guilty when the case returns to court, and that McLean "vigorously denies" his wife's allegations. McLean, who grew up in Port Chester, N.Y., and has resided in the wealthy coastal Maine town of Camden for years, is best known for his chart-topping 1972 song "American Pie," about the deaths of Buddy Holly, Ritchie Valens and the Big Bopper in a plane crash on Feb. 3, 1959 -- "The Day the Music Died." - AP, 1/21/16...... Rock legend and political activist Graham Nash has weighed in on the current U.S. presidential campaign, calling it the "strangest" one he's seen. Nash, a native of Britain who became a U.S. citizen in the late 1970s, says he's "watched the American political climate for almost 50 years... and this is by far the strangest one." "I have never seen a party in such disarray as the Republicans and such extreme levels of hatred and animosity towards other people," Nash said, and singled out New York real estate developer Donald Trump in particular. "We're just feeding his show, his shtick... There are an incredible amount of people in this country that are not so bright and he is appealing to a great many of them and a great many of their fears, the boogie man waiting to take their guns and come and rape their daughters in the middle of the night... He's playing upon all those fears and it's dreadful to see, but nobody I know has the will or the power to shut him up." Nash says he's backing Vermont Sen. Bernie Sanders in the race for the White House, and although he "doesn't believe right now he can be elected," he thinks Sanders' campaign can continue to build momentum. "If Bernie Sanders wins Iowa or New Hampshire, I think you'll see an enormous wave of energy coming his way," he added. Nash, 74, is releasing his new album, This Path Tonight, on Apr. 15, and he previewed the new LP on Jan. 20 at L.A.'s landmark Village studios, where he recorded the recorded the album, for a gathering of friends, family and industry people. Before the presentation, he said in an interview that late Eagles member Glenn Frey had been a friend of his "since the late '60s, early '70s because he was growing up in Laurel Canyon, making music the same that we all were at the time and I hung with him several times in the journey of the Eagles... we actually lived on the same island in the Hawaiian chain for 30 years so I did see him occasionally." Nash also said he met the recently deceased David Bowie a couple of times, and he was "an artist who displayed genious qualities at times." "On both occasions I was very impressed with his intelligence and the energy that poured out of that man was amazing," Nash said. - Billboard, 1/22/16......
Other musicians are remembering Glenn Frey, including Jimmy Buffett, who described the Eagles co-founder as "a friend, professional, inspiration, and sometimes a handful." Buffett, who was asked to induct the Eagles into the Rock and Roll Hall of Fame, says after he first met Frey in August of 1975 when his band was invited to open for the Eagles, "Glenn and I went on to become close friends, songwriting collaborators, and neighbors in Aspen. He and Don [Henley] were instrumental in getting Irving Azoff to become my manager, and eventually open for the Eagles on the Hotel California tour of America, which was the rocket ship we rode to eventually becoming a headliner." Meanwhile, even one of Frey's most well-known antagonists, former Eagles member Don Felder, is offering praise for his ex-bandmate. "Glenn's passing was so unexpected and has left me with a very heavy heart filled with sorrow," said Felder in a statement. "He was so young and still full of amazing genius. He was an extremely talented songwriter, arranger, leader, singer, guitarist, you name it and Glenn could do it and create 'MAGIC' on the spot. His visions and insights into songs and lyrics have become legendary and will echo throughout time on this earth for decades to come." Eagles manager Irving Azoff provided additional details of Frey's Jan. 18 passing on the following day, saying his death was caused partly be medications. In an interview with TheWrap.com, Azoff said that the "complications of Rheumatoid Arthritis, Acute Ulcerative Colitis and Pneumonia" that were announced on the Eagles' website were "side effects from all the meds." "Glenn died from complications of ulcer and colitis after being treated with drugs for his rheumatoid arthritis which he had for over 15 years," said Azoff. "I can't believe he's gone... I can't believe everything we accomplished. It was a staggering body of work and just an amazing run. I don't think there will ever be another American band as successful." Also paying tribute to Frey are his "Take It Easy" co-writer Jackson Browne and Bruce Springsteen. On Jan. 19, Browne played "Take It Easy" during a show at Ruth Eckerd Hall in Clearwater, Florida, his first concert following Frey's death the previous day at the age of 67. Springsteen also performed an acoustic version of the breezy song with just a guitar at the beginning of his encores during a concert at Chicago's United Center on Jan. 19. - Billboard, 1/20/16...... Democratic presidential candidate Bernie Sanders has received permission from Simon & Garfunkel to use one of their songs in what has been described as one of the most effective campaign commercials so far -- a 60-second spot that uses the Grammy-winning duo's folksy 1972 hit "America" as a backdrop for scenes of snowy fields and average American families bundling hay in the cold and feeding their cows. Sanders is shown hugging the elderly, and millennials high-fiving while waiting in line for the Senator. - Billboard, 1/21/16...... Billy Joel has pledged $1 million to help save an school for the arts in his beloved Long Island, N.Y., from closing. On Jan. 22, a spokeswoman for the Piano Man said the singer's foundation would donate the money if the Nassau County Board of Cooperative Educational Services vows to keep the Long Island High School for the Arts open for three years. School officials have said that the school is facing closure because of low enrollment. They say it has a deficit of about $400,000 for the current academic year. Joel, a native of Hicksville, N.Y., attended public schools and credited his music teachers for giving him the tools to succeed. - AP, 1/22/16......
The late David Bowie has earned his first No. 1 Billboard Hot 200 album chart debut with his new album Blackstar, and Bowie's greatest hits album Best of Bowie has re-entered the chart at No. 4, marking the highest charting hits package on the Hot 200 in over a year. A whopping total of ten of Bowie's albums are on the Billboard Hot 200 chart dated Jan. 30, the most concurrently charting titles for an artist since the Beatles racked up 13 on the March 1, 2014 chart. Bowie's haul is the most for a soloist since Whitney Houston landed 10 on the March 10, 2012 chart, following her death. The depth of appreciation for the late artists is also evidenced on Billboard's Hot 100 singles chart, where he has landed his first Top 40 hit single in more than 28 years with the Blackstar track "Lazarus." The song debuted at No. 40 on the Hot 100, his first Top 40 hit since "Never Let Me Down" reached No. 28 in September of 1987. "Lazarus" is Bowie's 14th top 40 entry on the Hot 100 overall. On Billboard's Hot Rock Songs chart, Bowie boasts a record 21 songs, including all seven tracks from Blackstar. "Lazarus" was also the most-streamed Bowie song of the week with 8.1 million streams, and "Space Oddity" was his top-selling track with 44,000 purchases. Bowie's total U.S. music sales have increased more than 5,000% in the wake of his death, and the wave of tributes to the singer include New York mayor Bill deBlasio declaring Jan. 20 "David Bowie Day" in the city where Bowie resided. Acting Commissioner Luis Castro of the Mayor's Office of Media and Entertainment presented the proclamation that evening at the sold-out final performance of the New York Theater Workshop production of "Lazarus," which was conceived and co-created by Bowie. In the U.K., a David Bowie fan has launched a campaign to organize a mass sing-along in honor of the late star at the 2016 Glastonbury Festival. An unnamed individual has launched the Twitter account @BowieGlasto2016 in an attempt to get thousands of people singing the late singer's hits at the Pyramid Stage during the Wednesday evening edition of Glastonbury, which takes place at Worthy Farm over the week of June 22-26. - Billboard, 1/21/16...... One of the more bizarre stories to come out following the death of Bowie is a claim by country singer Dwight Yoakam that Elvis Presley wanted to work with Bowie, who also recorded for his label RCA Records, in 1977. Yoakam told the Orange County Register that he met Bowie in 1997, and Bowie told him that six months before Presley's death in Aug. 1977, Bowie received a call from the King of Rock & Roll. Bowie said that Elvis had been impressed by Bowie's song "Golden Years, which was originally penned with Presley in mind, and Presley was interested in having Bowie produce his next album. "I thought 'Oh my God, it's a tragedy that he was never able to make that'," said Yoakam. "I couldn't even imagine 1977 David Bowie producing Elvis. It would have been fantastic. It has to be one of the greatest tragedies in pop music history that it didn't happen, one of the biggest missed opportunities." Bowie was known for his love of Presley, with the pair also sharing a birthday (January 8). - New Musical Express, 1/21/16...... One of Bowie's former collaborators, Iggy Pop, is teaming up with Josh Homme of the band Queens of the Stone Age for a new album. The new set, called Post Pop Depression, was recorded in secret sessions over the past year. Pop and Homme told the New York Times that the new album picks up where Pop's acclaimed 1977 Bowie-produced solo album Lust for Life left off. "Where those records pointed, it stopped.... But without copying it," Homme said, "that direction actually goes for miles. And when you keep going for miles you can't see these two records any more." - Billboard, 1/21/16......




ABBA members Agnetha Faltskog, Bjorn Ulvaeus, Benny Andersson and Anni-Frid (Frida) Lyngstad made a rare group appearance for the Jan. 20 opening of an ABBA-inspired restaurant, Stockholm's Mamma Mia! The Party. The legendary Europop foursome arrived and left separately and declined to be photographed together on the red carpet, according to reports. Though the Swedes did stand beside one another on the stage -- a momentous occasion which was captured on camera. "We are here to party," Ulvaeus told reporters. ABBA, who split in 1982 and haven't performed together since 1986, purportedly once turned down a $1 billion offer for a comeback tour. - Billboard, 1/21/16...... Elton John has confirmed that he's working with Lady Gaga on music for Gaga's next album. "I've heard two songs, which are killer. They're just great songs," Sir Elton said during an interview on Jan. 19 on the U.K.'s Beats 1 program. The show's host, Zane Lowe, also Tweeted that John said he'd be "writing with Gaga tomorrow." Meanwhile, Elton has released a new video for "Blue Wonderful" from his new studio album, Wonderful Crazy Night. The video shows a pair of dancers moving in surreal, dream-like motions, floating through the air to create the feeling of magic in an otherwise unmusical, suburban setting. John previously released a video for the first single, "Look Up." Wonderful Crazy Night, John's 33rd studio album, is due Feb. 5 via Island Records. - Billboard, 1/20/16...... Stevie Wonder, Pearl Jam and Red Hot Chili Peppers will be among the artists headlining the 2016 New Orleans Jazz & Heritage Festival, which is set for April 22-24 and April 28-May 1. The hundreds of artists set to appear also include Neal Young + Promise of the Real, Paul Simon, Steely Dan, Van Morrison, Elvis Costello & The Imposters, Bonnie Raitt, Arlo Guthrie, Boz Scaggs, Herbie Hancock, Nick Jonas and My Morning Jacket. - Billboard, 1/19/16...... Former Police frontman Sting and former Genesis frontman Peter Gabriel have announed they'll be co-headlining a 19-date tour of North America beginning on June 21 at the Nationwide Arena in Columbus, Oh. "I have no idea what they're going to do together, but I do know that whatever they do together will feel totally natural and great," said Live Nation touring division exec Arthur Fogel. - Billboard, 1/19/16...... The linuep for a planned two-night Fleetwood Mac tribute concert in Los Angeles in February has been announced. Artists and celebrities include Mark Ronson, Alison Mosshart (The Kills), Joanna Newsom, Perry and Etty Farrell, Cold War Kids, Sarah Silverman, Will Forte and Danny Masterson, among others. The tribute is set for L.A.'s Fonda Theatre on Feb. 9 and 10. The show will benefit Sweet Relief Musicians Fund and The Sweet Stuff Foundation. There is no word yet if anyone from Fleetwood Mac will make an appearance. - Billboard, 1/20/16...... A Kris Kristofferson tribute concert set for March 16 at Nashville's Bridgestone Arena will feature performances by Willie Nelson, Rosanne Cash, Eric Church and Lady Antebellum. The Grammy-winning singer-songwriter will also perform at "The Life and Songs of Kris Kristofferson," and the show will be taped for a future telecast. - AP, 1/20/16......
Black Sabbath frontman Ozzy Osbourne has announced that his band has opted not to record a final album to go along with the band's upcoming The End tour, but they will have a final piece of product to offer fans. Osbourne and Sabbath bassist Geezer Butler say the group has prepared an eight-track CD that will be sold only at shows featuring four unreleased tracks from sessions for 2013's Grammy Award-winning 13, which was also Sabbath's first No. 1 album on the Billboard 200. The set includes "Season of the Dead," "Cry All Night," "Take Me Home" and "Isolated Man," along with live versions of the 13 tracks "God Is Dead?," "Age of Reason" and "End of the Beginning" and the Vol. 4 deep cut "Under The Sun." The End tour kicks off Jan. 20 in Omaha, Neb., with dates currently booked into September. The lineup will include Osbourne, Butler and guitarist Tony Iommi from the original band, with drummer Tommy Clufetos sitting in for co-founder Bill Ward, who remains on the outs with the group and its management. - Billboard, 1/19/16...... Aerosmith frontman Steven Tyler will be among the artists appearing on the upcoming season of the PBS performance series Front and Center. Tyler, who is expected to release a country-influenced solo debut album in 2016, will appear on the Feb. 29 edition of the show. - Billboard, 1/20/16...... The official cause of death of late Motörhead frontman Lemmy Kilmister has been revealed, with the surprise death now being attributed to prostate cancer. His death certificate also lists congestive heart failure and cardiac arrhythmia as contributing factors. Kilmister's death was originally attributed to an "extremely aggressive cancer" when the singer passed away on Dec. 28 at age 70. - TMZ.com, 1/19/16...... The Ann Wilson Thing!, Heart frontwoman Ann Wilson's solo project, has announced its digital live EP, Live at The Belly Up, is available now at BellyUpLive.com. It will be released through all digital outlets on Jan. 29. Recorded at Solana Beach, CA's legendary Belly Up nightclub, the EP features seven riveting performances that refresh works by artists from Bob Dylan to Aretha Franklin and everywhere in between. The EP will available via all digital outlets beginning Jan. 29. In Sept. 2015, Wilson's "passion project" The Ann Wilson Thing released it's first EP, #1, and embarked on her first solo tour ever, with stops in intimate venues across the country throughout September and October. - Miles High Productions, 1/20/16......
Drummer Dale Griffin, a former member of the British glam-rock outfit Mott the Hoople, passed away in his sleep on Jan. 17 after having been diagnosed with Alzheimer's disease a decade ago. He was 67. Griffin was a founding member of the group that released eight albums over their five-and-a-half years as a band. Mott the Hoople are best known for their hit "All The Young Dudes," which was penned by David Bowie. The band were on the verge of splitting in 1972 when Bowie wrote "All The Young Dudes" for them, after originally offering them "Sufragette City." "All The Young Dudes" became a hit and spurred the band on to create more hits with "Honaloochie Boogie," "All The Way From Memphis" and "Golden Age of Rock 'n' Roll" all following. Mott The Hoople split in 1974 after completing a European tour. Griffin continued playing alongside bassist Pete Overend Watts and Morgan Fisher under the name Mott in 1976. The original band reunited in 2009 for their 40th anniversary but Griffin was unable to perform with the group due to ill-health, having been diagnosed with Alzheimer's disease at the age of 58. Griffin later worked as a producer for BBC live music sessions by bands including Nirvana, the Smashing Pumpkins and Pulp. - New Musical Express, 1/19/16...... Mic Gillette, a talented trumpet and trombone player and founding member of the Oakland, Calif., soul-R&B powerhouse Tower of Power, died unexpectedly on Jan. 16. He was 64. Gillette was a key component of Tower of Power's legendary horn section, which is routinely ranked among the best of its kind over the last 50 years. He also touched many in his East Bay neighborhood with his tireless involvement with and support for middle and high school music programs. The acclaimed brass player, who performed on both trumpet and trombone, was prominently featured on the band's best-known recordings, including such hits as "You're Still a Young Man," "So Very Hard to Go" and "What Is Hip?" He remained with Tower of Power until the mid-1980s, when he decided to trade in the touring life to spend more time with his family. He rejoined the seminal Oakland act from 2009 to 2011. "Mic was without a doubt the greatest brass player I've ever known," Tower of Power band leader Emilio Castillo said on the band's website. "Our sincere condolences go out to his wife, Julia, and his daughter, Megan, and their entire family." - 1/19/16.
The rock music world suffered its second major shock in a week when the Eagles confirmed on their official website on Jan. 18 that founding member Glenn Frey, who had been battling intestinal issues in the past year, had died in New York from a combination of illnesses including rheumatoid arthritis, acute ulcerative colitis and pneumonia. He was 67. "Glenn fought a courageous battle for the past several weeks but, sadly, succumbed to complications from Rheumatoid Arthritis, Acute Ulcerative Colitis and Pneumonia," read the statement. "Words can neither describe our sorrow, nor our love and respect for all that he has given to us, his family, the music community & millions of fans worldwide," it continued.
Born on Nov. 6, 1948, in Detroit, Frey was raised in nearby Royal Oak, Mich., and was exposed to both the Motown sounds and harder-edged rock of his hometown, including Bob Seger and his band. After playing in a succession of local bands in Detroit, Frey first connected with Seger when Frey's band, the Mushrooms, convinced Seger to write a song for them. Seger also invited Frey to sing backing vocals on Seger's first hit, 1968's "Ramblin' Gamblin' Man," which was also Frey's first recorded appearance. After relocatiing to Los Angeles with his then-girlfriend Joan Silwin, Frey was introduced to songwriter John David Souther by Silwin's sister, Alexandra. Before long, Frey, Souther and another aspiring songwriter, Jackson Browne were living as roommates in East L.A. and quickly became deeply involved in the burgeoning L.A. country-rock scene centered around the Troubadour nightclub. Frey and Souther, calling themselves Longbranch Pennywhistle, secured a recording contract with the short-lived indie label Amos Records in 1969, but soon split up. However 1971 would prove to be a fateful year when future country-rock superstar Linda Ronstadt hired Frey and his friend, drummer Don Henley to play in her backing band, on the advice of her boyfriend, Souther. Frey and Henley decided to form their own band on the night of their first show backing Ronstadt, and later recruited ex-Poco bassist Randy Meisner and former Flying Burrito Brothers guitarist Bernie Leadon to join them. Calling themselves the Eagles, they became one of the first artists signed to David Geffen's new label, Asylum Records.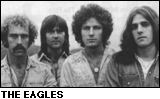 The Eagles became an instant success after releasing their eponymous debut album in 1972, with its lead track, "Take It Easy" (written mostly by Jackson Browne with some lyrics added by Frey), climbing to No. 12 on the Billboard Hot 100 chart in June of that year. The Eagles then became the standard-bearers of the California soft-rock scene with a string of Top 40 mid-'70s hits including "Peaceful Easy Feeling," "Desperado," "Tequila Sunrise," "Best of My Love" (No. 1 March 1975) "Witchy Woman" the funkier "One of These Nights" (No. 1 August 1975) and the harder-edged "Already Gone." The Eagles added an additional guitarist, Don Felder, in 1974, and after Bernie Leadon left in 1975, recruited Joe Walsh, a successful solo artist himself, to beef up the band's sound and help them reach even greater heights in 1976 with the mega-selling Hotel California. Two singles from that LP, the title track and Frey's "New Kid in Town" (possibly his defining song), reached No. 1 on the Hot 200, and along with Fleetwood Mac's 1977 album Rumours, defined the late '70s California rock scene. With drugs, egos and success taking their toll, it would be three years before the Eagles released their next album, The Long Run, and while that album was a commercial success, the band succumbed to infighting and split in 1980. Frey embarked on a successful solo career, releasing his debut solo album No Fun Aloud in 1982, and enjoying a series of '80s hits, the biggest of which were tied to movie and TV soundtracks like Beverly Hills Cop ("The Heat Is On") and Miami Vice ("You Belong to the City").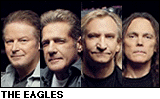 Frey also began a side career in acting, and portrayed a drug-smuggling musician on Miami Vice named Jimmy Cole. In 1991, after solo hits by Frey and Don Henley began to dry up, the Eagles' manager Irving Azoff mastermined a reunion tour with a title, "Hell Freezes Over," that mocked the acrimony which caused the band to spllit up. The Eagles continued to tour periodically -- and lucratively -- over the past two decades, releasing just scattered new material (including a successful studio album called Long Road Out of Eden in 2012) and focusing on solo works. In 2007, Frey released his first solo album since the 1990s, a collection of pop standards called After Hours. Although the Eagles were reviled by some as much as they were revered during their heyday, the enduring quality of their hits or the freshness of their sound cannot be denied, and for many years the group's 1976 collection Their Greatest Hits 1971-75 regularly swapped places with Michael Jackson's Thriller as the top the top-selling album of all time, being certified a whopping 29 times platinum by the RIAA. Similarly, Hotel California is certified 16 times platinum. The band was inducted into the Rock and Roll Hall of Fame in 1998. Frey had been battling intestinal issues that caused the band to postpone its Kennedy Center Honors in 2015. A statement from the band said then the recurring problem would require "major surgery and a lengthy recovery period." Don Henley issued a statement calling Frey "like a brother to me" and while there was some dysfunction, "the bond we forged 45 years ago was never broken, even during the 14 years that the Eagles were dissolved... I'm not sure I believe in fate, but I know that crossing paths with Glenn Lewis Frey in 1970 changed my life forever, and it eventually had an impact on the lives of millions of other people all over the planet. It will be very strange going forward in a world without him in it. But, I will be grateful, every day, that he was in my life. Rest in peace, my brother. You did what you set out to do, and then some." - Billboard, 1/18/16.
A concert by Holy Holy, a band formed by David Bowie's longtime producer Tony Visconti and Bowie's one-time drummer Woody Woodmansey that had been booked at Toronto's Opera House since December, took new meaning on Jan. 12 after the passing of the 69-year-old rock legend on Jan. 10. Holy Holy, named after an obscure 1971 Bowie single and originally brought together to perform Bowie's 1970 album The Man Who Sold the World in its entirety on tour, performed not only that album but also classics from Bowie's Ziggy Stardust era. "We have David's total approval on this tour," Visconti told the audience.

"He saw the videos; he heard the music; and he's so happy you're doing this and I want you to know too, so we're going to celebrate the life of David Bowie." Visconti, who appeared tearful at times, added: "The reason why we're doing this is about 46 years ago Woody and I were the original musicians who played this album, so technically we're not a tribute band; we are the real deal." The band closed out the two-hour concert with "Time" and "Suffragette City," with the crowd throwing red roses onstage. Meanwhile, Bowie's family posted a new message on Bowie's official Facebook page on Jan. 14 thanking fans for their recent "love and support" following the music icon's passing, describing themselves as "overwhelmed and grateful," and announcing plans for a private funeral service. "Thank you. The family of David Bowie is currently making arrangements for a private ceremony celebrating the memory of their beloved husband, father and friend...We are overwhelmed by and grateful for the love and support shown throughout the world," the message read, and also requested that fans "respect their privacy at this most sensitive of times" and noted that while the concerts and tributes planned in honor of Bowie in the coming weeks are welcome, "none are official memorials organised or endorsed by the family." Two Bowie tributes -- in Berlin and New Orleans -- already occurred on Jan. 17, with a memorial service held at Berlin's Hansa Studios, where Bowie recorded most of his "Berlin trilogy" albums (Low, Lodgers, "Heroes"), and a parade in New Orleans led by the band Arcade Fire that brought traffic in the city to a standstill. Additionally, two rock music superstars -- Elton John and Bruce Springsteen -- have honored the Thin White Duke during concerts in the past week. John performed a special "piano requiem" as a tribute to Bowie during his concert at L.A.'s Wiltern Theater on on Jan. 13, weaving his own hit "Rocket Man" and Bowie's "Space Oddity," and Springsteen, performing in Pittsburgh on the opening night of his The River Tour, treated the crowd to a rousing rendition of Bowie's "Rebel Rebel" from Diamond Dogs. According to a report in the U.K. paper The Guardian, the singer has been privately cremated in New York without any friends and family present, as per his wishes. He wanted "to go without any fuss", a source told the paper. The executors of Bowie's will have revealed that his family stands to inherit his fortune, thanks to his "Bowie bonds" scheme devised by California-based banker David Pullman, which gave investors the rights to royalties for his first 25 albums for 10 years, before ownership returned to him and llowed him to buy back the rights to some of his most popular work from a former manager. "He was astute financially and he had the foresight to have things set up then that would look after his family," Pullman said on Jan. 13.
As predicted, Bowie's 26th album Blackstar, which was released on Jan. 8, his 69th birthday, has debuted on the Billboard Hot 200 album chart, giving the music legend his first No. 1 album. Blackstar earned 181,000 equivalent album units in the U.S., during the week ending Jan. 14, according to Nielsen Music, of which 174,000 were in pure (complete) album sales. Bowie also has had nine albums from his catalog either re-enter or debut on the Billboard Hot 200 chart, with The Best of Bowie entering at No. 4 and The Rise and Fall of Ziggy Stardust and the Spiders From Mars at No. 21. Bowie's history on the chart dates back nearly 44 years, when Hunky Dory bowed on the chart dated April 15, 1972. Blackstar is additionally the first posthumous No. 1 Billboard album since Michael Jackson's This Is It soundtrack arrived atop the list dated Nov. 14, 2009. In the U.K., Bowie scored an astonishing 19 Top 100 albums on the Official Charts roundup, with 150,000 copies of Blackstar sold in the first week. Bowie's singles have also reentered the U.K. chart, with "Heroes" at No. 11, "Life On Mars" at No. 16, and eleven other Bowie singles charting on the U.K. Top 100. Bowie producer Tony Visconti has revealed that the artist was planning a follow-up to Blackstar, and reached out to him in the weeks prior to his death to discuss entering the studio. " I was thrilled," Visconti said, "and I thought, and he thought, that he'd have a few months, at least. Obviously, if he's excited about doing his next album, he must've thought he had a few more months. So the end must've been very rapid. I'm not privy to it. I don't know exactly, but he must've taken ill very quickly after that phone call." Visconti added he was first made aware of Bowie's illness a year ago when the performer showed up for a Blackstar session in New York with tell-tale signs of chemo treatment -- he had no eyebrows or hair on his head. In other developments, the SiriusXM satellite radio service brought back the David Bowie Channel on Jan. 12 in honor of the musician. "Since his death, many of our channels have been playing music from his legendary career. Now we'd like to present an entire channel devoted to his artistic genius and extraordinary musical longevity," SiriusXM president Scott Greenstein said in a statement. The station will run until Jan. 18 on SiriusXM's The Loft station, channel 30. Meanwhile, a lightning-bolt shaped constellation has been named after Bowie by Belgian astronomers. The constellation is constructed by seven stars fittingly in the direction of Mars, and shaped like the lightning bolt that cover's Bowie's face on his iconic 1973 Aladdin Sane album cover. Finally, one man in the U.K. has launched a petition to rename the planet Mars after Bowie. So far he has gained nearly 5,000 supporters, and in another petition that's gaining greater traction, more than 25,000 people have signed on to support a campaign to put Bowie on the upcoming £20 British banknote, replacing Scottish economist and philosopher Adam Smith, who has been on the bill since 2010. - Billboard/New Musical Express, 1/17/16......

Cher has donated thousands of bottles of water to residents of Flint, Mich., as the city struggles with a drinking water crisis linked to lead contamination. Cher has reportedly paid for more than 180,000 bottles of water to be shipped to Flint beginning on Jan. 17, calling the situation "a tragedy of staggering proportion and shocking that it's happening in the middle of our country." Flint's 100,000 residents haven't had safe water to drink and bathe in since 2014, when officials began drawing water from the Flint River as a cost-saving measure. However, the city did not treat corrosive water properly, which led to metal leaching from old pipes. - AP, 1/16/16...... Aerosmith drummer Joey Kramer has announced he'll be opening up a new coffee shop in Nort Attleboro, Mass., just 40 miles outside of Boston, in April. Kramer says the 1,500 square-foot facility will serve up organic coffee and have a rock 'n' roll theme, with Kramer's drum kit and other Aerosmith memorabilia on display. Kramer has already put his name on a line of organic coffee, according to his business parter Frank Cimler, and they hope the business will be the first in string of coffeehouses with a "rock star edge." - AP, 1/16/16...... Actor Tim Curry, who played Dr. Frank N Furter in the original 1975 The Rocky Horror Picture Show cult classic, has signed on to appear in Fox's upcoming live, two-hour TV remake of the movie. This time around, Curry will portray the criminologist narrator in a cast that also includes Laverne Cox, Adam Lambert, Victoria Justice and Ryan McCartan. The Fox version is set to air in fall 2016. - Billboard, 1/15/16...... A soundtrack to accompany the new HBO series Vinyl, which premieres on the channel on Feb. 14, will be released by Atlantic and Warner Bros. Records on Feb. 12. Vinyl: Music From the HBO Original Series - Volume 1 will feature music in and inspired by the first episode, and two days prior to the finale of the series, a second physical and digital soundtrack will come out. Set in New York in the early '70s, Vinyl is executive-produced by Martin Scorsese and Mick Jagger and pivots around label head Richie Finestra (Bobby Cannavale), as he tries to save his record company. It also stars Olivia Wilde, Juno Temple, Ray Romano, Andrew Dice Clay and Jagger's son, James, who plays the lead singer of fictional band Nasty Bits. - Billboard, 1/15/16......
A one-night-only Neil Young film event, "An Evening with Neil Young," will take place in theaters across the U.S. on Feb. 29 featuring two Young films and feature a Q&A with Young hosted by director Cameron Crowe. The Young-starred, co-directed and co-written 1982 film Human Highway will be followed by Young's 1979 concert film, Rust Never Sleeps, and capped off with a live Q&A. - Billboard, 1/14/16...... Veteran soul singer Patti LaBelle, 71, has reportedly struck up a romance with the drummer in her band, Eric Seats, who is 30 years her junior. "She tried to keep it quiet," a source told the website Dailymail.com. "But everyone around her has figured things out now. She's completely smitten with him and they spend so much time together." The source claims LaBelle and the 41-year-old Seats first met years ago, when he was hired to be her drummer, and he helped "heal her broken heart" after the end of a previous relationship. Seats, an accomplished musician, has also toured with the likes of Stevie Wonder, Mary J. Blige and Missy Elliot. - WENN.com, 1/13/16...... Pete Huttlinger, best known for being the lead guitarist in John Denver's band, died on Jan. 15 at Vanderbilt University Medical Center in Nashville after suffering a stroke. He was 54. Huttlinger, the youngest son of a former White House correspondent named Joseph Bernard Huttlinger, graduated with honors from the Berklee College of Music in Boston, and moved to Nashville to begin his musical career. Ten years later he connected with Denver after a producer heard him playing on a recording session. Huttlinger toured with Denver over the next four years and played on his various recordings. He would go on to tour with such artists as LeAnn Rimes and John Oates. As a solo artist, Huttlinger recorded more than 15 albums. - Billboard, 1/16/16...... Giorgio Gomelsky, best known as the first manager of the Rolling Stones, died on Jan. 13 after a battle with cancer. He was 82. The Soviet-born and Swiss-raised Mr. Gomelsky originally moved to England to be a filmmaker, but became in London's London's burgeoning blues scene led by Alexis Korner and the as yet little known Rolling Stones. He opened the Crawdaddy Club where the Stones were essentially the house band and began managing their career, but by May of 1963 he had been disloged by Andrew Loog Oldham as their manager. Mr. Gomelsky then shifted his attention to managing The Yardbirds and began booking them at the Crawdaddy, along with other British acts like Brian Auger, Julie Driscoll and Gong. Mr. Gomelsky moved to New York in 1978 and settled into a building on 24th St. in Chelsea that later was converted into an underground club know as the Green Door. - Billboard, 1/14/16......
Acclaimed British actor Alan Rickman, one of the best-loved and most warmly admired British actors of the past 30 years, died in London on Jan. 14 after a battle with cancer. He was 69. Rickman, who rose to fame in Hollywood as the sharp-tongued baddie Hans Gruber in the first Die Hard film, was much-loved on both sides of the Atlantic, later adding to his list of on-screen antagonists when he played the Sheriff of Nottingham in Robin Hood: Price of Thieves, for which he won a BAFTA, and finding a new generation of fans as Professor Snape in the Harry Potter series. Other memorable roles included playing Metatron -- the voice of God -- in Dogma, as a deceased over in Truly Madly Deeply, and as Col. Brandon in Sense and Sensibility. Although Rickman would never win an Oscar, he would add to his BAFTA win for Robin Hood with a Golden Globe, and a Screen Actors Guild Award, both for his lead role in HBO's 1996 TV film Rasputin: Dark Servant of Destiny. Rickman is survived by his wife Rima Horton, who he met as a teenager and married in New York in 2012. - The Hollywood Reporter, 1/14/16...... Actor Dan Haggerty, best known as the lead character in the 1974 TV movie The Life and Times of Grizzly Adams and the subsequent series of the same name that ran in 1977-78, died at Providence St. Joseph Medical Center in Burbank, Calif., on Jan. 15 after a bout with spinal cancer. He was 73. Born Nov. 19, 1942, in Los Angeles, Haggerty was the son of an entertainment industry veteran who as a young man got a job with a ranch in the San Fernando Valley that trained animals for movies. He became an animal handler, wrangling rabbits and frogs for various film productions, and was a stuntman on the side. The combination of skills led to his discovery as an actor, and a colleague on the set later tapped the bearded Haggerty for the role of the burly, amiable woodsman in the 1974 back-to-nature TV movie The Life and Times of Grizzly Adams and later the series of the same name. The family-programming hit premiered in 1977 and ran for 37 episodes and made Haggerty and his bushy beard famous. In 1985, a jury found Haggerty guilty of one count of selling cocaine to undercover officers who were part of an "entertainment industry task force" run by the LAPD at the time. Jurors threw out a second count, apparently because Haggerty had grown so genuinely fond of the two officers. A few months later, he suffered serious injuries in a motorcycle accident on Benedict Canyon Road. While still recovering, he was sentenced by a federal court for failure to pay taxes. He then marketed a Cajun barbecue sauce, tried his hand as a restaurateur and kept acting. He reprised his Grizzly Adams character in several TV movies and appeared on dozens of other shows, including Charlie's Angels, CHiPs and The Love Boat. Later productions romanticized motorbikes, nature and family -- and at least one starred a chimpanzee. Haggerty, who was preceded in death by his wife Samantha, is survived by daughters Megan and Tracy Haggerty, sons Dylan, Cody and Don, all of Los Angeles, and one grandson. - The Los Angeles Times, 1/15/16...... Jim Simpson, a Hall of Fame sportscaster who was best known for his work on AFL games for NBC when he was hired by fledgling ESPN in 1979, died on Jan. 13 after a short illness. He was 88. Mr. Simpson was ESPN's first play-by-play announcer, and called college football, college basketball, college baseball, the USFL, and the NBA. He also called the World Series, Olympics and Wimbledon for NBC, and did play by play for Super Bowl I for NBC Radio. - ESPN.com, 1/13/16.
The shocking news of David Bowie's death on Jan. 10 after an 18-month battle with cancer, just days after releasing a new album Blackstar on his 69th birthday, has been met with disbelief from fans, celebrities and members of the music industry. Bowie's longtime producer and collaborator Tony Visconti said that Bowie "always did what he wanted to do...and he wanted to do it his way and he wanted to do it the best way." "His death was no different from his life - a work of Art. He made Blackstar for us, his parting gift. I knew for a year this was the way it would be. I wasn't, however, prepared for it. He was an extraordinary man, full of love and life. He will always be with us. For now, it is appropriate to cry," Visconti added.

Paul McCartney was one of the estimated 100 million Facebook interactions who remembered the rock luminary on his Facebook page: "Very sad news to wake up to on this raining morning. David was a great star and I treasure the moments we had together. His music played a very strong part in British musical history and I'm proud to think of the huge influence he has had on people all around the world," Sir Paul posted on Jan. 11. John Lennon's widow Yoko Ono remembered Bowie on her website as being something of a father figure to the couple's son, Sean, after the former Beatle was gunned down in Dec.1980: "John and David respected each other. They were well matched in intellect and talent. As John and I had very few friends we felt David was as close as family." Bowie's record label, Columbia, posted "We are deeply saddened by the loss of David Bowie. It was an honor and a privilege to release his music to the world." On Twitter, a massive number of over 4.3 million tweets poured in worldwide, with the title track from Blackstar clocking more than 5 hours as the service's most shared and discussed track. Rolling Stones frontman Mick Jagger posted that Bowie was "always an inspiration to me and a true original," while Bowie's first wife, Angie Bowie, told a TV news crew that "I just feel like an era has ended with his passing. I'm so very sad... The stardust is gone." Traditional press outlets across the world also covered the news, with the U.K.'s Daily Mirror announcing "The stars look very different today... The world mourns a legend," and the Daily Telegraph illustrating its daily edition with Aladdin Sane-era photographs. Thousands of Bowie fans gathered in the star's birthplace of Brixton, London on Jan. 11 to celebrate his life, with people playing and singing such Bowie songs as "Heroes," "Rebel Rebel", "Starman" and "Suffragette City" on harmonica and acoustic guitars.
Meanwhile, Blackstar is on track to be Bowie's first No. 1 album on the Billboard Hot 200 album chart, with industry forecasters saying the LP could sell upwards of 130,000 albums in the week ending Jan. 14, and debut at debut at No. 1 on the same chart in the week dated Jan. 30 (Bowie's highest-charting album so far was his previous one, 2013's The Next Day, which debuted and peaked at No. 2). In the U.K., OfficialCharts.com is predicting Blackstar will also top the charts there to become Bowie's 10th chart-topping LP in his native country. On the streaming services and online retailers, streams of Bowie songs surged 2,700% after the news of his passing broke, and digital editions of Bowie albums are also being scooped up by fans on iTunes and Amazon.com. Blackstar skyrocketed to No. 1 on the iTunes Store's constantly updated chart, with his Best of Bowie collection at No. 2, and on Amazon, Blackstar is only being outsold by Adele's new album, 25. Meanwhile, sources close to Bowie have revealed that the singer "died from liver cancer" after "surviving six heart attacks." Writer Wendy Leigh, who published a biography about Bowie in 2014, claims that the star had suffered a series of heart attacks prior to his passing. "He didn't just battle cancer| he had six heart attacks in recent years. I got this from somebody very close to him," Leigh told BBC News. And the New York Times is reporting that New York's Carnegie Hall will present a memorial concert in tribute to David Bowie and his legacy (the concert was already in the works before he died, but will now be a memorial). Among the confirmed artists to perform thus far are The Roots, Cyndi Lauper, Ann Wilson of Heart, and the Mountain Goats. Tony Visconti -- who produced Bowie's last album Blackstar -- is reportedly assembling the house band. - Billboard/New Musical Express, 1/12/16...... The life of singer Natalie Cole was celebrated during a memorial service at the West Angeles Church of God in Christ in Los Angeles on Jan. 11, with such R&B icons as Stevie Wonder, Lionel Richie, Gladys Knight, Eddie Levert of The O'Jays, Mary Wilson and Freda Payne attending. Also on hand was longtime friend Chaka Khan, who was expected to perform but was under the weather. One of the service's more touching moments, noted one attendee, was Wonder's delivery of the Lord's Prayer. Cole, the daughter of popular music icon Nat "King" Cole, died on New Year's Eve at age 65 of pulmonary arterial hypertension, which led to heart failure. - Billboard, 1/11/16......
Former Pink Floyd guitarist/singer David Gilmour has topped Billboard Hot Tours list of top-grossing tours for the first week of January with $25.7 million in ticket sales revenue from the South American leg of his 2015-2016 world tour. Gilmour is on the road supporting his latest album, Rattle That Lock, which was released in September. Gilmour's South American trek kicked off in December in Brazil, opening with a two-night stint at Sao Paulo's Allianz Parque in front of more than 84,000 fans in attendance for performances on Dec. 11 and 12. Sales for both performances topped the $8 million mark. Gilmour kicked off his world tour in September with a 7-city swing through Europe that continued through Oct. 18. It is set to resume in March with concerts booked in four major North American markets through mid-April. - Billboard, 1/7/16...... Media mogul Rupert Murdoch, 84, and model/actress Jerry Hall, 59, have announced they will be getting married in the "Births, Marriages and Deaths" section of the British paper The Times, which Murdoch's company owns. It will be the first marriage for both Hall, the former girlfriend of Rolling Stones frontman Mick Jagger, and Murdoch. The night before they shared the good news, Murdoch and Hall stepped out together at the Golden Globes. The couple have been dating since September after reportedly being set up by Murdoch's sister and niece. - Justjared.com, 1/11/16...... Brett Smiley a glam-rock cult hero who earlier appeared on Broadway in the original musical "Oliver!" in 1965, died on Jan. 8 at his home in New York City. He was 60. In 1974, Smiley recorded an album titled Breathlessly Brett that was produced by British rock impressario Andrew Loog Oldham, however it was shelved until eventually being released in the U.K. in 2003. Smiley was also the subject of Nina Antonia's book, The Prettiest Star: Whatever Happened to Brett Smiley? In recent years, he fronted a series of small bands in New York. - AP, 1/11/16...... Singer Red Simpson, who helped pioneer the "Bakersfield Sound" and was one of the original musicians on Merle Haggard's country classic "Okie from Muskogee," died on Jan. 8 in a Bakersfield, Calif., hospital after suffering a heart attack. He was 81. In the '60s, Mr. Simpson was a regular performer at Bakersfield's historic Blackboard Club, where he replaced Buck Owens, who had struck out on his own history making career. Mr. Simpson, who charted such singles on the Billboard country charts as "Roll Truck Roll," ""The Highway Patrol," "Diesel Smoke, Dangerous Curves" and "Mini-Skirt Minnie," had his biggest success in 1971 with "I'm a Truck," which reached No. 4 on the country singles chart. His final charted single was 1979's "The Flyin' Saucer Man and the Truck Driver," which barely dented the charts at No. 99. Mr. Simpson also wrote the Haggard classic "You Don't Have Very Far To Go," which has been recorded by artists like Rosanne Cash. Mr. Simpson was on a tour in the Pacific Northwest recently when he fell ill, and died after being rushed to a Bakersfield hospital. - Billboard, 1/9/16...... Veteran TV producer Norman Lear of All in the Family, The Jeffersons and Maude fame has announced he will be reviving his '70s-'80s family sitcom One Day at a Time with a Cuban-American spin for the popular streaming service Netflix. Before landing at the streaming giant, the revival of the show had been in the works for quite some time, and Lear has spoken about developing the project over the past year. Described as "a reimagining" of the classic, the modernized series that "will center around a Cuban-American family," the rebooted One Day at a Time will have its heroine as a recently separated, former military mom navigating a new single life, while raising her radical teenage daughter and socially adept tween son with the help of her old-school Cuban-born mom (played by Rita Moreno and a friends-without-benefits building manager named Schneider. - Variety, 1/11/16......
In related news, actor/comedian Pat Harrington, Jr., who portrayed the farcically macho building superintendent Dwayne Schneider in the original One Day at a Time series, died on Jan. 6 of as yet undisclosed causes. He was 86. Although billed as a supporting actor on One Day at a Time, Mr. Harrington provided such welcome comic relief that the program's popularity and longevity -- it aired on CBS from 1975 to 1984 -- was owed as much to him as to anyone. Years afterward, producer Norman Lear said Mr. Harrington "turned out to be the comic strength of the show." Born in Manhattan on Aug. 13, 1929, Mr. Harrington went to a Catholic military school and graduated from Fordham University, where he also later received a master's degree in political philosophy. After serving in the Air Force, he began working in the NBC mail room, a job he parlayed into a junior advertising salesman position for the network. Before gaining fame as Schneider, Mr. Harrington worked in nightclubs, released comedy albums, and appeared in several made-for-TV movies, including The Affair, The Healers, Let's Switch and Savage. A seasoned comic performer, Mr. Harrington often entertained clients at Toots Shor's, the Manhattan watering hole, where he had his greatest success conjuring a fictional Italian immigrant named Guido Panzini, part of a gag he honed over many years and many drinks. - The Washington Post, 1/8/16...... R&B singer Otis Clay, a Blues Hall of Fame musician who also was a community activist on Chicago's West Side, died of a heart attack on Jan. 8. He was 73. Clay had been preparing an upcoming gospel tour and had been nominated for two Blues Music Awards -- one for his album with Billy Price and one for soul blues music artist. Clay's manager, Miki Mulvehil, said Clay was not only a great musician but a humanitarian, who often performed his 1993 standard, "When the Gates Swing Open" for funerals. - AP, 1/9/16...... Early '60s rock & roll singer Troy Shondell, whose song "Kissin' at the Drive-In" became a popular tune at drive-in movie theaters, died on Jan. 7 at a nursing facility in Picayune, Miss, of complications related to Alzheimer's and Parkinson's disease. He was 76. Shondell hit the Billboard charts in 1961 with "This Time (We're Really Breaking Up)," which spent four months on the Billboard Top 100 singles chart in 1961 and also charted on the UK singles chart. He later became a songwriter and publisher in Nashville, Tenn. - AP, 1/9/16...... Robert Balser, who served as the animation director for the Beatles' 1968 film Yellow Submarine and on the Saturday morning Jackson 5 cartoons of the early 1970s, died on Jan. 11 of complications from respiratory failure at Cedars-Sinai Medical Center in Los Angeles. He was 88. More than 200 artists were under Mr. Balser's supervision on the surreal Yellow Submarine, a vividly colored film set in the paradise of Pepperland. The production that took 11 months to complete on a budget of less than $1 million. Mr. Balser also partnered with graphic design legend Saul Bass on the seven-minute, end-of-film animated title sequence for Michael Anderson's star-studded Around the World in 80 Days (1956), and he helmed the otherworldly "Den" sequence for Heavy Metal in 1981. - Billboard, 1/7/16.
Legendary British singer/songwriter/actor David Bowie, one of the most iconic and influential rock stars of the 1970s and beyond whose stature can perhaps only be matched by Bob Dylan, died on Jan. 10 after a private 18-month battle with cancer, his publicist has announced. He was 69. "David Bowie died peacefully today surrounded by his family after a courageous 18 month battle with cancer. While many of you will share in this loss, we ask that you respect the family's privacy during their time of grief," his rep posted on Twitter. Bowie, who excelled at glam-rock, art-rock, soul, hard rock, dance pop, punk and electronica during his amazing and eclectic 40-plus-year career, died just days after the release of his 25th album Blackstar, which came out on Jan. 8, his birthday. Born David Jones in South London on Jan. 8, 1947, Bowie nearly lost sight in his left eye in a boyhood fight after surgery left him with a paralyzed pupil. After attending Bromley High School, he worked as a commercial artist for a London ad agency, and played saxophone in local semi-pro groups around 1963 before forming his own outfit David Jones and the Lower Third which recorded one obscure album. After The Monkees became famous later in the '60s, he changed his surname to Bowie to avoid confusion with Davy Jones. Contracted to the Pye Records label as a solo artist in 1966, he made two unsuccessful singles before moving to Decca the following year. His pop material for that label was first gathered together on 1967's The World of David Bowie, although a more complete collection, Images 1966-67, later appeared as a double album set on London Records in 1973.
His early semi-hits as a pop singer, including "Love You Till Tuesday," "Rubber Band," and "The Laughing Gnome" (an embarrassing novelty recorded reissued by Decca and became a Top 10 U.K. hit in 1973) showed a theatrical bias and heavy debt to the phrasing of British singer/actor Anthony Newley. In 1969, he released Space Oddity (originally titled Man of Words Man of Music), which although an undisciplined album, nevertheless possessed a freshness and individuality that would later bear fruit. The title track of Space Oddity saw the artist break through into the U.K. Top Five (and when reissued in 1976 in the U.K. it even topped the charts), and after a brief "retirement" to run the Arts Lab in South London, he returned to the studio in 1970 to cut the powerful, doom-ladened LP, The Man Who Sold the World, which many critics count among his finest works. His taste for rock returned, and he began to play occasional dates first as a soloist with an acoustic guitar and later with the as-yet unnamed Spiders From Mars -- Mick Ronson (guitar), Trevor Bolder (bass), and Woody Woodmansey (drums). It was at this point that Bowie was beginning to indulge in his taste for outrageous clothing, posing in ankle-length dresses with his model wife Angie Bowie and their child, Zowie. After 1971's Hunky Dory from this period drew widespread critical plaudits, his 1972-recorded Ziggy Stardust and the Spiders From Mars became his blueprint for stardom. On its release, and a turning-point London charity gig previewing the Spiders' stunningly-theatrical stage presentation, Bowie shot to eminence in a blaze of publicity and acclaim, helped along by a new record deal with a major U.S. label, RCA Records. Ziggy became a million-seller, and from that point on, Bowie consistently charted on the singles and album charts in Britain and the U.S., first breaking through in America when RCA released "Space Oddity" as a single in 1973.

During this period, he also worked with other artists including Lou Reed and Mott the Hoople, and in late 1972 he undertook an extensive U.S. tour with the Spiders, the experience of which he used to write material for his May 1973 LP, Aladdin Sane. Released to perhaps an unsurpassed wave of public interest, the album didn't quite measure up to the standard set by Ziggy, though it did produce a couple of semi-classic singles, "Jean Genie" and "Drive-In Saturday," the former purportedly about his friend Iggy Pop. Two months later he recorded Pin Ups, (released in Oct. 1973), which comprised reworkings of his favorite oldies from the 1964-67 U.K. pop scene, which again was met with only muted critical approval. In July 1973, during the last date of a 60-concert U.K. tour, he stunned the rock world by announcing his "retirement" from the road, and never worked with the Spiders From Mars again. Shortly after his "retirement," Bowie filmed his now-famous NBC-TV Midnight Special episode, a lavish production entitled "The 1980 Floor Show" at the London Marquee Club and then left by boat for the U.S. (having a fear of planes and refusing to fly anywhere), where he began to base his center of operations. During his 1974 U.S. tour, which was chronicled on his million-selling double album David Live, he began to first display signs of a gradual shift away from rock and towards R&B and soul territories, and in 1975 he released Young Americans, which was recorded largely at Sigma Studios in Philadelphia. That album's brilliant title track returned him to the U.K. and U.S. charts, as did its follow-up, "Fame" (co-written with John Lennon). "Fame" became Bowie's first U.S. No. 1 single, and also established him in the U.S. disco market. In the spring of 1976, after another lengthy U.S. tour, Bowie returned to the U.K. for the first time since his 1973 "retirement" for a series of major gigs at London Wembley Empire Pool. Moving to Los Angeles, Bowie became a fixture of American pop culture, and even played the title role in director Nicolas Roeg's film The Man Who Fell to Earth.
He then returned to the U.K. for the first time in three years before settling in Berlin, where he lived in semi-reclusion, studying art, painting, and recording with Brian Eno. His work in this period, known as the "Berlin trilogy," was comprised of Low (1977), "Heroes" (1977), and Lodger (1979). After revitalizing Iggy Pop's career by producing The Idiot and Lust for Life (both 1977), Bowie toured Europe and America as Pop's unannounced pianist. The next year, he embarked on a massive world tour, and a second live album, Stage (1978), was recorded on the U.S. leg of the tour. Settling in New York, he recorded the paranoic Scary Monsters LP (No. 12, 1980), and updated his classic "Space Oddity" single in "Ashes to Ashes." After that album, he turned his attention away from his recording career, and in 1980 played the title role in a stage production of "The Elephant Man." He collaborated with Queen in 1981's "Under Pressure," and in 1982 played a 150-year-old vampire in the movie The Hunger. In 1983, he signed one of the most lucrative contracts in history, and moved from RCA to EMI. That year's Let's Dance LP, his first album in three years, was produced by Chic's Nile Rodgers and returned him to the top of the charts with three Top 20 singles -- "Let's Dance" (No. 1), "China Girl" (No. 10) and "Modern Love" (No. 14). He toured behind that album with his sold-out Serious Moonlight Tour, and his career seemed revitalized. In 1989, he formed Tin Machine with Reeves Gabrels on guitar and Hunt and Tony Sales, who had worked with him on Iggy Pop's Lust for Life album. The followup, Tin Machine II, came in 1991, and lacking the novelty of the debut, was quickly forgotten.
In 1992, Bowie married Somilian supermodel Iman, and the following year he recorded Black Tie White Noise which he called his "wedding present to his wife." Although it received generally positive reviews, it failed to excite the public. In 1995, he recorded Outside with Eno, and toured with Nine Inch Nails as his opening act. The following year, he was inducted into the Rock and Roll Hall of Fame and returned to the studio to record the techno-influenced Earthling, and followed that with two more albums, 1999's hours... and 2002's Heathen. He was relatively quiet between the years of 2004 and 2012, reemerging in 2013 with the album The Next Day. Its arrival was met with a social media firestorm which catapulted it to No. 2 on the Billboard Hot 200 album chart, his highest charting album ever. In recent years he kept a decidedly low profile, maintaining a residence in New York, but rarely being seen. He recently opened the rock musical "Lazarus" in New York, in which he revisited the character he played in the film The Man Who Fell to Earth. A video for his song of the same name, which is included on his new Blackstar album, was released on Jan. 7. "I grew up listening to and watching the pop genius David Bowie. He was a master of re-invention, who kept getting it right. A huge loss," U.K. Prime Minister David Cameron posted on Twitter on Jan. 11 after learning the shocking news of Bowie's passing. David Bowie is survived by his wife Iman, his son, director Duncan Jones, and a daughter, Alexandria. - The Illustrated Encyclopedia of Rock/The Rolling Stone Encyclopedia of Rock & Roll/Billboard, 1/11/16.
A new Michael Jackson documentary focusing on the King of Pop's career-changing 1979 album Off the Wall is set to premiere at the Sundance Film Festival on Jan. 24. Michael Jackson's Journey: From Motown to Off the Wall is co-produced by Spike Lee, John Branca and John McClain and documents the LP that established Jackson as an adult superstar, and along with Donna Summer's Bad Girls album of the same year, is credited with ushering in the modern era of pop music. Featuring archival footage of Jackson, contemporary interviews with his family and musicians including Pharrell, John Legend and Questlove, the doc will also air on the Showtime channel on Feb. 5 at 9:00 p.m. EST, and an Off the Wall CD reissue will also accompany the film. Off the Wall was the first album from a solo artist to chart four songs in the top 10 of the Billboard Hot 100, and also spawned two Billboard No. 1 hits (Jackson's first solo chart-toppers since "Ben" in 1972). - Billboard, 1/7/16......
David Bowie has revealed a full-length video for "Lazarus," the second single from his new album Blackstar. Featuring the singer wearing an unsettling, white blindfold with eyeholes cut out, while writhing in a hospital bed, the creepy video is the second single from Blackstar, which hits stores on Jan. 8, the same day Bowie turns 69. "Lazarus" also features in the recent Bowie stage production of the same name, which opened in New York earlier in January. - New Musical Express, 1/7/16...... The Google Play streaming service is reporting that "Come Together" is the most popular Beatles song currently streaming on services worldwide after the Fab Four made their back catalog available for streaming on all platforms on Dec. 24 as "a holiday gift to their fans." The lead-off Abbey Road track is followed by "I Want to Hold Your Hand," "Here Comes the Sun," "In My Life," "Twist and Shout," "All You Need Is Love," "Something," "Ticket To Ride," "She Loves You" and "Let It Be" in a list that skews toward the band's earlier material. Meanwhile, the Beatles' 10 most popular albums streaming globally on the premiere streaming service Spotify include the 2000 hits compilation 1, followed by Abbey Road, The Beatles (a.k.a. "The White Album"), Let It Be, Sgt. Pepper's Lonely Hearts Club Band, Revolver, Rubber Soul, Magical Mystery Tour, Please Please Me and Help! - Billboard, 1/6/16...... A 30th Anniversary Farm Aid TV special will premiere on the AXS TV channel on Jan. 10, with performances from the Sept. 19, 2015, Farm Aid, as well as archive sets from previous concerts by such acts as the Allman Brothers, B.B. King, Sheryl Crow, Garth Brooks, Buddy Guy and John Mayer. The 30th anniversary Farm Aid included performances by Farm Aid organizers Willie Nelson, Neil Young, John Mellencamp and Dave Matthews, along with Jack Johnson, Kacey Musgraves and Mavis Staples. Since 1985, the annual Farm Aid benefit has raised $48 million to help keep independent family-operated farms on their land. - Billboard, 1/6/16......
Steely Dan frontman Donald Fagen was arrested after an altercation with his wife Libby Titus in the couple's Manhattan home on Jan. 4 after he allegedly shoved her into a marble window frame, causing her to fall. According to a complaint filed by Titus, she suffered bruising and swelling after the incident with her 67-year-old husband, who was charged with assault and harassment after a brief appearance at Manhattan Criminal Court on Jan. 5 and released without bail. Fagen was ordered to stay away from Titus, to whom he has been married for 20 years, and she was given an order of protection against the musician. Titus, who is 69 and a folk singer, told the New York Post's Page Six gossip column that she plans on divorcing Fagen. "I don't feel good. I'm very tired and I'm divorcing my husband," she said. Fagen and Titus met while attending Bard College in the 1960s, but Libby left school before graduating after marrying novelist Barry Titus, with whom she had a son. She later had a daughter with musician Levon Helm of the Band fame. Titus and Fagan reunited in the late 80s before marrying in 1993, and she is credited with helping inspire him again to dedicate himself to live performances. - New Musical Express, 1/6/16...... Fans of late Motörhead frontman Lemmy Kilmister have launched a campaign to newly discovered form of heavy metal -- that's the substance and not the music genre -- after the musician. John Wright, a business support manager from New York, aims to rename Ununoctium 118, which is one of four radioactive "super-heavy" elements that were added to chemistry's periodic table in early January, to "Lemmium." The petition, which already has already gained 15,000 signatures, reads: "Heavy rock lost its most iconic figure over Christmas with the sudden and unexpected death of Ian 'Lemmy' Kilmister. Lemmy was a force of nature and the very essence of heavy metal. We believe it is fitting that the International Union of Pure and Applied Chemistry (IUPAC) recommend that one of the four new discovered heavy metals in the periodic table is named Lemmium. An astrological object (a star) has been named Lemmy to meet the IUPAC naming recommendations." Ununoctium 118 and three other elements were discovered by scientists in America, Japan and Russia. The four new additions were formally verified by the International Union of Pure and Applied Chemistry (IUPAC) on December 30. However some of the band's fans are angry about the petition, with many declaring that Motörhead was not a heavy metal band. "Let's not," one fan posted. "Lemmy himself said in 2010, 'We were not heavy metal. We were a rock'n'roll band. Still are. Everyone always describes us as heavy metal even when I tell them otherwise. Why won't people listen?' Why won't you listen?" Meanwhile, a memorial service honoring Kilmister on Jan. 9 in Hollywood is set to be streamed across the world. The service will go out on the band's official YouTube channel from 5:00 p.m. to 9:00 p.m. PST. It will be held across the entire Sunset Strip in West Hollywood. Kilmister passed away on Dec. 28 following a short battle with cancer, and since his death the band's signature tune, "Ace of Spades," is on track to become Motörhead's first Top 10 song ever in the U.K. "Ace of Spades" peaked at No. 15 on the U.K.'s Official Singles Chart following its release in 1980, and last entered the Top 40 when it reached No. 23 as a reissue in Sept. 1993. - NME/Billboard, 1/6/16...... Bonnie Raitt has released her first ever lyric video, for "Gypsy In Me," which appears on her upcoming album, Dig In Deep. Created by Black Balloon, the clip is an on-the-go look at the restless traveling Raitt expresses within the song. "I'm excited to finally have my first lyric video coming out along with the release of our first single, 'Gypsy In Me,' later this week," Raitt said. "New album, Dig In Deep, comes out Feb. 26th, followed by our two-year world tour. Can't wait to hit the road!," she added. - Billboard, 1/6/16......

After Pres. Barack Obama delivered a tearful speech about guns in the U.S. on Jan. 5, one of his biggest foils, rocker Ted Nugent, shared some colorful new insults about the president on his Facebook page. "I will write a comprehensive piece on the Chicago scam artist in chief on his latest lies about tyranical trampling of the 2nd Amendment but know it ye all goodmen everywhere that his ongoing criminal oath violating INFRINGEMENTS would NOT have stopped nor will ever stop ANY mass shootings or crime that anyone is aware of. He is a psychopathic America hating liar," Nugent groused, also suggesting that his fans should buy NRA memberships for everyone they know. The Nuge also responded to selected Facebookers, including one Brit who who suggested "Come to England, we have no guns, but plenty of knives and stabbings!" Nugent's response? "& no freedom. no thankU." - Billboard, 1/5/16...... Former Nickelodeon star Victoria Justice and current Disney star Ryan McCartan have been tapped to star in the network's upcoming remake of the 1975 cult classic The Rocky Horror Picture Show. Justice and McCartan will portray Janet and Brad, respectively, in roles made famous by Susan Sarandon and Barry Bostwick in the original film. Reeve Carney (Penny Dreadful) has also signed on as Riff-Raff, while singer Staz Nair will portray Rocky Horror and Laverne Cox (Orange Is the New Black) will play Dr. Frank-N-Furter. The two-hour Fox special, which will be directed and choreographed by Kenny Ortega (High School Musical), is due in fall 2016. - The Hollywood Reporter, 1/4/16...... The Playback.fm website has isolated Freddie Mercury's vocal track on the Queen classic "We Are the Champions," and the results are stunning. "We love Queen and Freddie Mercury, so we've edited 4 concert films including a rare recording session of 'We Are the Champions' and synced them all up to the isolated vocals in honor of the late, great, Freddie Mercury," reads the YouTube description for the video. "This video showcases his presence and consistency as the ultimate stage man. RIP Freddie. You are a rock god." - Billboard, 1/4/16...... Former UFO and Scorpions guitarist Michael Schenker will release a new double A-side single, "Rock City" b/w "Good Times," on Jan. 11 to coincide with his forthcoming 9-city U.K. tour. The single is taken from Schenker's Temple of Rock album Spirit On A Mission. The tour, which gets underway in Bilston Robin on Jan. 20, will see Schenker perform tracks from the album, plus UFO, Scorpions and MSG classics. - Noble PR, 1/5/16......
Noted music producer and manager Robert Stigwood, who acted as manager of Cream and the Bee Gees before producing some of the all time great rock musicals including Saturday Night Fever and Grease, passed on Jan. 4 at the age of 81. The Australian-born Mr. Stigwood's first major career success came representing English singer/actor John Leyton in 1961, which helped kick off a new era of independent British music production. In 1966, Mr. Stigwood became the Who's booking agent by reportedly paying the band's managers £500. This deal also empowered him to lure the band away from Brunswick Records to record the now famous single "Substitute" on his own Reaction Records label. That same year, Mr. Stigwood became the manager of a new band called Cream made up of the best musicians from two groups he had under contract -- guitarist Eric Clapton from John Mayall's Bluesbreakers, and bassist Jack Bruce and drummer Ginger Baker from the Graham Bond Organisation. The following year, he began managing the Australian teenage vocal group the Bee Gees. Though the U.K. release of the band's first Australian charting topping hit "Spicks and Specks" was a flop, an intensive promotional campaign helped make "New York Mining Disaster 1941" the sibling trio's first international hit, with many more to come. Mr. Stigwood made the leap into film and TV production by the early '70s, and his first hit was an adaptation of "Jesus Christ Superstar" in 1973, followed by the film version of the Who's Tommy in 1975. Massive success came next with Saturday Night Fever in 1977, which included a two-LP soundtrack written and featuring his client the Bee Gees, and then the beloved rock and roll musical Grease in 1978. Though several commercial failures followed, he did find success later with the Madonna-starring musical Evita, which won the 1997 Golden Globe for Best Motion Picture. The news of Mr. Stigwood's death was announced by Spencer Gibb, son of late Bee Gees member Robin Gibb, via Facebook. Musicians and actors paying tribute to the influential figure on Twitter include the Who, Andrew Lloyd-Webber, Sir Tim Rice and musical theatre star Elaine Page. - Billboard/NME, 1/5/16...... Nicholas Caldwell, a founding member of R&B group The Whispers, died on Jan. 5 at his home in San Francisco. He was 71. Known for its trademark silky smooth harmonies, The Whispers scored its first R&B hit in 1970 with the No. 6-charting "Seems Like I Gotta Do Wrong." Caldwell, along with twin brothers Wallace and Walter Scott, Gordy Harmon and Marcus Hutson, established the group in the early '60s. The popular concert act, which charted such hits as "And the Beat Goes On" and "Rock Steady," most recently played in Los Angeles -- its hometown -- at the Microsoft Theater on Dec. 19, 2015, with Stephanie Mills and The Temptations Review, featuring Dennis Edwards. - Billboard, 1/6/16...... Blues guitarist Long John Hunter, who recorded seven solo albums in a 60-year career and was known internationally for his onstage showmanship, died in his sleep on Jan. 4 at his home in Phoenix, Ariz. He was 84. The Texas-born Mr. Hunter was also a singer-songwriter whose best-known tracks are "El Paso Rock" and "Alligators Around My Door." Artists including James Brown, Buddy Holly, Etta James and Albert Collins reportedly attended shows by Mr. Hunter, who also became a mentor to then-teenager Bobby Fuller of "I Fought the Law" fame. Mr. Hunter, known for holding his guitar by the neck in one hand while continuing to play, released independent CDs in 2003 and 2009 and reportedly continued to play regularly until he was 80. - AP, 1/5/16.
It appears the Grateful Dead spinoff band Dead & Company will extend its tour into 2016, even though the second night of a two-night stand at Los Angeles' The Forum on New Year's Eve was supposed to cap off the band's first and perhaps only tour. "At the risk of rocking any boats -- known and unknown -- we'll see you next year," Dead & Company member John Mayer told the capacity crowd at the end of the last of the evening's three-set shows. Mayer, a Grammy-winning guitarist and singer, has been guesting in the band, which features original GD members Bob Weir, Mickey Hart and Bill Kreutzman (along with Oteil Burbridge on bass and Jeff Chimenti on keyboards). Dead & Co. performed a rollicking cover of the '60s soul classic "In the Midnight Hour" at midnight as the new year rang in, appropriately enough, and encored with a slower-paced "Brokedown Palace." "Thank you or accepting me into this beautiful home," Mayer said as the band prepared to leave the stage. - Billboard, 1/1/16......
Queen of Soul Aretha Franklin brought down the house, and even brought a tear to Pres. Barack Obama's eye, when she paid tribute to Carole King during the 2015 Kennedy Center Honors in Washington D.C. on Dec. 30 by performing a rendition of the King-penned "(You Make Me Feel Like) A Natural Woman." Draped in fur at the piano, the 73-year-old legend was moved at all the dignitaries seated around her, including Pres. Obama and First Lady Michelle Obama and Kennedy Center Honoree King. When Franklin left the piano and stood at center stage halfway through the performance, she brought the president and his wife to their feet, along with King and her fellow honorees George Lucas, Cicely Tyson, Seiji Ozawa and Rita Moreno. King was also paid tribute by artists including James Taylor, who performed "Up on the Roof," and Janelle Monae, who sang the King tunes "Will You Love Me Tomorrow?" and "One Fine Day." - Billboard, 12/30/15...... Original Star Wars creator/director George Lucas has criticized the "retro" tone of the latest episode of the space saga, Star Wars: The Force Awakens, which is the first film made without his involvement. In an interview with US TV host Charlie Rose, Lucas described the 1977 original and prequel trilogy as his "kids" and compared the Disney studio, which bought the rights to the franchise, "to white slavers that take these things." Lucas also revealed that the film studio had not wanted his input in the new installment. "They wanted to do a retro movie. I don't like that," he said. "They weren't that keen to have me involved anyway, but if I get in there, I'm just going to cause trouble, because they're not going to do what I want them to do. And I don't have the control to do that any more, and all I would do is muck everything up. And so I said, 'OK, I will go my way, and I'll let them go their way.'" Star Wars: The Force Awakens has shattered opening box office records around the world, and is on track to top the all-time ticket sales record of $2.78 billion which is currently held by Avatar. - NME, 12/31/15....... Two October shows from Paul McCartney's 2015 Out There tour have placed the Beatles legend in second place on the latest tally of Billboard's Hot Tours list. Sold out performances by Sir Paul at Penn State University's Bryce Jordan Center on Oct. 15 and First Niagara Center in Buffalo, N.Y. on Oct. 22 added $4.7 million in sold ticket revenue to the tour's overall gross of $196 million based on 60 concerts. The Buffalo performance marked the final stop for McCartney's tour, which was attended by more than 1.4 million fans over its two-and-a-half year run. A total of 15,552 tickets were sold for the tour's finale. - Billboard, 12/29/15......
In other tour news, AC/DC's Rock Or Bust tour sold the most tickets worldwide in 2015, with the Aussie rockers selling a staggering 2.31 million tickets over the course of the year and grossing $122 million. AC/DC released their 17th album, Rock Or Bust, in November 2014, and the LP climed to No. 3 on both the UK and US charts, as well as topping the charts in their homeland of Australia. AC/DC has announced plans for two additional huge UK dates, in Manchester and London, in June 2016, however there are doubts about the band performing live beyond those dates. Early in 2015, frontman Brian Johnson spoke about the possibility of retirement, and suggested that Rock Or Bust could be the band's last album. - New Musical Express, 1/1/16...... Cher has reacted to the controversial Dec. 28 decision by an Ohio grand jury in the case of 12-year-old Tamir Rice, who was shot dead by two Cleveland police officers after they mistook his pellet gun for a real pistol. "ANOTHER"NOT SO GRAND" GRAND JURY. TAMIR RICE'S DEATH WAS TRAGEDY OF ERRORS, INCOMPETENCE & TOTAL DISREGARD OF A 12 YR OLD CHILD'S HUMAN RIGHTS," Cher tweeted after learning of the decision. Timothy Loehmann, an officer-in-training, fatally shot Rice on Nov. 22 outside a Cleveland recreation center after seeing him with a pellet gun and receiving spotty information from the 911 dispatcher. - Billboard, 12/28/15...... Grammy-winning singer Natalie Cole, the daughter of legendary crooner Nat "King" Cole who carried on her late father's musical legacy and, through technology, shared a duet with him on his pop standard "Unforgettable," died on the evening of Dec. 31 at Cedar Sinai Hospital in Los Angeles due to compilations from ongoing health issues. She was 65. Cole, who was inspired by her dad at an early age and auditioned to sing with him when she was just 11 years old, was just 15 when her dad died of lung cancer in 1965. She began as an R&B singer but later gravitated toward the smooth pop and jazz standards that made her father famous, with her greatest success being the 1991 album Unforgettable ... With Love, which paid tribute to her father with reworked versions of some of his best-known songs, including "That Sunday That Summer," ''Too Young" and "Mona Lisa." The album sold some 14 million copies and won six Grammys, including album of the year as well record and song of the year for the title track duet. Cole had battled drug problems and hepatitis that forced her to undergo a kidney transplant in May 2009. "Natalie fought a fierce, courageous battle, dying how she lived ... with dignity, strength and honor. Our beloved Mother and sister will be greatly missed and remain UNFORGETTABLE in our hearts forever," read the statement from her son Robert Yancy and sisters Timolin and Casey Cole. - Billboard, 1/1/16......

Heavy metal icon and Motörhead frontman Ian Fraser "Lemmy" Kilmister died on the evening of Dec. 28 after a brief fight against cancer. He was 70. Born Dec. 24, 1945, in Burslem, Stoke-on-Trent, Staffordshire, England, Kilmister took up the guitar at an early age and as a young man saw the Beatles perform at Liverpool's legendary Cavern Club. He moved to London in the early 1960s and performed with several bar bands, and worked as a roadie for Jimi Hendrix in 1968. He switched to bass to join the space-rock group Hawkwind in 1972, and was with the band during its most fertile era. His first work for the band was to record the vocals for "Silver Machine," which went on to become a hit single in the U.K. and the group's defining song. He enjoyed a three-year run with Hawkwind but was ejected in 1975 after being busted on tour for possession of cocaine (which turned out to be amphetamines). Kilmister, who was famously gruff, quick with his fists and did not suffer fools gladly, later said that he'd been kicked out of the LSD-centric band not for using drugs, but the "wrong kinds of drugs." The musician's decades of hard living -- he was rarely seen without a whiskey and/or a cigarette -- began to catch up with him in recent years, and he once half-seriously said he'd switched from whiskey to vodka "for health reasons." In 2013, Lemmy suffered a haematoma, which caused the cancellation of gigs in Italy and Austria, and was fitted with a pacemaker after being diagnosed with an irregular heartbeat. The following year, Motörhead pulled out of a European tour citing Lemmy's health as the reason behind the decision. The band due to tour the UK in January 2016, starting in Newcastle and ending in London, in support of its new album Bad Magic, released in Aug. 2015. "Noble friend Lemmy passed away today after a short battle with an extremely aggressive cancer," Motörhead said in a statement. "He had learnt of the disease on December 26th, and was at home, sitting in front of his favorite video game from The Rainbow which had recently made it's way down the street, with his family. We cannot begin to express our shock and sadness, there aren't words," the statement continued. Ozzy and wife Sharon Osbourne were also close friends of Kilmister's, with Sharon tweeting "My dear friend, Lemmy, passed away today. I've known him for 38 years. He will be so missed but he will never be forgotten," on Dec. 29. - Billboard/New Musical Express, 12/29/15...... Drummer John Bradbury, a member of the UK Two Tone group The Specials, died at the age of 62 on Dec. 29. "Brad's drumming was the powerhouse behind The Specials and it was seen as a key part to the Two Tone sound," his family said in a statement. "He was much respected in the world of drumming and his style of reggae and ska was seen as genuinely ground breaking when The Specials first hit the charts in 1979." After joining The Specials in 1979, Bradbury had a top 10 hit with the band, "Free Nelson Mandela," in 1984. The Coventry-based band then split, but reunited for a 2009 tour to celebrate their 30th anniversary. Bradbury had remained part of the group since then. - New Musical Express, 12/29/15......

Actor and entrepreneur Wayne Rogers, best known for playing Capt. "Trapper John" McIntyre on the classic Korean War-era sitcom M*A*S*H, died of complications from pneumonia on Dec. 31 in Los Angeles. He was 82. Mr. Rogers' army surgeon Trapper John was one of the most beloved characters -- and half of one of the most beloved duos which included Alan Alda as "Hawkeye Pierce" -- in TV history, despite his appearing in only the first three of the show's 11 seasons on CBS. An Alabama native and Princeton University graduate, Mr. Rogers had parts on many short-lived shows early in his career, specializing in westerns like Law of the Plainsman and Stagecoach West, and also had a bit part in the 1967 film Cool Hand Luke with Paul Newman. In the years after M*A*S*H, Mr. Rogers returned to TV regularly, including a recurring role in the early 1990s on Murder, She Wrote. Mr. Rogers then moved beyond acting to see serious success later in life as a money manager and investor. In 1988 and 1990, he appeared as an expert witness before the House Judiciary Committee to speak in favour of maintaining the Glass-Steagall banking laws of the 1930s, and in recent years he was a regular panelist on the Fox News stock investment show Cashin' In. Mr. Rogers is survived by his wife Amy, two children, Bill and Laura, and four grandchildren. - AP, 1/1/16...... Prolific character actor Jason Wingreen, who portrayed Harry the bartender on the All in the Family spinoff Archie Bunker's Place and provided the voice of the bounty hunter Boba Fett in Star Wars: The Empire Strikes Back, died at his home in Los Angeles on Christmas Day. He was 95. A recognizable character actor with almost 200 big and small screen credits, Mr. Wingreen was a Brooklyn native whose resume includes three episodes of The Twilight Zone, most notably portraying the real train conductor in the 1960 episode in "A Stop at Willoughby." He also played a Chicago police caption on The Untouchables, a major on 12 O'Clock High and Judge Arthur Beaumont on Matlock; did six episodes apiece of The Fugitive, The FBI and Ironside, appearing as 18 different characters; and died a memorable death as Dr. Linke on the 1968 Star Trek episode "The Empath." And in Airplane (1980), he played a doctor from the Mayo Clinic who is seen talking on the phone as a beating heart bounces all over his desk. Born Oct. 9, 1920 in Brooklyn, Mr. Wingreen made his movie debut in The Bravados (1958), starring Gregory Peck, and also appeared on the big screen in A Guide for the Married Man (1967), Marlowe (1969), They Only Kill Their Masters (1972), The Terminal Man (1974), Oh, God! You Devil (1984). He retired after appearances on Seinfeld and In the Heat of the Night in the 1990s. - The Hollywood Reporter, 1/1/16.
After the Beatles made their back catalog available for streaming on all platforms on Dec. 24 as "a holiday gift to their fans," the Spotify service says their songs were added to 673,000 of their listeners' playlists in the first two days. And it appears it isn't only more mature music fans who are listening to the Fab Four -- Spotify reports that 65% of those listeners are under the age of 34. The top 10 Beatles tracks among U.S. listeners -- which include "Come Together," "Hey Jude," "Here Comes the Sun," "Let It Be," "Twist and Shout," "Blackbird," "I Want to Hold Your Hand," "In My Life," "She Loves You," and "Help!" -- focus mainly on the hits, however "Blackbird" and "In My Life" were never exactly radio hits in America. Globally, "Love Me Do," "Yesterday" and "All You Need Is Love" appear in the top 10 Beatles streamers, with "Come Together" also topping the list. - Billboard, 12/26/15......
Guitarist Richard Lloyd, a founding member of the critically acclaimed '70s NYC band Television, has revealed he's leaving the Big Apple after residing there for 50 years and relocating to Tennessee. Speaking to The Village Voice, Lloyd said he plans to live on "a 54-acre farm that is no longer used as a farm." A nearby barn will serve as a music studio for the 64-year-old musician, who says he's "very emotional, of course, but... happy about it." "I love New York and I'm already homesick for it; it's always been so satisfying to live here," Lloyd noted. "So many of my friends who were so much a part of New York moved away, though. Now I'll be one of them," he added. Lloyd, who moved to New York's Greenwhich Village with his family in the 1950s, joined Tom Verlaine and Richard Hell to form Television in 1973. Although the band went on to great critical acclaim with its seminal 1977 album Marquee Moon, commercial success eluded it. Television, alongside contemporaries like Talking Heads, Blondie, The Ramones and the New York Dolls, were affiliated with the late '70s New York punk scene that emerged from the downtown club CBGB. Verlaine, who was named the 90th greatest guitarist of all time by Rolling Stone in 2011, cited his need for addtional space to house decade's worth of equipment, along with the high cost of living in New York City, as reasons for the move. - Billboard, 12/24/15...... The Columbia House Record Club, known to many Baby Boomers and Gen Xers as a convenient way to amass a record collection but which fell out of favor with buyers after CDs became popular, will reportedly be revived soon with a focus on vinyl records. John Lippman the CEO of Filmed Entertainment Inc., bought the remains of the legendary mail-order brand for about $1.5 million in a chapter 11 bankruptcy sale in August (creditors of its $62 million in liabilites include Universal, Warner Bros., Lionsgate, Paramount, Sony, Anchor Bay and others) after no other suitors offered to buy it. "For a category that is meaningful and growing rapidly, you don't see a whole lot of choice," Lippman said of his plans to market vinyl records. He said the service may resemble a book-of-the-month club but with more choices, where subscribers will have "some ability to choose the records, genres of music and possibly other types of media they receive." As for pricing, Lippman hinted that he's considering a dialed-down (you're not getting 10 vinyl records for a dollar) version of Columbia House's old promotion schemes. According to the RIAA, vinyl sales were up over 50 percent in the first half of 2015. However that increased demand has put pressure on the limited number of record pressing plants, and in some cases it takes up to four months for record labels to get their vinyl orders back. - Billboard, 12/23/15...... William Guest, a former member of Gladys Knight and the Pips, died of congestive heart failure in Detroit on Dec. 24. He was 74. Guest performed with the Grammy-winning group from 1953 to 1989, singing background vocals on such hits as "I Heard It Through the Grapevine" and "Midnight Train to Georgia." After the group disbanded, Guest and another member, the late Edward Patten, formed a production company. He later served as CEO of Crew Records, and released his autobiography Midnight Train From Georgia: A Pips Journey in 2013 with his sister-in-law, Dhyana Ziegler. - AP, 12/25/15......
Famed basketball jester George "Meadowlark" Lemon, who entertained millions of fans around the world with his antics as a longtime member of the Harlem Globetrotters, passed away in his sleep on Dec. 27 in Scottsdale, Ariz. He was 83. Known as the "Clown Prince of Basketball," Mr. Lemon played 24 seasons and, by his own estimate, more than 16,000 games with the Globetrotters, the touring exhibition basketball team known for its slick ball-handling, practical jokes, red-white-and-blue uniforms and endless winning streaks against overmatched opponents. He also was one of a handful of Globetrotters whose fame transcended sports, especially among children during the team's heyday in the 1960s and 1970s. Mr. Lemon was immortalized in a Harlem Globetrotters cartoon series and appeared on The Ed Sullivan Show, episodes of Scooby Doo, and many national TV commercials. Born in Wilmington, N.C., Mr. Lemon joined the Globetrotters in 1954 after serving two years in the Army. Over the next quarter-century, he and the team played almost everywhere, from high school gyms to Madison Square Garden to an exhibition in Moscow during the Cold War. After a salary dispute, Mr. Lemon left the Globetrotters in 1979 to form his own comedic basketball teams, which performed under the names Meadowlark Lemon's Bucketeers, the Shooting Stars, and Meadowlark Lemon's Harlem All Stars. He returned to the Harlem Globetrotters for a 50-game "comeback" tour in 1993. Mr. Lemon, who was enshrined in the Naismith Memorial Basketball Hall of Fame in 2003, spent the last several years of his life serving as an ordained minister and motivational speaker. - CNN, 12/28/15...... Steven Wright, the frontman of the '60s Australian band The Easybeats, died of undisclosed causes in a New South Wales hospital on Dec. 26. He was 68. Wright formed The Easybeats in 1964, and the group became one of Australia's most beloved and popular acts soon after. The band's best known song, "Friday On My Mind," hit No. 1 in Australia in 1966 and also charted in other countries. It was also covered by David Bowie on his 1973 album, Pin-Ups. After touring with bands including the Rolling Stones in the late '60s, The Easybeats broke up, and Wright formed Vanda and Young, who charted a hit called "Evie" in 1974. Wright, who struggled with drug and alcohol abuse for decades and later suffered from liver and kidney problems, gave his last performance at the Legends of Rock Festival in 2009. - Billboard, 12/27/15.
After rumors began circulating on Dec. 18 that the Beatles would make their entire back catalog available for streaming starting Christmas Eve, on Dec. 23 the band confirmed that their fans' long wait was indeed over and that their catalog -- all 13 UK albums and 4 compilations -- will be available across all platforms on Dec. 24. The Fab Four, one of the most persistent holdouts in the digital age of music listening, had made their music available to Apple iTunes exclusively in 2010, but there's no such exclusivity in their new streaming plan: Spotify, Apple Music, Tidal, Deezer, Google Play, Amazon Prime, Slacker, Microsoft's Groove, and Rhapsody (including its Napster service in the UK) will all have access to the band's library of classic songs. It took the band, which as an entity has been notoriously slow in adopting and adapting to new technology, six years to arrive on the iTunes, selling two million songs during its first week. The Beatles took 25 years, since its 1970 breakup, to issue the comprehensive Anthology documentary, and it didn't get involved with video games until The Beatles: Rock Band was released in 2009. Their music was released on CD in 1987, but the band didn't remaster their work until 22 years later. The Beatles join the streaming revolution just as music consumption on such platforms has begun to officially overtake downloads in revenue generation for major labels. They've sold 178 million albums in the U.S., according to the RIAA. - Billboard, 12/23/15...... In other Beatles-related news, Paul McCartney was a "special elf" brought onstage by Bruce Springsteen & the E Street Band during a yuletide performance on NBC's Saturday Night Live on Dec. 19. As the Boss played the Christmas classic "Santa Claus Is Coming to Town" over the closing credits of the show, Macca joined the band on stage adding to the merriment with some jingle bells. "Tina, have you been good?" Springsteen asked Tina Fey, who shared hosting duties with Amy Poehler. "Amy? Paul?" It was the first time McCartney and Springsteen had shared the same stage since appearing together at a 2012 concert in London that went past curfew, resulting in the pulling of the plug. In a similar moment, NBC cut the performance of "Santa Claus" before the song concluded. Springsteen also performed "The Ties That Bind," from his album The River, on SNL. He will hit the road for his The River tour in January. - Billboard, 12/20/15......


Brothers Ray and Dave Davies of the Kinks performed live together for the first time since 1996 on Dec. 18 when Ray brought Dave onstage during a gig at the Islington Assembly Hall in North London. The pair performed the Kinks classic "You Really Got Me," with Dave later tweeting that he "had a blast with Ray." The siblings had not performed together since the Kinks split acrimoniously in 1996, and while rumours about a 50th-anniversary collaborative tour were rampant in 2014, the shows never materialized. Three months ago, Dave was also quoted as saying there was an "outside shot" of a Kinks reunion, with the Kinks-based musical "Sunny Afternoon" thought to have helped to ease tensions between the feuding brothers over the past couple of years. Ray has also commented on the future of the band, citing the "war between Dave and [original Kinks drummer] Mick Avory." I don't work for the United Nations, I'm just a musician," Ray said. "I had a drink with Mick last week, and I asked, What happened to you guys?' They shared a house in the 1960s. I think some things went on there that created a rivalry." He has also said that "I like playing the hits, I just did a solo tour, but when the Kinks get back together, I need to be inspired to write new material." Ray and Dave have not confirmed whether they plan on any further collaborative appearances following the Dec. 18 performance. - New Musical Express, 12/19/15...... The owner of a Danish replica of Elvis Presley's Graceland Mansion home in Memphis, Tenn., has announced he is changing the name of his property from Graceland Randers after Elvis Presley Enterprises Inc. demanded a name change and 1.5 million kroner ($220,000) in compensation. Henrik Knudsen opened his Elvis museum in 2011 in Randers, Denmark, which is situated 210 kilometers (130 miles) northwest of the capital, Copenhagen. It includes Knudsen's private collection of Elvis artifacts, an American diner-style restaurant and a souvenir shop. Knudsen said on Dec. 22 that he is changing the name of his museum, which is twice the size of the original Graceland, to Memphis Museum beginning Jan. 1, so that he can "focus on our business." Knudsen said more than 130,000 Elvis fans have visited the museum since it opened. - AP, 12/22/15...... A hologram tour showcasing late R&B legend Jackie Wilson will travel the US in 2017, Hologram USA announced on Dec. 22. "Everything you expect from an exciting rock star' stage show was invented by Jackie Wilson: the leaps, spins and back-flips, not to mention his amazing four-octave range," Hologram USA CEO Alki David said in a statement. Wilson, nicknamed "Mr. Excitement," influenced a host of future stars including Michael Jackson, who dedicated his 1984 Grammy for Album of the Year to the dynamic entertainer. Between 1958 and 1970, Wilson charted 16 top 10 R&B hits and six top 10 pop hits. He topped the R&B singles chart six times, starting with 1958's "Lonely Teardrops" (No. 7 on pop). Wilson, inducted into the Grammy Hall of Fame and the Rock and Roll Hall of Fame, slipped into a coma after collapsing onstage in 1975. He died in 1984. Hologram USA and its partner, FilmOn TV, are also creating hologram shows in association with the estates of Whitney Houston, Patsy Cline, Buddy Holly, Billie Holiday and Dean Martin. - Billboard, 12/22/15......

Aerosmith frontman Steven Tyler has released a new video, "Hope Is Everything," to benefit his new charity Janie's Fund, which raises awareness for young female victims of neglect and abuse. Named after the Aerosmith hit "Janie's Got A Gun," which reached No. 4 on the Billboard Hot 100 almost 26 years ago, Janie's Fund will use 100 hundred percent of all donations to support proven programs at Youth Villages, a national nonprofit dedicated to providing effective solutions for over 23,000 children and families each year with emotional and behavioral changes. "An entire community was built around this song's message," Tyler wrote on the Janie's Fund website. "Over the years, I've been overwhelmed by the thousands of fans who have sent me letters, telling me their stories and how Janie's Got A Gun' affected and inspired them." With a $5 donation to Janie's Fund, participants may be entered to win The Ultimate VIP Rock Experience, which includes walking the red carpet and hanging with Tyler backstage at his first solo album release party. - Billboard, 12/22/15...... Chicago's Robert Lamm has issued a statement saying his former bandmate, Peter Cetera, will not be playing with the group when they are inducted into the Rock and Roll Hall of Fame in April after he told Radio.com that Cetera would sing though not necessarily play bass with Chicago during the ceremony. "I've mistakenly said Cetera would be playing," Lamm says. "He has emphatically declined. My email exchanges with Cetera were misinterpreted by me, and I've apologized to him, and likewise apologize to the music press community and fans." Cetera, who left Chicago in 1985 to pursue a solo career, sang lead on Chicago favorites such as "25 or 6 to 4," "Feelin' Stronger Every Day" and "Just You 'n' Me" and shared vocals on "Saturday in the Park" and the two-part "Dialogue." He also wrote hits such as "Wishing You Were Here," "If You Leave Me Now" and "Baby, What a Big Surprise." It is unclear whether Cetera plans on attending the ceremony, and original Chicago drummer Danny Seraphine, who left the group in 1994, also hasn't confirmed whether he'll be joining the band at the ceremony. - Billboard, 12/22/15...... Aretha Franklin made a surprise appearance at the House of Swing concert at the Lincoln Center's Rose Theater on Dec. 17. Franklin, walking onstage to a standing ovation, said to the bandleader, "Wynton (Marsalis), I think maybe I'll change the program just a little bit." Accompanying herself on piano, she then sang the Christmas carol "O Tannenbaum" in English and German. She followed with a soulful, gospel-infused version of "My Cup Runneth Over," an outtake from her 1972 album Young, Gifted and Black, which she recently added to her concert repertoire. The 73-year-old Franklin, joking that "this happens to be my 50th year in the business and I'm feeling it," dedicated her performance to Atlantic Records founder Ahmet Ertegun, who signed her to his label in 1967 and died in 2006. - AP, 12/19/15......
In an interview with the US edition of Britain's The Guardian paper, Kenny Rogers revealed he is a big fan of Republican presidential hopeful Donald Trump. "I really like him," Rogers said of the controversial Trump, who has riled Mexicans, Muslims, and many women with his statements. "I think his problem is that he says what everyone wants to hear, but he doesn't say it well. I love what he says, I have to admit. He can be president and not owe anybody anything; he's one of the few people has the money to do it, and has the guts to do it," Rogers said. In September, the 77-year-old "The Gambler" singer announced he would retire from live performing at the conclusion of his 2016 world tour. - Billboard, 12/22/15...... Black Sabbath guitarist Tony Iommi is featured in a new charity Christmas song titled "Christmas Way by 19 and 7" from professional footballers James Milner and Stiliyan Petrov. Milner, Petrov and Iommi all hail from Birmingham, and Petrov was forced to retire from the Aston Villa team in 2013 in order to fight leukemia. Like Petrov, Iommi has also had to tackle leukemia. The title, "Christmas Way by 19 and 7," is a reference to the two players' shirt numbers. It was officially released on Dec. 18. - New Musical Express, 12/19/15...... Drummer Jason Bonham, the son of late Led Zeppelin drummer John Bonham and who sat in on drums for his dad at Led Zeppelin's one-off reunion concert in late 2007, has said in a new interview that he believes Led Zep will perform together again someday on stage. "In my heart of hearts, I do believe we will play together again," Bonham said. "It remains to be seen if it will be in public or privately, but I do think we will play again." It appears any LZ reunion won't be happening anytime soon though, as guitarist Jimmy Page has announed that he'll be heading out on a solo tour in 2016, and singer Robert Plant has scoffed at future reunion plans, saying a LZ tour would be "an absolute menagerie of vested interests and the very essence of everything that's shitty about big-time stadium rock" and that he doesn't want to be "part of a jukebox." - Billboard, 12/19/15...... The legendary New York punk club CBGB, a breeding ground for the city's '70s punk and new wave scene, will be reopening as a restaurant at a New York area airport. The venue, which originally opened in 1973 by Hilly Kristal and closed on Oct. 17, 2006, with Patti Smith's band playing the venue final concert, will be rechristened the CBGB LAB (Lounge and Bar) at New Jersey's Newark Liberty International Airport. It will be managed by chef Harold Moore and serve "American fare in a fun environment recalling the legendary music venue." In 2013, a movie tracing the history of CBGB was released, and in recent years New York has hosted a CBGB Festival, which Jane's Addiction headlined in 2014. - New Musical Express, 12/22/15...... Academy Award-winning composer Burt Bacharach has signed on to score Po, a feature film about a widowed father raising his 10-year old son with autism. Bacharach, whose daughter Nikki is afflicted with Asperger's Syndrome, says he met Po's director John Asher by chance on a flight in 2014 and agreed to let Asher use his classic, "Close to You," made famous by the Carpenters. Upon seeing the film, he agreed to compose the music. "I was so touched by the film that scoring it was a labor of love," Bacharach said in a statement. A release date for Po has yet to be announced. - Billboard, 12/18/15......
James Taylor says he is "gonna miss" Pres. Barack Obama when the president leaves office in Jan. 2017. "It makes a surprising amount of difference to me who the country has chosen to represent it, and in the case of Barack Obama, it just makes me feel good about being an American," Taylor recently told Billboard. "In my opinion, he is a wonderful president and a great leader. I'm gonna miss him." Taylor, who wrapped the first leg of a U.S. tour in August, was honored with the Presidential Medal of Freedom, the nation's highest civilian honor, by Pres. Obama on Nov. 24. He will be seen performing on TV during CBS' broadcast of the Kennedy Center Honors on Dec. 29, as well as PBS' In Performance at the White House on Jan. 8. Taylor, who this year scored his first No. 1 album on the Billboard Hot 200 with Before This World, has 2016 performances lined up including shows at Carnegie Hall in New York and concerts at Wrigley Field in Chicago and Fenway Park in Boston. - Billboard, 12/18/15...... Veteran pop and country music producer/entrepreneur Thomas Lesslie "Snuff" Garrett, who made his mark on the charts in the 1960s and '70s with such music as the No. 1 singles "This Diamond Ring" by Gary Lewis & The Playboys, "Gypsies, Tramps and Thieves" by Cher, and "The Night the Lights Went Out in Georgia" by Vicki Lawrence, died on Dec. 17 at his ranch in Arizona. He was 76. Garrett, a onetime disc jockey from Dallas, Tex., joined Liberty Records as a staff producer in 1959, first producing Johnny Burnette's "Settin the Woods on Fire." Among other artists he worked with at Liberty and later Kapp and MCA Records were Bobby Vee, Johnny Burnette, Buddy Knox, Walter Brennan, Sonny & Cher, Dean Martin, Sonny Curtis, Tanya Tucker and others. He was also responsible for hiring Phil Spector to do work for Liberty Records and employing Leon Russell as his assistant. Garrett also released a series of instrumental albums that featured the guitar work of Tommy Tedesco of the legendary studio musican band The Wrecking Crew. In 1976, Garrett bought the rights to 800 old Republic and RKO Films titles and quickly built a multi-million dollar annual business in the early days of home video....... Luigi Creatore, a songwriter and record producer who teamed with his cousin Hugo Peretti to create hits for artists such as Elvis Presley, Sam Cooke, Perry Como and others, died on Sunday in Boca Raton, Fla., from complications of pneumonia. He was 93. The son of a renowned Italian immigrant bandmaster, Mr. Creatore began his career by writing advertising jingles and graduated to books, plays and, most notably, songs. His regular partner -- they both wrote music as well as lyrics -- was Mr. Peretti, who died in 1986; they were occasionally joined by George David Weiss, who died in 2010. Known professionally as Hugo & Luigi, the duo had their greatest success in the 1960s at RCA Victor Records, where they were among the first producers to have their names prominently displayed on album jackets, complete with their own logo. Their most noteworthy work at RCA, however, was not with a middle-of-the-road pop artist but with one of the great rhythm-and-blues singers of the era, Sam Cooke, who had success with Creatore-Peretti productions like "Chain Gang," "Twistin' the Night Away" and "Wonderful World." As composers, they wrote two songs that were hits for Elvis Presley in 1961: "Wild in the Country," from the movie of the same name, and "Can't Help Falling in Love," from the movie Blue Hawaii, which they wrote with Weiss. After leaving RCA Victor in 1964, Mr. Creatore and Mr. Peretti worked with, among other artists, Van McCoy, whose "The Hustle" was a No. 1 single in 1975 and one of the first disco hits.
David Bowie has made a second song from his forthcoming album Blackstar available for streaming. "Lazarus," described as a broody downtempo song that veers into alt-jazz territory, is six minutes long and peppered with saxophone and dirty guitars. "Look up here, man, I'm in danger I've got nothing left to lose, I'm so high it, makes my brain whirl. Dropped my cell phone down below. Ain't that just like me?" Bowie sings. "Lazarus" shares its title with Bowie's off-Broadway musical, which runs until Jan. 20 at the New York Theatre Workshop and is reportedly the only track from Blackstar to be featured in the production. The official video for "Lazarus" will drop Jan. 7, the day before Bowie's birthday and the release of Blackstar. - Billboard, 12/18/15......


The Rock and Roll Hall of Fame announced on Dec. 17 that classic rockers Chicago, Cheap Trick, Deep Purple, Steve Miller and Hip-Hop pioneers N.W.A. will be inducted into its class of 2016 during a ceremony on Apr. 18 at the Barclays Center in Brooklyn, New York. Rock and Roll Hall of Fame Foundation President and CEO Joel Peresman said the first four classic rock acts will begin to fill in some of the perceived "holes" in the Hall's ranks, which some critics have charged with being too elitist and dismissive of some of rock's massively popular acts. "This year, there was more free-form discussion where people could truly be advocates and ask more and better questions," Peresman said. "[The committee] could dig a little deeper into the importance and the impact of these bands and discuss them in greater depth and make more of a case that maybe helped get them on the ballot," he added. Despite being eligible before, it was the first time Cheap Trick, Miller and Chicago (which won the public fan vote, tallying nearly 37.7 million nods) had been nominated for induction, while Deep Purple and N.W.A have appeared on the ballot before. The original quartet and septet lineups, respectively, of Cheap Trick and Chicago are being inducted, while the Deep Purple roster will encompass the group's first three lineups, including three teams of singers and bass players. Should former Chicago member Peter Cetera perform with the band at the ceremony, it would be the first time since 1985 he has done so. Other intriguing reunion possibilites include estranged Cheap Trick drummer Bun E. Carlos and Deep Purple guitarist Ritchie Blackmore, who left the band in 1993. Blackmore has said in the past that he "could care less" about being inducted into the rock hall, and that he likely would not attend the ceremony if Deep Purple were inducted. Acts nominated this year but not making the cut include The Cars, Chaka Khan, Chic, Janet Jackson, The J.B.'s, Los Lobos, Nine Inch Nails, The Smiths, The Spinners and Yes. It will be the second time the RRHOF ceremony has been held at the Barclay Arena, and HBO will again film the ceremony for broadcast later in the spring, most likely in May. - Billboard, 12/17/15...... AC/DC announced on Dec. 14 that the 2016 leg of their current Rock or Bust tour will kick off Feb. 2 in Tacoma, Wash. The 20-city U.S. leg will also include stops in such major markets as Las Vegas (2/5), Denver (2/8), Chicago (2/17), St. Louis (2/20), Dallas (2/23), Houston (2/26), Kansas City (2/29), Atlanta (3/8), Washington, D.C. (3/17), Detroit (3/20), Cleveland, Oh. (3/26), and Philadelphia (4/1) before wrapping on Apr. 4 at New York's Madison Square Garden. The Aussie rockers also announced two U.K. dates in 2016 -- in London on June 4 and Manchester on June 9 -- with the London gig representing the first major concert at Queen Elizabeth Olympic Park since it was used to host the 2012 Olympic Games. The band has spent much of 2015 touring, with shows throughout the U.S., Europe, and Australia. - Billboard, 12/14/15......
Jimmy Buffett announced on Dec. 17 that a musical based on many of his classic beach-bum hits -- including ''Margaritaville," "Changes in Latitudes, Changes in Attitudes," "Cheeseburger in Paradise" and "A Pirate Looks at Forty" -- is currently in the works with a world premiere eyed for sometime in 2017. The show will have Buffett's blend of rock and country tunes and an original story by writers Greg Garcia and Mike O'Malley, with direction by Christopher Ashley. "The idea of turning 'Margaritaville' into a musical has been percolating for quite a while, but finding the right people to tell the right kind of story to go with the right songs from my catalogue took some time," Buffett said in a statement. "Now we have found our crew and I am happy to sail with them to Margaritaville. It's going to be a fun voyage," he added. - AP, 12/17/15...... Paul McCartney is among the 16 musicians appearing in a new video for a charity single, "Love Song to Earth," that is being relesed to raise awareness of climate change and benefit the Friends Of The Earth organization and the UN Foundation, as well as influence the United Nations Climate Change conference, which took place in Paris earlier in December. "Love Song to Earth" is described as "a song with the power to fight climate change and maybe change the world," and also features such acts as Jon Bon Jove, Sheryl Crow, Fergie, Sean Paul, Natasha Bedingfield and Leona Lewis. - New Musical Express, 12/18/15...... The producers of Grease: Live, the upcoming TV musical based on the hit 1978 film Grease, have announced their small-screen live event will be staged in front of a studio audience. Director Thomas Kail and set designer David Korins said in Dec. 16 that an audience "in the multiple hundreds" will populate Rydell High and other locations featured in the 1950s-set musical, which airs on Jan. 31 on Fox and will be broadcast live from the Warner Bros. backlot. The show will be a combined version of the original stage musical, first produced in Chicago in 1971, and the perennially popular 1978 film that starred John Travolta and Olivia Newton-John. The producers hope the studio audience -- who will be seen on camera though not in costume, handling props or delivering lines -- will give the Fox event a fresh, and potentially more risky, angle to distinguish it from NBC's live broadcasts of The Sound of Music, Peter Pan and The Wiz. The cast for Grease: Live includes Julianne Hough as Sandy, Aaron Tveit as Danny, Vanessa Hudgens as Rizzo, Carlos Pena Vega as Kenickie, Carly Rae Jepsen as Frenchy and Keke Palmer as Marty. - Billboard, 12/17/15......
Michael Jackson's classic 1982 album Thriller has become the first album ever to be certified 30 times multi-platinum for U.S. sales, marking more than 30 million sales in America, the Recording Industry Association of America (RIAA) announced on Dec. 15. "RIAA has awarded Gold & Platinum records on behalf of the music business for nearly 60 years, but this is the first time an artist has crossed the 30X multi-Platinum plateau," RIAA chairman and CEO Cary Sherman said in a statement. "We are honored to celebrate the unique status of Thriller in Gold & Platinum history. What an exceptional achievement and testament to Thriller's enduring spot in our hearts and musical history." The latest Jackson milestone continues the King of Pop's reign as the most selling artist of all time with over 100 million sales for Thriller worldwide and 1 billion total sales to his credit. Thriller was released Nov. 30, 1982, and spent nearly 2 1/2 years on the Billboard album chart with 37 weeks at No. 1, holding the modern day record. It was also the first album in history to spend its first 80 weeks in the album chart's top 10, which has only been replicated once since. Worldwide, Thriller topped charts in nearly every market, and won a record-setting 8 Grammys with nominations in 12 categories -- another first. - Billboard, 12/16/15...... In other Michael Jackson news, an unproduced screenplay centered on Jackson's pet chimp "Bubbles" has topped the 2015 Black List, a collection of Hollywood's best unproduced screenplays. Written by Isaac Adamson, Bubbles is narrated by the chimp himself, who details his life within The King of Pop's inner circle through the scandals that later rocked Jackson's life and eventually led to Bubbles' release. The script topped the list of 81 screenplays with 44 votes. Three of the last seven Academy Awards for best picture went to scripts featured on previous Black Lists, as well as eight of the last 16 screenwriting Oscars. Top 2015 Oscar contenders The Revanant and Spotlight were previously featured on the list in some form. - Billboard, 12/15/15...... Amazon Studios has announced it will develop a limited bio series about the Grateful Dead that will be based on the 2003 book Home Before Daylight: My Life On the Road With the Grateful Dead by band roadie Steve Parish. GD founding member Bob Weir will executive produce the project along with Parish, and Weir will oversee all aspects of music for the series. The project has yet to find a writer, but meetings will be taking place over the next several weeks in search of one. - The Hollywood Reporter, 12/15/15......
To help celebrate its 40th anniversary, Queen's iconic 1975 song "Bohemian Rhapsody" has been reinterpreted by the English National Ballet, Royal Academy of Music and Trinity Boys Choir. Footage of two ballet dancers, the choir and a string quartet from RAM can be seen in a new video cut with the original video for the song, and clips of the band's performance of the song on Christmas Eve, 1975. "We all realised it was something wonderful and we should give it our heart and soul," Queen's Brian May recently told the BBC in an interview about the song. - New Musical Express, 12/16/15...... A gravesite marker for late blues icon B.B. King was dedicated on Dec. 11 at his grave in Indianola, Miss. King, who died at age 89 on May 14 in Las Vegas due to type 2 diabetes, was returned to his beloved Mississippi for burial on May 30. More than 100 relatives, friends, fans and former employees gathered at the gravesite to dedicate the black granite slab that eventually will become the centerpiece of a memorial garden outside the B.B. King Museum and Delta Interpretive Center. The garden will be part of a $4.5 million expansion of the King museum that tells his life story. - AP, 12/13/15...... Former Roxy Music member and veteran music producer Brian Eno reportedly pledged to pay £250 for the "trademark black Leninist hat" of Labour party leader Jeremy Corbyn at the annual Stop The War fundraiser in London on Dec. 11. Eno has previously voiced his support for Corbyn, and in August he spoke in support of him at a Labour leadership rally. Speaking at the time, Eno said: "I don't think electability really is the most important thing. What's important is that someone changes the conversation and moves us off this small-minded agenda." - New Musical Express, 12/14/15...... Adam Roth, a New York City guitarist and composer who was a staple of the then New York underground scene in the Lower East Side since the late 1970s, died on Dec. 16 following a battle with stage four bile duct cancer. He was 57. Roth, who was also known for his work as a TV composer and frequently collaborated with his friend Denis Leary, played in a number of bands that frequented iconic venues of the scene such as CBGB and Max's Kansas City. Roth later wrote the music for Leary's hit drama series Rescue Me and his comedy show Sex&Drugs&Rock&Roll more recently, for which he also served as John Corbett's guitar "voice" and the show's tech adviser. - Billboard, 12/17/15.
Bruce Springsteen announced on his E Street Radio broadcast on Dec. 9 that he plans to release a solo album that's "more of a solo project" in the upcoming year. "The project I've been working on is more of a solo project," said Springsteen, who recently released a The River deluxe reissue and performed on Saturday Night Live. "It wasn't a project I was going to probably take the band out on. So I said, 'Gee, that's going to push the band playing again until a ways in the future.' It'll be nice to get some playing in so you don't wind up being two or three years between E Street tours. This will give us a chance to get out there and stretch our muscles a little bit." The New Jersey rocker added that he had no plans to tour after putting out the new The River release, but he "missed playing with the guys" and "playing, period." He'll be playing The River in its entirety in his upcoming tour, and noted he'll still find some way to work some other material into the set, probably in the form of encores. "We plan on picking out some of the best of our outtakes for the end of the show, and there will obviously be some fan favorites," he said. "I don't know myself how it will play out. It should be interesting and a lot of fun for the fans." - Billboard, 12/9/15......
In 1979, a group of rock musicians including Bonnie Raitt, Jackson Browne and Graham Nash co-founded Musicians United for Safe Energy (MUSE) to advocate for a "No Nukes" future. Now some 36 years later, Raitt says she and her anti-nuclear power activist friends are ready to push back on the pro-nuclear power arguments heard during the recent climate talks in Paris. "There's no solution for nuclear waste," says Raitt. "There have been incredible cost overruns and delays in nuclear plant construction. And nuclear power plants continue to pose the security threat of terrorism," she adds. After a Harvard University professor and editorial writers for the The New York TImes and Guardian newspapers called for a reconsideration of nuclear power as a carbon-free energy source to combat climate change, Raitt acknowledged that "there are a lot of smart people on the side of pro nukes... But I find a lot more people making the anti-nuke argument." Raitt will kick off a tour behind her upcoming new album, Dig in Deep, a week before the LP's Feb. 26 release in Northridge, Calif., and some of the proceeds -- as well as on tours by Browne, Nash, and David Crosby -- benefit the Guacamole Fund, which supports the ongoing anti-nuclear-power efforts of MUSE and other organizations. - Billboard, 12/11/15...... A 1964 Porsche SC Cabriolet once owned by Janis Joplin sold for $1.76 million at a Sotheby's auciton in New York on Dec. 11, far surpassing the $500,000 it was estimated to bring. With seven bidders competing, the staggering sale price set a record for the highest price ever paid for a Porsche 356 at public auction. Joplin bought the German-made auto at a used car lot in 1968, and enlisted one of her bandmates, Dave Richards of Big Brother and the Holding Company, to customize the vehicle with a "History of the Universe" mural. When completed, psychedelic imagery covered the body from headlights to tailights, The Porsche had been inherited by Joplin's siblings, Michael and Laura, and for the past two decades had been on display at the Rock and Roll Hall of Fame in Cleveland, Oh. - New York Daily News, 12/11/15......

Jimmy Page, who recently confirmed he'll be starting work on a new solo LP in 2016, has told Guitar World magazine that he also plans on touring in the new year with a live band that are "totally different" to Led Zeppelin. The guitarist said earlier in the year that he was getting "match fit" to perform again and that he was "warming up on the touchlines." Page said that on his next tour he "would play material that spanned everything from my recording career right back to my very, very early days with The Yardbirds (and) there would certainly be some new material in there as well." - NME, 12/10/15...... In other Zeppelin-related news, former frontman Robert Plant has just recorded a cover of Elbow's "The Blanket Of Night" for a new compilation album that will benefit the refugee crisis in Europe. Plant has teamed up with the British Red Cross for his contribution, which was produced by Kings of Leon producer Ethan Johns. "We have a worldwide international catastrophe -- talking about it is one thing, doing something about it is another," Plant says. "The position we are in, it's paramount we all do our best one way or another to help." The album, titled The Long Road, is due Mar. 4, 2016. - NME, 12/9/15...... Meanwhile, late Led Zepp drummer John Bonham's son Jason Bonham has revealed he sat in with Phil Collins for a week of secret rehearsals in 2014 when Collins was determining if he was capable of playing shows after dealing with back and neck issues. Although Collins eventually decided against returning to performing then -- instead opting to have his surgery in 2015 so he can hit the road in 2016, Jason Bonham says he's still buzzed about the experience and that Collins is "one of my real heroes." "Other than my dad I would say Phil is probably my No. 2 guy to go to," Bonham says. "I've been a huge fan since Abacab, and then of course his solo stuff." Bonham, who is currently on the road with his Jason Bonham's Led Zeppelin Experience show, added that he "hasn't heard anything" about being recruited by Collins again when the latter tours in 2016. - Billboard, 12/9/15......
Singer/guitarist José Feliciano was on hand to christen a new exibition dedicated to the Puerto Rican-born musician in San Juan on Dec. 8. "Jose Feliciano: Our Musical Ambassador" documents the career of the pioneering crossover singer and guitarist, famous for such hits as his cover of the Doors' "Light My Fire" and the Christmas song, "Feliz Navidad." Photos of Feliciano's childhood in Puerto Rico and later New York City are included in the exhibition, which displays albums, awards and ephemera from early in his career, when his versions of "Light My Fire" and "The Star-Spangled Banner" were on the charts. The exhibition will continue at the National Popular Culture Foundation in San Juan through 2016. - Billboard, 12/8/15...... The Beatles' 1968 spiritual retreat in northern India, which had become overgrown with foilage in recent years, has just been turned into a tourist attraction after being renovated and reopened to the public. The band famously visited the sanctuary set in a forest near Rishikesh, India during March and April of 1968, seeking enlightenment through transcendental meditation and were said to have written some 48 songs during their stay, many of which appeared on their "White Album". However, the visit was ultimately cut short, after guru Maharishi Mahesh Yogi was accused of making sexual advances to actress Mia Farrow, who was also a guest. An Indian forestry official told the BBC that his workers have now "cleaned up the place and lined the pathways with flowers... We are making some gardens and putting some benches for visitors." Future plans, according to the official, include setting up a cafeteria and a souvenir shop while "retaining the place's rustic look." The retreat, which has long been a place of pilgramage for Beatles fans, was formally reopened on Dec. 8, and admission is around £7. - New Musical Express, 12/9/15...... The Kinks guitarist and co-founder Dave Davies will play his only UK show of 2015 at the London Islington Assembly Hall on Dec. 18. Davies, who helped shape the sound of the Kinks with his singing and lead guitar on such classics as "Come On Now" and "I'm Not Like Everybody Else," will perform both solo songs and Kinks classics that showcase his unique writing style and revolutionary guitar sound he created on such classics as "You Really Got Me." Tickets are available at www.alt-tickets.co.uk/dave-davies-tickets. - Noble PR, 12/10/15......

During an appearance on the UK television show Loose Women, actor Burt Reynolds said that his fellow thespian Charlie Sheen, who recently revealed he was HIV positive, "got what he deserved." "His father [Martin Sheen] is a very, very decent man and a dear friend of mine," Reynolds remarked. "I feel bad for him but Charlie -- I don't feel bad for him. He's getting what he deserves. If you're going to misbehave like that, they're going to get you...He misbehaved badly. Very badly. But you know, when you're that age, it's tough. All those things are coming at you and it's difficult." Reynolds, who is promoting his new autobiography But Enough About Me, also shared his opinion about actress Angelina Jolie, the daughter of his Deliverance co-star and close friend Jon Voight. "[Jon is] very kind. I love him so much. He doesn't deserve the kind of treatment that his daughter Angelina Jolie is giving him. They've reconciled but she still has moments. I remember when she was ten years old and I met her and I went over to Jon and said, "you're in big trouble, she is going to be wild! I hope she doesn't hurt you." The 79-year-old Reynolds is reportedly struggling with complications from a quintuple heart bypass he underwent in Feb. 2010, and his condition has raised the concern of his doctors. - Celebitchy.com, 12/10/15..... The current owners of Michael Jackson's Neverland ranch, which Jackson purchased in 1987 for a $19.5 million price tag, are reportedly having a tough time finding a buyer willing to pay their $100 million asking price and are turning to overseas buyers to take the property off their hands. Wealthy clients in China are being urged to snap up the late "Thriller" singer's former home in Santa Barbara County in California, which has already been on the market for six months. The ranch is a 1,091-hectare estate complete with the mansion, guest cottages, farm and lake, and was abandoned by the singer after it was raided by authorities who were investigating charges of child molestation.
Bruce Springsteen announced on Dec. 4 that he'll mount a 22-city North American tour in 2016 with his E Street Band behind his new deluxe The River reissue beginning Jan. 16 in Pittsburgh. The tour then hits Chicago on Jan. 19, followed by two shows at New York's Madison Square Garden on Jan. 24 and Jan. 27. Other stops include Toronto (2/2), Boston (2/4), Philadelphia (2/12), Atlanta (2/18), Louisville (2/21), Cleveland, Oh. (2/23), Milwaukee (3/3), St. Louis (3/6) and Phoenix (3/13), before wrapping with two nights at the Los Angeles Memorial Sports Arena on March 15 and 17. It will be Springsteen's first ever tour behind one of his seminal deluxe reissues of recent years, which also include 1975's Born to Run and 1978's Darkness on the Edge of Town, and according to his website the tour "will include an in-sequence, complete performance of The River album in addition to other Springsteen favorites."

Each night of the The River tour will be mixed for release on Live.BruceSpringsteen.net as high-quality downloads and CDs, and recordings will be available within days of each performance. Springsteen's most recent tour was his highest-grossing ever, with the Wrecking Ball/High Hopes trek of 2012-2014 taking in $422 million and selling 4 million tickets from 157 shows. Springsteen and the E Street Band will also be the musical guests on NBC's Saturday Night Live on Dec. 19. - Billboard, 12/4/15...... Meanwhile, after years of enduring low-quality bootlegs, Springsteen has been quietly releasing decades' worth of classic concerts online in 2015 -- some 39 professionally shows -- in response to the poor quality of the shows he saw popping up on YouTube. Partnering with the bootleg site Nugs.net, the live boots initially focused on his 2014 High Hopes tour, but eventually spanned his entire career. So far, highlights include an acoustic set from 2005 and a classic from the Born to Run tour. A new show appears about every six weeks, and downloads are $9.95 with physical CDs going for $23. "They have some incredible stuff in the archives," says Nugs.net founder Brad Serling, who hopes some of the Boss's rocker peers will also make their concerts available on the site. - Rolling Stone, 12/3/15...... After Rush drummer Neil Peart recently told Drumhead magazine that "it does not pain me to realize that, like all athletes, there comes a time to take yourself out of the game," Rush bassist/vocalist Geddy Lee clarified Peart's alleged retirement plans on Dec. 8, saying that Peart isn't necessarly quitting Rush entirely, just backing away from the touring side. "I think Neil is just explaining his reasons for not wanting to tour, with the toll that its taking on his body," Lee said. "We'll get together eventually and chat about things. But in my view, there is certainly nothing surprising in what he said. Neil just feels that he has to explain with all the thousands of people asking, Why no more tours? He needs to explain his side of it," he added. Peart has been treated for chronic tendonitis in recent years, while guitarist Alex Lifeson has struggled with psoriatic arthritis. Their ailments have sparked rumors that their R40 Live 40th anniversary tour would be the band's final large-scale tour. - Billboard, 12/7/15......
On Dec. 5, copy #0000001 of the Beatles' 1968 double-LP The Beatles (aka The White Album) sold for $790,000 at Julien's auction, a new world record for a vinyl record at an auction. The winning bid easily surpassed early estimates for the album, which placed its value between $40k-60k. The album was owned by Ringo Starr, who with his wife Barbara Bach auctioned off a trove of their personal belongings in December. Starr had been storing the LP in a London vault for 35 years, and it was described by Julien's as being in excellent condition: "The top load sleeve is in near mint minus condition and would be near mint if not for the bumped upper right front gatefold corner, but it is overall very clean and fresh with very minor abrasions." It was the first numbered U.K. copy of the White Album ever pressed, and adding to its value is that it is the mono version of the album, which many fans claim is the preferred way to listen to the Fab Four as the band was usually present for the mono mixing of their albums but not involved in the stereo mixing process. Meanwhile, Ringo's first Ludwig drum kit set as a Beatle from 1963 was sold at the same auction a day earlier for $1.7 million to Indianapolis Colts owner Jim Irsay. Irsay owns prominent guitars from the other three Beatles -- Paul McCartney, George Harrison and John Lennon -- and earlier in 2015, he also purchased a drumhead that will fit the set he just bought. "Finally, after 45 years, the Beatles are together again," Irsay texted to the AP. An avid collector of music memorabilia, Irsay also owns instruments used by Bob Dylan, Jerry Garcia and Eric Clapton. A portion of the proceeds from Starr's auction will benefit the couples Lotus Children Foundation, which focuses on global social welfare issues. - Billboard, 12/5/15...... In other Beatles news, a new statue of the band has been unveiled in their hometown of Liverpool to mark the 50th anniversary of their final show in the city. The bronze sculpture, situated on Liverpool's Pier Head, was made by artist Andy Edwards and presented to the city by famed Merseybeat venue the Cavern Club. The Beatles played their last ever show in Liverpool at the Empire Theatre on Dec. 5, 1965. - New Musical Express, 12/5/15......
Even a life as brief as Janis Joplin's (she died in 1970 at age 27) can't be fully explored in just over 100 minutes, the running time of the new Amy Berg-directed documentary Janis: Little Girl Blue. Instead, Berg aims to tell the most personal story she can by giving the narrative over to the family, friends, and bandmates who knew her best (Clive Davis, Dick Cavett, D.A. Pennebaker, Kris Kristofferson). Berg is also lucky to have access to a trove of letters, voiced here by singer and kindred spirit Chan Marshall, a.k.a. Cat Power. The portrait that emerges is one of a brash, talented girl who grew up an outcast in her small Texas town and developed her gale-force voice and gypsy-queen mien as armor against a world that would have dismissed her otherwise. While her romances, studio sessions and struggles with addiction are portrayed in a style that can best be described as Behind the Music deluxe, the true draw here is really just Janis: Sweet and wild and vividly alive, she takes a little piece of your heart when she goes. Janis: Little Girl Blue is in selected theaters in the U.S. - Entertainment Weekly, 12/11/15...... Rolling Stones guitarist Ronnie Wood, 68, has learned he will be a father for the fifth (and sixth) time next summer, as his wife, 37-year-old Sally Humphries, are expecting twins. "Sally and Ronnie Wood are delighted to announce that they are expecting twins in June 2016," a spokesperson for the band said. "Needless to say, they are thrilled and overjoyed with the wonderful news." Wood and Humphries were married in 2012. Wood has a son, Jesse, with his first wife Krissy Wood, and a son and daughter, Tyrone and Leah, with his second wife Jo Wood. He also adopted Jo's son Jamie. A source close to Wood says he's actually looking forward to being a dad again, and doesn't think his age is a problem because he still feels very young and fit. - Billboard, 12/7/15...... Fleetwood Mac drummer Mick Fleetwood ended his nearly two-decade marriage to Lynn Frankel Fleetwood on Nov. 20, according to court records obtained on Dec. 8. The judge finalized the couple's divorce, but did not contain any details on how they will divide their assets. They were married in July 1995, and have 13-year-old twin daughters. - AP, 12/8/15......

Carole King, filmmaker George Lucas, actresses Rita Moreno and Cicely Tyson, and conductor Seiji Ozawa were feted at the prestigious 2015 Kennedy Center Honors in Washington, D.C., on Dec. 6. Introduced by Sec. of State John Kerry -- who noted, "We fought to the music of the Doors, the Stones and the Dead, but we healed with the music of Carole King" -- King received the final tribute of the night as the cast of the her Broadway musical "Beautiful," as well as such music greats as James Taylor and Aretha Franklin, performed some of King's own songs in her honor. In what was clearly a surprise to King, the show closed when Franklin stepped out to the piano to bring down the house with "(You Make Me Feel Like a) Natural Woman." The event was taped and will be broadcast on CBS on Dec. 29. - Billboard, 12/7/15...... Kief Nilsson, the 30-year-old son of late celebrated '70s singer/songwriter Harry Nilsson, is reportedly recording an album of his some of his dad's more obscure songs, including "Daybreak," "Rainmaker," "Maybe," "Kojak Columbo" and "All I Think About Is You." "It's a work in progress," says Lee Blackman, the attorney for the Nilsson estate. Blackman adds that Kief is recording the album with Cal Campbell, the son of Glen Campbell, at Cal's Agoura Borealis Recording studio in Agoura Hills, Calif., and taht the record has no release date or major label attached to it. - Billboard, 12/4/15...... Jeff Lynne's ELO have added two summer dates to their upcoming UK tour behind their new album, Alone in the Universe. The band, which kicks off the run with a with a gig at Liverpool Echo Arena on Apr. 5 and will play four dates at London's O2 in April, has added dates in Manchester (6/22) and a tour closer in Birmingham (6/24), bringing the total number of cities to 10. - NME, 12/8/15......

Peter Gabriel has announced plans to take part in a new animal research experiment to find out if monkeys would use video technology to communicate with each other. The former Genesis frontman will work with the Monkey World rescue centre and the Massachusetts Institute of Technology on the Interspecies Internet project. "The idea is to extend a big video network that already exists in labs at [MIT] so that different species including our own have a chance to communicate," Gabriel is quoted as saying in London's Sunday Times. "I am absolutely certain the monkeys will use the video cameras in Monkey World to communicate with each other. I am also interested in how they would use the internet to communicate," he added. It is not known what part Gabriel will play in the experiment, as a spokesperson for Monkey World said the plans were still at an early stage and they could not comment further. In 2001, Gabriel made headlines after he taught monkeys how to play the keyboard, and in 1982 he charted his first Billboard Top 40 hit with "Shock the Monkey," which rose to No. 29 on the hit parade. - New Musical Express, 12/8/15...... Veteran actor Robert Loggia, known for his roles in director Brian De Palma 1986 gangster epic Scarface as well as An Officer and a Gentleman, Prizzi's Honor, Independence Day, Problem Child and Big, died on Dec. 4 in Los Angeles after a five-year battle with Alzheimers Disease. He was 85. Mr. Loggia was nominated for a Supporting Actor Academy Award for Jagged Edge in 1986 for his portrayal of a blunt private detective, and appeared in TV's The Rockford Files as three different characters. He also portrayed a violent mobster named Feech La Manna on several episodes of The Sopranos. He was nominated for an Emmy in 1989 for his portrayal of FBI agent Nick Mancuso in the series Mancuso FBI and again in 2000 for his guest star role in Malcolm in the Middle. Other TV credits include T.H.E. Cat, The Untouchables, Columbo, Gunsmoke, Voyage to the Bottom of the Sea, The Big Valley, Rawhide, Little House on the Prairie and Starsky and Hutch, among numerous others. Mr. Loggia, who broke into the entertainment business performing in stage plays in New York, is survived by his widow Audrey, three children, and a stepchild. - Variety, 12/4/15...... Actor Martin E. Brooks, best known for his role as scientist Dr. Rudy Wells on the 1970s series The Six Million Dollar Man and its spinoff, The Bionic Woman, died of natural causes on Dec. 7 after a brief hospitalization in Los Angeles. He was 90. His other credits included The Philco Television Playhouse in the 1950s, Combat! in the 1960s and Knots Landing in the 1990s. He also played Dr. Arthur Bradshaw on the ABC daytime serial General Hospital. - AP, 12/7/15.
Elton John's next album, titled Crazy Wonderful Night, is due Feb. 5 via Island Records. Described as an "up" record with "lots of 12-string guitars" that gives a nod to his mid-Seventies classics, the LP was banged out in L.A. by John and his touring band in just 17 days, with T Bone Burnett producing. "I think he felt there's enough pain and suffering in the world without contributing to it," says Elton's songwriting partner, Bernie Taupin. "I wanted to write things that were really hook-driven. It was an adventure we hadn't investigated since the loud, brash pop rock of our mid-1970s albums." T Bone Burnett says during recording John stuck to his tradition of composing music to Taupin's lyrics in the studio, without ever seeing the lyrics before or coming up with a single note of music. "It's crazy to watch," says Burnett. "It's the same improvisational courage that (Bob) Dylan used for Highway 61 Revisited." John says he took the record to Island after his former label, Capitol, refused to release the album and dropped him from the label. But he says Island is enthused about the project and "I can ask for no more." "I follow the charts and I know everything about this business... I'm not expecting to sell a million records," Elton says. Taupin adds that he and John feel compelled to put new music out, whether it sells or not. "You can be Billy Joel and stop making records, but if you have that drive and passion, you're going to do it whether it sells or not. It's there inside of you, and if you don't get it out you're going to explode." - Rolling Stone, 12/3/15.
The father of Raju Patel, a movie producer and deceased friend of Michael Jackson, is suing the Jackson estate after it refused to provide him with home video footage or music rights for a planned Jackson tribute film called Messages to Michael. Sharad Chandra Patel filed the suit on Dec. 3 in Los Angeles Superior Court to enforce a creditor's claim that was rejected by the Jackson estate. Patel alleges his son, who died of cancer in 2005, had a film company with Jackson called Neverland Entertainment and that a 2002 contract provides that all proceeds from their films will be split 50-50. After Jackson's 2003 child molestation scandal subsided, the singer is said to have wanted to make a film dedicated to the millions of fans who also stood by him during the controversy, and a 2005 contract signed three months before Raju died provided that Raju and Jackson would make Messages to Michael, "a tribute to Michael and his loyal fans." Ever since Jackson died in 2009, Sharad has been trying to get access to Jackson's music and personal effects in order to make the film but has been shut out by estate executors John Branca and John McClain. "Branca and McClain have disregarded the terms of the agreement, as well as Michael's wishes for his fans, because [they] are simply motivated by the biggest payday," the lawsuit reads, then refers to the Sony-produced 2010 Jackson documentary film This Is It, in which they allege the estate collected "a 90 percent share of the film profits." - Billboard, 12/3/15......
Pink Floyd will be coming out with a limited-edition (1,000 copies) EP of their earliest recordings, including songs composed by band cofounders Syd Barrett and Roger Waters. The late '60s songs originally appeared on two seven-inch singles and will feature four compositions by the late Barrett, "Lucy Leave," "Double O Bo," "Remember Me" and "Butterfly," along with Waters' "Walk With Me Sydney" and a Slim Harpo remake, "I'm a King Bee." The band says they also "hope to make them available in some physical form towards the end of 2016." - Rolling Stone/NME, 12/3/15...... Barbra Streisand has signed on to direct the story of one of history's most powerful women, Russian empress Catherine the Great. The planned movie is said to have one of the industry's best unproduced screenplays, by Kristina Lauren Anderson, and is being produced by Gil Netter. Catherine the Great took power after her husband was assassinated and ruled from 1762 to 1796, in the process reinvigorating the Russian empire and growing it in size and power. The film will be Streisand's first time in the director's chair for a dramatic movie since 1996's The Mirror Has Two Faces. - Billboard, 12/3/15...... Lionel Richie has confirmed he'll be collaborating with red hot pop singer Adele for an upcoming project, saying it's "almost in the works." The rumors began after a video mash-up of Richie's hit "Hello" and Adele's current smash of the same name was posted and went viral. Responding to the video, Richie took to Instagram to post a screenshot from his video next to one from Adele's, writing: "HELLO @adele is it me you're looking for... #hello." Richie then told E! News that "we are going to be doing something together" after Adele finishes promoting and touring behind her latest LP, 25. "Her mission is [to] get her record out and go on tour, so until she finishes that cycle, that won't happen just yet. She is committed to that," he said. The album, which was released in November, has broken records in the US and UK for the fastest million-selling record ever. - New Musical Express, 12/2/15......

Former Creedence Clearwater Revival frontman John Fogerty has been added to the lineup of artists participating in the upcoming John Lennon tribute concert commemorating the late Beatles member's 75th birthday. To be aired on the AMC channel on Dec. 19 at 9:00 p.m. EST, Imagine: John Lennon 75th Birthday Concert will also feature Eric Church, Sheryl Crow and Juanes, among many others, and include special video features from Paul McCartney and Ringo Starr. Actor Kevin Bacon will host. - Billboard, 12/2/15...... In an interview with the UK publication GQ, Keith Richards dissed his Rolling Stones bandmate Mick Jagger's solo albums and said he's never listened to them. "They had something to do with ego. He really had nothing to say," said Richards, who just released his first solo effort in over 20 years, Crosseyed Heart. "What did he have, two albums? She's the Boss and Primitive Cool?" asked Richards (Jagger also released Wandering Spirit in 1993 and Goddess in the Doorway in 2001). When the interviewer told Richards he'd never listened to Jagger's solo material, Richards replied: "Nor have I. I'll leave it at that." He added that he would "never make records as a way of being famous or making a statement... I just want to make good records with good musicians, to play with the best and learn." - NME, 12/1/15......Eagles principals Don Henley and Glenn Frey have just settled a federal lawsuit they brought against a New York man they accused of peddling bootleg recordings of their concerts. Henley and Frey sent a cease-and-desist letter to Bill Shelley when they learned the Avon Theater in Connecticut was advertising an October 2014 show called Legends of Rock Live: The Eagles: 1976 Tour with concert footage from Shelley's film vault. Although Shelley's lawyer claims his client canceled the movie showing, he says Henley and Frey sued him anyway. But now both sides have apparently settled the lawsuit, with a permanent injunction barring Shelley from showing any recordings of the group and a financial compensation, the terms of which were not disclosed. - AP, 11/28/15......

Kinks frontman Ray Davies, who released his autobiography Americana: The Kinks, the Riff, the Road: The Story, in 2013, says he's also readying a new solo album also called Americana and that it will be a nod to his boyhood obsession with American music." I had a book out year and a half ago called Americana and there are 100 some songs with that I need to start recording," Davies recently told Billboard. "And I've been fact-checking this musical called 'Sunny Afternoon' that's become a hit in the West End, so that took a year out. The last few years have been dedicated to that. But there is music coming," he added. Davies blamed the infamous touring ban placed on the Kinks in the US for four years in the '60s for causing the band to fall off the radar then: "It was a struggle coming to America because we were embroiled in management disputes, but without touring we would have gone broke. Thankfully we restored our image and we able to tour again, although it was a long climb back, as my book Americana illustrates." As for a possible Kinks reunion (his brother Dave Davies has said he's open to one), Ray responded that it could happen "if we make it relevant to new music." "Not saying we need a new album, but it's got to relate to new music. Because it's impossible just to do the hits. I like playing the hits, I just did a solo tour, but when the Kinks get back together, I need to be inspired to write new material," he explained. - Billboard, 12/1/15...... Punk poetess Patti Smith is among the 12 women who have posed for photos that are included in the 2016 Pirelli Tires calendar. First launched in 1964, the calendar has become a highly coveted annual of who's who among powerhouse models and photographers, and the 2016 calendar also features women's tennis champion Serena Williams and a topless shot of comedian/actress Amy Schumer. In addition to the portraits, all shot in black and white by Annie Leibovitz, the calendar also features paragraphs about each woman's contributions and accomplishments. - Billboard, 11/30/15...... Aerosmith frontman Steven Tyler model/actress daughter Liv Tyler confirmed she plans to wed her partner Dave Gardner in an Instagram post on Nov. 30. "Crazy about my man!!!!!" sweet sweet daddy , friend , fiance "thank you !!!!!! Grateful" pic.twitter.com/rkfzjpLDnJ," posted Tyler, who was previously married to rocker Royston Langdon, the father of her 10-year-old son, Milo. Gardner, the sports agent pal of soccer great David Beckham, reportedly proposed to Tyler in Dec. 2014, while she was pregnant with Sailor Gene, their first child together. - WENN.com, 11/30/15......
All six of the classic comedy albums released by comedian Richard Pryor on the Warner Bros. Records label -- from 1974's That Nigger's Crazy to 1983's Here and Now -- are now available for digital download and on streaming services including Spotify and YouTube to commemorate what would have been his 75th birthday. "I am thrilled to celebrate Richard's upcoming 75th birthday with this great news. A wonderful gift to his fans, old and new alike," said Pryor's widow, Jennifer Lee Pryor. Her late husband would have turned 75 on Dec. 1. Fans can buy a digital bundle of all the albums or a best-of compilation called The Anthology: 1968-1992 that includes stand-up from his non-Warner Bros. releases. The tenth anniversary of Pryor's death is also coming up -- the controversial comedian died of a heart attack on Dec. 10, 2005. - Billboard, 11/30/15...... Quintessential "King of Cool" and the '70s The Dean Martin Show star Dean Martin will take the stage in 2016 thanks to Hologram USA, the company that produces lifelike hologram performances. Martin's national tour will kick off, unsurprisingly, in Las Vegas. Co-produced by FilmOn TV Networks, the performances will be distributed online via FilmOn.com. "(Dean) owned Vegas like no other entertainer, and is the definition of elegance and cool," says Hologram USA CEO Alki David. "It's a distinct pleasure to work with Laura Lizer and the estate to ensure we deliver Dean Martin with the utmost authenticity." The company has also announced plans to create hologram shows of such artists as Billie Holiday, Bing Crosby and Whitney Houston, among others. - Billboard, 12/2/15.
Early copies of the Beatles' "White Album" that were stamped with their own serial numbers on the cover have become highly sought after collectors items, and in 2008 copy with No. 0000005 stamped on it sold at an auction for a little less than $30,000. Now Ringo Starr has announced the first ever copy of the album will be sold in a Julien's auction on Dec. 3-5 that will benefit the Lotus Foundation, which was founded by Starr and his wife, Barbara Bach. The four Beatles were presented with the first four copies, and No. 0000001 was rumoured to have been given to John Lennon who, according to Paul McCartney, "shouted the loudest" for it when the band decided to have the copies numbered. Julien's Auctions, which is based in Beverly Hills, estimates the LP will sell for up to $60,000. - New Musical Express, 11/24/15......
In other Fab Four news, Paul McCartney has written a letter to British Prime Minister David Cameron in support of a "Meat-Free Mondays" campaign in the UK, as Cameron prepares to attend the Paris Climate Change Conference which begins on Nov. 30. McCartney, along with his wife and the rest of his family, are encouraging the implementation of Meat Free Mondays at schools, universities and government buildings, as well as involving restaurants and private businesses. The McCartneys contend that developed countries can reduce their carbon footprint by 2% overnight if everyone cuts out meat consumption one day a week, as well as talking about health benefits. "If you heard that meat production was one of the biggest contributors to greenhouse gases in our atmosphere, what would you do? Would you just ignore that fact, or would you want to do something and want to find a solution?," Sir Paul asks in a video he released that accompanies his letter. Meanwhile, artists including David Bowie, Björk, Robert Plant, David Gilmour, Radiohead, Iggy Pop and Coldplay have written an open letter to negotiators attending the Paris climate summit to secure a "ambitious" deal to "come together and intensify our efforts" against climate change. In a petition which accompanies the letter, the musicians call the summit an "historic opportunity... to give us confidence in a sustainable future, to share our ambition, and recognize our capacity to strengthen your leadership." - NME, 11/27/15...... As Bruce Springsteen prepares for a deluxe reissue of his 1980 double LP The River on Dec. 4, cable TV's HBO channel premiered a documentary included in the set, The Ties That Bind about The River, on Nov. 27. Directed by Thom Zimny, the 60-minute film features interviews with the Boss and acoustic versions of tracks like "The River" and "Two Hearts." The lavish The Ties That Bind: The River Collection boxset also includes the original album and features outtakes and demos from The River sessions recorded between 1979 and 1980. Dubbed The River: Single Album, it includes 10 previously unreleased tracks he recorded in 1979 as a follow up to 1978's Darkness On The Edge Of Town. The Ties That Bind follows a similar box-set treatment for Darkness in 2010. - New Musical Express, 11/24/15......

'70s artists James Taylor and Barbra Streisand were among 17 Americans honored with the Presidential Medal of Freedom, the USA's highest civilian award, at The White House on Nov. 24. "Off the stage, [Streisand has] been a passionate advocate for issues like heart disease and women's equality," Pres. Barack Obama said in his opening statement. "I'm getting all verklempt just thinking about it," the president joked in Yiddish, referencing the SNL skit "Coffee Talk." "You always feel like he's singing only to you," Pres. Obama said about Taylor. "That's why he's become one of the driving forces of the singer-songwriter movement." The president also recognized director Steven Spielberg, composer Stephen Sondheim, violinist Itzhak Perlman and baseball legends Willie Mays and Yogi Berra, among others. "Today we celebrate some extraordinary people: innovators, artists and leaders who contribute to America's strength as a nation," he told reporters before handing out the medals. - WENN.com, 11/24/15...... Speaking of James Taylor, the "Fire and Rain" singer performed "La Marseillaise," the French national anthem, on The Late Show With Stephen Colbert on Nov. 23. Taylor sang as the French flag appeared in the background. - Billboard, 11/24/15...... Carly Simon appeared on CBS's The Late Show on Nov. 24 for a duet with host Stephen Colbert of what she admitted was her favorite song, Inez and Charlie Foxx's hit "Mockingbird," which she and former husband James Taylor famously covered in 1973. The pair deliverd a surprisingly good off-the-cuff rendition as Simon sang lead and Colbert harmonized on the Taylor parts. Later in the show, Simon performed "I Can't Thank You Enough" with her son Ben Taylor, a track from her new album Songs From The Trees (A Musical Memoir), which has just been released along with her accompanying memoir, Boys in the Trees. - Billboard, 11/25/15......

Former Commodores singer/songwriter Lionel Richie has announced details of a UK arena tour that will take place in 2016. Richie will play three dates in total beginning at the Manchester Arena on June 28, then follow with two nights at London's O2 Arena on July 2 and 3. This summer, the "Dancing on the Ceiling" singer boosted his popularity in England by performing before over 100,000 people at the Glastonbury music festival." I can't wait to return to the UK to see my fans," said Richie. "It's always been a really special place for me and this year in particular the UK has been incredible to me." - NME, 11/26/15...... In a new interview on Nov. 24, Jimmy Page reaffirmed that he will be starting work on his first solo album in nearly 30 years in 2016. "Next year I'm just going to be working on the guitar. It's time for me to go out there and do a solo album. My last solo album was 1988. I haven't really milked the situation. It's time to do another one. I'm known for playing many styles of guitar, and I need to revisit all the different styles I can play," he said. Page added that he's "not thinking about singers, I'm thinking of an instrumental thing." "I want to work with my strengths rather than my weaknesses. I want to work with myself, I want to get myself up and running and once I'm ready, I'll think about whether I need someone to sing on the music," he explained. His last proper solo effort, 1988's Outrider, featured several guest singers performing over his songs, including his former bandmate, Robert Plant. He has also released collaborative albums with Whitesnake singer David Coverdale and Plant. - Billboard, 11/24/15...... The Fox TV network has released the first promo for its upcoming live televised musical based on the hit 1978 movie Grease. Set for Jan. 31 from 7:00-10:00 p.m., Grease: Live will star Aaron Tveit as Danny Zuko and Julianne Hough as Sandy, and features a new version of the Barry Gibb's "Grease (Is the Word)" that was featured in the opening title sequence of the 1978 film starring John Travolta and Olivia Newton-John. - The Hollywood Reporter, 11/24/15...... In related news, a musical inspired by the legendary Motown studio in Detroit will be returning to Broadway next summer. "Motown the Musical" will return to New York starting July 2016 for an 18-week stand, before touring earlier in the year in several southern states, as well as Ohio and Wisconsin. It also plays the Shaftesbury Theatre in London's West End in February. In a press conference on Nov. 23, Motown Records founder Berry Gordy said that the musical that tells the story of how the record label rose and fell and then rose again has been "tweaked" on the road and "gotten tighter and tighter." The show first began performances in March 2013 at the Lunt Fontanne Theatre and closed this January after over 700 performances, routinely breaking $1 million a week at the box office. - AP, 11/24/15......

Trumpeter Cynthia Robinson, who helped Sly and the Family Stone craft its own unique sound of funk and soul in the late '60s and early '70s, passed away on Nov. 23 after a battle with cancer. She was 69. Robinson, who was also a co-founder of Sly Stone's band, was one of the first female black trumpeters to gain notoriety in a major recording act, and was the first female trumpet player and the first African-American trumpet player inducted into Rock and Roll Hall of Fame, along with Stone and the other bandmembers, in 1993. Robinson first hooked up with Sly in 1966 in an early incarnation of the band, Sly and the Stoners, and stayed on board as Stone crafted the pop/rock/R&B synthesis that became the Family Stone. After the Family Stone disbanded in 1975, Robinson went on to lend her talents and perform with other great stage acts such as George Clinton and Prince until cancer diagnosis was announced in October on her Facebook page. Robinson also announced that she was establishing the Cynthia Robinson Cancer Care Fund, which is remaining active "in her memory," according to her Facebook page. The Sacramento-born musician is survived by her two daughters, Laura Marie and Sylvyette Phunne. - Billboard, 11/24/15.
The Recording Academy announced on Nov. 19 that it will be inducting 26 recordings into its Grammy Hall of Fame in 2016, including Fleetwood Mac's self-titled 1975 album, Bob Dylan and The Band's The Basement Tapes, the Grateful Dead's 1970 classic American Beauty, and Roberta Flack's First Take. Singles making the cut include Blondie's "Heart of Glass," Joan Jett & The Blackhearts' "I Love Rock N' Roll," The Zombies' "She's Not There," Joe Cocker's "You Are So Beautiful," and Jimmy Buffett's "Margaritaville." "These works have influenced and inspired music fans for generations and we are proud to induct them into our catalogue of distinguished recordings," said NARAS president Neil Portnow in a statement. In order to be eligible for induction, recordings must be at least 25 years old and are chosen for their "historical and cultural significance." - New Musical Express, 11/19/15......
A glowing review by entertainer James Wright about Patti LaBelle's signature brand of sweet potato pies has racked up about 10 million YouTube views since it was posted on Nov. 11, causing retail giant Walmart to announced they were selling LaBelle's pies at the "rate of one per second during the 72 hour period from Thursday through Saturday." Demand is such it also appears many are buying the pies from Walmart and reselling them on eBay and Craigslist for much more than the $3.50 price tag. But the "Lady Marmalade" singer isn't too quick to give credit directly to Wright for helping her pies reach a wide new audience. "I was selling out before the guy did his wonderful video," LaBelle told TMZ.com when approached about Wright's video. The video testimonial has also reportedly inspired at least one online amateur guitarist to write a musical accompianiment. - Billboard, 11/20/15...... In other viral net news, a tweet from Aaron Carter went viral on Nov. 22 after the rising young pop star claimed that Michael Jackson "passed down the torch" to him before the King of Pop passed away in 2009. In his series of seemingly unprompted tweets, Carter also said that he and Jackson were "connected" because they were "the only ones of [their] kind." Carter has since deleted his original tweet, which read "Remember one very important thing...Michael passed down the torch to me...I never had to ask for him to do that," but continues to defend his point vehemently in a series of tweets that are still live. In a longer statement, Carter spoke directly to the people making off-color jokes in response, saying, "Passing down the torch was exactly what he did, and being there for people and loving one another." - Billboard, 11/23/15...... Veteran heavy metal frontman Lemmy Kilmister of the band Motörhead has spoken out about the recent terrorist attacks in Paris, and said he and his band would have played the same Bataclan venue where dozens of innocent music fans were slaughtered "the next day" after the attack as an act of defiance. "Those people are so dumb. What for? Do you think it's gonna be a heroic thing to kill innocent people? Assholes. Cowards," Kilmister told a German rock outlet. "I would have gone on the day after," he continued. "If they [the terrorists] stop you, then they win. And they're not going to beat me. I mean, I do what I'm supposed to do. If the police cancel [the show for us], I can't do [anything] about that. But we didn't cancel it." - NME, 11/23/15......
Jimmy Page joined such musicians as his pal Paul Rodgers of Bad Company, Duff McKagan formerly of Guns N' Roses, and Alice In Chains singer William Duvell for a rendition of the classic Led Zeppelin track "Rock and Roll" during a Led Zepp tribute concert at Seattle's Experience Music Project Museum on Nov. 19. It was part of a benefit show of Zeppelin covers performed by a host of musicians that also included Nirvana bassist Krist Novoselic, Soundgarden's Kim Thayil, Cheap Trick's Rick Nielsen and ex-Screaming Trees drummer Barrett Martin. Page also picked up the Experience Music Project Founders Award at the ceremony which also saw the likes of "Immigrant Song," "Communication Breakdown" and "Dazed And Confused" performed. Earlier in 2015, Page said he planned on pursuing a "new project" outside his classic former band after completing the reissues of Led Zeppelin's final three albums, which he accomplished this year. - NME, 11/20/15...... Frank Zappa's son Dweezil Zappa is set to release Via Zammata, his first new solo album in nearly a decade, on Nov. 27. "This record is a chance to take what I've learned over the past decade of learning my dad's music and playing it live and applying some of those elements to my own music -- but I didn't want to do it in a way that made the music seem like just a derivative of my dad's music," Zappa says. "I wanted to simplify a lot of the music and just make a collection of songs that seemed like they would be fun to listen to. I wanted to make each song have its own sonic fingerprint, a different production or sonic landscape for each song, so it kind of goes into different musical genres -- sometimes all together," he adds. The LP also features a track called "Dragon Master," which Zappa wrote from a set of fantastical lyrics his late dad gave to him. Zappa is planning a short solo tour early in 2016 behind the new set, and he'll also be part of the Experience Hendrix Tour kicking off in late Feb. 2016. "It's going to be a '50 Years of Frank' kind of thing... It's really insane to think about his first record coming out 50 years ago, so I want it to be something special," Dweezil says. - Billboard, 11/20/15...... '70s artists the Grateful Dead and Bob Seger were among the honorees at the 12th Annual Billboard Touring Awards on Nov. 19 at NYC's Roosevelt Hotel. The GD took the Top Boxscore Award for their "Fare Thee Well" shows at Chicago's Soldier Field on July 3-5, while Seger was named the 2015 Legend of Live recipient for his significant impact on the touring industry. The Detroit rocker was clearly touched when he received the award, and used it as an opportunity to thank promoters and others that he said he otherwise never gets the chance to acknowledge. "This is a wonderful chance to say thank you to people," he said. - Billboard, 11/20/15......

As Fleetwood Mac prepares to release a deluxe reissue of its risk-taking 1979 classic double-LP Tusk on Dec. 4, guitarist/vocalist Lindsey Buckingham says "the conventional wisdom was, 'You blew it'" when its sales fell far short of its predecessor, 1977's Rumours. "A lot of people were pissed off at me for that," he recalled with a laugh. But Buckingham said he had a good reason for not doing a "Rumours 2." "We really were poised to make Rumours 2, and that could've been the beginning of kind of painting yourself into a corner in terms of living up to the labels that were being placed on you as a band," he said. "You know, there have been several occasions during the course of Fleetwood Mac over the years where we've had to undermine whatever the business axioms might be to sort of keep aspiring as an artist in the long term, and the Tusk album was one of those times," he added. - Billboard, 11/19/15...... James Taylor appeared on Stephen Colbert late night CBS talk show on Nov. 18, and Colbert joined in with Taylor for a completely serious duet with Taylor's classic "You Can Close Your Eyes." "Something that I never anticipated when I started doing this kind of thing, is that I might be able to do the thing I'm about to do -- sing a song with James Taylor," Colbert said before singing. Clearly thrilled, he took the lead on the song (an audience request) as Taylor added harmonies and accompanied on guitar. - Billboard, 11/19/15...... In related news, Jeff Lynne's ELO performed on Jimmy Fallon's The Tonight Show the same evening, with Lynne performing his new track "When I Was a Boy" as well as the ELO classic "Mr. Blue Sky." "When I Was a Boy" is included on Jeff Lynne's ELO's just released album, Alone in the Universe. - New Musical Express, 11/19/15...... Veteran acting couple Kurt Russell and Goldie Hawn are planning on finally getting married after being a couple for 30 years, according to the U.K. tabloid The Daily Express. The Hollywood stars, who met in 1983, will reportedly exchange vows in a ceremony at their ranch near Aspen, Col. in the New Year. "It's going to be cowboy hats, horses and rock 'n' roll," a friend of the couple said. "All their relatives are thrilled that they have at last decided to tie the knot." Hawn, who recently celebrated her 70th birthday, has previously said, "Kurt and I are deeply in love, so why risk ruining something wonderful by getting hitched?" A representative for the couple has yet to comment on the wedding report. - WENN.com, 11/23/15......
The movie industry website TheTrackingBoard is reporting that the long-delayed biopic about legendary Queen frontman Freddie Mercury will start shooting in the summer of 2016, pending a full rewrite from Oscar-nominated screenwriter Anthony McCarten (Theory of Everything). The project had been thought to have been shelved after Sacha Baron-Cohen left the project in 2013, citing "creative differences." The rumored successor to play Mercury is Ben Whishaw, who also appears in the new James Bond flick, Spectre. The roles of Roger Taylor and Mary Austin have also reportedly been filled with Johnny Flynn and Gemma Arterton, respectively. - Billboard, 11/19/15...... More juicy tidbits from Carly Simon's promotional tour for her new top-selling book Boys in the Trees are leaking out, including a new People interview in which Carly revealed she had sexual encounters at the age of 7. The singer said she got involved with a family friend when she was just a 7-year-old kid. At the time, the boy was a teenager, and she believes her mother found out about the secret because the boy was banned from the house for one summer. "It was heinous," she said. "It changed my view about sex for a long time." Simon also revealed recently that one of the verses in her classic hit "You're So Vain" was about one of her former boyfriends, Warren Beatty. - HuffingtonPost.com, 11/19/15...... Jim Perry, a top TV game-show host in the 1970s and '80s who moderated such programs as Card Sharks and Sale of the Century, died in Oregon on Nov. 20 after a five-year battle with cancer. He was 82. In 1978, the dapper Mr. Perry started as host of Card Sharks, beginning his long-standing relationship with NBC. He hosted a version of the game show and the two pilots that preceded it from April 24, 1978, until Oct. 23, 1981. NBC then named Perry as the host of a revamped edition of Sale of the Century in 1982. That show aired for six years and spun off into a nightly syndicated version, which saw Perry doing double-duty as the host of both shows. Survivors include his wife of 56 years, June, a former model; their children Sean and Erin; and three grandchildren. - The Hollywood Reporter, 11/20/15.